We began Black History Month by celebrating Newbery Medalist and Coretta Scott King Author Award-winner Amina Luqman-Dawson, and close it out with a review of Zadie Smith's The Wife of Willesden, "an astonishingly clever and entertaining rendition" of "The Wife of Bath's Tale" from Chaucer's The Canterbury Tales, set in a 2020 North London pub and featuring Alvita, "a free-spirited, middle-aged woman with Jamaican roots" who's on her fifth husband.
In The Creative Life, Frank Morrison discusses winning the 2023 Coretta Scott King Illustrator Award for Standing in the Need of Prayer by Carole Boston Weatherford. The Shelf Awareness review called it "a love letter to the Black community," and the "dignified text and glorious oil and spray paint illustrations" acknowledge key historic moments and figures in Black history.
The Best Books This Week
Fiction
Of Manners and Murder
by Anastasia Hastings
Established author Anastasia Hastings's first Dear Miss Hermione mystery, Of Manners and Murder, combines its two titular themes to entertaining effect. Violet Manville, daughter of a doting and recently deceased father, is stunned to learn that her Aunt Adelia is the force behind the Miss Hermione advice column in A Woman's Place magazine. Furthermore, Aunt Adelia is leaving London with her lover and informs Violet that she must become the new Miss Hermione, while also supervising Sephora, her teenaged half-sister.
As Violet begins penning pithy replies to lovestruck young men and misguided women, she worries about several letters from a distressed bride named Ivy Armstrong. She travels to Ivy's home village to investigate and discovers that Ivy is dead; Violet takes it upon herself to find out who killed her--and why. Meanwhile, Sephora is smitten with (and clandestinely meeting) a young man whose irregular habits are causing her some consternation. Violet, preoccupied with Ivy's murder, hardly notices Sephora's troubles, though Aunt Adelia's housekeeper, Bunty, keeps a sharp eye on both young women.
Hastings narrates her story mostly in Violet's no-nonsense voice, with occasional (and much more florid) interludes from Sephora. The sisters' troubles and Ivy's murder eventually turn out to be intertwined, as Violet discovers after much traveling back and forth between London and Ivy's village of Willingdale, peopled by classic characters of British crime fiction. Of Manners and Murder is both a gentle send-up of Golden Age detective fiction tropes and a witty, well-plotted take on the genre. --Katie Noah Gibson, blogger at Cakes, Tea and Dreams
Minotaur, $26.99, hardcover, 304p., 9781250848567
The House Guest
by Hank Phillippi Ryan
Hank Phillippi Ryan's finely calibrated psychological thrillers often focus on women in dire straits, feeling alone at their weakest point and not yet knowing their inner strength. That certainly describes Alyssa Macallen, the appealing, lost heroine of The House Guest, Ryan's 14th novel. Alyssa thought her eight-year marriage to uber-wealthy Bill, "a big-deal charity fundraiser," was happy. Their life consisted of galas, high-end restaurants, luxury shopping, a mansion in Weston, Mass., and other houses scattered around the world--until Bill left her without warning or any obvious reason. The lifestyle is gone, and so are Alyssa's so-called friends, every one of whom took Bill's side. Feeling like a nobody, Alyssa visits a hotel bar she knows none of her country-club crowd would set foot in and meets Bree Lorrance, whose problems seem worse. The women begin a friendship. Alyssa, wanting to feel useful and needed, invites Bree to stay in her guest house. Alyssa soon finds her life even more out of control when an FBI agent shows up, claiming that Bill has been committing fraud, Alyssa is being followed and her life is in danger.
Ryan (Truth Be Told; The Wrong Girl) imbues the novel, which careens from multiple twists, with high suspense. Alyssa wonders just how well she knew Bill while believing her new friendship with Bree is strong. Alyssa at first seems naïve, but she begins to trust her own instincts, coming to realize she can have a better life without Bill. Ryan's engrossing The House Guest is a most welcome visitor. --Oline H. Cogdill, freelance reviewer
Forge, $27.99, hardcover, 336p., 9781250849564
Death of a Dancing Queen
by Kimberly G. Giarratano
YA mystery writer Kimberly G. Giarratano (Mean Streaks) enters the adult thriller arena with Death of a Dancing Queen, in which she deftly twists her plot, nonchalantly drops corpses and shrewdly discloses secrets like a pro. Giarratano introduces Billie Levine, a 24-year-old New Jersey private investigator, who doesn't yet have the lauded reputation that her namesake grandfather Billy earned before retiring from investigating. Of course, that's about to change when she's hired by a wealthy college kid to find his missing girlfriend.
Doing her job, though, is no easy feat. Billie has more pressing challenges waiting for her at home: her mother's Alzheimer's is getting worse, she's regularly fighting with her recovering addict brother about their mother's care, and she can't stop her own fears that she's "on a potential crash course to lose her mind at a young age." Her dreams of moving to Barcelona--never mind that she's broke--to write novels must wait. Now she's going to have to face the Jewish mafia; (at least pretend to) appease the entitled rich; and confront drug gangs, skinheads and murder-podcasting groupies. Oh, and maybe solve a 30-year-old homicide, too.
Giarratano inaugurates Datura Books, Angry Robot's crime imprint, with a tenacious rule-breaker surely on the verge of getting her own series. Like her hero, Giarratano takes a straightforward, no-nonsense approach to getting her mysteries solved, though readers shouldn't expect any easy answers. With such success, Billie--and her audiences--should have plenty more chances to take on intriguing new cases. --Terry Hong, BookDragon
Datura/Angry Robot, $17.99, paperback, 344p., 9781915202420
Bloody Martini
by William Kotzwinkle
Tommy Martini receives a voicemail that sends him racing home from the monastery. His best friend is murdered while leaving a message: "Take care of Bridget. My heart is in your hands." In William Kotzwinkle's Bloody Martini, the dynamic mystery thriller and standalone sequel to Felonious Monk, the newly committed monk is about to learn the hard way that you can't go home again.
Tommy may have found peace at a Mexican monastery after killing someone in a bar fight, but hearing someone shoot Finn changes all that. Tommy can no longer help Finn, but he might be able to help Bridget, Finn's wife, and unravel the who and why behind Finn's demise. But avenging Finn means returning to the Rust Belt town of Coalville, the scene of his own crime and where the family of the guy Tommy sent to the morgue seeks payback. Making matters worse, the bullies of his youth are now running Coalville. One such bully is a district attorney who enlists local police to test the monk's vow of nonviolence. Tommy's temper gets a little out of control and bodies start to pile up long before he's able to find Bridget or Finn's murderer.
Kotzwinkle's second visitation with our tough guy turned monk is more nuanced. Tommy still wrestles with his violent past, but the author makes the character face his current predicament and acknowledge the need for smarter choices to ensure his own survival. Luckily, none of the dark humor is sacrificed during the navel-gazing. --Paul Dinh-McCrillis, freelance reviewer
Blackstone, $26.99, hardcover, 282p., 9781094009261
For Twice in My Life
by Annette Christie
Annette Christie (The Rehearsals) presents an original and wholesome romance in For Twice in My Life. Layla has always been the chaotic one out of her five siblings: obsessing over midcentury fashion, frequently changing jobs and dating a series of unreliable, artistic types. But then Layla met Ian, a reliable and kind financial adviser, and she finally felt settled--until Ian abruptly broke up with her, leaving Layla wandering around in a fog of bewilderment. When Ian is hit by a car and the hospital calls Layla--she's his emergency contact--she rushes to his bedside. To her shock, Ian has a concussion and has utterly forgotten about breaking up with her. Layla, determined to take this second chance, acts like nothing happened and they resume their relationship. In some ways, it's better than ever; in other ways, the secret Layla hides devours all her happiness. Things get even more complicated when Matt, Ian's handsome younger brother, arrives in town.
With a vivid Seattle setting and hilarious antics from Layla's best friend, Pearl, For Twice in My Life is sure to appeal to fans of Rachel Lynn Solomon or Angie Hockman. This sweet and introspective story follows Layla's inner turmoil as she struggles to stop being "the family screw-up" and decides what to do about her complicated feelings for Ian and Matt. Readers who have ever wondered why other people seem to find easy happiness will relate to Layla's journey. --Jessica Howard, freelance book reviewer
Little, Brown, $28, hardcover, 320p., 9780316451031
Sorry, Bro
by Taleen Voskuni
Sorry, Bro, the debut novel by Taleen Voskuni, is a clever and funny romantic comedy featuring a slightly shy Bay Area reporter who unexpectedly returns to her cultural roots. Nareh Bedrossian has always refused her mother's attempts to set her up with a nice Armenian boy, in part because her late father tried hard to blend into mainstream American culture and heartily approved of Trevor, her tech bro boyfriend. But after Trevor proposes to her in an embarrassingly public way and Nareh instinctively says no, she suddenly wonders if maybe their lack of connection is explained by the cultural divide.
Explore Armenia, a monthlong series of cultural events in the Bay Area, is beginning that week and will attract most of the Armenian Americans residing in Northern California. Nareh decides to allow her mother to play matchmaker like she's always wanted to and starts attending the events her mother lines up. Nareh isn't drawn to any of the men she meets--but she finds Erebuni, the woman organizing many of the Explore Armenia events, irresistible. And as their flirtation intensifies, Nareh realizes Erebuni likes her, too. But will Nareh's traditional mother ever be able to accept her daughter's bisexuality if their burgeoning relationship goes public?
With an awkwardly relatable heroine, Sorry, Bro is a sweet queer romance. Armenian culture shines: Voskuni introduces readers to Armenian history, food and dances. This charming and original story is perfect for fans of Jasmine Guillory or Alison Cochrun. --Jessica Howard, freelance book reviewer
Berkley, $17, paperback, 368p., 9780593547304
Not Your Ex's Hexes
by April Asher
In Not Your Ex's Hexes, the second sexy rom-com in the Supernatural Singles series, April Asher proves that the fastest way to forever is an agreement not to fall in love. Rose's older sister--as readers learned in the series' first novel, Not the Witch You Wed--stepped into Rose's place as heir to their grandmother's role on the Supernatural Council. Six months later, Rose still searches for her own purpose. One day, she decides to "free" two emaciated horses and bring them to loving homes. Unfortunately, her heroic midnight caper ends with a sentence of community service at the same animal sanctuary where the horses were recovering under the care of Damian Adams, the half-demon veterinarian she hooked up with at her sister's engagement party.
Damian doesn't have the time or patience to teach a city witch how to muck horse stalls, and Rose is over his grumpy attitude. Their attraction proves too strong to resist, however, and the two agree to a friends-with-benefits arrangement--no chance of feelings and no risk.
Asher makes effective use of the opposites-attract dynamic and adds a high-stakes obstacle: Damian, hexed at age 16 by an angry girlfriend, can't fall in love without losing his soul. Damian and Rose's banter and chemistry spark from the page, but it's their mutual respect and individual character arcs that make Not Your Ex's Hexes a standout. With quippy action scenes, well-drawn relationships between friends and siblings, and a satisfying romance, this is an excellent pick for fans of Charmed. --Suzanne Krohn, librarian and freelance reviewer
St. Martin's Griffin, $16.99, paperback, 352p., 9781250808011
My Life Among Humans
by Jed McGowan
Ignatz Award-nominated cartoonist Jed McGowan (Gonzalo) makes his full-length graphic novel debut with My Life Among Humans, in which he cleverly, poignantly examines (dis)connections--in this world and beyond. His vivid panels open in the blue of an empty desert night with a spaceship discharging a lone one-eyed, hexapod alien who immediately begins their search for humans. Tasked with data collection about the local inhabitants, they scuttle quickly to a nearby community of blinking lights.
Their first subject is Will, a community college student who is "alone and distracted," paying more attention to his phone than his surroundings. They quickly implant undetectable "scouts" that take root in Will's brain, allowing the alien to see, feel and even think Will's thoughts. They learn about Will's two dads, his little sister, his various friends and his crush, Celeste. When the all-powerful commander requests data from additional humans, the alien sneaks into Will's home--and gets caught. They launch more scouts into Will's whole family, fearing destruction for breach of protocol, and give the alien utter control. The data collection becomes a family affair--until the commander (and Celeste!) figures out what's really going on.
McGowan presents his alien exploits in precise, full-color saturated panels, as if already camera-ready for animation. His initially straightforward alien-vs.-human narrative proves to be quite the affecting multilayered parable, most notably about family--how they're made (adopted, chosen) and sustained. McGowan also adds undercurrents of colonialism, enslavement and exploitation without detracting from the page-turning pacing of intergalactic adventures. All the while he nimbly proves we really are not alone. --Terry Hong, BookDragon
Oni Press, $19.99, hardcover, 96p., 9781637151990
A Table Full of Love: Recipes to Comfort, Seduce, Celebrate & Everything Else in Between
by Skye McAlpine
It's not every day a cookbook begins with a declaration of love, but it's a fitting start to Skye McAlpine's A Table Full of Love. The book is about love, she writes, "written in the language of food." McAlpine (A Table for Friends) promises an emphasis on "why we cook as much as it is on how to do it." Even more so, it's about the people for whom readers cook: the ones they love, be they friends, family, lovers or themselves.
Each section of A Table Full of Love starts with notes that read something like an essay: on comfort ("thoughts on friendship, and recipes for mending heartbreak"), seduction, nourishing, spoiling and cocooning ("it is important always to remember to care for yourself"). In each category are dishes for occasions of every mood: Soul-Soothing Roast Chicken, a Black Truffle and Cheese Omelet, Tonno alla Filicudara, Penne with Saffron Cream. There is a recipe for a Birthday Cake of Dreams, "because of all the things to cook for someone you love, birthday cake is the most joyous of them all." Recipes that result in good care packages, meaning they can be left easily on someone's front stoop, are marked with a small gift icon. Menus for one, two, four (or more) and six (or more) round out the collection for planning feasts of abundance. Every page of A Table Full of Love is an inspiration and an invitation, a reminder that food communicates feelings, sometimes better than words ever can. --Kerry McHugh, freelance writer
Bloomsbury, $35, hardcover, 320p., 9781639730490
The American Way: A True Story of Nazi Escape, Superman, and Marilyn Monroe
by Helene Stapinski and Bonnie Siegler
Throughout Act One of The American Way: A True Story of Nazi Escape, Superman, and Marilyn Monroe, which follows a European Jewish family trying to outrun the Nazis, readers may find themselves wondering: "Yes, but what does this have to do with Marilyn Monroe?" Coauthors Helene Stapinski (Murder in Matera) and Bonnie Siegler (Signs of Resistance) bring it all home in Act Two of this inventively structured, ceaselessly surprising and ultimately spirits-boosting look at the long-game rewards of feats of daring and kindness.
By 1938, Jules Schulback, a Berlin furrier with a wife and a young daughter, knew it was time to leave Nazi Germany. To immigrate to the U.S., Jules would need a well-to-do American sponsor. As it happened, Jules's cousin, Faye Sternberg, knew Harry Donenfeld, a printer who had made it big as the mob-connected distributor of comic books and now lived in glitzy Manhattan. At around this time, Harry was taking a chance on a character created by Jerry Siegel and Joe Shuster, a couple of young Jewish artists from Cleveland. Superman would be America's first superhero: a mighty alien from planet Krypton who, as a baby abandoned on planet Earth, was adopted by human parents and named Clark Kent. Jerry got the "Clark" from Hollywood great Clark Gable, who was in a movie with....
The American Way presents a daisy chain of stories. Stapinski and Siegler, who is Jules Schulback's granddaughter and supplied the family photos and other mementos reproduced in this book, write with a zippiness and awe befitting tales of superheroism by the caped and capeless alike. --Nell Beram, author and freelance writer
Simon & Schuster, $28.99, hardcover, 384p., 9781982171667
Hijab Butch Blues
by Lamya H
Lamya H's memoir, Hijab Butch Blues, is the thoughtful, compelling account of a queer Muslim woman coming to terms with all the parts of her personal identity. Born in South Asia and raised partly in a wealthy Middle Eastern country, Lamya (a pseudonym) immigrated to the U.S. for university and still makes her home there. Hijab Butch Blues chronicles her journey to name and embrace her sexuality, her attempts at dating during her 20s and her gradual acceptance of herself in a world that often reviles various aspects of who she is.
Lamya realized as early as middle school that she was attracted to other women but struggled to reconcile this reality with pervasive negative cultural and religious messages about queerness. However, in studying Maryam (known to Christians as the Virgin Mary) in Qur'an class, Lamya found a powerful example of a woman who did not need men for sexual or personal satisfaction. Lamya discovered other important parallels to her own experiences while exploring the stories of the prophets in the Qur'an, many of which she shares with her readers, even as she frequently felt isolated and unloved. She found help in unexpected places as she struggled to adjust to life in the U.S.: a kind queer mentor, friends at the local mosque and--eventually--a loving and supportive partner, a white woman from Vermont.
Incisive, achingly honest and thought-provoking, Hijab Butch Blues provides a vital narrative of a woman questioning stereotypes and learning to be fully herself. --Katie Noah Gibson, blogger at Cakes, Tea and Dreams
Dial Press, $27, hardcover, 304p., 9780593448762
The Lincoln Miracle: Inside the Republican Convention that Changed History
by Edward Achorn
The November 1860 presidential election catapulted Illinois lawyer and politician Abraham Lincoln to his place in American history, but if it were not for the tireless machinations of loyal Lincoln allies at the Republican National Convention in Chicago, there may never have been a President Lincoln. In The Lincoln Miracle, historian Edward Achorn (Every Drop of Blood; The Summer of Beer and Whiskey) delivers an exhaustively researched and detailed narrative of the "Lincoln miracle" that upset then-favorite New York Senator William Seward for the top spot on the Republican ticket. Lincoln, considered "the darkest of the dark horses" to win the nomination, lacked the political influence and deep pockets of his rivals. But what he possessed, according to Achorn, were "the efforts of a cadre of loyal colleagues, the fruit of his gift for making friends." This cadre of "savvy and pragmatic operators," well-tested in local elections and prairie courtrooms, was led by the indefatigable Judge David Davis, Illinois circuit court judge and longtime friend of Lincoln. Thousands descended on the grand wooden hall erected for the convention, affectionately termed "the Wigwam," to engage in the fierce partisan battles. This included preeminent power broker Thurlow Weed, committed to engineering Seward's victory, and the famously dyspeptic journalist Horace Greeley, set on defeating him.
Achorn writes seamlessly of the discordant elements vexing the fledgling party and points to the influence of emerging immigrant voting blocs, primarily German American. Packed with primary sources and eyewitness accounts, The Lincoln Miracle should stand as the definitive account of this epochal political moment in American history. --Peggy Kurkowski, book reviewer and copywriter in Denver
Atlantic Monthly Press, $30, hardcover, 512p., 9780802160621
Love and Let Die: James Bond, the Beatles, and the British Psyche
by John Higgs
Yes, the world needs another Beatles book, especially one as topping as Love and Let Die: James Bond, the Beatles, and the British Psyche. In it, John Higgs (William Blake vs. the World) compares post-Empire Britain's two most enduringly loved cultural institutions, arguing that "England is such an integral part of both Bond and the Beatles that they have both shaped how the country is seen in the eyes of the world." To make his case, Higgs wears at least eight different hats: music critic, film critic, historian, scholar, psychologist, philosopher, biographer and, because he's no foe of fun, gossip.
October 5, 1962, saw the release of both Dr. No, the first James Bond film, and "Love Me Do," the Beatles' first single, marking the last time Bond and the band were in sync. The Secret Service agent was created by the well-born Ian Fleming to represent the English establishment, whereas the Fab Four were all about forging new paths. As Higgs puts it: "Prior to the Beatles, adopting the voice, attitudes and social signals of the upper classes was seen as a necessary way to advance in British society." The Beatles upended that, but Bond, like the band, still beguiles the world.
Among the delights of Love and Let Die are the connections that Higgs examines between the Beatles and 007. In one of many winning observations, he writes that "Live and Let Die"--the James Bond theme song written by post-Beatles Paul McCartney--is "surely the most unMcCartney-ish sentiment you can imagine." --Nell Beram, author and freelance writer
Pegasus, $29.95, hardcover, 516p., 9781639363308
Starter Vegetable Gardens, 2nd Edition: 24 No-Fail Plans for Small Organic Gardens
by Barbara Pleasant
Gardening guru Barbara Pleasant's Starter Vegetable Gardens, 2nd Edition: 24 No-Fail Plans for Small Organic Gardens is a colorful, easy-to-follow guide designed for both new and experienced gardeners curious about the immensely satisfying hobby of growing one's own food. By adopting Pleasant's simplified growing techniques and design strategies for planting vegetables and flowers together, readers willing to spend a few hours a week in their gardens can create outdoor edible spaces bursting with visual and culinary appeal. Pleasant (Homegrown Pantry; The Complete Compost Gardening Guide), a mental health counselor turned master gardener and author, has more than 30 years of horticultural experience and is passionate about growing, preserving and cooking vegetables and herbs. In the chapter "Marinara Medley," borders of onions, oregano and parsley are paired with basil, peppers and tomatoes rich in vitamin C that will eventually be simmered into Pleasant's recipe for a deliciously fresh marinara sauce.
Starter Vegetable Gardens is ripe with diagrams and illustrations of gardens for every type of space and skill level. The book opens with the surprisingly easy technique of planting seeds in open bags of potting soil, a method that has a high success rate, and progresses to colorful vegetable borders and full-scale front-yard planting plans teeming with colorful edibles such as stained-glass chard and multi-colored snap beans.
With her joyful, down-to-earth writing style, Pleasant shares advice and valuable tips for food-gardening novices, reminding readers to stay open to new lessons and experiences each growing season: "In gardening as in life, there is always something new to learn." --Shahina Piyarali, reviewer
Storey Publishing, $19.99, paperback, 232p., 9781635864137
Oscar Wars: A History of Hollywood in Gold, Sweat, and Tears
by Michael Schulman
Michael Schulman (Her Again: Becoming Meryl Streep) offers a tasty overview of the Academy Awards, namely the scandals, upsets, wrong decisions and juicy gossip. Unlike Mason Wiley and Damien Bona's Inside Oscar, which devoted a chapter to each year's Oscar ceremonies, Schulman's massive (600+ pages) Oscar Wars is more selective, and its chapters are organized by topics, such as "Tokens," which discusses how Oscar wins for Hattie McDaniel, Sidney Poitier and Halle Berry broke the Oscar color barriers in 1940, 1964 and 2002.
Individual chapter topics also include the Hollywood blacklist period; why Citizen Kane won only one Oscar out of its nine nominations; and how Bette Davis in All About Eve and Gloria Swanson in Sunset Boulevard lost the 1951 Best Actress Oscar to Judy Holliday in Born Yesterday. One of the funniest chapters covers caftan-loving "Glittermeister" Allan Carr's production of the 1989 awards show, the camp-fest that resulted in the Academy issuing a public apology.
In the final chapters, Schulman deftly covers recent gaffes, such as when Warren Beatty and Faye Dunaway were handed the wrong envelope in 2017 and La La Land was announced as Best Picture, only to have the Oscar stage managers leap into action to reveal that the winner was actually Moonlight. He also dissects Harvey Weinstein's award show tactics and how Shakespeare in Love won the Best Picture Oscar over Saving Private Ryan. The book ends with Schulman's firsthand account from the Dolby Theatre's mezzanine of the live 2022 ceremony when Will Smith slapped Chris Rock. Film buffs will savor this tantalizing and gossip-filled overview of the Academy Awards. --Kevin Howell, independent reviewer and marketing consultant
Harper, $40, hardcover, 608p., 9780062859013
Red Carpet Oscars
by Dijanna Mulhearn
For many, the highlight of the yearly Academy Awards is the pre-show fashion parade of celebrities on the red carpet. Dijanna Mulhearn's Red Carpet Oscars will delight both film buffs and fashionistas, as it provides brief capsule summaries of what went on at each year's celebration along with photos of Hollywood's biggest and most glamorous stars as they approached the awards ceremony. At nearly 500 pages, this hefty photography book covers a wide array of attendees at the Academy Awards from 1929 to 2022.
There's "tulle wrapped" Marilyn Monroe in 1951 at her only appearance at an Oscar ceremony (wearing a borrowed gown from All About Eve); Eva Marie Saint, two days before giving birth, collecting her 1955 Oscar for On the Waterfront; and the achingly beautiful final Oscar appearance from Audrey Hepburn, 10 months before her death in 1993. The book is filled with iconic images, including Billy Porter's gender-bending velvet tuxedo gown in 2019; Björk's 2001 swan dress; Barbra Streisand's transparent "party pajamas" in 1969; Lee Grant's 1976 attire, which she referred to as "an old wedding dress"; Celine Dion's reversed suit jacket in 1999; Lupita Nyong'o's blue chiffon dress in 2014; and Prince's black lace shirt and lace gloves under a purple beaded hooded top and matching pants in 1985.
The handy index allows fans to track their preferred stars (Elizabeth Taylor, Jane Fonda and Audrey Hepburn are photographed in five different decades) or find favorite designers like Givenchy, Armani, Dior and, of course, eight-time Oscar-winner Edith Head. The crisp (often full-page) photos highlight not only the glamourous styles but often the eyebrow-raising pairings: Madonna and Michael Jackson; Joe Namath and Raquel Welch; Rock Hudson and Yvonne De Carlo. --Kevin Howell, independent reviewer and marketing consultant
Thames & Hudson, $70, hardcover, 480p., 9781760763022
The Creative Life
CSK Illustrator Award Winner Frank Morrison
Frank Morrison was awarded the 2023 Coretta Scott King Illustrator Award recently for his illustrations in Standing in the Need of Prayer, written by Carole Boston Weatherford (Crown Books for Young Readers).
You are no stranger to the CSK awards: you received the John Steptoe Award in 2005 and CSK Honors in 2015 and 2019. How does it feel to get yet another win?
Levitating! When I'm painting the artwork for my books, I'm never thinking of an award. I just want to represent the subject matter in the best possible manner.
How do you describe Standing in the Need of Prayer to those who have not yet read it?
Fasten your seat belts, the book is full of history dating back to the 1600s. It's full of sad moments and triumphs, a documented history of our evolving world. Progress takes time and the courage to speak up.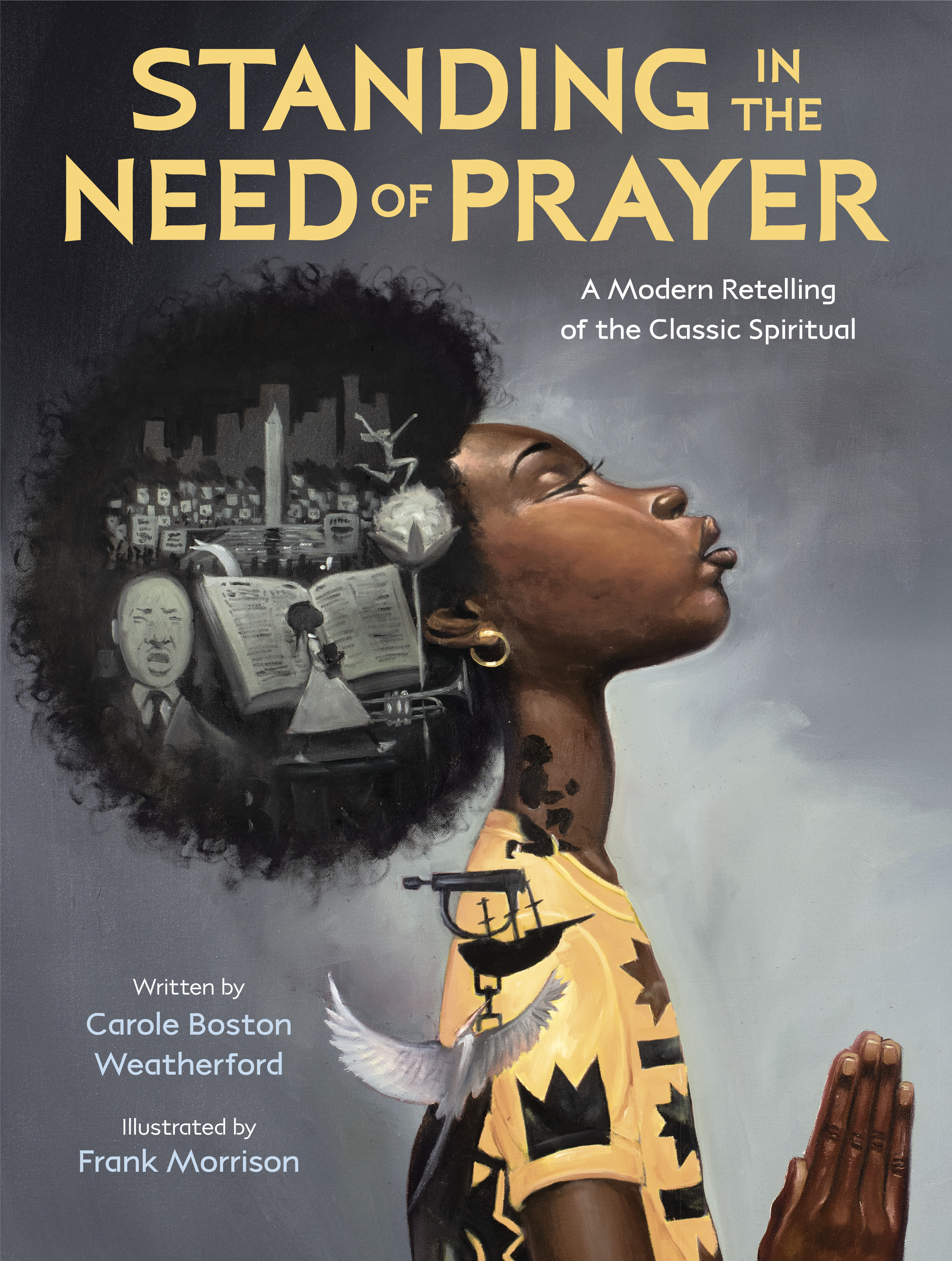 Was this a collaboration between you and Carole Boston Weatherford from the beginning or were you paired through publisher kismet?
Carole and I had worked with Sonali [Fry], the editor, in the past and she saw the chemistry we had and entrusted us with the story. Sonali had the idea when she first heard the song at church.
With all illustrated works, creators want to find a balance between text and art--a space where each enhances the other and there is no redundancy. Considering the nature of this text, how was the story conceived?
I was fortunate enough to work with the great folks at Random House Children's Books and Carole Boston Weatherford. The text was so visual, it was not difficult to find the picture to elevate the story.
How was it decided which events would be referenced and illustrated?
It was left up to me to determine the vision.
What do you hope young readers will take away from this book?
If we forget the past, we will repeat it. The past reminds us of where we came from. We'll continue moving forward with strength and determination.
What was it like illustrating this picture book? What kind of energy did this work require from you?
Not to say I'm numb or to negate progress, but these situations are still with us. I try to bring dignity and honor to the subject matter.
Do you have a personal relationship with "Standing in the Need of Prayer"?
I feel like things came full circle in illustrating such an amazing text. (I didn't stay very long in a choir as a child since I didn't have the voice.)
Are you working on anything now?
I'm working a gallery show that will debut this August in SoHo in New York. I'm also getting ready to work on my next author/illustrator project.
Is there anything else you'd like to tell Shelf Awareness readers?
Follow your talent! --Siân Gaetano, children's and YA editor, Shelf Awareness

Murder Your Employer: The McMasters Guide to Homicide
by Rupert Holmes
"Everyone says 'I could just kill so-and-so,' and yet few do anything about it." Perhaps this is because the average person doesn't know how to pull off a homicide or, more importantly, get away with it. That's where Rupert Holmes's cheeky, pun-tastic novel Murder Your Employer: The McMasters Guide to Homicide comes in:
"So you've decided to commit a murder. Congratulations. Simply by purchasing this volume, you've already taken the all-important first step toward a successful homicide of which you can be proud, one that would gain you the admiration of your peers, were they ever to learn of it.
"This book will see to it that they don't."
The guide, "edited" by Holmes, is authored by Harbinger Harrow, dean of Admissions and Confessions at McMasters Conservatory for the Applied Arts. Set in the 1950s, the stories follow the education of three students--Cliff Iverson, Gemma Lindley and someone registered as Dulcie Mown--who all have something in common: a desire to kill their despicable employers.
Cliff's boss at an aircraft manufacturing company values profit over safety, willing to let a plane be constructed with faulty parts, knowing that it could malfunction and plummet from the sky. Gemma's boss has been blackmailing her, threatening to reveal a secret Gemma fears would destroy her mother. And Dulcie is an actress whose career is being throttled by a lecherous and vindictive studio mogul.
They're all brought to McMasters, location unknown. Students are blindfolded and taken on a circuitous journey to the campus, even if they live nearby. Indeed, the school's very existence is a secret. One cannot apply without a recommendation from someone with a clandestine connection to it. The conservatory accepts students of all ages and requires the applicant's intended "deletion" (murder is deemed too vulgar) to meet the "Four Enquiries": 1) the deletion must be deemed "necessary"; 2) the target must have been given "every last chance to redeem themselves"; 3) not cause any innocent persons to suffer; and 4) the deletion must "improve the life of others."
To mold well-rounded deletists, the school offers classes in such subjects as "Dance Craft" ("ballrooms and nightclubs present many unique opportunities for guile while one's target is distracted or intoxicated"), "Weaponry Around You," on how to use ordinary objects as deadly weapons ("an hour was devoted to the spatula alone"), and "Eroticide," because "romance, desire, seduction, and heartbreak are among the most potent arrows in the McMasters quiver." The curriculum also involves students attempting murder on one another, and they graduate when deemed ready to go back into the world and perform their "thesis" ("this being the term for one's graduation deletion"), for which they will be graded. If they receive a failing grade, the result will be their own deletion.
Holmes has pulled off the feat of creating aspiring murderers who are goodhearted and morally decent. There is no question Cliff, Gemma and Dulcie have no other choice but to rid the world of their targets, to protect not only themselves but many others. Their employers are cruel and greedy and selfish, delighting in the suffering of those with less power. It is because the three protagonists value life that they must each end one. They're not antiheroes so much as altruists with a dark bent.
Fans of Holmes's vast body of work--composer, dramatist, author--will likely not be surprised that a story about murder can also be full of zingers and witty wordplay. After a receptionist keeps Dulcie waiting for a rudely long time in an office and then says, "I'm afraid I was buried in thought," Dulcie retorts, "Yes, and I'm sure it was a shallow grave." When cops show up at Cliff's door, after his unsuccessful attempt at murder pre-McMasters, Cliff observes one is sporting a cheap tie that "looked like an obligatory birthday gift from an unloving wife." And Cliff declares that before contemplating murder, "The only law I'd ever knowingly broken was white wine with steak."
Despite training students in all things death-related, the school has a wondrous campus that rivals Hogwarts. Illustrations and maps created by Anna Luizos help readers visualize a landscape that includes a great hall, a stately manor, a playing field, a ravine and a forest. The cuisine has a three-star (but unpublished) Michelin rating. One can get lost in this immersive world, which begs for a screen adaption.
Humor, lush surroundings and sympathetic characters wouldn't be enough if Murder did not also have clever plotting. Cliff, Gemma and Dulcie must surmount incredible odds to kill their employers, and each devises an intricately complex plan that would challenge even a great detective like the author's namesake, Sherlock Holmes. Even though only two of the leads will succeed, the ending stays true to who they are--people whose heart and humanity can't be extinguished. --Elyse Dinh-McCrillis
Avid Reader Press/Simon & Schuster, $28, hardcover, 400p., 9781451648218
From "The Piña Colada Song" to Homicide
An Interview With Rupert Holmes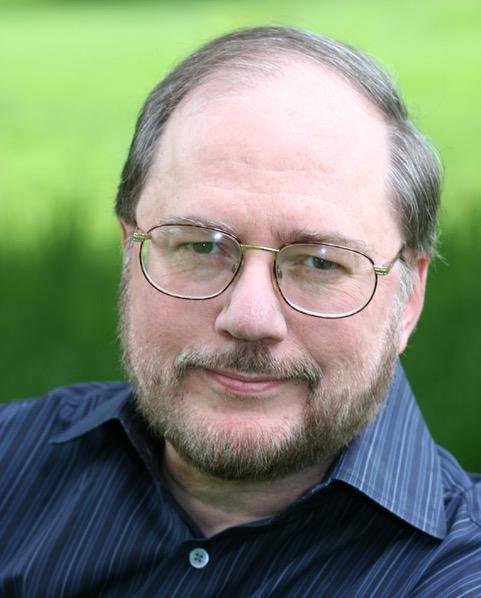 (photo: Susan Woog Wagner)
Rupert Holmes has almost too many job titles and accomplishments to fit in a paragraph. The mystery novelist-playwright-composer-arranger-screenwriter-conductor-singer-songwriter ("The Piña Colada Song" and so many more) has won Tony and Edgar awards for his plays The Mystery of Edwin Drood and Accomplice, and been nominated for numerous others for his vast body of work across stage, screen and music worlds. His first mystery novel, Where the Truth Lies, was adapted as a film starring Kevin Bacon and Colin Firth. His third, with the self-explanatory title Murder Your Employer: The McMasters Guide to Homicide, will be published by Avid Reader Press on February 21, 2023.
The idea for this novel was partly inspired by you being in a bookstore and seeing guides like the Dummies series on how to do practically everything. But the McMasters guide is not for dummies at all. How intelligent does one need to be in order to use it effectively? Let's say 1 is as smart as a stick and 10 is closer to Stephen Hawking.
Many despicable criminals test at an I.Q. level of genius. We know this because they are tested in prison, where most will spend the rest of their days until either the state, the passing years or a fellow inmate ends their lives. The reason they were in prison is because they were apprehended. So much for "genius," wouldn't you say?
At McMasters, I'd say it matters little whether your intelligence is ranked as a 7, 8 or 9. What counts is that your target's chances are zero. Generally speaking, the conservatory has found that down-to-earth people who appreciate all that life (and death) has to offer, and who possess common sense and an openness to new ideas, are best prepared to carpe diem faucibus... which we jovially translate as "seize the day, and their neck while you're at it."
Were there challenges in centering a novel around aspiring murderers and portraying them as likable and witty?
Yes, it was a difficult but exhilarating assignment. Could I make my protagonists, all hell-bent on homicide, the kind of people my reader could root for and whose company throughout the perilous, twist-filled adventure could also be pleasurable and wryly amusing? It definitely helped that all three are decent human beings who've been placed in impossible circumstances by loathsome "superiors" (their employers). And I was able to further exonerate them via the crucial Four Enquiries of any McMasters deletion. For it's a McMasters truism that when the behavior of another person leaves you no choice but to kill them, their death is simply involuntary suicide.
The location of the campus isn't revealed but was it inspired by a real place? It's so detailed.
I spent years fashioning the McMasters campus both in my mind and in sketches, resulting in the detailed map so artfully created by Anna Louizos for the endpapers and her illustrations inside. But the extensive grounds of McMasters were also inspired by my freshman year on the venerable campus of Syracuse University, particularly the imposing, neo-gothic Crouse College of Music where I studied. The first time I beheld this towering fortress, my instant thought was I want to learn composition at Castle Frankenstein!
Like McMasters, the university's stately quadrangle is also bordered by imposing edifices as if hotels on a Monopoly board. My vision for McMasters was further illuminated by the hours I spent roaming idyllic UC Berkeley while researching my 1940 period mystery Swing. The McMasters manor house, Slippery Elms, is a fusion of British stately homes and hotels I've known and loved. I also drew upon many sunny afternoons spent in the whimsical faux village of Portmeirion, a sanctuary for diverse and fanciful architectural follies brought to northern Wales by Clough Ellis-Williams.
Which classes at the conservatory would you excel in?
I'd make a very poor murderer, being cursed with always being able to see the other person's side of the story. Perhaps I might have succeeded playing a reed instrument in the McMasters pep band; my music instructor once said I'd forever murdered the Mozart Clarinet Concerto.
The guide claims there are many McMasters graduates among all classes of society. Which historical figures, fictional or real, would you suspect of having attended the conservatory?
The first pages of the novel list a rich range of historic homicidalists who evaded both suspicion and the law, including Mrs. Bess Weiss (better known as Bess Houdini), Colonel Harland David Sanders, and a surprising number of television evangelists, praise the Lord. It can also now be revealed that Aristotle Onassis and his mistress, renowned opera diva Maria Callas, both attended the conservatory, each with the intent of deleting the other.
The campus has a saying: "Wherever a murder goes unsolved, there goes a McMasters graduate." What would happen if a great detective like Sherlock Holmes were brought in to investigate a McMasters grad's deletion? Who would prevail?
Had the Master Sleuth and a McMasters youth ever gone toe to toe, the game would certainly have been a foot (or six feet under). But in Murder Your Employer, Professor Matías Graves, chair of literature at McMasters, points out that Holmes was not above letting a murderer go free, saying, "There are certain crimes which justify private revenge!" But should the Great Detective have inquired at what school the student had acquired their expertise, my hope is the McMasters graduate, sworn to secrecy, would deceptively reply, "Uh... elementary, my dear Holmes."
McMasters teaches students how to delete people by using common, everyday items. Are there ways to murder someone with, say, a piña colada?
As the writer-vocalist of the only Billboard number 1 cocktail-titled hit (keep in mind--Jimmy Buffett's "Margaritaville" tapped out at number 8), McMasters expects me to stay up-to-speed on all pineapple-related murder methods, from ground glass in the blender to a poison-tipped cocktail parasol.
The traditional but artless method is to replace the coconut milk in any piña colada recipe with automobile coolant, which is very sweet to the taste. I find it more elegant to serve an absolutely harmless piña colada in a Tiki mug carved from the manchineel tree, whose bark, wood, leaves and fruit ("Apples of Death") are all marvelously toxic. Its sap did in Ponce de Leon, who had otherwise been enjoying his Florida "escape."
If this novel had been written as a song, what genre would it be in and what would the chorus be?
The most appropriate genre would be a Requiem Mass whose chorus would be "Oh What a Beautiful Mourning!" with a fade ending. --Elyse Dinh-McCrillis
Shelf vetted, publisher supported.
Rediscover
Rediscover: The Autobiography of an Ex-Colored Man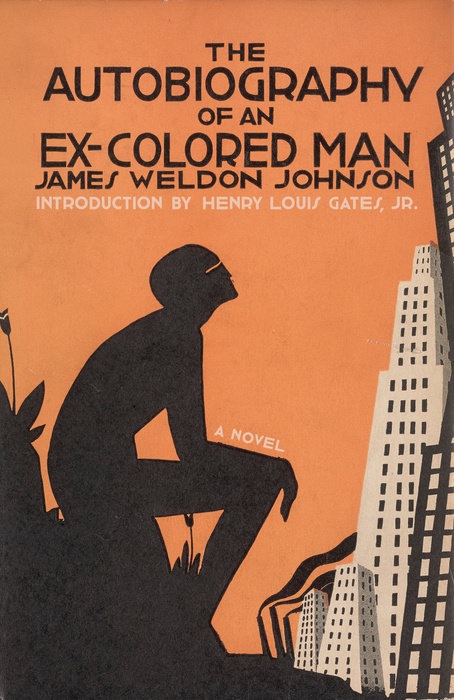 James Weldon Johnson (1871-1938) was an African American author, poet, composer and civil rights activist whose only novel, The Autobiography of an Ex-Colored Man, was republished this week with a new introduction by Henry Louis Gates, Jr. Johnson was born in Jacksonville, Fla., graduated Atlanta University and Columbia University, and became the first Black lawyer to pass the Florida bar. His first successful written work was the poem "Lift Ev'ry Voice and Sing" (1899), which his brother, composer J. Rosamond Johnson, set to music, creating what is informally known as the Black national anthem.

Johnson was appointed consul of Venezuela in 1906 and transferred to Nicaragua in 1909. He spent much of this time working on poetry and what would become The Autobiography of an Ex-Colored Man. He published that novel anonymously in 1912, afraid its controversial contents would harm his diplomatic career. But Johnson instead became a major supporter of the Harlem Renaissance and the fight for civil rights. By 1920, he was the first executive secretary of the NAACP, a position he held until 1930. He died in a car accident at age 67.

The Autobiography of an Ex-Colored Man follows the light-skinned son of a wealthy white Southerner and Black mother. Born just after the Civil War, the narrator, known only as the "Ex-Colored Man," enjoys a middle class upbringing thanks to his absent father's financial support. When his mother dies, the narrator loses that support but gains a familiarity with the various classes of Black society: the desperate, the domestics and the professionals. Many white readers of Johnson's novel were surprised by these distinctions, having previously seen African Americans as a monolithic social group.

In New York City, the narrator befriends a wealthy white gentleman who enjoys the young man's music. They travel, and at a Parisian opera, the Ex-Colored Man is horrified to be accidentally seated next to his oblivious father and half-sister. This encounter initially spurs him to return to the United States and fight for Black civil rights. But when he witnesses a horrific lynching, the narrator instead opts for the far safer life of passing as white. In the novel's frame story, the ruminating older narrator is left wondering if he has not, after all, sold his "birthright for a mess of pottage."

Johnson's poetry collections include Fifty Years and Other Poems (1917), God's Trombones: Seven Negro Sermons in Verse (1927) and Saint Peter Relates an Incident: Selected Poems (1935). The Autobiography of an Ex-Colored Man is available in paperback from Vintage ($11). --Tobias Mutter