Week of Friday, March 3, 2023
Some standout nonfiction among our reviews this week: Enchantment, Katherine May's follow-up to Wintering,"offers poignant reflections on what it means to find--and feel--purpose"; More to Say, Ann Beattie's "28 enchanting essays" almost evenly split between literary and art criticism; The Poetics of Wrongness, four "fascinating" lecture-essays from Rachel Zucker; A Mystery of Mysteries, Mark Dawidziak's "real-life thriller," a recounting of Edgar Allan Poe's last days; and Caldecott Medalist Dan Santat's "emotionally packed, uplifting graphic memoir" of his middle-school years, A First Time for Everything. Plus so much more!
In a fascinating discussion in The Writers' Life, YA authors Andrea Hannah (Where Darkness Blooms) and Trang Thanh Tran (She Is a Haunting) expose "the nature of horror." --Jennifer M. Brown, senior editor, Shelf Awareness
The Best Books This Week
Fiction
The Writing Retreat
by Julia Bartz
Alex, the glum protagonist of Julia Bartz's subversive debut, The Writing Retreat, has recently crossed into her 30s. Stuck in long-term writer's block, her dreams of making it as a novelist are just about dead; she holds a thankless and "bleakly underpaid" position in publishing; her sex life is equally bleak; and she still mourns her traumatic friend-breakup with the more successful Wren a year ago. So it feels like a shocking and undeserved honor to be accepted to a fantastically exclusive writing retreat hosted by Roza Vallo, the wildly successful novelist Alex has idolized since she was 12 years old. The catch is that Wren has been accepted, too.
Roza's Blackbriar Estate in the Adirondacks in New York is grand, dramatic and supposedly haunted. Roza herself is famous, rather controversial and private: the five young women attending the retreat must sign NDAs. Alex's adoration of her enigmatic hero is enormous, but she is also nearly crippled by anxiety about being near Wren. The five writers in attendance must each complete a whole novel in just 28 days, and the best of their works will win a million-dollar advance on a publishing deal. Even as the high-speed writing race ramps up and the drama with Wren continues to smolder, it emerges that something still more sinister is going on behind the scenes at Blackbriar Estate. Inexorably, The Writing Retreat evolves into an entertaining yet satirical locked-room mystery, as eight women--five young writers, two staff and Roza--find themselves snowed in at Blackbriar and beset by potentially fatal threats that may be supernatural or simply human evil. --Julia Kastner, librarian and blogger at pagesofjulia
Emily Bestler/Atria, $27, hardcover, 320p., 9781982199456
It Ends at Midnight
by Harriet Tyce
This may be some sort of record. The innocent-person-wrongly-accused story, the courtroom drama, the revenge plot: It Ends at Midnight by Harriet Tyce accommodates all three classic crime novel approaches while also incorporating two mainstays of the contemporary thriller--the social media scandal and the #MeToo reckoning. It sounds like a feat of narrative engineering, but Tyce makes it work.
Sylvie Munro, a London barrister turned deputy district judge, has one ambition: "the red sash and purple robes of the Crown Court judge." As It Ends at Midnight begins, she has won an appeal--"[j]ust what I needed for my judge's application"--and is luxuriating in her romance with her caterer boyfriend of six months. "There's a glowing future ahead," Sylvie thinks. In fact, well into the novel, readers would be under the impression that Sylvie hasn't a care in the world if the chapters she narrates weren't intercut with accounts of a grisly crime committed in Edinburgh. The novel's mystery isn't just what happened; it's also who the victims are.
Tyce (Blood Orange; The Lies You Told) metes out information with practiced restraint, interweaving her current-day plot with flashbacks to something that happened more than 20 years earlier, something that Sylvie eventually admits is "the death that changed everything. I remember it now as if it were yesterday." The writing in It Ends at Midnight can be overripe, and readers may be a step ahead of Sylvie on one count--but not, to their eventual gasp-eliciting surprise, on another. --Nell Beram, author and freelance writer
Sourcebooks Landmark, $27.99, hardcover, 320p., 9781728263847
Her Unexpected Match
by Lacey Baker
Two driven and determined 30-something workaholics cross paths in Her Unexpected Match, the first novel in a fresh contemporary romance series by Lacey Baker (Just Like Heaven), whose novels Christmas in Evergreen: Bells Are Ringing and A Gingerbread Romance were adapted for Hallmark Channel Original Movies.
The story takes place on Crescent Island, a beachfront oasis located off Maryland's Eastern Shore. The getaway destination might have scenic appeal, but it operates like any small town; at least, that's what floundering travel blogger Allie Sparks discovers while visiting her old college friend, an island local. Upon her arrival, an overly zealous Great Dane accosts Allie; the dog belongs to Ryan Parker, the dashing older brother of Allie's friend. Ryan is intent on growing his family-owned and -operated barbecue restaurant. Sparks fly between Ryan and Allie. As they endure the pull and tug of romance, Allie discovers the presence on the island of an anonymous, elusive astrologer-blogger who is also a successful matchmaker. Allie, after deciding to pursue the story, learns that the stars might align for her and Ryan. But what will happen to their love match if Allie decides to publish her story and reveal the island's best-kept secret?
Well-crafted romantic chemistry propels Baker's sweet, captivating love story, which offers a surprising twist. An affectionately drawn cast offers expansion potential for future novels in the series. Readers who enjoy wholesome, hopeful romances will be eager to escape to Crescent Island and all it has to offer. --Kathleen Gerard, blogger at Reading Between the Lines
Amara/Entangled, $8.99, paperback, 352p., 9781649373502
The Phantom Scientist
by Robin Cousin, transl. by Edward Gauvin
The vibrant colors--violets, greens, peaches-to-reds--belie a shrouded premise involving chaos, secrecy and even potential murder in The Phantom Scientist by Robin Cousin. The French comics creator/publisher makes his intriguing English-language debut, made possible by prodigious translator Edward Gauvin.
Armed and masked military escorts deliver Martin Sorokin, the director of Institute no. 4, to the Institute for the Study of Complex and Dynamic Systems--and then leave with a warning: "Try to handle things better than the guy before you. It was a disaster area when we showed up." His (late?) predecessor's video lays out Martin's tasks: to populate 24 research labs over six years, with solid results anticipated from residents in the seventh year. Six years pass, and that 24th scientist, Stéphane, who specializes in "morphogenesis," moves into the last empty space in Building F. He joins Louise, a linguist, and Vilhem, who's on the verge of harnessing the future. Missing, however, is the building's first-floor inhabitant, whose research solving the P versus NP problem in theoretical computer science could be linked to his disappearance. Stéphane just wants to continue his plant work, but he can't ignore the encroaching dangers.
Cousin's crisp lines, striking hues and exacting panels offer an inviting visual simplicity that contrasts with the heady references to structures, fractals and proofs. In the midst of showcasing scientific acrobatics, Cousin also cleverly exposes how institutional expectations can turn, if not deadly, then certainly debilitating. "Publish or perish" just might be a literal threat. Comprehension might feel elusive for readers who aren't mathematicians, but Cousin's illuminating artistry reveals rewarding algorithms for graphic enjoyment. --Terry Hong, BookDragon
MIT Press, $24.95, hardcover, 128p., 9780262047869
Pat in the City: My Life of Fashion, Style, and Breaking All the Rules
by Patricia Field
The classic sitcom Sex and the City (1998-2004) was centered on four women, but it's been said that the show had a fifth star: the clothes. The person responsible is costume designer Patricia Field, whose memoir, Pat in the City: My Life of Fashion, Style, and Breaking All the Rules, is a glittery, frothy account of a life spent scene-making, club-hopping and trend-setting. Field, born in 1942, was perhaps destined to work with clothes: her parents owned a dry-cleaning business in their New York City neighborhood. In 1966, following college and some time in retail and wholesale, Field and her girlfriend opened Pants Pub, a Greenwich Village boutique. Field's eye for expertly blending the high and the low reflected her "lifelong passion for unlikely mixes of different styles." Field's fashion label took off, eventually leading to work in costume design, including for the 2006 film The Devil Wears Prada, for which she earned an Oscar nomination.
Fans of Field's work have included Patti Smith, Britney Spears and other famous folk who make cameos in Pat in the City ("I bought the Tyvek jumpsuits Jean-Michel Basquiat scribbled on"). Field gives kudos to everyone, including herself; about leggings she writes: "I claim to be the inventor." An exception is John F. Kennedy Jr., who was disrespectful to her employees, the "band of freaks" Field writes about so lovingly, as she also does about Manhattan when trans people were first becoming visible, Studio 54 was setting the city alight and her clothes were making everyone look spectacular. --Nell Beram, author and freelance writer
Dey Street, $35, hardcover, 272p., 9780063048324
Zig-Zag Boy: A Memoir of Madness and Motherhood
by Tanya Frank
Tanya Frank's candid debut memoir, Zig-Zag Boy, which builds on her essay that appeared in the New York Times in 2017, tells the wrenching story of her son's psychotic break and traces how life has changed for her family in the years since.
Frank is from London but in 2002 relocated to Los Angeles, where she lived with her wife and two sons. One night in the autumn of 2009, her younger son, Zach (whom she sometimes calls "Zigs"), then 19, started whispering his suspicions that he was being monitored by telephone wires and that his friends were actually Russian spies. Frank confirmed that he had not taken drugs, checked that his temperature was normal, and--when his agitation continued--took him to the emergency room. This turned into a 72-hour psych ward hold. It was the start of what has been a decade-plus mental health struggle.
The present-tense narration involves readers in an ongoing journey. The pace is brisk and the tone never gives in to self-pity. Regular life doesn't stop during a crisis; Frank weaves in the other challenges she was dealing with simultaneously, such as moving to Northern California and attending marriage therapy. She also compares mental health care in the U.S. and the U.K., where she and Zach returned temporarily. In both countries, she concludes, the system is broken. This is a bracingly beautiful account of learning to live with uncertainty in turbulent times. --Rebecca Foster, freelance reviewer, proofreader and blogger at Bookish Beck
W.W. Norton, $28.95, hardcover, 224p., 9780393531886
A Mystery of Mysteries: The Death and Life of Edgar Allan Poe
by Mark Dawidziak
The death of prolific writer, poet and literary critic Edgar Allan Poe remains an astonishing and unsolvable mystery well more than a century after it happened. Mark Dawidziak (Mark Twain for Cat Lovers) lays out all the facts in A Mystery of Mysteries, a fascinating retelling of Poe's last days.
Edgar Allan Poe appeared outside an Election Day polling place in Baltimore, Md., on October 3, 1849--disheveled, somewhat incoherent and wearing someone else's clothing. Four days later, he died. Soon after, the physician at Poe's bedside left the field of medicine for the lecture circuit, where he repeatedly varied the account of Poe's death. Poe's stories tend to make the reading lists of American English literature courses, and most libraries and bookstores devote a large section of space to his works. Yet Poe barely made ends meet, and the financial and literary praise commonly associated today with his writings eluded him. Instead, rumors of alcoholism and drug use were (and remain) unfairly linked to his persona. Poe scholars still have lively arguments about Poe's life and death. Even forensic experts have entered the debate, but they can agree on only one thing: no one knows what happened.
Dawidziak assumes that most readers will have a basic familiarity with the works of Edgar Allan Poe and initially takes a just-the-facts approach to A Mystery of Mysteries, but the facts themselves are confounding. The more he reveals, the easier it is to understand why so many people are obsessed with finding the answers. Instead of a dusty, academic account, Dawidziak presents a real-life thriller. --Paul Dinh-McCrillis, freelance reviewer
St. Martin's Press, $28.99, hardcover, 288p., 9781250792495
The Poetics of Wrongness
by Rachel Zucker
Poet Rachel Zucker's work is known for its taut sense of urgency and the way it reflects her lived experience as a mother, wife and teacher in the United States. The Poetics of Wrongness consists of four lecture-essays, expanded from their original form as part of the 2016 Bagley Wright Lecture Series on Poetry. Zucker defines the poetics of wrongness as a way of writing into her belief that being wrong is not the opposite of right; instead, it is an act of opposition itself, a seating of oneself at a table piled with so many "wrongs" that questioning the idea of "right" becomes inevitable.
In the first essay, Zucker (Soundmachine; The Pedestrians; Museum of Accidents) presents six "(anti-)tenets" of the poetics of wrongness, including: "Poetry should be timeless." She argues that some poems "will last and continue to be relevant, but the poetics of wrongness wants a poem that is hard to capture and hard to hold" and seeks poems "with a shelf life, made with living ingredients." Themes of time echo throughout the collection; the book itself arrives on shelves after years of Zucker reworking her essays. This gap tangles with Zucker's assertion that "no writing exists outside of its moment." Leaning into this uncertainty, she urges readers, "Stay with me, stay in the present, this moment, for a moment," then assures them: "This is relevant." Zucker tackles such issues as feminism, confessional poetry, motherhood, bodies and time. And in all, she has written essays made with living ingredients, hard to capture, perhaps, but fascinating to behold. --Sara Beth West, freelance reviewer and librarian
Wave Books, $22, paperback, 256p., 9781950268702
More to Say: Essays and Appreciations
by Ann Beattie
Are writers and visual artists playing the same game? "When my [painter] husband and I have given presentations together," fiction writer Ann Beattie (The State We're In) reports in her introduction to More to Say: Essays and Appreciations, "we're inevitably asked what the relationship is between painting and writing. 'None,' would be the short form...." Yet in one of the 28 enchanting essays that follow, Beattie writes, "One of the reasons I react so strongly to John Loengard's photographs is because I find them so literary." Tracing Beattie's evolving thinking is one of the many pleasures of More to Say, whose essays span 1982 to 2022 and are, in what's tempting to take as a gesture of diplomacy, almost evenly split into literary and art criticism.
Loengard is among the subjects that Beattie writes about in pieces that include straight-up book reviews, as of works by Peter Taylor and Alice Munro, and introductions to books by writers and artists: Andre Dubus and Sally Mann are two of the more familiar names. The richest pieces blend criticism with something else, as when Beattie takes a journalistic turn and delves into the story behind American Gothic, Grant Wood's "much misunderstood" 1930 painting. Although Beattie's fans shouldn't expect confessional content in More to Say, her personal acquaintance with a subject can add an extra layer of interest, as when she wonders about the writer Harry Mathews: "How did I become dear friends with a person who had specially sewn compartments in his shirt pockets for his cigars?" --Nell Beram, author and freelance writer
Nonpareil Books, $17.95, paperback, 304p., 9781567927528
Psych: The Story of the Human Mind
by Paul Bloom
Psych is based on the Introduction to Psychology course that Paul Bloom (Against Empathy; The Sweet Spot) has taught for many years at Yale University. In a book he says can be read from cover to cover (his recommended approach) or for his insights into specific topics, Bloom begins with the anatomy of the brain and the insights of neuroscience, and moves on from there in a comprehensive survey that touches upon subjects that include the problem of consciousness, language, emotions, social behavior and much more. He displays an impressive familiarity with the principles and key research of each field, while writing in an enthusiastic, at times almost playful, style that's designed to engage general readers.
Bloom doesn't hesitate to remove some of the icons of his discipline from their pedestals. He considers the enduring appeal of the work of men like Sigmund Freud, B.F. Skinner and Jean Piaget, and then, respectfully but determinedly, proceeds to expose the flaws in their theories.
After a sobering chapter on the challenges of diagnosing and treating mental illness, Bloom finally considers the relatively new subject of positive psychology, something he calls a "messy field" that he says has some great scholars, along with "no shortage of hucksters." And as he concludes this fascinating journey across his sprawling subject, he urges his readers to approach the field to which he's devoted his life with two attitudes: humility and optimism. "The more you look at the mind and how it works from a serious scientific point of view," he writes, "the more you appreciate its complexity, its uniqueness, and its beauty." --Harvey Freedenberg, freelance reviewer
Ecco, $32, hardcover, 464p., 9780063096356
Enchantment: Awakening Wonder in an Anxious Age
by Katherine May
Katherine May (Wintering) offers poignant reflections on what it means to find--and feel--purpose in an age filled with a "growing sense of unreality" in Enchantment: Awakening Wonder in an Anxious Age. The solution to our present-day woes of urgency and fear, she offers, is the titular enchantment, "small wonder magnified through meaning, fascination caught in the web of fable and memory" and "the ability to sense magic in the everyday, to channel it through our minds and bodies, to be sustained by it."
May is far from the first writer to tackle the question of purpose or what it takes to live a happy life. But Enchantment stands out from an otherwise crowded field in the ways it feels at once grounded in the present moment, written on the heels of the Covid-19 lockdowns, and timeless in its questioning. This is not a book of advice or easy solutions but rather an invitation to explore our inner and outer worlds--and how readers might make meaning within them. "We have surrendered the rites of passage that used to take us from birth to death," May writes, "and in doing so, have rendered many parts of our experience unspeakable." And yet she succeeds, somewhat miraculously, in speaking to those very experiences across every page of Enchantment, recalling ocean dips in cold water, visits to hidden forest springs, long road trips to search the sky for meteors and the messy meaning-making found between these moments of awe. Enchantment is a treasure, one that invites grace, compassion and sensuality into our desire to find purpose in an often overwhelming world. --Kerry McHugh, freelance writer
Riverhead, $26, hardcover, 224p., 9780593329993
God's Ex-Girlfriend: A Memoir of Loving and Leaving the Evangelical Jesus
by Gloria Beth Amodeo
Gloria Beth Amodeo, raised in a laidback Catholic faith, joined Campus Crusade for Christ as a college student. Her debut memoir, God's Ex-Girlfriend, is a thoughtful, wrenchingly honest account of her seven years inside the movement. It details her experience with Cru, as it's now called, explores the reasons she clung to the community she found, and charts her struggles to get out.
Though Amodeo believed in a loving God, she struggled with her self-image and worried over her mother's mental illness and addiction to pills. When she met Cate--beautiful, self-possessed, logical and confident in her faith--Amodeo became captivated by the community Cate offered her and the seeming ease of belonging there. She questioned the movement's Calvinist and often sexist theology, especially its stances on LGBTQ+ people and premarital sex. But for a time, Cru offered a warm, welcoming community and a way to build an identity in an intimidating world.
Amodeo writes in sharp, often witty prose about her insecurities, the appeal of the people she met through Cru and her constant unease about befriending nonbelievers in order to evangelize them. She charts her increasing anxiety, her eventual "breakup" with the movement and her journey toward a more expansive life. Though its ending feels a bit rushed, Amodeo's memoir is an important perspective on a powerful parachurch organization that has indoctrinated numerous college students. But more than that, it's a funny, absorbing account of a young woman finding her way in the world and learning to embrace mystery rather than rules. --Katie Noah Gibson, blogger at Cakes, Tea and Dreams
Ig Publishing, $18.95, paperback, 256p., 9781632461476
The Writers' Life
Andrea Hannah and Trang Thanh Tran: The Nature of Horror
Andrea Hannah is an author, astrologer and workshop leader. She teaches about the creative process to people all over the world through her workshops and retreats. She is the author of Where Darkness Blooms (Wednesday Books).
Trang Thanh Tran writes speculative stories about food, belonging and the Vietnamese diaspora. When not writing, they can be found over-caffeinating on iced coffee and watching zombie movies. She Is a Haunting (Bloomsbury) is their debut novel.
Here the authors discuss how the horror genre is growing and changing, social commentary in horror fiction and writing the terrifying for teens.
Andrea Hannah: It's bananas that there were so many similar motifs in our books, even though we didn't know each other! I wonder if there's something in the collective consciousness about scary flower girls at the moment. There are so many current horror releases that blend themes of sentient nature and body horror in unique and interesting ways. It's a really exciting time to be a horror fan.
Trang Thanh Tran: Right! Coming-of-age can be such an isolating experience where you're learning things about yourself, your body and your relationships with the outside world. Emotionally, there's so much going on. I often joke that my books are about the horrors of growing up. Not everything is a metaphor, but also everything is a metaphor. It's fun to explore that in a horror novel, as nature--which is always growing or rotting--creeps in.
Andrea Hannah
(photo: Brooke Light)
Hannah: You bring up a good point about nature as a metaphor for growing up. I think up until your teenage years, you tend to see the world in a pretty one-dimensional way, through no fault of your own, of course. Then, all of a sudden, everything seems so much more complex and nuanced than you realized. In Where Darkness Blooms, our four main girls have been living on blood-thirsty, cursed land their entire lives, but they had mostly been sheltered from harm by their mothers. When their mothers disappear, they begin to see the sunflowers lurching toward them, the wind whispering in their ears, and so on. Nature is beautiful and it's extremely brutal. I think that juxtaposition makes for the perfect entry point to really potent horror.
When you started drafting your book, did you intend to thread in a larger commentary on colonialism or did you intend to write one girl, one summer?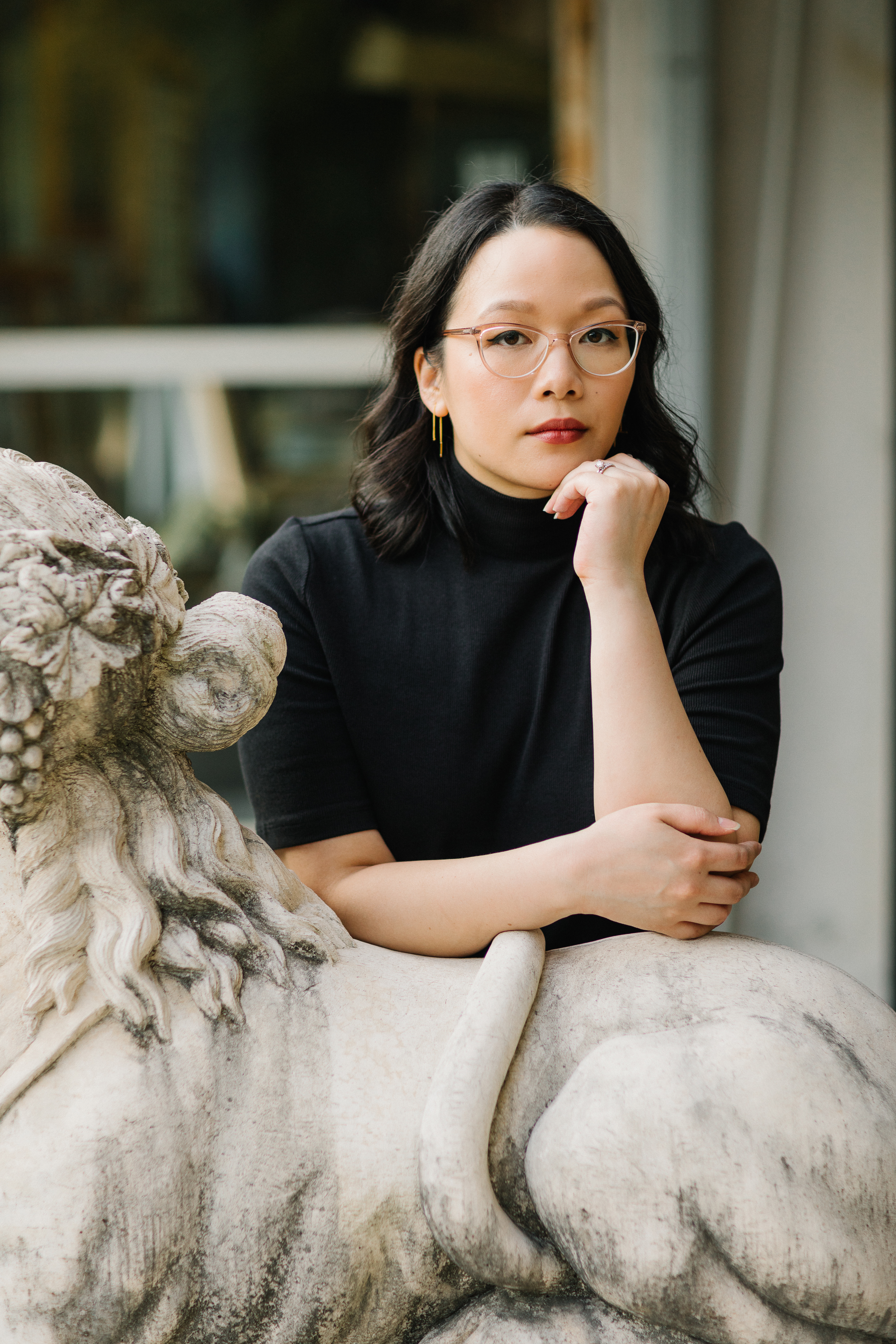 Trang Thanh Tran
(Heather Wall Photography)
Tran: It's the story of one girl and her family. I try to lead with a character in my books because the emotional journey is most important to me. But characters have history, too, and because her family survived colonialism in Vietnam, "commentary" naturally came up in Jade's perspective. Jade's exploring the cost of survival and all the bits of her family that she could never know, which is a human thing to do. Did you feel pressure to comment on social issues when writing your book?
Hannah: I didn't go out to specifically write a social horror or make a commentary like "patriarchy sucks" but I've long been trying to navigate the society we live in. The question of patriarchy--who benefits, how they benefit and the damage it causes psychologically, socially, economically and so on--is something that has gnawed at me. I've experienced and witnessed the very real damage it's done, so I guess it was kind of inevitable that it ended up in the book as well.
Tran: Yeah, even when it's speculative, it's informed by the systems we live in. Serious, campy, dreadful--horror can be any of those things and still have an impact. The variety is what's exciting. Did you write your book with the intention of it being horror?
Hannah: Honestly, no! That said, I've always known that my body of work has hung close to the threshold of "horror," but I didn't feel like I could call it that because I hadn't seen much horror done this way until recently! Let's be honest, the themes, tropes and motifs of horror as a genre have been written into place by (mostly) men. I'm afraid of different things than what a man might write about, and my experiences dictate how I express those fears in a story. But I'm happy to say things are starting to change. It's so much fun to watch the genre bloom (pun 100% intended) into something that can include everyone.
Tran: Shelves in the "Horror" section of most bookstores still have many of the same books I grew up reading. I'm ready to see the new generation of writers get some of those spots--the writers who had formative experiences reading these books and are now pushing those boundaries. We talked a bit about characters and us living in a world with issues that bleed into the writing. Let us read that, too! That's one reason I really wanted my cover to have a Vietnamese girl on it, so readers know it's unapologetically about this specific Final Girl.
Do you think there are special considerations when we write horror for teens?
Hannah: In my opinion, teenagers are well-equipped to read about the darker parts of life. Horror can also be extremely cathartic. When done well, horror is just raw honesty reflected on the page. The creepy haunted house or menacing sunflowers may be fake, but the fear and overwhelming emotions are very real, and the story can carry them through it all.
Tran: Some things teens deal with in their day-to-day life are already horrifying, so I think they can read almost anything if they want to. I keep in mind that with YA, my teenage audience comes first. I want to dig in anxieties and experiences that they may be grappling with. Horror can be that safe space to explore all these fears. When they close the book, the monsters stay inside. Horror can be healing in that way.
But to be the final girl in any story, you have to first exist in that story. In the past, queerness was sometimes used in conjunction with being bad or being evil. Now that queer people's stories are more visible, I feel there's a wider range of characters for people to see themselves in--or to just enjoy reading about!
Hannah: Honestly, same! How many slasher movies have we seen where a girl gets murdered after making out with her boyfriend in the woods? There's a lot of heteronormativity in the genre and it plays a role in the plot. The drunk dude lures a girl into a dark place, and she dies, then bam--there's the catalyst to introduce the audience to the killer. It's well past time to break out of that mold. We need to see the full spectrum of connections and emotions for horror to strike a nerve. If horror is a safe space to examine our fears through the emotions it evokes, then don't queer people deserve that opportunity, too?
Rediscover
Rediscover: Heartburn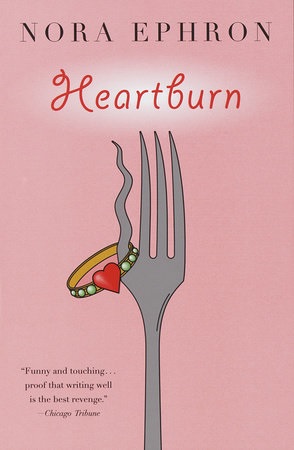 Rom-com queen Nora Ephron's novel Heartburn turns 40 this year. Based on her marriage to Carl Bernstein, Heartburn follows Jewish food writer Rachel Samstat (based on Ephron), who moves from New York to Washington, D.C., in support of her husband, political journalist Mark Feldman (based on Bernstein). Seven months through her second pregnancy (the couple already have one young son), Rachel discovers Mark is having an affair with Thelma Rice (based on Bernstein's real lover, Margaret Jay, wife of the British ambassador). Rachel responds by spreading rumors about Thelma, vacillating between wanting Mark back and wanting to kill him, and taking comfort in her food writing. Ephron peppers the novel with recipes, one of which reemerged late last year in a social media tizzy over Olivia Wilde, Jason Sudeikis, Harry Styles and some salad dressing. Author Isabel Kaplan also wrote a piece recently in the Guardian about Heartburn and her own breakup. The book continues to resonate.

A film adaptation of Heartburn starring Meryl Streep and Jack Nicholson was released in 1986, with Ephron adapting her own book into the screenplay. Despite repeated threats to sue over the novel and film, Carl Bernstein never did. On March 7, Vintage will release a 40th anniversary edition of Heartburn featuring a new foreword by actor, author and famous foodie Stanley Tucci. --Tobias Mutter