Week of Friday, March 31, 2023
We review some terrific nonfiction this week, including journalist Alan Prendergast's Gangbuster, a "stirring" account of public servant Philip Van Cise, who risked his life to break the mob and fight the Ku Klux Klan in 1920s Denver; In Search of Amrit Kaur by Livia Manera Sambuy, translated from the Italian by Todd Portnowitz, "a sumptuous literary adventure" featuring an Indian princess who sold her royal jewels to help Jews escape occupied Paris in the 1930s; and Mya-Rose Craig's Birdgirl, the inspiring chronicle of the author's life as a bird watcher--and how it shaped her into a social justice activist by young adulthood. Plus so many more!
And... is it possible to achieve Work-Life Balance? We consider a handful of business books that help frame the question in a variety of ways.
The Best Books This Week
Fiction
The Refusal Camp
by James R. Benn
James R. Benn (Shard; the Billy Boyle World War II Mystery series) brings readers a set of nine short mysteries, each crackling with a different kind of energy about pushing back and saying "no," in the aptly titled The Refusal Camp. In this collection, the stakes are always high and the danger intense, focusing on racism in the Deep South in one story and setting another on the ski slopes of Norway, with German soldiers in hot pursuit. All of the stories are riveting, but some resonate more. The stand-outs include "The Horse Chestnut Tree," a story about the disastrous circumstances of brothers who underestimate the intelligence of those they enslave; "Glass," a madcap time-space adventure in which hapless cousins find a piece of future technology and embark on a get-rich-quick scheme; and "Vengeance Weapon," in which a prisoner at a Nazi death camp proves, through slowly building tension, that revenge is a dish best served cold. Although Benn imbues all his characters with a bit of rakish humor, there's nary a false note to be had among the narratives and, just to keep things lively, the hero isn't always the usual suspect.
Benn lets each of his characters express their heart's worth, making their individual plights and seemingly insurmountable obstacles accessible to readers. Personalizing the various characters of The Refusal Camp seems so effortless for this author that each story deserves a bit of applause at its end. --Paul Dinh-McCrillis, freelance reviewer
Soho Crime, $26.95, hardcover, 264p., 9781641294515
Red Queen
by Juan Gómez-Jurado
Being the smartest person in the room--maybe even one of the smartest in the world--doesn't shield one from grief or guilt, as Spanish author Juan Gómez-Jurado (The Traitor's Emblem) depicts in Red Queen, the first of a trilogy featuring genius Antonia Scott and detective Jon Gutiérrez. Antonia, called the Red Queen, is one of the few people with extreme analytical skills attached to an international, under-the-radar organization that targets "slippery violent" criminals, all without interference from bureaucracies, the police or publicity. Although her intelligence has saved many lives, Antonia is now a recluse, refusing any assignments and blaming herself for the shooting of her husband, Marcos, who has been in a three-year coma in a Madrid hospital where she spends each day. She reluctantly partners with disgraced police inspector Gutiérrez to investigate the murder of a teenage boy, which is linked to the kidnapping of Spanish bank executive Carla Ortiz, daughter of Spain's richest man.
Gómez-Jurado maintains high tension with solid action as Red Queen, translated from the Spanish by Nick Caistor, explores the kidnapping, the murder and the criminals responsible, while investing in character studies of Antonia and Jon. Antonia lives in a bare-bones apartment, having moved all her possessions into her husband's hospital room, cutting ties with everyone in her life except her grandmother in England, with whom she has video chats. Jon, who suffers homophobic coworkers, possesses an empathy that leads him to plant evidence on those who exploit the vulnerable. Readers of Red Queen will hotly anticipate its sequels, already published in Europe, in years to come. --Oline H. Cogdill, freelance reviewer
Minotaur , $27.99, hardcover, 384p., 9781250853677
The New One
by Evie Green
In The New One, Evie Green (We Hear Voices) takes readers on a propulsive journey through grief, loss and secrets kept by those we love. This compelling novel will have readers up all night, following the tribulations of a struggling family offered a great gift--or possibly a curse.
Scarlett, the Trelawneys' daughter, was a perfect angel--brilliant, beautiful, sweet, gifted--until she turns 13. She then becomes a terror: lying, staying out late at night, neglecting her schoolwork. In near-future Cornwall, Scarlett's parents, Tamsyn and Ed, are barely surviving in their humble camper. They subsist on stolen cauliflowers and rarely speak to each other (without shouting). Then tragedy strikes: Scarlett is left lying in a hospital bed in a coma, and Tamsyn fears she'll never see her daughter conscious again. Just as their insurance runs out, they receive an offer that seems a mix of magic, miracle and horror: while a company called VitaNova rebuilds their daughter, the comatose Scarlett will receive the finest medical care, and her parents will be granted a fully funded fresh start in Geneva, Switzerland. Scarlett, now named Sophie (her middle name), is part human clone and part AI. She shares Scarlett's memories and gifts, although with the traumatic past year erased, and has been augmented with a better knowledge of French and physics--and a perfect, innocent love for her parents.
The New One is deliciously disturbing, engrossing and surprising at its every turn. This not-to-be-missed novel of family dynamics and what it really means to be human and to love is both pleasurably escapist and thought-provoking. --Julia Kastner, librarian and blogger at pagesofjulia
Berkley, $17, paperback, 400p., 9780593439234
Science Fiction & Fantasy
A House with Good Bones
by T. Kingfisher
T. Kingfisher (Nettle & Bone; The Hollow Places; The Twisted Ones) brings her trademark brand of humor and suspense to A House with Good Bones, an intimate, skin-crawling horror story about the ties that bind--sometimes too tightly. Archeoentomologist Sam Montgomery finds herself out of a job when her latest dig turns up Native American remains, and she moves in temporarily with her mother in her North Carolina childhood home. The house is haunted with memories of Gran Mae, the abusive, controlling grandmother who used to frighten Sam with stories of "underground children." Her fantasies of quality time evaporate into concern when she sees that her mom has reset the house to look exactly as it did when Gran Mae was alive. She worries her mother is belatedly grieving Gran Mae, but other strange phenomena occur: ladybugs swarm indoors, a jar of teeth turns up under the rose garden and vultures watch the house. "As omens go," Sam observes, "it doesn't get much more obvious than that." Sam digs into their family history and learns that exorcizing a ghostly granny isn't the worst of their problems.
Kingfisher understands that the scariest horror stories have their roots firmly planted in the traumas of real life and, here, mines family dysfunction. Sam often fails to grasp the danger of her situation because she's accustomed to thinking of Gran Mae as the ultimate monster, but Kingfisher demonstrates that abusers aren't created in vacuums. Quirky side characters, Sam's drily humorous narration and a ghoulish, gruesome climax should entertain horror and fantasy fans. --Jaclyn Fulwood, blogger at Infinite Reads
Tor Nightfire, $26.99, hardcover, 256p., 9781250829795
Jane & Edward: A Modern Reimagining of Jane Eyre
by Melodie Edwards
In Jane & Edward, her first novel, Melodie Edwards delivers an endearing, irresistible version of Jane Eyre. The story begins with Jane Raine, a tenacious young woman who grew up in foster care after the death of her father. Jane works as a waitress and, after scrimping and saving to put herself through courses at a community college, is on the eve of starting her new career as a legal secretary. To her astonishment, one of Jane's teachers refers her for a job at a prestigious downtown Toronto firm, working for the intimidating Edward Rosen. Everyone else in the firm is scared of Mr. Rosen's bluster, but over the next few months Jane finds herself growing fond of Mr. Rosen--while experiencing blossoming friendships with other coworkers--until one terrible day when a secret from Mr. Rosen's past is revealed. Jane is forced to reevaluate her new life.
Jane & Edward is a reimagining, not a retelling, of Charlotte Brontë's classic Jane Eyre. It does not hew as closely to that plot as most retellings would (and, thankfully, does not dwell for any length of time, as the original does, on Jane's dire beginnings), but the broad strokes are the same. And Edwards captures Jane's delightful stubbornness extremely well. Smart and witty Jane Raine, sure to captivate readers, has a sharp mind and a gentle spirit. Jane & Edward is perfect for Brontë readers or anyone looking for a romance with depth. --Jessica Howard, freelance book reviewer
Berkley, $17, paperback, 352p., 9780593440773
Gangbuster: One Man's Battle Against Crime, Corruption, and the Klan
by Alan Prendergast
Gangbuster by journalist and author Alan Prendergast (The Poison Tree) is a stirring nonfiction account of the life of Philip Van Cise, a public servant who risked his life and status to break the mob and fight the Ku Klux Klan. Set in 1920s Denver--a city riven with organized crime, corrupt institutions and sophisticated confidence men--Gangbuster is a vivid mural of a place in time. Van Cise returned from World War I in Europe all too aware of humanity's capacity for evil and determined to make his home a better place. Appalled by violent labor suppression and the legal system's favoritism toward capital, Van Cise ran for and won the office of Denver district attorney. There he resisted pressures to capitulate to organized criminal interests and, instead, took them head on.
With years of painstaking detective work, Van Cise broke the mob's hold on Denver. However, he was then confronted by a more powerful and sinister force: the Ku Klux Klan, which dominated the police and many business and media organizations and had even installed an acolyte as governor of Colorado. Van Cise took a defiant public stand against them. Through denunciations, aggressive investigations and the rallying of opposition, including former personal rivals, he fomented insecurity and infighting in their ranks and inspired others to stand up. Prendergast tells a story--in straightforward prose that belies his intensive historical research--that is, by turns, terrifying and motivational, one mercifully free of idolatry but penetrating and insightful in what it condemns and commends. --Walker Minot, freelance writer and editor
Citadel Press, $28, hardcover, 320p., 9780806542126
In Search of Amrit Kaur: A Lost Princess and Her Vanished World
by Livia Manera Sambuy, transl. by Todd Portnowitz
In Search of Amrit Kaur: A Lost Princess and Her Vanished World by Livia Manera Sambuy, translated from the Italian by Todd Portnowitz, is a sumptuous literary adventure inspired by the alluring story of an Indian princess who sold her royal jewels to help Jews escape occupied Paris in the 1930s. The daughter of the grand Maharajah of Kapurthala, a bejeweled prince of the British Raj, she was taken into Nazi captivity. The author, mesmerized by this brave young woman, researched her extraordinary life and unraveled a tantalizing trail of secrets and scandals that animate this engrossing biography.
It was pure serendipity that led Sambuy to a portrait of Princess Amrit Kaur, known as the Rani of Mandi, in a Mumbai museum, igniting a quest that took the author across India and to California, where the Rani's briefcase containing her personal effects was discovered in a San Diego garage. What drove the Rani to leave her husband and abandon her young children? Did she sell her jewelry to help her father's Jewish friend or, as one theory suggests, were the jewels stolen by her husband's jealous second wife?
Sambuy (Don't Write About Me), a staff writer for an Italian newspaper, is a marvelous and expansive storyteller, and her narrative is enriched by the presence of a lively octogenarian named Bubbles, the Rani's surviving daughter. Sambuy's pursuit of the young rebel princess through a "time machine" to the days of the British Raj yields an account of a refreshingly independent spirit and an advocate for women's rights courageously determined to live life on her own terms. --Shahina Piyarali, reviewer
Farrar, Straus and Giroux, $28, hardcover, 352p., 9780374106010
Hitler's Aristocrats: The Secret Power Players in Britain and America who Supported the Nazis, 1923-1941
by Susan Ronald
"By the clever and continuous use of propaganda, a people can even be made to mistake heaven for hell, and vice versa." So said Adolf Hitler, whose phalanx of "elite appeasers" in Britain and America, according to historian Susan Ronald (The Ambassador; A Dangerous Woman) in Hitler's Aristocrats, ably assisted him in resurrecting a war-ready Germany. In the shadow of World War I, many of the Allied nations swore such slaughter should never happen again, but this "magnificent obsession" became a propaganda cudgel that Hitler and his Nazi Party wielded to great effect. Ronald magnifies the countless dupes--European high society, international industrialists and the British and American political elite--who aided Hitler's rise by acting (wittingly or not) as the dictator's "listening posts" and mouthpieces, constantly working to "burnish Hitler's halo as a 'man of peace.' "
Through memoirs, diaries, letters and postwar testimonies, Ronald reveals the uncomfortable pro-Nazi and often antisemitic attitudes of such controversial luminaries as the Duke and Duchess of Windsor, Diana and Unity Mitford, Lady Nancy Astor, Charles Lindbergh and many others who believed appeasing Hitler was the only way to avert another war. Edward, Duke of Windsor, comes in for particular disdain as a man who was "never a deep thinker" and who fervently (and misguidedly) believed a close relationship between England and Germany was "essential for the security of Europe." Hitler's Aristocrats is an absorbing study of the ubiquitous nature of propaganda and the "murky puppeteers" who actively worked to blind the world to Hitler's crimes. --Peggy Kurkowski, book reviewer and copywriter in Denver
St. Martin's Press, $32.50, hardcover, 464p., 9781250276551
The Wandering Womb: Essays in Search of Home
by S.L. Wisenberg
S.L. Wisenberg's The Wandering Womb: Essays in Search of Home, winner of the Juniper Prize for Creative Nonfiction, is a debut collection worth noting. Wisenberg (Holocaust Girls) does not arrange the essays chronologically, a choice that mirrors the wandering of the title and leaves readers unmoored in time, feeling the pressure of both past and present in each essay. A particularly effective use of this unmooring is apparent in "The Year of the Knee Sock," which opens in 1967, when the author is 11 and taking a fashion class at Neiman Marcus. ("NM was like us, Jewish and Texan and established.") At times self-deprecating, the essay takes readers through various sixth-grade memories before recalling a classmate whom she can't fully remember but calls "Tom." When Tom follows her into the instrument closet, Wisenberg captures the innocent confusion of immaturity: "maybe this Tom has brought instructions, a diagram that shows one how to place the musical instruments in their proper places, a map you wouldn't expect to exist, like the one that comes inside boxes of chocolate candy." The rest of the essay spirals around this moment and its aftereffects, those felt immediately and those understood only after years of reflection: "In sixth grade I didn't know my body could speak" and "no one told me I was entitled to feel triumphant."
Wisenberg's direct tone and wide-ranging curiosity make this collection one to recommend, especially to those with an interest in the ways that history and memory intertwine. --Sara Beth West, freelance reviewer and librarian
University of Massachusetts Press, $22.95, paperback, 248p., 9781625347350
Birdgirl: Looking to the Skies in Search of a Better Future
by Mya-Rose Craig
Environmentalist and bird enthusiast Mya-Rose Craig chronicles her life as a bird watcher--and how it shaped her into a social justice activist by young adulthood--in her moving memoir, Birdgirl: Looking to the Skies in Search of a Better Future. As the youngest daughter of a "well-known birding family" in Britain, Craig was exposed to birdwatching--also called "twitching" in the U.K.--from a young age.
Craig calls birding a "thread running through the pattern of my life," and she follows that thread across every page. The result is a memoir about birds and Craig's milestones as an ornithologist: completing a "Big Year" (an attempt to see 300+ species of birds in one year) at age nine with her parents; starting Birdgirl, the blog from which her memoir gets its title, at age 11; and, ultimately, at 17, becoming the youngest person to have seen half of the known bird species in the world. But Birdgirl is also about so much more than birds, just one of the fascinating threads in the memoir. "Becoming a political and environmental activist felt like a natural progression," she writes, an observation that becomes abundantly clear as Birdgirl unfolds and Craig begins to use her platform and voice to emphasize climate change, stories of Indigenous peoples and the challenges of racial equity in nature and conservation circles.
This memoir will inspire readers with an eye for nature--as well as those interested in climate change and conservation--to look to the skies and find inspiration for a better future in all of the majestic beauty that surrounds us. --Kerry McHugh, freelance writer
Celadon, $28, hardcover, 304p., 9781250807670
Work-Life Balance
Exploring Work-Life Balance
Is there such a thing as work-life balance?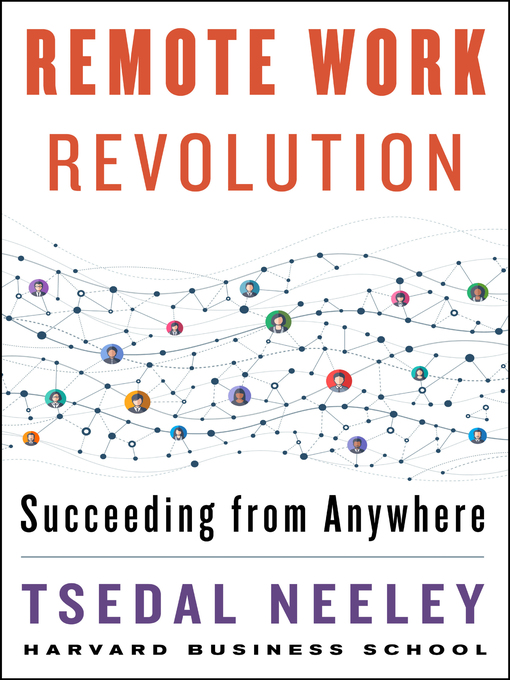 When Remote Work Revolution by Tsedal Neeley (Harper Business, $29.99), the Naylor Fitzhugh Professor of Business Administration at the Harvard Business School, was published in March 2021, many of us were still figuring out how to remain connected through our screens instead of around a conference table. Neeley, with her 20 years of researching effective teams who worked across a global workforce, supplied readers with accessible ways to implement team-building, inclusive strategies to keep everyone engaged and to make sure each voice had the chance to be heard. Her clear roster of ways to troubleshoot and the exercises provided at the end of each chapter make her book just as useful today as it was when it first published.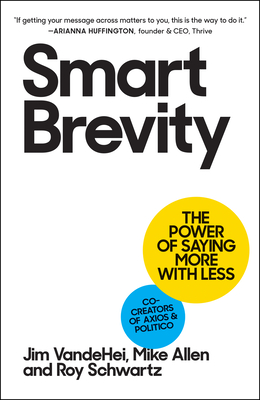 Then Smart Brevity by co-authors and Axios cofounder Jim VandeHei, Mike Allen and Ron Schwartz (Workman, $27) came along, with this motto: the shorter and pithier, the better. E-mail quickly became the predominant communication mode in the (pandemic) workplace and suddenly, the steady flow became a tsunami of e-messages. Smart Brevity's common-sense guidelines for concise e-mails, corporate newsletters and meetings drive home the need for key takeaways and action steps that get through to colleagues and potential clients.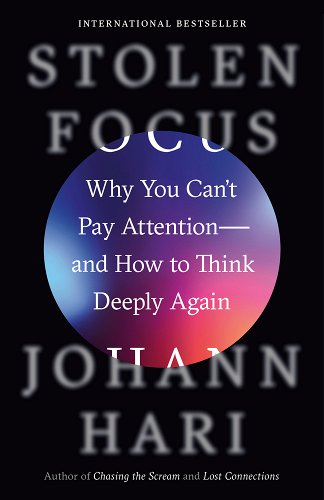 And why are we all so exhausted? Apart from the pandemic necessitating a free flow of information through the permeable wall between the personal and professional, plus a perfect storm of e-mails, tweets, messenger alerts and Instagram stories..... Johann Hari in Stolen Focus: Why You Can't Pay Attention--And How to Think Deeply Again (Crown, $18) explains why: our attention spans are shrinking just as the flow of information is expanding. The average worker is interrupted every three minutes; and it takes us 23 minutes on average to return to a state of flow. Hari, whose book was named the 2022 Porchlight Business Book of the Year (formerly the 800-CEO-READ Award), takes readers on his visits to cutting-edge researchers in the fields of neurology, psychology and technology and explains how we've all become akin to B.F. Skinner lab rats, run by, powered over and beholden to the "likes" and responses to our feeds, tweets and TikTok videos. We're sleeping less, caffeinating more and behaving like college students during exams. But Hari does suggest a way out: first, one must become conscious of what's happening; then one must break the cycle and take charge of one's daily rhythms again--and band together to fight societal forces designed to disrupt our circadian rhythms.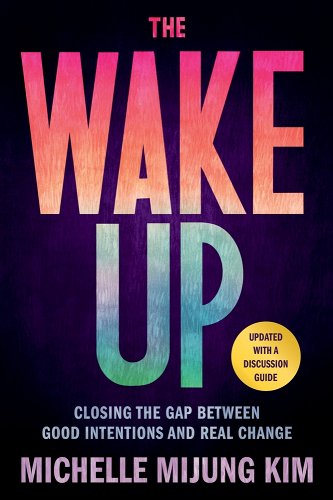 And for many of us grappling with how to continue practicing antiracism and healing harms done, The Wake Up: Closing the Gap Between Good Intentions and Real Change by Michele Mijung Kim (Hachette Go, $18.99) is an invaluable companion on the journey. As CEO and co-founder of Awaken, a "leading provider of interactive equity and inclusion education programs, facilitated by majority people of color educators," Kim shares her personal and professional stories, allowing readers to identify with her as well as to interrogate themselves and their motives--to do the work of "grounding"--before attempting to interact with others. She emphasizes starting from a true place of empathy and self-knowledge toward a shared goal of "moving together" toward a deeper humanity. She believes we must move beyond the binary thinking (you're racist or you're not; you're sexist or you're not) because most of us live in the "messy middle." She believes that "in these messy, uncomfortable struggles,... we can awaken our capacity to do the deep work of transforming ourselves in order to change the world alongside others." --Jennifer M. Brown, senior editor, Shelf Awareness

The Perfumist of Paris
by Alka Joshi
Alka Joshi's lush third novel, The Perfumist of Paris, takes readers on a multi-sensory journey from a pristine Parisian perfume lab to the bustling markets of Agra in India. Following the story that began with The Henna Artist and continued with The Secret Keeper of Jaipur, Joshi explores the ways in which her characters have evolved, and the impact of long-held family secrets on their lives several decades later.
Radha Fontaine (whom readers met in The Henna Artist) spent her childhood following her older sister, Lakshmi, around Jaipur, mixing henna for Lakshmi's clients and--eventually--getting tangled up with a rich, careless boy. As the title of this third book indicates, she's now a grown woman and a budding perfumist in 1974 Paris, married with two young daughters, Asha and Shanti. Radha loves her work, though her dedication to it is increasingly a source of conflict with her French architect husband, Pierre. Determined to prove herself at work, she accepts an exciting assignment that requires her to travel back to India, and she enlists Lakshmi's help to track down rare ingredients that will make her perfume something special. Lakshmi, now happily married and working alongside her doctor husband in Shimla, joins Radha on a trip to Agra, where they visit a pair of aging courtesans who know all about perfume--and managing difficult men.
During her time in Agra, Radha is able not only to find key ingredients for her perfume, but to reconnect with Lakshmi. Readers who are familiar with Joshi's world will appreciate the glimpse into Lakshmi's life in Shimla with her husband, Dr. Jay. The two sisters are also able to talk about some difficult things from their past--to reckon with the impossible choices they were forced to make, and to begin to move forward. As Lakshmi reminds Radha, the measure of a person cannot always be found in the past or the future, but in "the fundamental changes we make within ourselves over a lifetime."
Though Radha's story is set nearly half a century ago, her struggle to carve out a life for herself while fulfilling her role in her family feels sharply contemporary. Pierre's entrenched, traditional ideas of a woman's role and responsibility to her family cause him to clash with Radha, who grew up watching Lakshmi model entrepreneurship and independence as a single woman in Jaipur. Radha's stern French mother-in-law, Florence, also doesn't hesitate to make her disapproval known. However, a series of revelations changes the relationship between the two women, and ultimately makes Florence a much more sympathetic character.
At work, Radha has another feminist example in master perfumer Delphine, who expects excellence from all her perfumers but also gives Radha occasional wise (if oblique) advice. When Radha travels to Agra with Lakshmi, the courtesans--Lakshmi's old friends--model a different type of female independence. Aware of the stereotypes around their profession, but sharp-eyed and fiercely proud, these elderly women also help inspire Radha to continue forging her own path. When Radha suspects someone is sabotaging her major perfume project, she must find the culprit to protect not only herself, but the courtesans, who have given generously of their time, knowledge and connections.
Radha longs to help her daughters connect to the Indian heritage they share, but is unsure of how to bring it into their lives. Her wrestling with this tension also prompts some self-reflection on how hard she has tried to assimilate to her new culture: "Sometimes, I marvel at how different my life is today. Back in Ajar, I slept on a hard-packed dirt floor instead of a down mattress. I had to draw water from a well and heat the water over a clay hearth. Here, I turn on a tap and hot water magically appears. After thirteen years I've grown used to these daily comforts." When she returns to Paris, Radha must decide what kind of changes--and sacrifices--she is willing to make to have the life she wants, and tension in her marriage threatens to boil over, just as a secret from her past in India shows up in her living room.
Joshi's narrative bursts with sensory details, including the scents of the perfume ingredients Radha creates and the mid-century details of the apartment she shares with Pierre and the girls. The cacophony of color, sound and scent in India contrasts sharply with the sterility of Radha's perfume lab, but Joshi (like Radha) moves skillfully between settings. Equally compelling is Radha's constant inner dialogue about balancing work, marriage and motherhood: she wants to be a good wife to Pierre and an attentive mother to her daughters, but she also needs the satisfaction and creative outlet provided by her job.
Beautifully written and thought-provoking, The Perfumist of Paris continues a compelling family saga, immerses readers in the world of perfume, and asks important questions about the desires and possibilities available to women. --Katie Noah Gibson
Mira Books, $30, hardcover, 368p., 9780778386148
In Pursuit of Perfume and Womanhood
An Interview With Alka Joshi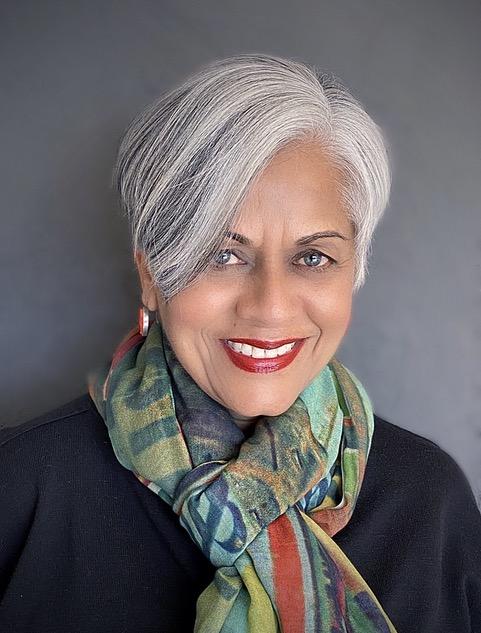 (photo: Garry Bailey)
Alka Joshi is the author of the Jaipur Trilogy, which includes The Henna Artist and The Secret Keeper of Jaipur. Born in India, she has lived in the U.S. for many years. Before turning to fiction, she worked in advertising and PR for three decades. The Perfumist of Paris (Mira, March 28, 2023), the third book in the trilogy, focuses on Radha, the younger sister of eponymous henna artist Lakshmi, as she balances motherhood, marriage and a career as a perfumer in 1970s Paris.
What was the inspiration for The Perfumist of Paris? We've met Radha in two previous books, but how did you decide to give her her own story?
This trilogy evolved over time. I didn't know I was writing a trilogy at first! Malik [Lakshmi's assistant] was a character who just kept bugging me. There was a lot of his story that got cut in The Henna Artist, and I hated doing that to him. I had pages and scenes that never made it into the book, so I decided to tell his story, and that became The Secret Keeper of Jaipur.
Meanwhile, Radha [Lakshmi's younger sister] graduated from boarding school and married a Parisian. When I finished The Secret Keeper of Jaipur, I thought: I need to say something about Radha and where she went. Her career had also advanced during that period. That's when the third book was born.
Radha's character is fascinated by perfume. How does this fascination--which ultimately leads to her career--connect her both to her home in India and her new home in Paris?
I had to start researching perfume and where it's produced, where the ingredients come from, and so many of them come from India! I was so pleasantly surprised by that. Sandalwood, jasmine, spices, hundred-petal rose–all these ingredients come from that part of the world. I love research because I find out all kinds of interesting things.
I still wanted Radha to connect with Lakshmi somehow in this third book, but what does Lakshmi know about perfume? Not much. But the courtesans, who helped Lakshmi figure out how to decorate bodies with henna, know all about perfume. These courtesans in India had accumulated so much wealth over time because of their wealthy patrons, and they helped finance the independence movement in India, beginning with the mutiny of 1857. The British never forgot the courtesans' involvement, so the British began taxing them heavily so they wouldn't have that kind of wealth. I also found out that in the courtesans' world, it's their daughters who inherit everything. Their sons have to go outside of the haveli to make their own lives.
We see Radha struggling to balance career and motherhood in a way that feels very contemporary. What has changed for women in this regard since the 1970s?
I know so many people who are dealing with this issue. One of the things I'm trying to say in this book is--it's been five decades! Why are we still struggling with this? Why do we still have women who feel torn between motherhood and career? Women carry most of the emotional burden of this problem. The 1960s and early '70s were the time when there was a lot of revolution happening--first here in the States and then in Europe. Women were going out into the workplace, abandoning this idea of having to stay home. They started realizing: it's not fair to me as a person to make me half of a person.
Radha must go back to India to find the ingredients and scents she wants to add to her perfume. Can you tell us about your research on these ingredients?
I went to Paris, I went to Lisbon, I went to Grasse [in France]. I talked to a lot of master perfumers. I looked on Airbnb for the apartment I had envisioned for Radha and Pierre with their daughters. I wanted wood floors, high beamed ceilings, tall windows. I found it! It has all this Le Corbusier furniture in it, and I lived there for two weeks. So I knew: it's this far to Notre Dame, which is where they go to look at the gargoyles, and it's this far to the Eiffel Tower, and this is where the girls are going to school. I think that kind of detail immerses your readers in a kind of travelogue. Fun fact: my first trip to Paris was in 1974--the year that the story is set.
Although Radha often feels like a loner, the novel highlights her deep and complex relationships with other women: Lakshmi, the courtesans, her friend Mathilde, her mother-in-law, Florence, her boss Delphine. In what ways do Radha's relationships with other women help her discover who she truly is?
I think women do have very complicated relationships, much more complicated than men. I think women are far more selective in their friendships, and little things their female friends do can impact them. They're very cognizant of everything a female friend does and says. Radha feels one way about Florence until she learns the full story, and then she feels a different way and feels a kinship with her. With Delphine, Radha needed a mentor to help her get up through the ranks--men were not going to help her. Delphine does not spend time worrying about what other people think. And Delphine is so private that we don't know much about her until the very end. Mathilde is very interesting because she has everything we think a woman needs: money, free time, independence. At the point where Mathilde really needs Radha to help her, Radha is not there for her, and there's a lot of guilt there.
Radha's relationship with Lakshmi has also changed over the years: they are more sisters and friends than they were. You find out that Radha has been holding onto a lot of pain. Even with someone that we're really close to, we can be holding onto something that has caused us a lot of pain.
As in all of my books, this is about women finding themselves: finding their agency in this world, finding their power, and also determining what part of their relationships are serving them, and which parts are not. We all get stuck in a way of being, and it's something that Radha has to work through. --Katie Noah Gibson
Shelf vetted, publisher supported.
Rediscover
Rediscover: Follow the River
James Alexander Thom, the author of some 15 books who was perhaps best known for his 1981 historical novel Follow the River, "about the 18th-century escape and journey of Mary Ingles, who had been captured by the Shawnee and made the 400-mile trek home," died January 30 at age 89, IndyStar reported. Follow the River made the New York Times bestseller list and by 2021, 40 years after its release, had sold about 1.3 million copies.

Early in his writing career, Thom worked for newspapers and other publications, as well as a magazine called Nuggets, which contained words of wisdom that comforted those who had lost loved ones. His "knack for connecting with readers during deeply emotional events would continue as he began writing historical fiction--a passion that would be a major part of the rest of his life," IndyStar wrote.

Discussing Follow the River, Thom said: "The basic thing is that this was a true story and people have found it utterly inspiring. I've had thousands of fan letters from people who have been encouraged to go on through tough situations because of the story."

"He treasured books only second to human beings," said his wife, writer Dark Rain Thom, for whom he drew the illustrations in her book The Shawnee: Kohkumthena's Grandchildren. Thom's other books include Time It Was Now: The Art & Craft of Writing Historical Fiction; Fire in the Water; St. Patrick's Battalion; Long Knife; From Sea to Shining Sea; Red Heart; and Warrior Woman (with Dark Rain Thom). His many honors included induction as a member of the Indiana Journalism Hall of Fame and being an Indiana Authors Awards Lifetime Achievement Honoree and National Winner. Follow the River is available from Ballantine Books.