Week of Friday, April 14, 2023
To get ready for Earth Day on April 22, our feature highlights books that take young people into nature--both close to home and far away--and shows them the world in need of saving. We also review Katie Holten's excellent ode to the planet and its varied microclimates, The Language of Trees, in which she invents "a custom-made arboreal alphabet consisting of hand-drawn trees."
And we have plenty of other reviews, too, including Charles Frazier's The Trackers, which "chronicles the landscape of Depression-era America" as a young WPA artist traverses the country on "a trek of intrigue and danger."
The Best Books This Week
Fiction
Yours Truly
by Abby Jimenez
With Yours Truly, Abby Jimenez (Part of Your World; The Happy Ever After Playlist) continues her string of lovable romances that deftly handle issues of mental and physical illness. Dr. Briana Ortiz has had a truly terrible year: her divorce has just been finalized, her younger brother is going through kidney failure, and she finds out that the work promotion she's been vying for is probably going to the new kid on the block, Dr. Jacob Maddox. Determined to hate him, Briana is eager to find all of Jacob's flaws (and commiserate about him with other hospital staffers), until, to her shock, Jacob writes her an honest-to-god letter. And it's a great letter, which makes Briana see Jacob in a new light and forces her to reevaluate her first impressions of him. Soon she finds herself falling for Jacob, as she realizes what a truly special person he is underneath the quirks that, at first, she hated.
Yours Truly, introspective and charming, is the story of two people with misconceptions about each other, yet who are willing to look for the best and change their opinions. Fans of Jasmine Guillory or Emily Henry are sure to love this one. Yours Truly includes some crossover characters from Part of Your World but can easily be read as a scintillating stand-alone novel for those who haven't read Jimenez before--although it's sure to send readers scrambling to find all of her previous novels, too. --Jessica Howard, freelance book reviewer
Forever, $28, hardcover, 416p., 9781538740439
True West: Sam Shepard's Life, Work, and Times
by Robert Greenfield
He had "one of the most extraordinary careers in modern American theater," as Robert Greenfield (Bear; The Last Sultan) puts it in True West, the admirably nonhagiographic biography of playwright and actor Sam Shepard (1943-2017). Born in Illinois to an Army Air Force First Lieutenant father and a teacher mother, Shepard spent his formative years in California and was so naive that, when he arrived in New York to forge a career in the arts, he thought "the girls in New York City must be incredibly friendly, because they all keep hitting on him." That innocent would appear in many successful films and write some of the most acclaimed plays of the 20th century, including Fool for Love, A Lie of the Mind, and Buried Child, the last of which received the 1979 Pulitzer Prize in Drama.
Greenfield's book is a standard linear biography that hits the usual notes: upbringing, rise to fame, relationships, inevitable decline, and so on, plus reminiscences from those who knew him. He doesn't sugarcoat Shepard's flaws, which included "drinking & bad behavior," brushes with the law, and infidelity. His relationships included not just his marriage but also his romances with Patti Smith and, more enduringly, with Jessica Lange. The bio may be traditionally structured, but it's a story worth telling, and Greenfield tells it well. Who wouldn't be interested in a biography in which the author has the wit to compare one of the subject's plays to "a weird, post-apocalyptic episode of Friends"? --Michael Magras, freelance book reviewer
Crown, $30, hardcover, 448p., 9780525575955
The Farrows of Hollywood: Their Dark Side of Paradise
by Marilyn Ann Moss
The Farrows of Hollywood opens in 1992 with Mia Farrow finding smiling nude photos of her adopted 19-year-old daughter in current boyfriend Woody Allen's apartment. Six months later, Farrow accused Allen of molesting the seven-year-old daughter they co-adopted. Allen denied all allegations. The case was investigated repeatedly over the next three decades and no evidence of a crime was found; Allen was never charged. Marilyn Ann Moss (Raoul Walsh) then backtracks to the volatile household Farrow grew up in as the daughter of film director John Farrow and actress Maureen O'Sullivan, who both understood that "you could find fiction to make real life bearable."
Moss describes the home Mia and her six siblings grew up in as "a tense, rigid, tightly wound and religiously bound environment where the children hardly saw their parents." John Farrow's numerous affairs led to separate bedrooms and separate lives. "Maureen loved having children," writes Moss, "but after giving birth she had absolutely no idea what to do with them." Mia, who would later have four biological children and adopt 10 more, remembers her father drunkenly chasing her mother with a long knife before running off into the night. Her mother's response was to put young Mia in her bed and go sleep elsewhere.
Moss expertly sifts through the Farrow family's struggles and tragedies: one of Mia's brothers and two of her adopted children died by suicide, and another brother was imprisoned for molesting two boys and later claimed he was molested by their father. This is a deeply researched, attention-grabbing and previously untold tale of generations of dysfunction in one Hollywood family. --Kevin Howell, independent reviewer and marketing consultant
Skyhorse, $32.50, hardcover, 328p., 9781510768833
The Blazing World: A New History of Revolutionary England, 1603-1689
by Jonathan Healey
The political, religious, and social revolutions that raged across England in the 17th century still cast a smoldering glow upon today, claims historian Jonathan Healey in his superb study The Blazing World. In 1603, England was a land of (mostly) illiterate and poor farmers staving off starvation under the unchecked rule of a Scotsman, King James I. A "new world had arisen" by the century's end, one characterized by economic growth, higher literacy rates and wages, increased religious tolerance, and a robust parliamentary government. In between those bookends, says Healy, it was a story of "grubby politics," where "[p]opular petitioning, iconoclasm and mass protests" were a constant feature in a society roiled by civil war, army coups, religious dissent, and regicide. Healey's (The First Century of Welfare) erudition illuminates the clash of ideologies pitting Roundheads vs. Cavaliers in the English Civil War, King Charles I's sensational trial and execution at the hands of Parliament, Oliver Cromwell's Protectorate and the Glorious Revolution of 1688-9, to name just a few of the century's top notes.
But it is in the interstices where the "middling sort" of English society emerges in "vivid technicolour" through Healey's careful curation of ample source material. Healey admits there is "so much that is alien" about the 17th century, but the ways in which society grappled with "new forms of media, with a divisive culture war and with questions about who holds power" resonate today. The Blazing World achieves that rare balance between readability and incandescent scholarship. --Peggy Kurkowski, book reviewer and copywriter in Denver
Knopf, $38, hardcover, 512p., 9780593318355
Once Upon a Prime: The Wondrous Connections Between Mathematics and Literature
by Sarah Hart
Since 2020, Sarah Hart has served as the Gresham Professor of Geometry; she's only the 33rd person--and the first woman--to hold the post since its origins in Tudor England. She's also an avid lover of books, and in Once Upon a Prime: The Wondrous Connections Between Mathematics and Literature, she sets out to show just how much her twin passions have in common. It's an affable guide to numerous mathematical concepts and to illuminating close readings, and Hart's good-natured enthusiasm for both books and numbers is sure to set even the most math-shy readers at ease. That enthusiasm is contagious. Joy abounds as she digs into the mathematical structure that undergirds Eleanor Catton's The Luminaries or the trove of geometric metaphors to be found in Moby-Dick.
Catton and Melville are but two highlights among the bevy of literary personalities and references Hart cites in her survey. Another delightful feature is Hart's affection for a cadre of mid-20th-century French theorists collectively called the Oulipo, to whom she devotes a chapter. It's easy to see why Hart is so taken with the Oulipians, whose roster featured such notable members as Italo Calvino and Marcel Duchamp; identifying mathematics "as the lodestone of structure," they used it to invent new and often highly conceptual literary forms with a spirit of playfulness and imagination. That mathematics can be such a wellspring of inspiration--and, in the case of literature, often inseparable from artistic creation itself--is a case that Hart's debut makes with undeniable warmth and exuberance. --Theo Henderson, bookseller at Ravenna Third Place Books in Seattle, Wash.
Flatiron, $29.99, hardcover, 304p., 9781250850881
Tell Me What You Want: A Therapist and Her Clients Explore Our 12 Deepest Desires
by Charlotte Fox Weber
In her first book, Tell Me What You Want: A Therapist and Her Clients Explore Our 12 Deepest Desires, Charlotte Fox Weber delves headfirst into what she describes as the central mission of therapy: to uncover hidden longings and the deep desires that frighten and excite us. This includes desire in the sexual sense, as well as a yearning for love, understanding, attention, connection, and belonging. Weber is a London-based psychotherapist and the founder of the School of Life psychotherapy service. In Tell Me What You Want, she grants readers access to intimate conversations that unfold between her and her clients as they explore deep, often subconscious, wants and find ways to clarify priorities that will lead to healing, growth, calmness, and self-understanding. Client names and other identifying details have been changed to maintain confidentiality, but the difficult discoveries, hard-won insights and remarkable revelations that occur in productive therapy sessions are as viscerally real as it gets.
"Cultivating a healthy sense of self requires constant fine-tuning and updating," writes Weber in a chapter titled "Understanding." Here she and her client Sying, an architect and mother with an obsessive work style and low self-esteem, untangle the emotional layers of her personality to uncover long-ago dreams and ambitions. Working toward a resolution involves Sying breaking free of an unhealthy office dynamic while making space for her desire for professional recognition.
Tell Me What You Want offers readers client-approved strategies to fathom, interrogate, and accept innermost wants and longings as a springboard for personal growth. --Shahina Piyarali, reviewer
Atria, $27.99, hardcover, 320p., 9781982170660
The Language of Trees: A Rewilding of Literature and Landscape
by Katie Holten
Irish artist Katie Holten has "always felt like a plant-person, moss and lichen covered." In a stunning new anthology, The Language of Trees, Holten collects essays, poetry, and aphorisms on trees from roughly 70 contributors, ancient and modern, and translates them into her Trees font, a custom-made arboreal alphabet consisting of hand-drawn trees. The result is a thoughtful, wide-ranging celebration of trees and forests and an urgent call to preserve and bolster them before it is too late.
Ross Gay, in his introduction, calls Holten's collection a "gratitude immense"--for its "gathering of wonderers and lovers of the arboreal," and Holten's Trees font, which appears letter by letter above some shorter quotes and as a dense, multispecies forest accompanying longer essays and other prose. Holten's contributors--a diverse group in race, gender, and nationality--include climate scientists (Robin Wall Kimmerer, Eduardo Kohn), activists (Winona LaDuke, Kinari Webb), poets (Ada Limón, Sumana Roy), and novelists (Richard Powers, Amitav Ghosh, Ursula K. Le Guin). Their pieces include essays on botany and forestry; a recipe for acorn bread; an excerpt from Robert Macfarlane's dictionary of place-words; even song lyrics from Radiohead. They are eloquent, wry, heartrending, multifaceted, and insistent, united in their deep love for trees and their passion for sustaining the world's forests. As Holten says in her afterword, this collection is "a love letter to our vanishing world, written with Trees." It's also a beautiful, artistic rendering of the many ways trees nourish and undergird our world. --Katie Noah Gibson, blogger at Cakes, Tea and Dreams
Tin House, $29.95, hardcover, 320p., 9781953534682
Celebrate Earth Day!
Children's Books to Celebrate Earth Day
Saturday, April 22, is Earth Day, an annual global event to support environmental protection. Here are some excellent recent children's books that bring kids into nature--both close to home and far away--and show them the world in need of saving.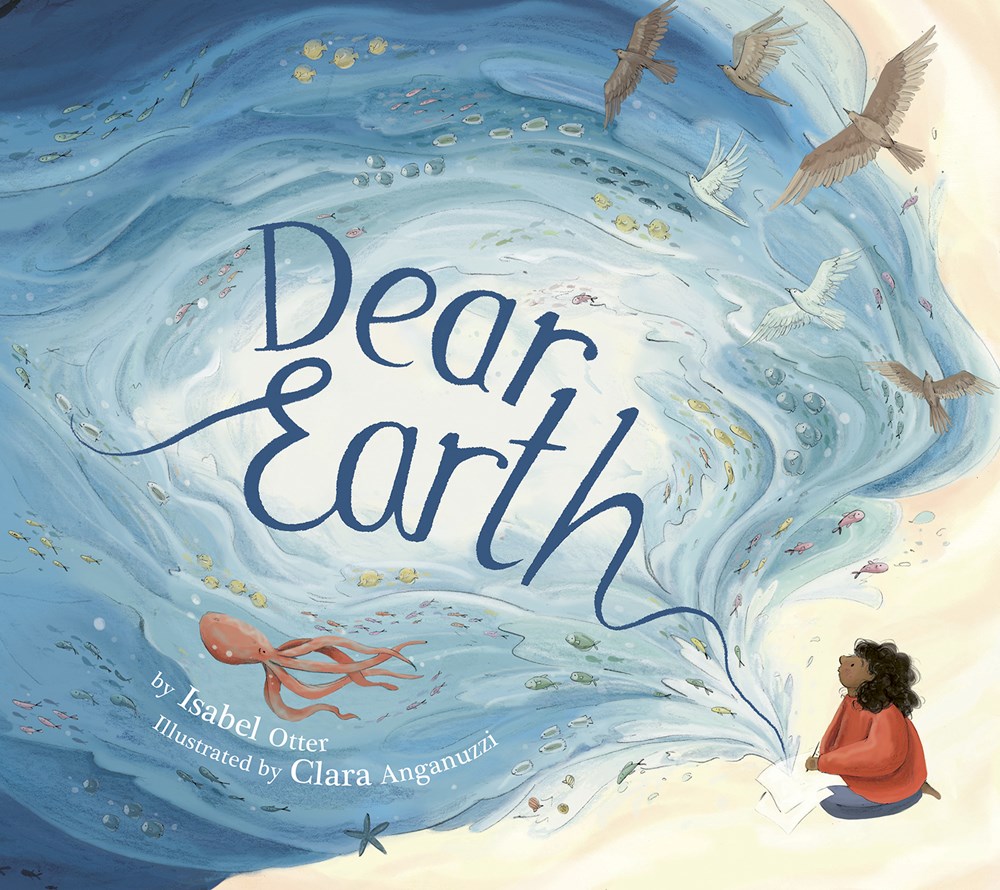 The beauty and marvels of the planet take center stage in the passionate picture book love letter Dear Earth by Isabel Otter (Tiger Tales, $18.99, ages 3-7). Accompanied by Clara Anganuzzi's dramatic illustrations, the missive makes for a persuasive argument in favor of conservation, and a delightful way to introduce these ideas to a young audience.
Otter's child protagonist, Tessa, has the same wild hair, light-brown complexion and rounded figure as her grandpa, who "had been an explorer once." Tessa, inspired by Grandpa's adventures, writes a letter telling the planet about all the miraculous sights she plans to see, and all the exciting experiences she intends to savor. The letter takes the audience through different biomes portrayed in dazzling colors by Anganuzzi's inviting and beguiling art. Tessa concludes her letter by acknowledging the delicate nature of Earth. Comprehensive, accessible back matter offers young people ways to provide assistance, as well as a template so they can write a letter of their own. Otter's charming picture book shows readers the vast and awe-inspiring planet while reminding them it's up to everyone to keep it safe and habitable.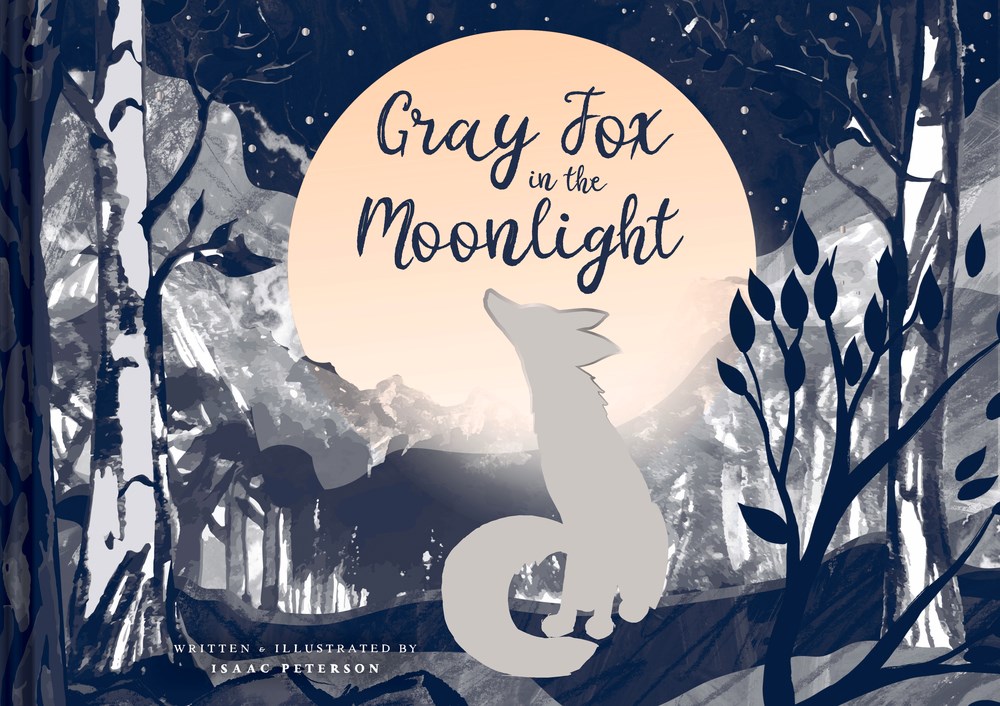 While Isaac Peterson creates the illustrations for Gray Fox in the Moonlight (The Collective Book Studio, $17.95, ages 2-8) almost entirely with grays and purples shot through with white, the variation among the images, coupled with the austere poetry in his every line of text, present a multifaceted and sumptuous nocturnal world.
Peterson takes readers through a typical night in the life of the titular animal. "Gray Fox/ walks/ so lightly/ through the woods," the book begins. Soon the moon appears behind some trees, a pale orange orb seemingly "caught/ in the/ branches" and patterned with leaves. The moon and stars light Gray Fox's way as she approaches a river and examines her reflection. Moonlight also helps her follow a twisty path back to her den, "where/ her kits/ are/ dreaming." Gray Fox curls around them, moonlight-kissed feathery-leaved plants standing sentry. Gray Fox in the Moonlight is a book tied to no era, which perfectly suits a timeless hymn to the natural world and to parents' love for their children.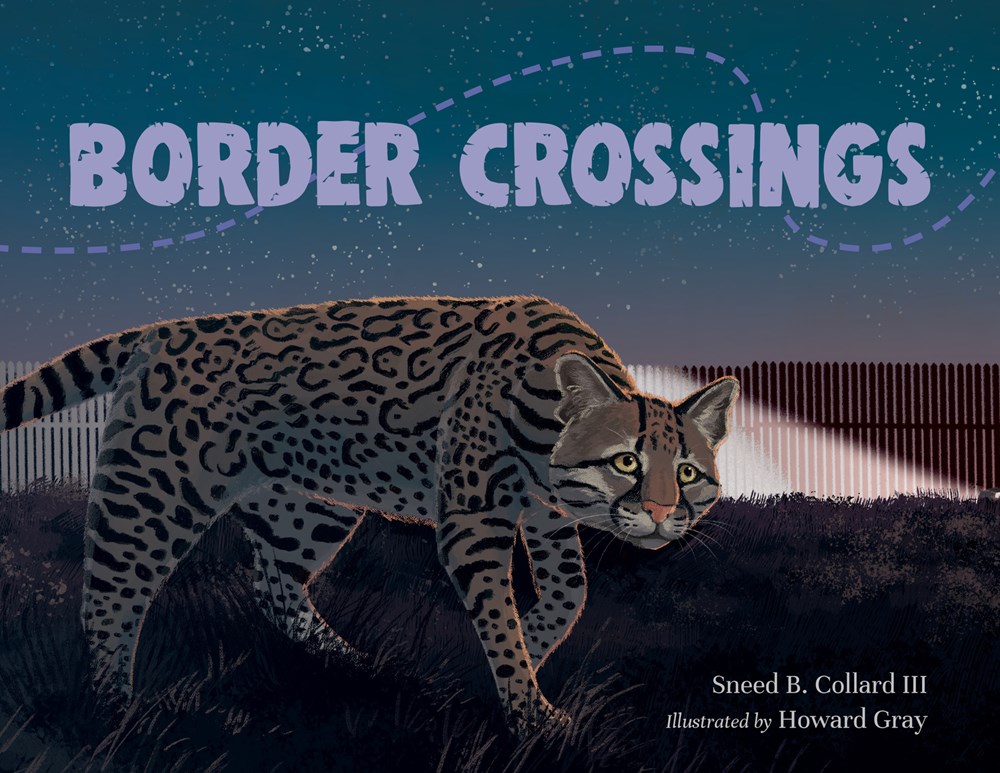 Author Sneed B. Collard III and illustrator Howard Gray present with conviction and a keen reverence for biodiversity the threat to animals and plants posed by the U.S./Mexico border wall in Border Crossings (Charlesbridge, $17.99, ages 6-9).
The border wall runs nearly 2,000 miles between the United States and Mexico, threatening the survival of creatures portrayed by Gray, including pronghorn, javelinas, and pygmy-owls. Collard refers to the wall as an "ugly scar," and Gray, who precisely captures the flora and fauna of the border lands, depicts in several spreads the wall's jagged edges interrupting sky and land. The book closes with a glossary, tips for further reading, and an author's note that provides more details, stressing the only way to protect the region and its treasures: "by letting others know that we care."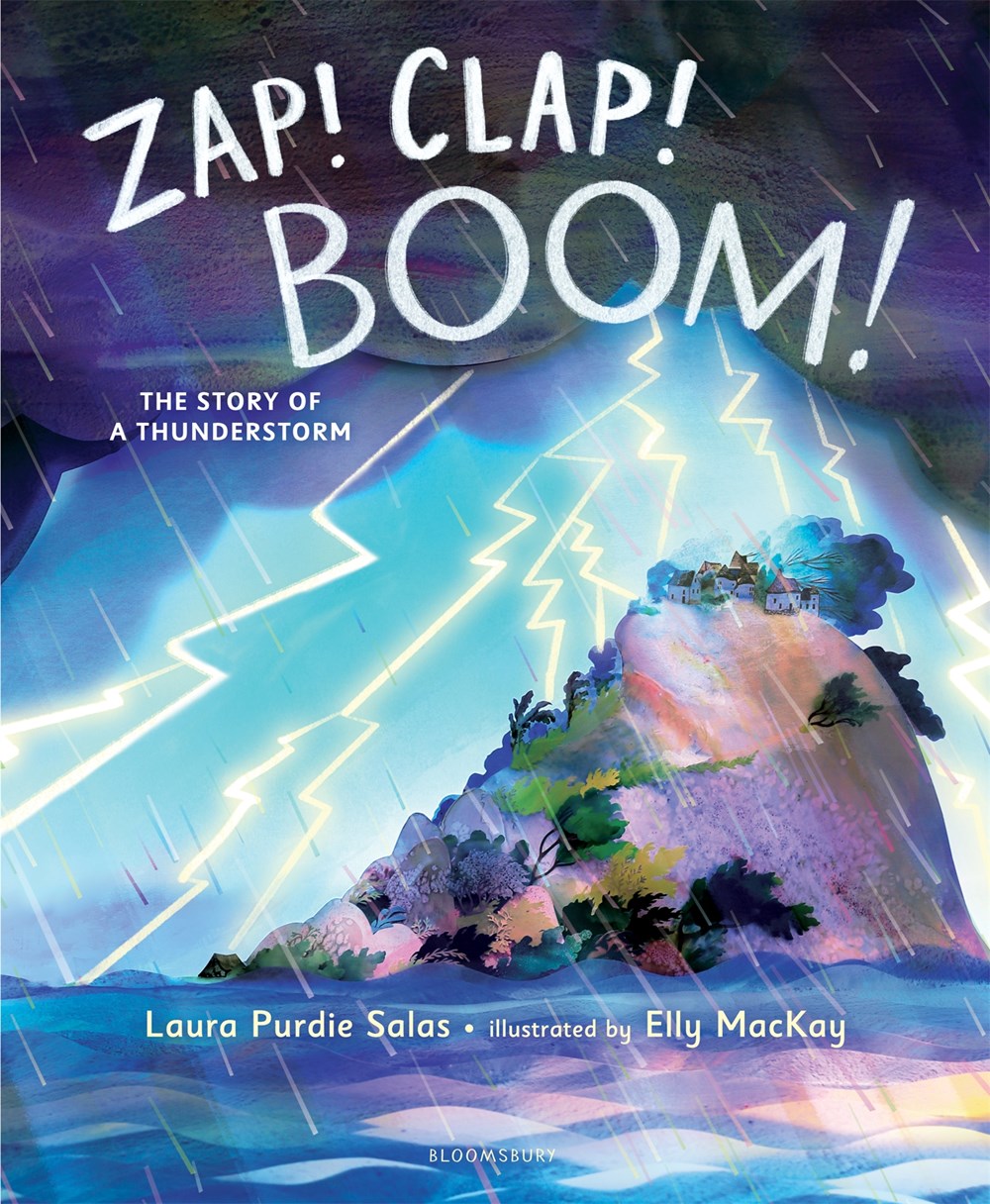 Bam! Science collides with poetry in Zap! Clap! Boom! (Bloomsbury Children's Books, $18.99, ages 3-6), in which Laura Purdie Salas's pit-a-pat rhymes match the tempo of a rain shower, and Elly MacKay's art rivals the drama of a real atmospheric disturbance. At first, three kids haven't a care as they kick a ball outside their home: "Sunny day sits warm and dry./ No wind,/ no rain,/ no stormy sky." The rhymes proceed, and the trio plays until they notice the clouds. Before long it's "ZAP! CLAP! BOOM!" The kids make a run for it, but too late! "Swollen clouds begin to drain,/ spilling/ splashing,/ chilling/ rain."
As the weather intensifies, so do the book's language and art. Salas imbues the stormy scene with a Halloweeny menace; MacKay uses bruise-like purples and blues to capture nature at its fiercest. MacKay builds texturally enticing tableaux that readers will want to reach out and touch... except, perhaps, when the storm is meanest. Then readers may wish they could be with the three kids enjoying the natural world through a window.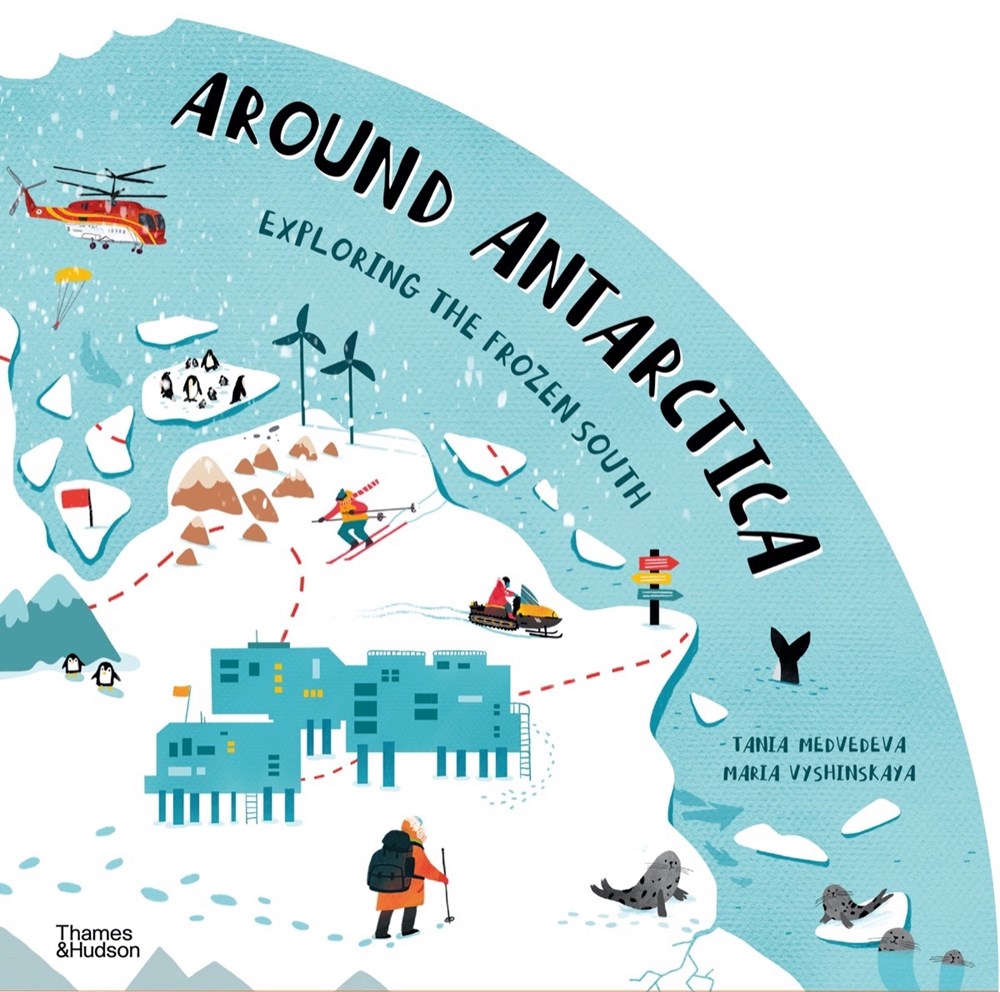 Author Tania Medvedeva and artist Maria Vyshinskaya's wonderfully informative, beautifully designed long-form picture book Around Antarctica: Exploring the Frozen South (Thames & Hudson, $27.95, ages 7-10) follows Tom, a "top-notch journalist," as he joins an expedition to visit a research station in Antarctica. A trip to this "mysterious frozen continent" requires warm clothes, but no visa because "Antarctica doesn't belong to any country." There's no military presence or mining, but there is a cooperative world research center, where "scientists from different countries share their research plans and results." Upon arrival, Tom learns rules designed to keep visitors safe, how the center itself functions, and about different kinds of scientific research taking place. Meteorologists study the earth's atmosphere and ozone layer; a glaciologist and her team inspect ice samples; the oceanologists analyze Antarctica's unique waters; and there are scientists who investigate the "more than 20,000 species of living things" that can be found here.
Reporter Tom's experience provides a continuity that allows Medvedeva to frame her work as a story while packing it with wide-ranging yet pertinent information. The detailed, colorful illustrations enhance and augment the informative yet playful text and interactive nature of the book's design: a quarter-circle format that opens into a hemisphere with several gatefolds that open into full circles. Around Antarctica strongly conveys the usefulness in studying the area, as well as the need to protect it because, as Tom ultimately realizes, our entire planet is "a single organism. Beautiful, strange, mighty, harsh, fragile... and every action we take affects it." --Siân Gaetano, children's and YA editor, Shelf Awareness

Discover Great Publishers
Spotlight on IDW Publishing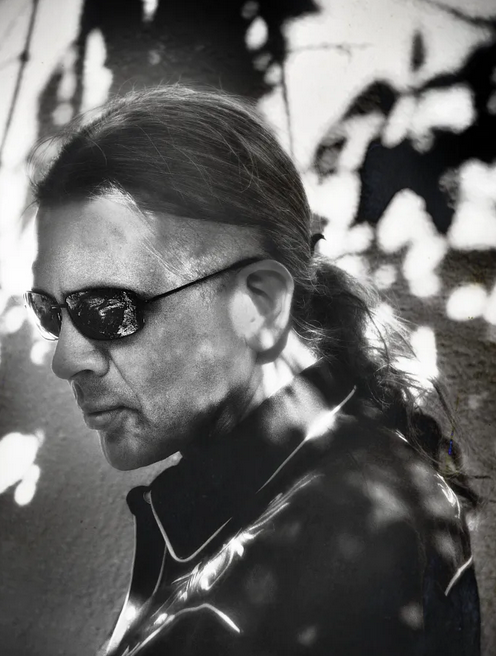 Stephen Graham Jones
Stephen Graham Jones is the New York Times bestselling author of nearly 30 novels, collections, novellas and comic books. Most recent are My Heart is a Chainsaw and The Babysitter Lives. Jones spoke with Shelf about his new comic book series, Earthdivers, and what it has been like to move from novel to comic storytelling.
By the second page of the first Earthdivers, the premise is clear: a character is going back in time to kill Christopher Columbus. Would you tell readers a little bit about this graphic novel series?
What American Indian doesn't want to go back, keep us from getting "discovered," called the wrong name, then infected and enslaved and massacred over and over? Columbus wasn't around for the long history of bad relations and worse people, but there is the sense that--like Custer and the Black Hills--he's the one who kicked the door open. The dream is to go back, do away with him, but wouldn't it also be great to get to go back and show him that it didn't work? That, despite all the concentrated efforts, we're still here and creating comic books? That'd be great to throw in his face. And then get to the rest of the... mission.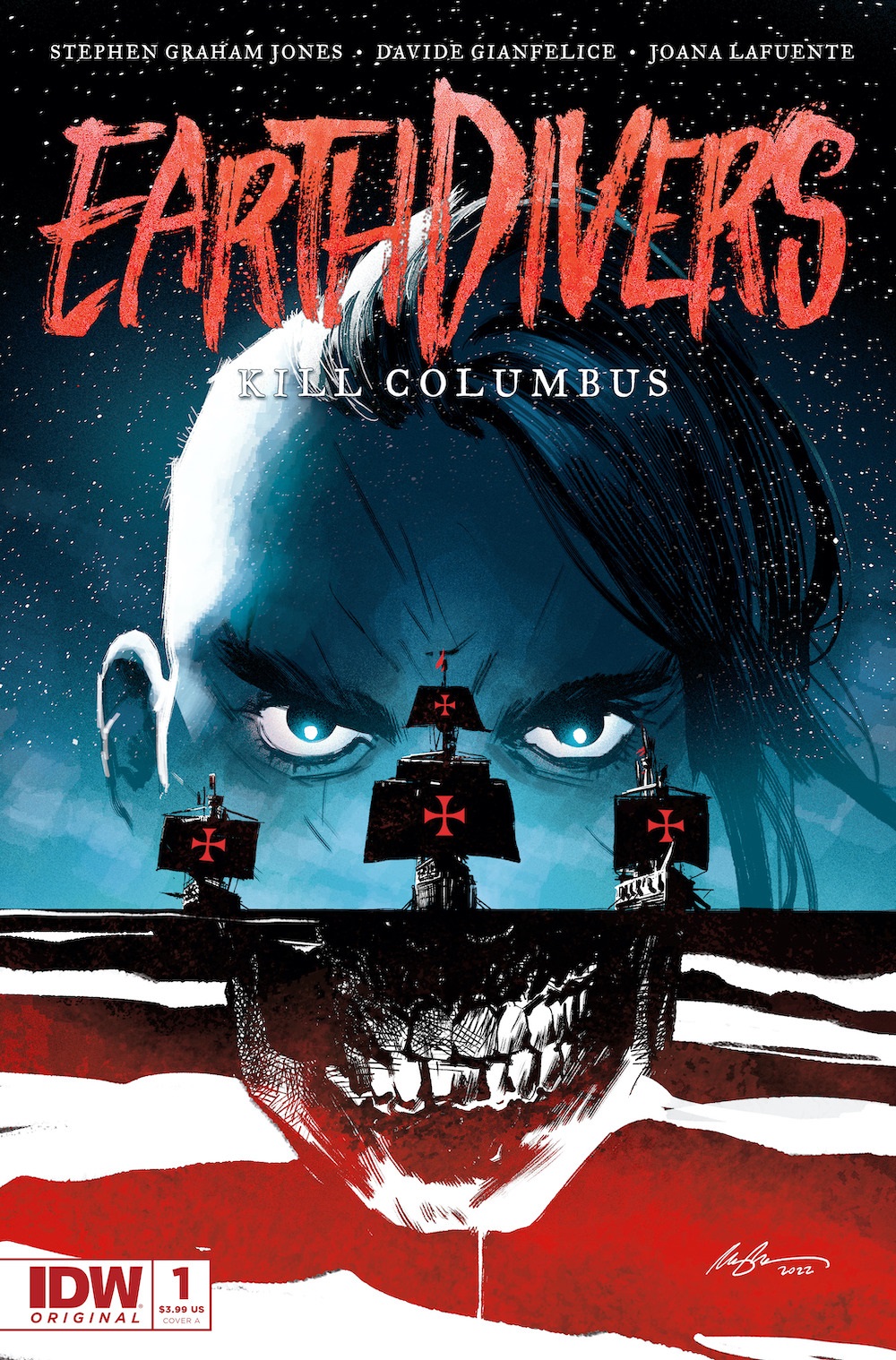 Have you always wanted to write graphic novels?
Yeah, comic books have been where it's at for me since I was 12 years old and stumbled upon Secret Wars #4 in a rural gas station. I love the form, the grammar and syntax of pages and panels and how much you can do with and in a comic book. If when I was starting out I had an inroad to comic booking, I wonder if I ever would have written prose fiction. I love prose fiction--I live in those rhythms, those possibilities. But if I'd taken a sidestep into comic books and had some luck there? I honestly don't know. I'm fortunate to be getting to do both, now. I love prose fiction and I love comic books. I also love music, but no worries--complete lack of talent's going to keep me from playing in that field.
How was it switching to writing graphic novels? Do you prefer writing one over the other?
It's harder because, for each issue, there's a finite number of pages, and of course you have to stage things on page-turns, and then set up and get out of two-page spreads... It's fantastically fun, but it means I have to plan--I have to figure out beforehand what's going to fit, where it's going to turn and how it's going to end. That's completely opposite to the way I write. Juggling captions and dialogue, tiers and panels, that comes naturally. I've been living in the comic book page so long that it's second nature, moving like that. It's about 14th nature having to outline, though. Maybe 22nd, even.
The illustrations are fabulous. What was your experience with the art?
Davide's character sketches completely changed the development and direction of the comic book before we even got it going. So, from the get-go, his art has been vital. But what's amazing is working with someone with a visual sense, an ability to make layouts dynamic, an instinct for expression with nothing but lines. My favorite parts of this process have been when his art erases some of my words. Then I can scrub them from the script because they're, in the sense that matters, already there. It's been a magical process.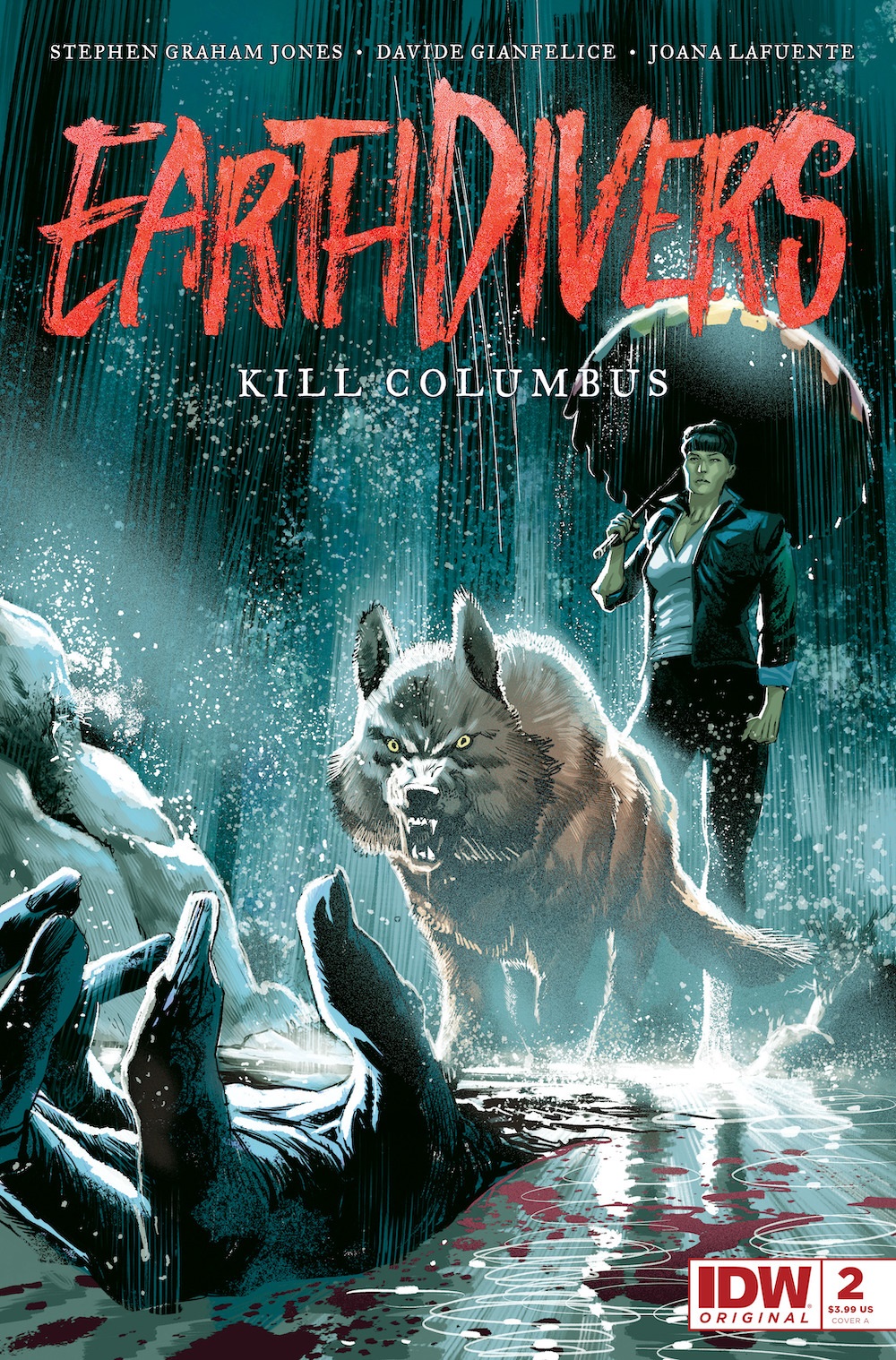 What is the publication schedule for this series? Is it following a comics model or a traditional publishing model?
Comics model: monthly, arc by arc. Which is another thing I'm having to learn: how to arc a character episodically, rather than giving them this long on-ramp to change and discovery. Serial storytelling is completely different. It's both liberating and confining, but in good ways. It's making me grow as a writer, and that's been a wonderful and surprising gift.
Is there anything else you'd like to tell Shelf readers?
I actually did research for this story. And I usually research nothing. I figure if I can't convince the reader of this lie, then I'm not writing well enough. I'd much rather make a fact up than find one that corresponds to the world. But, due to the historical nature of this, I had to choreograph with the actual first voyage in 1492. It was revealing how much of it is still guesswork--we're not even completely sure what language Columbus spoke. But, for that language? One of my sisters has a graduate degree in linguistics. I was able to call her up every time I hit that language wall, and needed some insight that... I probably should have researched myself. But research is so not-fun. This kind of research, though? I get to talk to my sister. That's the kind of research I like.
Exciting 2023 Titles from IDW
Keep an eye out for these upcoming books from IDW: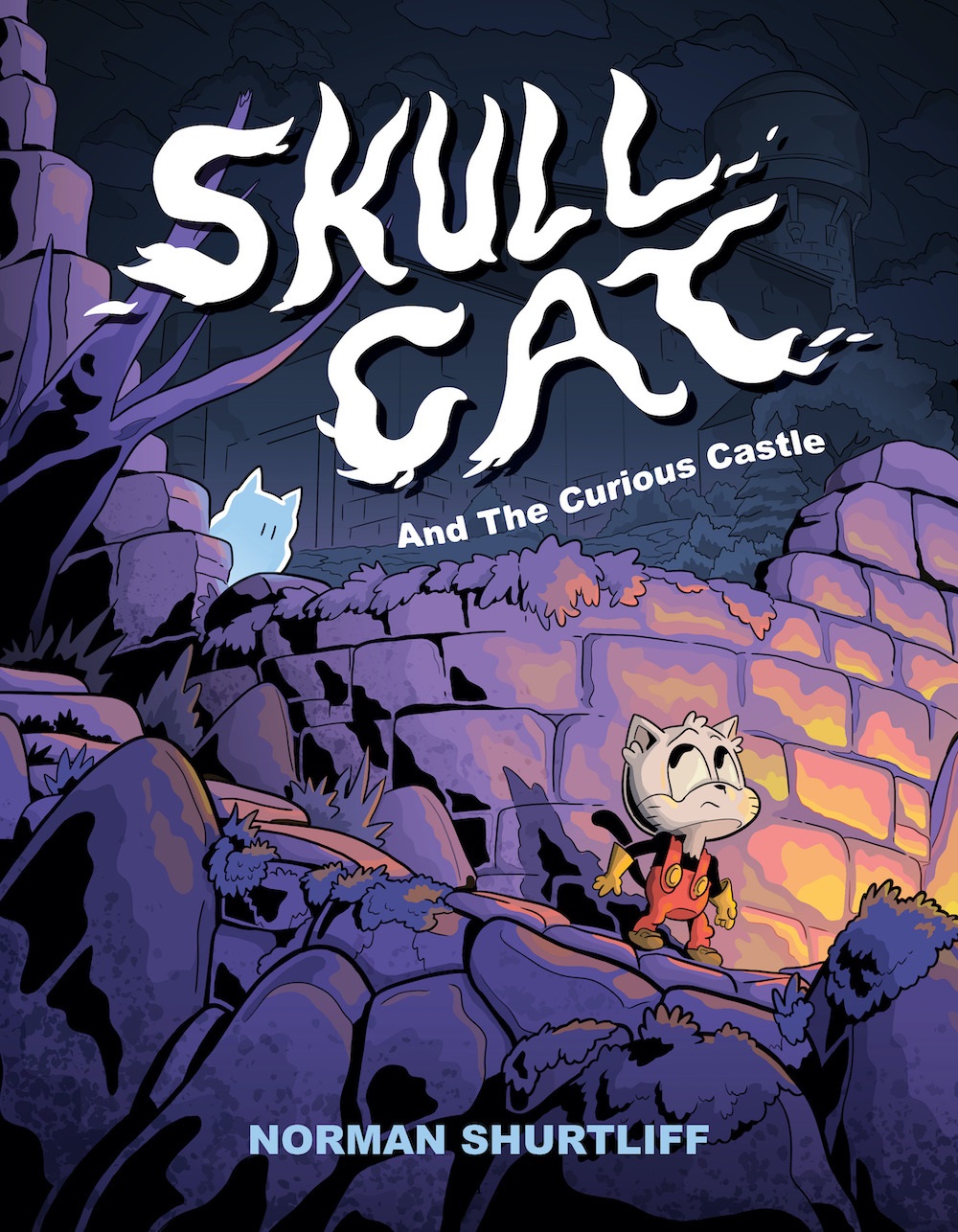 Skull Cat (Book One): Skull Cat and the Curious Castle by Norman Shurtliff (Top Shelf Productions, $14.99 paperback, 112p., ages 9-12, 9781603095198, February 14, 2023)
It's Scully the Cat's first day at Le Dark Chateau and, even though the castle is eerie and full of dark secrets, Scully is excited to start his new job and prove himself to be a great gardener. But what happened to all his co-workers...? Scully must become the hero to uncover the truth. Middle-grade lovers of fantasy and spooky adventure should treasure Norman Shurtliff's debut graphic novel.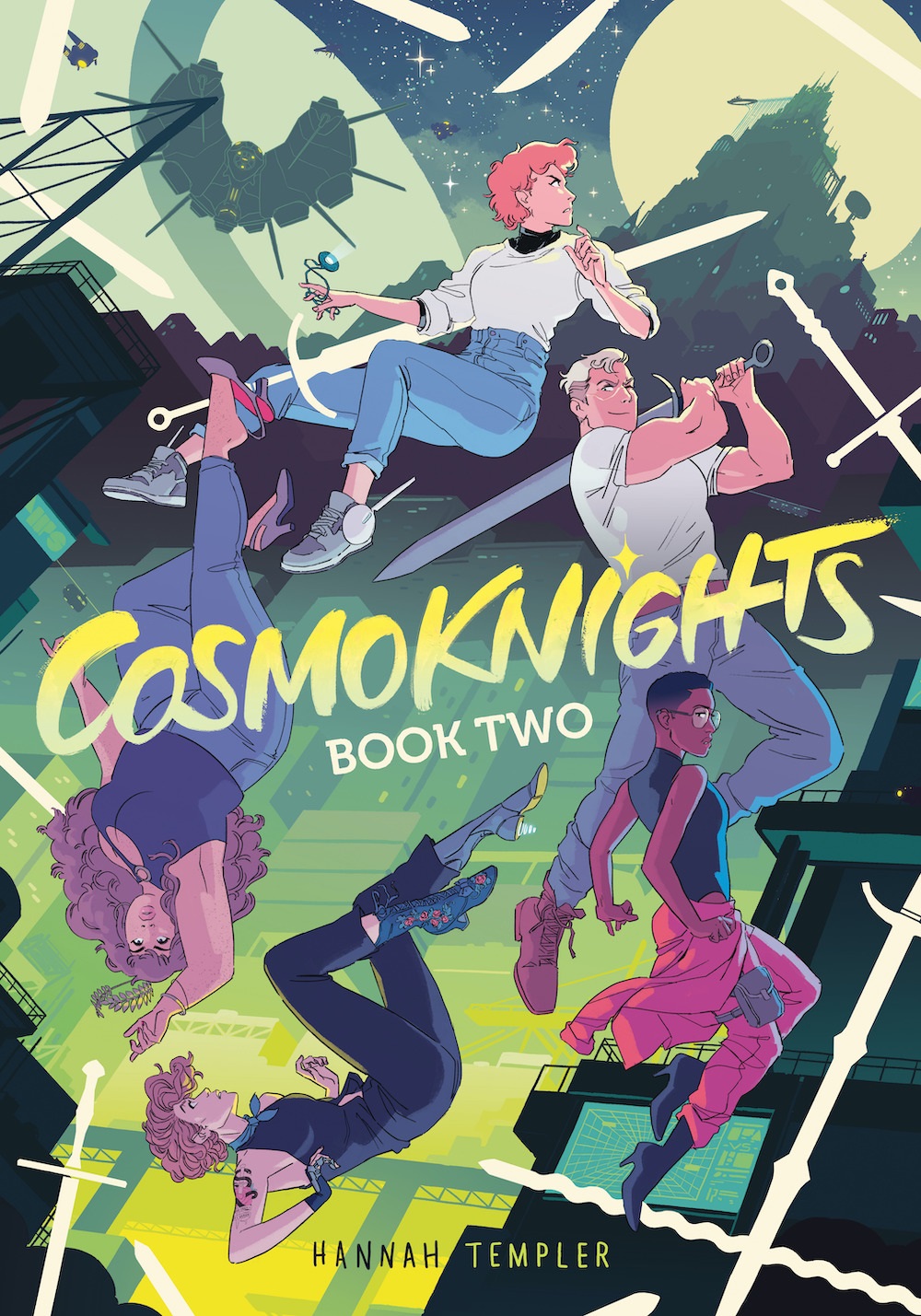 Cosmoknights (Book Two) by Hannah Templer (Top Shelf Productions, $24.99 paperback, 264p., 9781603095112, May 2, 2023)
Pan has finally escaped her dead-end planet, piecing together a new sort of family with the rebel gladiators Bee and Cass and the mysterious hacktivist Kate. The sensational "gays in space" webcomic/graphic novel returns with new faces, long-awaited reunions, higher stakes and more thrilling action! Hannah Templer's Cosmoknights follows a ragtag group of queer outer-space gladiators as they fight to escape--and possibly overthrow--the neo-medieval patriarchy that rules their universe.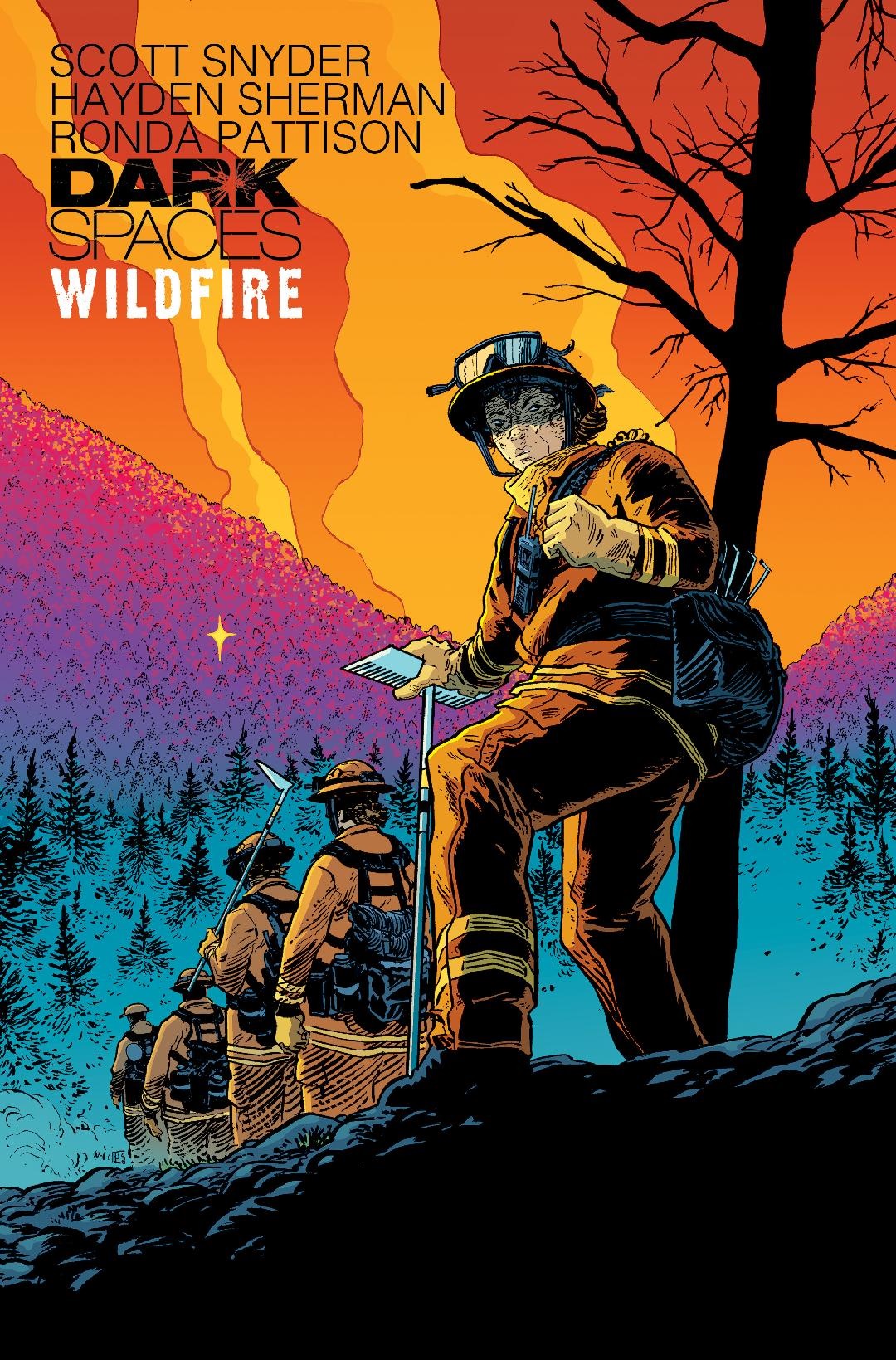 Dark Spaces: Wildfire by Scott Snyder, illus. by Hayden Sherman (IDW Publishing, $14.99 paperback, 144p., 9781684059614, May 9, 2023)
Dark Spaces is a thrilling new anthology series that explores humanity's deepest fears, beginning in the smoldering hills of California. Six weeks into the burn of the Arroyo Fire, a crew of women from an inmate firefighting program work the frontlines. Their newest recruit proposes a plan to abandon their duties and hunt for riches, and the team must decide if they're ready to jeopardize their sure path back to normalcy for a shot at a life-changing score. Scott Snyder and artist Hayden Sherman craft an unforgettable heist for a new age in Dark Spaces: Wildfire.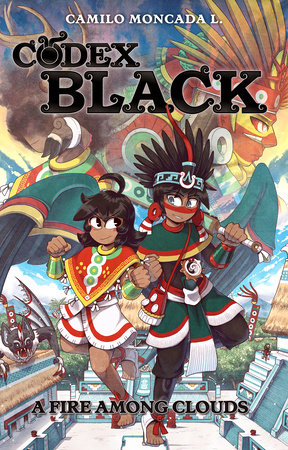 Codex Black (Book One): A Fire Among Clouds by Camilo Moncada Lozano, colorist Angel De Santiago (IDW Publishing, $16.99 paperback, 320p., ages 13-17, April 4, 2023)
Navigate through monsters, mysteries, and the will of the gods with two young extraordinary adventurers in fifteenth-century Mesoamerica as they search for a missing father. Donají is a fearless Zapotec girl who, even though she's only fifteen, is heralded as a hero by her village. In Codex Black, Donají sets out on an adventure--accompanied by the god that lives inside of her poncho--to find her missing father. Along the way, she meets a 17-year-old winged Mexica warrior named Itzcacalotl, and over time their temporary partnership blooms into an incredible friendship.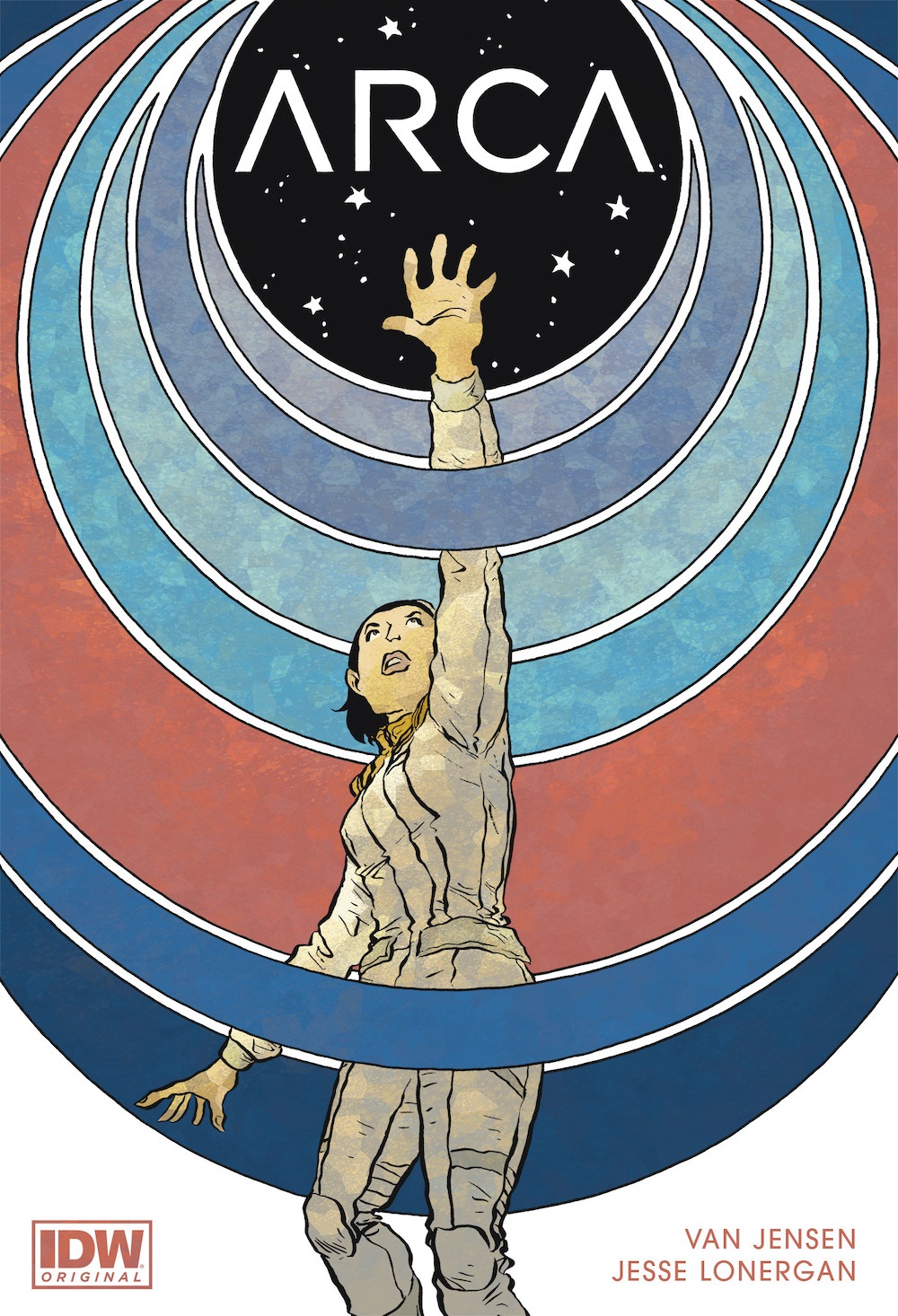 Arca by Van Jensen, illus. by Jesse Lonergan (IDW Publishing, $16.99 paperback, 176p., 9781684059980, July 11, 2023)
The world burned. But the rich and powerful had a plan. When society fell apart, a select group of billionaires had an escape hatch: a rocket aimed at the nearest habitable planet and a ship equipped with many of the luxuries of life on Earth. Their every need is tended to by enslaved teenagers who agreed to the role in return for the promise of a new life. However, inside a sealed chamber a teenager named Persephone discovers that the promised future of comfort is a myth. With that knowledge she fights for her survival against the billionaires who would gladly kill her to protect the hidden truth.
Publisher-supported content.
Rediscover
Rediscover: Anne Perry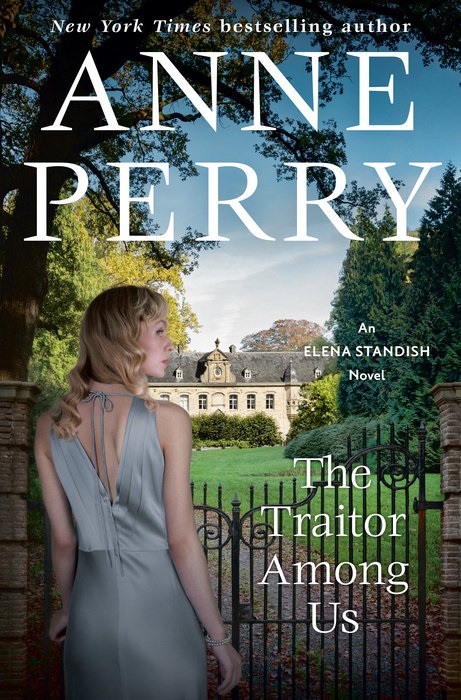 Anne Perry, author of more than 100 novels that have sold more than 26 million copies worldwide, a "crime writer with her own dark tale," as the New York Times put it, died on April 10 at age 84. Born in London, England, Perry spent part of her childhood in New Zealand, where at age 15, then named Juliet Hulme, she was at the center of a grisly homicide. She and her best friend murdered the best friend's mother in an attempt somehow to keep the girls together as Perry's parents were separating and about to send Perry abroad. The two went to prison for five years, were given new identities and instructed never to meet again under penalty of life imprisonment.

Perry's work included two suspense series set in Victorian England: the William Monk novels and the Charlotte and Thomas Pitt novels. She also wrote a series of books featuring Charlotte and Thomas Pitt's son, Daniel, as well as the Elena Standish series, set during World War I, 19 Christmas holiday novellas, a historical novel, The Sheen on the Silk, set in the Byzantine Empire, and short stories. Her most recent novel is The Traitor Among Us, the fifth installment in the Elena Standish series, to be published in September.

"Perry's criminal past was revealed publicly in the summer of 1994 when word leaked out that Peter Jackson would recount her story in his forthcoming film Heavenly Creatures, starring Kate Winslet as the smugly confident teenage girl who later changed her name to Anne Perry and Melanie Lynskey as her sullen and insecure classmate Pauline," the Times wrote. When her past became public, Perry acknowledged the crime, saying "she had been afraid that if she did not go along with the murder plan, her distraught friend might kill herself."

Ballantine Books, her publisher for more than two decades, said her work is noted for "memorable characters, historical accuracy, and exploration of social and ethical issues." In 2000, she won an Edgar Award for her short story "Heroes." She also won the Premio de Honor Aragón Negro in 2015, was selected by the Times of London as one of the 20th century's 100 Masters of Crime, and twice was guest of honor at Bouchercon.

Perry's agents Donald Maass and Meg Davis said, "Anne was a loyal and loving friend, and her writing was driven by her fierce commitment to raising awareness around social injustice. Many readers have been moved by her empathy for people backed into impossible situations or overwhelmed by the difficulties of life. Her characters inspired much love among her fans and comforted many readers who were going through tough times themselves."

In Interiors, a 2009 documentary about Perry, she said, "In a sense it's not a matter--at the end--of judging. I did this much good and that much bad. Which is the greater?... It's who you are when time's up that matters."