Shelf Awareness for Readers for Friday, April 20, 2012
Book Candy
#HarryPotterChatUpLines; Novels in Sound; Book Igloo
Recently trending on Twitter was the hashtag #HarryPotterChatUpLines, where "die-hard Potterheads" set "their inner magical longings free." With tweets ranging from "the cute and sweet ('You can have the portkey to my heart.') to the downright dirty ('One night with me and they'll be calling you Moaning Myrtle.'), there seems to be no creative end to the innuendos of Rowling's prose," Entertainment Weekly wrote.

---

Bookcase of the day: Bookshelf featured the www by Viktormatic, "an interpretation of the 'shelf' archetype. Between form and function, between space and dimension, between a not-yet and a not-anymore it creates concrete opportunities and specific associations. Through its parts it is not only a modular system, but also a type of installation in an ever changing space."

---

"Can you guess your favorite novel from these sounds?" asked the Guardian, which offered "four novels rendered in sound; your job is to identify them."

---

Flavorwire explored "10 odd stories behind famous authors' nom de plumes."

---

Dutton showcased a book igloo created by Colombian artist Miler Lagos with tomes from a "defunct U.S. Navy base library."
The Writer's Life
Diana Wynne Jones Remembered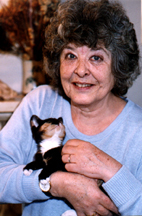 Few authors have made an impact as lasting as fantasy author Diana Wynne Jones--not just on readers, but also on other writers and editors. She was a writer's writer and a reader's reader until her death last year. To hear two of her longtime editors tell it, Wynne Jones (Howl's Moving Castle and The Chronicles of Chrestomanci) could be an intimidating presence. As Virginia Duncan, v-p and publisher of Greenwillow Books, and Sharyn November, senior editor of Viking Children's Books and editorial director of Firebird, prepared to cross the Atlantic for her memorial on Sunday in the U.K., they shared with us a few of their favorite memories of this peerless writer.
What was Diana Wynne Jones like?
Virginia Duncan: Diana Wynne Jones terrified me, and she made me laugh. It was thrilling to work with her, and I know that Greenwillow's founder, Susan Hirschman, and all of the imprint's editors and copy editors over the years felt the same way. I met her in person twice, once when Susan and I traveled together to a conference in the U.K. at which Diana was speaking--I remember we had dinner in an actual castle, I remember we were worried about her legendary travel jinx....
What was "her legendary travel jinx"?
Diana believed she suffered from (and many others agreed with her) a travel jinx. Literally, she could not go anywhere without extraordinary things happening. Sometimes these things involved injuries. Often they were more magical and unexplained. If you google "Diana Wynne Jones travel jinx," you will find a lot of interesting things.
And the other time you met in person?
Duncan: I visited her at home in Bristol--oh, those steep stairs! We mostly communicated via e-mail and a handful of actual letters. I'll save the e-mails forever. They're full of hilarious anecdotes about bad luck and animals, and bad luck with animals, especially cats. The letters were scary because the arrival of one meant that she didn't like the copy editing and she needed me to intervene. (That's putting it mildly.) I'll save those, too.
Sharyn, how did you first connect with Diana Wynne Jones?
Sharyn November: I started working with Diana in 2001, when she became a member of my Firebird Editorial Board--and trust me, it took all of my courage to ask her. Our relationship flowered, and her short stories were included in Firebirds and Firebirds Rising, the imprint's first two anthologies; she also wrote a short novel for me, The Game.
And that led to other projects?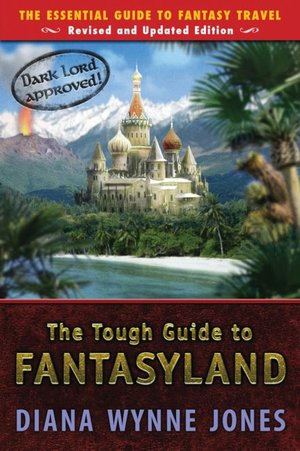 November: Possibly the most delightful project we worked on was The Tough Guide to Fantasyland. It was published in 1994, and was a Hugo and World Fantasy Award Finalist. The conceit: imagine that every sword-and-sorcery novel takes place in the same country, which is called Fantasyland. The Tough Guide is a travel guidebook, with entries for everything from DRAGONS to STEW to COLOR CODING (red hair indicates magical ability; blue eyes indicate goodness). It is hilarious, and teachers often assign it to writing classes to keep out clichés!
You two worked on a revision of that together, didn't you?
November: I thought it would be fun to break it down and put it together again in the format of an actual travel guide. And fun it was. I stayed with Diana in Bristol, and we spent hours over coffee (her), tea (me) and snacks (both of us), looking at Let's Go: England and Fodor's, thinking out loud, scribbling and laughing. Over the next months, she wrote additional material, including some new entries (among them "How to Write a Ballad" and "What to Order at an Inn"--short answer: nothing; you will always be served stew and beer), and a list of Other Tough Guides. We came up with a list of symbols based on the universal symbol alphabet in order to code the entries; we wrote effusive cover copy. I cannot crack open the book without cracking a smile.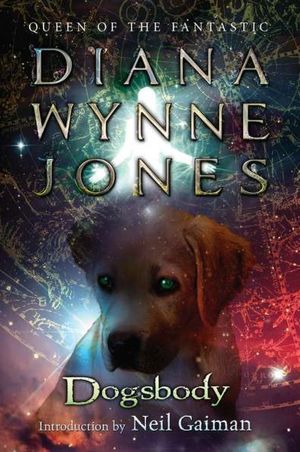 How will you continue to bring her work to a new audience?
Duncan: Greenwillow Books published Dogsbody (one of my favorites) in the spring of 1977, and we published and also reissued her outstanding books year-in and year-out for the next 35 years. We've just released Earwig and the Witch, illustrated by Paul O. Zelinsky, and we'll publish Reflections--a collection of speeches, essays and biographical pieces written and chosen for the book by Diana before she died--in September of this year.
November: We've just reissued definitive paperback editions of Dogsbody (with an introduction by Neil Gaiman), Fire and Hemlock (introduction by Garth Nix, and including "The Heroic Ideal," an essay Diana wrote about the novel) and A Tale of Time City (introduction by Ursula K. Le Guin).
You may join in a celebration of and conversation about Diana Wynne Jones, along with writers such as Neil Gaiman, librarians, booksellers and fellow fans. --Jennifer M. Brown
Inklings
Mr. Churchill's Secretary and Me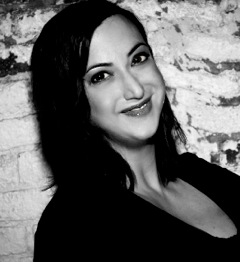 In a loud and crowded pub one night, a British friend handed me Time Out London. "You might want to check out the Churchill War Rooms," he said, pointing to an article. "Despite what you Yanks think, the war did start before Pearl Harbor."
I went the next day.
The Churchill War Rooms is a museum in the former Cabinet War Rooms--the actual underground bomb-proof bunker near No. 10 Downing Street, which sheltered Prime Minister Winston Churchill and his staff during the war.
Walking through the War Rooms was like stepping back in time. I vividly remember stopping short in front of the cramped typists' room, where Churchill's secretaries had once toiled. In my ear (thanks to the audio guide) were the words of one of Mr. Churchill's wartime secretaries, Miss Elizabeth Layton. "It was explained that working for the Prime Minister was not easy, particularly at first." She was told, "You're bound to have it a bit rough at first, and if you'd rather leave now, you can still do so." She concluded, in the driest of tones, "I thought I'd have a try."
For a moment, I felt as if time itself had collapsed and compressed. I was there, really there--and not just there but then, too--with Miss Layton and the other typists, taking crucial dictation under brutal deadlines, fingers flying while typing, worrying about bombs exploding overhead.
I knew I'd found my heroine and setting for a novel.
Researching Mr. Churchill's Secretary, I was privileged to correspond with Mrs. Elizabeth Layton Nel, née Miss Elizabeth Layton, living in South Africa. Although she was quick to assure me that none of the typists would ever have had time for any of my fictional heroine Maggie Hope's hijinks, she seemed genuinely delighted that someone was inspired by her memoir.
Mrs. Nel, who spoke at the reopening of the Churchill War Rooms in London in 2005, has since passed away. However, I hope that she, and the other secretaries, would recognize the place in which they performed so crucial a role, at so perilous a time. --Susan Elia MacNeal, author of Mr. Churchill's Secretary
Literary Lists
Paris; Southern Novels; Graphic Memoirs; Business Start-ups
For NPR's Three Books series, Amy Thomas, author of Paris, My Sweet: A Year in the City of Light (and Dark Chocolate), served up some "Snark and Sass: 3 Books on the True Nature of Paris." According to Thomas, "Bien sur, Paris is a city of sophistication, romance and beauty. But if you've ever lived there, you know it can also be impossibly frustrating, judgmental, monotonous and maddening."

---

Wiley Cash, author of A Land More Kind Than Home, shared his picks for the "11 greatest Southern novels" in the Huffington Post, noting "there's a good chance that entire towns in the South will now turn against me for leaving their native son... off my list."

---

Bryan and Mary Talbot, co-authors of Dotter of Her Father's Eyes, selected their "top 10 graphic memoirs" for the Guardian.

---

The "10 best business start-up books" were recommended by the Independent.
Our Apologies!
Vampire Vagaries
In a Book Candy item in the last issue of Shelf Awareness for Readers, we inadvertently changed the gender of Kim Newman, author of the Anno Dracula series. Well-named, Newman is a man.
Book Review
Fiction

Welcome to Paradise
by Mahi Binebine , trans. by Lulu Norman
When Captain Flint Was Still a Good Man
by Nick Dybek
The Book of Madness and Cures
by Regina O'Melveny
Mystery & Thriller
The Fallen: A Jade de Jong Investigation
by Jassy MacKenzie
Food & Wine

An Economist Gets Lunch: New Rules for Everyday Foodies
by Tyler Cowen
Biography & Memoir
When Women Were Birds
by Terry Tempest Williams
Essays & Criticism
Hit Lit: Cracking the Code of the Twentieth Century's Biggest Bestsellers
by James W. Hall
Psychology & Self-Help
Creating Time: Using Creativity to Reinvent the Clock and Reclaim Your Life
by Marney K. Makridakis
Children's & Young Adult
Temple Grandin: How the Girl Who Loved Cows Embraced Autism and Changed the World
by Sy Montgomery
Stay: The True Story of Ten Dogs
by Michaela Muntean, photos by K.C. Bailey and Stephen Kazmierski
Green
by Laura Vaccaro Seeger
Parenting & Family
Dear Daughter: The Best of the Dear Leta Letters
by Heather Armstrong
Art & Photography
The Pulse of Mixed Media
by Seth Apter
--- SPECIAL ADVERTORIAL OFFERINGS ---

The Summer I Saved the World...in 65 Days


by Michele Weber Hurwitz


Dear Reader,

Random acts of kindness are everywhere, but does doing good really do any good?

The summer after eighth grade, Nina Ross is inspired to do one small, anonymous good thing for family and neighbors every day -- 65 in total. People react in ways she didn't envision, and the ordinary yet remarkable cul-de-sac where she lives becomes forever changed.

Uplifting, hopeful, funny. BCCB STARRED review. 2015-2016 Pennsylvania Young Reader's Choice State Award list.

Email micheleweberhurwitz@gmail.com for a chance to win a signed copy.

Michele Weber Hurwitz
micheleweberhurwitz.com





PUBLISHER: Random House Children's Books

PUB DATE:
April 14, 2015

AGE RANGE: 10 and up

GRADES: 5 and up

TYPE OF BOOK: Middle grade fiction

ISBN-13:
978-0-385-37109-4

PRICE: $9.99
Escape From the Haunted Warehouse, Choose Your Own Adventure #185


by Anson Montgomery


Dear Reader,

Choose Your Own Adventure #185, Escape from the Haunted Warehouse, is so scary it gave me nightmares. Was this long-rumored title kept from shelves because editors felt it was the scariest Choose ever written? Probably. When night falls at the beginning of your graveyard shift, the morphing hallways of the warehouse fill with the roaming spirits of the world's most horrible humans.

Anson Montgomery

P.S. Email webmail@chooseco.com for a chance to win an autographed copy!





PUBLISHER: Chooseco

PUB DATE:
Available Now

AGE RANGE: 10+

GRADES: 5-8

ISBN-13:
9781937133474

PRICE: $6.99
Invasion of the Overworld


by Mark Cheverton


Dear Reader,

I love playing MINECRAFT with my son, but when he was cyber bullied on his own server, everything changed for me.

That's when I wrote my first Minecraft novel, Invasion of the Overworld. It's about anti-bullying, friendships and courage, using the tapestry of Minecraft on which to paint the lesson.

Kids love this NYT Bestselling novel (and the rest of the series) and it's getting them to READ!

Email and mention KidsBuzz to win a copy, marktheminecraftauthor@gmail.com.

Mark Cheverton





PUBLISHER: Sky Pony Press

PUB DATE: August 2014

AGE RANGE: 8+

GRADES: 3rd+

TYPE OF BOOK: Middle grade fiction, action/adventure

ISBN-13: 978-1632207111

PRICE: $9.99