Toad Hall in Rockport, Mass., to Close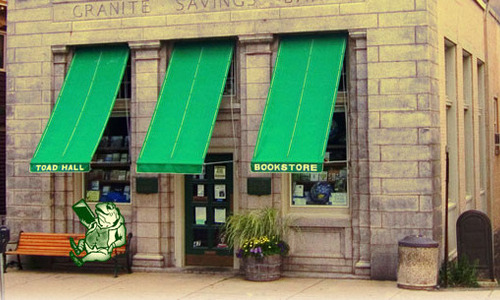 Toad Hall bookstore, Rockport, Mass., which was founded in 1972, operates as a nonprofit, sells new and used books and has had financial problems in recent years, is closing this fall, according to the Gloucester Times.

Rae Padilla Francoeur, a member of store's board, cited online competition, a decline in tourism in Rockport and the problems of operating in a seasonal economy as reasons for the closing.

"The board's No. 1 goal is to pay the bills, which I think we'll do," Francoeur said. "The No. 2 goal is to do anything possible to keep a bookstore in Rockport, because it's just devastating to think there won't be one."

A future store would likely not be in the same location, the 1926 home of the Granite Savings Bank that is owned by the family of the late Buck Robinson, who founded Toad Hall. (The family had helped the bookstore by giving it a break on rent.) "As iconic as that structure is, it's very hard for people to go up and down those spiral stairs, and it's dark in there," Francoeur said. "It wouldn't be the place a new business owner would choose to have a bookstore."
In an announcement about the closing, the board noted that Toad Hall has given more than $120,000 in grants over 45 years to many projects initiated by Cape Ann schools. Toad Hall has "played a key role in the region's cultural life," added board president Robert Buchsbaum.
Toad Hall celebrated its 45th anniversary earlier this year with a party and fundraiser.
---

---