Just for Fun Board Books
Books for early- and pre-readers cover a wide range of topics, such as things that go, counting, even baking. Here are some titles focused more on fun than fundamentals.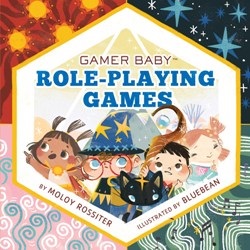 Role-Playing Games by Molly Rossiter and illustrated by BlueBean (Starry Forest Books, $8.99) is one in a series of board books for "Gamer Babies," which also features Chess and the soon-to-be-published Video Games. The book semi-sneakily attempts to teach readers how to play role-playing games ("Choose who you want to be.... What gear will you take on your adventure? Roll the die to see") but will most certainly be best loved by caretakers who enjoy role-playing games themselves. What better way to introduce your little one to your favorite pastime than to make it their favorite board book?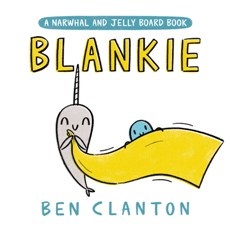 In Blankie, a Narwhal and Jelly board book by Ben Clanton (Tundra Books, $8.99), Narwhal has a blankie that can double as all kinds of things: a hankie, a hat, a flag, a bag. Clanton's signature thickly lined protagonists on blank backgrounds delight in all the different things they can turn a blankie into. Young children and adults can take blankie ideas from Narwhal and Jelly or maybe even make up some of their own.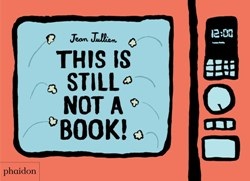 Jean Jullien's This Is Still Not a Book! (Phaidon Press, $16.95) is, well, still not a book. It's an open mouth eating popcorn, a flip phone (an imaginary item pre-readers will likely never see), a pajama top and an open suitcase, among many other things. Pulling up a flap reveals an elephant's long nose; turning the page probably (definitely) kills that mouse in a mouse trap. Every page is a new story and a new chance to engage with a child. --Siân Gaetano, children's and YA editor, Shelf Awareness