Ah! Board Book Monsters!
Monsters and fantastical creatures are tons of fun for adults. But the monsters children imagine lurking under the bed or in the closet? Well, here are some board books that show them to be silly, sweet and amusing.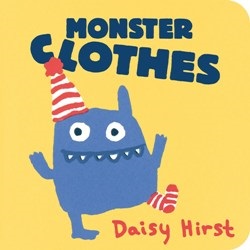 "When monsters get up in the morning, they have to find something to wear," says Daisy Hirst's Monster Clothes (Candlewick, $7.99). Harriet, bright red and frog-like, has a hat. Simon, blue with bunny ears, wears socks. And Terrence? "Terrence tries on a tomato." Every screen-printed monster is a solid color and appears on a monochrome background. Their clothing--pajamas, dresses, toy cars--are all in bright, contrasting colors and sometimes worn on the appropriate body parts.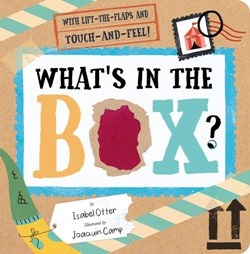 What's in the Box (Tiger Tales, $14.99) by Isabel Otter, illustrated by Joaquin Camp, is an immersive experience for kids. A pile of boxes has arrived. "Can you guess what hides inside?" Every page turn offers a hint ("This box is ON FIRE") and a new creature hidden beneath a flap ("A DRAGON curled up, ready to doze"). The other boxes contain a monster, a dinosaur, a unicorn and the best treat of all: a book.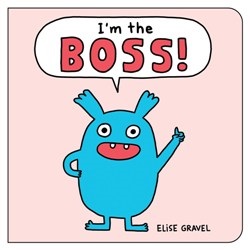 Elise Gravel is known for her distinctive artistic style and quirky sense of humor. I'm the Boss (Orca Book Publishers, $10.95), translated from the French by Charles Simard, is a perfect exhibition of her thick-lined, boldly colored illustrations and entertainingly offbeat plots. A young monster tells their caregiver, "Your job is to give me everything I ask for." This includes a dinosaur egg with a baby dinosaur inside, a robot that spits fire and a castle made from chocolate. The adult handles the demands perfectly but, just in case, "Orca Book Publishers apologizes in advance for any autocratic tendencies this book may inspire." --Siân Gaetano, children's and YA editor, Shelf Awareness