The Splendor of Ancient Egypt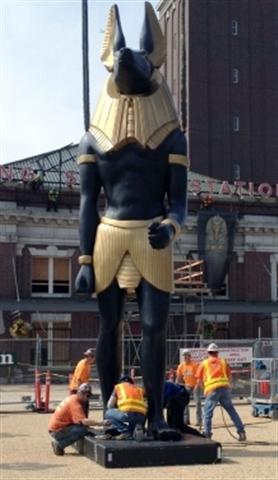 Early one May morning, my husband was walking near the Ship Canal that joins Lake Union and Puget Sound, when he did a double take. There seemed to be a giant statue of the Egyptian god Anubis moving slowly up the canal. He wasn't dreaming: the 28-foot-tall statue was being ferried to Seattle's King Street Station, to stand guard while the Tutankhamen exhibit runs at the Pacific Science Center. (The neon station sign has been amended to read King Tut Street Station.) It is quite magnificent.
One of my favorite Ancient Egypt books is the marvelous Mara, Daughter of the Nile by Eloise Jarvis McGraw. Mara is a brave and feisty slave who becomes a double spy during the reign of Queen Hatshepsut. Written in the '50s for a YA audience, not only is it a wonderful story--atmospheric, romantic, thrilling--but Mara is a fine feminist role model for girls. And for a better view of Hatshepsut, read Child of the Morning by Pauline Gedge, splendid and lush.
Also excellent is Nick Drake's trilogy with detective Rai Rahotep of Thebes: Nefertiti: The Book of the Dead, Tutankamun: The Book of Shadows and Egypt: The Book of Chaos. Set in "a time of astonishing sophistication and beauty, but also of vanity and brutality," they are enthralling mysteries based on fact, with perfect sense of place (the Nile is a great black serpent of water, with perpetual glittering scales), and a policeman with a dry, ironic wit.
Howard Carter's account of his discovery of Tutankhamen's tomb is available from Dover, and is fascinating and eccentric, much like Carter himself. He appears in many of the Amelia Peabody mysteries by Elizabeth Peters (a pseudonym for renowned Egyptologist Barbara Mertz), and in The Egyptologist by Arthur Phillips.
If you can't get to the Pacific Science Center exhibit (the last time for North America), or to Egypt, these books are a good second choice. --Marilyn Dahl, reviews editor, Shelf Awareness