New-Generation African Poets
The third box set of chapbooks from the African Poetry Book Fund is simply titled New-Generation African Poets: Tatu (Akashic Books). As editor Kwame Dawes (Duppy Conqueror) admits, "Perhaps it was subconscious doubt that led us to name the first box set in a manner that did not suggest a series." Following the initial Seven New-Generation African Poets, and subsequent Eight New-Generation African Poets, Tatu (a Swahili word for three) confirms "our faith and confidence that this is truly a series," because there is quite certainly nothing to doubt about the quality of poems collected here.
The six lines of "Weathering," in Nyachiro Lydia Kasese's chapbook Paper Dolls, elegantly play upon the pluralistic nature of a single moment:
"Sometimes,
you look at me as if you are seeing thunder,
And I am not sure if this is a reflection
of the lightning in my eyes
or your father's voice playing in your head."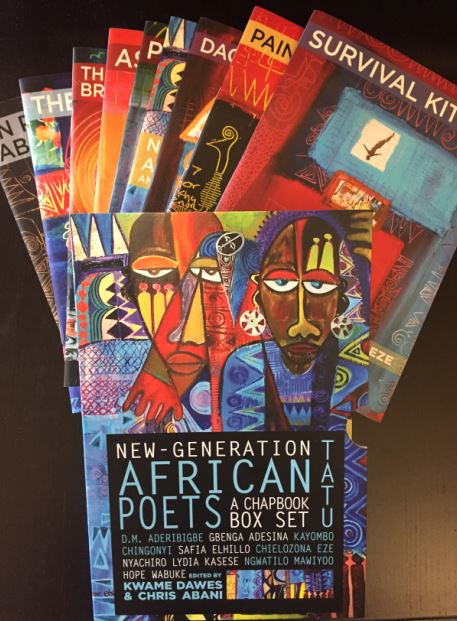 Meanwhile, Hope Wabuke (The Leaving) flips through the decades just as lucidly in "The Chronicles (of a Violence Foretold)"--from stones thrown through windows in 1977, "all the many tiny pieces of glass/ embedded into brown skin," to a sister in 2013, "phoning her boyfriend/ laughing that mine has said he will kill me."
Each poem has an edge that cuts deeply, and every surface of the set is adorned with Victor Ehikhamenor's vibrant artwork. These are brilliant collages of paints, figures, photos and etchings that aptly match the dexterous linguistics of Safia Elhillo's Asmarani and the boundless possibilities amplified by Kayombo Chingonyi's The Color of James Brown's Scream. Eight poets hailing from Kenya, Nigeria, Sudan, Tanzania and Zambia, each lauded in introductions by Dawes, co-editor Chris Abani (Sanctificum) and a cohort of other poets, make New-Generation African Poets: Tatu a collection pulsing with fresh talent in a series that poetry lovers worldwide should be grateful for. --Dave Wheeler, associate editor, Shelf Awareness