Reading Up on Independent Bookstore Day
Imagine what it's like to be a bookseller. People seem to have that dream... a lot. It tends to lean heavily upon endless hours set aside for reading among book-lined shelves and sleeping cats, interrupted occasionally by fascinating conversations with well-read customers. Admit it. You've imagined yourself there, too. We all have.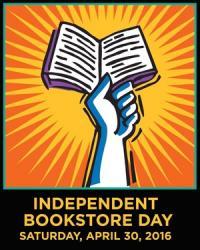 Next Saturday, April 30, will be the second annual Independent Bookstore Day. The rapid evolution of California Bookstore Day into IBD (and, in Canada, Authors for Indies Day) is another indicator of the resilience and creativity indie booksellers continue to exhibit in their collaborative efforts on both a national and local scale. As a former longtime bookseller, I can't begin to tell you how happy this makes me.
I'll be celebrating next week at my local bookstore (And since you are reading this, I suspect you'll be celebrating at yours as well). To prepare for the big day, I am currently re-reading Penelope Fitzgerald's The Bookshop. I have always loved novels with deep bookstore connections, like May Sarton's The Education of Harriet Hatfield or Christoper Morley's classics The Haunted Bookshop and Parnassus on Wheels.
It is nice to know the theme continues with more recent offerings like Mr. Penumbra's 24-Hour Bookstore by Robin Sloan, The Little Paris Bookshop by Nina George, The Storied Life of A. J. Fikry by Gabrielle Zevin, The Secret of Lost Things by Sheridan Hay, The Shadow of the Wind by Carlos Ruiz Zafón, Firmin by Sam Savage and A Novel Bookstore by Laurence Cossé, among many others.
You have your own favorites, of course, and there's still plenty of time to revisit one of them before heading out to your favorite local bookseller on Independent Bookstore Day. Mark your calendar. Indies not only appreciate your support, they need you. As Florence Green tells the bank manager in Fitzgerald's The Bookshop: "I can't run my shop at a loss. Shakespeare was a professional!" --Robert Gray, contributing editor