My Hero
Saturday I was part of a cash mob at Elliott Bay Books. This mob wasn't a screaming horde waving $20s around; they were decorous but intense, even Buddy the dog.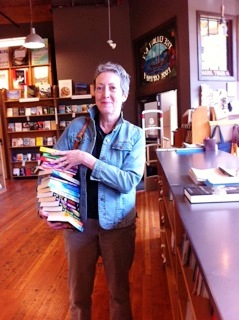 My mission was to fill in the gaps in my Robert B. Parker collection--I needed a total of 39 Spensers, 10 Jesse Stones and six Sunny Randalls, in order to reread them all. I purchased an armload stretching from my thigh to my shoulder. The impetus was twofold: I had just read and loved the pre-pub edition of Robert B. Parker's Lullaby by Ace Atkins (due out May 1), who is continuing the Spenser series, and I was finishing In Pursuit of Spenser, a festschrift in honor of the iconic Parker, who died in 2010. Edited by Otto Penzler, the collection delves into all things Spenser and Parker, with side trips for Parker's westerns (by Ed Gorman) and Jesse Stone series (Reed Farrel Coleman). Susan Silverman (S.J. Rozan), Hawk (Gary Phillips) and Boston (Dennis Lehane) also get their due.
In Penzler's introduction, he says Parker saw Spenser as nothing less than heroic. He's a strong, macho man and an outspoken feminist who brooks no racism or homophobia; he's brave and loving; he's a smart aleck and a gourmet cook who craves Dunkin' Donuts; he loves good beer and a fine Champagne. In this exceptional private detective, we can see a straight line from Hammett to Chandler to Macdonald to Parker.
Ace Atkins recalls, in "Songs Spenser Taught Me," when he was a sophomore at Auburn University, "absolutely lost on all fronts." He picked up a used copy of The Godwulf Manuscript and found a mentor in Spenser, and in Parker. "Spenser first gave me the tools to be the sort of adult I wanted to be." Smart-aleck individualism, tolerance, classic jazz, living life well. Atkins notes that Spenser is all in the here and now, "a worldview that helps him enjoy life more than the rest of us." Reading Robert B. Parker is a major facet of a life well-lived. --Marilyn Dahl, reviews editor, Shelf Awareness