Christian Robinson: The Book I Wish I Had as a Child
Christian Robinson
As a child, I felt a lot of shame and embarrassment about having an incarcerated mother. I didn't know that I was living in the country with the highest incarceration rate in the world and that my experience was far from uncommon.
Despite the pain of forced separation, I was still a kid who gravitated toward fun things and experienced joy. But I probably would have avoided a book that (in my young opinion) amplified how sad my situation was. Milo Imagines the World is my third book with Matt de la Peña (Last Stop on Market Street; Carmela Full of Wishes) and it is the book I wish I had as a child--that I wish my friends, teachers and classmates had as well. The way Matt approaches picture books is masterful: he offers a space for kids to feel seen and heard, without feeling called out. His storytelling allows for multiple conversations that anyone can be a part of, not just kids who know a certain experience.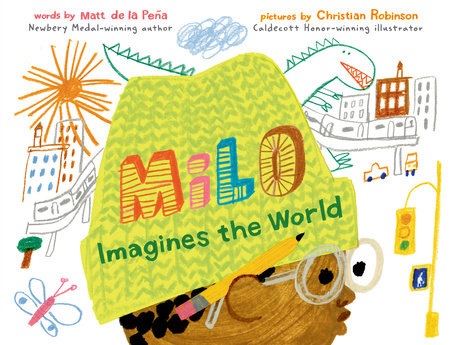 With everything I create, I try to keep fun at the center. It's my belief that if I am enjoying the process of what I'm creating, it could bring joy to the reader. As someone who makes pictures for a living, I recognize how powerful images can be. It is always my hope and goal to create pictures that empower, especially those who might not always feel seen and heard or have their stories reflected in books. It's my hope that this book will show kids and families who know this reality that they are not alone, and that their story matters. --Christian Robinson
Author/illustrator Christian Robinson has received both a Caldecott Medal and Coretta Scott King Illustrator Honor. Milo Imagines the World is reviewed below.