Week of Friday, May 6, 2022
In this issue we review This Woman's Work, edited by Sinéad Gleeson and Kim Gordon, 16 essays by women who see the politics in making music; Irish writer Colin Barrett's second story collection, Homesickness; Bee & Flea and the Compost Caper by Anna Humphrey, illustrated by Mike Deas, celebrating the interdependence of creatures great and small; plus many more!
In The Writer's Life, Emily X.R. Pan--a finalist for the Los Angeles Times Book Prize and Carnegie Medal for her debut, The Astonishing Color of After--talks about her second book, An Arrow to the Moon, with Newbery Honor author Christina Soontornvat, whose fifth book is The Last Mapmaker.
The Best Books This Week
Fiction
Homesickness
by Colin Barrett
If there is any concern about the health of the short story in the next generation of Irish writers, Colin Barrett's Homesickness: Stories, his second collection, should help put that to rest. Like novelist Sally Rooney, Barrett (Young Skins) is well-attuned to the attitudes and preoccupations of mostly younger Irish men and women, though his subjects are markedly dissimilar to the highly educated, intensely verbal characters in Rooney's work. In these eight stories, Barrett offers glimpses of an assortment of characters for whom it seems life's richest rewards will always remain just out of reach.
All of the stories save one in Homesickness are set in County Mayo, on Ireland's west coast--a region one character describes as "very presentable from a distance. It's only up close it lets you down." The book begins there with a literal bang in "A Shooting in Rathreedane," as Sergeant Jackie Noonan is dispatched to the scene after a petty criminal has been gravely wounded by a local farmer who claims he acted in self-defense; Noonan must try to save the trespasser's life.
"The Alps," one of the collection's strongest entries, is noteworthy for the way Barrett subtly toys with readers' expectations. In it, a rough-hewn trio of brothers--"shortish men with massive arses and brutally capable forearms"--whose nickname provides the story's title, arrive at a local pub for an evening of drinking. From the beginning, the threat of violence looms, but when it appears, it does so in a completely unexpected, and even moving, fashion.
Characters like Barrett's may be humble, but there's nothing unimpressive about their portrayal in these thoughtful, well-wrought tales. --Harvey Freedenberg, freelance reviewer
Grove Press, $27, hardcover, 224p., 9780802159649
All the Secrets of the World
by Steve Almond
The fates of two Sacramento families in the 1980s collide most spectacularly in All the Secrets of the World by Steve Almond (Bad Stories; Against Football). This sweeping drama follows 13-year-old Lorena Saenz and a troubled scientist whose disappearance sets in motion a flawed criminal investigation that will ultimately ensnare Lorena's undocumented brother, Tony.
Nerdy and academically brilliant Lorena and popular rich girl Jenny Stallworth are middle-schoolers who exist in different social spheres, their paths unlikely to cross if not for their teacher pairing them for a science project. Lorena finds herself invited to the Stallworth mansion, where she develops an all-consuming crush on Jenny's father, Marcus, a scientist who studies scorpions. A quiet academic, Marcus is barely able to contain his inner demons and struggles against his worst impulses and temptations, especially when it comes to Lorena's fast-emerging womanhood and her tendency to show up at his study uninvited.
Tracking his characters from the Sacramento suburbs through the desert toward Yuma, Ariz., and beyond, Almond paints a satirically astute portrait of Reagan's America, with California the epicenter of the president's anti-crime campaign. When Marcus disappears and his Jeep is found abandoned south of Death Valley, foul play is suspected and Tony, the lowest-hanging fruit of possible suspects, is arrested.
With cleverly overlapping subplots and a memorable cast of characters that includes a polygamous cult leader living on a Mexican ranch, Almond's meticulously researched first novel is a triumph of storytelling powered by a central theme: the perilous disconnect between those who control or abuse systems of power and the individuals who are at the losing end of the power dynamic. --Shahina Piyarali, reviewer
Zando, $28, hardcover, 416p., 9781638930020
When Women Were Dragons
by Kelly Barnhill
Any new book by Newbery Medalist Kelly Barnhill (The Ogress and the Orphans) is cause for excitement for fans of children's literature. Though her books appeal to adults and children alike, When Women Were Dragons is her first written for adults. It takes readers to Wisconsin during the 1950s. In addition to the McCarthy hearings and the burgeoning civil rights movement, history must grapple with another significant event: the Mass Dragoning of 1955.
Barnhill grounds her work in a realism colored by elements of the fantastic, specifically the idea that women can and will transform into dragons. That many of these women have been marginalized, underappreciated or forced into societal norms that shrink and contain them is a clue to why they may have dragoned and to what Barnhill is doing in this evocative story. Writing from the end of her life, the narrator, Alex, reconsiders the silences she was forced into as a child and reflects on her fractured relationship with her Auntie Marla (who dragoned) and her mother (who did not). Her story slowly unfolds as she reckons with her own power, asking, "Was I the immovable object, or was I the unstoppable force? Perhaps I was both. Perhaps this is what we learn from our mothers." Balancing the story between Alex's recollections and historical documents, Barnhill explores the taboos around women and anger, resizing paradigms of choice, freedom and the complicated roles of gender in society. --Sara Beth West, freelance reviewer and librarian
Doubleday, $28, hardcover, 352p., 9780385548229
May God Forgive
by Alan Parks
Fans of Alan Parks's grim, gritty and somehow reliably funny Harry McCoy thrillers will be unsurprised to learn that the hard-drinking, speed-taking Glasgow detective is a terrible patient. May God Forgive, the topping good fifth entry in the calendrically titled series that begins with Bloody January, finds McCoy freshly sprung from the hospital, where he was recovering from a bleeding ulcer. Doctors have prescribed another month of bed rest: "No work, no stress, no smoking and no drinking." McCoy is determined to bat oh for four.
On May 20, 1974, his first day back on the job, McCoy watches a lorry smash into a police van that carries three prisoners, adolescent boys who had set fire to a hair salon and are being charged with murder. The boys are whisked away in a car after the crash. Was this a rescue or a hijack? McCoy's boss wants him to sniff around to find out who put the lads up to starting the fire, telling him: "For once you have my permission to go and have a chat with all the low-level chancers you call your pals."
Alternating between swigging booze and Pepto-Bismol, McCoy faces a barrage of adversarial forces, including turf-warring criminals, Glasgow's punishing rain and, as usual, himself. May God Forgive is a fleet, dialogue-powered, satisfying story full of all the violence and depravity that readers have come to expect from Parks. But the novel's most devastating scenes involve McCoy's personal history, which his work won't do him the courtesy of letting him forget. --Nell Beram, author and freelance writer
World Noir, $17, paperback, 372p., 9781609457532
The Bangalore Detectives Club
by Harini Nagendra
Harini Nagendra's engaging first mystery in a projected series, The Bangalore Detectives Club, introduces a whip-smart, charming sleuth and provides a glimpse into intercultural relations in 1920s India. Kaveri Murthy, a newlywed and budding mathematician, is adjusting to her married life in Bangalore when a man is murdered at a dinner Kaveri is attending with her husband, a doctor named Ramu. Shocked and also intrigued, especially because the dead man has an unsavory connection to their milkman, Kaveri begins investigating the murder. She is able to offer some useful insight, despite her husband's protests. Even when several other attacks follow, Kaveri continues to follow the trail, with the help of her elderly neighbor.
Nagendra (Nature in the City) portrays a vivid Bangalore through Kaveri's eyes. Quick and perceptive, she is a shrewd observer of the people she meets and the different social classes she encounters. Readers get a taste of India's rigid caste system as well as the practices of British colonial officers and their wives. Ramu and Kaveri make an intriguingly progressive couple: both of them are more interested in living their own way than in following outdated rules, but they must observe certain protocols for the comfort of their colleagues and neighbors. (Ramu is forced to confront his own long-held prejudices when Kaveri befriends a prostitute who is a suspect in the case.) The danger ramps up as Kaveri gets closer to solving the murder, but the narrative wraps up satisfyingly without excessive gore. Both Nagendra's amateur sleuth and her new series are insightful and promising. --Katie Noah Gibson, blogger at Cakes, Tea and Dreams
Pegasus Crime, $26.95, hardcover, 304p., 9781639361595
Science Fiction & Fantasy
The Hacienda
by Isabel Cañas
Isabel Cañas takes readers to the 1823 Mexican countryside in her debut, The Hacienda, a dark gothic novel in which a house is haunted by more than just the supernatural. Set right after the Mexican War of Independence, The Hacienda follows Beatriz, a young woman trying to build a better life for herself after her father is executed. After suffering at the hands of relatives who disdain her for her mixed heritage, Beatriz marries Don Rodolfo Solórzano and leaves the city for what she assumes will be a stable life as mistress of a thriving estate.
What she finds instead is an empty, poorly maintained, menacing house and a sister-in-law who seems to hate her on sight. Determined to make the best of things, Beatriz begins restoring the gardens, furnishing the house and attempting to settle into the pueblo. The house has other ideas: "Darkness clawed at me; cold hands yanked my hair, pawed my nightdress."
Desperate for help, Beatriz appeals to the local church, but only the young mestizo priest Andrés believes her. As Beatriz spirals, sleepless and terrified, into possible madness, she uncovers secrets just as monstrous as the house about her husband, his dead first wife, his sister and maybe even Andrés.
The pages of The Hacienda are drenched in these secrets, but also in the real-life horrors of colonialism, patriarchy and the complicated and harmful casta system that reverberates through the generations. Cañas's writing is immersive, and she skillfully builds a robust sense of tension and terror. This chilling read exposes the rotting soul of colonialism and manages to be wildly entertaining while doing so. --Suzanne Krohn, librarian and freelance reviewer
Berkley, $27, hardcover, 352p., 9780593436691
Be My Baby: A Memoir
by Ronnie Spector, with Vince Waldron
In Be My Baby, Ronnie Spector presents a wild ride of a memoir that moves at a breakneck speed. Whether Ronnie, the lead singer of the 1960s girl group the Ronettes, describes hanging out with the Beatles at a 1964 sex party ("I may have been dumb back then, but I knew when it was time to get up off a guy's lap," she writes), having cocaine-laced sex with David Bowie or being kept prisoner in her 23-room mansion by husband Phil Spector for five years, Spector has a knack for compelling storytelling.
Much of the memoir focuses on her courtship and eventual marriage to Phil Spector. She lost her virginity to him while listening to a Ronettes record. "And every two minutes and fifty seconds," she writes, "Phil would reach over from the bed and lift the needle back to the beginning of the record." Once married, his paranoia, rages and jealousies take over. Although he threatens to have her killed if she leaves, she is finally able to escape. And like Tina Turner, she attempts restarting a career while being viewed as a has-been.
Originally published in 1990, this revised edition includes a new foreword by Keith Richards (replacing Cher's original) and a very short, 11-page postscript covering the last 32 years. This includes winning a $2.6 million lawsuit against Phil Spector for back royalties; the Ronettes' induction into the Rock and Roll Hall of Fame; and Phil's 2021 death in prison. Ronnie Spector died at 78 in January 2022--before this republication but after recording the audiobook. --Kevin Howell, independent reviewer and marketing consultant
Holt, $27.99, hardcover, 368p., 9781250837196
The Moon Sign Guide: An Astrological Look at Your Inner Life
by Annabel Gat
Horoscopes based on Sun signs are a fun way to examine the day-to-day and perhaps glimpse into the future, but they are only a small part of the astrological houses. Enter The Moon Sign Guide by Annabel Gat (The Astrology of Love & Sex), an astrologer certified by the International Society for Astrological Research. Gat, who has been writing the daily and monthly horoscope column at Vice since 2015, offers The Moon Sign Guide as a way of exploring one's inner life. "While our Sun sign symbolizes our ego and will," Gat writes, "and is an outward-facing part of our personality, the Moon sign represents our internal environment--our emotions, memories, and subconscious... all our wants and worries are touched by our Moon sign." Her exploration of where someone's Moon sign was at birth (readers will have to discover that through an astrologer or online birth chart calculator) provides insights into "what those who fall under that sign may need to feel comforted and secure."
Each Moon sign is explored in multiple sections: an overview, a deeper examination, and insights relating to home and family life, work, friendships and love and compatibility. The latter section also highlights how each Moon sign interacts with the others. Gat also includes a section on the "progressed moon," as a person's Moon sign will shift throughout their lives. Those with an interest in alternative forms of self-examination will find The Moon Sign Guide an engaging way to better understand themselves and others in their lives. --Michelle Anya Anjirbag, freelance reviewer
Chronicle, $19.95, hardcover, 256p., 9781797207094
A Trip of One's Own: Hope, Heartbreak, and Why Traveling Solo Could Change Your Life
by Kate Wills
Travel journalist Kate Wills's frank, funny memoir, A Trip of One's Own, weaves together anecdotes from intrepid female explorers with Wills's own travel experiences and also provides practical tips for people (especially women) interested in traveling alone. Having spent years relishing her solo trips to far-flung locales, Wills was disappointed when travel lost some of its magic after her marriage fell apart. Wills, determined to recapture the joy of being on the move, began researching stories of pioneering female travelers--wealthy society women, fame-hungry journalists and women, like herself, nursing broken hearts. Their stories provided inspiration, a sense of kinship and a renewed idea of travel as "both medicine and liberation."
Wills freely owns up to her traveling mistakes, wryly recounting mishaps both dramatic and mundane. Although she advocates doing a bit of research and packing a medicine bag, she's also a fan of letting trips take shape in the moment, as that's often where the best memories are. For both Wills and the traveling women who inspire her, the trick is remaining curious and present, whether chatting with locals, sampling new cuisine or trying to hang on through a turbulent flight. Similarly, Wills learns to hang on through the lonely months after her divorce, gradually building a life that includes a few brand-new adventures, including motherhood (and, later, pandemic lockdown). Breezy and insightful, Wills's memoir is an ideal companion for both novice and seasoned solo travelers. --Katie Noah Gibson, blogger at Cakes, Tea and Dreams
Sourcebooks, $16.99, paperback, 224p., 9781728255279
This Woman's Work: Essays on Music
by Sinéad Gleeson and Kim Gordon, editors
"It hasn't always been easy being a woman in this industry," writes Megan Jasper, CEO of indie-rock record label Sub Pop. Her essay, "Losers," is one of 16 offerings collected by writer Sinéad Gleeson and musician Kim Gordon of Sonic Youth in This Woman's Work: Essays on Music. Substitute "the arts" for "this industry" in Jasper's statement, and her conclusion sums up pretty much any of the pieces in this fearsome and eclectic anthology.
Apart from Gordon's interview with Japanese musician Yoshimi Yokota and Juliana Huxtable's "praise poem" for singer Linda Sharrock, This Woman's Work gathers critical, biographical and autobiographical music-themed essays by women. There's strong work throughout the collection, but the most reverberant pieces tend to take the form of emotions-front girl-on-girl tributes: Anne Enright on Laurie Anderson, Maggie Nelson on Lhasa de Sela and, heartrendingly, Margo Jefferson on Ella Fitzgerald, whose tendency to perspire mid-performance unsettles the writer. As Jefferson--who, like Fitzgerald, is Black--writes in "Diaphoresis": "even as she swings, scats and soars, Ella Fitzgerald's sweat threatens to drag her back into the maw of working-class Black female labor."
This Woman's Work is richer for the fact that Gleeson (Constellations: Reflections from Life) and Gordon (Girl in a Band) have sought out contributors who see the politics in making art. As Fatima Bhutto writes in "Songs of Exile" of music's capacity to galvanize the disenfranchised, "Tyrants hate music because no matter their force and their power, they will never, not ever, be able to control what is beautiful." --Nell Beram, author and freelance writer
Hachette, $29, hardcover, 272p., 9780306829000
Bee & Flea and the Compost Caper
by Anna Humphrey, illus. by Mike Deas
Every character, big and small, depends on one another in this funny and heartwarming early chapter book.
Bee is bored of pollinating the backyard. That is, until Flea, in "purple horn-rimmed glasses and a matching fanny pack," rides by on the back of a sleepy dog whom she is failing to direct. "What's a professional parasite gotta do to get some decent help around here?" she demands. Bee, thinking this might be her chance to escape the "dreary dandelions," volunteers to fly Flea to the compost heap. Upon arrival, Bee discovers "an entire universe of the teeniest-tiniest proportions."
At the heap, Flea, sole agent of the Fenced-in-area Law Enforcement Agency (F.L.E.A.), issues tickets to wrongdoers (mites eating their families; nematodes gobbling bacteria) while Bee is horrified by them. "Pollinating flowers may be boring, but at least it's useful," she thinks--until she realizes that "disgusting" might be subjective and the critters' actions are important. But that means agent Flea's ticketing work isn't!
Bee & Flea and the Compost Caper by Anna Humphrey (Megabat) is a chapter book with lots to love. Author and artist seamlessly incorporate STEM facts: they introduce parasites and bacteria, describe what shouldn't go into a compost heap and explain the miniature ecosystem in compost. Humphrey ensures an unendingly humorous read with endearing interactions between "stickler for correctness" Bee and happy-go-lucky Flea, through their creative antics and perfect puns. Illustrator Mike Deas (Star Wars: A Jedi You Will Be illustrator) adds to the fun with laughter-inducing black-and-white illustrations, like Flea using a crazy straw to drink blood or mites pooping on Bee. A sure favorite. --Samantha Zaboski, freelance editor and reviewer
Owlkids Books, $16.95, hardcover, 119p., ages 6-9, 9781771474207
My Sister's Big Fat Indian Wedding
by Sajni Patel
This sophomore YA title from Sajni Patel (The Knockout) is a contemporary rom-com set during an Indian wedding that is a lavish and joyful celebration of family ties, first love and creative expression.
Zurika "Zuri" Damani plans to attend a performing arts college to study "violin and hip-hop and rock... the music that moved my soul." First problem: this pursuit conflicts with her Indian family's expectations. Second? Her dream school rejects her. When Zuri learns about a musical contest judged by college scouts that offers the winner a full-ride scholarship, she thinks it may be her only chance to achieve her goals. Unfortunately, the contest takes place during the week of celebrations leading up to Zuri's sister's wedding. Worse: Naveen, the charming relative of the groom with whom Zuri's mother is determined to set Zuri up, turns out to be a gifted singer and her biggest threat in the scouting competition. Somehow Zuri must survive the wedding chaos, conquer the competition and reconcile her own ambitions with her family's hopes for her future.
Patel describes "the love and splendor and energy" of an Indian wedding--including traditional ceremonies, clothing and food--in opulent sensory detail. Madcap wedding antics and Zuri's rapid-fire banter with Naveen provide humor while there are still plenty of genuine emotional moments between Zuri and her family. Patel's imagery dazzles, but her portrayal of the often messy, always loving relationships between her wide cast of characters is what truly makes My Sister's Big Fat Indian Wedding shine. --Alanna Felton, freelance reviewer
Amulet Books, $18.99, hardcover, 368p., ages 13-up, 9781419754531
In the Clouds
by Elly MacKay
An inquisitive but bored child enlists a bird's help for an imaginative journey in Elly MacKay's diaphanous and fanciful picture book In the Clouds.
A girl with round red glasses perched on her nose and braids trailing down her back greets a yellow bird through a narrow crack in a rain-spattered window. The girl, suddenly the bird's size, asks, "Is the sun shining above the clouds? Will you take me there?" and the pair take flight. Through changing skyscapes, they explore coral crusted islands, a volcano and a thunderstorm, the sun's rays shining through diffuse light to splendid effect. The child poses a stream of questions both factual and rhetorical as the two explore: "Do you think there are clouds on other planets? If so, are they as beautiful as ours?" Their flight of fancy concludes in a burst of sunlight and joyful exuberance back at the windowsill once again.
MacKay (Red Sky at Night; The Secret Fawn) brings depth and dimension to each page with luminous photographs of layered paper dioramas. The child's meandering inquiry conveys wonder and genuine curiosity, which melds seamlessly with the glowing full-page artwork. Some of the child's questions are answered in the backmatter while others may prompt deeper thought and conversation.
Fans of Soyeon Kim and Samantha Cotterill's diorama artwork should appreciate the radiant effect MacKay achieves here, and the text is an excellent companion to the philosophical inquiry of K.A. Holt's I Wonder. An imaginative and incandescent escape. --Kit Ballenger, youth librarian, Help Your Shelf
Tundra Books, $18.99, hardcover, 44p., ages 4-7, 9780735266964
The Writer's Life
Emily X.R. Pan and Christina Soontornvat: Centering Asian Experiences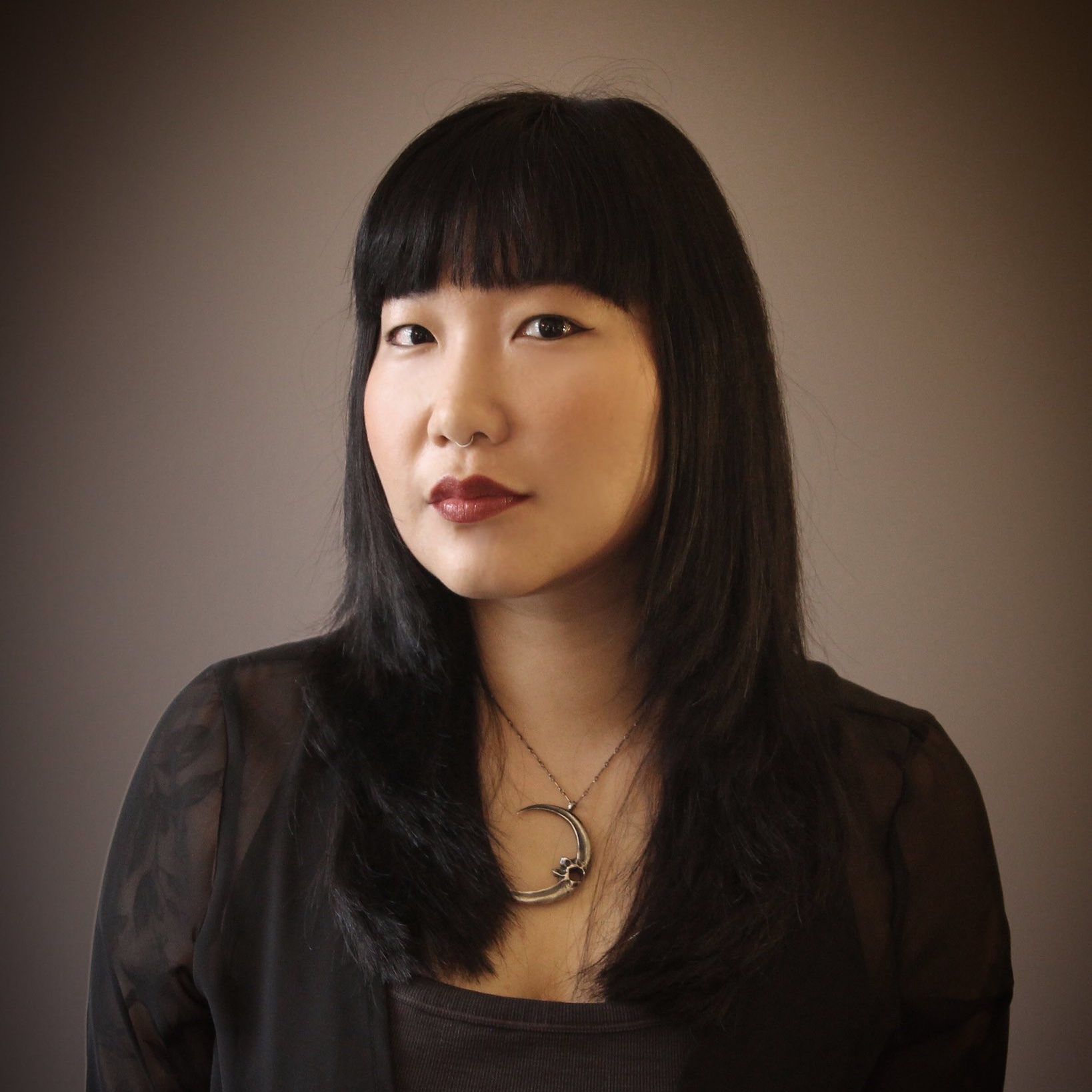 Emily X.R. Pan
Emily X.R. Pan was born in the Midwestern United States to immigrant parents from Taiwan, and now lives on Lenape land in Brooklyn, N.Y. Her debut YA novel, The Astonishing Color of After, was a bestseller, won the APALA Honor and Walter Honor awards, was a finalist for the Los Angeles Times Book Prize, longlisted for the Carnegie Medal and was featured on more than a dozen best-of-the-year lists. An Arrow to the Moon (Little, Brown Books for Young Readers) is her second novel.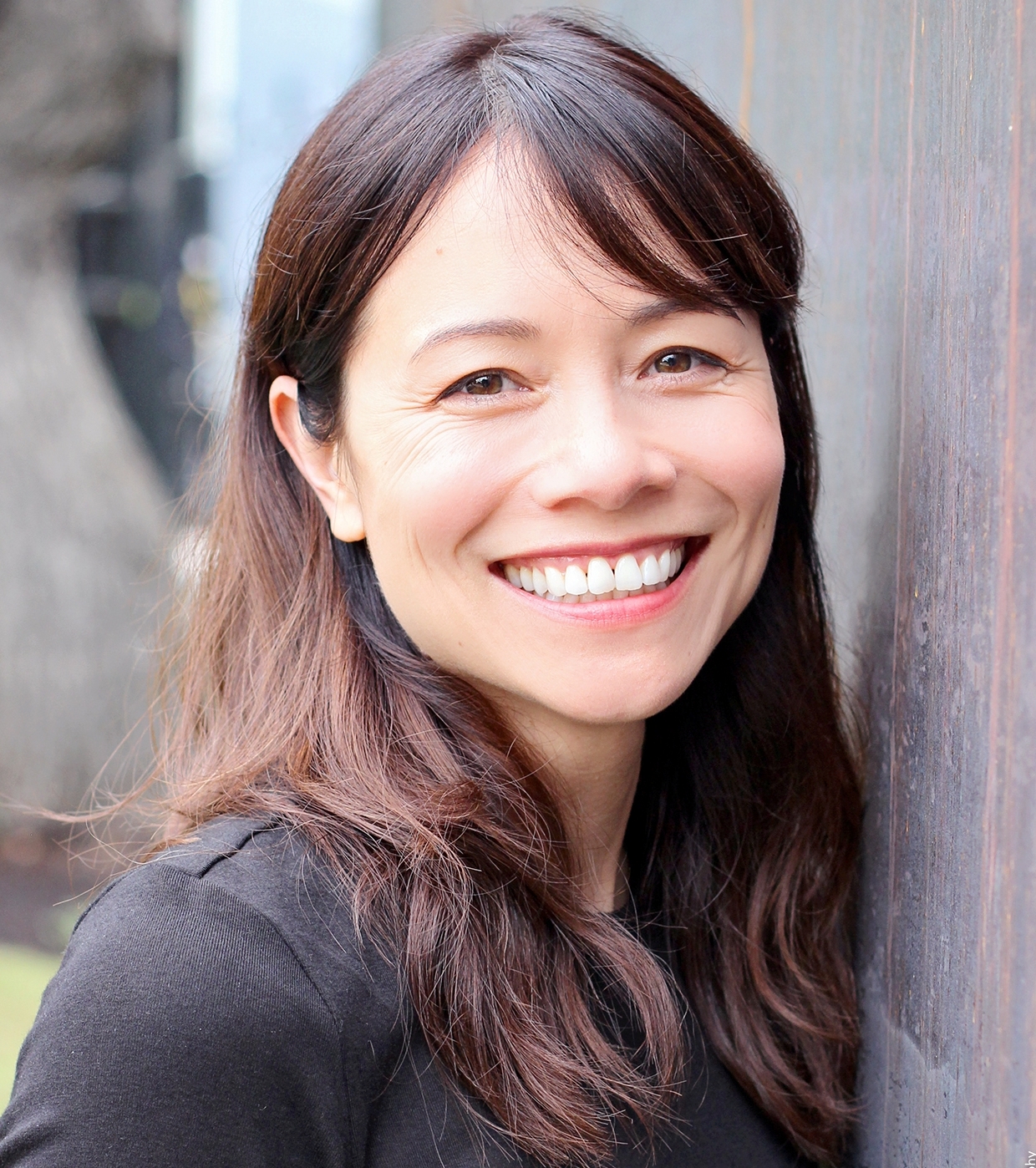 Christina Soontornvat grew up in a small Texas town, where she spent many childhood days behind the counter of her parents' Thai restaurant with her nose in a book. She is the author of many books for young readers, including the Newbery Honor Books A Wish in the DarkandAll Thirteen. Her fifth novel for middle-graders, The Last Mapmaker, is available now from Candlewick.
Here Pan and Soontornvat discuss writing about imperialism for young readers, centering the Asian experience in literature and marathon drafting.
Emily X.R. Pan: Christina, I'm so excited to talk to you about The Last Mapmaker. This book swept me away--I inhaled it in one sitting! What was the first seed of inspiration for this novel?
Christina Soontornvat: I feel the same way about An Arrow to the Moon!
I have always been someone who loved maps: the mystery, the implied adventure. And when I started to create Sai's character--someone who is an apprentice to a celebrated mapmaker--she made me want to explore themes of where we have been vs. where we are headed. It made me want to create a whole cast of characters who were either running away from or toward something they thought they desperately needed. But also, if you're going to write a book centered on maps, you can't escape the history of imperialism and colonization that has touched nearly every shore. Sai's employer is on a mission to "discover" a new continent, so I wanted to unpack what that really means.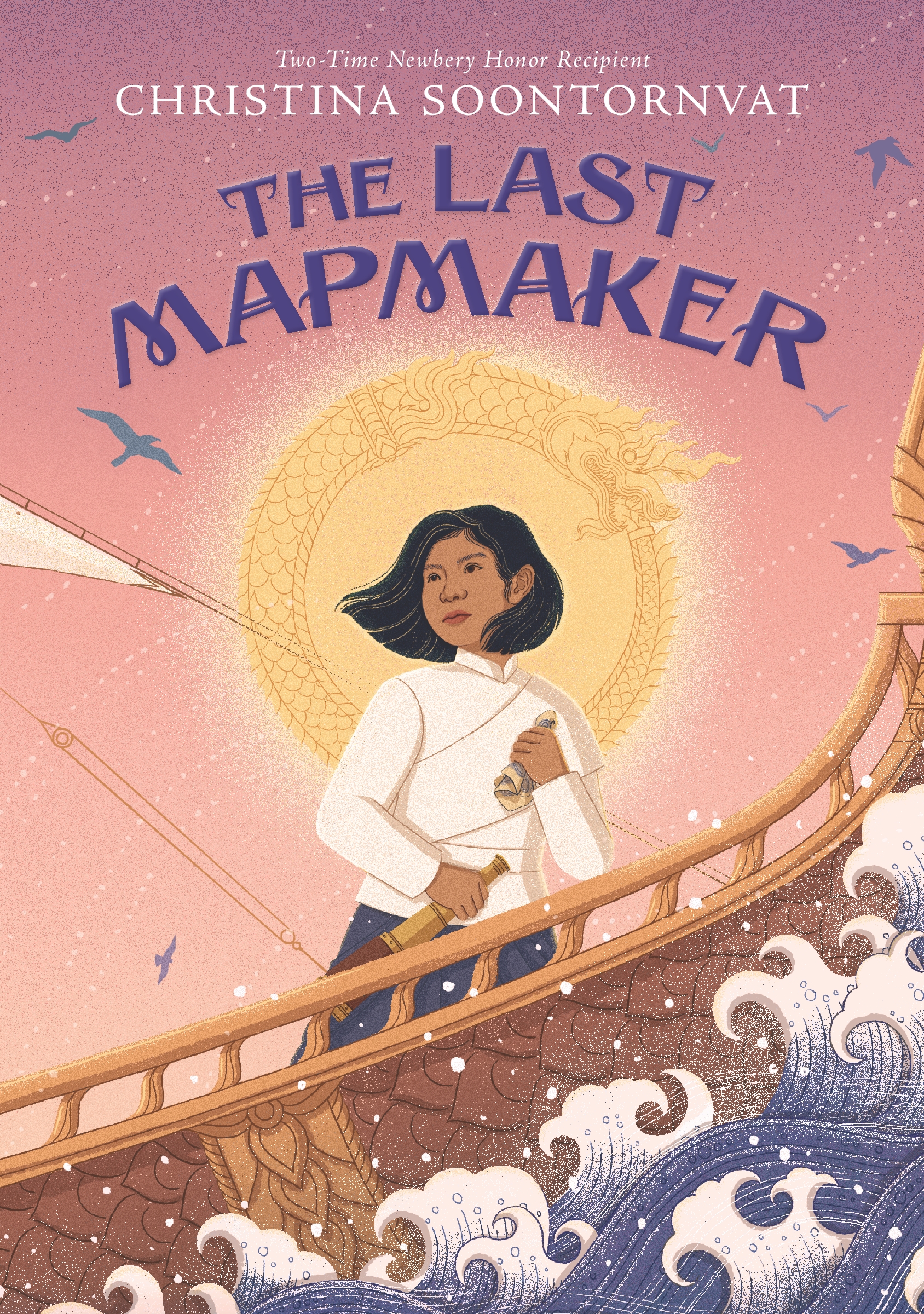 Pan: I love maps, too, but somehow never thought about how wild an adventure it must be to go on a journey to draw up a new map. And what a perfect way to show the consequences of imperialism.
Soontornvat: I have the same question about An Arrow to the Moon. Where did Luna and Hunter's story start for you?
Pan: Luna and Hunter are my way of reimagining Chang'e (the moon goddess) and Houyi (the divine archer), two mythological characters I loved growing up. I've always wanted to do a retelling of them, just as I've always wanted to write my own version of Romeo and Juliet. It frustrated me that certain versions of the myth antagonized Chang'e, that Romeo and Juliet are both so immature and that in these stories the woman always lacks agency. I realized I could do a mash-up. I wanted to write something modernized and feminist. I wanted to write Asian American characters who were crush-worthy, who deserved their own sweeping romances. Growing up in predominantly white neighborhoods all over the U.S., I never got to see that in stories.
Soontornvat: You totally nailed it, because Luna is fiery and driven, and Hunter is most definitely crush-worthy. I loved how you handled their romance--it felt believable, but also fated to be.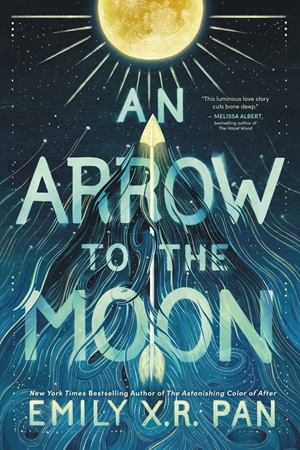 Pan: Was the setting of your book inspired by any real places and experiences? It feels like you must have run through the Fens and sailed across the Harbinger Sea yourself.
Soontornvat: It sounds like we grew up in similar neighborhoods and had similar goals about centering Asian experiences in our work. For the world of The Last Mapmaker, I drew heavily from Thai culture. I have never sailed across anything as dangerous as the Harbinger Sea, but I have spent time on sailboats. Being out on the ocean, with not a scrap of land in sight, is thrilling, but it's sobering, too. The ocean doesn't care who you are or what your background is. So, setting a story on a ship felt like the perfect place to explore all these characters' secrets and hidden identities.
Pan: I was going to ask about that--it feels like you're seriously an expert on ships and sailing. And maybe fighting and pickpocketing too?
Soontornvat: Haha, maybe I am secretly a frustrated pickpocket? I drew on my love of Charles Dickens, BBC dramas and Robert Louis Stevenson. Speaking of influences, you wove so many different elements into this book, Emily. Chinese mythology, a Shakespeare retelling, history, the realities of growing up Asian American and all the complexities involved. You made it look easy (I'm sure it was not)--how did you do it so well?
Pan: With a lot of tears and chocolate. This book was hard. At times it felt like I'd bitten off more than I could chew. I wrote 26.2 drafts of this, and every iteration was focused around solving a different problem. I wanted to show two families falling apart in very different ways. I wanted to weave magic into the world and history as we know it. I realized that to demonstrate what Hunter and Luna were up against, I had to show the perspectives of the people around them. It was a giant puzzle I kept breaking and reassembling.
Soontornvat: I loved when we got chapters from their parents' points of view. Parents often get short shrift in YA and MG, but you are totally right--our young characters are who they are because of their family dynamics. It makes the story richer and more real.
Pan: From your acknowledgments, it sounded like The Last Mapmaker was also quite the feat for you. I'm curious: What was the most challenging part of it?
Soontornvat: I don't know how many drafts I wrote... maybe not quite 26.2, but a lot! I just couldn't make it work--it felt unimportant and predictable. Finally, I came to the realization that I had to put more of my own heart on the page. I rewrote the whole thing (again), this time in first person. And something about doing that just cracked it open for me. I could step inside Sai's heart more easily, feel her mistakes--and she makes a lot. It wasn't easy, but it taught me a lot about writing. It's not easy for me to be vulnerable, but I think it's essential to creating an authentic-feeling story.
Is there one thing you hope young people take away from An Arrow to the Moon?
Pan: I wrote this book for anyone who feels like they somehow don't belong, and for anyone who feels like they're boxed into a certain set of expectations. I hope readers will absorb the ideas of choosing who they get to be and finding one's personal magic. What about you?
Soontornvat: My answer is very similar to yours, actually: I want readers to know that we can't ever erase our mistakes or the mistakes of others, but we can change the course of our lives.

Love Marriage
by Monica Ali
Even at 400-plus pages, by book's end, readers will miss the Ghorami and Sangster clans of Monica Ali's addictively readable, shrewdly insightful, subversively humorous novel Love Marriage. Yasmin Ghorami and Joe Sangster are in love, engaged to be married in the months ahead. They're both physicians, working in the same London hospital. Yasmin is 26, specializing in geriatrics; Joe is three years older, in obstetrics and gynecology. Both still live with their parents.
Yasmin's father, Shaokat, is also a doctor--a GP--and her mother, Anisah, is a homemaker and neighborhood do-gooder. They emigrated from Calcutta in their 20s, their union the stuff of oft-repeated family lore, championing a love-conquers-all tale of poor orphan Shaokat who overcame indigence and captured the heart of wealthy Anisah. The family lives in Tatton Hill, a middle-class London neighborhood that allows them to "not mix with other Bengalis, other Muslims, Indians," although Anisah remains a devoutly practicing Muslim. After Yasmin came Arif, now 24, who remains jobless--even worse, directionless, with a less-than-useful sociology degree; his unproductive presence at home relentlessly disappoints and agitates their father.
Joe is white, isn't Muslim, but being a doctor makes him "automatically suitable." He resides in posh Primrose Hill in his mother's home. Harriet--or Harry, as Joe calls her--raised Joe alone with utter devotion while also establishing a noteworthy career as an "activist, writer and intellectual" ("Do try to be accurate," she corrects a journalist who refers to her as a "feminist activist and commentator"). She's currently working on a book about men's relationships with their penises, filled with "de-eroticized shots of the appendages." Joe has recently, reluctantly started therapy for his sex addiction, something he most understandably doesn't want to bring to his impending nuptials.
It's the fall of 2016, and though Yasmin and Joe thought they wanted something simple--and soon--their wedding is set for June of the following year. The weather will be so much nicer then, since Harry decides she'll host the event in her lavish garden. Anisah would like an imam-led nikah--a Muslim ceremony. Plans continue to move along, never mind the couple's preferences. At least the families are bonding.
And then Joe admits to a hook-up that inexplicably "just happened" with a hospital co-worker--really, how was Yasmin not supposed to find out? Understandably shocked, Yasmin attempts to forgive him, but... well... things keep happening, most not even related to the infidelity, but distracting enough to make true reconciliation challenging. Arif moves out after Shaokat's intolerance of him turns violent. Anisah leaves next--and she lands at Joe's mother's--fueling Shaokat's angry, lonely drinking. Meanwhile, Harry doesn't understand why Joe has become so peevish lately. And then there's Yasmin, who might be having some unspeakable (for now) experiences of her own.
Ali's spotlight favors Yasmin, but so much of the supporting cast is memorable--and made brilliantly useful in cleverly ciphering Very Important Issues. Harry's literary friends--prize-winning, published, wannabe--debate authenticity, while slyly, accurately skewering the publishing industry. Harry regularly trips over her wealthy, white, appropriating privilege. Various hospital patients and staff expose the cracks and failures of the healthcare system; 96-year-old Mrs. Antonova proves especially unforgettable while the clinical director shows himself to be a hypocritical, sexist poser. Race, class, identity, all manner of family dysfunction, are deftly imbedded throughout a multilayered narrative in which every character longs for mutual understanding. Even love marriages can't guarantee meaningful connection.
Ali returns to bookshelves after an 11-year gap since her last novel, Untold Story (2011), and almost two decades since Brick Lane (2003) debuted to sensational attention. Her absence from fiction seems to have further honed her already proven storytelling prowess--Granta lauded her as one of their "Best Young British Novelists" in 2003. Ali's meticulous attention to detail ensures readers will get to know fully realized characters: Yasmin takes a study break from her medical texts with a gossip magazine she found discarded on the subway in which she can identify only one celebrity; she prefers "real people" stories that make her grateful she has "nothing to worry about." Anisah attempts to read Harry's first book--"about all her lovers... all very feminist"--while standing over an open rubbish bin; she lets the book drop there when she notices Arif is watching. Joe confesses to Yasmin that while Harry is "a bit disappointed [Yasmin is] not more Indian," Shaokat and Anisah "are authentic enough to give her an orgasm."
As pages swiftly turn, Yasmin will worry plenty, Anisah will define her own feminism, Joe and Harry will face authentic revelations. What might initially read like casual observations get scrupulously, astutely unpacked through Ali's engrossing, sometimes scathing, reveals. Already a bestseller in the U.K. where it was first published, U.S. audiences, too, will surely welcome the extended Ghorami and Sangster clans' trials and tribulations with plenty of warm, empathetic recognition. --Terry Hong
Scribner, $27.99, hardcover, 432p., 9781982181475
'I need to write. No matter what'
An Interview With Monica Ali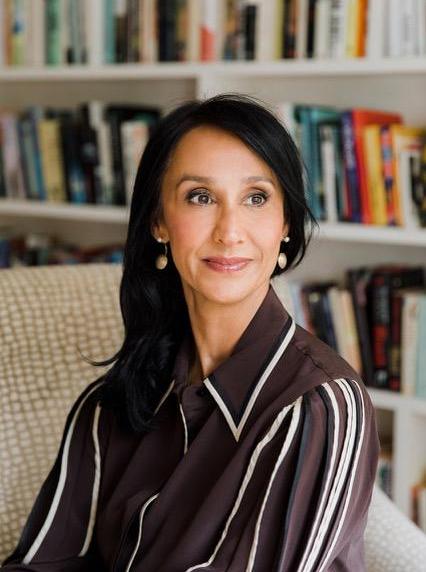 (photo: Yolande De Vries)
Monica Ali's debut novel, Brick Lane, earned a Man Booker shortlist nod and recognition for Ali as one of Granta's 2003 "Best Young British Novelists." Born to a Bangladeshi father and British mother, Ali was raised in England, Oxford-educated and now lives in London. Her long-awaited fifth novel, Love Marriage (Scribner, May 3, 2022), features a 20-something London couple, Yasmin Ghorami and Joe Sangster, and their extended family and friends, through whom Ali deftly explores identity, race and class.
Brick Lane brought you a lot of praise, and perhaps not a little criticism. How did the attention your debut novel garnered affect your writing that followed?
So you're starting with the easy questions, huh? The question is usually slanted towards "did it put pressure on you/your writing." But strangely enough, I don't think it did. I never thought about "building on" the success of Brick Lane, turning it into some kind of brand. That would obviously have been the smart move commercially. And I was aware of that. But I'm a writer, not a marketing machine. So I have always just followed my own path, my own interests, for better or worse.
Your previous four novels were regularly spaced: Brick Lane (2003), Alentejo Blue (2006), In the Kitchen (2009) and Untold Story (2011). Love Marriage arrives more than a decade later. I read that you stopped writing after a "'catastrophic' loss of confidence" following reactions to Untold Story. How were you able to start again?
Yes, it was a downwards spiral, because when I stopped writing I became depressed. And the depression fed into the lack of confidence. One thing that helped me a great deal in coming out of that cycle was attempting to write television drama. Because I was watching a lot of telly! As depressed people sometimes do. I thought--maybe I could do that. I started reading a lot of scripts and taught myself--it's an entirely different craft--then I worked with a number of production companies. I had scripts commissioned, but nothing ever made it to the screen. Which was fine by me. I loved the process, loved working with other people; it's much more collaborative, obviously, than writing a novel. And it made me realize I need to write. No matter what. So it kind of kick-started me into writing prose again. Now the TV rights to Love Marriage have been auctioned and I'm working with New Pictures and writing the adaptation. So it's all come back around again.
I also found this fabulous, poignant, maddening quote addressing the diverse topics of your past work: "I think I was really naive in thinking that I could write about whatever I wanted, like a white male writer can." Will you (please) continue to write whatever you want?
I don't think I can/could do otherwise. It would mean that the work lacked integrity. I guess the hard part, for me, psychologically, was not the criticism per se. (Although I'm no more partial to it than anyone else!) It was the sense that people were saying that I wasn't being "authentic." But, as I've said before and no doubt will say again, I'm not authentically one thing or another. I'm both [Asian and white]. And I'm glad to be both.
"Authenticity" is currently a Very Important Publishing Topic (might I add, handled with such finesse in Love Marriage). I'm sure readers and critics have already commented, even lauded you, on your return to the familiar in Love Marriage. Did you ever feel pressure that you had to narrate a Bengali immigrant/Oxbridge British cast?
It's funny, I haven't sat down and read the reviews. Yet. I may do so at some point. But my publisher sends me snippets and people tell me things and so on. Recently, we went to Bristol to visit my in-laws and my mother-in-law, because she's proud that I've published another book, had pinned a review on the fridge. So I couldn't avoid it. The headline was something like: Brick Lane for 2022, but with more sex.
It's such an inane, vapid, stupid summation that I almost choked on my toast. Let's pause and think about it for a moment. In Brick Lane, Nazneen, the protagonist, is born and brought up in rural Bangladesh. She's uneducated, speaks no English, has an arranged marriage to a much older man, moves to an impoverished area of London, lives within a very tight-knit working-class community and is deeply religious.
Yasmin, the protagonist of Love Marriage, is born and brought up in London (by parents who are originally from Calcutta), is highly educated, a professional young woman who falls in love with Joe, a fellow doctor of around the same age. She lives in a middle-class London suburb where everyone minds their own business. She has few, if any, religious inclinations.
The common factor is that they're both brown. And, yes, Yasmin has Bengali heritage, but her parents are from India, which is in fact a different country. It's a bit like lumping Irish and English in all together. There are similarities but...
What's interesting to me is this: If a white writer had written about a white, working-class family, living in a poor, tight-knit community, perhaps religious (maybe Irish Catholic?) 20 years ago, and then wrote an entirely different novel about a family that was also white, but middle class, professional, living in a prosperous suburb and with an entirely different set of issues and family dynamics... would that writer be asked why she was going back to "familiar territory," as I have been asked about Love Marriage?
I can't imagine that happening, because I think all white families are automatically granted their uniqueness, but brown families are first and foremost brown.
Creating ensemble casts (of all backgrounds) is undoubtedly one of your most affecting talents as a writer. How do you logistically manage? Do you use charts, diagrams, other visuals to organize?
I don't have charts or diagrams. I do spend a lot of time with characters before I commit anything to the page. I have to know a lot about them--and most stuff doesn't end up on the page. But if you don't know your characters then there's little hope your readers ever will. I have to be able to hear how they speak, the rhythm of their language, the cadence of their voice. Then I'm ready to get started.
Is it too soon to ask if you're contemplating a sequel? The final chapter title is "Possibility"...!

Ooh, I love it, I hadn't thought of the final chapter title in that way. I'm thinking what the first chapter title of the sequel could be... Seriously, I haven't thought about a sequel because my head is very much in the adaptation.
If not a sequel yet, what are you writing next?
I've just agreed to write a short story for a Virago collection to be published next year. All the story titles will be synonyms for "virago." My title will be "Bitch." But that's as much as I'm telling right now! --Terry Hong
Shelf vetted, publisher supported.
Rediscover
Rediscover: Steven Heighton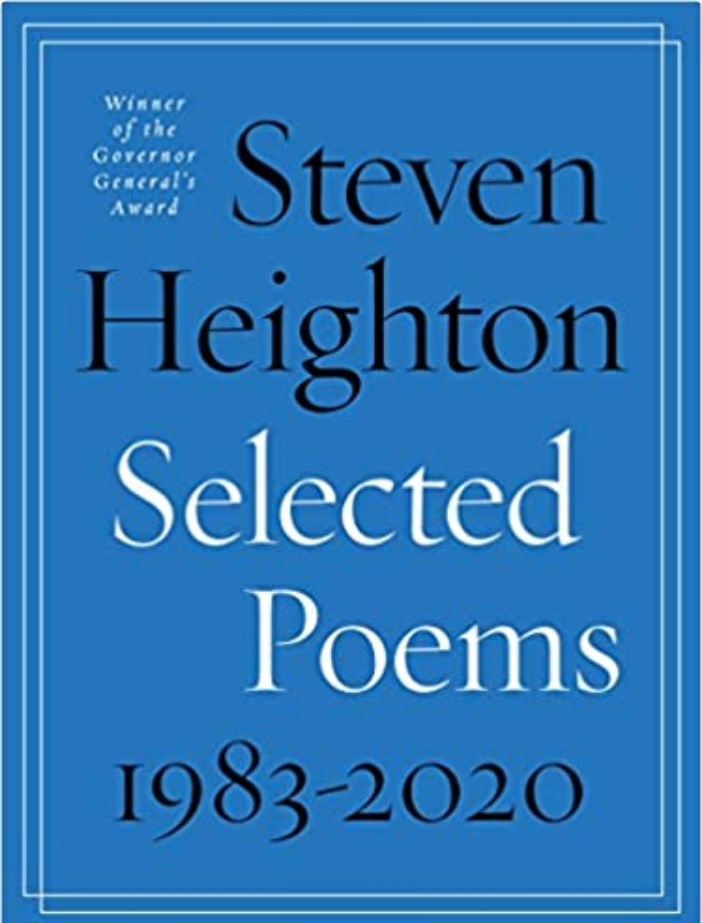 Canadian poet and writer Steven Heighton, who over his decades-long career published 19 books, died April 19 at age 60. He won a Governor General's Literary Award for his 2016 collection The Waking Comes Late, but his published works spanned genres, including several novels, a children's book, a memoir, essays and a story collection. Heighton published six books of poetry, debuting in 1989 with Stalin's Carnival, which won the Gerald Lampert Award for best first collection, and was followed by The Ecstasy of Skeptics (1994). His first book of short fiction, Flight Paths of the Emperor, was a finalist for the Trillium Award. He later published the memoir Reaching Mithymna, a finalist for the 2020 Hilary Weston Writers' Trust Prize for Nonfiction. Other works include poetry titles The Address Book and Patient Frame; as well as novels The Shadow Boxer, Afterlands and The Nightingale Won't Let You Sleep.

Biblioasis publisher Dan Wells wrote: "He challenged and encouraged in equal measure, almost always getting the balance right. In this age of ironic detachment he risked being earnest, vulnerable, showing care and concern." Heighton's most recent published book was last year's Selected Poems, 1983-2020, available from House of Anansi Press.