Week of Friday, May 27, 2022
Plenty of new reviews in this issue, including: Cindy House's Mother Noise, her "unexpectedly uplifting memoir" of addiction, recovery and parenting; City of Orange, David Yoon's post-apocalyptic novel set in California, "an often funny and always compelling journey"; and Lindsay Eagar's "spectacular middle-grade novel" The Patron Thief of Bread, in which an eight-year-old struggles with her loyalties.
In the Writer's Life, Canadian author Deborah Ellis discusses Step, 10 stories about the journeys a child takes on their 11th birthday; the gift her grandmother unwittingly left; and a line by Chaim Potok that gets her through tough times.
The Best Books This Week
Fiction
City of Orange
by David Yoon
For those who think every post-apocalyptic novel is the same, City of Orange by David Yoon (Version Zero; Super Fake Love Song) argues otherwise. The opening is familiar: man wakes up in a desolate nowhere and can't remember his name or the traumas preceding this moment. But Yoon refuses to follow the typical script, taking readers on an often funny and always compelling journey through the mystery man's past, an alternative present and the uncertain future.
The novel begins in 2010 in California, all concrete and burned-out housing developments. Clearly, this is the wasteland that remains after a catastrophic event. Or is it? As the man scrabbles for food and shelter, his memories start to return and readers learn what has brought him here and whether he can survive. Yoon provides a mixture of dry humor and dark days, as when the main character questions his preoccupation with the detailed measurement of wind patterns: "He is not a hero in some adventure book about surviving against all odds. He is the guy who hides away procrastinating with string and cardboard. Last Surviving Member of Human Race Puts Things Off. He giggles at that headline." Readers will also laugh, even as they understand the desperation of his circumstances.
City of Orange also raises questions about time and money and the stuff humans accumulate, while sharpening the focus on what really matters: family, love and enduring friendships. Despite its dark premise, City of Orange insists on hope and continuity in the face of tragedy. --Sara Beth West, freelance reviewer and librarian
Putnam, $27, hardcover, 352p., 9780593422168
Our Last Days in Barcelona
by Chanel Cleeton
Cuban American novelist Chanel Cleeton (Last Train to Key West; When We Left Cuba) returns to her lush, compelling saga of the Cuban American Perez sisters in her fifth historical novel, Our Last Days in Barcelona. In 1964, eldest sister Isabel takes an impulsive trip to Spain in search of her sister Beatriz. Worried Beatriz's intelligence work and devil-may-care attitude may have put her in danger, Isabel nevertheless jumps at the chance to escape her unhappy marriage for a time. What Isabel finds in Barcelona, including an old family photograph she's never seen before, raises more questions than answers about both Beatriz's whereabouts and their family's history.
Cleeton deftly weaves Isabel's narrative together with that of her mother, Alicia Perez, who fled to Barcelona to escape her own troubled marriage in 1936, with toddler Isabel in tow. As the Spanish Civil War escalates, Alicia and her family are caught up in the violence and uncertainty, as well as other, more personal crises. Both narratives also involve Rosa, Alicia's dear friend and cousin by marriage, who must make some difficult decisions regarding her relationships and where she wants to build her life.
Cleeton vividly describes Barcelona through the eyes of her protagonists; the city, and its mixture of art and tragedy, is the perfect backdrop for Alicia's struggle and Isabel's soul-searching. The Perez women display their strength in very different ways, and Cleeton celebrates each for their fortitude. Full of rich historical detail and vibrant characters, Our Last Days in Barcelona stands on its own, but also gives readers another glimpse into the continuing story of the Perez family. --Katie Noah Gibson, blogger at Cakes, Tea and Dreams
Berkley, $17, paperback, 320p., 9780593197820
Are We Ever Our Own
by Gabrielle Lucille Fuentes
The BOA Short Fiction Prize promises "collections [that] are more concerned with the artfulness of writing than the twists and turns of plot." Cuban Irish American author Gabrielle Lucille Fuentes (The Sleeping World) effortlessly displays both craft and narrative in the 11 loosely interlinked stories of Are We Ever Our Own.
Fuentes divides her fiction into three parts, the first and third sections labeled "fantasma," meaning ghost, which include a spectral single story each. The opening "Ana Mendieta Haunts the Block" deftly mixes fact and fiction: Ana Mendieta was a Cuban American artist possibly murdered by her husband; the Block was the home, now museum, of artist Donald Judd. Fuentes places spirited Ana in the Block, where tour guide Simon witnesses the museum cleaner Paula and her niece Caridad Armando-Mendoza become scapegoats for Ana's wandering mischief. In the closing fantasma, "The Ballad of Tam Lin," covered-wagon traveling performers and their peripatetic theatrics--both professional and personal--are recalled by the troupe leaders' daughter. The nested stories-within-stories each heighten "this disappearing": a lost father, dead sister, tragic lovers.
The connection between first and last stories relies on names--names shared by scattered members of the Armando Castell family who populate Part II, aptly subtitled "begin again," as if to offer provenance and then far-flung progression. The Armando Castell women are imbedded throughout Fuentes's intricately plotted narratives: most are unknown to each other; many are artists of diverse genres; none ever seem quite settled. With deft precision, Fuentes parses a compelling multigenerational history of womanhood revealed through complicated relationships, disturbing violence, wrenching longing and sometimes, bittersweet, hard-won autonomy. --Terry Hong, Smithsonian BookDragon
BOA Editions, $17, paperback, 224p., 9781950774616
The Honeymoon Cottage
by Lori Foster
An idyllic, beautifully designed and decorated lakeside house is the backdrop for The Honeymoon Cottage by Lori Foster. This heartening family saga is woven with bonds of filial loyalty, unexpected friendships and burgeoning romance.
Yardley Belanger, 31, has always called Cemetery, Ind. (population 827), home. She has never had a lasting romantic relationship. Resigned to remaining single, she's become a workaholic who gives her all in serving as a wedding planner--joyfully intent on meeting every whim, wish and pleasure for couples planning their big day that is often capped by spending their honeymoon at a quaint lakeside cottage in town. In the recesses of Yardley's heart, she secretly hopes one day to have her own wedding in town, and that she and her true love will occupy the honeymoon cottage she proudly designed and decorated herself.
Travis Long, a 35-year-old carpenter, has also faced challenges in life. When he was only 20, his parents were killed in a car crash, and he assumed responsibility for his sister, Sheena. With Sheena now 20 years old herself and marriage on the horizon, her big brother is intent on giving Sheena the wedding day of her dreams. When Travis solicits Yardley's services for Sheena's big day, he and Yardley are instantly attracted to each other. Can these two wounded souls build a happy ending of their own--deferring their relationship until after the wedding?
Foster (The Somerset Girls; The Summer of No Attachments) has crafted a warm, leisurely plotted small-town saga centered on healing relationships. The Honeymoon Cottage is a top-notch addition to Foster's prolific body of work. --Kathleen Gerard, blogger at Reading Between the Lines
HQN, $15.99, paperback, 384p., 9781335506368
Breadsong: How Baking Changed Our Lives
by Kitty Tait and Al Tait
Tenacity and passion permeate Breadsong, a moving, life-affirming memoir and recipe book by Kitty and Al Tait that celebrates the joys of bread-based baking. Red-haired and freckled Kitty Tait had always been fun-loving, good-natured and chatty. However, in 2018 Kitty's parents and others noticed a change in the 14-year-old girl: she'd become "subdued, distracted, pale and sad looking." The youngest child in her British family, Kitty experienced unattributable symptoms that morphed into emotional malaise, anxiety and panic attacks. Mental health specialists prescribed pharmaceuticals, breathing exercises and other coping strategies. But nothing seemed to work.
One day her exasperated, stressed-out father, an amateur bread baker, decided to distract himself by baking a no-knead loaf in a cast-iron Dutch oven. This one simple act piqued Kitty's interest; surprisingly, the process drew her away from her anxieties. Frequent baking quests suddenly turned the tide of Kitty's life. Soon, the Tait family's adventures in making bread nourished more than just Kitty and her family: their loaves started feeding the neighborhood, rippled into the larger community and ultimately lead to their opening the Orange Bakery in their hometown of Watlington, Oxfordshire.
The family's hopeful, feel-good story is leavened with fun photographs and Kitty's and Al's own words, ones that reveal their innermost thoughts and feelings about their journey. The book showcases more than 80 recipes and tips for baking perfect savory and sweet breads. This includes honey buns, sourdoughs, brioche, soda breads and even pastries, tarts and cookies. The family's amazing story is alchemized with equal amounts of inspiration and deliciousness. --Kathleen Gerard, blogger at Reading Between the Lines
Bloomsbury, $30, hardcover, 304p., 9781635578041
Mother Noise
by Cindy House
Mother Noise, Cindy House's "graphic narrative piece," is an unexpectedly uplifting memoir that tells the story of House's heroin addiction, 20 years of recovery and the anxiety over sharing her past with her son.
This collection of more than 20 nonlinear essays, interspersed with whimsical drawings, begins when House's son, Atlas, is nine years old. House reflects: "It is only now that I am thinking of how to tell him about my past that I realize how much danger I was in back then." Her honest narration of this danger is horrific; readers are compelled to admire and appreciate her recovery. She shares Atlas's reaction to her revelation in a series of sketches of his expressions. An accomplished writer, House tells of a low point in her addiction when she couldn't read: "I might be able to grab onto a word here or there but an entire paragraph is indecipherable." She recalls this after noting the love for books she and her son share: "Storytelling became the same light in the dark for Atlas that it is for me, the path to find our way."
A champion of House along this journey is humorist David Sedaris, who was her writing instructor at the Art Institute of Chicago; now she is a regular opener at his readings. "You could go to any grad school you wanted," Sedaris once told her, a moment she'd remember and "replay... in hospitals and halfway houses for years." In her masterfully crafted memoir, House includes stories of despair and joy. Ultimately, the narrative she shared with her son also brings hope to her readers. --Cheryl McKeon, Book House of Stuyvesant Plaza, Albany, N.Y.
Marysue Rucci/Scribner, $26.99, hardcover, 240p., 9781982168759
My Moment: 106 Women on Fighting for Themselves
by Lauren Spiegel, editor
After seeing the testimony of Christine Blasey Ford at Brett Kavanaugh's 2018 Supreme Court confirmation hearings mocked, disregarded and silenced, Lauren Blitzer, Kristin Chenoweth, Kathy Najimy, Linda Perry and Chely Wright began gathering stories from women. They asked: "What was the moment in your life when you realized you were ready to fight for yourself?" The remarkable My Moment--moving, empowering and impossible to put down--collects those inspiring responses. Each of the more than 100 entries from a diverse group of women is paired with a striking black-and-white photograph of its author.
Rosie O'Donnell recounts how, a month after her mother died, she took over the caretaker role to her four siblings: "i left my childhood behind--/ to take my place in the world of adults/ where eleven-year-olds don't belong." Actress and musician Zosia Mamet discusses the turning point in her 24-year battle with anorexia. Ricki Lake's moment was going public about her significant hair loss, which she'd kept hidden for 25 years. Kristin Chenoweth relates being injured severely on the set of the TV show The Good Wife and keeping mum for fear the entertainment industry would perceive her as weak. Rosanna Arquette writes about being blacklisted in the 1990s after resisting Harvey Weinstein's advances, and her decision to go public in 2017. Chely Wright lived on the brink of suicide after wrestling for years with her place in country music as a closeted lesbian, and Brandi Carlile remembers a Baptist pastor who publicly refused to baptize her as a teenager. MJ Rodriguez was seven years old when she realized: "You're not the one catching up with the world, the world needs to catch up with you."
This stirring tribute to strength and perseverance will resonate with everyone, regardless of gender. --Kevin Howell, independent reviewer and marketing consultant
Gallery Books, $27.99, hardcover, 336p., 9781982160920
The Uncollected Essays of Elizabeth Hardwick
by Alex Andriesse, editor
Elizabeth Hardwick's popularity never matched the enormous regard critics had for her during her life. However, thanks to a string of publications following her death in 2007, the word is out. The Uncollected Essays of Elizabeth Hardwick, edited by Alex Andriesse, makes a fine companion to her Collected Essays, selected by Darryl Pinckney and published in 2017.
Featuring 35 essays, this anthology covers everything from headline news, such as the Clinton-Lewinsky scandal ("Head over Heels") and the O.J. Simpson trial ("Family Values"), to the very particular, such as the blessings of a summer in Maine or reveries on growing up in Lexington, Ky. In their range of subject matter and length, these essays demonstrate Hardwick's ability to illuminate with both high-beam headlights and pocket flashlights, to digress articulately at length and compress immense thoughts into curt phrases. Every piece contains sharp observation and analysis. But Hardwick's writing is also full of keen feeling, lively curiosity and deep concern for the world's many people, places and things. Hardwick may have led the enviable life of a New York City intellectual, but she always carried with her the critical eye of an outsider. Her essays bring to life the perspective of one equally at home in the salon parlor and on the sidewalks of Main Street.
This collection may be read from front to back or in any order. No matter how readers choose to dive in, these essays deliver the enlightenment and pleasure that only a brilliant mind unfurling itself on the page can offer. --Walker Minot, freelance writer and editor
New York Review Books, $18.95, paperback, 304p., 9781681376233
The Best of the Rejection Collection: 297 Cartoons That Were Too Dark, Too Weird, or Too Dirty for 'The New Yorker'
by Matthew Diffee
Nudity! Scatology! Blasphemy! Bestiality! It's all here in Matthew Diffee's perverse and wonderful The Best of the Rejection Collection: 297 Cartoons That Were Too Dark, Too Weird, or Too Dirty for 'The New Yorker.' This second iteration of the book, which features some new cartoons and contributors, offers both amusement and, for readers who keep failing to make it into the cartoon caption contest at the New Yorker, the comfort of knowing that numerous crackerjack cartoonists have also been spurned by the magazine.
Diffee--a New Yorker contributor since 1999, who estimates that "we cartoonists are lucky if they take one of the ten ideas we pitch each week"--launches The Best of the Rejection Collection with an overview of his creative process and a list of reasons why his work may have been rejected. For example, "too goofy" is one explanation for the nixing of his illustration of a crudely drawn wheeled vehicle above the caption "horse-drawn carriage." For the main event, Diffee (Hand Drawn Jokes for Smart Attractive People) conducts q&as with 54 New Yorker cartoonists and follows each exchange with samples of the artist's rejected work. The surprise here isn't how funny these works are--in a cartoon by Jason Patterson, a pantsless man enters a restaurant whose window bears the sign "NO SHIRT/ NO SHOES/ NO SERVICE"--but it's how relentlessly entertaining the cartoonists are in the q&as. Leo Cullum has the best answer to the question "how do you deal with rejection?" when he responds, "I find someone to publish a book of rejected cartoons." --Nell Beram, author and freelance writer
Workman, $17.95, paperback, 384p., 9781523512393
The Writer's Life
Reading with... Deborah Ellis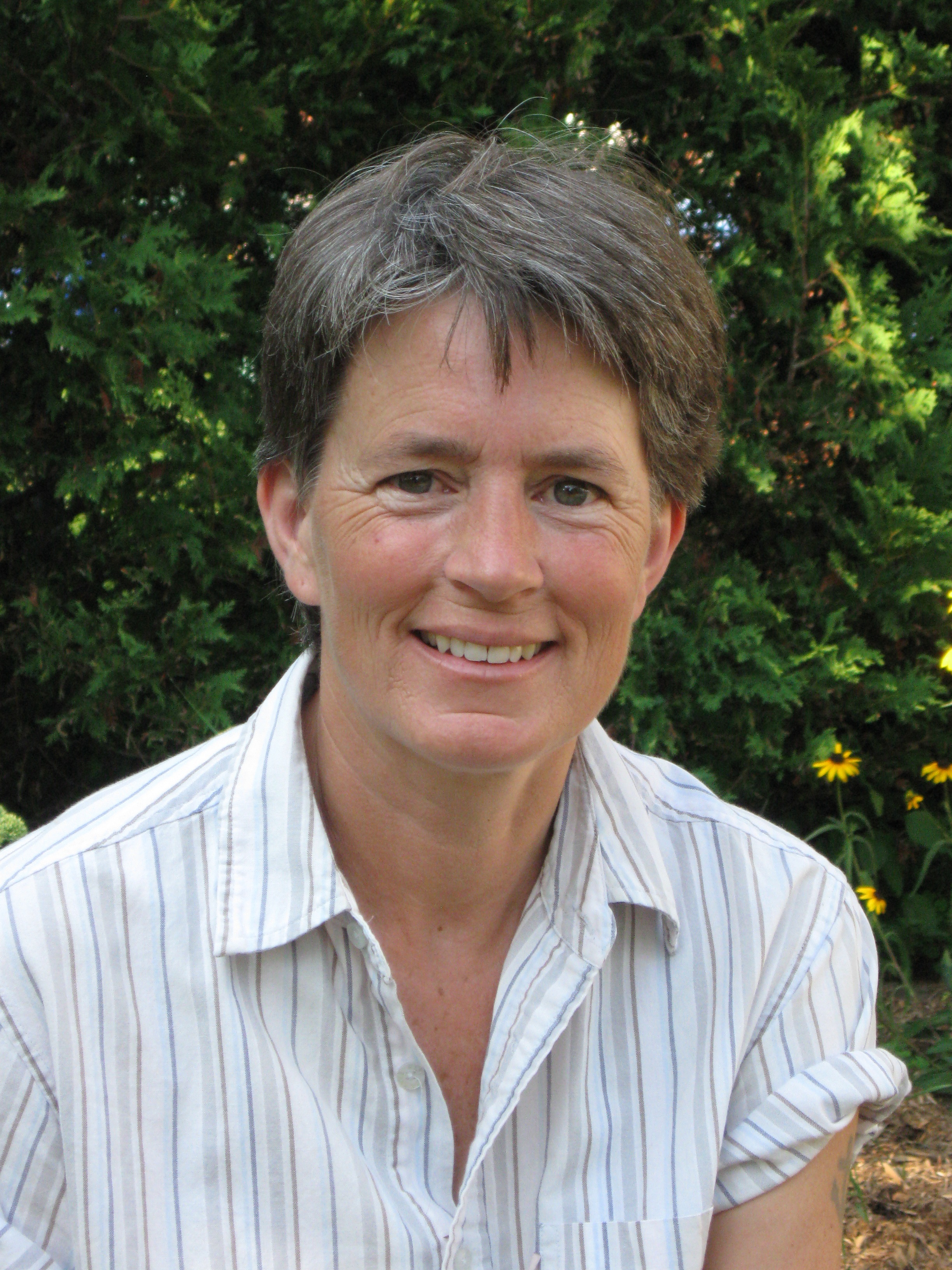 Deborah Ellis is a Canadian author of nearly two dozen books for young people. Step, a collection of 10 stories about the journeys each child takes on their 11th birthday, building confidence and compassion for others, is available now from Groundwood Books.
On your nightstand now:
The Collected Poems of Audre Lorde: Her writing is so clear and strong and truthful and empowering.
The Norton Anthology of Short Fiction: 90 writers, over 100 stories, so much to learn from.
Albert Camus's Notebooks, 1935-1942: Being able to read his random thoughts, scribbles and parts of stories is wonderful. It's like, "This is what writers do," they scribble down thoughts and some of those thoughts sometimes turn into something readable.
The Island of Sea Women by Lisa See: My wife, Heidy, gave this to me for Christmas. It's about generations of women on the island of Jeju in an all-female diving collective.
Favorite books as a child:
The Teddy Bear Habit by James Lincoln Collier, about a kid who lies to grown-ups and wanders around Manhattan all by himself. I wanted to be that kid. Still do!
A Tree Grows in Brooklyn, Betty Smith's lovely tale of a girl growing into becoming a writer.
Look Through My Window and Kate by Jean Little. Little wrote so beautifully about children grappling with important issues like questions of faith, learning to take responsibility and learning how to be a good friend.
Top five authors:
Jean Little for the dignity in her books for children; Dervla Murphy for her fearless wanderings; Chaim Potok for his deep, quiet entry into new worlds; Kazuo Ishiguro for his lyrical style; and Anne Frank, because she had so much more to say.
Book I've faked reading:
The Red Pony by John Steinbeck. We studied it for ages in the seventh grade. I still don't know what it's about. I recently took it out of the library and tried again, but I still couldn't read it. Sorry, Mr. Steinbeck. I'm sure it's a great book, but it died the death of a boring classroom.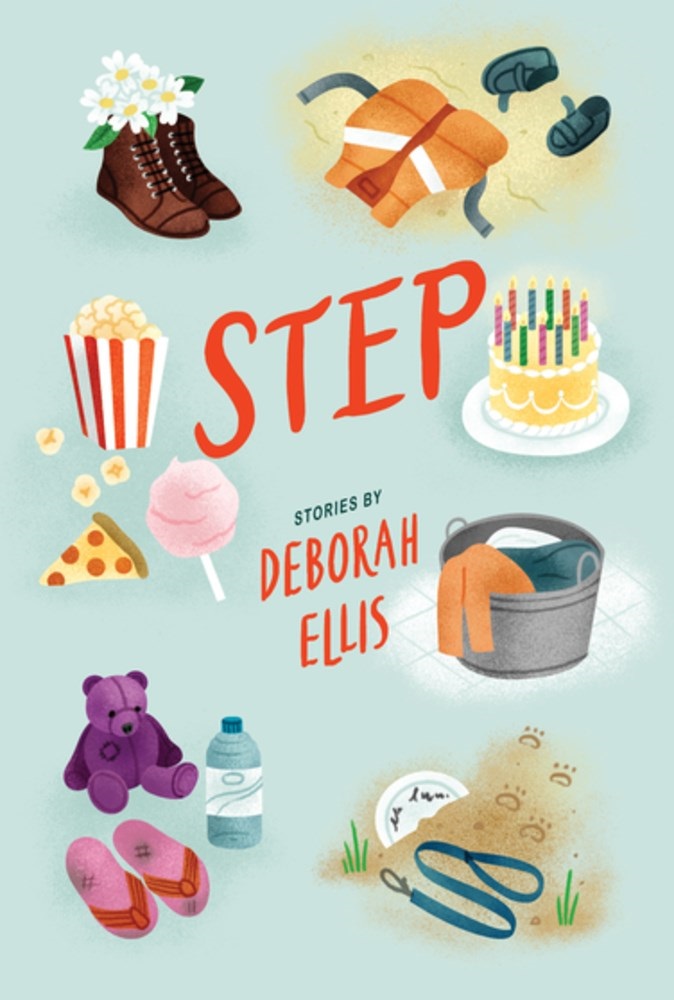 Book you're an evangelist for:
Shirley Jackson's The Lottery and Other Stories. She has an amazing way of seeing the evil lurking under polite society. I also love her novel We Have Always Lived in the Castle. It's so deliciously creepy, and who hasn't at least sometimes felt that the outside world was out to get them?
Book you've bought for the cover:
Death Is Hard Work by Khaled Khalifa. The cover has a camper van without wheels. This novel is about a journey of some Syrian refugees. There are so many people on the move these days, chased from their homes by war and injustice. We need to know the impact of the bad decisions we allow our governments and corporations to get away with.
Book you hid from your parents:
The Catcher in the Rye by J.D. Salinger. Another kid wandering around Manhattan by himself, with what my parents would have considered a bad attitude.
Book that changed your life:
Knock on Any Door by Willard Motley. I found it among my grandmother's things when we cleaned her house out after she died. I was eight. It's the story of a boy in Chicago who started out as an altar boy and then dies in the electric chair. It's a scathing indictment of the brutality of the juvenile justice system. It opened my eyes to what stories could be about. When I get to the next life, I'll ask my grandmother what she thought of it. She came to Canada from England all on her own when she was young to be a house maid.
Favorite line from a book:
It's from The Book of Lights by Chaim Potok:
"What is of importance is not that there may be nothing. We have always acknowledged that as a possibility. What is important is that if indeed there is nothing, then we should be prepared to make something out of the only thing left to us--ourselves."
I love this line because it says that no matter what we lose, we still have things inside us that we can draw on and give.
Five books you'll never part with:
My Name Is Asher Lev and The Book of Lights by Chaim Potok. Mr. Potok draws us into a world where big questions are struggled with in a way that reminds us we are not alone in the asking.
The Remains of the Day by Kazuo Ishiguro, for the remarkable way he created his main character.
The Plague by Albert Camus. We choose who we are, especially in times of strife.
A Tree Grows in Brooklyn by Betty Smith. I've read it so many times, it feels like coming home.
Book you most want to read again for the first time:
84, Charing Cross Road by Helene Hanff--what a celebration of books, of writers, of letter writing and of unquenchable curiosity!

Black Boy Smile: A Memoir in Moments
by D. Watkins
In Black Boy Smile: A Memoir in Moments, D. Watkins moves into new, vulnerable territory. Watkins wrote about growing up in east Baltimore in The Cook Up and The Beast Side. Now, in Black Boy Smile, he dissects what he calls "the lie": codes of Black masculinity that forced him into stoic silence in order to survive his upbringing. In his new memoir, Watkins practices the opposite--he shares traumatic memories of sexual abuse and violence as well as ways in which "the lie" inhibited his growth and happiness. Through it all, his love for the people of east Baltimore shines through, and Watkins's story is ultimately a hopeful, redemptive one. Black Boy Smile feels radical in its openness and in its vision of a Black manhood that does not require bottling up feelings of pain or joy.
The subtitle gives a clue to the structure of the book. Thanks to its short, digestible chapters, it reads like a true collection of memories. In a roughly chronological sequence, Watkins recalls a childhood plagued by violence, the collateral effects of the drug trade, and feelings that he didn't know how to process or share with anyone else. He devotes multiple chapters to his time at a nightmarish camp where the children were forced to fight each other and the tyrannical counselors kept most of the food for themselves. Throughout, Black Boy Smile maintains its focus on Watkins's emotions. While his father drives him to the camp, Watkins lies and tells his father that he's not afraid. He writes: "I was raised in an environment where fear was lied about, even if you're nine years old.... The people I respected taught me that fear was the worst thing a man could be." After camp ends, on the drive home, Watkins sticks to the lie, telling his father: "Camp was alright. It was cool."
To be clear, Black Boy Smile is far from a parade of traumatic memories. One chapter follows a trip with his father to buy shoes that ends with them stuck in a rainstorm; his father urges him to cry so they can finagle a car ride from a "big-haired, extra blonde white woman." Watkins's colorful prose delivers humor and attitude at every turn, particularly in the vivid descriptions--"the stumpy teacher, dressed in three different shades of JC Penney brown"--and in the way Watkins and his friends chat and joke with each other. Some of the most memorable conversations take place between Watkins and Tweety Bird, his friend's girlfriend, whose "heart was bigger than the whole side of east Baltimore." In one tragicomic conversation, Watkins reveals how he used to encourage girls to leave after sex by turning up the air conditioning: "All Black girls from Baltimore are anemic, so the cold works," he says, while Tweety reacts in horror. Their playful, teasing exchanges circle around the deeper truth of Watkins's transactional relationships with women, which in turn hints at the loneliness he tries so hard to bury.
Watkins soon finds himself selling drugs and earning a great deal of money, but cars and piles of shoes can't prevent him from becoming increasingly miserable. The first hint of a brighter future comes through books. Reading Sister Souljah's The Coldest Winter Ever ignites a passion for reading that helps change his path; he goes on to attend college, earn his MFA and pursue a career in writing. According to Watkins, "being Black in an MFA program is kind of like being white in the Black Panther Party," and the resulting culture clash leads to some of the book's funniest, most cutting sentences. But even though his classmates seem to have an easier time relating to Harry Potter than to "a Black boy from Baltimore," Watkins finds that compared to what he'd been through, "dodging the narrow-mindedness of privilege was easy." Writing becomes something he pursues with a single-minded determination, far removed from his lucrative but hollow life dealing drugs.
Black Boy Smile is a powerfully redemptive work because Watkins finds more than a new career; he finds a new way of being, one that requires unlearning "the lie" and so many of the lessons of his past. In its place, he finds love in a relationship markedly different from the cold arrangements that he once preferred. It takes time, and he has to learn to let someone in, but ultimately love succeeds in shattering "the steel wall that housed my emotions." A particularly moving passage describes Watkins's journey to becoming a father, prompting him to consider the unique challenges his daughter will face as a Black woman. At the same time, though, Watkins's story is one of learning and healing, and his determination to pass on the lessons he's learned--to make sure that his daughter is raised in a joyful environment--ensures that the book ends on a profoundly hopeful note. --Hank Stephenson
Legacy Lit, $27, hardcover, 240p., 9780306924002
'Writing Rescued Me'
An Interview With D. Watkins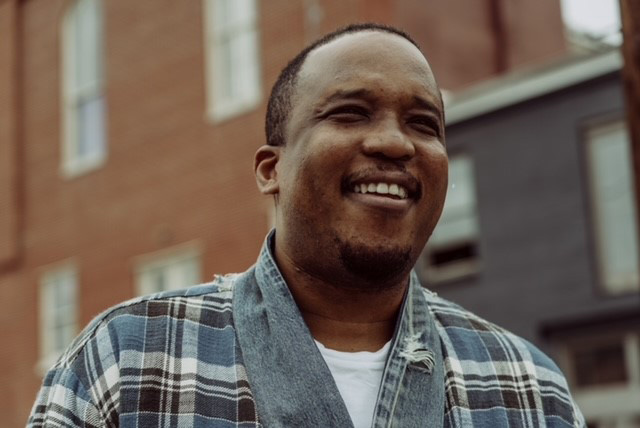 (photo: Schuan Champion)
D. Watkins is editor-at-large for Salon and the author of The Beast Side; The Cook Up; Where Tomorrows Aren't Promised and We Speak for Ourselves. In Black Boy Smile: A Memoir in Moments (Legacy Lit, $27), Watkins recalls his coming-of-age in east Baltimore, memories of violence and abuse intermingling with love and appreciation for his hometown. Throughout the book, he critiques the flawed codes of Black masculinity that he was taught, and shows how he found a better path thanks to his passions for reading, writing and family.
Why did you choose to structure the book around short chapters, or "moments" as the subtitle calls them?
I have worked a lot with young people or with people who don't read often, who may be intimidated by long chapters. So, over the years, I developed the ability of quickly making my points to keep their interest, and that style worked perfectly for this project--short vignettes that will allow readers to go on my journey from boyhood to manhood through meaningful glimpses of my daily reality.
Several chapters feature Tweety criticizing you for how you treated women at the time. How did you start to change your relationships with women for the better?
Tweety made me aware of the lies I was taught about masculinity growing up. I mistakenly thought that anyone close to me wanted something in exchange for their love--cash, clothes, cars, property, etc.--because I was a man and that was how we earned love. Tweety was one of the first people that made me realize everything wasn't transactional. I was enough, and I could simply be me and she'd love me. I was grateful for her love at no cost because I didn't understand that love could work like that.
You write a lot about "the lie" and the destructive impact of toxic masculinity. Are there ways in which some of the behaviors you learned were adaptive as well as damaging, helping you to survive a difficult environment?
Yes. I grew up in a rough neighborhood and showing weakness at times could have been a death sentence for a Black man or boy. That is why it's so important for me to use my story, especially when dealing with others who come from places like east Baltimore, to show how wrong that mentality is. If more of us step up and are unapologetically honest, vulnerable and admit that we too experience pain, heartbreak and even cry, then things will get better for the next generation of Black men.
You write that reading The Coldest Winter Ever singlehandedly turned you into a reader. What did you think about books or reading before that point?
Before The Coldest Winter Ever, I had never come across a book that truly captured my experience. I loved titles like The Autobiography of Malcolm X and Manchild in the Promised Land, but those books were talking about the '60s and '70s. I came up in the '90s, and my environment's landscape and obstacles were a bit different. The Coldest Winter Ever allowed me to see myself. It made me feel like I mattered in literature for the first time, and that feeling left me forever transformed.
Do you have moments where old, harmful patterns of thinking begin to recur? If so, how do you get yourself back on track?
I was invited to do a reading of one of my previous books at a jail. This is the sort of work that I wanted to focus on, but then I found myself in a rough exchange with an inmate about a neighborhood in Baltimore. Suddenly I was thrown back into block wars, things I write about in the book, and I had to calm down before it went too far. The COs were about to throw him out and I didn't want that. He just wanted to be heard. I had to realize the privilege I had, because I got to go home and, also, I was in a position now to be heard, where many incarcerated men and the people I write about in Black Boy Smile are not. So I swallowed my pride and I listened. We worked it out like brothers. That is what healing looks like.
This book in many ways seems like the opposite of the tamped-down stoicism you learned as a child. Was there any lingering difficulty in sharing so much of yourself? Anything that you at first didn't want to share but felt needed to be communicated?
I was terrified to talk about most of the topics in this book, but I had to. They had to be said, analyzed and explained, not just for me, but for people dealing with the same kind of trauma.
The camp story was the most difficult to write. I didn't mention that in the proposal. It probably shocked my editor when she read the first draft. But it was where I needed to begin in understanding my journey, and I hope it will inspire readers to have the courage to dive into better understanding their own story and transformation.
Have you had any responses to the book from people who grew up with you, or also grew up in east Baltimore?
Not yet, but when it comes out, I expect to receive e-mails or social media messages from people in the book. Strangely, they always feel that I should have spent more time focusing on building out their life stories, and I'm always like, "Hey go write your own book!"
Starting out as a writer, you write that "half the journey in the beginning was about trusting white people with my words." Is there any of that feeling that still lingers as you prepare for your book's publication? Any concerns about how people will react to the book?
I'm lucky enough to have an audience now that is made up of all kinds of people, from all different walks of life. I think people are going to love the book, not just for the writing, but for the deep, much-needed conversations it will spark about trauma and finding joy. Although I don't shy away from dealing with some tough subjects, I also make them laugh. I get to be myself on the page and it builds trust with my readers.
After deciding you wanted to be a writer, it seems like you pursued that goal with a great deal of determination. Did you ever waver or rethink pursuing a career as uncertain as that of a writer?
Once being a writer had become my plan A, it also became my plan B, C, D and E. I could not imagine myself doing anything else, and even if I had to write for free, then I would be teaching and driving for Lyft while still writing and trying to get published. Writing rescued me, and I truly love it with all my heart. --Hank Stephenson
Shelf vetted, publisher supported.
Rediscover
Rediscover: Roger Angell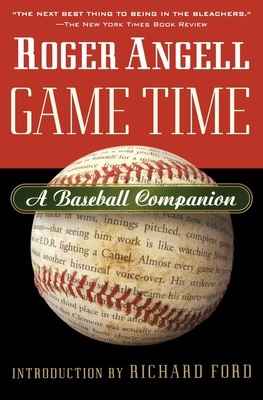 Roger Angell, the "elegant and thoughtful baseball writer who was widely considered among the best America has produced," died May 20 at age 101, the New York Times reported. His well-informed and lyrical baseball season wrap-up essays in the New Yorker became a fall tradition, with many of them collected in books like Late Innings (1982) and Once More Around the Park (1991). Angell published his first piece in the magazine, a short story, in 1944 and went to work there in 1956. As a fiction editor, he discovered and nurtured writers like Ann Beattie, Bobbie Ann Mason and Garrison Keillor. He also worked closely with authors like Vladimir Nabokov, John Updike, Donald Barthelme, Ruth Jhabvala and V.S. Pritchett. His annual page-long holiday poem, titled "Greetings, Friends!" was another tradition at the magazine.

Although sometimes referred to as baseball's poet laureate, Angell called himself a reporter: "The only thing different in my writing is that, almost from the beginning, I've been able to write about myself as well." The Summer Game (1972) and Five Seasons (1977) were the first of several books collecting his baseball writing. Angell worked well into his 90s. In 2014, he was awarded the J.G. Taylor Spink Award, the Baseball Hall of Fame's honor for writers. In 2015, he published This Old Man: All in Pieces, a collection of essays, holiday poems and other writings. Game Time: A Baseball Companion (2003) includes highlights of Angell's baseball reportage from 1962 spring training through the 2002 World Series. It is available from Mariner Books ($15).