Week of Friday, July 1, 2022
Among the best books reviewed this week: Invisible Things by Mat Johnson, a "chilling, bitingly funny sci-fi allegory"; Rogues: True Stories of Grifters, Killers, Rebels and Crooks, which collects 12 pieces by Patrick Radden Keefe about a "fascinating assortment of characters"; and This Place Is Still Beautiful, XiXi Tian's "radiant YA debut."
The Writer's Life features Linda Villarosa, author of Under the Skin: The Hidden Toll of Racism on American Lives and on the Health of Our Nation grew out of her article for the New York Times magazine, in conversation with her mother, Clara Villarosa, founder of the storied Hue-Man Experience bookstores in Denver and Harlem.
The Best Books This Week
Fiction
Harlem Sunset
by Nekesa Afia
Harlem Sunset, Nekesa Afia's second novel in the Harlem Renaissance mystery series, is set in 1927. Afia (Dead Dead Girls) tells the emotional story of a woman grappling with her violent past, who must face her demons and embrace the present as a proud, queer Black woman.
Louise "Lovie" Lloyd should be happy. She is in love with Rosa Maria Moreno; works at a speakeasy as a club manager for her friend Rafael, who is Rosa Maria's twin brother; and drinks and dances nightly at this same speakeasy, called the Dove. It is one of the few places Louise can be openly affectionate with Rosa Maria and not ostracized. But Louise is haunted by the fact that she killed a cop last year, a serial killer preying on Black girls. As a result, Louise earned the moniker "Harlem's Hero," a name she doesn't think she deserves. She also still mourns the fallout from her escape from a kidnapper a decade prior; this freed other children but left her young sister dead. Following a night of drinking on her 27th birthday, Louise and her friends wake up on the floor of the Dove with no memory of the night before. Next to them is the body of Nora Davies, a young woman Louise had helped 10 years ago. Louise seeks Nora's killer, especially given that the police want to blame Rosa Maria.
Using the amateur sleuth framework, the suspenseful Harlem Sunset, set against the background of the Harlem Renaissance, excels at illustrating the culture of the late 1920s--and at capturing a woman dealing with her choices while simultaneously discovering what she wants in life. --Oline H. Cogdill, freelance reviewer
Berkley, $16, paperback, 304p., 9780593199121
The Goldenacre
by Philip Miller
Tartan noir hobnobs with the art world in The Goldenacre, Philip Miller's clever, complex and improbably touching thriller set in Edinburgh, a city whose reputation for quiet elegance and relative calm gets quite a workout.
Shona Sandison, senior reporter for the Edinburgh Post, receives a tip: a government-employed art curator named Thomas Tallis is in town on a job for the Public Gallery, having left London's Civic Gallery on such bad terms that he had to sign a nondisclosure agreement. Tallis piques Sandison's interest, although she's already working on a story: a local painter has just had his head fatally bashed in. Chapters switch between the perspectives of Sandison and Tallis, who is in Edinburgh to authenticate a painting said to be by renowned (and real-life) Scottish artist Charles Rennie Mackintosh. Tallis informs a colleague: "I am here for a simple task, to approve The Goldenacre. Then I will be gone." But the hovering presence of a white car and the grotesque contents of a parcel he receives suggest that his job won't be a picnic.
Miller (The Blue Horse; All the Galaxies) judiciously waits to bring Tallis's and Sandison's story strands together. Their alternating chapters are tonal point-counterpoints between the morose curator and the battle-hardened reporter, whose rat-a-tat exchanges with her outmatched coworkers call to mind a screwball comedy. As The Goldenacre gradually reveals Sandison's and Tallis's histories, it exposes the darker side of a changing Edinburgh, which, reasonably enough, Tallis comes to think of as "city of secrets." --Nell Beram, author and freelance writer
Soho Crime, $26, hardcover, 336p., 9781641294270
Science Fiction & Fantasy
Invisible Things
by Mat Johnson
Mat Johnson (Loving Day; Pym) explores the metaphorical dark side of a moon in Invisible Things, a chilling, bitingly funny sci-fi allegory set in an extraterrestrial Potemkin village designed to mimic the worst qualities of U.S. society.
When the first manned mission to Jupiter arrives, the crew discovers a glass dome on Europa's surface; it shelters a replicated American city populated by a million abductees. Their ship returns to Earth empty. Three years later, a rescue mission sets out for Europa. Getting into the city and finding the missing crew is straightforward; two of its members have reached high status in the city's viciously polarized political parties. Getting out is a different story. The elites of the ruling party want the rescue ship's technology for themselves. When Nalini and Dwayne, members of the original expedition, assist the escape effort, they are treated like enemies of the state. Worse yet, the city lives under the threat of "invisible things," forces that attack and even kill anyone who disturbs the status quo.
Johnson distills societal woes, including wealth inequality, rampant consumerism and cutthroat political manipulation, into a world where "every hell was artisanal and individually crafted" and yet derived from the same misshapen version of reality. The theme of inescapable oppression sits heavily, but incisive observations and over-the-top confrontations both support and cut the tension. This horror story in comedy's clothing may intrigue sci-fi fans but should find its warmest welcome among readers looking for insightful food for thought served in an unconventional package. --Jaclyn Fulwood, blogger at Infinite Reads
One World, $27, hardcover, 272p., 9780593229255
A Shoe Story
by Jane L. Rosen
Jane L. Rosen (Nine Women, One Dress) builds a witty, whimsical and heartwarming narrative around a dazzling footwear collection in her fourth novel, A Shoe Story. On the day of Esme Nash's college graduation, she receives a pair of iconic, red-bottomed Christian Louboutin pumps, followed by tragic news involving her parents. Esme boards a Greyhound bus to Manhattan seven years later, after her father's death, to see if the life she thought she wanted is still in reach.
Esme's temporary life in Greenwich Village seems perfect: she makes new friends at the dog park; reconnects with her college beau, Liam Beck; and, for wearing on new adventures, borrows the designer shoes (from Dior to Converse) of the woman for whom she dog-sits. But as the days slip by, Esme questions whether her past plans, including a career working in art galleries and a life with Liam, are still what she's aiming for. With the help of new friends--Sy, a wisecracking retiree; Mrs. Berger, a grumpy shoe-repair guru; and kindhearted bartender Zach--Esme gains the courage to face her losses and think about what she truly wants for her future.
Rosen's love for New York shines through in her joyful descriptions of parks, restaurants and city streets, and she treats her characters (all dealing with their own challenges) with warmth and compassion. A few plot twists (and several sweet subplots) dial up the drama, but most of the fun is in watching Esme step into her new life--with a plethora of truly fabulous shoes on her feet. --Katie Noah Gibson, blogger at Cakes, Tea and Dreams
Berkley, $27, hardcover, 336p., 9780593102114
American Royalty
by Tracey Livesay
Celebrity and royalty come together in Tracey Livesay's steamy romance novel American Royalty, which draws inspiration from the love story of Prince Harry, Duke of Sussex, and Meghan Markle without once feeling derivative in doing so.
Dani has spent years building a hip hop career as Duchess, known internationally not only for her talent, but for her seductive dance moves and scant clothing. The latter, though, are dictated by the men who manage her career, not her. In need of space to think about the future of her career, she leaps at the invitation to perform at a royal concert in England in memory of the queen's late husband. What she doesn't expect to find there is Prince Jameson, who looks to Dani "like a sex god trying to masquerade as a mortal professor." Jameson and Dani spend more and more time together, until the undeniable attraction between them becomes impossible to ignore. What starts off as a hot fling gets increasingly more serious as the two develop feelings for each other--feelings they are desperate to keep secret from the royal family and, perhaps more importantly, the press, which has the potential to ruin them both.
This layering of the power of media attention to shape the lives of those it focuses on shifts American Royalty into something larger than the story of these two unlikely lovers, exploring family and duty, privilege and race, and the potential harm caused by losing control of one's own story. Readers will find it impossible not to root for a happy ending. --Kerry McHugh, freelance writer
Avon, $15.99, paperback, 384p., 9780063084506
The Dead Romantics
by Ashley Poston
Ashley Poston's fun, lighthearted novels for young adults (Geekerella; Heart of Iron) offer a blend of the fantastical infused with wit and romance.
The Dead Romantics, Poston's first book for adults, is a romantic comedy about Florence Minerva Day, a smart, snarky millennial who is nursing a broken heart and suffering from writer's block. Florence is emotionally on the skids; after publishing a romance novel that received a less-than-stellar reception, downcast Florence became an assistant-turned-ghostwriter for Ann Nichols, one of "romance's greats." Nichols is a well-established, popular author who hasn't left her home in Maine for the five years that Florence has been the secret source behind her writing success. But Florence is floundering, too depressed and turned off by love to write about it and meet a looming deadline--already extended three times--to finish and deliver Nichols's next book to the hot new editor at her publishing house, Benji Andor.
She's intent on finishing the manuscript, but then Florence runs into her ex, who stole the story of Florence's life--personal secrets about how Florence interacts with ghosts--and turned it into a book that sold at auction for $1 million. She further tailspins when she is summoned to deal with the devastating sudden death of a family member. But that is when a handsome ghost upends her beliefs about love.
Romance, chaos and complications are central components in Poston's refreshingly fun, spirited rom-coms, and The Dead Romantics is no exception. The beauty and charm of Poston's storytelling continues to make miraculous happy endings out of the messes in which ordinary people often find themselves entangled. --Kathleen Gerard, blogger at Reading Between the Lines
Berkley, $17, paperback, 368p., 9780593336489
Parks and Recreation: The Official Cookbook
by Jenn Fujikawa
Jenn Fujikawa, author of The Princess Bride: The Official Cookbook and Star Wars: The Padawan Cookbook (with Liz Lee Heinecke), brings her pop culture expertise to bear in Parks and Recreation: The Official Cookbook. Filled with witty commentary on the show, brief biographies of characters and many pictures of the cast and the delectable foods they enjoy, this cookbook is the perfect nostalgia for fans of the show--and might even convert those new to the show into aficionados.
Naturally, the cookbook begins with breakfast food, because as Amy Poehler's character, Leslie Knope, always says, "We need to remember what's important in life: friends, waffles, and work. Or waffles, friends, work. Doesn't matter. But work is third." But never fear: Ron Swanson's meat-heavy options are also included, as are "Treat Yo' Self" meals that Tom would love and healthy foods that Chris would enjoy (including gluten-free and vegan tweaks to some of the meals in other sections).
Recipes include Waffle Fondue, Larry's Tuna Fish Party Sandwiches and Literally the Best Salad You've Ever Had. Each recipe has an introductory anecdote; a reference to the episode that mentions the food in question; clear instructions; and a picture of the food or the scene in which the food was consumed. Bright, cheerful and full of wacky Parks and Recreation quips, Parks and Recreation: The Official Cookbook is a delicious trip down memory lane and a perfect gift for avid fans. --Jessica Howard, freelance book reviewer
Smart Pop, $24.95, hardcover, 136p., 9781637740873
George Michael: A Life
by James Gavin
James Gavin's truly definitive, epic-sized biography of mega pop star George Michael, who lived from 1963 to 2016, is emotionally satisfying and meticulously researched. George Michael: A Life focuses squarely on how Michael's closeted sexuality and constant fear of being found out affected his psyche, career and relationships. Michael grew up gay "under the disapproving eye of a homophobic Greek orthodox father," writes Gavin (Is That All There Is?: The Strange Life of Peggy Lee). With poor self-esteem--"I was fat and ugly and I had glasses," Michael told interviewers--he began cruising for secretive sex at age 16.
At 18, he and Andrew Ridgeley formed the pop group Wham! Five years later, Michael went solo and found even greater success with the release of his 1987 solo album, Faith. Playing the swaggering and sexually alluring pop star on stage (and singing "I Want Your Sex") was a double-edged sword for Michael, because it encouraged the media to speculate about his sexuality. In an attempt to kill that persona, Michael all but sabotaged his career by suing his record company, accelerating his drug use and refusing to promote his albums or appear in his own music videos. He was forced out of the closet in 1998 when his arrest for public lewdness garnered national headlines, a scandal that his career, already faltering, couldn't overcome. Alcohol, drugs, antidepressants, vocal damage, writer's block, suicide attempts and rehab littered the rest of his heartbreaking 18 years.
This is a sad story of illusion versus reality. Although he writes with compassion, Gavin doesn't let Michael off the hook for his self-destructive tendencies. --Kevin Howell, independent reviewer and marketing consultant
Abrams Press, $32.50, hardcover, 528p., 9781419747946
Rogues: True Stories of Grifters, Killers, Rebels and Crooks
by Patrick Radden Keefe
In Rogues: True Stories of Grifters, Killers, Rebels and Crooks, Patrick Radden Keefe (Say Nothing; Empire of Pain) collects a dozen thoroughly investigated and engagingly reported articles on a fascinating assortment of characters--from the merely colorful to the criminal--that he produced for the New Yorker between 2007 and 2018.
The breadth of his writing--insider trading in the pharmaceutical industry ("The Empire of Edge"); the dogged search for the last of the plotters who brought down Pan Am Flight 103 over Lockerbie, Scotland, in 1988 ("The Avenger"); the byzantine activities of a notorious international arms dealer ("The Prince of Marbella")--reveals the scope of his curiosity and his confidence that he can make these subjects both comprehensible and compelling.
Rogues also showcases Keefe's affinity for tales of heinous crimes. "A Loaded Gun" recounts the chilling story of Amy Bishop, a neurobiologist at the University of Alabama in Huntsville who murdered three of her colleagues after she was denied tenure, and how that horrific event triggered a fresh investigation into her involvement in the death of her brother more than two decades earlier. Keefe also brings the conventional celebrity profile to life in "Winning," the story of reality television pioneer Mark Burnett and the role The Apprentice played in Donald Trump's political rise.
In these and all the other pieces in Rogues, Keefe painstakingly unearths and shares the details that render diverse true stories as engrossing as fiction. --Harvey Freedenberg, freelance reviewer
Doubleday, $30, hardcover, 368p., 9780385548519
The Colony: Faith and Blood in a Promised Land
by Sally Denton
On November 4, 2019, three women and six children of dual American and Mexican citizenship were gunned down on a desolate dirt road in northern Mexico. In The Colony: Faith and Blood in a Promised Land, investigative journalist Sally Denton contextualizes the murders--a "tale of secrecy, polygamy, blood feuds, conquest, and exploitation, wrapped in a radical interpretation of Mormon doctrine"--in light of the long and troubling history of the Mormon LeBaron clan.
Diving headlong into the beginnings of the Mormon church, Denton (The Plots Against the President) pays close attention to the fundamentalist polygamist sects that splintered off from mainstream Mormonism. The radical practitioners, refusing to give up "the Principle" (plural marriage), were chased out of the mainstream Mormon church in Utah when it banned polygamy in 1890. These "apostates" moved to northern Mexico, cultivating and irrigating the barren soil, eventually creating a thriving community named Colonia LeBaron. Denton keeps a steady hand on the often confusing rifts and spinoffs of the polygamist sects after the 1955 creation of the Church of the Firstborn of the Fulness of Times, which included the notorious Ervil LeBaron, "the Mormon Manson."
Through a wealth of interviews with members and ex-members of Colonia LeBaron and its sister community, La Mora, Denton respectfully portrays the experiences of its women, seeking to understand why they "remain within a novel American religion based on male supremacy and female servitude." The Colony is a riveting work of reportage, exploring the violent interplay of religion, colonization and power. --Peggy Kurkowski, book reviewer and copywriter in Denver
Liveright, $27.95, hardcover, 288p., 9781631498077
Equal Partners: Improving Gender Equality at Home
by Kate Mangino
Unconscious bias is becoming a frequent topic of conversation, but the impact of gender and gendered work on daily life is less often considered. In her debut, Equal Partners, Kate Mangino leans on more than 20 years of experience as an international expert in women's equality and healthy masculinity to walk readers through one of the bastions of gender inequality in the U.S.: the home.
"Despite our understanding of feminist theory and the restrictions of traditional masculinity, household inequality persists," writes Mangino. Equal Partners brings readers more than just research and experiences from Mangino's focus group members. It is also a guidebook that provides a variety of reflective exercises to help readers interrogate their assumptions about gender and gendered work in their personal lives. It includes a gender glossary to help bring readers up to speed on terminology in the field of gender studies, while also calling attention to how language use affects gender bias. Mangino incisively examines narratives and dialogues around gendered work in the home and provides counter-narratives to help readers find more balance in their partnerships. She delves into gender norms; how they impact daily life; how they can be challenged--and changed--if examined effectively; and how consciously to build new systems, one step at a time, in the home. Equal Partners is an approachable starting point for people who want to redress inequalities in their own relationships from an informed perspective. --Michelle Anya Anjirbag, freelance reviewer
St. Martin's Press, $29.99, hardcover, 352p., 9781250276117
Growing Joy: The Plant Lover's Guide to Cultivating Happiness (and Plants)
by Maria Failla, illus. by Samantha Leung
Can joy be grown? Maria Failla, host of the Bloom and Grow Radio podcast and self-described "plant killer" turned "Happy Plant Lady," certainly thinks so. "When I learned to care for plants," she writes, "I learned to care for myself." This way of thinking and her journey to that mindset are what she shares in the approachable and fun Growing Joy. She outlines the skills necessary to care for plants and how to turn them into techniques for caring for oneself. Her easy-to-read chapters include lessons learned from various plants and tips for growing them, and explore topics such as how to create an urban oasis and how to engage in forest bathing in order to reconnect with nature. Failla encourages reflective questions that stem from plant care, making readers more aware of how they feel and what best nourishes them. These questions prompt readers to consider their spaces in different ways, inspiring them to connect to their minds and bodies by incorporating nature into their everyday environments.
Failla's practical advice on both self-care and plant care is accompanied by the simple but beautiful illustrations of Samantha Leung. Additional resources include a "crash course" appendix that gives plant killers the tools they need to turn their thumbs greener and better understand light, water and choosing the right plants for both space and lifestyle. There are also lists of resources for readers who want to learn more about plant care and the connections between plants and people. --Michelle Anya Anjirbag, freelance reviewer
St. Martin's Essentials, $21.99, paperback, 272p., 9781250814890
Hell of a Book
by Jason Mott
This ambitious novel from Jason Mott (The Crossing; The Returned)--a Shelf Awareness Best Book, a National Book Award winner, and both an Ebony and Read with Jenna Today Show Book Club Pick--explores the topography of lingering grief and trauma, as well as the pressures and contradictions of fame for a Black man in the U.S.
Alternating chapters tell the stories of two heroes: an African American boy nicknamed "Soot," and a nameless-by-choice African American author on tour for his breakout novel, Hell of a Book. Soot, bullied for the darkness of his skin, tries to master the knack of becoming invisible, which his parents believe will guarantee his safety in their rural North Carolina community. As he travels a country mourning its latest police shooting victim, the author finds his steps dogged by "the Kid," a 10-year-old boy with skin "darker than the darkness of sleep" whom only he can see. The Kid insists he's real, but the author, who has a condition that allows his mind to "break the boundaries between reality and imagination," isn't so sure. As the author tries to shut out the world's expectations and inequities, his story intersects with Soot's and the Kid's in surprising ways.
The sands of reality constantly shift under readers' feet as the author feels pressure to ignore his Blackness or speak out about Black issues, receives a visitation from Nicholas Cage and faces the truth about his book's tragic genesis. Mott's unflinching meditation on racism, violence and navigating life as a Black man in America is a surreal and searing triumph. --Jaclyn Fulwood, blogger at Infinite Reads
Dutton, $17, paperback, 336p., 9780593330982
The Writer's Life
Linda and Clara Villarosa: How Books Shaped Their Experiences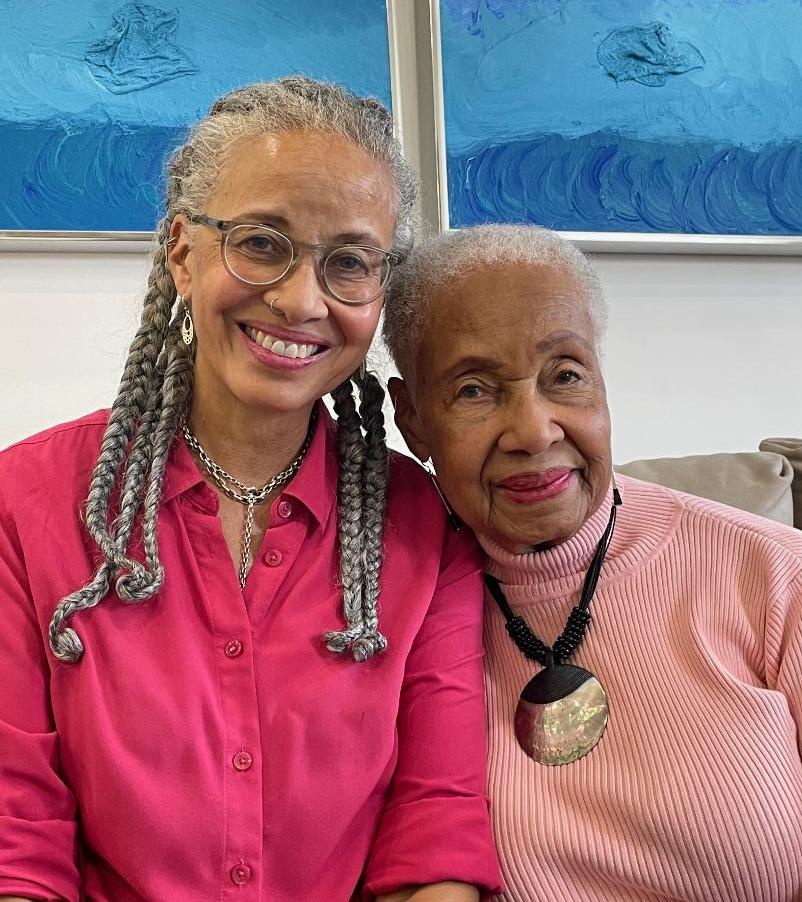 Linda Villarosa (l.) and Clara Villarosa (photo: Izzy Best)
Linda Villarosa is a journalism professor at the City University of New York and a contributing writer at the New York Times Magazine, where she covers the intersection of race and health. Her article on maternal and infant mortality was a finalist for a National Magazine Award, and her second book, Under the Skin: The Hidden Toll of Racism on American Lives and on the Health of Our Nation (Doubleday), grew out of her research and writing for that article. Clara Villarosa, an NAACP Image Award nominee, founded the storied Hue-Man Experience Bookstore in Denver, Colo., in 1984 and later opened a Hue-Man location in New York City's Harlem. A former board member of the American Booksellers Association, Clara Villarosa currently curates the Hue-Man Experience at Denver's Tattered Cover Bookstore. Shelf Awareness invited mother and daughter to reflect upon what books have meant and continue to mean to their experiences.
Clara, what kind of books did you read to Linda and her sister Alicia?
Clara Villarosa: I didn't have or know about any Black children's books at the time, so I read the classics like Are You My Mother? and The Cat in the Hat.
Linda Villarosa: Learning to appreciate books really stuck with me. During the summers when school was out, I would spend most of my time in our local library in Denver. In junior high I won the Book Worm Award for reading more books than any other kid over the summer. I still have the certificate.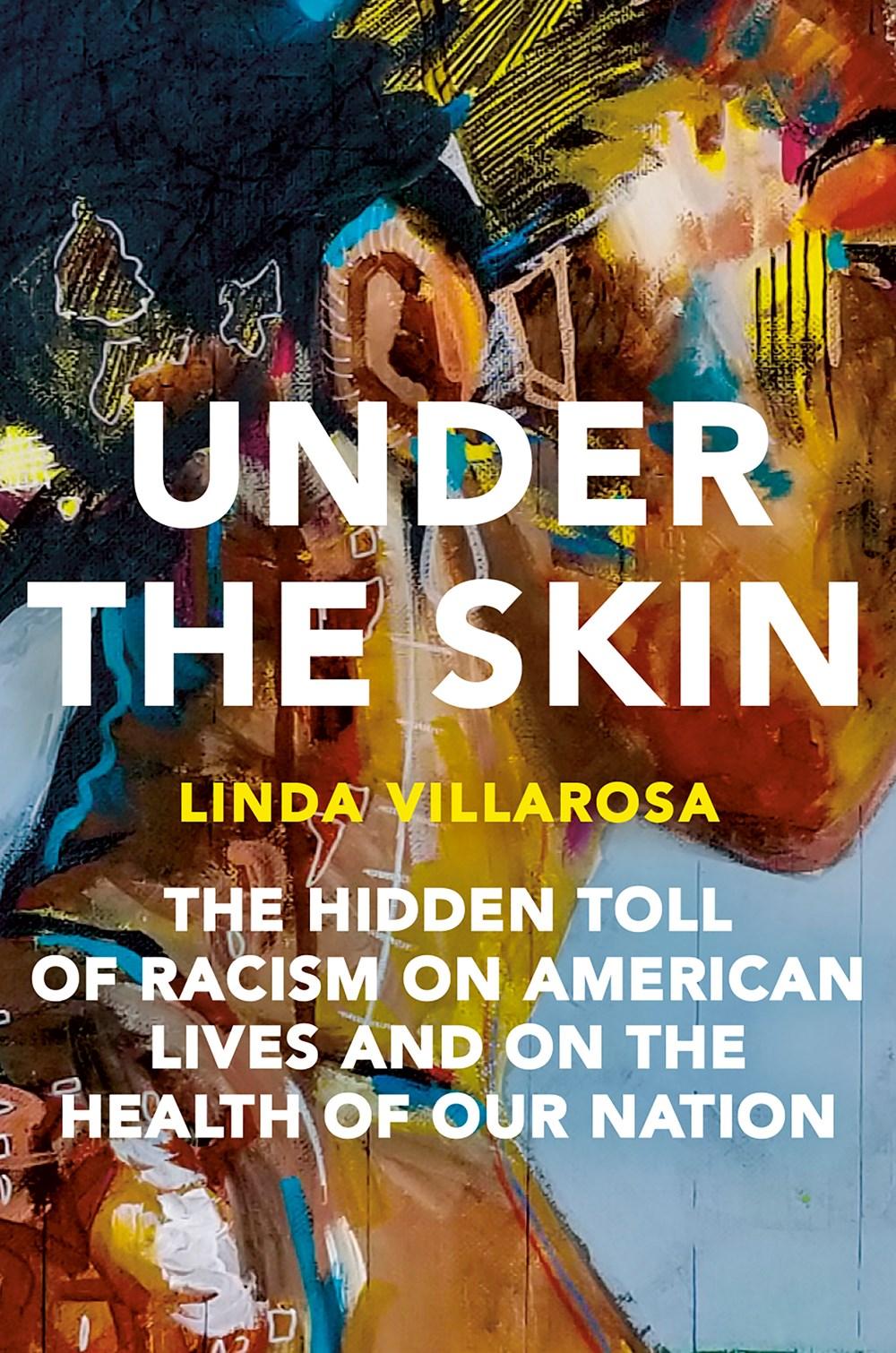 Linda, did you always want to be a writer?
LV: Yes, but my mom tried to steer me away from writing as a career.
CV: I wanted her to be a lawyer. I was worried she would be broke as a writer.
LV: Yes, she pushed me to be a lawyer. After one year of pre-law, I told her I didn't want to go to law school after college--I wanted to be a journalist.
CV: She said, "If you're so interested in law, you should go to law school," so I did. I studied law for two years, though I never finished.
How did you end up opening a bookstore?
CV: I was trained as a psychiatric social worker, and later was an administrator for a children's hospital. When the girls were older, I was the vice-president of a bank. In 1984, I ended up getting let go from that job and used my severance to open a bookstore, Hue-Man Experience in Denver.
What did you think when your mom opened Hue-Man?
LV: Mom had no experience as a bookseller, but she is a high achiever and very determined at whatever she does. Eventually, she grew her store into the country's largest Black bookstore. I feel like I contributed by introducing her to some of the Black feminist books I had read in college in Black Studies classes, like When and Where I Enter by Paula Giddings and Black Macho and the Myth of the Superwoman by Michele Wallace and Some of Us Are Brave by...
CV: It's But Some of Us Are Brave [edited by Akasha (Gloria T.) Hull et al.].
Clara, how did you end up in New York City from Denver?
CV: I sold the store in Denver, retired and decided to move to New York City in 2000 to be closer to Linda, her sister and my grandchildren.
LV: Though we were all in Brooklyn, she insisted on living in Harlem. She wanted to be in the capital of Black America.
CV: I ended up getting talked into opening another Hue-Man bookstore, on 125th Street, after the chains refused to place stores in Harlem. With my partners, I ran that store until 2004, when I really retired.
Tell us about your first book, Body & Soul: The Black Women's Guide to Physical Health and Emotional Well-Being.
LV: I had been the health editor of Essence magazine, thinking deeply about African Americans and health and wellness. In the early 1990s, I went to the TH Chan Harvard School of Public Health on a fellowship, where I became grounded in the principles of public health. Those experiences convinced me to write Body & Soul, which I pitched as a sort of Our Bodies, Ourselves for Black women. It was published in 1994.
How did you feel, Clara, when Linda published Body & Soul?
CV: Very proud! I advised her about the cover. The publisher wanted mostly type. I told her to put photos of people on the cover, so that the images would make the book pop in stores. She listened, and that book sold well.
What do you think of Linda's journalism?
CV: Are you kidding? I am so proud. Her stories in the New York Times Magazine are very long and it takes me days to get through them. But I've saved all of them.
How do you come up with your stories, Linda?
LV: I generally start with a statistic that bothers me. In 2017, a friend told me that the United States is the only wealthy nation where the number of women who die as a result of pregnancy and childbirth was rising--and that Black American women were three to four times more likely to die or almost die than white women. I knew I had to do the story when I learned that education doesn't protect Black mothers: a Black birthing woman with an advanced degree is more likely to die than her white counterpart with only an eighth-grade education.
What did that statistic tell you?
LV: That something about the lived experience of being Black in America is dangerous for Black mothers and their babies, and that I wanted to be the person to cover it.
Can you talk about the 1619 Project?
LV: I was honored to be involved in this project, the brainchild of my colleague Nikole Hannah-Jones. I wrote about how medical myths about Black enslaved people, invented by white physicians to justify slavery, have endured in modern medical education and practice. When the original project was expanded and published as a book last year, I spent quite a bit of time updating and expanding my essay to include the pandemic.
Have you been affected by the controversy?
LV: All of us have. My essay and the book were intentionally grounded in truth and facts, making it difficult to actually challenge--though many continue to do so. I prefer to focus on the teachers, students and librarians who are grateful to be able to use the book and the 1619 curriculum as teaching tools to tell a more complete story about slavery and its aftermath as well as celebrate the contributions of African Americans.
How did you decide to write Under the Skin?
LV: As a journalist I over-report, and each draft of my New York Times Magazine stories--on HIV/AIDS, maternal and infant mortality, Covid-19, life expectancy and environmental justice--needed to be trimmed way down before they could run. Whenever my editor would suggest cutting, she would say, "Save it for the book." At first, I was like, "I'm not writing a book." But then I thought about all the things I still had to say about Black Americans, health and race, and realized, why not write a book?
How did your mom influence this book?
LV: I learned a lot from my parents. Before she was a bookseller, my mom was a hospital administrator. My father was a bacteriologist, and my sister and I grew up hearing stories about medicine and health care at the dinner table.
CV: Don't forget about the cover.
LV: Yes, my mom's voice was in my ear reminding me that images on covers attract attention in bookstores. I remembered her advice when working with my publisher on the cover of Under the Skin.
Have you read Linda's book?
CV: Not yet.
LV: I didn't want her to read the uncorrected proofs. But once the finished book is ready, there's one thing I am sure she'll like.
CV: What?
LV: It's dedicated to you and Dad.
Rediscover
Rediscover: Mr. Malcolm's List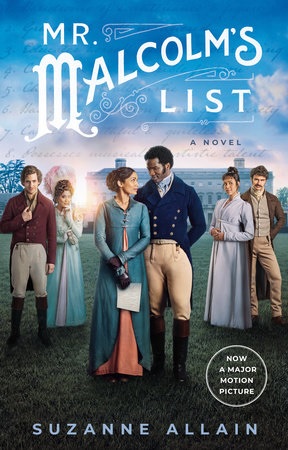 Mr. Malcolm's List, a film adaptation of the Regency romance by Suzanne Allain, opens in theaters July 1. Sope Dirisu plays Jeremiah Malcolm, a rich bachelor eyed acquisitively by debutantes and their scheming mothers. But Mr. Malcolm has his own aims: a list of strict standards that must be met by any prospective bride. Miss Julia Thistlewaite (Zawe Ashton) is one of many women spurned by Mr. Malcolm. She invites Selina Dalton (Freida Pinto), a vicar's daughter unfamiliar with London high society, to enact a revenge scheme against Mr. Malcolm. Selina is uneasy about participating but equally desperate to remain in London. Their plan--to woo Mr. Malcolm with Selina's many qualities before revealing the former doesn't meet the latter's own requirements--unravels into real romance. The cast also includes Oliver Jackson-Cohen, Ashley Park and Theo James.

Suzanne Allain originally self-published Mr. Malcolm's List in 2009 before turning it into a script. In 2020, Berkley published a paperback version. Allain is also author of the Regency romance Miss Lattimore's Letter (2021), The Celebrated Pedestrian (2012) and Incognito (2009). On June 21, Berkley released a movie tie-in edition of Mr. Malcolm's List ($17). --Tobias Mutter