Week of Friday, July 22, 2022
Welcome to our Comics & Graphic Novels issue! Among the books reviewed this week: Brian Doherty's Dirty Pictures: How an Underground Network of Nerds, Feminists, Misfits, Geniuses, Bikers, Potheads, Printers, Intellectuals, and Art School Rebels Revolutionized Art and Invented Comix--the subtitle says it all: "an indispensable history" for any fan; and Luke Healy's sharp, skilled The Con Artists, a "wow-inducing example of show-don't-tell genius."
Plus, our feature spotlights more outstanding comics & graphic novels we reviewed in Shelf Awareness earlier this year.
The Best Books This Week
Mystery & Thriller
Death Doesn't Forget
by Ed Lin
Though Death Doesn't Forget is the fourth in the Taipei Night Market series, versatile novelist Ed Lin nimbly ensures each volume could easily stand alone. Of course, the recommended route is to read the titles in order--Ghost Month; Incensed; 99 Ways to Die--to further appreciate Lin's insightful backgrounds for his multilayered recurring characters.
Jing-nan's meat, veggie and just-added donut skewers are undoubtedly some of the tastiest fare available in Taiwan's renowned Shilin Night Market. Running his family's food stall, Unknown Pleasures (named for a Joy Division album!), was never Jing-nan's dream, but onerous circumstances demanded he abandon his UCLA degree and return home. At 25, he's settled in with Dwayne and Frankie, two of the most loyal workers (and reliable friends) he could hope to find. As delicious as the menu is, however, what attracts customers in droves is Jing-nan's notorious propensity to be in the wrong place at the wrong time--and somehow getting linked to murder. This time he's being questioned for the brutal deaths of his sort-of (but not quite) father-in-law and a cranky cop who's had a personal vendetta against Jing-nan. No doubt he's innocent, which means he's going to have to find whodunnit.
"When high-profile crimes were solved, there did seem to be a high number of coincidences," Jing-nan muses near the mystery's end. Indeed, Lin's signature rollicking mixture of wink-wink noir and impossible fortuity is again on full display, balancing just enough chill with plenty of thrill. Murder is never funny, but at least a chuckle here and a guffaw there can't hurt the corpses. --Terry Hong, Smithsonian BookDragon
Soho Crime, $27.95, hardcover, 288p., 9781641293273
The Birdcage
by Eve Chase
The complex dynamics that fuel sisterly love but ignite rivalry set the emotional tone for British author Eve Chase's irresistibly suspenseful drama, The Birdcage. Featuring a rugged English coastal setting, Chase's fourth novel explores the corrosive effect of the long-ago secrets and betrayals of three half-sisters who share the same father, a prominent artist named Charlie Finch. Flora, Kat and Lauren grew up spending summers at Rock Point, the Finch family's Cornwall villa overlooking the Atlantic Ocean. But the horror of a deadly accident on the property during an August afternoon in 1999 ended that annual ritual, and they haven't been back since.
The Birdcage opens during a wintry January snowstorm 20 years later. The sisters are summoned to Cornwall by Charlie with the promise of an important announcement. As Flora, Kat and Lauren reluctantly return to their childhood summer home, each reliving her role in that decades-old accident, the ominous presence of a mysterious man with a black dog and the ramblings of their late grandmother's geriatric parrot, Bertha, deepen the mystery of the sisters' dark past.
Chase (The Wildling Sisters) navigates the relationships Flora, Kat and Lauren have with each other and with their father with masterful strokes, offering enticing, layered glimpses into their early years. At the same time, the rising tension in the present, inflamed by the shock of Charlie's announcement, boils over during the course of one particularly stormy night. The eerie, ethereal imagery in The Birdcage--named (in part) for the painting that critics consider Charlie Finch's "masterpiece"--will linger with readers long after they part ways with the Finch family. --Shahina Piyarali, reviewer
Putnam, $27, hardcover, 368p., 9780525542414
Science Fiction & Fantasy
Just Like Home
by Sarah Gailey
Just Like Home by Sarah Gailey (The Echo Wife; Upright Women Wanted; Magic for Liars) is a blood-soaked psychological thriller crafted to keep readers up at night. Vera Crowder, daughter of infamous serial killer Francis Crowder, has been called back to her childhood home--and the site of her father's brutal murders--by her dying mother, Daphne. And while Vera anticipated the challenge of dealing with her estranged mother, what she finds is much worse. An opportunistic artist has moved into the house, intent on exploiting its sordid history, and an uncannily familiar dark force lurks in the house's corners. Soon it becomes clear that no matter where Vera goes, the Crowder House will always call her back.
Gailey's patient plotting carefully constructs a complex and twisted family dynamic, both in the past and the present, among Vera, Daphne and Francis. These relationships ultimately form the core of the novel, as Vera balances on a knife's edge between pragmatic emotionlessness and a descent into the terror and apprehension her parents wrought. While the shudder-inducing family dynamic--defined by scenes such as Francis giving Vera "the talk" while gutting a fish--undergirds the novel, Gailey's strong attention to atmospheric details gives it a true gothic horror flare. It's the details--from the sticky-sweet taste of lemonade to the slick, inescapable sensation of grease--that will viscerally disturb readers, and are guaranteed to take up residence in their minds and refuse to leave. --Alice Martin, freelance writer and editor
Tor, $26.99, hardcover, 352p., 9781250174727
The Daughter of Doctor Moreau
by Silvia Moreno-Garcia
A remote community of outcasts, human and otherwise, is upended by the arrival of a young nobleman in The Daughter of Doctor Moreau, the lush, anti-imperialist reimagining of The Island of Doctor Moreau by Silvia Moreno-Garcia (Velvet Was the Night; Mexican Gothic).
Montgomery Laughton comes to Yaxaktun, Doctor Moreau's isolated estate in Mexico's Yucatán peninsula, to take a job as its mayordomo and as the latest step in his aimless journey to escape his past. He discovers that, apart from the doctor, Yaxaktun is populated by his devoted daughter, Carlota, and the hybrids, combinations of humans and animals created by Moreau's experiments. His patron, Hernando Lizalde, hopes that Moreau will produce hybrids for labor on his ranch to replace the locals he finds too rebellious. For six years the experiments continue, Laughton works for Moreau and Carlota matures. Then Lizalde becomes impatient with Moreau's progress and his son Eduardo encounters Carlota, setting off a chain of events that will change everything.
Moreno-Garcia's tale unfolds slowly, with little in the way of action until after the jump in time. But the setting of the stage at the wild, beautiful estate and the careful parceling out of the central characters' secrets is essential to establishing the gothic tone at the heart of the novel and showing readers how Carlota could easily become either her father's successor or his downfall. Fans of classic science fiction adventure, gothic suspense and fairy-tale reinterpretations, such as Naomi Novik's Uprooted, will find much to admire here. --Kristen Allen-Vogel, information services librarian at Dayton Metro Library
Del Rey, $28, hardcover, 320p., 9780593355336
No Funny Business
by Amanda Aksel
Amanda Aksel (Delia Suits Up; The Commitment Test) presents a charming and comedic romance in No Funny Business. Brimming with sexy hilarity, this is the perfect romance for fans of stand-up comedy or anyone looking for a funny love story with some depth.
Olivia Vincent has always wanted to be a stand-up comedian, but at her father's urging she got a law degree so that she'd have a guaranteed "real job." For the last few years, she's been appearing in court by day and grabbing a mic by night, but she's starting to burn out. When she loses her job at a Manhattan law firm, she takes it as a sign to pursue stand-up full time. And her agent has the perfect gig: a cross-country comedy tour with the very sexy Nick Leto. But her agent makes Olivia promise to avoid any funny business with Nick on the road trip from New York to Los Angeles.
As Nick and Olivia travel across the country, odd circumstances force Olivia to come to terms with her issues with her father and make Nick reevaluate his own past. Stuck in the car for endless hours, Olivia and Nick get to know each other really well. And Olivia finds herself wondering what would happen if she breaks the rule her agent set for her. Heartfelt and hilarious, with Nick and Olivia facing everything from angry widows to Elvis impersonators, No Funny Business is actually very funny stuff. --Jessica Howard, freelance book reviewer
Berkley, $17, paperback, 336p., 9780593201633
The Bodyguard
by Katherine Center
Hannah Brooks is great at her job, which involves providing discreet private security for wealthy clients. But as she's reeling from her mother's death and a breakup, she gets an unconventional, totally non-discreet assignment: protecting actor Jack Stapleton from a middle-aged stalker by posing as his girlfriend. The Bodyguard, Katherine Center's warmhearted, witty ninth novel, follows Hannah and Jack as their romance goes from completely fake to maybe something real, and traces Hannah's inner journey as she begins to process her losses and move forward.
Center (What You Wish For; Things You Save in a Fire) creates a smart, hilarious narrator in Hannah, whose wry sense of humor is her prime coping mechanism. While her colleagues (gal pal Taylor; fangirl Kelly; tough-guy boss Glenn) seem at first like stereotypes, they (mostly) show their human sides later in the novel. Ditto for Jack Stapleton, rom-com hero: he's naturally adept at showing a practiced public face, but their forced closeness means Hannah gets to see the real Jack, whether it's his habit of leaving his dirty laundry all over the floor or his unresolved grief after the death of his younger brother. As they spend time at Jack's parents' ranch outside Houston, Hannah finds herself falling for both Jack and his family, all while reminding herself that this new life is temporary. Or is it?
With a breezy narrative style and a charming Texas setting, Center's novel will capture readers with its wit, insight and surprising ending. --Katie Noah Gibson, blogger at Cakes, Tea and Dreams
St. Martin's Press, $27.99, hardcover, 320p., 9781250219398
Dirty Pictures: How an Underground Network of Nerds, Feminists, Misfits, Geniuses, Bikers, Potheads, Printers, Intellectuals, and Art School Rebels Revolutionized Art and Invented Comix
by Brian Doherty
When artists working in a fringy form achieve a level of mass acceptance, have they necessarily sold out? Brian Doherty touches on this timeless art-scene question, among others, in his dense, diligent and, for any comix fan, indispensable history, Dirty Pictures.
As Doherty tells it, the repressive 1950s begat underground comix, whose practitioners often had a toe in the hippie, biker, rock and/or drug scenes of the 1960s. (The "x" in "comix," explains Doherty, marks the form as "distinct from the mainstream comics to which they were in opposition.") Comix had their glory days in the early 1970s, followed by a slump that resulted from, among other foils, distribution problems, legal challenges (for obscenity and copyright infringement) and the public's fickle taste.
Doherty (Radicals for Capitalism) gives Dirty Pictures the feel of an oral history through generous excerpts from his interviews with pioneers in the comix field. Among his best-known interviewees are "founding father" Robert Crumb, Alison Bechdel and Art Spiegelman. Spiegelman's Maus, which began in the pages of comix magazine Raw, went on to win a Pulitzer Prize in 1992 and made "graphic novel" a household term (for better or, in the eyes of some comix devotees, worse). Meanwhile, lesser-sung cartoonists slog on, finding--as Doherty puts it--"the will to keep going when the law, good sense, or their bank accounts might have told them to stop." --Nell Beram, author and freelance writer
Abrams, $30, hardcover, 448p., 9781419750465
The Con Artists
by Luke Healy
The prologue alone to Luke Healy's sharp, skilled The Con Artists is a wow-inducing example of show-don't-tell genius. "Oh, hello. I'm Luke Healy, the author of this book. No big deal," he modestly introduces himself. As he reads "a prepared statement"--the usual "entirely fictional... purely coincidental" disclaimer, albeit embellished with clever snark about Shakespeare's "very robust brand" compared with his own relatively prosaic name, shared with an actor, singer, TV character--his stand-in, rendered in fine line, seems to float from comfy armchair to makeup to wardrobe, to transform into the fictional protagonist who opens Chapter 1.
Sitting in a London café, Frank is setting his goals with his best friend: "The year we become famous comedians... find true love... start therapy, and don't kill our house plants." But a rare phone call from his childhood friend Giorgio, whom he sees for dinner maybe twice a year, derails his careful plans. Giorgio's been hit by a bus. Somehow he "just knew" Frank would come to the hospital, be helpful, even become his live-in caretaker. In such close quarters, the all-togetherness Giorgio displays on Instagram, which Frank had "just assumed... was all true," proves anything but.
Healy's strikingly simple black/white/grey line-drawn panels belie a complex examination of the eponymous con artists, clouded by self-delusion, enabled by social media. While centering Frank and Giorgio's devolving relationship, Healy also interjects Frank's stand-up sets and therapy sessions--both painful and illuminating to witness. Unlike his struggling, often sophomoric, characters, Healy shows himself to be quite the sophisticated graphic storyteller. --Terry Hong, Smithsonian BookDragon
Drawn & Quarterly, $24.95, paperback, 128p., 9781770466234
Space Story
by Fiona Ostby
Set in a near future of apocalyptic threat and space colonization, Fiona Ostby's debut graphic novel, Space Story, is a queer love story full of wistful longing. Three intertwined storylines are delineated by primary colors. Cheery yellow pages recall how Hannah and Leah met, married and had their daughter, Bird. The family had the chance to evacuate a deteriorating Earth and live in a space station, but in the end only Hannah could go; her life now, rendered in melancholy blue, is one of yearning for those missing. Back on a tense Earth, depicted in shades of red, Leah, an engineer, and Bird bide their time until they can join Hannah.
Even in their early days together, Hannah and Leah's relationship was overshadowed by disaster drills and sirens. In a flashback, we see how an accident kept Leah and Bird from accompanying Hannah into orbit. Ostby sets up hope and despair as opposite--but equally rational--responses to this wrenching situation.
Everyday details provide grounding. Gardening is a useful distraction for Hannah, and small moments like a haircut cement human connections. The visual style is Archie Comics meets manga. Many pages are wordless, allowing the pictures to tell the story. Refreshingly, most characters are women or nonbinary and are matter-of-factly represented as queer. Many particularly touching spreads create parallels: a left-hand panel in red, opposite one in blue, show Leah and Hannah in separate beds, facing each other across an impossible divide. The simple layouts and focus on relationships turn a cosmic dystopia into something universal. --Rebecca Foster, freelance reviewer, proofreader and blogger at Bookish Beck
West Margin Press, $16.99, paperback, 160p., 9781513128757
Drawn Together: Illustrated True Love Stories
by Olivia de Recat
Cartoonist and New Yorker contributor Olivia de Recat begins Drawn Together: Illustrated True Love Stories like so: "For as long as I can remember, I've been primarily obsessed with two things: making art, and finding love." De Recat may not have succeeded at her second goal (give her time, though, she's just "standing on the outskirts of my 20s"), but her winsomely illustrated debut decisively marks the achievement of her first ambition.
Though Drawn Together features autobiographical observations and quips, it's much less a memoir than a work of sociology. The bulk of the text centers on the dozen-odd happily partnered couples de Recat interviews: "I looked to my friends, my family, artists I admired, the internet, and complete strangers. I asked them, 'What's your story?' " Among her interview subjects are her parents, advice columnist Heather Havrilesky and her husband, and a couple who met literally by accident.
Drawn Together is tidily hand-lettered and awash in spare, small-scale drawings in a palette not unsuitable for a wedding invitation. The visuals include comics, diagrams and wisecracking characters, among them one representing de Recat and a pink, goggle-eyed "anthropomorphized version of my heart" named Glenn, who functions as something between a mascot and a fantasy collaborator and who asks at one point, "Why did we agree to write this??" As for the book's muse, that would be the oft-heartsick balladeer Taylor Swift, who is invoked several times in this spirits-boosting and amusingly soul-baring ode to romantic love. --Nell Beram, author and freelance writer
Voracious, $28, hardcover, 336p., 9780316703680
With striking style and candor, Manila illustrator and indie comics artist Elle grapples with the intergenerational guilt brought on by an uneasy convergence of medicine and politics in their autobiographical comic Cicatrix.
Discovering a strange, hard lump below their left ear, a young Filipino--presumably the author, but unnamed for much of the narrative--falls into the grips of an Internet-enabled anxiety that is tinged with guilt: "Every time I get sick, I always feel that it's karmic payback," they confide. This vague disquiet comes into sharper focus when they visit a doctor who, they discover, has been selected by their grandparents for his connection to the widow of Ferdinand Marcos. The grandparents prospered greatly under Marcos's repressive, U.S.-backed dictatorship in the Philippines, a fact that engenders the feelings of shame and resentment with which the protagonist must now contend. And while inherited guilt can--perhaps must--be channeled toward resistance, this only compounds the burden: "I'm ashamed that guilt feels like a duty."
Unfurling a far-reaching meditation on complicity and responsibility in the face of a vast machine of imperial violence, Elle keeps Cicatrix grounded by showing how politics can manifest in the most intimate locales: the family, the body. The lump, abstracted as a floating red circle, makes for a surprisingly impactful visual motif that, in concert with Elle's bold compositions, lends cohesion to the narrative's personal and political dimensions. That such a slim volume could feel so expansive is a testament to the author's subtle command of sequential storytelling. --Theo Henderson, bookseller at Ravenna Third Place Books, Seattle, Wash.
Silver Sprocket, $12.99, paperback, 48p., 9781945509858
Bake: My Best Ever Recipes for the Classics
by Paul Hollywood
Paul Hollywood (A Baker's Life), who has been a judge on The Great British Bake Off since 2010, brings readers his 10th book, a compendium of his favorite recipes. "These are the recipes I enjoy, that I have refined and perfected over the years," he writes. "This collection brings together all my ultimate versions of the recipes that are special to me."
Bake: My Best Ever Recipes for the Classics presents 88 recipes in six chapters: Cakes; Cookies and Scones; Breads and Flatbreads; Pastry and Pies; Desserts; and Pizzas and Doughnuts. ("If I were to choose my last meal on Earth, it would be very difficult not to include a good pizza and a doughnut.") Recipes include Victoria Sandwich ("If you're new to baking, this should be your very first cake. If you get it right, everything else will be easy"); Lemon Drizzle Cake ("my favorite cake of all time"); and Chocolate Brownies ("the best brownies you'll ever taste"). His bread recipes are for two loaves instead of one, with Hollywood noting: "If you're going to the effort of making bread, then it's often worth making two at a time and keeping one in the freezer." He explains the role of gluten in flour and ways to avoid pie crusts with soggy bottoms--for one, by dusting cornstarch on the pie's crust. He updates traditional bread pudding by adding white chocolate and raspberries and breaks with tradition by making pigs in blankets with rough puff pastry rather than shortcrust pastry.
Beautifully illustrated with color photos, these are easy-to-follow recipes with charming anecdotes from a trusted baker. --Kevin Howell, independent reviewer and marketing consultant
Bloomsbury, $40, hardcover, 304p., 9781635579291
If There Are Any Heavens: A Memoir
by Nicholas Montemarano
In May 2022, the United States passed a tragic milestone of the coronavirus pandemic: the death of the one millionth American from Covid-19. It takes a writer with the sensitivity and skill of Nicholas Montemarano to transform a statistic, even one as sad and shocking as this one, into a compelling story. If There Are Any Heavens: A Memoir is the heartbreaking account in verse of the death of Montemarano's 79-year-old mother, Catherine, in mid-January 2021, and a profoundly moving portrait of a son's love for his mother.
On January 6, 2021, Montemarano left his home in Lancaster, Pa., where he teaches creative writing at Franklin & Marshall College, and drove 10 hours to the home of his parents in the small town of Nappanee, Ind., their home in retirement. Both his parents had contracted Covid just before Christmas "near the end of the year/ people called the worst." Though his father suffered from an array of what has come to be known in the pandemic era as "co-morbidities," it's his mother who develops double pneumonia, and when her blood oxygen drops to a dangerously low level, she's rushed to the emergency room and then hospitalized. Montemarano painstakingly documents the final 10 days of his mother's life and the desperate efforts made to save her.
If There Are Any Heavens is a book whose substance and form match perfectly. Montemarano's spare, incantatory style is well-suited to his chosen format. Though his story is specific--a description of only one death among more than a million--his eloquence transports it to the realm of the universal. --Harvey Freedenberg, freelance reviewer
Persea Books, $24, hardcover, 9780892555574
The Pornography Wars: The Past, Present, and Future of America's Obscene Obsession
by Kelsy Burke
Among the strangest bedfellows of politics were the feminists and the Christian evangelicals who spent part of the 1980s championing ordinances to regulate pornography, albeit for different reasons. Sociologist Kelsy Burke (Christians Under Covers) tells these activists' stories, as well as those of many in the pro-pornography camp, in the eye-opening, fair-minded and largely evenhanded The Pornography Wars: The Past, Present, and Future of America's Obscene Obsession.
Following a brief but fascinating history of smut in the United States, Burke shares highlights of her interviews with 90 people who have a dog in the pornography fight, among them sex workers, a male sex educator raised by a porn star dad, and a nonreligious former firefighter committed to helping men overcome their dependence on porn. Readers tag along as Burke watches a feminist porn shoot and observes at a retreat for Christian women whose lives have been adversely affected by porn.
The Pornography Wars examines its subject from many angles--political, sociological, psychological, scientific, legal--and asks questions along the way: Is porn addiction a real thing? Is porn that is centered on women necessarily bad for women? Can porn ever empower women? (Here it's probably worth mentioning that Burke doesn't always achieve neutrality on her subject.) In her concluding chapter, one that takes an aerial view, Burke offers a clarifying insight that's applicable to many fiery clashes of opinion: "If we push aside the dividing line, we can see the broader goal for which both sides strive: to make ethical decisions for ourselves, recognizing the constraints that surround us." --Nell Beram, author and freelance writer
Bloomsbury, $28, hardcover, 352p., 9781635577365
My Boy Will Die of Sorrow: A Memoir of Immigration from the Front Lines
by Efrén C. Olivares
Amidst the frenetic world news cycle, even extraordinary and devastating events from not long ago can seem, with disturbing speed, like ancient history. My Boy Will Die of Sorrow by Efrén C. Olivares chronicles the traumas of the U.S. government's 2018 policy of family separation, inflicted upon more than 5,000 families at the U.S.-Mexico border. Olivares writes with the authority of an experienced immigration lawyer and immigrants' rights advocate, conveying the testimonies of parents, children and other loved ones whose lives and relationships were ripped apart by a militarized anti-immigration policy for which cruelty was the point. He wades through reams of bureaucratic obfuscation and other insidious forms of misinformation and tells true stories in all their shocking and personal details.
Into these first- and second-hand accounts of the family separation policy, Olivares braids, in memoir fashion, his experiences as a boy born in Northern Mexico whose own family came to the U.S. in search of greater economic opportunity. He also presents a compelling, detailed summary of the history of U.S. immigration law and the gradually warming pot that brought the border, once largely open, to today's boiling point.
With well-sourced, scholarly research told in an absorbing prose and with compelling human narratives at its heart, My Boy Will Die of Sorrow is an informative and gut-wrenching indictment of the state of the U.S. immigration policy. This vital resource and collection of testimonies can serve to keep the recent horrors it depicts from disappearing into the past. --Walker Minot, freelance writer and editor
Hachette Books, $29, hardcover, 320p., 9780306847288
Rock on Film: The Movies that Rocked the Big Screen
by Fred Goodman
Rock on Film--Fred Goodman's breezy, opinionated and affectionate salute to the ever-expanding sensibilities, attitudes, ethos and excitement of rock music in motion pictures--is a lavishly illustrated coffee-table book, showcasing both crowd-pleasers and buried treasures. Although he profiles 50 films, twice as many are introduced, given that each entry is paired with a brief write-up of another film in a "Make it a double feature" sidebar. Elvis Presley's Jailhouse Rock is paired with Hustle & Flow; American Graffiti with That Thing You Do!; and the James Brown biopic Get on Up with Tina Turner's What's Love Got to Do with It.
Goodman (Why Lhasa de Sela Matters) expertly blends backstage tales of how the films were made with commentary on how they resonate with him. Jam-packed with beautiful, full-color photos, this guide also includes Goodman's excellent interviews with five film directors. Taylor Hackford recalls firing Phil Spector from The Idolmaker; Jim Jarmusch explains why he casts so many rockers in acting roles; Cameron Crowe discusses directing Almost Famous and Singles; Penelope Spheeris talks about her punk documentary trilogy, The Decline of Western Civilization; and John Waters chats about the music of his films.
Profiled films include tongue-in-cheek treasures (This Is Spinal Tap, Rock 'n' Roll High School, Hairspray, The Blues Brothers, The Rocky Horror Picture Show); outstanding documentaries (The Black Godfather, Standing in the Shadows of Motown, 20 Feet from Stardom); concert films (Stop Making Sense, Woodstock, The Last Waltz); and films that are merely set in the music world. Rock on Film is a delightful and illuminating photography book. --Kevin Howell, independent reviewer and marketing consultant
Running Press, $35, hardcover, 288p., 9780762478439
More for Comics Fans
Comics & Graphic Novels Run the Gamut
As has been the case for many years now, the field of comics & graphic novels includes great fiction, memoir and nonfiction, in titles for both children and adults. Here Shelf Awareness highlights a few additional favorites we reviewed earlier this year.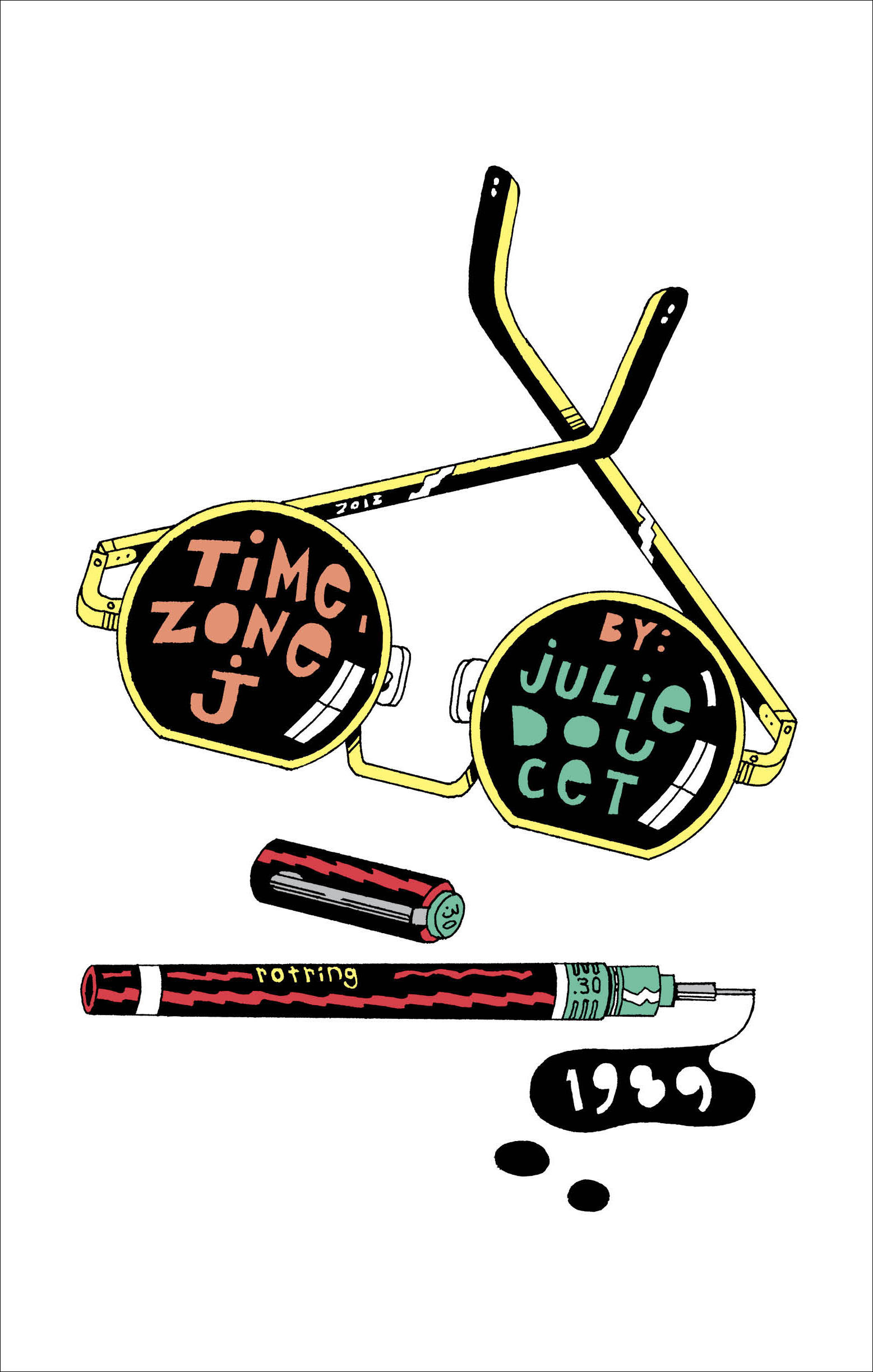 Julie Doucet won the 1991 Harvey Award for Best New Talent and seemingly disappeared from the comics world in 2006. With Time Zone J (Drawn & Quarterly, $29.95), Doucet makes "an intense, electrifying diary-inspired autobiographical" re-entry. She instructs readers, "This book was drawn from bottom to top. Please read accordingly." Every panel-less, borderless page overlaps into the next, so that if the pages could be lined up, long edge to long edge, the effect would be that of a continuous scroll.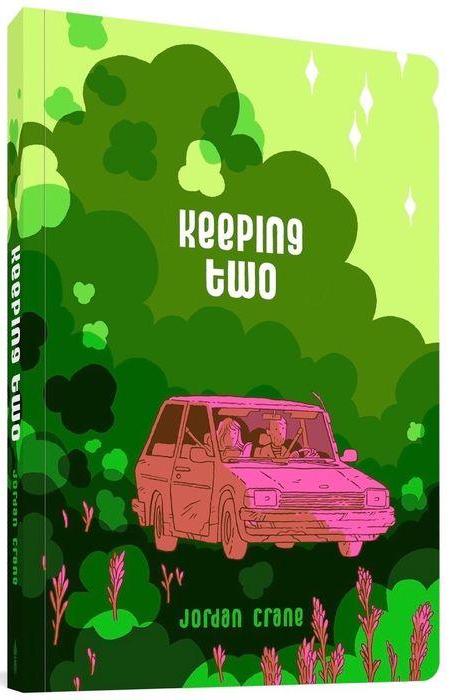 Jordan Crane spent more than two decades creating Keeping Two (Fantagraphics, $29.99), a "magnificently multilayered graphic novel that empathically addresses the universal human fears of losing those most beloved." The events take place over a single evening, as the story introduces, challenges and reconnects lovers Connie and Will. Crane presents his panels--mostly six-on-a-page--in an unusual palette of lime-to-forest green washes over line drawings. Nature, especially plants and trees, is hinted at throughout, culminating in magical woody scenes near the story's end.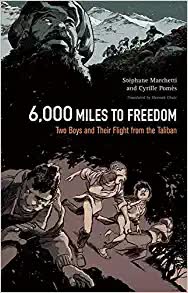 In the "stunning graphic odyssey" 6,000 Miles to Freedom: Two Boys and Their Flight from the Taliban (Graphic Mundi, $26.95), author/director Stéphane Marchetti, adapts the narrative from his 2017 documentary with Thomas Dandois, Les enfans de la jungle, illuminating the wrenching experiences of two refugee boys. Award-winning comics artist Cyrille Pomès infuses every panel with the dynamic motion of their flight, and Hannah Chute, fast becoming a go-to translator of graphic works, deftly enables French-to-English access. The title refers to 12-year-old Adel and his 16-year-old cousin, Shafi, as they escape Afghanistan and journey to the Pakistan/Iran border en route to Europe, Marchetti's urgent text informed by testimonies of refugee youth.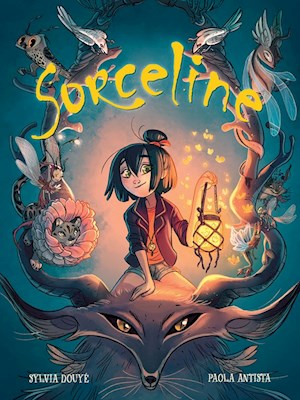 Another standout translation, this one aimed at middle-grade readers, Sorceline (Andrews McMeel, $12.99) is the first English-translated work by Sylvia Douyé, a compilation of three Sorceline graphic novels already published in France. Ivanka Hahnenberger translates the volume, as Sorceline eagerly awaits the first day of her summer apprenticeship studying cryptozoology with Archibald Balzar on the Isle of Vorn. Under Balzar's tutelage, Sorceline will learn all about various cryptids and how to care for them. A classmate's disappearance, though, sets off a chain of bizarre and dangerous mysteries. Paola Antista brings to life this unusual world in a "manga-influenced illustrative style" that depicts cryptids from Roman, Greek, European and Persian mythology and folklore. "Her characters and creatures are expressive and the format features broken, overlapping and asymmetrical panels that help move the plot along at a rapid pace."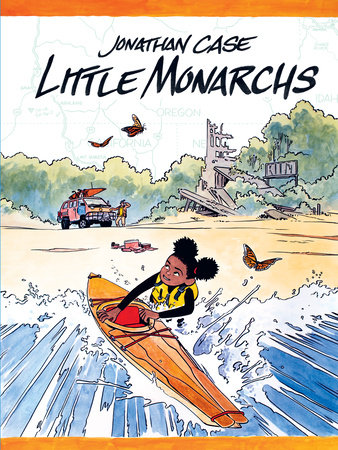 The "prescient, thrilling, unusual and occasionally hilarious graphic novel" (also for middle-graders) Little Monarchs by Jonathan Case (Margaret Ferguson Books, $14.95) uses scrapbook-style content to tell the story of two of Earth's human survivors of a sun shift that causes a fatal sickness in mammals in 2101. Elvie, a plucky 10-year-old, and her wry, brilliant guardian, Flora, follow migrating monarch butterflies along the west coast of the United States. Their vital, life-sustaining purpose is to harvest scales from the butterflies' wings to use in a medicine to prevent sun sickness and--they hope--to develop a vaccine. Case employs a blend of journal entries, maps, diagrams, scientific illustrations, instructions on celestial navigation and hammock-hanging, and tips on foraging and scavenging to allow Elvie to narrate her "strange yet normal daily experience."
These graphic memoirs, love stories and tales of stewardship of the planet are not to be missed!
Rediscover
Rediscover: American Born Chinese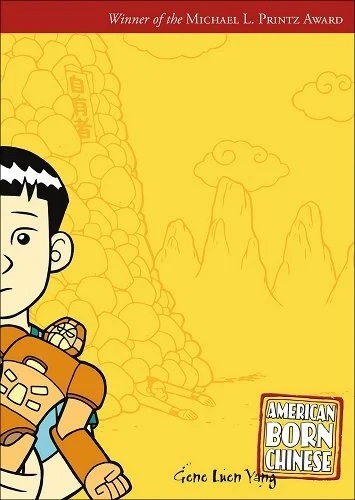 This year is the 16th anniversary of American Born Chinese by Gene Luen Yang, a graphic novel for young readers inspired by Yang's experiences growing up in the United States as the son of Chinese immigrants. It includes three interconnected narratives: the first about a reimagined Monkey King from the 16th century Chinese novel Journey to the West, the second about a child of Chinese immigrants struggling with his identity in a white suburb, with the third story tying the first two together. Yang's book, colored by cartoonist Lark Pien, won the Eisner Award for Best Graphic Album, the American Library Association's Printz Award for best YA book of the year and was a finalist for the National Book Award (sparking controversy over the inclusion of a graphic novel). American Born Chinese, published by First Second, has sold more than 500,000 copies and is often taught in high schools. In 2016, Yang was appointed National Ambassador for Young People's Literature and received a MacArthur Fellowship.

Yang is also the author of Boxers and Saints, a two-volume graphic novel about the Boxer Rebellion in China between 1899 and 1901, during which more than 100,000 people were killed and which led to an invasion by Western countries. He has also written a series of graphic novels called Secret Coders, combining logic puzzles and programming instructions into a story about seventh graders who discover a secret coding school. His other work includes The Eternal Smile, Prime Baby, The Shadow Hero and Dragon Hoops. A television adaptation of American Born Chinese, written by Charles Yu (Interior Chinatown) and Kelvin Yu, finished filming earlier this month and will be available on Disney+. --Tobias Mutter