Week of Friday, July 29, 2022
Among the 25 books reviewed this week: P.T. Deutermann's The Last Paladin, in which the World War II crew of the U.S.S. Holland investigates the possible existence of a 1,000-mile-long Japanese submarine "picket line"; Inventing the It Girl: How Elinor Glyn Created the Modern Romance and Conquered Early Hollywood by Hilary A. Hallett, who posits that Glyn's calling card was "her ability to give even the raciest stories an aristocratic gloss"; and Thirst by Varsha Bajaj, "a moving, hopeful story" that brings awareness to the world water crisis and social inequality.
In The Writer's Life, Antonia Angress discusses her debut novel, Sirens & Muses, centering on students at an elite New England art school.
The Best Books This Week
Fiction
Science Fiction & Fantasy
The Book of Gothel
by Mary McMyne
The witch has her say about the story of Rapunzel in The Book of Gothel, the layered historical fantasy debut from Mary McMyne. Haelewise has suffered fainting spells since her childhood; her mother tries every remedy she knows to cure them, even allowing her father to take her for repeated exorcisms. No matter how much talent Haelewise shows as an apprentice midwife to her mother, the rest of the village fears her, even considering her skills to be cause for more suspicion. She finds, not long after her mother's death, that she is no longer safe in her village. She sets off in search of a tower, one from her mother's stories, in which only women can find refuge. But along with the tower she discovers a secret sisterhood, which she will need for traveling to convents and castles to keep safe.
McMyne skillfully combines folklore and history with prose that showcases her work as a poet. Although she takes the fairy tale "Rapunzel" as a source, she has crafted it into a world all her own, featuring historical figures such as Hildegard of Bingen, grounded in its own stories and religions--and with just enough detail. This story is complete, but if McMyne wanted to write more about Haelewise's life or a book from the perspective of another resident of the tower, she would have ample room to explore further.
Readers who enjoyed Circe by Madeline Miller, Wicked by Gregory Maguire and the Avalon series by Marion Zimmer Bradley and Diana L. Paxson will be well-pleased. --Kristen Allen-Vogel, information services librarian at Dayton Metro Library
Redhook, $28, hardcover, 384p., 9780316393119
Sugar and Salt
by Susan Wiggs
Lingering difficulties from the past simmer throughout Sugar and Salt, a compassionate and poignant work of domestic fiction by Susan Wiggs. Through a staggered timeline, Wiggs (The Lost and Found Bookshop; Return to Willow Lake) builds a romance between two characters who come from vastly different backgrounds. Margot Salton, a white woman from Texas, traveled a long, hard road to become an award-winning chef. As a teenager, she forged her own way in the world after her single mother, a talented cook, died. Margot, tough, street-smart and self-reliant, was taken in and mentored by a kind, hardworking Black couple, owners of an authentic Texas barbecue restaurant, until a second tragedy upended Margot's life.
Determined to cut her losses and start anew, budding barbecue master Margot changes her identity and sets off, leaving Texas behind and winding up in San Francisco, Calif.. There she meets Jerome Sugar, a Black baker who learned everything he knows from his grandmother Ida, a self-made chef. The single father of two operates Sugar, Ida's well-established, popular bakery. Margot and Jerome work out a deal to share kitchen space and she opens her own restaurant next door called Salt. The two form a professional bond that leads to romance. However, the couple's relationship is tested when complications from Margot's former Texas life resurface. Can love in the present survive far-reaching tentacles from a sordid past?
Hot-button issues from real-life events inspired Wiggs to write this complex, thought-provoking novel that depicts how the power of friendship and love can overcome heart-wrenching challenges. --Kathleen Gerard, blogger at Reading Between the Lines
Morrow, $27.99, hardcover, 368p., 9780062914224
The Accidental Pinup
by Danielle Jackson
Danielle Jackson brings humor and heat to The Accidental Pinup, her debut romance and a body-positive love letter to Chicago, photography and found family. When Cassie Harris's pregnant best friend, a queer fashion influencer and designer named Dana, is put on bed rest, Cassie sets aside her dream job to take on Dana's role as model for a new line of lingerie and swimwear. Luscious Lingerie had promised that Cassie would photograph Dana's line, finally guaranteeing Cassie a prestige role long denied her as a Black female photographer in a competitive niche, but now, as a model, Cassie must work with a rival photographer. Reid Montgomery, "the thorn in Cassie's professional side," has consistently stood in the way of her success.
As Cassie and Reid explore the city, looking for the perfect backdrops for Dana's inclusive, quirky line, their initial impressions and wariness are replaced by respect, artistic admiration and a simmering heat that boils over in a rather unprofessional way. The Accidental Pinup is told in dual perspectives, meaning that while readers will develop a quick and powerful protectiveness toward Cassie, they'll empathize with Reid as they learn of his difficult upbringing and sense of familial and financial obligation to his much younger brother.
The romance remains central, but readers will savor the moments Jackson dedicates to the way Cassie captures light, joy and quiet beauty in her photographs. With a cheeky, subversive lens, The Accidental Pinup claims space for Cassie's dreams, gives readers a satisfying happily-ever-after and neatly sets up possible sequels. --Suzanne Krohn, librarian and freelance reviewer
Berkley, $17, paperback, 320p., 9780593437339
The Littlest Library
by Poppy Alexander
Poppy Alexander (25 Days 'Til Christmas) brings readers a heartwarming, summery tale of second chances in The Littlest Library. Featuring an unexpectedly resilient librarian who faces trauma from her past and uses her books to bring together the residents of a charming English village, the novel speaks to the power of literature to change lives.
Jess Metcalfe, who was orphaned as a child, has been left reeling by the recent death of her beloved Mimi, the grandmother who raised her. Already unsure what to do with her empty life sans Mimi and after being laid off from her library job, Jess finds herself aimlessly driving through the English countryside and buying a cottage on a whim. Ivy Cottage comes with a classic red phone box in its yard, and Jess decides to turn it into a tiny library, filling it with Mimi's book collection. Slowly, Jess finds herself letting go of her lifelong anxieties and finding friendship--and possibly love--in the process.
Sweet and funny, The Littlest Library is perfect for fans of Sophie Kinsella or Jenny Colgan. The village of Middlemass is full of a hilarious assortment of characters, including reluctant stay-at-home mum Becky; Aidan, the attractive tree surgeon; and Joan and Muriel, sisters who have refused to speak to each other for more than 30 years. Jess finds herself connecting with many of them, playing matchmaker, job-finder and book-recommender to everyone she meets. The Littlest Library is a lovable novel, perfect for reading on a sunny summer afternoon. --Jessica Howard, freelance book reviewer
Avon, $16.99, paperback, 336p., 9780063216938
The Year of Miracles: Recipes about Love + Grief + Growing Things
by Ella Risbridger
After losing her beloved partner, Jim, writer and home cook Ella Risbridger (Midnight Chicken) found herself in a tailspin. Soon after she moved into a new flat with her friend Jo, the Covid-19 pandemic sent London and the world into lockdown. In her second memoir-cum-cookbook, The Year of Miracles, Risbridger recounts a year of cooking and community, and how both provided healing in a time of great internal and external strain.
In these essays and recipes, Risbridger rambles charmingly. The narrative begins in winter, with a chicken carcass (being picked over at 4 a.m., naturally), then takeaway and "Leftovers Pie." As Jo and Ella settle into their new flat, Ella shares glimpses of (and sometimes recipes for) their more robust favorites, such as cardamom buns from the café she loves; eggs half a dozen ways (Turkish, Welsh, an omelet involving salt and vinegar crisps); and various soups both nourishing and comforting. Readers meet Mitski, the next-door cat who isn't theirs but comes over for scraps; various other friends in and out of London who help Jo and Ella stay sane; and Jim, often conspicuous by his absence but a presence just the same.
Watercolor illustrations bring the recipes to life, contributing to the book's slightly dreamy feel. Risbridger's recipes, both in form and content, swing between simple and fiddly, though all are within reach of dedicated home cooks. Risbridger writes sensitively about grief and navigates her loss honestly, relying on community. The book is a tribute, as Risbridger says, to "cooking, and the people who love you: the two greatest and most practical miracles of all." --Katie Noah Gibson, blogger at Cakes, Tea and Dreams
Bloomsbury, $30, hardcover, 288p., 9781526622631
Inventing the It Girl: How Elinor Glyn Created the Modern Romance and Conquered Early Hollywood
by Hilary A. Hallett
The writer Elinor Glyn (1864-1943) was extravagantly vain, unapologetically snobbish, flagrantly money-minded and of unremarkable literary talent. But Hilary A. Hallett's Inventing the It Girl: How Elinor Glyn Created the Modern Romance and Conquered Early Hollywood demonstrates that Glyn, having "done her part to let loose the genie of women's sexual liberation," is an undersung feminist trailblazer ripe for a biography.
Born on the island of Jersey, England, Glyn developed her passion for books in her stepfather's library and her taste for the finer things following a trip to Belle Époque Paris as a teenager. A middle-class child of the Victorian era, Glyn married up--she landed a proper English gentleman--and soon learned that, as she would write, "brains did not count" when one was the mistress of an estate. But her husband had a gambling problem and the family needed money, so Glyn sought what was then considered an unsuitable job for an upper-class woman: professional writer.
Glyn had success with her books, especially Three Weeks, her scandalously steamy and occasionally banned 1907 romance novel. Given Glyn's crowd-pleasing notoriety, it's no wonder that Jesse Lasky, vice-president of production at Famous Players-Lasky Studio, invited her to Hollywood to write for the movies. In the film world as in the literary one, Glyn's calling card was her ability to give even the raciest stories an aristocratic gloss.
Exhaustively researched and decked out with 50-odd photos and reproductions, Inventing the It Girl is rich with history. Hallett (Go West, Young Women!) is utterly persuasive regarding the beneficent influence of Glyn. --Nell Beram, author and freelance writer
Liveright, $32.50, hardcover, 464p., 9781631490699
Agent Josephine: American Beauty, French Hero, British Spy
by Damien Lewis
With so many books published about World War II, it is hard to imagine reading a new one. And yet, with Agent Josephine journalist and bestselling author Damien Lewis delivers one that will tempt readers to do just that.
Josephine Baker was a Black girl born into poverty in St. Louis in the early days of the 20th century. Though immensely talented and eager to perform from an early age, she was largely shut out of her home country, thanks to its brutal segregation laws. But she found a welcome audience in Europe and became a Parisian star, lauded by Hemingway, painted by Picasso and legendary for her singing, dancing and bold onstage sexuality--until the arrival of the Nazis, whose repellent ideology forced Josephine away from the stages and city she loved. In a courageous effort, Josephine turned spy, working with British intelligence and French Resistance fighters to liberate a continent.
Lewis (The Flame of Resistance) writes with a flair for hard-boiled drama, sharing insights into the clandestine world of espionage and its nests of expert, aristocratic spymasters; hard-living, shrewd field agents; and debonair mafiosos with their hideous henchmen. The drama is balanced with lively details. Readers will delight in tales of Josephine with her entourage of animals, including a pet cheetah named Chiquita, and fall for a narrative that almost resembles a friends-to-lovers romance, were it not for the immense stakes and horrifying consequences of failure. Agent Josephine is a wonderful addition to the canon of World War II stories. --Walker Minot, teacher, freelance writer and reviewer
PublicAffairs, $32, hardcover, 496p., 9781541700666
Obsessive, Intrusive, Magical Thinking
by Marianne Eloise
Obsessive, Intrusive, Magical Thinking is a spirited collection of appealingly honest essays by British writer, journalist and media star Marianne Eloise about her autism spectrum disorder and the anxiety, obsessions and intrusive thoughts that are inseparable features of her neurodivergent brain. While describing the added challenges of growing up in an unstable family environment, the physical pain resulting from her Ehlers-Danlos syndrome and the hormonal minefield that was puberty, Eloise cautiously celebrates the life she has designed for herself.
Obsessive, Intrusive, Magical Thinking, organized into three sections, offers fragmented vignettes and a nonlinear narrative style that reflects the author's overactive mind as it latches on to topics from "death to Medusa to folklore to magic to Disneyland to fire to my corporeal form." Although her obsessions led to social isolation in childhood, Eloise parlayed her "good obsessions" with film and music into a master's degree and a successful career that included traveling to Los Angeles, her dream city across the Atlantic. In the essay "Does the Dog Die?" Eloise describes in poignant detail how her dog, Bowie, taught her "to love, to relax," noting that the kinship she feels toward animals is stronger than toward humans. "Where some obsessions have destroyed me, others have sustained me," she explains; this includes her joyful fascination with Disneyland and her intense love of the ocean.
Disarming in its authenticity, Eloise's debut is the mark of a talented writer, claiming literary space for courageous neurodiverse voices like hers and sharing the pitfalls of her journey to ease the path for those who come after her. --Shahina Piyarali, reviewer
Icon, $22.95, hardcover, 288p., 9781785788154
The Inheritors: An Intimate Portrait of South Africa's Racial Reckoning
by Eve Fairbanks
South African apartheid ended in 1994, but the past lingers painfully in the country's institutions and the minds of its people, as journalist Eve Fairbanks recounts in her first book, The Inheritors: An Intimate Portrait of South Africa's Racial Reckoning. Eleven years in the making, this mesmerizing analysis of South Africans navigating a world that changed almost overnight follows three ordinary South Africans over five tumultuous decades: Dipuo, an anti-apartheid activist in the 1980s; her daughter, Malaika; and Christo, one of the last white South Africans drafted into the military to enforce apartheid.
Chronicling the shifting attitudes and emotions of her three subjects, Fairbanks creates an intimate and empathetic portrait of South Africans wrestling with new political, social and economic realities. Dipuo begins as a young, outspoken woman not above violence to achieve the end of apartheid, but who experiences an array of disappointments with Black political leadership in her later years. Malaika inherits her mother's early rage and lashes out at "the drip-drip quality of white people's concessions" in which "every curriculum change was a fight, every move to make a black person the head of a leading bank or university" an exhausting one. Christo, the ex-soldier who hints at his regrets for his own role, comes nearly full circle, "willing to turn himself into a pariah" with the creation of an all-white, all-Afrikaner dorm. The Inheritors is a deeply felt and eloquently written account of a nation--and its people--still wrestling with angry ghosts of the past. --Peggy Kurkowski, book reviewer and copywriter in Denver
Simon & Schuster, $27.99, hardcover, 416p., 9781476725246
Together by Design: The Art and Architecture of Communal Living
by William Richards
For many readers, "communal living" will call to mind the hippie houses of the 1960s and '70s, in which meetings were mandatory and clothing was optional. William Richards handily vanquishes such outdated thinking in Together by Design: The Art and Architecture of Communal Living, which is part architecture book, part sociology text and 100% homage.
Going with the idea that "architecture has always provided a vessel for individuals and communities to live their beliefs," Richards proceeds to make a persuasive case that communal living and cohousing can offer solutions to a raft of social ills, among them housing scarcity, loneliness and wasted resources. Together by Design, informed by Richards's interviews with cohousing architects and residents, spotlights a clutch of innovative projects, including London's New Ground Cohousing, whose senior-friendly design decisions were influenced by its residents; a facility in coastal Maine created for a three-couple group of friends, who live in separate but connected homes with common amenities; and Sweden's Suderbyn, which carries the expectation that all residents share one philosophy.
Richards (Revolt and Reform in Architecture's Academy; Bamboo Contemporary) admits that Suderbyn, which is "on the extreme end of the spectrum of ecological living and prescriptive communal and individual behaviors," is "not for everyone, even if everyone might benefit from spending a few days there." Readers can gauge the salubriousness of a stay at any of the featured residences with the help of the book's abundant photos, drawings and plans, among them a memorable shot of Suderbyn's compost toilet. --Nell Beram, author and freelance writer
Princeton Architectural Press, $24.95, paperback, 160p., 9781648960277
The Writer's Life
Reading with… Antonia Angress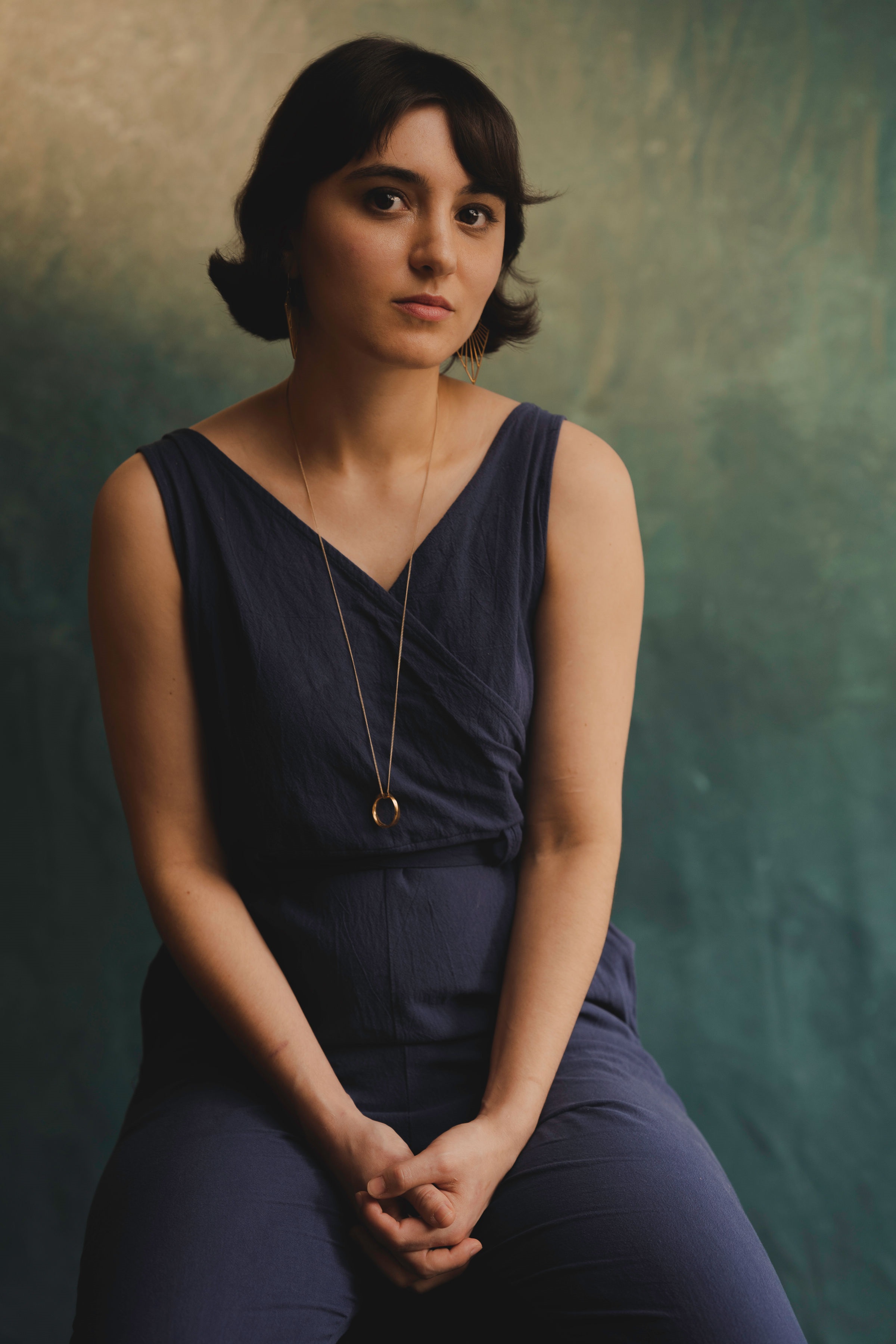 photo: Dena Denny
Antonia Angress was born in Los Angeles and raised in San José, Costa Rica. She is a graduate of Brown University and the University of Minnesota MFA program. Her debut novel, Sirens & Muses (Ballantine, July 12, 2022), follows four artists drawn into a web of rivalry and desire at an elite art school and on the streets of New York.
Handsell readers your book:
Sirens & Muses is a campus novel about artists finding their way through life and love. It's queer, sexy and cerebral--and funny! Think The Marriage Plot meets Fates and Furies meets Portrait of a Lady on Fire.
On your nightstand now:
I'm currently reading Lauren Collins's When in French and Frank McCourt's Teacher Man, both as research for my next novel, which is about a language teacher and draws on the years I spent teaching Spanish to elementary and middle school students. In that spirit, I've also been rereading Ms. Hempel Chronicles by Sarah Shun-lien Bynum, one of my favorite novels about a teacher and one of my favorite novels, period.
Favorite book when you were a child:
I was obsessed with Alice's Adventures in Wonderland and can still recite "The Walrus and the Carpenter" from memory (this is my best--and only--party trick). One of my cherished possessions as a kid was this beautiful hardcover edition of The Annotated Alice, featuring Martin Gardner's extensive annotations on the Victorian references, mathematical concepts and wordplay that Lewis Carroll embedded in the story.
Your top five authors:
Five is too few, but if I must: Zadie Smith, Jennifer Egan, Donna Tartt, Susan Choi and Sarah Waters.
Book you've faked reading:
I majored in comparative literature in college, and there was a literary theory course that everyone had to take. I muddled through a whole bunch of Derrida that semester, but I could not possibly tell you what that guy was going on about.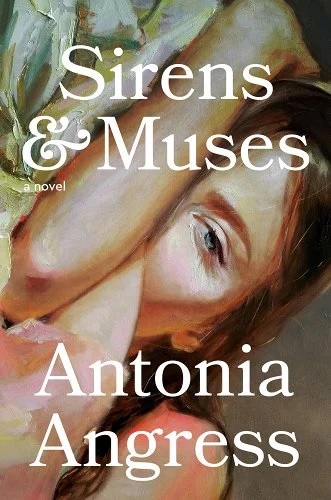 Book you're an evangelist for:
So many! Bobcat by Rebecca Lee is the best short story collection you've never heard of. My Name Is Asher Lev by Chaim Potok and The Flamethrowers by Rachel Kushner are my two favorite examples of the Künstlerroman (literally, "artist's novel"--a genre I'm very into, obviously). Kaitlyn Greenidge's We Love You, Charlie Freeman is a book I have a hard time describing to people, but trust me when I say it's brilliant. I loved Lee Cole's Groundskeeping so much that I hunted down his e-mail address and sent him a fan letter. While writing Sirens & Muses, I read tons of campus novels; my favorites are Make Your Home Among Strangers by Jennine Capó Crucet and The Idiot by Elif Batuman. And I can't stop raving about The Final Revival of Opal and Nev by Dawnie Walton, which needs to be adapted into a prestige TV series.
Book you've bought for the cover:
Mostly Dead Things by Kristen Arnett--for the cover (that flamingo!) and the content, which is marvelous.
Book you hid from your parents:
My parents are both big readers. They let me read whatever I wanted and encouraged me to borrow books from their shelves. There was one exception, though: American Psycho by Bret Easton Ellis. Once, when I was maybe 13, I took it, thinking it looked interesting, and my mom freaked out and confiscated it. She told me I could read it when I was older, and we had a big fight about it. I remember trying to steal it back from her a couple of times until finally she hid it from me. After that, I kind of lost interest and to this day I've never read it.
Book that changed your life:
Curtis Sittenfeld's Prep was one of the first adult literary novels I read outside of school, and it made me want to be a writer. She remains one of my favorite authors.
Favorite line from a book:
"In the beginning the Universe was created. This has made a lot of people very angry and been widely regarded as a bad move." --Douglas Adams, The Restaurant at the End of the Universe
Five books you'll never part with:
I hold a special place in my heart for books that have made me cry, TikTok teen-style: The Great Believers by Rebecca Makkai, The Five Wounds by Kirstin Valdez Quade, The Angel of History by Rabih Alameddine, Salvage the Bones by Jesmyn Ward, The Miseducation of Cameron Post by Emily M. Danforth and Fun Home by Alison Bechdel. (I know that's six; a lot of books have made me weep.)
Book you most want to read again for the first time:
I'm a sucker for love stories, mysteries and books about books, and A.S. Byatt's Possession is all three. Spellbound, I read it in a single sitting.

Discover Great Publishers
Insight Editions' Reinhart Pop-Up Studio
Reinhart Pop-Up Studio expands the boundaries of books with innovative paper engineering, gorgeous illustrations, and engrossing writing. Bringing a new dimension to popular brands and beloved stories, Reinhart Studios creates original pop-up experiences that surprise, illuminate, and delight readers of all ages.
---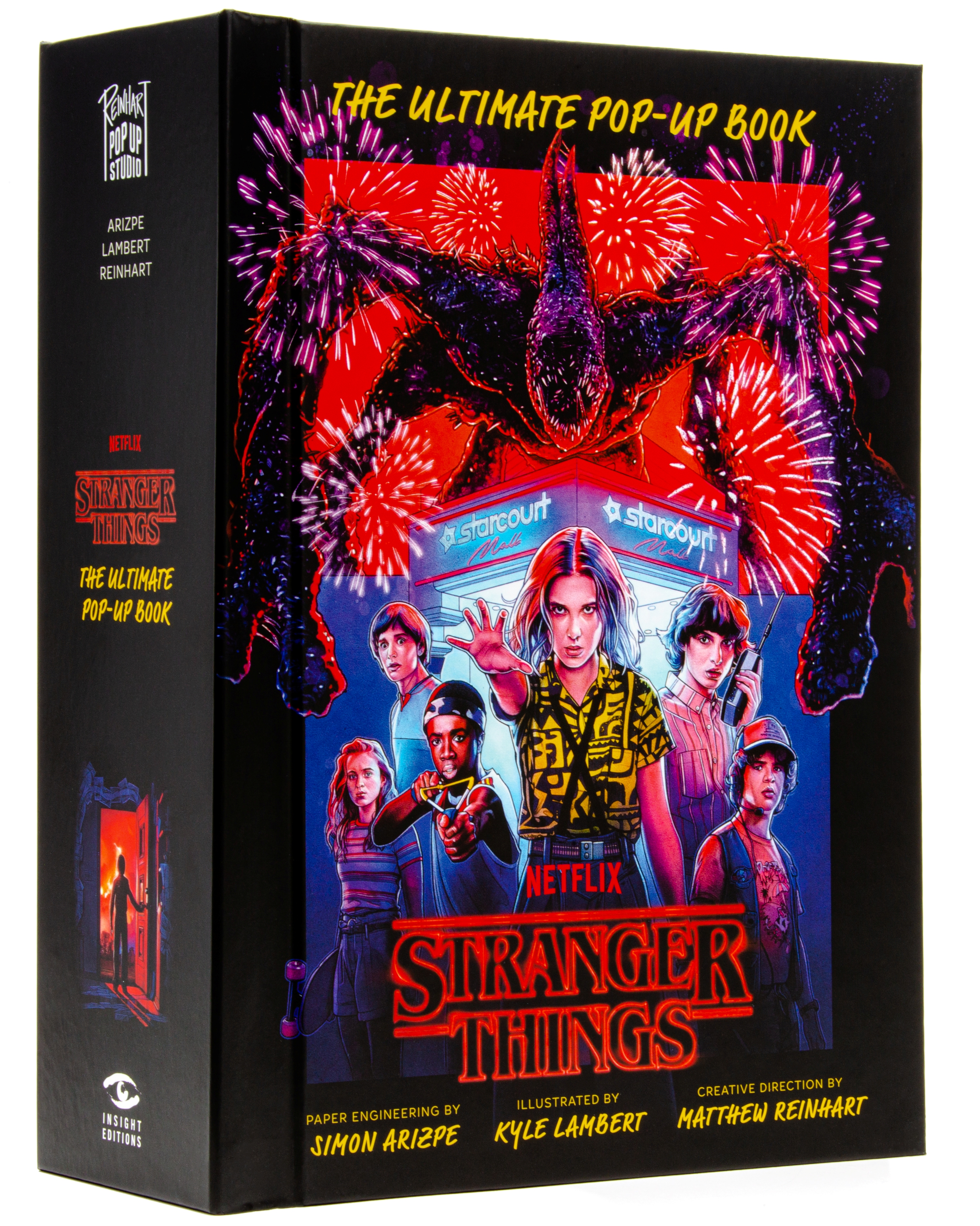 Stranger Things: The Ultimate Pop-Up Book (hardcover, $75, 9781647221263, August 27, 2022)
Here Paper Engineer Simon Arizpe talks about what it's like working with a beloved series and bringing Demogorgon to life.

Were you a fan of Stranger Things when you took on this project?
Yes, I was a big fan of the show before the idea of making a pop-up Stranger Things ever came up. I had been watching the show from the beginning and always loved the wild storytelling and mystery. It manages to be so rooted in the imagery of nostalgia while feeling like a wholly unique story. Being able to take fantastical concepts like the upside-down and monsters like the demogorgon and figure out how to make them as surreal as they are in the show was such a fun opportunity. When I was offered the project I was so excited, this really is a dream project for me.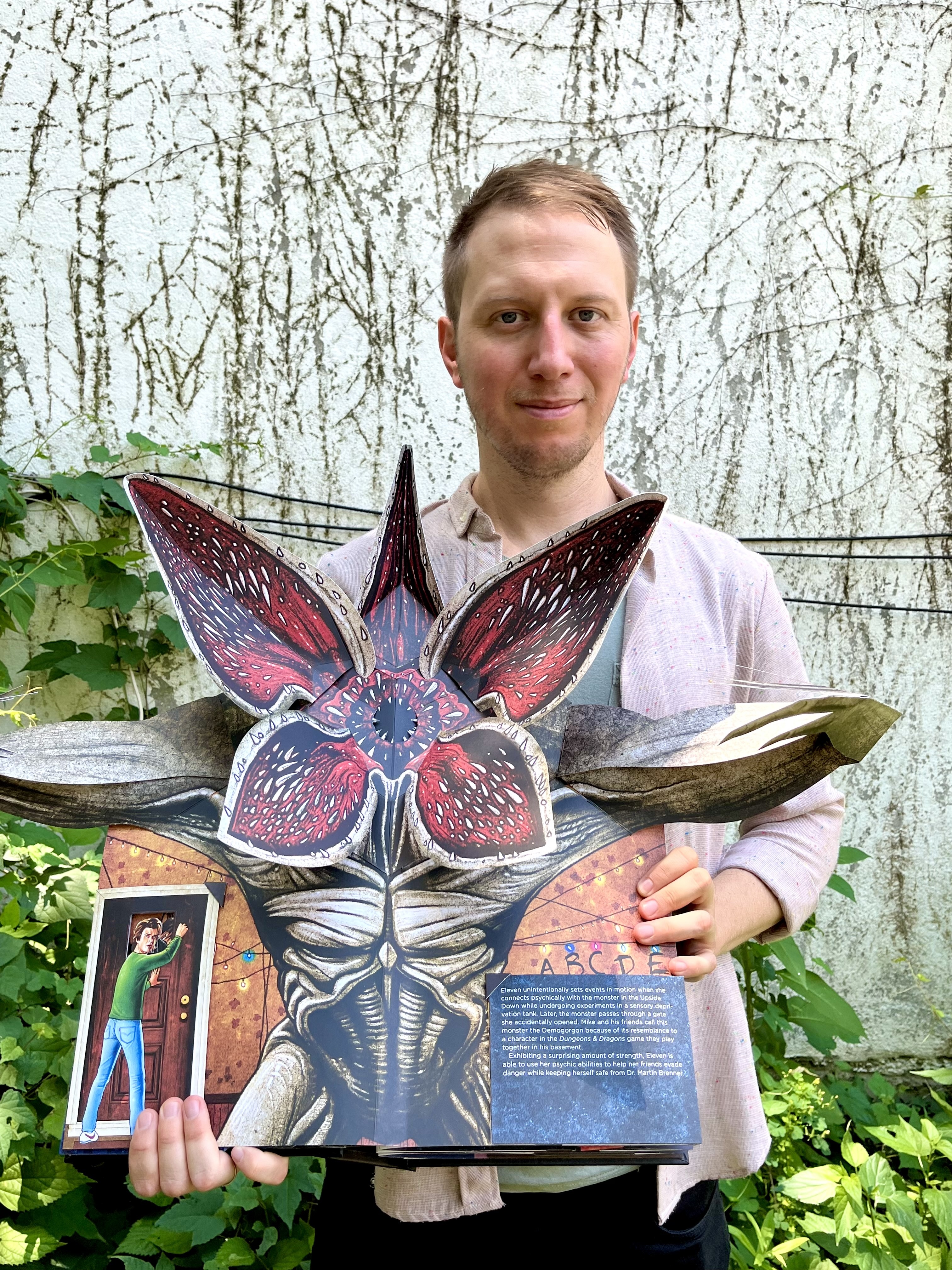 Simon Arizpe
What's the process for planning out the pops?
It always starts with the idea first. What am I going to make pop-up? What will be the most interesting thing to make move, to reveal or hide? How can I make sure that nothing is expected? All the pop-up elements should be surprising while still telling the story. With Stranger Things, there is already such a full and specific story to tell. For me, it was figuring out which aspects of the story will be the most interesting in pop-up form and separating those out into spreads. I made a sort of wish list of must-have scenes: we need to have a giant Demogorgon, definitely have to have a transformation into the upside-down, gotta have the Starcourt Mall, and it sort of fell into place from there.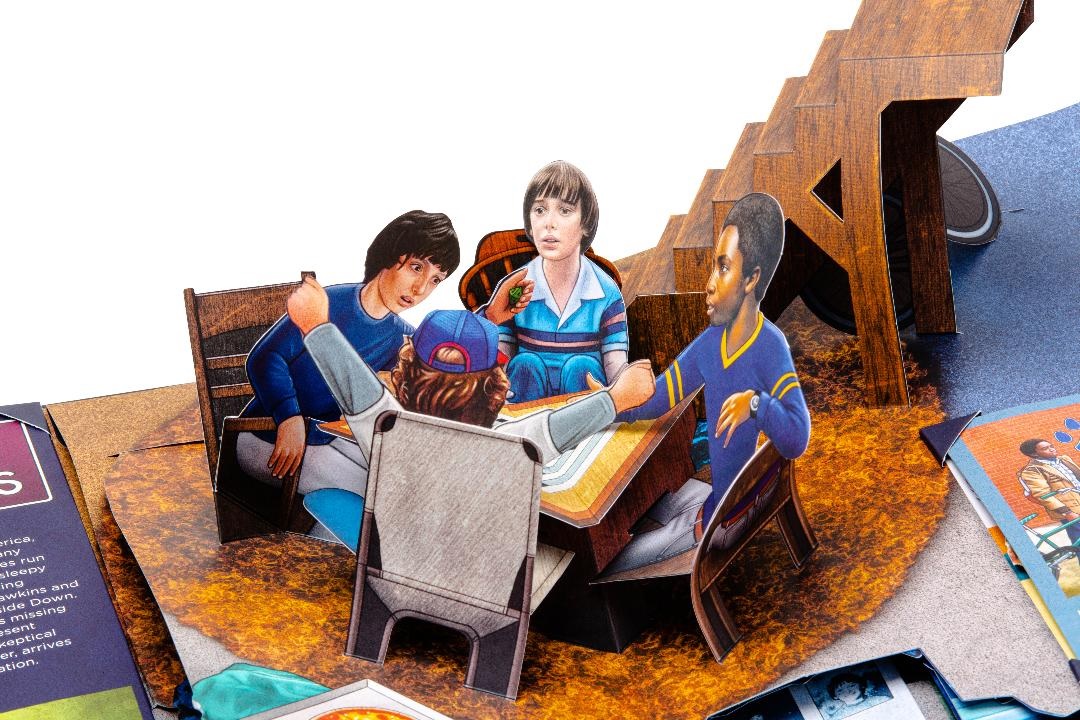 What was the most challenging pop to create?
I think the most challenging pop for me to create was the first spread with Will Byers traveling into the Upside-Down. The scene starts with the four boys sitting around the table in Mike's basement. Will Byers' missing poster is peaking out from the bottom of the page. As you pull on the poster, the whole scene is transformed from below. The other kids and the basement disappear, and Will is transported to the Upside-Down dimension.
So really there are two pop-ups in one on this page. It was a real challenge figuring out how to hide the whole secondary pop underneath the first, and still make it big and interesting. And that moment is so iconic in the show that I felt like I really had to do it justice.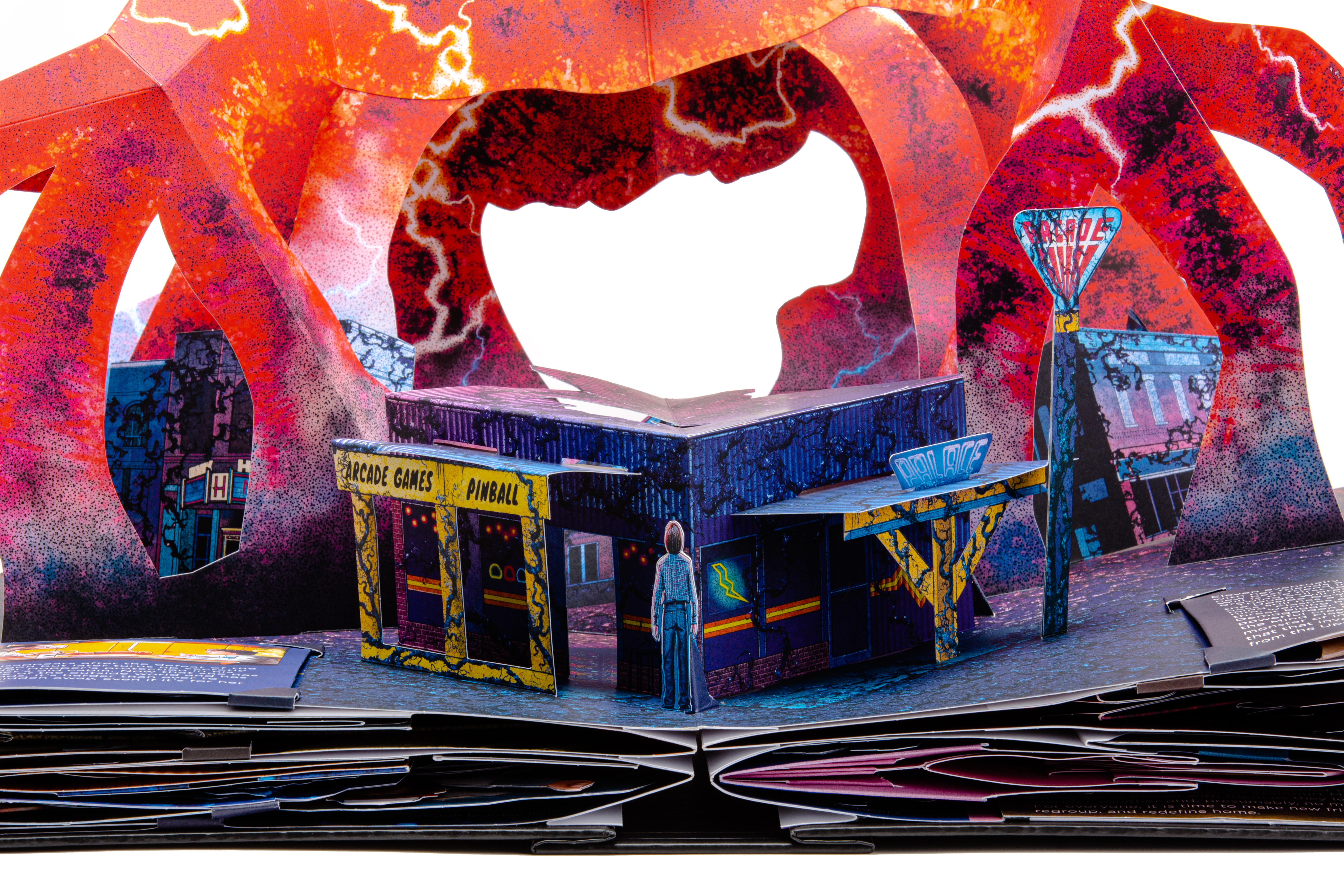 What's your favorite surprise in the book?
I tried to hide a lot of little Stranger Things Easter Eggs throughout the book for the fans. My favorite is either Max's signature 'MAD MAX' appearing on the arcade game, which was a real plot point in the start of season 2. Either that or there is a little surprise in the Mall scene on spread 5. There is a pull tab that lets Eleven and Max try on a few different outfits. Because who doesn't like an '80s makeover montage scene?
Kyle Lambert, who was the illustrator on the project, and I had a lot of fun adding in little winks to the fans. I would ask him to draw some character in a specific scene, but it also had to be drawn 'upside down and backwards' so that it would fit into the pop-up eventually. He was a great sport about all my weird specific art requests. I think it is because he is such a big fan of the show as well
Is there a dream project you'd love to create in pop-up form?
Yes there is! My dream project would be to create a Steven Universe pop-up book. I think that show is very special. The art is stunning and has beautiful concepts (like fusion) that would lend themselves well to paper engineering. There is also an overall message of acceptance, love, and compassion throughout the show that I think is so important. If anyone is reading this who knows how to get a hold of Rebecca Sugar (the creator of the show) please send this her way. Rebecca, I would love the opportunity to make a pop-up book out of your beautiful story.
More from Reinhart Pop-Up Studio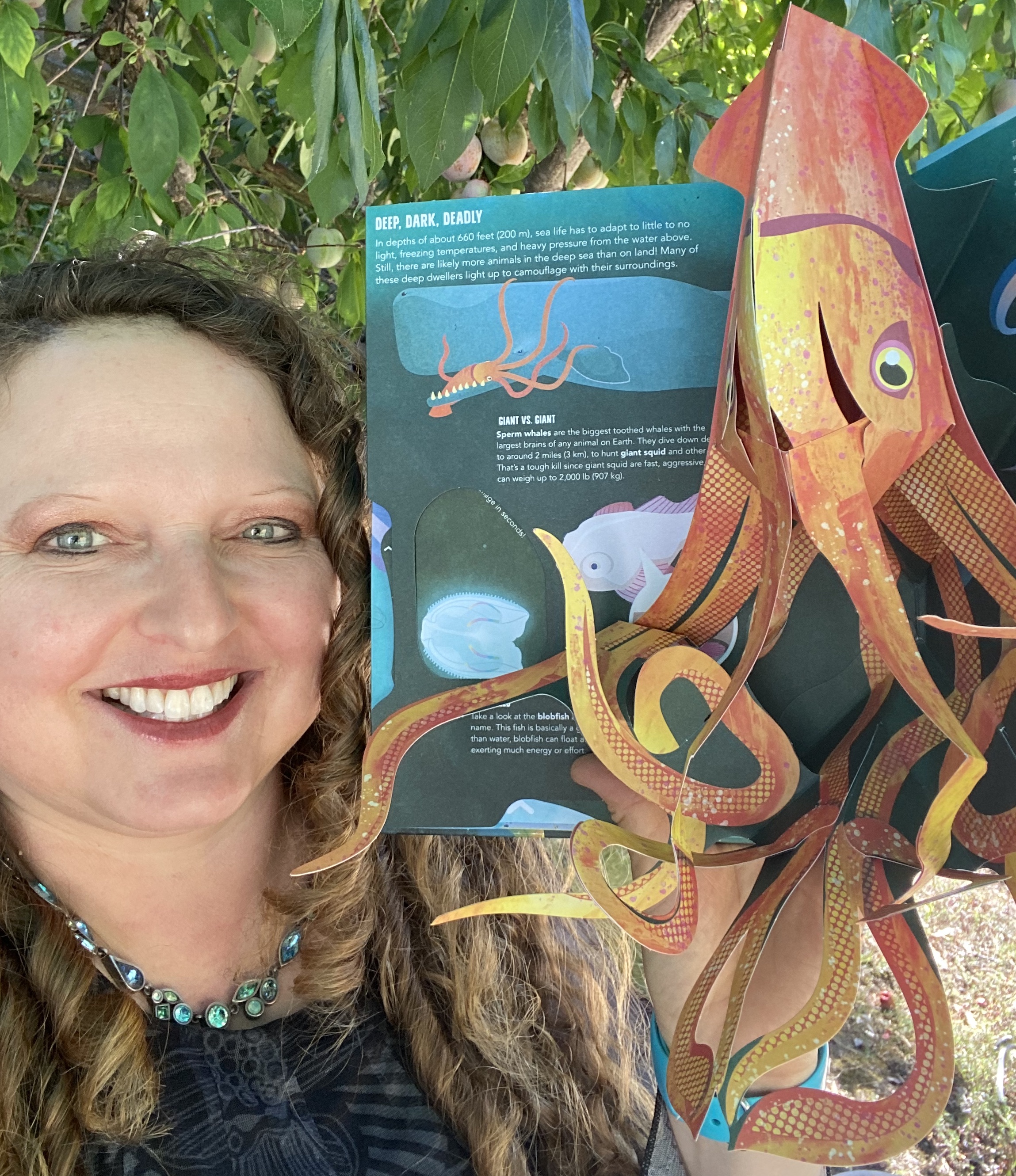 Susan B. Katz
Teeth, Tentacles, and Tail Fins: A Wild Ocean Pop-Up (hardcover, $75, 9781647227241, July 12, 2022)
Author Susan B. Katz on how it was taking a deep dive into writing a nonfiction pop-up book.
How is writing text for a pop-up book different from a traditional book?
Since Teeth, Tentacles, and Tail Fins is designed in subcategories, it was like writing a bunch of little books within a book. Also, each page features so many amazing ocean creatures that we wanted to make sure the text POPS as much (well, almost as much) as the illustrations. That meant thinking of creative subheadings, engaging questions and info for young readers, and succinct ways to get across details about each fish, mammal, etc. I used alliteration (e.g., fossils or frills?), plays on words (e.g., clowning around--for clown fish), and onomatopoeia (Ice... Brrr!) to grab readers' attention in each section. Fitting all the information into the text box forced me to choose my words very carefully.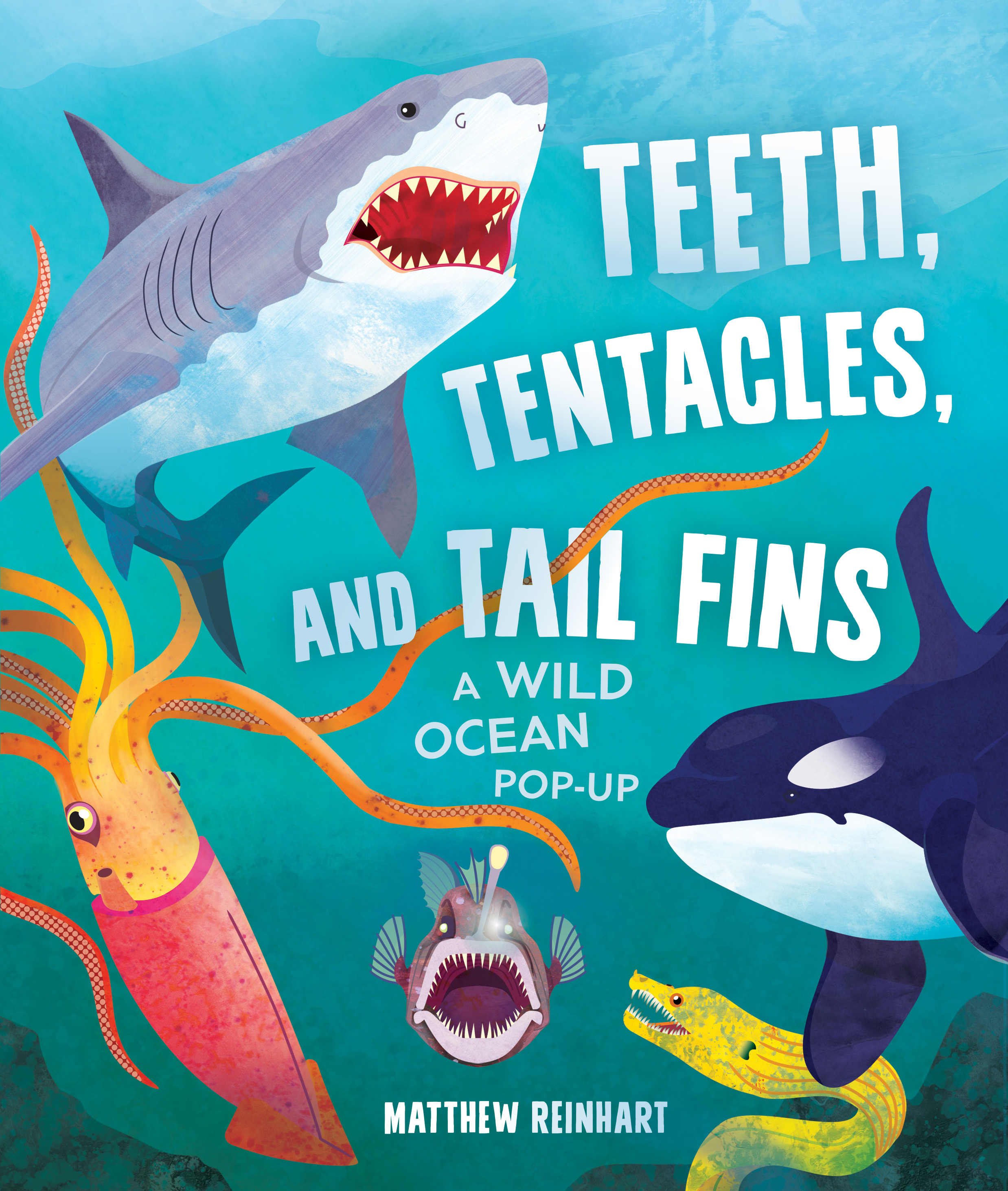 How do pop-up books help young readers experience and understand nonfiction?
As a former educator, aunt, and author, I've seen the delight that pop-up books spark in young readers' eyes. With each turn of the page, and every pop that jumps off the page, children are instantly engaged in the book. It's an interactive learning experience. What we, in education, call "chunking" information happens naturally as almost all of the text is about the length of a social media post. It helps children digest and process STEAM information in an accessible way. Teeth, Tentacles, and Tail Fins caters to the natural, roving curiosity most children have at the pop-up stage.
What did you learn that surprised you about ocean creatures?
I'm an avid snorkeler and photographer, and have gone whale watching many times. I learned that baleen whales actually don't have any teeth! They have baleen plates (kind of like fingernails) that filter out shrimp, krill, plankton, and small fish for them to swallow. Also, as if the ocean wasn't amazing enough--through my research I found out that colossal squid can grow to be as long as a semi-truck! And did you know that elephant seal pups can gain 10 lbs/day when they're first born? (I didn't!)
How did you and Matthew Reinhart collaborate?
Matthew sent me (through our editor) a spreadsheet of potential facts we could include. From there, I researched more about each animal, revised it into "kid speak," and added language that engages readers. I really admire Matthew's palette, design, and accomplishments so I am honored to have written a pop-up book that he illustrated.
What makes pop-up books so appealing to kids?
Kids will beg to come back to the book time and time again. Each time, they'll learn a new fact, pull a different tab, or investigate the pop-up teeth, tails, and tentacles. The design and thought that goes into the craft of making pop-up books is a craft that really takes an engineering eye to make everything durable, foldable, and, most importantly: FUN!

Publisher-supported content.
Great Reads
Rediscover: White Noise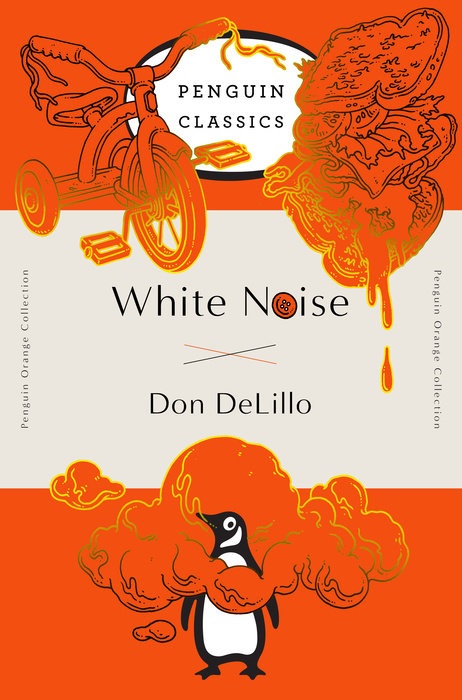 White Noise, an adaptation of Don DeLillo's 1985 novel written and directed by Noah Baumbach, will open the 79th Venice Film Festival on August 31 before appearing on Netflix later in 2022. It stars Adam Driver as Jack Gladney, professor of Hitler studies at a midwestern college called The-College-on-the-Hill. He and his fourth wife, Babette (played by Greta Gerwig) care for four children and step-children and are both terrified of death. When a train full of chemicals derails, Gladney's town is subsumed by the Airborne Toxic Event, a catalyst for thematic explorations of death, consumer culture, academia and religion. The film also stars Don Cheadle, Raffey Cassidy, Sam Nivola, May Nivola, Jodie Turner-Smith, André L. Benjamin and Lars Edinger.

DeLillo's postmodern breakout book, his eighth novel, won the National Book Award for Fiction and was included in Time's list of Best English-language Novels from 1923 to 2005. DeLillo has also received the Norman Mailer Prize for Lifetime Achievement, the Library of Congress Prize for American Fiction, the Jerusalem Prize and the PEN/Faulkner Award, among numerous other accolades. His other novels include Libra (1988), Mao II (1991), Underworld (1997), Falling Man (2007) and Zero K (2016). His most recent book, The Silence, came out in 2020. In 2016, Penguin Classics released White Noise as part of its Penguin Orange Collection ($18). --Tobias Mutter