Week of Friday, August 19, 2022
Saturday is Bookstore Romance Day, and it's a perfect occasion to seek some great romance reading; in this issue we review Alicia Thompson's Love in the Time of Serial Killers; Minnie Darke's With Love from Wish & Co.; Lucy Checks In, a romance set in France; and British author Mhairi McFarlane's Mad About You.
But wait, there's more: starred reviews this week include Stories from the Tenants Downstairs by Sidik Fofana, featuring residents of a low-income apartment building in Harlem; Magnolia, the lush debut poetry collection from essayist Nina Mingya Powles; and Diane Zahler's Goblin Market, a delightfully imaginative story about the bond between two sisters.
In The Writer's Life, Naseem Jamnia, a Persian-Chicagoan former scientist, discusses The Bruising of Qilwa, which explores questions of identity and belonging in a nuanced medical mystery.
The Best Books This Week
Fiction
Stories from the Tenants Downstairs
by Sidik Fofana
Stories from the Tenants Downstairs, Sidik Fofana's electric debut, consists of eight stories featuring eight residents of a low-income apartment building in Harlem where rents are rising and eviction notices are multiplying. These men and women struggle at the edge of making ends meet and cope by various means, including hard work, stiff upper lips, bluffing, bluster and despair.
Mimi runs a hair salon out of apartment 14D, spends beyond her means and dreams of a house in the suburbs with her son's father, Swan. Swan (6B) lives eight floors below, with his mother, marveling at the country's first Black president and wishing he could find his own way out of the hustle. Swan's mother, Ms. Dallas (6B), wrestles with her day job as a paraprofessional at the local public school, bemoaning the students' behavior, scorning the young do-gooder teachers and awaiting the school's looming closure. Two students from Ms. Dallas's school each feature in stories of their own. Kandese (3A) suffers losses upon losses, while her boyfriend, perennial follower Najee (24M), dreams of stardom but finds tragedy. Mimi's erstwhile assistant, Dary (12H), flirts with a darker line of work. Neisha (21J), a former aspiring Olympic gymnast, has quit college and returned home to the building, where she has to face a trauma that still haunts her. Old Mr. Murray (2E) just wants to play sidewalk chess in peace, but the old ladies of the Banneker Terrace Committee of Concern want to make him their cause.
This quickly shifting narrative introduces vibrant, appealing characters in brief but three-dimensional sketches, and paints a larger picture of existential efforts and persistence. --Julia Kastner, librarian and blogger at pagesofjulia
Scribner, $26, hardcover, 224p., 9781982145811
Estates Large and Small
by Ray Robertson
The life of a middle-aged used bookseller in Toronto might not sound like promising fictional material, but in Estates Large and Small, Canadian novelist and critic Ray Robertson provides a warmhearted and unconventional love story that's also an opportunity for a gentle encounter with some of life's fundamental questions.
After a rent increase and the complications of commerce in the time of covid-19 force Phil Cooper to close his physical bookstore, he moves his inventory of 10,000 books online. When he's not anxiously checking his new website for orders, he's often visiting Toronto homes where survivors are anxious to dispose of a departed loved one's book collection. It's on one of these excursions that Phil meets Caroline, a well-educated, retired mail carrier who possesses a library she wants to sell after receiving a terminal cancer diagnosis. The chemistry between the pair, both of whom bear their share of scars from more than five decades of life as singles, is nearly instantaneous. Phil, an autodidact whose formal education ended with high school, invites Caroline to join him on a project he'd already begun as a solo quest--a survey of 2,500 years of Western philosophy.
Robertson (How to Die: A Book About Being Alive), who majored in philosophy at the University of Toronto, writes Phil with droll humor and world-weary cynicism, and Caroline with clear-eyed determination to live her final days on her own terms. Like the philosophers they encounter, Estates Large and Small only hints at answers to life's deepest mysteries, but it's a wise reminder that the journey is really the point. --Harvey Freedenberg, freelance reviewer
Biblioasis, $18.95, paperback, 320p., 9781771964623
As It Turns Out: Thinking About Edie and Andy
by Alice Sedgwick Wohl
It was likely with tongue in cheek that Andy Warhol titled one of his movies starring Edie Sedgwick (1943-1971) Poor Little Rich Girl. That's precisely how the world saw Sedgwick: "The gossip columns called her a debutante, an heiress, and a Boston Brahmin, but Edie was nothing of the sort." So writes Alice Sedgwick Wohl, Sedgwick's older sister, in As It Turns Out: Thinking About Edie and Andy, a remarkable biography centered on a tragic American icon.
As It Turns Out has three parts, each of which offers a different approach to its subject, beginning with an expansive look at life for the eight Sedgwick children on the family ranch in California. The book's second part is a deep dive into the pivotal year of 1965, when Sedgwick and Warhol were the toast of underground New York. The third is a critical assessment (Wohl is a translator of several books on art) of Warhol's work and Sedgwick's place in it.
With her death at age 28 from a barbiturate overdose, the bewitching Sedgwick was frozen in amber in the public's eye. But Wohl makes a good dent in the mythology of her sister, whom she has come to see as "entirely and genuinely herself at all times." As It Turns Out is a headstrong book with an enticingly conversational tone and heartbreak at every turn: "A beautiful, ideal family leading a beautiful, ideal life was the image... I would have given anything to be part of it." --Nell Beram, author and freelance writer
Farrar, Straus and Giroux, $28, hardcover, 272p., 9780374604684
All of This: A Memoir of Death and Desire
by Rebecca Woolf
At the risk of speaking ill of the dead, Hal, the late husband of Rebecca Woolf (Rockabye: From Wild to Child), wasn't the nicest guy. This idea is at the center of All of This: A Memoir of Death and Desire, an unapologetic and unbridled account of the complicated grief felt by a widow who spent much of her marriage wanting a divorce. As Woolf asks in her introduction: "Is it more important to bury the truth of a dead man than to honor the truth of those who survived him?" Readers of All of This may well come to agree with Woolf that the answer is no.
Woolf met Hal, a musician and later a producer, in 2004, when she was 22. Four months of dating later, she was unintentionally pregnant. (Hal wasn't one for condoms.) Woolf and Hal married five months into the pregnancy, and they lived in Los Angeles until he died of pancreatic cancer 13 years later, at age 44.
Doctors came through with a diagnosis for Hal's cancer but apparently not for his anger management problem: he was "incapable of discretion when it came to rage," Woolf writes. She threatened to leave Hal many times and writes that, finally, "our marriage was over, and we were trying to figure out how to successfully split as he played down the dull pain in his lower abdomen." Four months after his diagnosis, he was dead.
All of This will surely offer succor to anyone who has gone through a significant loss but especially to those who can admit that the death afforded a release. --Nell Beram, author and freelance writer
HarperOne, $26.99, hardcover, 256p., 9780063052673
Autoportrait
by Jesse Ball
He's known for dystopian works of fiction, so readers familiar with Jesse Ball (The Divers' Game) may be surprised by the whimsical nature of his memoir, Autoportrait. His approach is unconventional but not unprecedented. Ball admires French author Édouard Levé's Autoportrait, published in 2005 and written as a series of fragmentary observations. This approach to writing a biography, Ball writes, "lets the facts stand together in a fruitless clump, like a life." So he attempts a similar feat in this continuous paragraph, over 100 pages long, of non sequiturs that whip back and forth between mundane observations and traumatic experiences. One moment, he mentions a middle-school classmate who killed himself. In the next sentence he writes of his childhood fear of "snakes, the dark, the depths of the cosmos" and then notes the time "my first wife went away." For every devastating revelation ("When I was in high school, I used to think constantly about whether I should unplug my brother from life support") there's a disarmingly wacky comment: "I can be coaxed into buying an unreasonable amount of cheese."
The whole book is such: lighthearted to sad and back again, a series of declarations made without elaboration. Depending upon one's view of human nature, readers will find this approach scattershot and superficial or provocative, messy and refreshingly honest. Whichever side one chooses, one can't deny its effectiveness. Autoportrait is a crazy quilt of a memoir, an assemblage of wildly different pieces that, when put together, present a distinctive patchwork of themes and emotions. Like a life. --Michael Magras, freelance book reviewer
Catapult, $20, hardcover, 140p., 9781646221387
Slenderman: Online Obsession, Mental Illness, and the Violent Crime of Two Midwestern Girls
by Kathleen Hale
One of the most notorious crimes of the Internet Age took place in Waukesha, Wis., on May 31, 2014, when two 12-year-old girls stabbed a third girl 19 times, in order to appease a fictional ghoul they had become obsessed with online. As the victim recovered in a hospital and the assailants awaited trial, the media went viral with what was soon fearsomely misconstrued as the "Slenderman killings." But in the wildly unsettling Slenderman, Kathleen Hale, who originally covered the case for Vice, finds more to fear in a criminal justice system that is eager to try children in adult court, with adult sentences and a cavalier attitude toward evidence of mental illness and juvenile brain development.
The Slenderman case can seem impenetrably bizarre, but Hale nimbly documents the numerous contributing factors to the online legends, childhood-onset schizophrenia, the crime and its judicial outcome. Never one to accept villainous characterizations at face value, Hale (Kathleen Hale Is a Crazy Stalker) painstakingly peels back the sensationalized layers of the case. What she uncovers is a powerful rigidity in thinking about crime and punishment, especially in regards to the "superpredator." A phenomenon grown out of the 1990s, it became "the grown-up's version of Slenderman: a terrifying evil that did not actually exist."
Slenderman is careful not to minimize the seriousness of the crime in question: two girls nearly killed another. Instead, Hale builds a poignant rebuttal to one lawyer's repeated assertion that "there is only one victim in this case." Hale's capacity for empathy may be disagreeable to some, but her steady narrative vision brings clarity to a thoroughly upsetting situation. --Dave Wheeler, associate editor, Shelf Awareness
Grove Press, $27, hardcover, 368p., 9780802159809
Raising Lazarus: Hope, Justice, and the Future of America's Overdose Crisis
by Beth Macy
In the incisive Raising Lazarus, Beth Macy shines a spotlight on the stories of those battling the opioid crisis and the forces that hinder them. The crisis has continued to rage since Macy's first book on the subject (Dopesick), and lawsuits drag on against pharmaceutical companies. The owners of Purdue Pharma, the Sackler family, have begun to face a certain level of public shaming, including the removal of their name from some of the many institutions to which they purchased naming rights. Macy reports that substance-use disorder rates rose even higher at the beginning of the covid-19 pandemic and that the responses of law enforcement and medical experts to people who use drugs are frequently at odds.
Macy acknowledges that this is a bleak landscape: "This was supposed to be a hopeful book. It says so right there in the subtitle." The hope can be difficult to find amid the relapses, the minimal accountability for those who proliferated opioids and the resistance to medical treatments for opioid-use disorder. Yet Macy does shine a light on personal stories that give at least some reason to hope, particularly of those who tirelessly carry out harm-reduction campaigns in the face of opposition from the Not in My Back Yard forces or those attempting to be tough on crime.
Those who have read Dopesick or watched its Hulu adaptation will find everything they expect from Macy's keen and sensitive journalism in Raising Lazarus. --Kristen Allen-Vogel, information services librarian at Dayton Metro Library
Little, Brown, $30, hardcover, 400p., 9780316430227
Magnolia: Poems
by Nina Mingya Powles
Magnolia, the lush first poetry collection of 39 pieces by essayist Nina Mingya Powles (Small Bodies of Water), crosses cultures and languages, searching for a home amidst a riot of colorful flora. "Mulan" translates as magnolia, and Disney's take on the Chinese legend of Mulan, as well as the magnolia tree and its hue, are recurring references. For the mixed-race Powles, the film was an introduction to Asian representation: "The first movie I watched with a Chinese character in it was Mulan./ To help me practise, we watched it in Chinese but I understood none of the words."
Food and travel are enticing elements. "Breakfast in Shanghai" contains mouth-watering, alliterative descriptions: "Layers of silken tofu float in the shape of a lotus slowly opening under swirls of soy sauce." The city's impressions on 20th-century writers reveal its other angles: "Letter from Shanghai, 1938" incorporates lines from New Zealand poet Robin Hyde's travel memoir, while "Falling city" starts at novelist Eileen Chang's apartment and proceeds to examine her themes and characters. Powles experiments with formats throughout the collection, and her visual vocabulary is sumptuous: "Maggie Cheung's blue cheongsam is patterned with pink peonies. Dark magenta, dark magnolia, a colour that is edible."
To the complicated question of where one belongs, flowers and colors sometimes provide a miraculous answer, as when the poet finds a kōwhai tree--a reminder of New Zealand, where she's from--in her new surroundings in London. "For a moment I do not breathe air, I breathe yellow, I breathe myself home." --Rebecca Foster, freelance reviewer, proofreader and blogger at Bookish Beck
Tin House Books, $16.95, paperback, 104p., 9781953534217
The Writer's Life
Reading with... Naseem Jamnia
photo: Jeramie Lu
Naseem Jamnia (they/them) is a Persian-Chicagoan, former scientist and fiction MFA graduate from the University of Nevada, Reno. Their work has appeared in the Washington Post, Bitch Media, Cosmopolitan, the Rumpus, the Writer's Chronicle and elsewhere. Jamnia received fellowships from Lambda Literary and Otherwise and was named the inaugural Samuel R. Delany Fellow. Jamnia is the managing editor at Sword & Kettle Press. Their debut novella, The Bruising of Qilwa (Tachyon), explores questions of identity and belonging in a nuanced medical mystery.
Handsell readers your book in 25 words or less:
Queernormative, Persian-inspired secondary world--starring an aroace, nonbinary, blood magic-wielding refugee healer--about migration, medical racism, medical ethics and colonialism, centered around found family.
On your nightstand now:
At the time of writing this, it is Portrait of a Thief by Grace D. Li, an incredible meditation on colonialism, differences in diasporic experiences, being a child to immigrants, the Ivy Plus atmosphere and the Western gaze. I'm obviously not Chinese, but I do come from an Asian culture with a fraught history of imperialism and colonization. And I'm also a child of immigrants with complex diaspora feelings, who went to Ivy Plus schools--so the contents hit home in many ways.
Favorite book when you were a child:
There are many I could shout out, but I'll go with Tamora Pierce's Song of the Lioness quartet. More than any of her other books (and I've read all of them), Alanna's story has stuck with me all these years. It was the closest representation of my gender I saw for years; I didn't have the language of "nonbinary" until my 20s, but I'd always felt Alanna's struggles with her own gender were somewhat analogous to mine.
Your top five authors:
N.K. Jemisin is a maker and shaker. She is a legend. She writes masterpieces. She has forever changed speculative fiction.
Kazuo Ishiguro has been my favorite author since I first read The Remains of the Day in high school (it's the most perfect book ever written). His language is exquisite, and his stories are quiet and thoughtful--my favorite kinds.
S.A. Chakraborty is not only an all-around great person but also a fabulous writer. I fell in love with the world of Daevabad immediately--seeing my culture portrayed on the page so thoughtfully was amazing! I wish I had a fraction of her knowledge.
Charlie Jane Anders is one of the best humans I know, but Even Greater Mistakes demonstrates to me that she's also one of the best authors I've read. She's a powerhouse who has shaped and will continue to shape queer and speculative literature.
This is 100% cheating because the books aren't out yet, but Terry J. Benton-Walker is one of my closest friends and writes incredible books. His debut YA, Blood Debts, is full of love and compassion and justice. His debut middle grade, Alex Wise vs. the End of the World, will make so many kids feel seen.
Book you've faked reading:
Gosh, I was that kid in English class who consistently read everything that was assigned, but in my MFA I finally cheated and did not actually finish Virginia Woolf's To the Lighthouse. I had to read it in my Intro to Graduate Studies class; I was super overwhelmed with things, so I read some of it and, for the first time, used SparkNotes for the rest. I did not have it in me to blast through it on top of reading Moby-Dick for my fiction workshop. (Sorry, Dan!)
Book you're an evangelist for:
Have you heard the gospel of The Actual Star by Monica Byrne? I've gifted three or four copies of this book by now. It's a revelation. Three timelines, each set a thousand years after the next, with a tighter narrative than Cloud Atlas and a post-climate-collapse future that is hopeful and expansive societally, economically, socially and culturally. I'm amazed this book has not been on every awards list. It's truly a marvel on every level.
Book you've bought for the cover:
I bought the U.K. editions of the Blood Heir trilogy by Amélie Wen Zhao, because I am in love with those covers. This feels like a fake answer because Amélie is a friend of mine, so I would have bought copies of her books anyway, but I could not resist the Goldsboro sprayed-edge editions.
Book you hid from your parents:
I don't remember how old I was when I got Are You There God? It's Me, Margaret by Judy Blume from the library, but I do remember acutely knowing that I could not, under any circumstances, let my parents know the contents of this book. Unfortunately, my parents did find out and made me return it, so I never finished it. (Very fortunately, they have grown with me as people and parents and, I think, would handle this very differently now.)
Book that changed your life:
Though it had been recommended to me before this, I didn't pick up Jemisin's The Fifth Season until after I'd quit my Ph.D. program and moved to Reno. I was working on a project that I'd been picking at for a few years, but it wasn't coming together. The Fifth Season not only unlocked that project for me (this became my MFA thesis novel, which later inspired The Bruising of Qilwa, which is set in that same universe) but also showed me what speculative fiction--indeed, what all fiction--could be. I've always loved English class, because literary analysis makes books come alive in a whole new way for me; reading The Fifth Season showed me that books across genres can be master classes in literature, worthy of such analyses. I was stunned by Jemisin's point-of-view choices, braided narrative, time jumps, character designs, worldbuilding--every word in that book is utter perfection. It fundamentally changed how I approach writing.
Favorite line from a book:
"Indeed--why should I not admit it?--in that very moment, my heart was breaking." --Kazuo Ishiguro, The Remains of the Day
Five books you'll never part with:
Because I already waxed poetic about The Fifth Season and chose a quote from The Remains of the Day, I'm going to list five other books in the interest of ~diversity~ in my answers.
So You Want to Be a Robot by Merc Fenn Wolfmoor--an exquisite short fiction collection by one of the most revolutionary authors I've ever read.
She Who Became the Sun by Shelley Parker-Chan--holy cannoli on a ravioli, Batman, I hope one day I can write a historical speculative fiction of Iran like this.
The Complete Persepolis by Marjane Satrapi--the book I first saw myself in, at age 21.
Borderlands/La Frontera by Gloria Anzaldúa--a stunning examination of liminal spaces of identity.
Craft in the Real World by Matthew Salesses--a redefinition of craft and validation of the experience of being a marginalized person in writing workshops.
Book you most want to read again for the first time:
It took me a while to realize the answer here: The Traitor Baru Cormorant by Seth Dickinson. It's exquisite on the line level and in its larger scope; how does someone make accounting so tense? I'm in awe of every line: "This is the truth. You will know because it hurts." AND IT HURTS A LOT!

Life on the Mississippi: An Epic American Adventure
by Rinker Buck
For Rinker Buck, conquering the 2,000 miles of river between Pittsburgh and New Orleans on a hand-built wooden flatboat was more than an attempt to sate his lifelong appetite for adventure; it was a journey into the past, a way of exploring an overlooked but crucial chapter of American history. In Life on the Mississippi, his illuminative and entertaining account of his days aboard his ramshackle rivercraft, Buck describes how his fascination with "a primitive technology, a simple wooden box called a flatboat" deepened and transformed his understanding of his country and its past.
This feat--retracing a fabled route that doubles as an opening into a forgotten or misunderstood aspect of American history--is hardly the author's first. As teenagers, Buck and his brother completed a daring coast-to-coast flight across the U.S., becoming the youngest pilots to do so. The story became the stuff of legend, immortalized in his Flight of Passage, a cult favorite among aviators. Decades later, accompanied by another brother and a team of mules, Buck drove a covered wagon 2,000 miles along one of the nation's most arduous routes, the basis for his PEN/New England Award-winning book The Oregon Trail.
It was while researching the Oregon Trail pioneers that the author was first struck by the importance of "the great flatboat era," the period preceding and overlapping the westward push across the plains. The flatboat pilots of the eastern riverways had forged a "plucky, hand-me-down ingenuity"; that the flatboat has not enjoyed the same iconographic status as the covered wagon is a mistake Life on the Mississippi aims to address.
The reasons for the craft's marginalization in history, Buck suggests, are twofold. First, the lofty outlook of many traditional historians, with their "composite of high theory and 'great man' narratives," does little to reflect the "hardscrabble, edgy lives of most 19th-century Americans," of which the flatboat was a product. Secondly, few traces of the flatboat era have survived in the physical culture of the United States, which points to both the vessel's versatility and the resourcefulness of its operators. In one of the book's many revelatory details, Buck notes that most flatboats, upon reaching their destination, were stripped and sold as salvage, helping build the young nation's (largely wooden) infrastructure and boosting the boatman's profits. "History," Buck remarks, "was literally destroying a record of itself every time a flatboat landed and was taken apart to build something else."
Enthralled by the "chaotic, democratic forces that had contributed to the flatboat era," Buck is not content to simply study this history from afar; he closes the gulf of time by building a boat of his own. Though the resultant vessel is certainly flawed--the craftsmanship of the historical reenactor-cum-boatbuilder he hires to help leaves something to be desired--its charm is undeniable, its imperfections evocative of the rough-hewn texture of frontier life. Buck christens the flatboat Patience, a name that reflects his own temperament and, he soon learns, a requisite virtue of any halfway decent riverboat pilot.
Life on the Mississippi succeeds, in one way among many, as an ode to cool heads; life aboard the Patience puts the author up against the crowded and potentially hazardous industrial spaces that are the modern American riverways, requiring him to navigate around massive commercial tugboats as well as reckless pleasure boat owners. Family, friends and skeptical strangers repeatedly warn Buck that his river adventure will be the death of him, but his easygoing confidence and calm rationality win out. In fact, moments of stress and adversity often deliver Buck to a state of paradoxical serenity, and make for some of the book's most arresting scenes; when he successfully frees the stranded Patience from a mudbank, he is "filled with the most glorious feelings of freedom and self-love."
Along the way, Buck takes care to pay tribute to his many forebears in the genre of riverboat travelogue and cites the wisdom of these texts so frequently that their authors feel like crewmates. Asbury C. Jaquess's 1834 narrative and others like it provide an aesthetic as well as practical template for the Patience expedition, stoking Buck's sense of romance and getting him out of a few tight spots along the way.
More than once during his riverine odyssey, Buck recalls a passage from Jaquess's journal where the adventurer remarks that time spent sailing is among the best ways one might "acquire a knowledge of human nature." The significance of this notion is clear in Life on the Mississippi. Perhaps the book's most poignant aspect is achieved thanks to the author's ability to sketch brief, affecting portraits of the people with whom his voyage brings him into contact. Notable among these is the "river rat" Ron Richardson, whose brief appearance in the book has an outsized resonance. The story of Richardson's family and its multiple generations who lived in close connection to the river allow Buck, in a few short pages, to gesture at a whole world with America's rivers at its center. Buck's ability to deftly balance the intimate and the epic, along with his pervading charm and literary panache, make Life on the Mississippi an entertaining and engrossing read. --Theo Henderson
Avid Reader Press, $32.50, hardcover, 416p., 9781501106378
An Interview With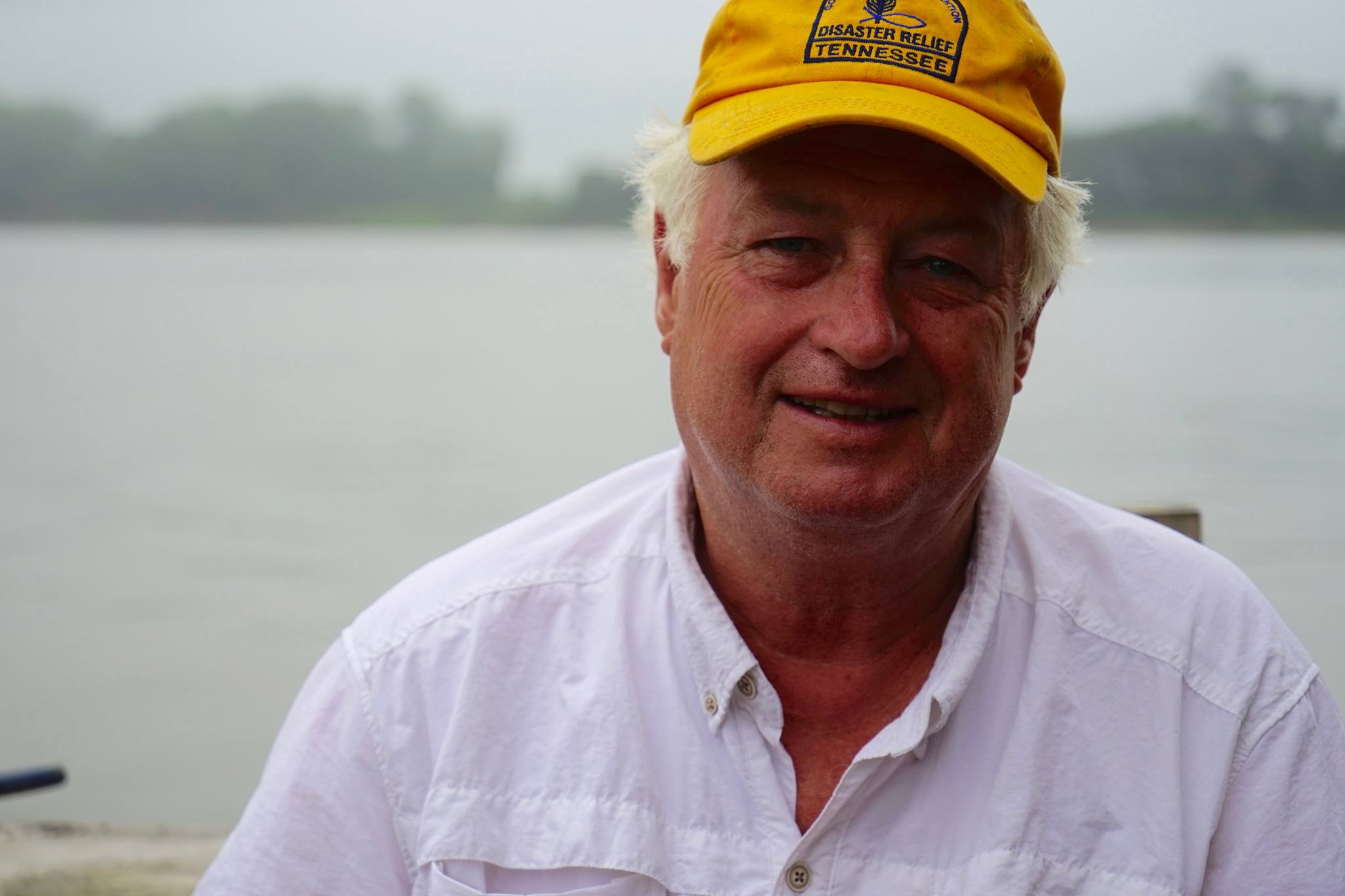 (photo: Dan Corjulo)
Rinker Buck is the author of several bestselling and award-winning books, including The Oregon Trail, Flight of Passage and First Job. His journalism career has included tenures at the Berkshire Eagle and the Hartford Courant, and his writing has appeared in Vanity Fair and Time, among other publications. He has traveled the United States by motorcycle, airplane, covered wagon and, now, flatboat. In Life on the Mississippi: An Epic American Adventure (Avid Reader Press, August 9, 2022), Buck combines memoir and history, using his 2,000-mile voyage on the Ohio and Mississippi rivers to reexamine the American frontier.
Your book places a simple and unassuming technology, the wooden flatboat, and the river networks on which it traveled, at the center of the frontier experience in the nascent United States. Why has it taken so long for the flatboat to get its due?
The writing of history about America's formative years has tended to focus on the theoretical consequences of the founders' original sin: the legalization of slavery. Thus, most of the attention has been paid to moments like the Missouri Compromise, the Kansas-Nebraska Act and the Compromise of 1850. These congressional battles tended to focus on midwestern and western states on the plains--Missouri, Kansas, Nebraska--and thus the focus was always on the covered wagons crossing those spaces, and not the flatboats of an earlier era.
We haven't been very well served by the American historical establishment. History is not simply political battles in Washington or diplomatic quarrels conducted across the Atlantic. It is also the lives, inventions and economic ingenuity of the common man, which Ivy League scholars, who have dominated the field and set the tone for teaching in the schools, have no interest in.
The role of the Hollywood movie in creating popular culture was also a big factor. Movies aren't really movies. They are repetitive genres--the myth of the west, the myth of romantic love, the myth of Mafia dons as lovable rogues and murderers. For reasons that I can't explain, the covered wagon and the cowboy became a more enduring motif than a river migrant on a wooden boat. Perhaps it's because the man on the horse is more romantic, but surely the Hollywood western dominated popular thought about the frontier.
Throughout your book, you refer often to the memoirs and travelogues produced by the flatboat adventurers of the 19th century. What speaks to you about these narratives, and why was it important to incorporate them so prominently into your own story?
The best history that you can write is not summation, but the words and the textuality delivered by the people who actually lived it. Original source material makes the narrative. It's a lot of work. I had to scour through local history rooms and search the web sites of historical societies all around the country to deliver these tangible histories. But there is a vividness and tangibility to the (sometimes barely grammatical) accounts of the flatboaters themselves. Who wants to read a bland summation about the number of Bible salesmen out there on the rivers? Or a bland summation of the impact of thunderstorms on the river? But when I take you along on the 1819 trip along the Mississippi when the Flints bury their infant daughter after being ravaged by a thunderstorm, the reader is engaged in storytelling, compelling narrative, and not just stale history. I try to achieve that effect in all my books. It's about the storytelling and the quality of the prose.
This book is the product of conventional research as well as a more experiential, hands-on approach. Is one aspect of this hybrid method more essential in grasping your subject?
They are inextricable. I do all the research and play it back for the reader as artfully as I can, because that's what readers deserve to receive from a writer: hard, serious, detailed fact and analysis. But this is made more attractive by the writer's own adventures in the same historic space. My experiential, hands-on descriptions of my own journey provide the narrative structure for the telling of the history. Will the author make it? How does he get around the barges the next time? My editor calls this kind of book "participatory history." The author actually occupying the same space and experiencing the arduousness of the original journey adds the drama that makes the book a compelling narrative.
The riverscapes you encounter on your journey are a far cry from the idyllic, picturesque scenes one might expect; they're largely commercial spaces, profoundly transformed by two centuries of industry and waste. Yet you seem no less enchanted by them. Was the tension between a mythic American past and the realities of the rivers today something you wrestled with?
I didn't wrestle with this as a tension. I confronted it as a reality, a felicitous contradiction to write about. History is a continuum. Everything that is present today is a reprise of factors that existed years ago. So it's all one long chain of time. But why should we consider the industrial blight of today as somehow less inspiring than the exquisite state of nature a century or two ago? Of course you can take this to extremes and not fight for environmental protection and conservation. But there is beauty there in the Rust Belt, too. I describe this early in the book when I talk about the beauty of the flatboat Patience swaying on its lines that first night after we dropped her into the Monongahela River above Pittsburgh. There is a black, woodblock, Ashcan School beauty to the industrial grimness of the American Ruhr, especially at night. The next day, as we sailed the Monongahela, I write about the "American rhapsody" of rail yards clanging, the din of highway traffic and iron foundries echoing with drop-hammer bangs that is beautiful and even exotic to the ear.
What about traveling by river changes how you see the country--its landscapes or its history?
There is something about being on the river that leads you to a sense of wonder about the countryside you're passing. The mountains hide the Rust Belt. So much of American development was along the rivers, the Ohio especially--this is less true of the Mississippi, but in some sections it's true. The Ohio, for almost 700 of the 1,000 miles it runs, is separated on both sides by the Appalachians. Initially, industry was located along the riverbanks to take advantage of water power. The interstate is beyond the Appalachian peaks. The interstate highway system, ironically, robbed us of the river views. We've been separated from the rivers. And for that reason, I don't think the American public really appreciates what happened during deindustrialization--because they can't see it.
Do you hope that readers of this book will build their own flatboats and float down the nearest river? And if not that, what do you hope the book inspires in its readers?
No. I don't hope for this, and I don't expect it either. Writers take these experiences for you so that you can sit in the relative safety of your living room or porch and experience it all without having to take to risk yourself. I spend huge amounts (bankruptcy amounts) making these trips so I can contribute to readers' understanding of history and adventure. It's tough but I have been doing it for years and I am inured to the hazards. Don't try this at home, friends. --Theo Henderson
Shelf vetted, publisher supported.
Rediscover
Rediscover: The Satanic Verses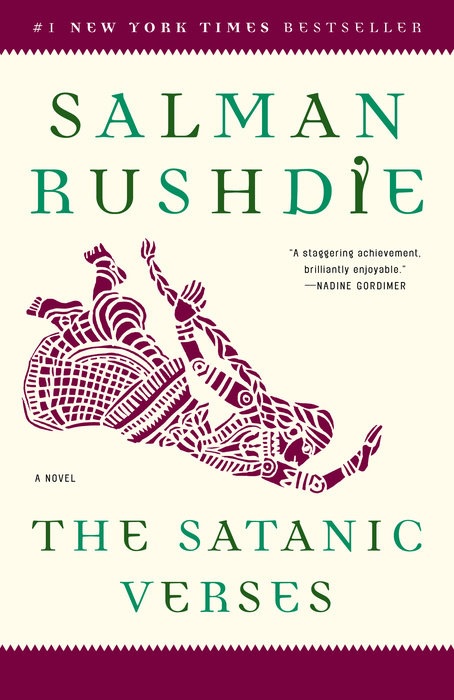 Salman Rushdie is, thankfully, on the road to recovery after the shocking attack last week that left him hospitalized with wounds to his face, neck and abdomen. The stabbing is a grisly result of the fatwa declared by Ayatollah Khomeini in 1989 over Rushdie's novel The Satanic Verses, which was perceived as irreverent in its depiction of the Islamic prophet Muhammad. Rushdie lived under strict security measures for many years, many of which had been relaxed prior to the attack.

Henry Reese, who was moderating the event and was injured when he went to Rushdie's aid, is co-founder of City of Asylum in Pittsburgh, Pa., which promotes free expression, provides sanctuary for writers and artists under threat of persecution, and has a bookstore. He suggested to CNN that people react to the attack by buying a book by Rushdie and reading it; writers should "write to the full extent of truthfulness and their ability"; and all should recognize that creative expression "brings people to discuss important issues and to think about people other than themselves." Sales of Rushdie's books have surged since the attack.

The Satanic Verses follows two Indian expatriates on a hijacked flight from India to Britain that explodes over the English Channel. Both are miraculously saved; one takes on the personality of the archangel Gabriel, the other a devil. Their resulting experiences in England frame a series of dream sequences, including one based on the life of Muhammad. The novel's title refers to several Quranic verses about the pre-Islamic pagan gods of Mecca that Muhammad later renounced as errors induced by the Devil. Rushdie is the author of 11 other novels, including Midnight's Children (1981), which won the Booker Prize. The Satanic Verses is available from Random House Trade Paperbacks ($19).