Week of Friday, August 26, 2022
Be sure to check out our starred reviews this week, which include Sinclair McKay's Berlin, zeroing in on World War I to the fall of the Wall in 1989, "a love letter to the indomitable spirit of Berliners"; Big Red: A Novel Starring Rita Hayworth and Orson Welles by Jerome Charyn, with "delicious cameos" by Hollywood players; and Brand-New Bubbe by Sarah Aronson, illus. by Ariel Landy, "an interfaith celebration of open-mindedness and the unifying power of a good bowl of soup."
The author of Family of Origin, CJ Hauser, discusses her first work of nonfiction, The Crane Wife: A Memoir in Essays, in The Writer's Life. The title comes from Hauser's essay first published in the Paris Review and read by more than one million people.
The Best Books This Week
Fiction
The Blame Game
by Sandie Jones
British author Sandie Jones (The Guilt Trip; The Other Woman) has an affinity for concise psychological thrillers with solid twists. She takes another leap forward in The Blame Game, her highly entertaining fifth novel. Naomi Chandler is a caring, thoughtful psychologist, but she often crosses the line by getting overly involved with her clients. Violating her clinical training and professional ethics has caused her trouble with her supervisors and her husband, Leon. But even though her entanglements have put her in danger in the past, she can't seem to keep distance from her patients. She decides to offer her patient Jacob Mackenzie their vacant flat in nearby Whitstable, England, so he can escape his violent, abusive wife. Knowing that Leon will be adamantly opposed, Naomi doesn't tell him.
Naomi worries about her own safety--and Jacob's--when she finds her office unlocked and Jacob's file missing. She becomes even more enmeshed in Jacob's life when he disappears shortly after she meets him in a hotel bar. Police suspect that Naomi has harmed Jacob, particularly when frantic, violent-sounding text messages suggest she was having an affair with him.
Jones keeps the tension high: Naomi believes she is being gaslighted as she deals with her murky past, which includes a violent father newly released from prison for killing her mother. Although Naomi often makes bad choices that put her in danger, Jones shapes her character as an appealing, likable one worth caring about. --Oline H. Cogdill, freelance reviewer
Minotaur, $27.99, hardcover, 256p., 9781250836908
Babysitter
by Joyce Carol Oates
Three people form the points of a twisted triangle of abduction, abuse and adultery in the simmering yet swollen Babysitter by Joyce Carol Oates (Hazards of Time Travel; The Doll-Master and Other Tales of Terror; The Man Without a Shadow). In 1977, a series of child abductions and killings rock the Detroit area. All the children are "not loved & not deserved," according to a mysterious note from the serial killer, whom the media dubs Babysitter. In the upscale suburb of Far Hills, 39-year-old Hannah Jarrett is a bored housewife to a successful businessman, whose interest in her declines daily. Hannah, despite her rambling home, designer clothes and live-in nanny, feels empty and insecure. After meeting an enigmatic stranger known only as Y.K. at a fundraiser, she immediately engages in an illicit affair that catastrophically unravels her.
Mikey Kushel, longing for love in a landscape without justice, is a street hustler and survivor who picks up odd (and always dirty) jobs from a man he knows only as "Hawkeye." When Babysitter abducts a child close to the Jarretts' home, these three strangers find themselves linked to each other in inexplicable ways and with horrific consequences.
Oates doesn't stint on her usual themes--sexual predation, violence and racism--which tend to disgust more than they educate. Indeed, the roll call of damaged, passive women and the all-men-as-monsters motif wears thin after a while. What saves this bloated tale is Oates's superb prose, a jagged stream-of-consciousness that gets into the dark, crawling places of her characters' minds. Readers will be engaged--and enraged--to the very surprising end. --Peggy Kurkowski, book reviewer and copywriter in Denver
Knopf, $30, hardcover, 448p., 9780593535172
Bad Fruit, Ella King's debut, is an emotionally devastating novel that plumbs the depths of toxic mother-daughter relationships. Lily is the high-achieving youngest daughter of a Singaporean mother, May, and a British father, Charlie, who live in London. Although May has been volatile Lily's entire life, Lily knows that no one--not her combative sister or her unstable brother--has ever been able to handle her mother the way she can. She's her mother's favorite, and she has acclimated to constantly contorting herself to make sure that remains the case. But as Lily's departure for Oxford looms, the untenable family dynamics become increasingly tense and Lily begins to experience disturbing flashbacks, ones she is sure can't be her own.
While steadfastly remaining a work of literary fiction, King's novel incorporates elements of a domestic thriller with its gradual but unsettling escalation of everyday tension. The intricate web of Lily's bond with her mother, though clearly toxic from the start, and the family's complicated relationships are perfectly captured to present a reality in which such behavior is manageable. Thus, readers are expertly drawn into Lily's increasingly fraught and strangled attempts to maintain peace, even in the most unnerving circumstances. Perhaps most impressive, though, is King's nuanced portrait of May, a woman who manages to be at once a villain and a victim, a woman smart enough to know how to use her own victimhood and vulnerable enough to still never understand the extent of her own pain. --Alice Martin, freelance writer and editor
Astra House, $27, hardcover, 256p., 9781662601491
Science Fiction & Fantasy
The Very Secret Society of Irregular Witches
by Sangu Mandanna
A lonely young witch hiding in plain sight finds acceptance and family in The Very Secret Society of Irregular Witches, the romantic, effervescent first adult novel by YA and middle-grade author Sangu Mandanna (Kiki Kallira Breaks a Kingdom; A Spark of White Fire; The Lost Girl).
Mika Moon chafes at the Rules, a set of regulations established for witches, chief of which is that witchcraft remain secret. Her tiny act of rebellion is posting social media videos of real magic tricks. She expects viewers to say she's a fake. However, "in a big house in a quiet, windy corner of the Norfolk countryside, a skinny old man in a magnificent rainbow scarf and enormous fluffy slippers was saying exactly the opposite." Mika receives a direct message requesting a live-in tutor for three magically gifted girls at remote Nowhere House. She accepts. In addition to the precocious children, she meets elderly Ian and Ken, devoted husbands; the kindly housekeeper, Lucie; and grumpy, gorgeous librarian Jamie. Mika finds that she fits into this makeshift family, but her happiness may unravel when she learns the denizens of Nowhere House have a bigger secret than magic.
This cozy, charming fantasy about found family and self-acceptance enfolds readers in a delightful cocoon of magic and humor. The slow-burn romance between Jamie and Mika progresses satisfyingly from adorable to steamy, but the story's strength lies in its diverse ensemble cast. Relationships among characters are well-drawn and heartwarming, and the author's kidlit background shines in her well-realized child characters. Readers looking for an affirming comfort read will happily succumb to Mandanna's spell. --Jaclyn Fulwood, blogger at Infinite Reads
Berkley, $17, paperback, 336p., 9780593439357
Berlin: Life and Death in the City at the Center of the World
by Sinclair McKay
In Berlin: Life and Death in the City at the Center of the World, Sinclair McKay offers a sweeping survey of the city of Berlin from the end of World War I to the fall of the Wall in 1989. McKay focuses on the Weimar and Nazi periods, with special emphasis on the traumatic conquest of the city by the Red Army in 1945. Arguably, it's the most tumultuous and difficult period any city has experienced in such a relatively short time.
McKay emphasizes the seeming contradictions of Berlin and its people. Beginning under the Kaiser and reaching full blossom in the 1920s, Berlin was a multicultural, cosmopolitan center of enlightenment, innovation and discovery in film, art, science, technology, jazz, classical music, sexual experimentation and study. McKay has a special appreciation for the Berlin tradition of sharp-edged humor and disrespect for authority. At the same time, during much of the 20th century, Berlin also suffered from extreme poverty, and McKay explores the tragic effects of that in detail. He discusses many familiar historical figures, including Hitler, Einstein, Werner von Braun, Herbert von Karajan and Billy Wilder. But he also includes many lesser-known important figures, as well as reminiscences and excerpts from contemporary letters and journals kept by a range of "ordinary" people--lifelong Berliners, slave laborers, Jews in hiding, attacking soldiers.
McKay, a features writer for the Telegraph, has written about the firebombing of Dresden in 1945 (The Fire and the Darkness) and Britain's crucial code-breaking work during World War II (The Secret Lives of Codebreakers). His expertise, empathy and wide-ranging perspective make this a love letter to the indomitable spirit of Berliners. --John Mutter, editor-in-chief, Shelf Awareness
St. Martin's Press, $29.99, hardcover, 464p., 9781250277503
The End of Solitude: Selected Essays on Culture and Society
by William Deresiewicz
In "On Political Correctness," a 2017 piece reprinted in the thematically wide-ranging and bottomlessly rewarding The End of Solitude, William Deresiewicz calls himself "an atheist, a social democrat, a native Northeasterner, a person who believes that colleges should not have sports teams in the first place, and, in case it isn't obvious by now, a card-carrying member of the liberal elite." But woe betide readers who think they have Deresiewicz pegged.
He may be a liberal, but Deresiewicz (Excellent Sheep; The Death of the Artist) thinks highly enough of conservative commentator David Brooks to reproduce his ideas in The End of Solitude. Deresiewicz may be of the left, but he doesn't dismiss right-leaning thinking out of hand: "If you want to find the counterculture on today's elite college campuses," he writes in "On Political Correctness," "you need to look for the conservative students." Deresiewicz may live in artisanal-this, organic-that Portland, Ore., but he has a quibble with foodie vogue: "What has happened, in retrospect, is not that food has led to art, but that it has replaced it," he writes in "Food, Food Culture, Culture." "Nobody cares if you know about Mozart or Leonardo anymore, but you had better be prepared to discuss the difference between ganache and couverture."
In The End of Solitude, which comprises 42 essays, dating back to 1993, Deresiewicz also turns the lens on himself, most revealingly in the book's newest essay, 2022's "Birthrights." It's a piquant reflection on his decision to abandon Judaism for atheism that nimbly slips into a case for assimilation--and yes, Deresiewicz knows that assimilation has fallen out of favor. --Nell Beram, author and freelance writer
Holt, $29.99, hardcover, 320p., 9781250858641
Learning in Public: Lessons for a Racially Divided America from My Daughter's School
by Courtney E. Martin
In Learning in Public--a Shelf Awareness Best Book of the Year--Courtney E. Martin (Do It Anyway) grapples with questions of parenting, education and racial divides in the United States through the lens of her daughter's school: first selecting it, then attending it.
Martin and her two daughters had walked past Emerson Elementary in their Oakland, Calif., neighborhood nearly every day. But when it came time to enroll Maya, her eldest daughter, in elementary school, Martin and her partner were faced with school choice: place Maya in Emerson, a racially diverse school with poor test scores; enter the Oakland Public Schools lottery for a more highly rated, predominantly white school nearby; or flee the public school system altogether in favor of private school. Determined to live her values, which include not just eschewing racism but working to be anti-racist, Martin ultimately chose to send her daughter to Emerson--a decision informed by dozens of conversations with other parents, families, educators, school board members, neighbors.
In the opening chapter of Learning in Public, Martin writes about the making of this book, including the feedback from anti-racist educators and education experts. Martin brings to her perspective on her daughter's education a self-reflection that goes well beyond her one daughter and their one family, or even their one school, placing instead the story of her white family in the racial history of the U.S. and the gross disparities seen in the American public education system. This reflection, combined with Martin's willingness to admit her own mistakes and acknowledge where her actions may have harmed others, is what allows Learning in Public to live up to its title. --Kerry McHugh, freelance writer
Little, Brown, $18.99, paperback, 400p., 9780316428279
Book of Delights
by Ross Gay
Delight, according to poet Ross Gay, is underrated: its very existence, the multiplicity of delights present in the world, the noticing and celebrating of said delights. Between his 42nd and 43rd birthdays, Gay decided to capture as many delights as possible, and spin them out into a series of "essayettes." The result, The Book of Delights--a Shelf Awareness Best Book of the Year--is a kaleidoscopic collection of joy--an accumulation of blessings that, piled up, create a larger enchantment.
Gay (Catalog of Unabashed Gratitude) renders his delights in joyous, rambling prose: the whirring wings of a hummingbird, the Rothko-like effect of a weathered wooden backboard, the multi-layered affection of nicknames. His delights often take him to unexpected places, as when "Infinity" leads to a handmade lavender scarf and a new approach to masculinity: "I want to be softer, I'm trying to say."
In multiple essays, Gay addresses the complications of seeking and relishing delight as a Black American, from the ritual of what he calls "The Negreeting" to the fact that his celebration of delight, as a Black man, is a deliberate stand against "the commodification of black suffering." As the joys pile up--there's even an essay on "stacking delights"--Gay finds his delight radar growing more sensitive, his eyes and soul ever more attuned to good, to light, to wonder, to joy. Readers may find themselves pulling out actual pen and paper (another delight) to capture their own enchantments, or--at the very least--relishing every page of Gay's warm, wise, utterly captivating collection. --Katie Noah Gibson, blogger at Cakes, Tea and Dreams
Algonquin, $17.99, paperback, 288p., 9781643753287
Harlem Shuffle
by Colson Whitehead
Harlem Shuffle--a Shelf Awareness Best Book of the Year--once again shows off Colson Whitehead's ability to master myriad genres, this time with his first crime novel, the eagerly awaited follow-up to his Pulitzer Prize-winning novels The Underground Railroad and The Nickel Boys. After delving into zombie fiction (Zone One) and even a nonfiction book about poker (The Noble Hustle), Whitehead confidently crafts a pressure-cooker novel about a used furniture dealer sliding into criminality in tumultuous early-1960s Harlem. Ray Carney is trying to escape the shadow of his father, a long-time crook, by establishing himself as a legitimate businessman, while sometimes dabbling in dubiously acquired merchandise. But it's his association with his cousin Freddie that threatens to drag Ray into real trouble again and again, as Freddie's harebrained criminal schemes inevitably go sideways.
Harlem Shuffle makes excellent use of time-honored techniques, piling problem upon problem onto Ray's shoulders. It also benefits from a lived-in sense of place, depicting a Harlem "after the neighborhood tipped over from Jews and Italians and became the domain of Southern blacks and West Indians. Everyone who came uptown had crossed some variety of violent ocean." The neighborhood is far from exempt from civil rights-era battles, though Whitehead's hard-bitten characters tend to view these struggles with a pragmatic, even cynical eye.
As the novel's events come to a head, Ray comes to realize what grabbing a piece of the American dream will cost in a country rigged against him, and has to decide whether he can pay it. For readers, Ray's constant balancing over the abyss makes for a gripping story, as lovingly detailed as it is good pulpy fun. --Hank Stephenson
Anchor, $17, paperback, 336p., 9780525567271
Brand-New Bubbe
by Sarah Aronson, illus. by Ariel Landy
A skeptical girl overcomes hesitations to connect a blended family in Brand-New Bubbe, an interfaith celebration of open-mindedness and the unifying power of a good bowl of soup.
Jillian, happy with her theater-loving Noni and adventurous Gram, greets her new "really nice" stepdad's mother, the boisterous bubbe (Yiddish for grandmother), with outright hostility. "She didn't want [Noni and Gram] to feel left out. Or, even worse, replaced." Eventually Jillian's mom scolds her for her unwelcoming behavior and forces her into a matzo ball soup-making lesson. The delicious broth Bubbe cooks opens Jillian's mind: "Like soup, family was made with love. And there was always room for more." Understanding now that "family is more than blood," Jillian connects several generations of relatives over a homemade, multicultural meal.
Author Sarah Aronson (Just Like Rube Goldberg) offers an empathetic emotional arc for readers who might relate to changes in their family structure. Her presentation of a growing, global and interfaith family speaks to a broad audience, but her story is also culturally specific, highlighting Judaism and introducing the concept of machatunim, a Yiddish word for the relationship between in-laws. There is no English equivalent for the word, but the feelings connected are certainly universal. Illustrator Ariel Landy (Gitty and Kvetch) contributes cheerful characters with lively expressions through cartoonish artwork with soft lines and vibrant colors. The parallel relationship between Jillian's cat and Bubbe's dog adds a particularly humorous substory. Backmatter includes family resources and recipes for three soups. An adorably charismatic and accepting story honoring problem-solving and found families. --Kit Ballenger, youth librarian, Help Your Shelf
Charlesbridge, $16.99, hardcover, 32p., ages 4-7, 9781623542498
To Find Treasure in the Mountains
by Francine Rockey, illus. by Kendra Binney
Evocative imagery and gorgeous art encourage children to treasure natural wonders in this picture book celebrating curiosity, exploration and the wilderness.
To Find Treasure in the Mountains begins with three children securing their "sturdy shoes" and setting out on a mountain path. "All steps into the wild lead to treasure," the narrator explains, guiding readers to try what the story's trio does: "go eye to eye with grasshoppers" or "sit so still the painted lady butterfly believes your ear is a flower petal." These peaceful pauses occur between leaps over burbling creeks and rock climbs as a team. The children take the small tumbles that "even seasoned treasure seekers" do as they discover nature's gold: bird's eggs in a nest, a sunning lizard, a "great gray owl." Back home, they hold their treasure not as physical pieces in their hands but as memories in their hearts.
In her debut, Francine Rockey employs gentle instruction ("turn your head to look up and down and all around") and engages the senses one by one, allowing simple yet exciting moments to foster a spirit for adventure in young readers. Awe-inspiring pastel paintings from Kendra Binney (Venetian Lullaby) depict the cheerful children in differing shades of tan and warm brown, and imbue the animals with an intricate beauty--dragonflies with translucent wings, a bold red ladybug, furry chipmunks. Majestic landscapes serve as a backsplash to the children's joyous day spent hiking, while sparkles dot every page, maintaining an atmosphere of wonder throughout. This picture book is a splendid and dazzlingly illustrated love letter to the outdoors. --Samantha Zaboski, freelance editor and reviewer
Yosemite Conservancy, $18.99, hardcover, 32p., ages 4-8, 9781951179168
The Writer's Life
Reading with... CJ Hauser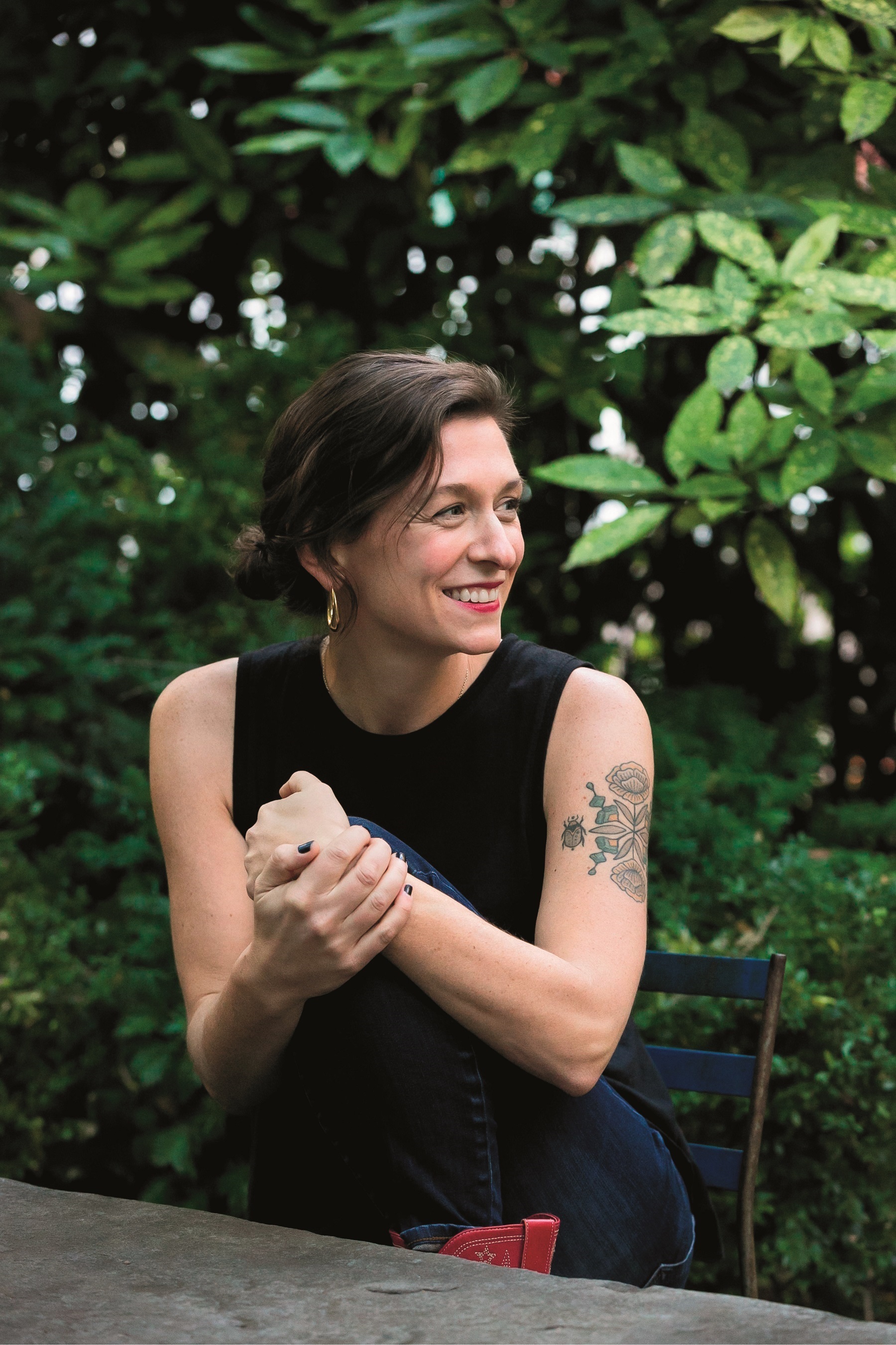 photo: Beowulf Sheehan
CJ Hauser teaches creative writing at Colgate University and is the author of two novels, Family of Origin and The From-Aways. In 2019, she published "The Crane Wife" in the Paris Review. Her nonfiction debut, The Crane Wife: A Memoir in Essays (Doubleday), is a collection that tells the story of a late-30-something woman's lifelong search for her true romantic and sexual self.
Handsell readers your book in 25 words or less:
Imagine we've gone to the bar together, it's almost midnight, and we're laughing so hard we're crying about the real shit going on in our lives.
On your nightstand now:
Imbolo Mbue's How Beautiful We Were. She's coming in the fall to visit us at Colgate, where I teach, and we are so, so lucky.
Favorite book when you were a child:
Harriet the Spy by Louise Fitzhugh, The Phantom Tollbooth by Norton Juster and Pippi Longstocking by Astrid Lindgren. Smart, imaginative kids who get up to adventure and trouble in books that are less about teaching the reader a lesson and more about exploring what it feels like to be a messy, funny, adventuresome explorer of this world.
Your top five authors:
An impossible question! Here are some I've read and loved lately--and would read more from any day: Katie Kitamura's Intimacies, Torrey Peters's Detransition, Baby, Maggie Shipstead's Great Circle, Jane Pek's The Verifiers, Chloé Cooper Jones's Easy Beauty, Isaac Fitzgerald's Dirtbag, Massachusetts. These writers all have such unique voices and obsessions, and I would follow them anywhere.
Book you've faked reading:
I am too nosy to do this. If someone knows about a book I haven't read, I demand they tell me all about it. Preferably over drinks. I love listening to people talk about books they love.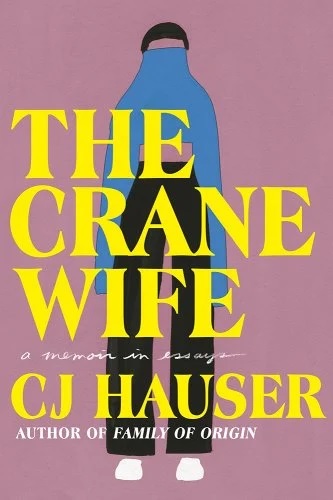 Book you're an evangelist for:
Melissa Febos's Abandon Me, which is brilliant in style and in story. I should basically keep extra copies in my office to give away.
Book you've bought for the cover:
Ramona Ausubel's No One Is Here Except All of Us--those gorgeous, graphic birch trees!--but damn, I love the inside of that book too. The heartbreak and hilarity of it. The very idea of "deciding" to start the world over again.
Book you hid from your parents:
My parents were of the opinion that anything I could understand I was old enough to read, so I never had to hide books from them (only Sublime CDs). But I did read a lot of tragic romantic books for teens with cover images of, like, lusting girls in prairie dresses in front of their soddy houses. I'd wrap the covers in brown paper bag covers so that no one at school would know that's what I was into.
Book(s) that changed your life:
Louise Erdrich's Love Medicine, Percival Everett's Erasure, Elisa Albert's After Birth, Amanda Davis's Wonder When You'll Miss Me.
Favorite line from a book:
"We are, all four of us, blood relatives, and we speak a kind of esoteric, family language, a sort of semantic geometry in which the shortest distance between any two points is a fullish circle." --Franny and Zooey by J.D. Salinger
I mean, relatable content.
Five books you'll never part with:
James Baldwin's Another Country, Carson McCullers's The Heart Is a Lonely Hunter, Saul Bellow's Henderson the Rain King, Mary Gaitskill's Two Girls, Fat and Thin, Alan Moore's Swamp Thing saga.
Book you most want to read again for the first time:
Jenny Slate's Little Weirds. Getting to know her voice on the page, the brilliance and warmth and generosity of it. The surprises in each little song of a chapter.
Favorite audio book:
Bram Stoker's Dracula, the production voiced by, among others, Alan Cumming and Tim Curry. It's too much fun.

What We Owe the Future
by William Macaskill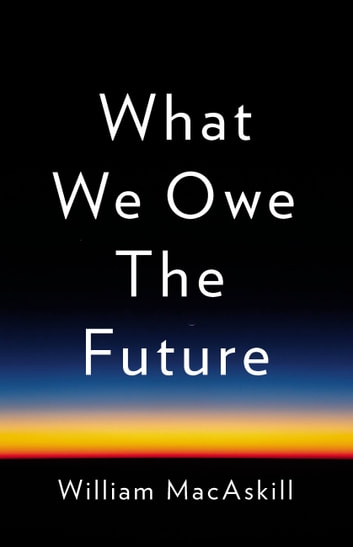 To peer one million years into the future might sound like terrible advice to anyone attempting a "live in the moment" mantra. Eternity is slow and humans frenetic; time is vast and humans small. Why worry what tomorrow will bring when today has enough trouble of its own? But Oxford philosopher William MacAskill (Doing Good Better) makes a stirring--and oddly soothing--case for forward-thinking in his new work of nonfiction, What We Owe the Future. He calls for "longtermism," the belief that "positively influencing the long-term future is a key moral priority of our time." What We Owe the Future, in five parts, attempts to convince readers why this belief should become their own.
The result is a hopeful but grounded work of philosophy, both rigorous in its research and expansive in its subject matter, tackling civil rights as readily as technology and climate change. As MacAskill explains (in the interview below), his argument hinges on the anticipation that "we may be approaching a critical juncture in human history that determines whether future generations live lives of flourishing or misery--or never live at all." But what is most miraculous about MacAskill's book is not this urgency or the manner in which it's communicated, but rather how well MacAskill convinces readers that it matters at all.
In theory, readers should find caring about the future to be a rational task. After all, their children--or their friends' and family's children--are the future. But the further existence pans out from the present, the more impossible it becomes to connect, intimately, with future generations. How can readers care about someone whose life they cannot possibly imagine?
Well, as What We Owe the Future argues, this is a basic principle of empathy: the ability to care about those with whom we do not share identity, experience or--in this case--time. And it is absolutely vital to the survival of the planet and its people. "Distance in time is like distance in space," MacAskill writes. "People matter even if they live thousands of miles away. Likewise, they matter even if they live thousands of years hence." If readers want their descendants to flourish, they must start caring about them now. This truth gives What We Owe the Future the weight of prophecy.
Throughout the book, MacAskill uses clever illustrations to condense an otherwise enormous topic into digestible pieces. For instance, he harnesses the idea of an "imprudent teenager" to describe humanity's frequent disregard for the long game. But then he turns the analogy on its head, writing, "A teenager knows approximately how long she can expect to live. But we do not know humanity's life expectancy. We are more like a teenager who, for all she knows, might accidentally cause her own death in the next few months but also might live for a thousand years. If you were in such a situation, would you think seriously about the long life that might be ahead of you, or would you ignore it?" Chances are, most readers would--at the very least--take pause.
That pause is where MacAskill thrives. There are certainly moments when What We Owe the Future, like many works of philosophy before it, can boggle due to the immense bulk of the knowledge it aims to impart. But there are many more moments when the book is as clear as an epiphany. When it most often succeeds in grabbing attention, the book is exciting, even thrilling, and generates enormous fodder for both reflection and action.
This moral call to action is well and good, but it's only made real through What We Owe the Future's humble belief that the future could be worth fighting for. The future might be a good place! Maybe not great--MacAskill points out that the word "utopia" etymologically means "no-place"--but good. Most readers who pick up this book will have consumed enough doomsday news to feel as though the Earth is headed toward an inevitable crash-and-burn. And MacAskill concedes this is possible. But he also calls out dozens of powerful examples in history where circumstances have improved, largely through human intervention, discovery and hope. Circumstances changed because humans believed they could. Why should now be any different? A lot can change in a million years.
As the shelves of books about climate change, social justice and public health become increasingly overloaded, some might think they all have the same message: "Buckle up. Things have gotten bad, and they're about to get worse." In many cases, this is true. But many such books--MacAskill's very much included--do not end on a note of cynicism. They argue that life is long, and time even longer. We have time to make lasting change, but every second is precious. To give the future what it's owed, we all must consider the present--and how its ripple effect will remain long after we are gone. --Lauren Puckett
Basic Books, $32, hardcover, 352p., 9781541618626
Playing the Long Game
An Interview With William MacAskill
(photo: Matt Crocket)
William MacAskill is an associate professor in philosophy and a research fellow at the Global Priorities Institute, University of Oxford, and author of Doing Good Better: Effective Altruism and a Radical New Way to Make a Difference, and Moral Uncertainty. He is a leader in the effective altruism movement, which promotes the use of evidence and reason to help others as much as possible with our time and money. In What We Owe the Future (Basic Books, August 16, 2022), he makes the case for longtermism.
What made writing this book feel so urgent now?
Working on What We Owe the Future has been my main focus since the spring of 2020, when the Covid-19 pandemic hit. Covid was a brutal reminder of the major risks that humanity faces and the vulnerability of our global, interconnected society. These risks, combined with growing attention on longtermism from academics, philanthropists and policymakers, inspired me to write about the actions we can take today to benefit the long-run future of humanity.
When did "longtermism" first become your moral philosophy? You mention in the book that it took some time for you to "come around" to the concept. Can you tell us a bit about your background in philosophy and what ultimately convinced you of this principle?
In graduate school at Oxford, I helped start the effective altruism movement, a philosophy and community committed to using evidence and reason to figure out how to benefit others as much as possible. I focused at first on global health, and in particular on cost-effective, evidence-backed interventions such as the distribution of bed nets to fight malaria.
Over time, I've become convinced that, due to rapid technological growth, especially in artificial intelligence and biotechnology, we may be approaching a critical juncture in human history that will determine whether future generations live lives of flourishing or misery--or never live at all. I came to see that we really can positively impact the long-term future.
What We Owe the Future depends on optimism. Without hope, there's no reason to invest in "longtermism." At a time when so many are feeling cynical about the future, how do you believe this book might change hearts and minds?
In What We Owe the Future, I show how the path of history can turn on individual decisions. We can point to activists, such as the Quaker radical Benjamin Lay, who helped bring about the abolition of slavery. No single individual can tackle the threats of civilizational collapse that we face today, such as extreme climate change and engineered pandemics, but collective action begins with individual choices.
That's why I think that cynicism is the wrong response to the global problems we face. We know that individuals can, and have, had a big difference in the past. It's up to us to have a big impact for the future.
You also write in the book that you relied heavily on research assistants. What sort of research went into this book? Can you illustrate the scope of the work involved?
What We Owe the Future covers a wide range of historical and academic domains, from the history of abolition to population ethics to the current state of artificial intelligence research. Across all these subjects, it was important to me that the book's claims were reliable and grounded in the latest scholarship. There's no way I could hope to achieve this level of rigor on my own, so we invested a truly enormous research effort into the book.
I estimate we spent over a decade's worth of full-time work, with almost two years of work on fact-checking alone. Six research assistants worked on the book with me, and I relied on heavy contributions from dozens of expert consultants. This work included literature reviews, adjudicating contentious academic debates, and a very considerable amount of original research, on topics as varied as long-run economic growth, the psychology of wellbeing, the prospects for societal recovery after collapse, and a formal analysis of long-term impact.
We ended up with over 1,000 endnotes and tens of thousands of words of supplementary materials that provide sources, nuance and context for the book's claims. In fact, we've had to host about half of the endnotes and all the supplementary materials on the book's website, rather than in the book itself, to save space.
It seems like it would be difficult to finalize, on paper, an argument this vast.
I started working on it five years ago, going full-time on it in early 2020. Writing it was the most difficult thing I've ever done. Trying to maintain exceptionally high levels of academic rigor, while at the same time making the book widely accessible, and while covering topics from history to evolutionary theory to climate science to macroeconomics to moral philosophy... well, it was a challenge, to say the least!
Do you have a favorite chapter of the book?
I think chapter 9 is my favorite. It assesses whether we should expect the future to be good, on balance, rather than bad. I look at whether the evolution of life has, so far, been a morally good thing, whether most people today have lives that they are happy to have lived and whether the world has been getting better over time.
It's such a huge and enormously important question, yet has had almost no discussion. Despite 17,000 articles and books that have been published on the psychology of wellbeing, not a single one, as far as I know, has looked at what proportion of people have lives that contain more happiness than suffering. In the end, I had to commission a study from leading psychologists to address it.
It's one thing to argue for longtermism as a concept. It's another to actually believe people will live in such a way as to protect the future. Do you think we, as a species, will protect the future? Or is the status quo too tempting? How do you keep your own hope alive--a hope that we might live selflessly?
I see concern for future generations as a natural extension of previous moral revolutions, like those that advanced women's rights and civil rights. This gives us grounds for hope--the women's suffrage movement and the civil rights movement were enormously successful, pushing forward moral progress, including from people who made large sacrifices because of what they believed in. They remind us that radical moral changes are possible, and indeed can happen quickly once the ideas take hold of a sufficiently large and passionate number of advocates.
But the biggest reason for my belief that we will protect the future is that the movement of people aiming to do so is already growing. Through the effective altruism movement, there are now thousands of people around the world dedicating their lives to trying to steer our future onto a better path, whether that's by working on preparedness against worst-case pandemics, AI governance and technical AI safety, reducing the risk of a third world war in our lifetimes, or helping make political institutions more nimble and responsive to evidence. --Lauren Puckett
Shelf vetted, publisher supported.
Rediscover
Rediscover: Howard Zinn at 100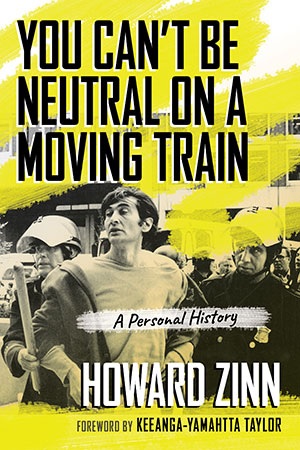 Wednesday, August 24, marked the centennial of historian Howard Zinn's birth. Zinn's (1922-2010) A People's History of the United States was a landmark of literal popular history--a ground-up view of the American experience focusing on the masses of downtrodden, oppressed and often ignored groups rather than the powerful elite highlighted in traditional histories. From the first chapter, which chronicles the barbarity inflicted by Columbus on the Arawaks, Zinn paints a grim picture of events usually sanitized in American classrooms. His heroes are labor leaders, economic insurgents, enslaved rebels and anti-war activists, not the wealthy or jingoistic who propelled history in their own interests at the expense of others. Since its first publication in 1980, A People's History of the United States, a runner-up for the National Book Award, has sold nearly four million copies and been revised and updated several times. It was last published in 2015 by Harper Perennial Modern Classics with a new introduction by Anthony Arnove.

To help celebrate his centennial, several publishers are releasing free material or updated versions of Zinn's work. Earlier this month, The New Press published a paperback version of Truth Has a Power of Its Own: Conversations about a People's History ($16.99), co-authored with Ray Suarez, which contains conversations about a broad range of American history topics. Beacon Press, Haymarket Books, The New Press and Seven Stories Press collaborated on a free e-book, A Life of Activism: Howard Zinn in His Own Words--Selected Writings for the Centennial, which collects excerpts from six of Zinn's books. Later this year, Seven Stories Press will publish a new edition of A Young People's History of the United States with two new chapters on Latino history by Ed Morales. Zinn's autobiography, You Can't Be Neutral on a Moving Train: A Personal History, is available from Beacon Press ($17). --Tobias Mutter