Week of Friday, September 9, 2022
Among the 25 reviews this week: The Marriage Portrait by Maggie O'Farrell--the NBA-winning author of Hamnet--the "immersive and poignant story" of the woman who inspired Robert Browning's poem "My Last Duchess"; Amy Sarig King's Attack of the Black Rectangles, in which a sixth-grade teacher redacts "areas of the book made some students very uncomfortable"; and The Weekend Cook by Angela Hartnett, who "advocates for informal, uncomplicated cooking"; plus so many more.
Sidik Fofana talks in The Writer's Life about his debut, Stories from the Tenants Downstairs, centered on eight residents of a fictional Harlem apartment building, and also gives readers a peek into his real life as a public school teacher in Brooklyn.
The Best Books This Week
Fiction
Do You Take This Man
by Denise Williams
An attorney with an "anti-romance stance" who moonlights as a wedding officiant meets a sports events manager who lands himself in the wedding planning business. They make for an oddly endearing couple in Do You Take This Man, a contemporary opposites-attract romance from Denise Williams (The Fastest Way to Fall; How to Fail at Flirting).
RJ is a high-powered divorce attorney with no confidence in the lasting power of love, despite the words she recites as an in-demand wedding officiant whose first ceremony goes viral. Lear is a bruised, newly single event planner working for his cousin's wedding planning business while he figures out his next steps in life. The two are far from compatible, yet their disdain for each other seems to spark something between them as their work lives are thrown together over the course of several months. When that spark ignites, the two agree to an "enemies with benefits" arrangement in the bedroom: "We made each other feel good, and then we went back to veiled contempt [at work]."
Romance readers will know where Williams is taking this set-up from the first pages of Do You Take This Man but, as with all of the best romance reads, knowing where it will end does nothing to subtract from the clever twists and turns it takes to get there. As their relationship evolves, RJ and Lear must learn to take down the many walls they've put up against love in the name of self-protection and decide if there's something, after all, to what they sell to their wedding clients--the idea of lasting romance. --Kerry McHugh, freelance reviewer
Berkley, $17, paperback, 352p., 9780593437193
The Weekend Cook: Good Food for Real Life
by Angela Hartnett
The Weekend Cook by Angela Hartnett--a professional chef with an Italian background who advocates for informal, uncomplicated cooking--will inspire home cooks to fire up feasts for their family and friends. Hartnett (Angela's Kitchen) has been an internationally beloved chef for more than 30 years, worked with Gordon Ramsay and launched and managed critically acclaimed restaurants. She believes that no matter one's profession, weekends rebalance life-work priorities.
Hartnett--and her chef husband, Neil Borthwick--live in London's East End, where they love to entertain and celebrate their community. The Weekend Cook is testament, as she brings together 100 of her "go-to" recipes in which simplicity doesn't sacrifice flavor. Her Crab Salad gets jazzed up with lime. Rich, delicious Artichoke Soup is elevated by roasted chestnuts and a soft-poached egg. Harissa Marinade is the secret ingredient to Griddled Monkfish Tails. And she ramps up Curried Cauliflower with pine nuts and raisins. Hartnett sheds light into building layers of complexity into soups, quiches, vegetables, risottos, meat and fish dishes. Separate sections are dedicated to recipes inspired by Britain and by her own neighbors, friends and peers. Sweet treats occupy the last quarter of the cookbook, which includes recipes for shortbread, ice cream, puddings, tarts and Floating Islands, a showstopper dessert that features meringues, caramel and custard.
Hartnett's concise, down-to-earth recipes, along with intimate and deliciously inviting full-color photos, are proof of her philosophy that good cooking is all about sharing love and bringing joy--to oneself and to others. --Kathleen Gerard, blogger at Reading Between the Lines
Bloomsbury Absolute, $35, hardcover, 288p., 9781472975010
The Yank: The True Story of a Former U.S. Marine in the Irish Republican Army
by John Crawley
"Why join the IRA?" It is a question John Crawley hears a lot and which he now unapologetically answers in his searing memoir, The Yank. Crawley, born in New York in 1957 to Irish immigrant parents, moved to Ireland when he was 14 years old. Citing his Irish republicanism as a process rather than an epiphany, he drew inspiration from both the 1916 Proclamation of the Irish Republic and the American Revolution. At age 18, he returned to America to serve in an elite U.S. Marine Recon unit and, after his enlistment ended in 1979, went back to Ireland. He brought with him valuable military knowledge and skills to join the Irish Republican Army and fight for a "thirty-two-county national republic."
Straightforward and unsentimental, Crawley's memoir contains squirmy moments, as when he recounts shooting a British soldier for the first time: "I didn't feel anything in particular about it... no triumphalism or gloating," he writes. "Neither did I feel any hypocritical remorse." Those unfamiliar with Irish history and politics might be lost at first, but Crawley provides enough context to understand the realities on the ground in the Ireland of the 1980s. Besides the British, Crawley reserves his ire for "incompetent" IRA leadership, those who consistently denied the need for proper field and weapons training. A return trip to the U.S. to purchase guns with the help of the notorious criminal Jim "Whitey" Bulger, whom he calls a "mercurial psychopath," serves as a chilling reminder of Crawley's calling. The Yank fascinates and repels in equal measure. --Peggy Kurkowski, book reviewer and copywriter in Denver
Melville House, $28.99, hardcover, 288p., 9781612199849
American Demon: Eliot Ness and the Hunt for America's Jack the Ripper
by Daniel Stashower
In American Demon, Daniel Stashower notes that in 1961, a journalist wrote: "Before a new generation of Americans becomes indoctrinated with the 'untouchable' version of the life and works of the late Eliot Ness, somebody ought to sit down at his typewriter and describe the man as Cleveland knew him." It may have taken half a century, and he probably didn't write on a typewriter, but Stashower is that "somebody," and his squinty-eyed but fair-minded look at Ness adds depth and breadth to a spine-tingling true-crime story.
Let the record show: Eliot Ness wasn't the glowering Prohibition agent presented in The Untouchables, his posthumously published 1957 memoir. Even after Ness became the face of notorious Chicago gangster Al Capone's 1931 undoing, he maintained an aw-shucks public persona and, in 1935, Ness became Cleveland's youngest-ever director of public safety. American Demon suggests that when it came to being Ness's professional nemesis, Capone had a rival: Ness's work in Cleveland overlapped with the reign of terror of the man who came to be known as the "torso killer" for his slow but steady campaign of murder and dismemberment, beginning in 1934 and ultimately producing, piece by piece, a dozen or so corpses.
Edgar Award-winner Stashower (The Hour of Peril) approaches this material with a pit bull's tenacity, and he writes with the steeliness of an old-school journalist, suiting the book's place and time. American Demon is a thrillingly bedeviling true-crime story interlaced with a nuanced character study--not of the criminal but of his flawed pursuer. --Nell Beram, author and freelance writer
Minotaur, $29.99, hardcover, 352p., 9781250041166
The Architecture of Suspense: The Built World in the Films of Alfred Hitchcock
by Christine Madrid French
In The Architecture of Suspense: The Built World in the Films of Alfred Hitchcock, Christine Madrid French reprints a question from the writer Lisa Rosen: "Why are some of the best modern houses called home by some of the worst characters in film?" That, explains French, would be because of Alfred Hitchcock, who--by giving the villain a cantilevered, cliffside hide-out in North by Northwest (1959)--permanently changed the evil-lair game in cinema. (Until then, evil lairs tended to be cobwebby manses.) The Architecture of Suspense makes a persuasive case that the structures Hitchcock chose for his films were both influential and hardly incidental to his movies' brilliance.
French digs deep into Hitchcock's thought process when it came to selecting characters' dwellings and other buildings. Cherry-picking from among the most famous films of the director's American period, French examines, among other unforgettable edifices, that modern marvel of North by Northwest; the thrumming, courtyard-overlooking apartments in Rear Window (1954); key San Francisco sites in Vertigo (1958); and the two infamous properties--mansion and motel--of Psycho (1960).
The Architecture of Suspense, filled with photographs, offers a breathtaking view of pure Hitchcockian Americana. French, an architectural historian, writes accessibly and with the avidity of an admitted Hitchcock fan, underscoring the psychologically attuned director's belief that a physical environment must reflect character. As French puts it, "In Psycho, the ruinous state of the buildings is boldly emblematic of the disorder of Norman's mind." Likewise, the interesting and often intricate structures that Hitchcock selected are emblematic of his own. --Nell Beram, author and freelance writer
University of Virginia Press, $29.50, paperback, 274p., 9780813947679
The Writer's Life
Reading with... Sidik Fofana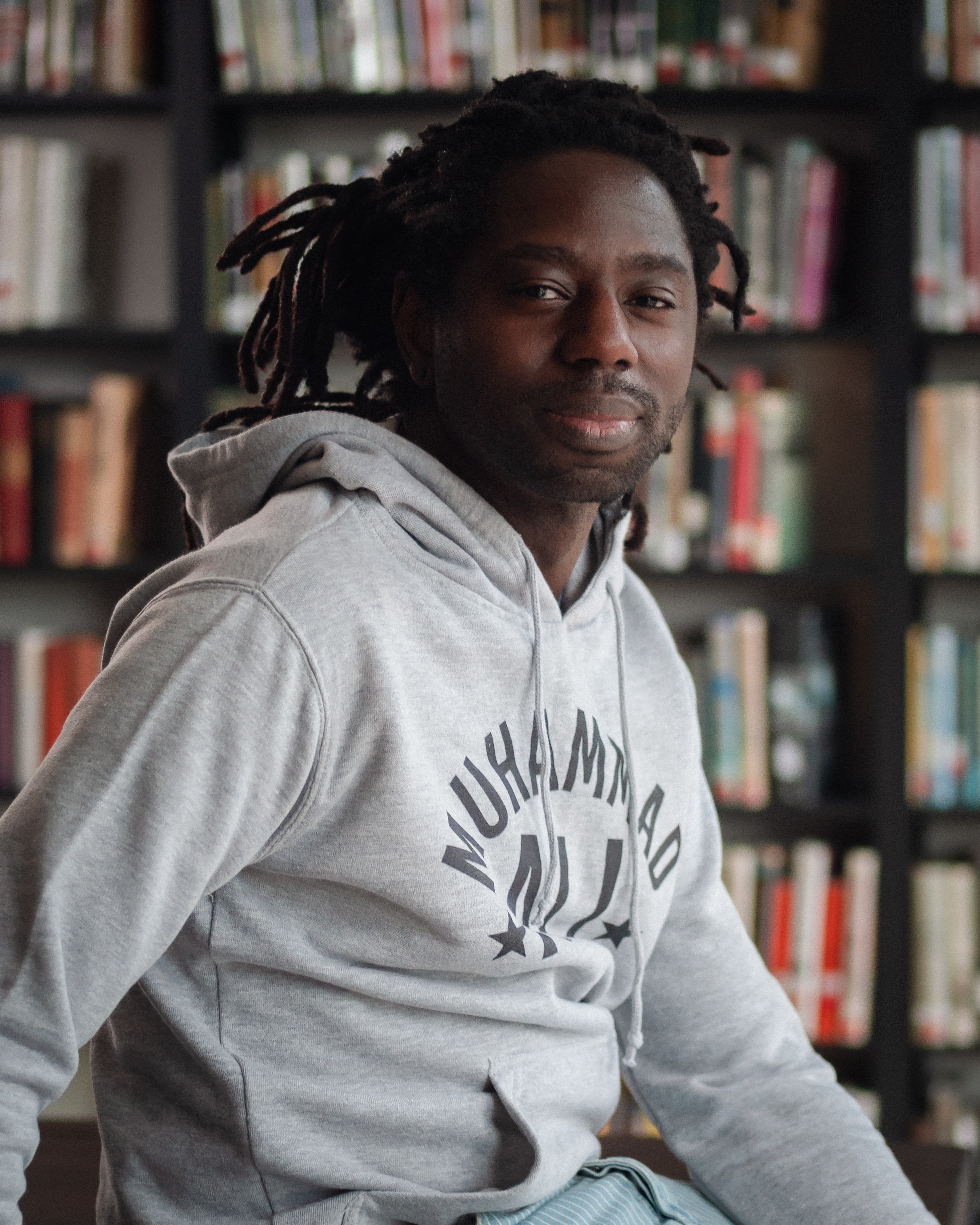 photo: Roque Nonini
Sidik Fofana earned his MFA from New York University and is a public school teacher in Brooklyn. He was named a fellow at the Center for Fiction in 2018. His work has appeared in the Sewanee Review and Granta. His debut, Stories from the Tenants Downstairs (Scribner), offers eight narratives about residents of a fictional building in Harlem.
Handsell readers your book in 25 words or less:
Eight tenants from a Harlem high-rise tell you stories about their problems while the almighty landlord hovers over them.
On your nightstand now:
I sleep on a futon in the basement, or the couch in the living room, and only every now and then in an actual bed. But on the "nightstand" would be Wolf Hall by Hilary Mantel. I watch a little bit of the BBC series, then read some of the book. I don't know what it is, but I love reading about crazy white people.
Favorite book when you were a child:
Hands down Matilda by Roald Dahl. Although I did read Runaway Ralph by Beverly Cleary 100 times. Oh and can't forget Charlotte's Web. Shout out to E.B. White whose darkest joke was writing a book that made kids cry.
Your top five authors
Living: Edward P. Jones, Junot Díaz, Lorrie Moore, Chimamanda Ngozi Adichie, Jeffrey Eugenides. Bonus: Zadie Smith.
Dead: José Saramago, John Steinbeck, Frank McCourt, Langston Hughes and Toni Morrison.
Emcees: Tupac, Nas, Andre 3000, Lauryn Hill and Mos Def, Phonte or Kendrick depending on how I feel that day.
Book you've faked reading:
Don't get me in trouble! Infinite Jest by David Foster Wallace. I remember brilliant parts like the riff on that one man's obsession with episodes of M*A*S*H, but I'm just not that cerebral.
Book you're an evangelist for:
Post-Traumatic by Chantal V. Johnson. My sister book, born the same year as my own. I've heard her read from it several times, and each time has been a transcendent experience.
Book that you bought for the cover:
Ladies and Gentlemen, the Bronx Is Burning by Jonathan Mahler. Didn't know at the time that it was the cover that reeled me in, but it is gray and frenetic just like New York is.
Book you hid from your parents:
I never hid a book from a parent, but my mom hid a book from me. Well, she didn't actually hide it since I found it in plain view on top of her dresser. She just never mentioned that she had bought it for herself. It was a biography of Nelson Mandela meant for young readers.
Book that changed your life:
Native Son by Richard Wright hit me like a ton of bricks. I was supposed to read it for a class and didn't get to it until two nights before it was due. It was one of the first times I remember reading something for school that didn't feel like homework.
Favorite line from a book:
"& the boys outside walgreens selling candy/ for a possibly fictional basketball team are my presidents," from the poem "my president," from the book Homie by Danez Smith. In that poem, they do this ode to friendship, shouting out memorable people in their life and electing them to high office. I tell you, these poets know what they're doing.
Five books that you'll never part with:
As I scan my golden shelf... A People's History of the United States by Howard Zinn, A Heartbreaking Work of Staggering Genius by Dave Eggers, The Complete Stories by Flannery O'Connor, Interpreter of Maladies by Jhumpa Lahiri, and Brown Girl, Brownstones by Paule Marshall, among others. Most of the books I own are in my classroom for all to browse, except those books. Those stay in my living room under heavy surveillance.
Book you most want to read again for the first time:
The Catcher in the Rye by J.D. Salinger. Or maybe there's a book out there that understands my middle age as much as that book understood my teendom.
Book you can't wait to come out:
Play World by Adam Ross. Always been a fan of his storytelling and dark humor.
Rediscover
Rediscover: Peter Straub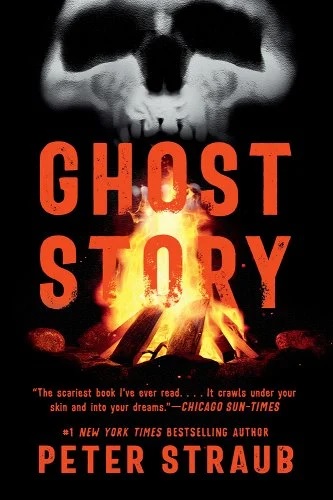 Peter Straub, "whose literary novels of terror, mystery and the supernatural placed him in the top ranks of the horror-fiction boom of the 1970s and '80s, alongside writers like Ira Levin, Anne Rice and his close friend and collaborator Stephen King," died September 4 at age 79, the New York Times reported. A fan of Henry James and John Ashbery, Straub published several poetry chapbooks before turning to novels, and began writing about the supernatural after two conventional novels were unsuccessful. Julia (1975) "was a novel that involved what turned out to be a ghost, so it was a horror novel," he told the Milwaukee Journal-Sentinel in 1996. "I didn't know much about the field at that time. I just wanted very much to write a novel that would make money so I wouldn't have to get a job. With the first sentence, I felt this enormous relief. I felt at home right away."

His next two novels, If You Could See Me Now (1977) and Ghost Story (1979), were also bestsellers. Both books were adapted into films, the former as Full Circle in 1977 and the latter in 1981. Julia was also filmed, as The Haunting of Julia. King, who wrote a blurb for Ghost Story, recalled: "We got it at the post office. It was all kind of split open. And so I was driving and my wife opened it and she started to read it to me. And by the time we got back to our house, we were both really excited, because we knew that this was really sort of a masterwork."

King and Straub teamed up in the early 1980s to write The Talisman. They reunited in 2001 to write a sequel, Black House, and were discussing a third book, but it was still in its earliest stages at Straub's death. "He was a unique writer in a lot of ways," said King. "He was not only a literary writer with a poetic sensibility, but he was readable. And that was a fantastic thing. He was a modern writer, who was the equal of say, Philip Roth, though he wrote about fantastic things."

Straub continued to write bestselling books, including the Blue Rose trilogy (Koko, Mystery, The Throat), which revolves around the hunt for a serial killer. Though there is nothing supernatural about them, each of the three books won a Bram Stoker Award from the Horror Writers Association. Overall, Straub's books and stories were nominated for a dozen World Fantasy Awards, winning four, and 14 Bram Stoker Awards, with 10 wins, among many other award nominations. He was named a World Horror Grandmaster in 1997, won a Stoker award for life achievement in 2006, was named an International Horror Guild living legend in 2008, and received a life achievement World Fantasy Award in 2010. His daughter, Emma Straub, author and co-owner of Brooklyn's Books Are Magic, wrote a tribute to her father on Twitter.