Week of Friday, September 16, 2022
Among the 25 books reviewed this week: Solito, Javier Zamora's "heart-pounding, vivid recollection" of his 3,000-mile trek from El Salvador to "La USA"; Two Nurses, Smoking by David Means, 10 "exceptional" stories that cover death, romance and the ravages of mental illness; the "heartfelt and hilarious graphic memoir" The Tryout, in which two-time Newbery Honoree Christina Soontornvat describes her experience auditioning with her best friend for the cheerleading squad, illustrated by Joanna Cacao; plus so many more!
Kate Beaton talks in The Writer's Life about shifting from her webcomic Hark! A Vagrant to her graphic memoir Ducks: Two Years in the Oil Sands, why she stopped drawing and how some comics creators online brought her back to her passion.
The Best Books This Week
Fiction
Where Secrets Live
by S.C. Richards
Dark family secrets coupled with deep bonds between sisters suffuse the brisk Where Secrets Live, the third stand-alone novel from Minnesota author S.C. Richards (Dead Write and Write to Die, as Susan C. Richards). Liz and Meredith McCallister, raised by two stepparents, were closer than most sisters, their unity forged after their parents died. But over the past few months, Liz--whose life was fueled by "alcohol, sex, and denial"--pulled away from the more grounded Meredith, who desperately needed to confide in her younger sister. Then Liz finds Meredith shot to death.
The murder galvanizes Liz to investigate, especially when she learns that Meredith gave birth when she was a teenager and the baby was given up for adoption. The McCallisters are a wealthy but broken family: "Deep roots. Old money," as Liz puts it, and it has "taken generations to perfect our dysfunction." A substantial inheritance and other holdings turn Liz and her cousin Fred--who are the only beneficiaries--into suspects. Liz's growing relationship with Tom Martens, Meredith's first boyfriend, works well--he's now an agent with the Minnesota Bureau of Criminal Apprehension.
Where Secrets Live moves at a fast clip as the investigation forces Liz to get her life together. But she takes too many chances by not confiding in Tom. The denouement strains credibility as Richards indulges in multiple twists. Still, Where Secrets Live offers an insightful look at a young woman finally growing up. --Oline H. Cogdill, freelance reviewer
Crooked Lane, $28.99, hardcover, 336p., 9781639100941
Marple: Twelve New Mysteries
by Naomi Alderman et al.
Authors who write everything from YA to romance to thrillers--Naomi Alderman, Leigh Bardugo, Alyssa Cole, Lucy Foley, Elly Griffiths, Natalie Haynes, Jean Kwok, Val McDermid, Karen McManus, Dreda Say Mitchell, Kate Mosse and Ruth Ware--each contribute a short story to Marple: Twelve New Mysteries. Putting a fresh spin on an iconic character, this glittering assortment of a dozen authors--in their own distinctive styles--presents a series of charming adventures that feature Agatha Christie's beloved elderly detective.
Miss Jane Marple finds murder happening everywhere--Italy, New York City, Singapore--as she travels the world, all thanks to the largesse of famous novelist Raymond West, her nephew. But no matter whether she is in exalted circles or among familiar neighbors in her village of St. Mary Mead, Miss Marple is indisputably herself. The amateur sleuth, tapping into her knowledge of human nature, manages to solve murders involving old school friends, wedding guests and fellow vacationers. She even solves a case in which murder only seems to have happened.
Clever and gentle, Marple is a lovely homage to Agatha Christie's often under-appreciated detective. As Miss Marple herself notes, "it wouldn't be the last time she was dismissed as a silly old woman." But as she works her magic, time and again her perspicacity shocks victims and investigators alike. Readers, whether longtime Christie fans or new to Miss Marple, will quickly come to appreciate her charm and intelligence. They are sure to love each story. --Jessica Howard, freelance book reviewer
Morrow, $28.99, hardcover, 384p., 9780063136052
Daisy Darker
by Alice Feeney
A crumbling gothic mansion on a remote island, inaccessible for eight hours a day because of the tide; the reunion of family members who, at best, are estranged; the reveal of a will's contents: these all escalate Daisy Darker, the suspenseful fifth novel from British author Alice Feeney (Rock, Paper, Scissors; Sometimes I Lie). Add in no cellular service and an out-of-service landline. What could go wrong in this character-driven thriller?
The Darker family reluctantly gathers at grandmother Nana's Cornish tidal island estate to celebrate her 80th birthday: Daisy Darker; her older sisters, Lily and Rose; their divorced parents; and Lily's 15-year-old daughter, Trixie. Nana, believing she will die in the coming year, has decided to tell her family who will inherit her mansion and the fortune that she made writing a children's book based on Daisy. Aside from Nana, Trixie and (sometimes) Daisy, the Darkers are a decidedly unlikable family, prone to hatred and jealousies; they relish the destruction of happy moments. Ill as a child because she was "born with a broken heart," Daisy is accustomed to a lack of attention and affection from her mother and sisters. Lily, who resents any attention her teenage daughter receives, engages in emotional abuse toward Trixie.
As unappealing as these characters are, Feeney gives them quirks, ones that make their motives and secrets riveting and that propel this brisk plot with all of its surprising twists. Feeney unabashedly enters Agatha Christie's And Then There Were None territory when family members are killed, their deaths accompanied by macabre poems. At the same time, she makes the plot of the captivating Daisy Darker uniquely her own. --Oline H. Cogdill, freelance reviewer
Flatiron, $28.99, hardcover, 352p., 9781250843937
Science Fiction & Fantasy
Thistlefoot
by GennaRose Nethercott
A magical family legacy touched by tragedy brings estranged siblings together to battle a dark force in Thistlefoot, a graceful, offbeat folk ballad of a novel from poet and folklorist GennaRose Nethercott (The Lumberjack's Dove).
Siblings Bellatine and Isaac Yaga haven't seen each other in six years when they reunite to accept a surprising inheritance: a house on a chicken's legs. Woodworker Bellatine bonds with the mobile, sentient structure and names it Thistlefoot after their mother's assertion that people in their family are "born with thistles in our feet. It's why we're always traveling." Isaac, a sticky-fingered street performer with a preternatural gift for mimicry, agrees to give his half-share to Bellatine if she spends a year helping him perform one of their puppeteer family's shows. She agrees but fears proximity to the puppets may provoke the Embering, a dangerous power that lives in her hands. On tour with Thistlefoot as both stage and transportation, they soon find themselves trailed by the Longshadow Man. This malevolent being with ties to their lost family history will stop at nothing to see Thistlefoot and the Yagas destroyed.
Nethercott's rich reimagining of the Baba Yaga myth is accented by Jewish folktales and combines gorgeous imagery and delicate family dynamics with a good-versus-evil struggle that is generations in the making. The Yaga siblings' stories are intercut with scenes from the life of Baba Yaga as told by Thistlefoot itself. This imaginative, lyrical Slavic fantasy will captivate fans of Naomi Novik's Spinning Silver or Katherine Arden's The Bear and the Nightingale. --Jaclyn Fulwood, blogger at Infinite Reads
Anchor, $28, hardcover, 448p., 9780593468838
Ducks: Two Years in the Oil Sands
by Kate Beaton
Kate Beaton's many devotees revere her for the award-winning series Hark! A Vagrant. Perhaps lesser known is the provenance of those erudite, playful histories: they began as a webcomic while Beaton worked in the oil fields of Alberta, Canada. In Ducks: Two Years in the Oil Sands, Beaton draws on those crucial experiences to create an impassioned, astonishing memoir.
In 2005, Beaton was 21, a university graduate with an arts degree. Beloved, beautiful Cape Breton, Nova Scotia, is home but lacks employment opportunities. Fish, coal and steel exports are gone: "Its main export is people. It's not a unique story in Atlantic Canada." Beaton is desperate to pay off "debilitating student debt" and follows "the good job" west into harsh, isolating territory. She moves from site to site--each seemingly more remote. Plenty of her coworkers share geographical origins (East Coast) and economic goals ("the good money, the better life"). Her revelations about people, relationships and her own self prove both wrenching and reassuring.
In immersive black, white, gray and blue-tinted panels, Beaton bears powerful witness to desperate adversity and redeeming goodness with sharp candor and unexpected humor. Her panels are strikingly emotive: furrowed eyebrows demanding attention, an undecorated artificial Christmas tree on its side, clenched fingers during a difficult conversation. As if to remind readers of what's happening beyond, Beaton regularly inserts zoomed-out landscapes underscoring the devastating cost of such lucrative opportunities beyond the human toll. Beaton's memoir, despite an almost 450-page count, is a mesmerizing story that readers will want to devour in a single sitting. --Terry Hong, Smithsonian BookDragon
Drawn & Quarterly, $39.95, hardcover, 436p., 9781770462892
Brazilian Authoritarianism: Past and Present
by Lilia Moritz Schwarcz, transl. by Eric M.B. Becker
"Never has the present so closely resembled the past" in Brazil, according to anthropologist and historian Lilia Moritz Schwarcz's provocative study, Brazilian Authoritarianism: Past and Present. Schwarcz wrote the book--originally published in 2019 in Portuguese--"in the heat of the moment" after the November 2018 presidential election that brought far-right candidate Jair Bolsonaro to power. Appearing now for the first time in English, thanks to translator Eric M.B. Becker, the book presents Schwarcz's (The Emperor's Beard) main premise--that "a country's present is entirely impregnated by its past." Brazil's was shaped by its violent history as a Portuguese colony, Schwarcz writes, with slavery at the heart of it. It was within the "plantation model" of the powerful landowners that the "hierarchies of command and subordination became ingrained."
Citing a current trend of "historical revisionism... that seeks to return to a nostalgic and authoritarian version of a Brazil that never existed," Schwarcz explores more than 500 years of Brazilian culture and history to identify eight elements that continue to plague this young democracy: racism, bossism, patrimonialism, corruption, social inequality, violence, gender issues and intolerance. Brazil became a democracy in 1988, but the strong grip of political and social models, both authoritarian, threatens to negate the liberal strides made. Schwarcz ultimately calls for better education and a "more inclusive and egalitarian national political vision" as the antidote to the political, economic, social and cultural crises the country finds itself in today. Brazilian Authoritarianism is a robustly researched and elegant argument for a more promising future. --Peggy Kurkowski, book reviewer and copywriter in Denver
Princeton University Press, $29.95, hardcover, 328p., 9780691210919
Normal Distance
by Elisa Gabbert
Reading Normal Distance from poet, essayist and critic Elisa Gabbert (The Unreality of Memory; The Word Pretty; The Self Unstable) is like overhearing one side of a conversation conducted by a brilliant and intimate friend. There is no affectation and no aspect of performance, but the way the full range of Gabbert's curiosity and intellect can be so easily accessed somehow feels like a magic act. Each of the 35 poems in this collection is made up of prose-like lines, some that meander and others that slice the air with near-painful precision. Like jotted lines in a commonplace book or a Notes app--but sharper and more prescient--the genuine wonder of it all is not diluted by its ordinariness.
Most of the poems rely heavily on the first-person voice, as in "Wild Animals (Normal Distance)": "I think a little threat is necessary for happiness./ I think sometimes we want to be threatened, sometimes/ we want to be the threat./ Sometimes when I'm standing what feels like a normal/ distance from a person, they keep seeming to edge away." A few lines later Gabbert writes, "I'm trying to decide if Wittgenstein was sexy. It's not/ obvious./ I think the answer is 'yes' or 'unanswerable.'/ I think delicate people are frightening./ But I also think fear is erotic." Each line is delivered with the same frank tone, simultaneously vulnerable and detached, and each builds on the next, ultimately creating a collection that defies logic and insists on praise. --Sara Beth West, freelance reviewer and librarian
Soft Skull, $16.95, paperback, 112p., 9781593767334
The Writer's Life
Kate Beaton: 'I Stopped Drawing... I Lost Myself'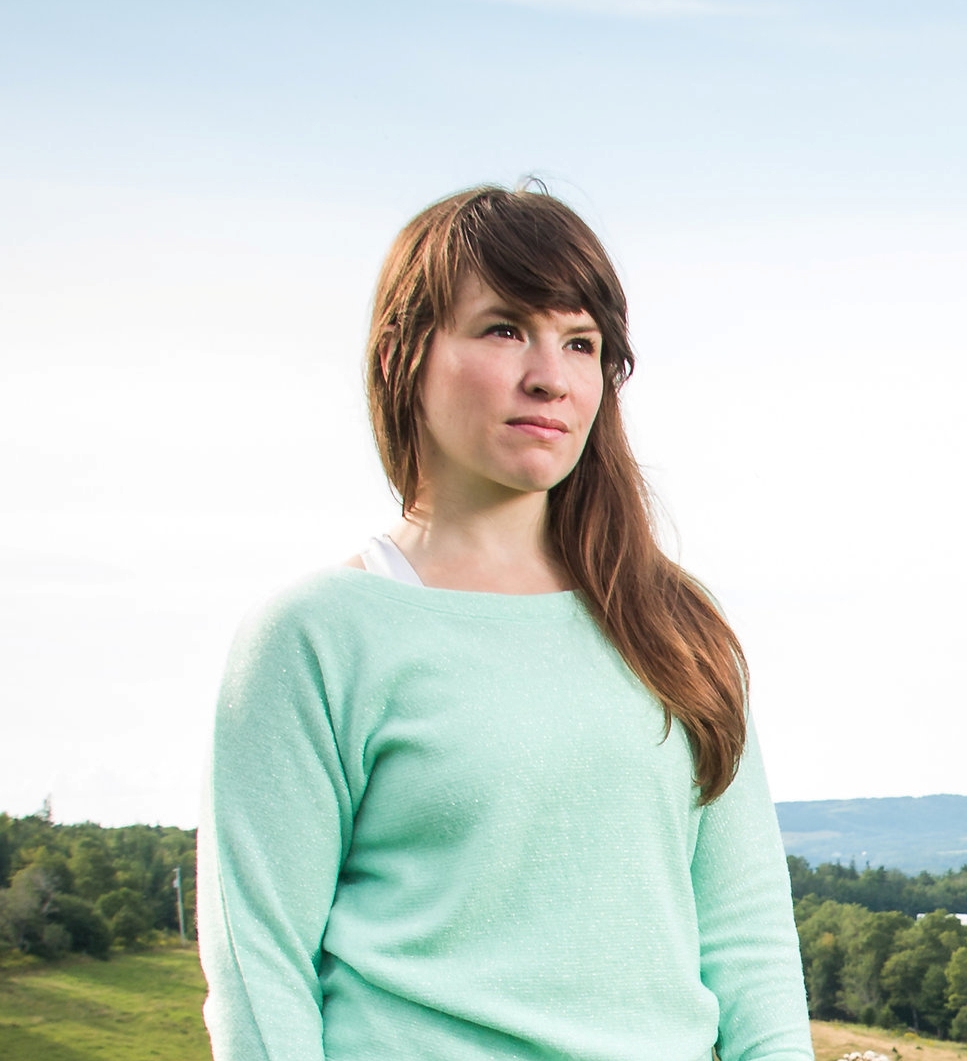 Kate Beaton
(photo: Stephen Rankin)
Canadian graphics creator Kate Beaton drew international praise for her bestseller Hark! A Vagrant! series in which she humorously, cleverly showcased famous figures. She pivots from the historical to the personal in a deeply revealing memoir, Ducks: Two Years in the Oil Sands (Drawn & Quarterly, $39.95, reviewed in this issue), about working as one of very few women in the male-dominated oil fields of Alberta, Canada. In immersive black, white and blue-tinted panels, Beaton bears powerful witness to desperate adversity and redeeming humanity with sharp candor--and unexpected, but gratifyingly welcome humor.
Some 15 years have passed since the events of Ducks. Your Drawn & Quarterly publisher, Peggy Burns, mentioned that this was six years in the making--and that it went through many incarnations: quick Twitter comics, a script, thumbnails, vignettes, until reaching this outcome. What prompted this creative pivot from your comical series to memoir?
I had been sort of winding down on Hark! A Vagrant. It had been going on for a long time. I think it was ending even before I realized it was because I was busy finding myself, doing other things and I was starting to look elsewhere. So it came to a natural end while I was working on Ducks.
To be honest, my sister [Becky] got sick. When she got sick, the heart for making Hark! A Vagrant just fell out of me. I didn't feel like writing jokes. So that was the end of that. I was glad I had Ducks already in motion, a project that I had to keep going. If I hadn't, I might have just totally fallen apart.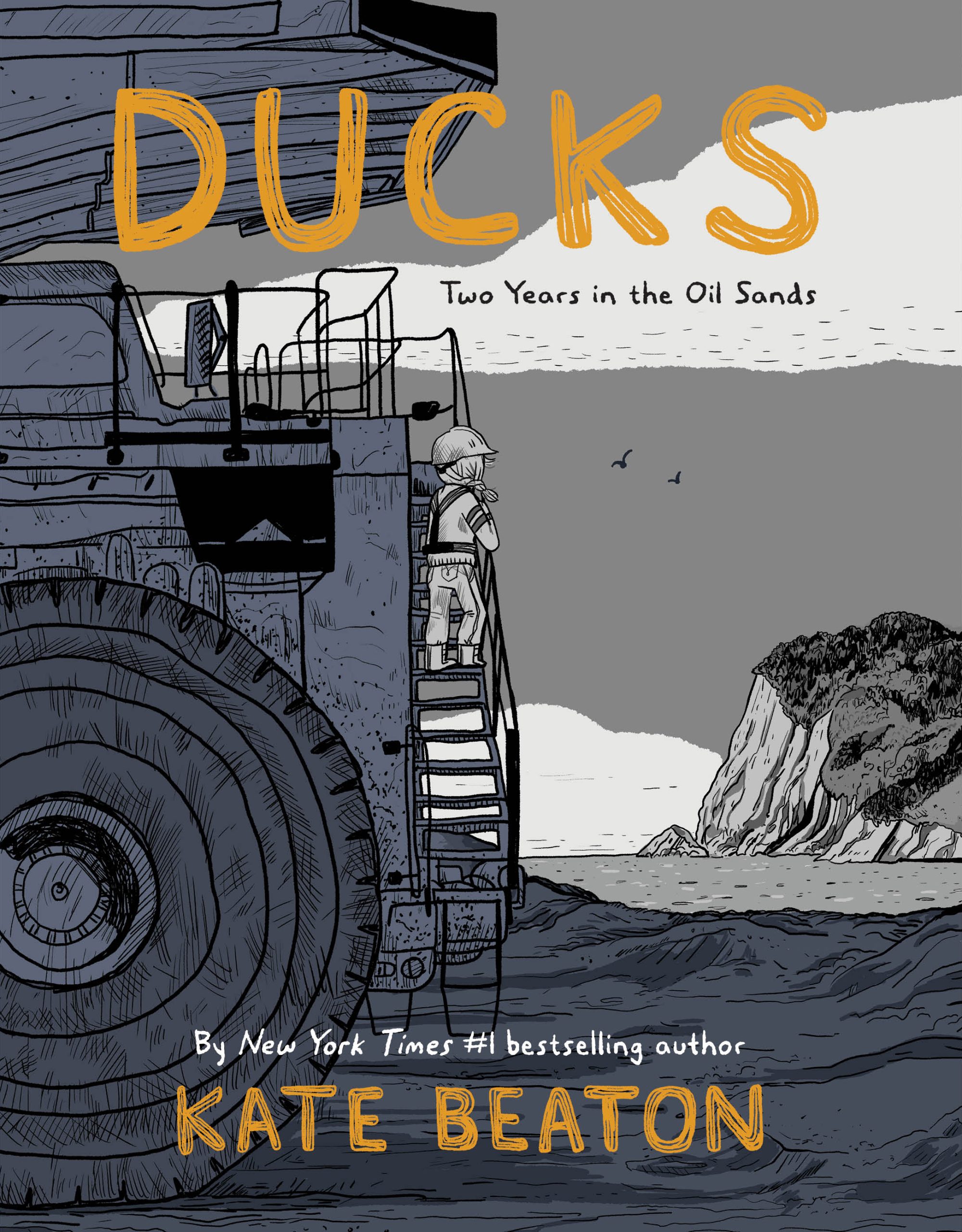 I noticed your loving mention of Becky on the Hark! A Vagrant online archives: "I'd like to dedicate this archive to my sister Becky Beaton, who we lost in 2018, and who always believed in me."
How do I put this... at the end, well, she was so tied up with the reason I was ending [the series], so a dedication just seemed fitting there. She was the first person I ever made comics with. A long time ago...
This is also your first long-form project. Could you talk about how this creative process differed from that of your previous work?
Yeah, it was very very different. I was so comfortable in what I had been doing before, so I didn't have a lot of confidence [with the new format] and I did a lot of second guessing. Even though I had confidence in what I was making, I found myself taking big steps forward and then looking at what I made and thinking, "Is this any good, or...." Whereas before I could be very sure of what I was doing, I had to approach [Ducks] very methodically. I wrote everything out, then went over everything again and again. I didn't use thumbnails. After I had something written down, I would look at each section with new eyes. I feel like the work went through the wringer quite a few times before it finally was good enough to put into finished panels.
I was always trying to make sure I was doing the work the right way. I didn't want to be working on something so long that was so important to me and get it wrong. I tried to look up how other people do graphic novels--and discovered that everyone does their work differently.
Speaking of your previous work, Hark! A Vagrant debuted on the web when you were in the oil sands. Some of that backstory is included in Ducks. Would you share a bit more about its provenance?
I drew comics for my school paper when I was at university and I enjoyed that. But when I went to the oil sands, I stopped drawing, pretty much for the first full year, because there was nowhere to put it, there was no point. You'll notice in Ducks that the first year was especially harsh. And I felt that. I lost myself in all that.
Then I went to Victoria for a year to take a break. I worked at a museum and I started to feel like myself again and started drawing in earnest. Then I had to go back--I went to Albian Sands, an oil-mining site. I would go home to my little camp room and draw. I had Internet there, and I would go on LiveJournal to be with other cartoonists I was beginning to meet online. They had a little community, and I was feeling like a part of that. I would draw my comics and the next morning I'd get on the big photocopier at work, then post [my work] online. I could feel like myself, feel like I had something just for me. It was a real saving grace in a place where people did not see me for who I was. Comics gave me this avenue to a part of myself that had been lost and I was very grateful.
Ducks begins with a poignant tribute to your hometown, Cape Breton, which you felt you had to leave in 2005. Now you're finally back! I saw the pictures of your youngest son, Charlie, and of the ducks--both your book and the adorable waddling kind--on your Twitter feed. Did you always intend to return?
I never pictured myself coming back and I never pictured myself living anywhere else, either. It was always a big open-ended question. I grew up knowing that almost everyone leaves. But where you go, though, was always like, "well, I just don't know." I was in Toronto, I was in New York, I was in different places, but they never felt like home. When I was in my 20s, I pictured myself having a family but when I tried to picture where that family might be, I wasn't ever sure. I had spent so much time being away from home, feeling like away was the place that I had to be because that's how we grew up, being told we had to find a better life away.
I came home in 2015, just to try it out. I was feeling very done with Toronto, so I thought I'll try home. And then my sister got sick--again. She was here, she had cancer. She was sick for three years. She didn't get better, so I just stayed. And then I met my husband. It wasn't so much a conscious decision that I was going to stay here. But once I got home, it just seemed like the right place to be.
Speaking of the literary Ducks, I saw your "As good as promo videos get" tweet, in which you tell your toddler, "This book is too old for you, it's not for Charlie." Who might be your ideal audience? What are some reactions you hope for?
It's funny because I've had this one copy for the longest time, and it's going around to my relatives and they're all "hmmmm." They're all reading the same very personal book, and they all like it. I'm glad. Friends are like, "That's not my ideal audience," but it is. It's anyone--honestly, it is anyone... who's not a child.
And the reaction I could hope for is, I think, that it's a book about empathy--and that empathy could be for just about any character in the book. Of course, the main character is myself and readers are dropped into the story through my eyes. But the scope of experiences that you see was as wide a net as I could make it so that you have an idea of other people's lives, to show how much of a grey area life is. That understanding, that's what I hope for.
Because your curious groupies must know, what might we expect next?
I have some picture book stuff that I've been working on. My publishers have been so patient with me because I keep having babies. Nothing puts a halt on a project like having another baby: "How's that book coming?" "Well, I'm pregnant... again." But my publishers have been so wonderful and supportive. I couldn't ask for better publishers in the children's book world, or the graphic novels world.
I think that I'd like to steer away from memoirs next because I've been drawing myself quite a bit. I would like to do something new with comics that isn't gag humor and that isn't memoir. I'm looking at possibly fiction but keeping the themes that are important to me. I'm poking around with that, so we'll see how well I do. If it's no good, then nobody gets to see it. If it's any good, you will. --Terry Hong
Rediscover
Rediscover: Barbara Ehrenreich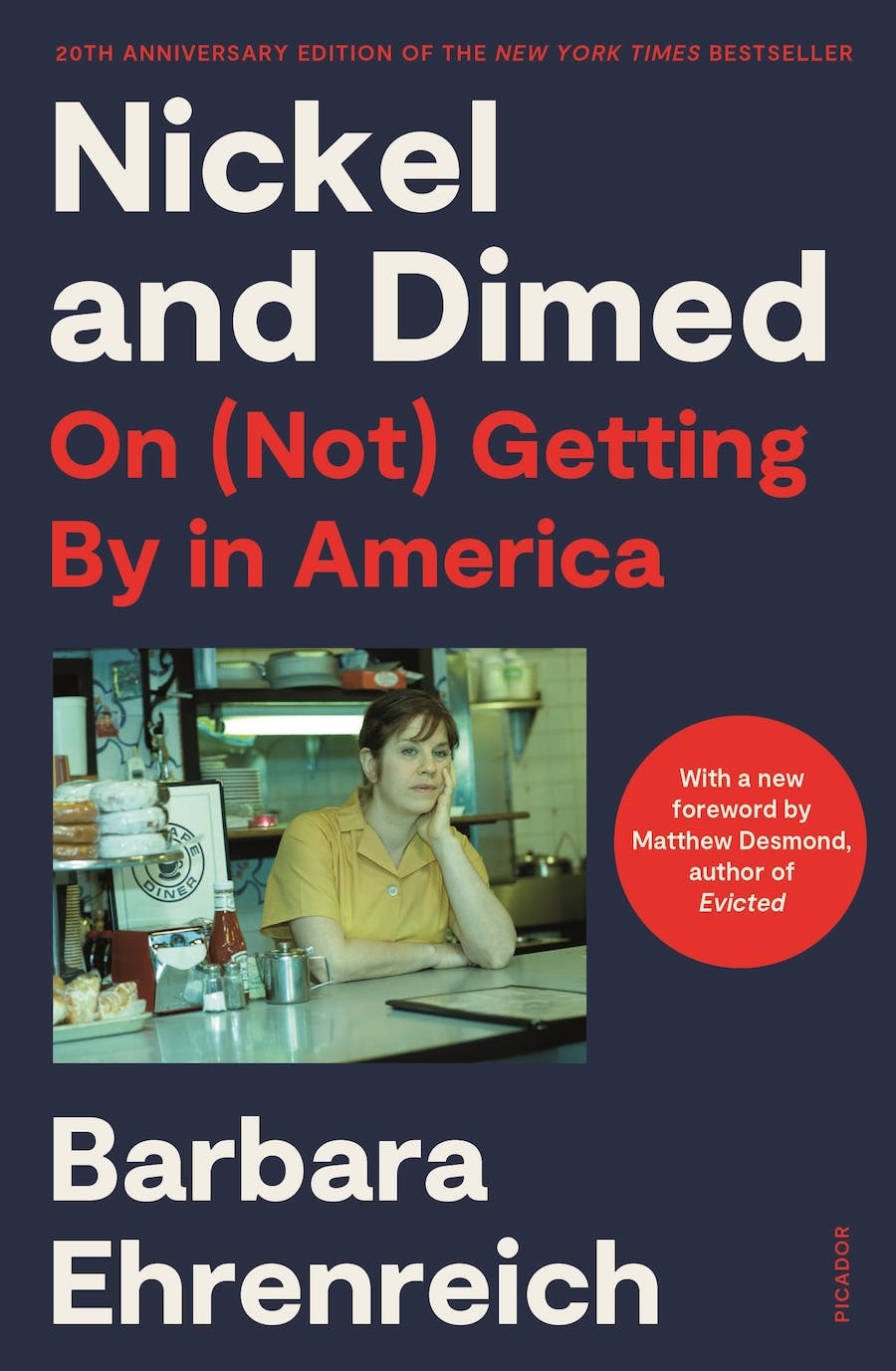 Author, journalist and activist Barbara Ehrenreich, whose Nickel and Dimed: On (Not) Getting By in America (2001) is considered a classic in social justice literature, died September 1 at age 81. In more than 20 books, Ehrenreich tackled a variety of themes: the myth of the American dream, the labor market, health care, poverty and women's rights. Her motivation came from a desire to shed light on ordinary people as well as the "overlooked and the forgotten," said her editor Sara Bershtel.

Ehrenreich's first book, Long March, Short Spring: The Student Uprising at Home and Abroad (1969, co-authored with husband John Ehrenreich), grew out of her anti-Vietnam War activism. Their second book, The American Health Empire: Power, Profits and Politics, was published the next year. Ehrenreich quit her teaching job in 1974 to become a full-time writer, selling a number of articles to Ms. magazine in the 1970s. In addition to her essays and articles for many publications, Ehrenreich's critically acclaimed books included The Hearts of Men: American Dreams and the Flight from Commitment (1983), Fear of Falling: The Inner Life of the Middle Class (1989), The Worst Years of Our Lives: Irreverent Notes from a Decade of Greed (1990) and Blood Rites: Origins and History of the Passions of War (1997).

Nickel and Dimed, however, "resonated with working Americans and became a turning point in her career," the New York Times wrote. The book's genesis was a casual lunch meeting at which Ehrenreich "was discussing future articles with her editor at Harper's magazine. Then, as she recalled, the conversation drifted. How, she asked, could anyone survive on minimum wage?" The resulting book, Nickel and Dimed, was "an undercover account of the indignities, miseries and toil of being a low-wage worker in the United States." Working as a waitress near Key West, Fla., Ehrenreich "quickly found that it took two jobs to make ends meet. After repeating her journalistic experiment in other places as a hotel housekeeper, cleaning lady, nursing home aide and Wal-Mart associate, she still found it nearly impossible to subsist on an average of $7 an hour. Every job takes skill and intelligence, she concluded, and should be paid accordingly," the Times wrote.

After the book's success, Ehrenreich "applied her immersive journalism technique to works about the dysfunctional side of the American social order," including Bait and Switch: The (Futile) Pursuit of the American Dream (2005), Smile or Die (2009) and a 2014 memoir, Living with a Wild God. Her most recent book, Had I Known: Collected Essays, was published in 2020. A 20th anniversary edition of Nickel and Dimed, with a new foreword by Matthew Desmond (Evicted), was released last year by Picador ($17).