Week of Friday, September 23, 2022
In this week's issue, we review Less Is Lost, the sequel to the Pulitzer Prize-winning Less by Andrew Sean Greer, and compare it with Nabakov's Lolita, "in that both are portraits of America from characters who consider themselves outsiders"; in Bliss Montage, eight stories by Ling Ma are "gems gathered together" in an array that begins with a story about Adam and concludes with one about Eve; and in I'm the Girl--part murder mystery, part thriller, part queer romance--Courtney Summers presents "a brutal, raw account of truths behind power and privilege"; plus so much more!
David Rhodes speaks of his return to the Driftless area of Wisconsin for his sixth novel, Painting Beyond Walls (reviewed in this issue), in The Writer's Life: the encroachment of the wealthy into more modest rural areas, and the biases--on both sides--as he also explores intimate relationships.
The Best Books This Week
Fiction
Science Fiction & Fantasy
The Unbalancing
by R.B. Lemberg
Accolades for Birdverse, the diverse, inclusive fantasy series from R.B. Lemberg (The Four Profound Weaves), include Hugo and Nebula nominations for short fiction. In The Unbalancing, the urgent, bittersweet first novel of the series, a charismatic starkeeper and a shy poet confront the past in hopes of saving their home and their people.
Erígra Lilún has no desire to serve as starkeeper to the unquiet Star of the Tides, one of 12 magical stars the goddess Bird bestowed upon humanity. The star has slept tethered for a thousand years to the archipelago where they live, but now its nightmares shake Lilún's island with earthquakes. The ghost of the original starkeeper haunts Lilún and pressures them to bond with the star, but they refuse because the sleeping star cannot give its consent. Ambitious, impatient Ranra Kekeri has no such qualms and accepts both the glory and responsibility of the position. Lilún is smitten, calling her "someone I would write about through words of summer storm and thundercloud," though they find Ranra's high energy and decisiveness disorienting. Starkeeper and poet take the lead in calming the star, but every move seems to bring their home closer to disaster.
This prequel to Lemberg's poem "Ranra's Unbalancing" intimately sketches its protagonists and the culture they inhabit, which accepts gender as a spectrum. Nonbinary Lilún's journey to finding their place on that spectrum feels deep and authentic. Lemberg gorgeously captures the fragility of life, the courage of despair and the uncertainty of nascent love on the cusp of destruction. --Jaclyn Fulwood, blogger at Infinite Reads
Tachyon, $17.95, paperback, 256p., 9781616963804
Drunk on Love
by Jasmine Guillory
Jasmine Guillory, author of the Wedding Date series, exchanges busy San Francisco for California's lush Wine Country in Drunk on Love, her newest romance. Margot Noble inherited half of her uncle's winery. This would be great, if people weren't constantly surprised that a Black woman owns a winery and if the other half of the establishment wasn't owned by her recalcitrant brother, Elliot. Tired of arguing with Elliot and irritated that he hired some guy named William without even consulting her, Margot heads to a local bar to burn off some steam. She is delighted to discover a handsome Black man there (a rarity in Wine Country) and, although she's not usually a one-night-stand person, Luke is irresistible. Margot ends up going home with him and having an incredible night.
The next morning, when he arrives at the winery to complete his paperwork, Margot is horrified to discover that Luke is actually Luke Williams, the "William something" her brother hired. Luke is also alarmed that the sexy woman he spent an amazing night with is his new boss. Can they work together without giving in to the strong attraction between them?
As always, Guillory (Party of Two; Royal Holiday; The Wedding Party) brings readers a female lead who is smart and savvy--and knows what she wants out of life. But Margot has a lot to juggle between the winery, her complicated relationship with her brother and Luke's hotness. Fans of Guillory's other books or Abby Jimenez's Part of Your World are sure to love Drunk on Love. --Jessica Howard, freelance book reviewer
Berkley, $27, hardcover, 400p., 9780593100875
Lucy on the Wild Side
by Kerry Rea
Lucy on the Wild Side by Kerry Rea (The Wedding Ringer) is a charming Ohio-set romance, perfect for fans of Kerry Winfrey or Christina Lauren. When Lucy Rourke was a girl, her mom abandoned her for a Hollywood career. Lucy coped with her mother's absence by bonding with Zuri, a gorilla at the Columbus Zoo, and obsessing about Dr. Charlotte Kimber, famous for working with wild Rwandan gorillas.
Fast forward 20 years, and Lucy is a junior keeper working with primates at the Columbus Zoo. Astonishingly, Dr. Kimber's son--Kai Bridges, a famous Crocodile Hunter-esque television host--chooses the zoo to film the next season of his show. Lucy is thrilled to meet the son of her idol--until he turns out to be rude and dictatorial. And, what's worse, as shooting for the new season begins, Kai insists that Lucy must be on camera. Lucy really prefers to stay in the background with her beloved gorillas, but she also wants to be promoted to senior keeper. Can she, all at once, navigate her appalling stage fright; Kai, the handsome jerk; and her mother's reappearance in her life?
Lucy on the Wild Side, sweet and sexy, showcases a woman afraid to ask for more from life. But slowly Lucy comes to realize she deserves love and that Kai just might be the person to offer it. Full of hilariously disgusting animal facts, Lucy's delightful clumsiness and a full cast of amusing zookeepers, Lucy on the Wild Side is sure to appeal to romance fans and animal lovers alike. --Jessica Howard, freelance book reviewer
Berkley, $17, paperback, 352p., 9780593201862
It's So Magic
by Lynda Barry
Lynda Barry is a teacher, an Eisner Award-winning comics artist, and a MacArthur "genius grant" recipient. Considered one of the form's most influential creators, Barry helped move the comic arts into the mainstream. It's So Magic collects Ernie Pook's Comeek episodes from the early 1990s featuring teenager Maybonne Mullen and her younger siblings, Marlys and Freddie.
When the book opens, Maybonne and Marlys are living with their grandmother, and Freddie is living elsewhere. In introducing their mom, Maybonne explains, "We don't live with her for she is too high strung." Few mentions are made of their mother, with only occasional references to a possible breakdown. Later, Freddie rejoins his siblings, and at the end, they all go home, a reunion that perfectly captures Maybonne's mixed emotions: simultaneously angry at their mother and overjoyed to see her.
Maybonne and Marlys are perfect foils to one another, equal parts angst and antics. Teenaged Maybonne believes the world is magic even when she is low, experiencing what the ever-exuberant Marlys calls "riding on a bummer." As Maybonne wrestles with issues of faith and war and injustice and discrimination, Marlys manages to pepper her often hilarious segments with unexpected insights. It's So Magic offers true laugh-out-loud moments as well as thoughtful commentary that will feel as fresh today as it did in the 1990s. If it feels like Marlys steals every scene, that's because she does, but it is through Maybonne that readers will find themselves thinking deeply about the human experience, and that is Barry's great gift: to make readers laugh and to make readers think, all at the same time. --Sara Beth West, freelance reviewer and librarian
Drawn & Quarterly, $21.95, hardcover, 128p., 9781770466210
Bold Ventures: Thirteen Tales of Architectural Tragedy
by Charlotte Van den Broeck, transl. by David McKay
Belgian poet Charlotte Van den Broeck (Chameleon) has written a lively, deeply engrossing exploration into the nature of architectural creation. She "developed a personal interest in architectural failures--especially in failures that cost the architects their lives," when, in the early 2000s, her Flemish hometown swimming pool was beleaguered by a multitude of problems. Mechanical flaws and technical glitches peaked when the pool started to sink into marshy ground, raising the possibility of swimmer electrocution. The growing list of dangers eventually led to rumors that the disgraced pool architect, left publicly unnamed, had taken his own life.
This led Van den Broeck to consider: "What makes a mistake larger than life, so all-encompassing that your life itself becomes a failure? Where is the line between creator and creation?" Van den Broeck examines this and 12 other doomed architectural structures--churches, theaters, libraries, post offices, galleries, gardens and golf courses in Europe and the U.S.--researching their creators, some plagued by hubris and haste. This includes the Church of Saint Omer in Verchin, France, designed in the 1600s by architect Jean Porc. It took nearly 70 years to build the gothic structure, whose tower became crooked and twisted due to a lack of proper support and the use of unseasoned elm wood that warped. Legend has it that, in defeat, Porc jumped to his death from the "exceptional" spire.
The sad tragedy of suicide resides at the heart of each historically framed, vividly written chapter. The narrative, translated from the Dutch by David McKay, is buoyed by Van den Broeck's meditative insights into all aspects of the creative life. -- Kathleen Gerard, blogger at Reading Between the Lines
Other Press, $27.99, hardcover, 304p., 9781635423174
WarholCapote: A Non-Fiction Invention
by Rob Roth
In 1978, a couple of New Yorkers--artist Andy Warhol (1928-1987) and writer Truman Capote (1924-1984)--got it into their heads to write a Broadway play together. It was Warhol who suggested that they record their conversations on tape; their chatter would be the source material for a great theatrical work. They never wrote the play, and the tapes were forgotten until theater director Rob Roth got it into his head to finish the job. The result is WarholCapote: A Non-Fiction Invention, a funny, dishy, illuminating and affectingly melancholy play that presents a series of dialogues between the titular titans, augmented by well-chosen asides pulled from interviews and other sources.
Across five conversations taking place in New York--at Warhol's studio, Capote's apartment, and a trio of hot spots--the friends cover some of their major life events and hang-ups. Warhol tells Capote about his discomfort with sex and about being almost fatally shot by Valerie Solanas in 1968. Capote vents about his alcoholism, appearance and unhappy childhood. Both men expound on topics such as their creativity, their homosexuality and Jackie Kennedy. Capote comes across as the more philosophical: he argues that a play "has to do basically with truth treated in a fictional form. To see a certain reality about what people are thinking. To see what is going on in their heads and everything." Warhol comes across as the more, well, Warholian: he says of their theoretical play, "I think it should be a situation comedy." Given WarholCapote's zingy odd-couple chemistry, that wouldn't have been a bad idea. --Nell Beram, author and freelance writer
Simon & Schuster, $26.99, hardcover, 224p., 9781982103828
Smart Brevity: The Power of Saying More with Less
by Jim VandeHei, Mike Allen, and Roy Schwartz
This book will change the way you write. Whether it's e-mails, memos, fiction, tweets or newsletters, Smart Brevity: The Power of Saying More with Less gives readers simple directives from the personal experiences of Jim Vandehei, Mike Allen and Roy Schwartz, co-authors and co-founders of Axios.
Here are a few "Tips & Tricks": subject lines should be no longer than 60 characters; one-syllable words are better than two-syllable words, two-syllable words are better than three-syllable; "active verbs always." Strong data supports the authors' advice. Once their articles moved to the Web and analytics entered their lives, they discovered: "On average, the typical person spends just 26 seconds on a story or update"; "about 80 percent of people... consumed, at most, 490 words." Readers were not staying for their complete stories. Each chapter of their book starts with a "Smart Brevity Count," based on the number of words and estimated time to read them. The authors do not stop at how to improve one's journalism, however. They discuss the art of the newsletter (including internal company newsletters), how to run Smart Brevity meetings, give speeches, communicate on social media--even how to run a company.
The common threads: What's the one big takeaway you want folks to know? Tell them why it matters. Then, before you go, remind them of the one big thing you want them to remember. Chock full of humor, insider lessons learned and lots of bullet points, Smart Brevity may well result in a paradigm shift in the workplace. --Jennifer M. Brown, senior editor, Shelf Awareness
Workman, $27, hardcover, 224p., 9781523516971
The Gospel of Wellness: Gyms, Gurus, Goop, and the False Promise of Self-Care
by Rina Raphael
Boutique fitness studios, clean eating, meditation retreats: they all sound helpful at best, harmless at worst. But what about other offerings from the $4.4 trillion wellness economy, such as intuitive fasting, on-demand manifestation workshops and crystal-assisted exorcisms? Journalist Rina Raphael is skeptical: "Pseudoscience and quacks have always been a mainstay of American culture," she writes in her tour de force, The Gospel of Wellness: Gyms, Gurus, Goop, and the False Promise of Self-Care. "But we've entered a new era of uncritically accepting them and their charcoal-infused nonsense."
Why is this so? Raphael outlines the appeal of wellness to a population disillusioned with traditional medicine and conventional religion, and she spotlights the ways that the wellness industry takes advantage of women's unique vulnerabilities. Women are pressured to be the fairer (and buffer) sex, and they often work the fabled--and exhausting--second shift at home after a day at the office. "In a sick way," Raphael writes, "we're sedating women with consumerist self-care--or worse, silencing them instead of encouraging them to vocalize their grievances."
Although she doesn't give Gwyneth Paltrow of Goop a pass, Raphael admits that she comes to her first book as a consumer of wellness products. She also acknowledges that the industry has done some good by prompting people to consider their health as they shop. But Raphael's evenhandedness doesn't negate the overall radicalism of her thesis. The Gospel of Wellness is the exposé the First World didn't know it needed a lot more than it needs jade vaginal eggs. --Nell Beram, author and freelance writer
Holt, $28.99, hardcover, 352p., 9781250793003
The Writer's Life
David Rhodes: Making Our Instincts Conscious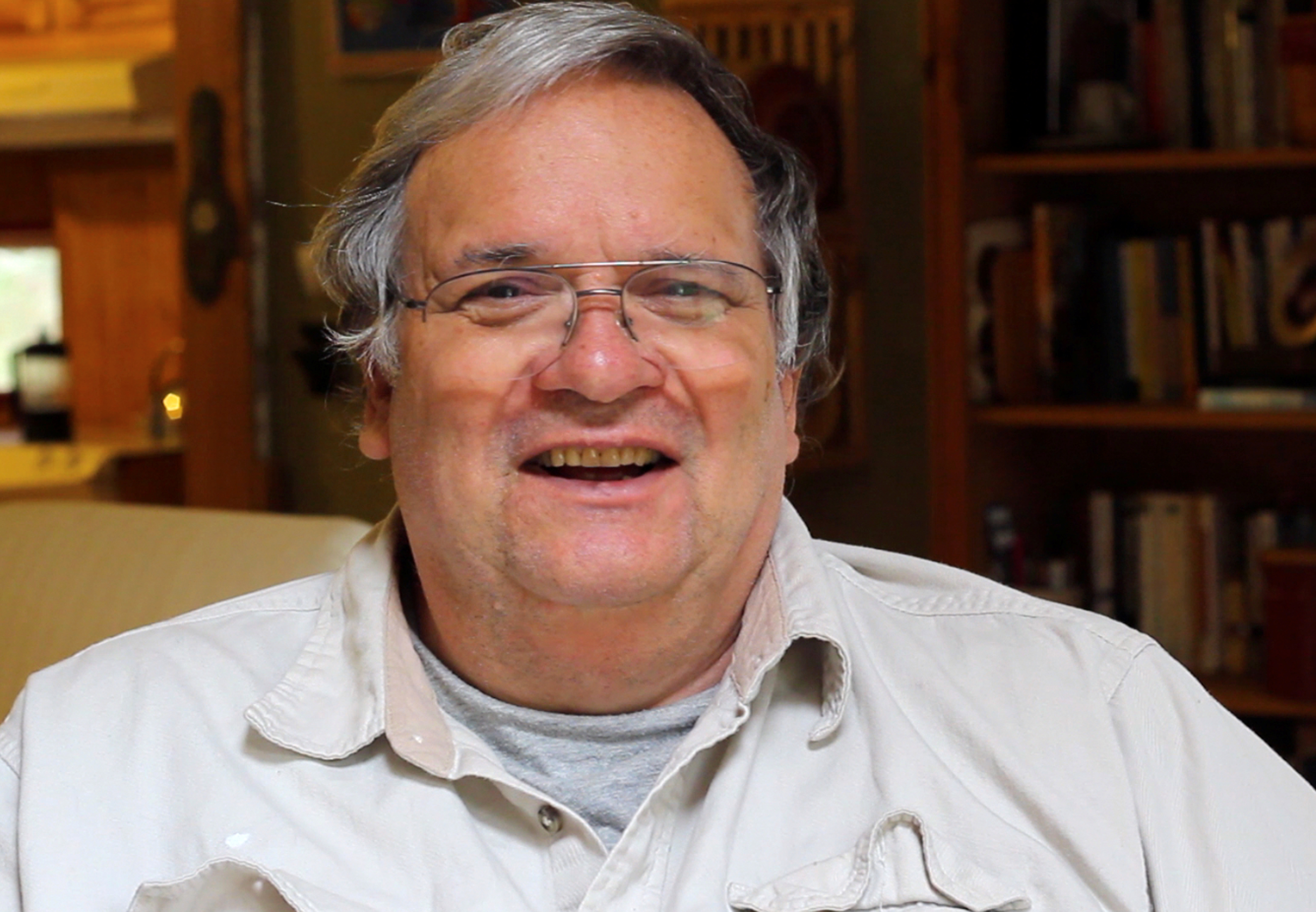 David Rhodes's acclaimed debut novel, The Last Fair Deal Going Down, was published in 1972, the year he moved to the Driftless area of Wisconsin, where he remained for more than 40 years. He now lives in Madison, Wis. The Driftless area was untouched by the last glaciers, and thus "the roads don't go straight and the farming hasn't been utilized for large-scale agriculture," Rhodes explained. His sixth novel, Painting Beyond Walls (reviewed in this issue), is set in this area, slightly in the future: August Held returns to Words, Wis., after being fired from his Chicago laboratory, to discover a wealthy enclave, Forest Gate, encroaching on his hometown.
Words, Wisconsin, is a fictional place, isn't it? Was it inspired by a town you know well?
Yes, it was. I lived a little ways out of Wonewoc, Wis. I felt very blessed--we moved there in 1972. It charmed me to death. There were 50 or 60 people living there, and they welcomed us, even though we were outsiders. It gave us a glimpse of an earlier way of living. I made a lot of really good friends there. My whole life kind of rolled out there.
I wanted to purposely take on the rural/urban divide and try to point out some of the endearing features of living in a rural area that are often overlooked. I wanted those to be experienced through the main character when he returned from living in the city for awhile. His sensibility would be somewhat sharpened. He makes the ultimate decision to stay, partly out of a sense of loyalty, and partly out of a decision of compromise between a professional life and a less professional life.
August picks friends who are self-actualized: Ivan and Hanh really know themselves. They wind up being a compass for him. Did you start out with that dynamic in mind? Or did it develop as the novel developed?
A little of both. I had their development from the earlier books [Driftless and Jewelweed]. I wanted to expose August to an example of nonpossessive love, and Ivan and Hanh seemed like good vehicles for that, to give August a new way of looking at what type of relationships were possible. And having that contrast between his relationship with Amanda [his wealthy Chicago girlfriend], and Ivan's relationship with Hanh--it was both evolving and also I'd thought I needed to do that from the beginning.
The relationships August has with Amanda Clark and April Lux revolve around class. Do you see August as a kind of human embodiment of what's happening in his town, with the wealthy encroaching on this idyllic, modest lifestyle?
I wanted very much to have that contrast be highlighted. August first experiences Forest Gate through his friends. He runs into the prejudices of Ivan and of Lester, and to some extent Hanh. Then he vocalizes that prejudice to his mother, and she says, "Why would you feel that way about them, how would you want them to act? They're rich, why shouldn't they have these things? You're judging them; you don't know them at all." I wanted to have that clash of classes. I've been prone in my own life to think, oh, that's a rich person, as if that means anything in terms of character or values, because I grew up in a working-class environment. It's just someone living in different circumstances.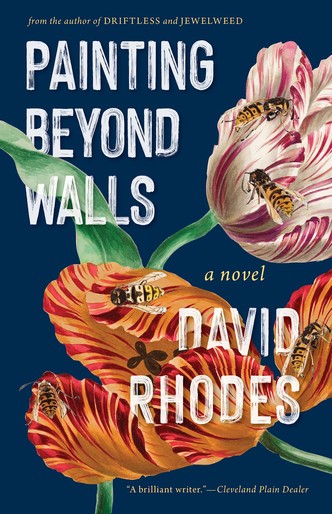 But there's another aspect here, too, which comes up after August has sex with his childhood crush, Hanh. Ivan left and allowed August and Hanh to complete what they'd left incomplete before August left for college.
That made Ivan into this character that was much more thoughtful and circumspect than you would normally imagine he would be.
What I wanted to try to do with the book was to encourage readers, or share with readers, that our intuitions, our instincts need to become entirely conscious in order for us to make choices about how to live in an ethical and happy way.
If they're not conscious, if we just act instinctually--when August says, I'm not feeling these things; my ancestors have given me these feelings--and you're not able to distance those from you, we don't live as full a life as we could. We need to make as much of our feelings as possible completely conscious. When our instincts become well-examined, we have more choice than we think we do.
Readers also get a window into the intimate relationship between Winnie and Jacob, August's parents, when he overhears them upon first returning to his house.
I could picture that scene so clearly when I started the book, where August's father had pulled the car he wanted to work on out into the garden where his wife was working so they could be together. They're totally different people with totally different interests who loved each other. I had Winnie in a nuanced discussion about how a particular prayer would work, and then her husband talking about the car he was working on. I had the most fun writing that scene.
The contrast between Ivan's time away working on the pipeline and August's time away in Chicago at first seems dramatically different. But as the novel develops, readers learn they were quite similar in terms of what both men learned about the world. Do you believe one needs to leave a place to know themselves?
I think you gain new perspectives by leaving the place you grew up in. I'm not sure that that means you can't have a fulfilled life without doing it, because that was one of the things I experienced when I first moved to the Driftless area.
I met some people who'd never been more than 20 miles away from where they were born. And they had perfectly well-rounded lives. The depth of knowledge concerning the people and place that they lived in was so profound that I think in a lot of ways it would fill their lives out just as much as a different perspective. It doesn't need to be judged as better or worse.
I interrogated myself in that way over Winnie--when she knew all about August's college roommate from Pondicherri, India, and the yogi who started an ashram near him, and then making August's roommate the perfect gift.
Isn't that something you have to learn over and over, not to be judgmental and not to ground your impressions on earlier things that those impressions remind you of? You form opinions and generate feelings around certain things, and when you run into those things, they bring up old feelings that don't belong in that environment. The things you learn when you're young don't always apply. You've got to relearn new rules. --Jennifer M. Brown, senior editor, Shelf Awareness

Monsters Born and Made
by Tanvi Berwah
In Tanvi Berwah's fast-paced, gripping debut, Monsters Born and Made, a young woman competes in a deadly tournament against the upper-caste members of her society to protect her family. This South Asian-inspired fantasy is harrowing and action-packed, with a lovers-to-enemies storyline, class divides and a deadly competition.
A thousand years ago, a group of voyagers fled their corrupted home and arrived on the Islands of Ophir with hope for a better future. What they found were 10 islands with 100-degree temperatures nearly every day, surrounded by the Panthalassan Ocean, filled with "sea creatures that are terror made into flesh." After great wars for control over resources, a "World Renaissance" occurred, in which a group of artists, architects and engineers ("Landers") rose above the rest, favored themselves with the safety of underground caves and assigned roles and a name ("Renters") to those they deemed lesser. A "Landmaster" was assigned to each island, and the POWs and criminals of society were made to fight with "maristags" to remind everyone of the "brutality of this world and what happens when you can't match its power." One prisoner survived, having tamed his maristag--a bipedal amphibious "living nightmare" with antlers and blade-sharp frillfins on its neck that can launch venomous harpoon-like barbs. That prisoner was named "First Champion." In his honor, the Landers began holding a "Glory Race" every four years, a tournament spread over multiple days with 10 charioteers, ages 16 to 20. The 10 race until one champion is left standing. Their prize: more gold than one could ever need in a lifetime.
While the Landers view the race as a celebration of resilience, 16-year-old Koral Hunter and her older brother, Emrik, descendants of the First Champion, see it as survival. Over the years, the Hunters, a sub-caste of the Renters, have risked their lives to capture and breed maristags. Hunters then train and sell the offspring to upper-caste Landers who will be competing in the quadrennial competition. On the last day of this hunting season, Emrik is severely injured. Koral saves her brother's life, but in doing so, allows the last maristag of the "annual upwelling of the waters" around her home island of Sollonia to get away. The teen Hunters return home bloodied and empty-handed. With the family's debt piling up and no money to buy medicine for her youngest sister's failing health, Koral decides to do something no Renter has ever attempted: cheat her way into the upcoming Glory Race--and win.
But Koral is competing against charioteers who have been training their whole lives. One such competitor is "golden boy" Dorian, a descendent of one of the island's founders, whom Koral cared for when they were simply "two kids who liked maristags and the sea and not [their] fathers." Until, that is, he started treating her like a stranger. As Dorian's father tries to eliminate Koral and a renegade group that wants to be "treated like they matter" rises in power, Koral must use tenacity and her knowledge of maristags to survive--sparing her family from the human (and real) monsters of Sollonia.
At the heart of Koral's story is a critique of the South Asian caste system. Through her lush world-building, Berwah deftly discusses oppression, inequality in healthcare and prejudice within castes. The Renters, who live in the desert-like climate of Sollonia, die gruesome deaths under the sun and suffer "lesions from sun exposure," "wounded eyes stitched haphazardly" and "bones broken and rejoined together wrong." Landers live safely in the "Terrafort," a subterranean hollow that protects the residents from the harsh sun and dangerous ocean, never having to worry about medical supplies or a monstrous creature swallowing their family whole. Renters are exposed daily to brutal temperatures, "making do with sand ink tattoos and skaya jelly as a sun shield," while Landers hoard the best heat repellents and sun blockers even if they don't need them.
The Hunters are a sub-caste, somewhere in between the upper elite--who control the family's status and fear any kind of power in a Renter's hand--and Renters, who think Koral and her family are traitorous sellouts. "The margin of the margins is a dangerous place to be," says Koral's mother, and Berwah shows this through rebels humiliating, attacking and blacklisting Koral from trading for loans or much-needed medical supplies.
The citizens of Sollonia aren't the only monsters in Berwah's story, however: actual beasts circle the island, lying in wait to devour its residents. Between the raptors with "saw-like teeth"; pocked-skin, winged "aquabats" with pincers; and giant amphibious half-goat, half-fish "capricorns" with claws instead of hooves, Berwah's creatures are frightening, and add another layer of terror to an already intense story.
It's not all doom and gloom, though. The sweet relationship between Koral and her sister, Liria, is heartwarming. Whether it's the two giggling together about their brother's lack of artistic understanding or Koral risking her life to give Liria a better one, the love they have for one another is the perfect balance to the white-knuckle, heart-pounding action in Berwah's enthralling epic fantasy. --Lana Barnes
Sourcebooks Fire, $18.99, hardcover, 352p., ages 12-up, 9781728247625
Creating a Whole Ocean Full of Monsters
An Interview With Tanvi Berwah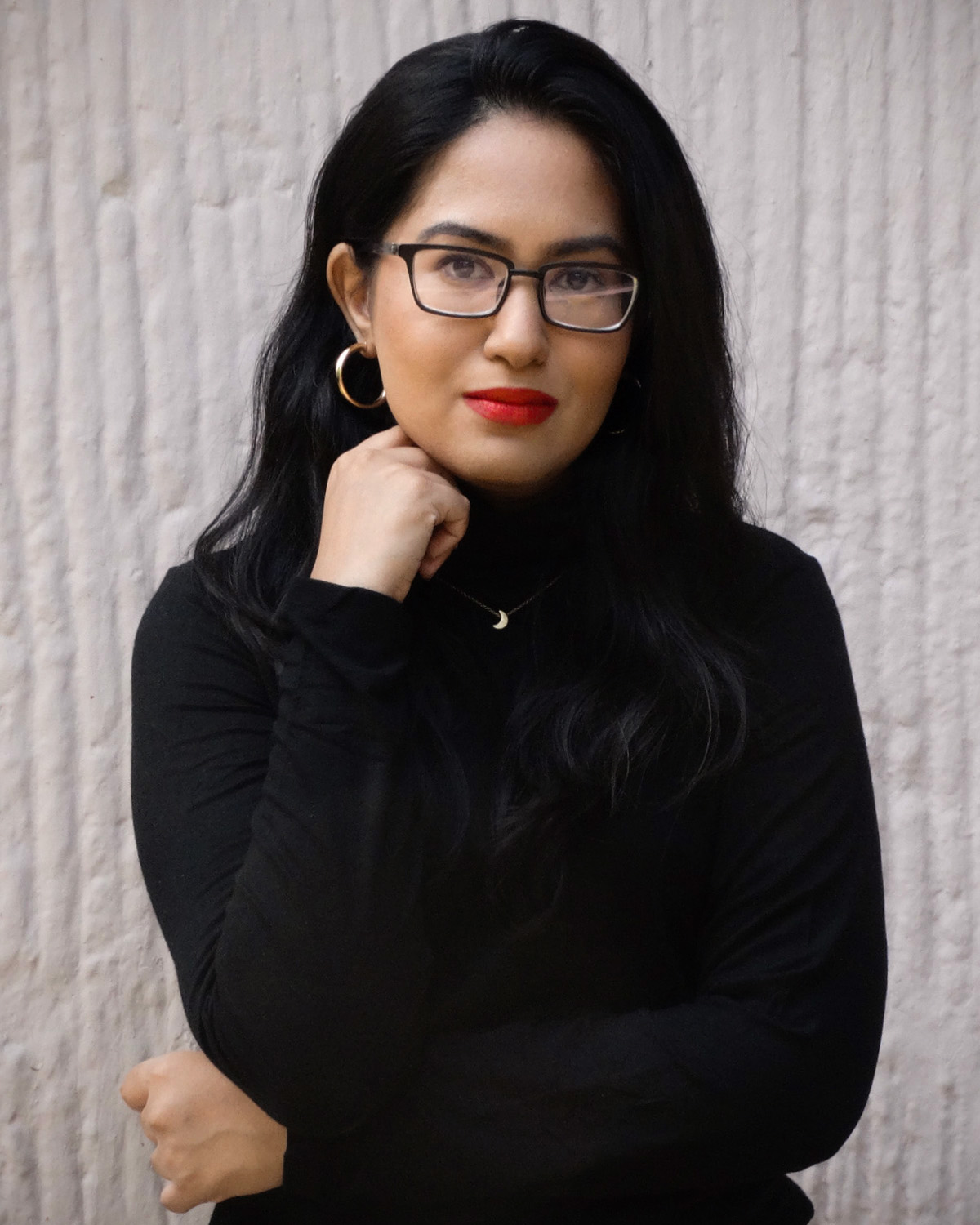 (photo: Yamini Berwah)
Tanvi Berwah is a South Asian writer who grew up wanting to touch the stars and reach back in time. She has a Master's in English literature from the University of Delhi, and lives in India. Monsters Born and Made (Sourcebooks Fire) is her first novel. Here, Berwah talks about what inspired the story and how she researched it.
Was a career as an author something you always saw in your future?
Absolutely! As a child, my parents got me children's magazines and comics, and I knew that real people wrote those stories, so that's what I wanted to do as well. Over the years, I considered other careers--such as astronomy and environmental law--but never at the expense of being an author.
What sparked the idea for this story?
Hindu mythology has a brief mention of emerald-green horses at the bottom of the Indian Ocean, and it was such a cool idea to build a story on that I immediately wanted to use it. But The Scorpio Races has already done deadly horses from the sea, and very well at that. It's one of my all-time favorite books! So, instead, my imagination turned from emerald-green horses into this invented creature, a maristag, which looks like a velociraptor with a markhor's head and horns. I had a lot of fun coming up with it--I started to think about the story not just in terms of this one creature, but a whole ocean full of monstrous creatures and what kind of effect that would have on people living on islands.
Take us through how you came up with those "monstrous creatures."
I'm an ocean lover and am interested in learning everything about it, including the extremely bizarre creatures that inhabit the deep. I studied vampire squids, whole books on cephalopods and how evolution takes place in reaches we might never see. One of the more accessible creatures that was the basis of maristags was the marine iguana of Galapagos Islands. I took the idea of the marine iguana and another creature that I absolutely love, the velociraptor dinosaur. It was a process of a lot of mix and match, especially since I wanted the maristags to physically be able to haul chariots. The Scythe Crab, another favorite from the list of monsters, is simply there because my sibling loves crabs. For most of the creatures, I thought about what would frighten me but would also have an element of fun--I wanted these monsters to be scary but intriguing.
How did you come up with this fantasy world? Were there any specific inspirations?
Although I started out reading books that were purely fantasy, I have a deep love of books that blend genres. I specifically wanted to write something that is fantasy but doesn't ignore any technological advances that could be made in any world. Once I knew I wanted to set the story on an island, the rest of it came organically. The nature of an isolated people in an unfamiliar, violent world gave me a lot of ideas: Why would island life be hard, apart from the obvious? Because the sun is unbearable, which makes life dry, deadly. When you're always reading about the climate deteriorating every day in the news, it's bound to stay in the subconscious and show up in this way. And since the islands are surrounded by sea, I researched coasts and remote places like Cnoc na Mara, Cornwall's Pillow Lava, the Giant's Causeway and the black beaches of Iceland, especially Reynisfjara.
Why did you want to include a lovers-to-enemies pairing?
I love a well-executed enemies-to-lovers trope, so I wanted to try the opposite and see where it went. It turned out that the point of contention that turned these lovers into enemies, or at least rivals, naturally served the core story about the class and caste divide, so it seemed like the obvious choice.
What was your experience writing this book? Were you writing or editing at the beginning of the pandemic? How did that affect your work?
Fortunately, I had drafted this book in 2018, which helped me have a good understanding of its world and characters by the end of 2019, when I entered the writing mentorship program Pitch Wars. Participating in it accelerated the re-drafting process so I was done by the end of February 2020. After that, things began to deteriorate, as we all saw. When I started editing with my agent, we were at the beginning and middle of the pandemic, depending on where you were in the world, so things were a bit haywire. And although I hadn't realized it at the time, the news bombardment of how the real-world healthcare infrastructure was overwhelmed and failing played into the story.
What has your experience been like doing publicity for this book? Do you think the move to virtual events has given you more opportunities (or fewer?) as someone living outside the U.S.?
So far, everything has been great. I was also active in the writing community years before I got the deal for this book and, thankfully, made some good friends and built a network, which has been helpful.
I'm sure a lot of people miss in-person events, and I know they can't be replaced, but virtual events truly have made things very accessible, both as a writer and a reader who is now able to attend events and conventions that I couldn't before. And I think it's true not just for me as an overseas writer, but also for American people with disabilities, or those who cannot travel for any number of reasons. So, this inclusivity is only a good thing.
Are you working on anything new?
I'm currently drafting book two which is set in the same world on another island. It expands on the lore and what exactly maristags are and where they come from, which are questions I've been getting a lot from readers who have had advanced copies! I'm excited to finish this book! --Lana Barnes
Shelf vetted, publisher supported.
Great Reads
Rediscover: Gender Queer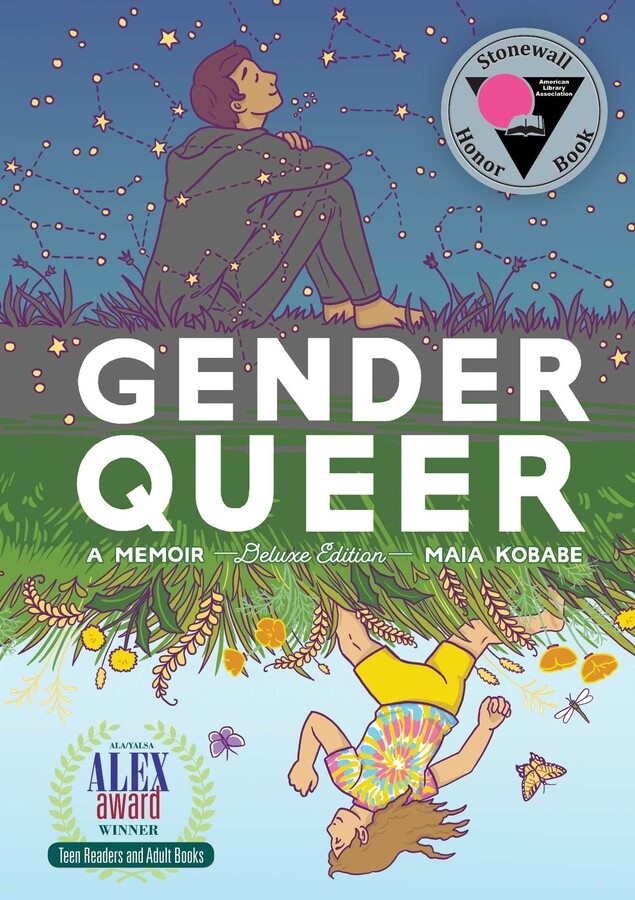 Banned Books Week is nearly over, but the fight for free speech in schools, libraries and bookstores continues. According to the American Library Association's Office for Intellectual Freedom, Gender Queer by Maia Kobabe was the most challenged book of 2021 and continues to be a lightning rod for censorship attempts. Thankfully the most egregious of these efforts was struck down late last month, when a Virginia Beach Circuit Court judge dismissed a case seeking to bar Barnes & Noble from selling Gender Queer and another book, Sarah J. Maas's A Court of Mist and Fury, to minors without parental consent. Though this escalation was thwarted, Kobabe's book has already been stripped from multiple schools and libraries and is sure to face future challenges.

Gender Queer (Oni Press) is a graphic memoir of Maia Kobabe's experience growing up nonbinary and asexual. Kobabe, who uses the pronouns e, em and eir, serves as both author and illustrator. In our review, Shelf Awareness associate editor Dave Wheeler called Gender Queer "[a] challenging yet heartwarming memoir [that] succeeds on all fronts." Originally published in 2019, Gender Queer won the 2020 ALA Alex Award and was a 2020 Stonewall-Israel Fishman Non-fiction Award Honor Book. In July 2022, Oni Press published a deluxe hardcover edition of Gender Queer with a new cover, bonus art and sketches, a foreword by ND Stevenson and an afterword by the author. --Tobias Mutter