Week of Friday, October 14, 2022
Among the 25 books reviewed this week: the brides of Dracula "come to glorious un-life" in A Dowry of Blood by S.T. Gibson, "a lush, erotic tale of obsession"; The River You Touch, Chris Dombrowski's "passionate ode to the beauty of the western land" that became his True North; and CSK-John Steptoe Award-winner David Barclay Moore's Holler of the Fireflies, "a feel-good book that still manages to go deep into heavy topics," centered on Javari's summer at a STEM camp; plus so many more!
In The Writer's Life, author/artist Oliver Jeffers converses with Stephen Smartt, a professor at Queens University Belfast and leading authority on exploding stars, about Meanwhile Back on Earth, Jeffers's picture book inspired by Smartt's 10km scale model of the solar system.
The Best Books This Week
Fiction
The Furies
by John Connolly
In The Furies, John Connolly (The Nameless Ones; A Book of Bones) combines two short novels into one fiery thriller that has detective Charlie Parker--from the series of the same name--stepping back to let scorned women take down the bad guys. The first part centers on Raum Buker, an ex-con who commits a coin heist promptly upon his release from prison. He books a room at the Braycott Arms, a seedy motel, to lie low. While there, Raum renews sexual relations with the Sisters Strange, Dolors and Ambar. Dolors tells her ex-boyfriend, Will Quinn, that Raum smells of burning, and Will hires Parker to keep her safe. A sinister paranormal presence has been following Raum, putting both sisters in danger. But the Strange women aren't pushovers and it might be best for Parker to step out of the way.
In the second novel, comprising part two of the book, Sarah Sawyer hires Parker. She's being threatened by lowlifes Lyle Pantuff and Gilman Veale for money her late husband stole. The thugs are holding hostage some of her dead daughter's possessions and demanding money Sarah doesn't have. The blackmailers hide out at the Braycott Arms, where Veale endures sleepless nights hearing a child running up and down the hallway. But the motel has a strict no-kids policy. Who or what is prowling the place at night?
Fans of the Charlie Parker series will be elated at two doses of their favorite supernatural detective in one spectacular volume, complete with macabre humor and spinetingling mystery. --Paul Dinh-McCrillis, freelance reviewer
Emily Bestler/Atria, $28, hardcover, 512p., 9781982177003
Science Fiction & Fantasy
A Dowry of Blood
by S.T. Gibson
The brides of Dracula come to glorious un-life in A Dowry of Blood, a seductive and visceral novel from S.T. Gibson (Robber Girl) that follows the legendary blood-drinker's concubines as they come into their own. A young peasant lies bleeding and broken after the brutal slaughter of her village until she is visited by a man she calls only "you." He transforms her from dying human to undying vampire, from helpless victim to his death-dealing queen. She leaves her old name and becomes "Constanta, your dark and unbreakable jewel." Although she never identifies him as Dracula, a later reference to a "debacle with the Harkers" removes any possible doubt.
Their honeymoon leaves a trail of bodies across Europe from the days of the Black Plague through the early 1500s. Constanta is furious when he presents her with brilliant, gorgeous Spanish noblewoman Magdalena as a sister-bride. She doesn't stay angry for long: she falls deeply for their newly turned companion. However, her affection for Magdalena forces her to realize that their maker acts more like a jailer than a lover. When their family grows again, Constanta realizes the brides must find a way to free themselves from a violent master who will never let them go.
Gibson's lush, poetic prose brings romance and grace to a tale of violence and obsession. Her polyamorous vampire brides have a group dynamic that flows from unflinching eroticism to familial bonding--and then back again--with deft ease. This dark-fantasy meditation on domestic violence and survival breathes new life into the Dracula mythos. --Jaclyn Fulwood, blogger at Infinite Reads
Redhook, $27, hardcover, 304p., 9780316501071
An American expatriate learns her quaint British island home has a dangerous secret in Lute, a foreboding, chilling first novel for adults from YA author Jennifer Thorne (Night Music, writing as Jenn Marie Thorne). Nina, a Floridian, has lived on the British island of Lute with her husband, Lord Hugh Treadway, for seven years in a near future that sees America at war with Europe. She deems whispers about "the Day," the local name for every seventh summer solstice, mere superstitions that the islanders use to explain their fabled luck and prosperity. She is disappointed when Hugh books their family a holiday off the island, but the boat leaves without them. The Day comes, and Nina finds herself living out a horror story as deaths begin to stack up à la Final Destination. She begins to grow into her traditional role as Lady Treadway, feeling "struck by the strange vertigo of not knowing what's spontaneous and what's a tradition lost in translation." The plot drives toward an explosive conclusion, and no one's survival is guaranteed.
Thorne builds an eerie, claustrophobic atmosphere with gothic elements and images lifted from Britain's pagan past. Sacred groves and sacrificial stone altars lie within reach of a mostly empty manor house. Nina's shift from outsider to leader echoes the story's themes of responsibility, community and equilibrium. The Day takes mercilessly, yet there is a savage beauty to its balance of grief and honor. This quiet, brutal alchemy of death and duty will haunt and delight horror and fantasy readers. --Jaclyn Fulwood, blogger at Infinite Reads
Tor Nightfire, $26.99, hardcover, 288p., 9781250826084
Before I Do
by Sophie Cousens
Before I Do, the clever and charming third novel from Sophie Cousens (This Time Next Year; Just Haven't Met You Yet), explores the fears and hopes of a woman on the verge of marriage. Audrey loves Josh and feels like his steadiness balances her wanderlust. But when everything related to their wedding that could go wrong does go wrong--a dead bat falls from the church ceiling, the photographer gets stuck in traffic, her mother seems to be having yet another affair and Josh's grandmother keeps talking about omens--it makes Audrey wonder if the universe is trying to tell her not to get married.
Audrey becomes convinced that she's making a terrible mistake when Fred shows up as an unexpected wedding guest. The so-called one that got away, Fred shared one magical day with her six years earlier. The novel is expertly paced, flashing back and forth from the wedding preparations to Audrey and Fred's incredible day of adventure and Audrey and Josh's slower-paced courtship. It's also a thoughtful look at what truly makes relationships tick and how to handle those lingering "but what if?" feelings. Transcending the typical love-triangle trope, Before I Do is smart, funny and consistently delightful. Audrey's butterflies are familiar, and the series of unfortunate events that befall her, Josh, Fred and the rest of the wedding guests are downright hilarious. Fans of Beth O'Leary or Sophie Kinsella are sure to love Sophie Cousens's work. --Jessica Howard, freelance book reviewer
Putnam, $17, paperback, 384p., 9780593539873
The Belle of Belgrave Square
by Mimi Matthews
Two people struggling with the roles they must play in society create a haven in The Belle of Belgrave Square, the comforting second entry in the Belles of London series by Mimi Matthews (The Siren of Sussex). Julia Wychwood suffers from oppressive anxiety in London's high society, but she loves riding horses and reading novels: she and her friends are "more comfortable in their sidesaddles than in a ballroom." She nearly faints the first time she is introduced to Captain Jasper Blunt. Unfortunately, her parents expect her to use her dowry to win a husband who will keep her close by so that she can continue to care for them.
Jasper Blunt, although widely hailed as a war hero, is also haunted by rumors of his conduct in the army and the illegitimate children he's hiding at his country estate. He needs a wife with money to pay for the upkeep of the crumbling house in Yorkshire and provide for the children's future. When Julia realizes she must escape her parents and proposes to him, he accepts her condition that he take her away from London and allow her to read and ride all she wants. In exchange, she is forbidden from entering his private study or asking questions about his past.
Julia gradually comes into her own as she settles into country life, bonds with her stepchildren and peels open the mysteries in Jasper's background. If Jasper's secrets are not difficult to guess, the journey to their revelation--resonant of the myth of Eros and Psyche as well as "Beauty and the Beast"--is still emotionally satisfying. --Kristen Allen-Vogel, information services librarian at Dayton Metro Library
Berkley, $17, paperback, 432p., 9780593337158
Rambutan: Recipes from Sri Lanka
by Cynthia Shanmugalingam
Cynthia Shanmugalingam, a British Sri Lankan Tamil chef known for her eatery pop-ups and street food stalls, which serve a frenzy of happy customers, has taken the London food scene by storm; she is planning to open her first restaurant in London's Borough Market. With her vivacious writing style, enhanced by images of her ancestral homeland and its people, Shanmugalingam's energetic narrative and tasty recipes in Rambutan: Recipes from Sri Lanka offer readers a veritable feast for the senses.
Shanmugalingam was born and raised in Coventry, England, and spent summer vacations visiting extended family across Sri Lanka. In Rambutan, her first cookbook, she celebrates the diaspora dishes of her immigrant family, influenced by their island heritage, adding special twists designed to deliver "as much edible Sri Lankan joy as easily as possible." There are more than 80 recipes: half are vegan, and vegetables play a starring role in many of her creations. She includes instructions for simple, homemade spice mixes and an abundance of red, white and black curry recipes, boldly declaring that curry was in fact invented by the Tamil people. She presents multiple recipes for sambol, a side dish that deliver hits of concentrated flavor; explains the ancient method of tempering spices to ignite their aroma; and spotlights bowl-shaped pancakes known as "hoppers," calling them "the racy underwear of Sri Lankan food."
Rambutan is a cookbook to be savored for its abundance of accessible recipes and celebration of Sri Lanka's joyful food culture. It invites readers to experience the fascinating trajectory of one family's culinary history. --Shahina Piyarali, reviewer
Bloomsbury, $35, hardcover, 336p., 9781526646576
Down and Out in Paradise: The Life of Anthony Bourdain
by Charles Leerhsen
In Down and Out in Paradise: The Life of Anthony Bourdain, Charles Leerhsen concludes that the celebrity chef wasn't so much a great cook or writer as a great personality and storyteller. Leerhsen seems to channel his subject's exuberant spirit, spiking his pages with Bourdainian swagger and a drizzle of lawlessness, starting with the biography's unsurpassed first sentence: "One day about twelve years before he started to smoke and drink, Anthony Bourdain was born."
Anthony Bourdain (1956-2018) was raised in the New Jersey suburbs by parents whose doomed marriage and foodie ways probably equally influenced him. His very gradual climb up the New York restaurant ladder led Bourdain to distill his decades of experience in Kitchen Confidential: Adventures in the Culinary Underbelly, the 2000 bestseller that made him a literary star. He then became a star of the small screen across a span of 17 years as the gonzo host of various on-the-road food shows.
Leerhsen (Butch Cassidy) taps more than 80 interview subjects and pays particular attention to the women who, crucially, shaped Bourdain's life. As funny as Leerhsen is (one restaurant that Bourdain worked at in the 1980s "closed so abruptly that it's a wonder Liza Minnelli and Halston weren't trapped inside"), he's equally adept at chronicling the dark side of his subject's story. Readers will leave Down and Out in Paradise with the impression that Bourdain took his own life for a reason at odds with his alpha-male persona: he seems to have died of a broken heart. --Nell Beram, author and freelance writer
Simon & Schuster, $28.99, hardcover, 320p., 9781982140441
Bad Vibes Only: (And Other Things I Bring to the Table)
by Nora McInerny
Nora McInerny's fifth book, Bad Vibes Only, is a witty, insightful set of essays about self-worth and parenting in the social media era. Those familiar with the author's previous autobiographical works will remember that within a few weeks in 2014, her father and first husband, Aaron, both died of cancer. After several years as a single mother, she married Matthew and they blended their families.
Even when dealing with serious topics like anxiety and narrow escapes, McInerny (Bad Moms) has a consistently light touch. "I have always been the saddest happy person I know (or maybe the happiest sad person I know)," she jests. She likens finding a therapist to online dating, while "Competitive Parenting Association" issues a satirical welcome pack of guidelines. Channeling humorists like Nora Ephron, she writes about her extreme homebody nature, her surprise at learning a college friend became a nun, and recounts taking a recreational drug to get through her 20th high school reunion.
McInerny is endearingly honest, aware of her privilege and open about her contradictions. She refers to herself as "proudly middle-aged," but admits she gets regular facial injections. Addictive behaviors run in the family--her father was an alcoholic and she had an eating disorder in college--and she also acknowledges her addiction to her phone. She links her schoolgirl academic perfectionism to her current zeal for likes and comments on social media.
There may be no nuance on the Internet, but there's plenty in these 19 funny, bittersweet essays. --Rebecca Foster, freelance reviewer, proofreader and blogger at Bookish Beck
One Signal/Atria, $27, hardcover, 224p., 9781982186715
The Need to Be Whole: Patriotism and the History of Prejudice
by Wendell Berry
Wendell Berry (Hannah Coulter; Jayber Crow) is recognized as a good-natured outsider. In Need to Be Whole: Patriotism and the History of Prejudice, Berry steps deliberately into a conversation about race and politics, fully aware of the attendant risk and responsibility. This book unites assertions Berry has worked with for years: the importance of local and loving care of the land; an insistence on neighborliness; and the possibility of justice and repair. Add to these the issue of race, and Berry speaks with unadorned honesty on the things that divide us, asserting, "I mean at least to tell the truth, as I am able to know it, about the difficulty of our problems."
Anticipating and even inviting opposition, Berry hopes for a dialogue where his "side of the conversation has been disagreement, pointed and plain, but expecting a reply equally pointed and plain." The strongest essay is "Work," in which Berry makes a connection between slavery and the subsequent degradation of manual labor that has made the right caretaking of the land nearly impossible, a set of damages that has harmed us all. He argues that "the fate of work and the fate of our country are the same. The wholeness of work is the same as the wholeness of the land and the people." Though lengthy, this book does not ramble; instead, each essay contributes to a cogent argument that will engage those readers genuinely interested in wrestling with impossible questions toward some possible future good. --Sara Beth West, freelance reviewer and librarian
Shoemaker & Co., $24, paperback, 528p., 9798985679809
Blurb Your Enthusiasm: An A-Z of Literary Persuasion
by Louise Willder
Blurbs are "the outside story of books," and there's more to them than most people think. In her first book, the wittily named Blurb Your Enthusiasm, accomplished copywriter Louise Willder takes readers through the (literal) A-Z of blurbs. With wry humor and a sharp eye, she explores publishing history, literary snobbery, racism, gender politics, marketing trends and other facets of blurbs and blurb-making.
Willder begins, fittingly, with first impressions: the mostly external elements (cover, title, tagline, first line and, of course, the blurb itself) that convince potential readers to pick up a book. She moves on to the history of blurbs and book marketing, invoking such greats as George Orwell, Ernest Hemingway and Jane Austen (whose books have been reissued, and thus re-blurbed, a staggering number of times). She also makes a point to highlight lesser-known titles and authors.
Willder's reading taste is omnivorous, and her book is, too: science fiction, ponderous literary classics, memoirs, racy romances and even self-help guides get some airtime. She shares anecdotes from her long career in publishing; muses on her childhood love of Enid Blyton; discusses the different selling strategies for literary, genre and "women's" fiction; and dives into the differences between British and American book marketing (and their effects on our lizard brains). Willder clearly loves her chosen career, and her affection for blurbs--the brilliant, the bad, the bathetic--shines on every page. Blurb Your Enthusiasm is a sharply hilarious, wildly informative guide that's sure to make readers think twice about judging a book by (the words on) its cover. --Katie Noah Gibson, blogger at Cakes, Tea and Dreams
OneWorld, $24.95, hardcover, 352p., 9780861542178
The River You Touch: Making a Life on Moving Water
by Chris Dombrowski
When poet and longtime fly-fishing guide Chris Dombrowski encountered the Montana wilderness as a 19-year-old, it was love at first sight. The River You Touch: Making a Life on Moving Water is both his passionate ode to the beauty of the western land that for him "became my True North," and an intimate memoir of the joys and challenges of pursuing his artistic vocation amid the demands of a growing family.
Casting off in what he calls "this boat made of words," Dombrowski, currently assistant director of the Creative Writing program at the University of Montana, looks back through 16 years on the birth of his son, Luca, and his daughters, Molly and Lily Mae. With each new addition to the family, the stress on Dombrowski and his wife, Mary, ratchets up, as the income from his guiding, writing instruction, and part-time job as development director at a homeless shelter, combined with her kindergarten teaching, barely stretches to cover each month's bills, sending him out into the woods to hunt for game to help feed the family and complicating his efforts to work at his writing craft.
But for all his admirable candor about his family's persistent economic insecurity, Dombrowski (Body of Water: A Sage, a Seeker, and the World's Most Alluring Fish) doesn't drown in self-pity. Frequently, and gratefully, he raises his eyes to his breathtaking surroundings. He also shares some entertaining tales of his encounters with his friend, the late novelist, poet and outdoorsman, Jim Harrison. Dombrowski is a natural storyteller, and The River You Touch is filled with exemplary stories of nature. --Harvey Freedenberg, freelance reviewer
Milkweed Editions, $25, hardcover, 336p., 9781639550630
The Grandest Stage: A History of the World Series
by Tyler Kepner
Born and raised in Philadelphia, national sports columnist Tyler Kepner attended his first World Series game when he was eight years old. In 1983, the Philadelphia Phillies might've caved to the Baltimore Orioles in the fifth game of the series, but young Kepner bore witness to the final out--a line drive--caught by then 23-year-old Cal Ripken Jr. of the Orioles. It would turn out to be the legendary shortstop's only appearance in a World Series over the course of his career.
That experience loads the bases for The Grandest Stage, Kepner's meticulously researched "ode to the most wonderful time of the year" in baseball. Over seven chapters, Kepner breaks down key moments from World Series history, offering insights from "those lucky enough to play or manage in the World Series or to build the teams." In 1978, clutch hitter Reggie Jackson was immortalized as "Mr. October" after he hit three home runs off three consecutive pitches from three different pitchers, sealing the first championship in 15 years for the New York Yankees. For every victory, there's an opposing loss--and heart-wrenching blunders, such as when Boss Schmidt, catcher for the Detroit Tigers, missed a curveball that should've been a game-ending strikeout. Instead, the passed ball allowed the tying run to score in a game ruled a tie after 12 innings due to darkness.
Kepner (K: A History of Baseball in Ten Pitches) hits it out of the park in delivering spellbinding historical stories in a fascinating exploration of key World Series moments for players, franchises, coaches and commentators. --Kathleen Gerard, blogger at Reading Between the Lines
Doubleday, $30, hardcover, 336p., 9780385546256
The Big Bang Theory: The Definitive, Inside Story of the Epic Hit Series
by Jessica Radloff
In The Big Bang Theory, Jessica Radloff presents a definitive and immensely entertaining oral history of the hit CBS sitcom of the same name that ran for 12 years and produced 279 episodes. Radloff conducted extensive interviews not only with the show's core seven cast members but also with notable supporting guest stars (including Bob Newhart, Wil Wheaton, Christine Baranski and Laurie Metcalf), as well as co-creator Chuck Lorre, writers, technicians and the show's resident director, Mark Cendrowski, who helmed 244 episodes. The interviews, seamlessly arranged in a chronological fashion, create a vivid portrait of a hardworking but happy set that produced a television show that was a critical and popular success.
Fans will enjoy reading about the origin of the catchphrase "bazinga!" and how quickly it was retired from use; the guest appearance by theoretical physicist Stephen Hawking; and why Johnny Galecki turned down the role of Leonard five times--"it only illustrates what an idiot I am"--before agreeing to shoot the pilot. Readers learn the reasoning behind the lack of a last name for Kaley Cuoco's character, Penny; the tense eighth-season negotiations that raised the salaries of Jim Parsons, Galecki and Cuoco to $1 million each per episode; and a whole chapter on how Galecki and Cuoco dated for two years without attracting any attention. Most of the backstage tales are hilarious, but there are also many moving memories: a good drinking game could be made with how often Galecki is brought to tears over a memory. Filled with delightful memories and charming candid photos, this is a treat for TV fans. --Kevin Howell, independent reviewer and marketing consultant
Grand Central, $30, hardcover, 528p., 9781538708491
I Dreamed I Was Emily Dickinson's Boyfriend
by Ron Koertge
Somewhere in the history of literature, the world decided that poetry was "serious." But with I Dreamed I Was Emily Dickinson's Boyfriend as evidence, poet Ron Koertge (Sex World; Now Playing: Stoner & Spaz II) asks history to reconsider. This collection of 60 poems, divided into four sections, is often funny. But the poems also raise thoughtful questions or interrogate cultural icons (as in "Mickey" or "Yahweh Barbie"), each time catching readers with surprising insight or gravity.
In "Reception to Follow," present tense establishes a sense of immediacy: "First I collect eggs for Grandma. Then I hypnotize my favorite/ Rhode Island Red." In just a few lines, the ridiculous image of a chicken driving the speaker's father's Buick bursts to life before the final stanza turns, making sense of the poem's title: "That's what I remember this afternoon standing here/ in the black suit: the look of astonishment on my father's/ handsome face."
Many of Koertge's poems sit squarely in real life, often hard and humorous. Others dabble in the absurd, casting familiar figures in unexpected roles, as in "Jane Austen at the Mall," where the celebrated author overhears an argument between "a young woman/ in Lululemon" and "a man with a big league beard," or "Death's Hankies," which asks readers to imagine "how many of them he goes/ through in a day." Detailed and full of surprises, I Dreamed I Was Emily Dickinson's Boyfriend shows what poetry can do when it doesn't take itself too seriously. --Sara Beth West, freelance reviewer and librarian
Red Hen Press, $20.95, hardcover, 88p., 9781636280332
The Writer's Life
Oliver Jeffers and Stephen Smartt: Art and Science Toward Solutions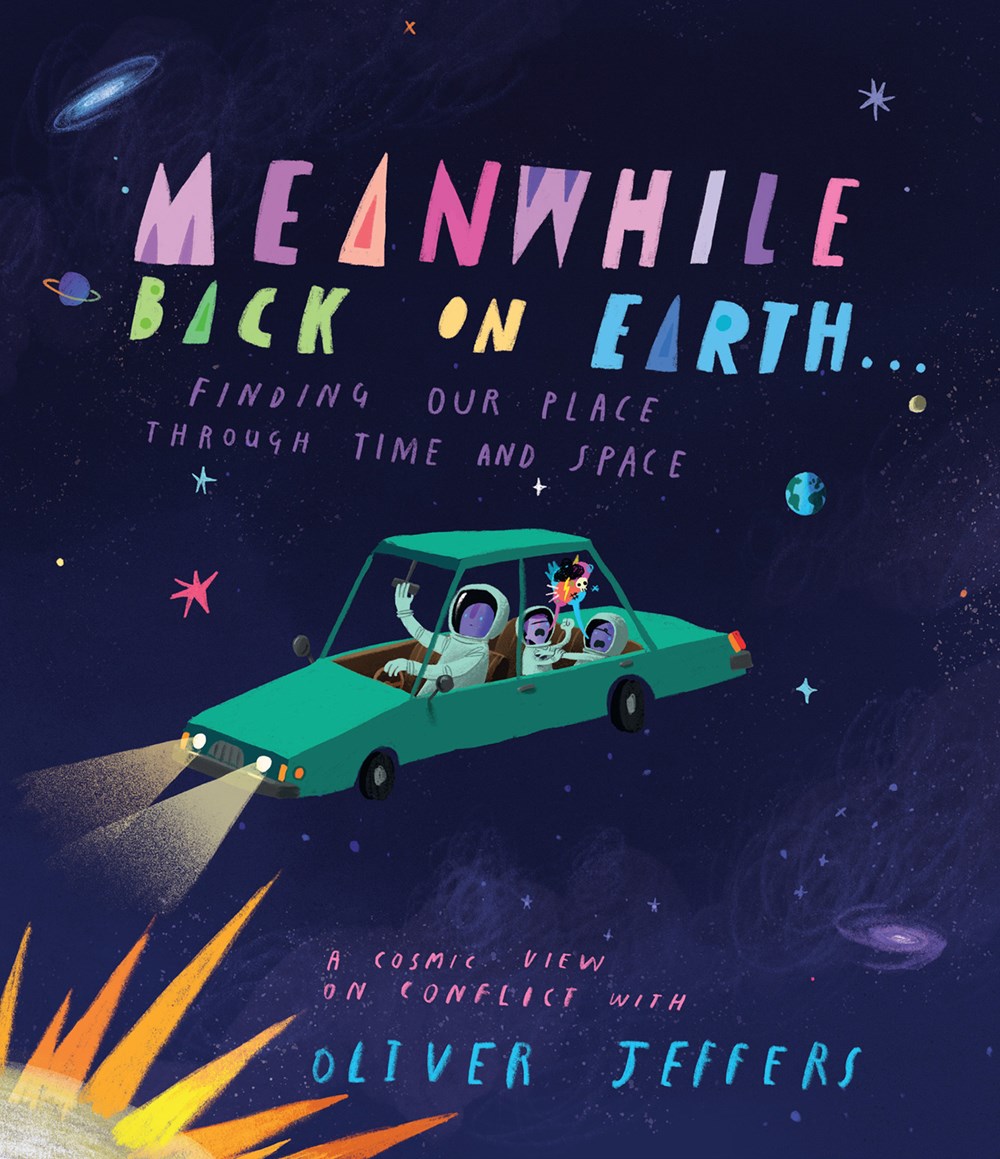 Oliver Jeffers is a visual artist and author working in painting, bookmaking, illustration, collage, performance and sculpture. A professor at Queens University Belfast, Stephen Smartt is an authority on exploding stars and unusual transients in the universe and runs large sky survey projects to stretch human understanding of how stars die.
Earlier this year, Jeffers teamed up with Smartt to explore on a large scale "the Earth's fragility and humankind's shared responsibility to protect it." Our Place in Space is a 10km scale model of the solar system and walking trail that is a collaboration across art, science and technology. Jeffers's 19th book as author and illustrator, Meanwhile Back on Earth (Philomel), highlights the concepts of Our Place in Space in picture-book form. Here, the two discuss their collaboration and the inspiration behind both projects.
Oliver Jeffers: The first question we were asked, when we partnered to create Our Place in Space, was what can we in Northern Ireland contribute that nobody else can? Out of this sentiment came the idea of speaking with authority about the negativity of the divisions of "us" and "them." Separately, I had been looking at scale and perspective, and the idea of doing a scale model of the solar system. So, taking Northern Ireland as the framing device for looking at how we divide ourselves over vast distances became the foundation of this project.
Stephen Smartt: And for years, we as scientists have been trying to communicate concepts like vastness, but largely thinking of it from a scientific perspective rather than a humanity perspective. The questions I am often asked are, "So what?" and "Why should I care?" As we're finding things out about the universe, how does this apply to the everyday person in the street? Our Place in Space helped me with such questions.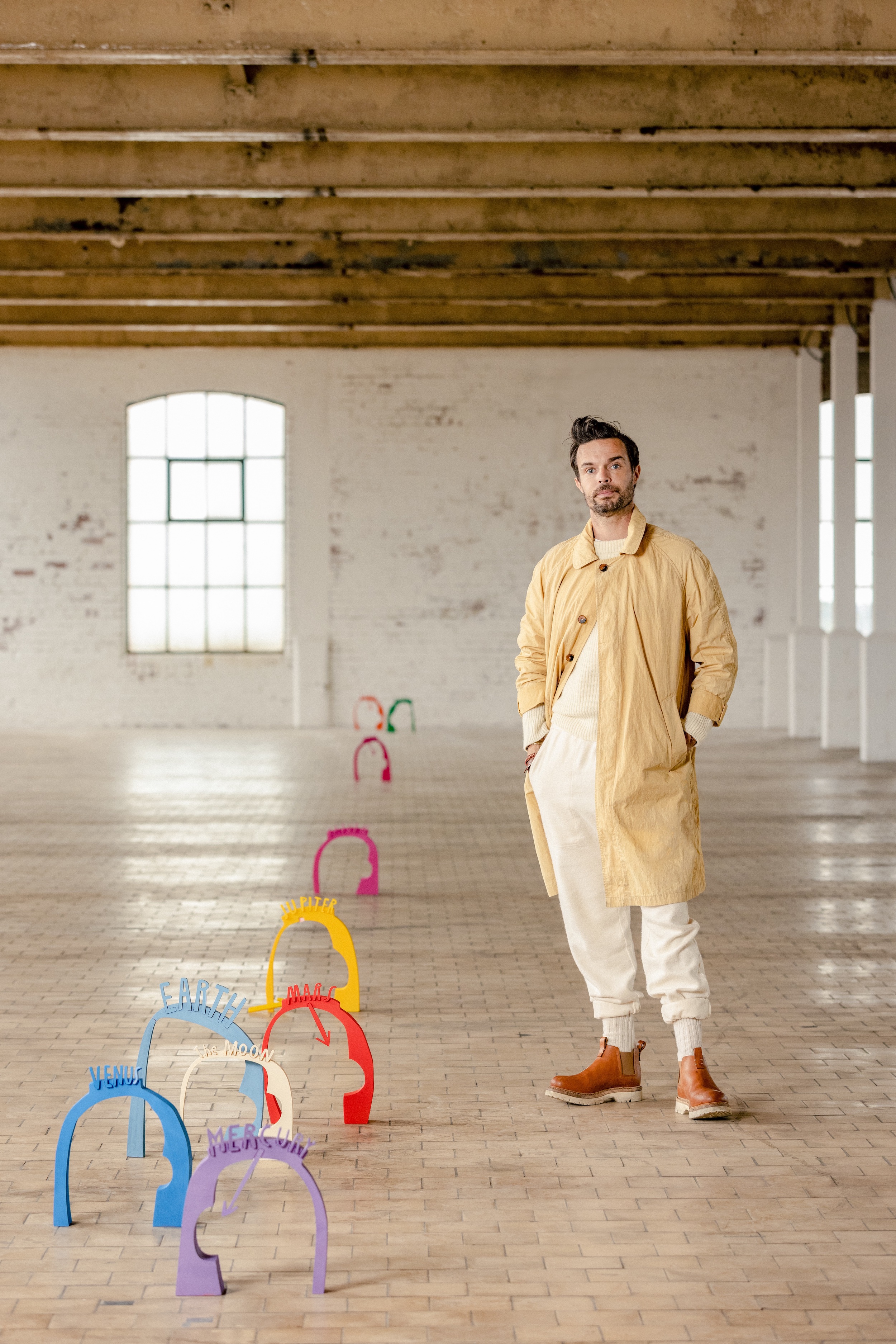 Oliver Jeffers
Jeffers: And you said multiple times doing the trail, it was the first time that you've not really needed numbers. It just clicked into place. People are spatially aware, so you can sense distances, the scale and scope. It's a 591 million-to-one scale model. Why is it that size? I guess that's as small as we could make it?
Smartt: Or as big as we could make it and people would still walk the full trail. What we initially wanted was people to get a feeling of the distances between the planets, and the size of the Earth within this. It's precious, delicate. But if we made it too big, we would have lost that.
Jeffers: And any smaller, the Earth would've been invisible to the naked eye.
Smartt: Yes, there's a limit. In our scale model, the Earth is only 2cm in diameter. Pluto is the size of a match head. Going any smaller would've been difficult.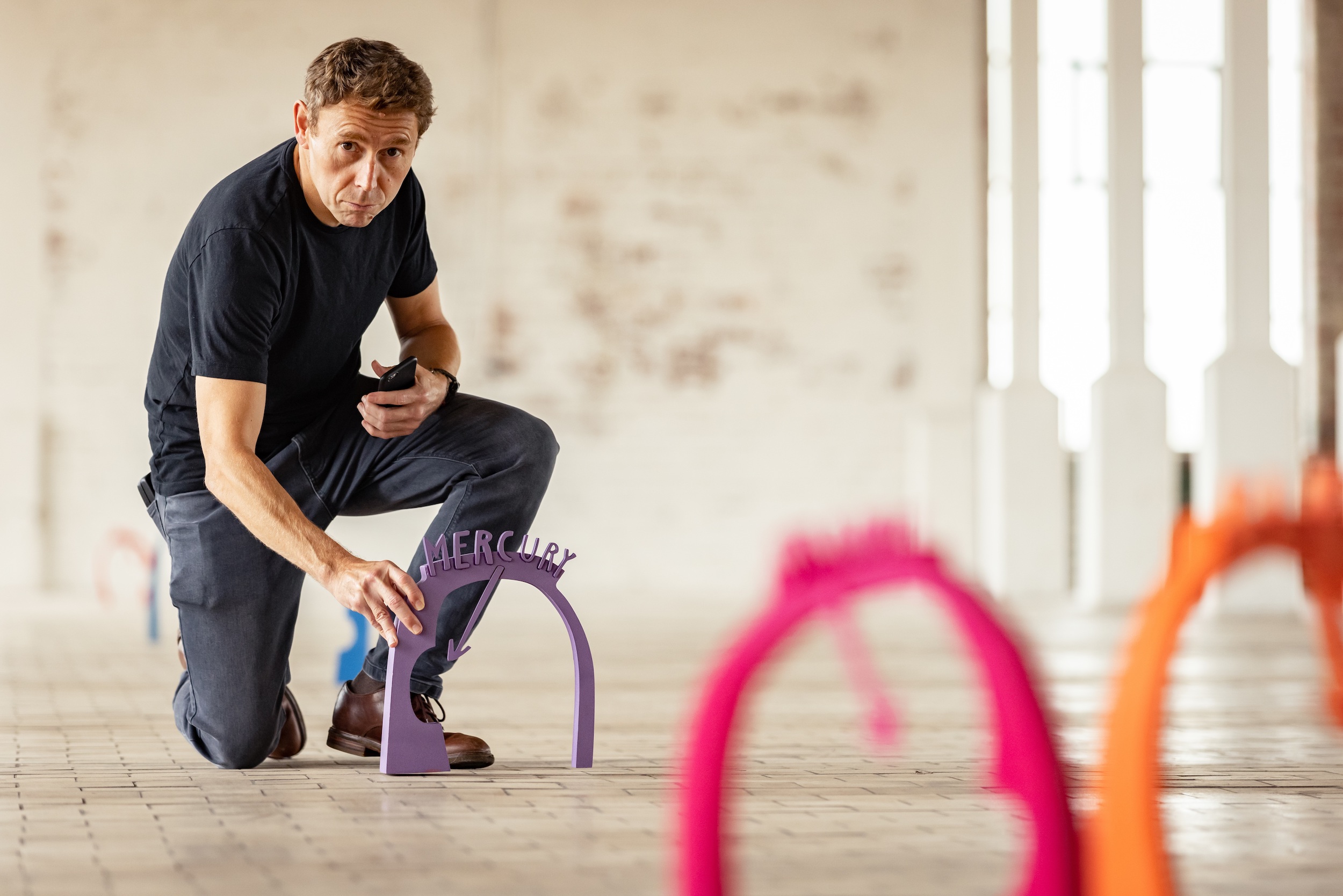 Stephen Smartt
Jeffers: One of the fun things about it was working out comparative scales. For example, figuring out you were walking at around one and a half times the speed of light along the trail. You worked it out really quickly... it takes light eight minutes to reach the Earth from the Sun. On the trail, you can walk it in around five minutes.
Smartt: It was pretty satisfying seeing the scale work! So then, where did Meanwhile Back on Earth come from during our work on Our Place in Space?
Jeffers: We were looking at this not only as a scientific project but also an art project. You start at the Sun, move toward Earth, then once you pass Earth, how do we keep people looking back at the Earth? The goal was not to get to Pluto, but to continue looking at humanity's place within our solar system. Nobody knows what the speed of light looks or feels like. But we do know what it looks and feels like to drive a car. And so, the idea became how long would it take to drive at 37mph to each planet from Earth? Like Our Place in Space, it comes back to the concept of "us" and "them." We realized the amount of time it takes to drive to each planet could be a good measuring stick for looking back through Earth's history. It's impossible to look through the past and pick a year where there wasn't some all-consuming battle taking place over territories.
Smartt: We initially thought "we'll have to go in a spaceship for these time scales to work!" But just get in your car. And as you said, you get a feeling for the time and speed. And by coincidence, the distances between the planets map on to hundreds of thousands of years of human history.
Jeffers: Well, that's exactly it. In the book it's 37mph--we know what that feels like. It puts us back to 11,000 years ago from Pluto, which is pre-civilization.
Thinking of the notion that with distance comes perspective, and the subtle point that the only time there wasn't an all-consuming conflict was 11,000 years ago... People were too busy working together to try and survive the elements... rather like what we should be doing today! Hopefully this book can help speed that along.
Smartt: Framing it with human conflicts was a great idea. The current conflicts are starting to not make any sense--we're at a time that we just have to try and survive together. Thinking of human history, our minds usually go to a battle/conflict or human achievement. Human achievement generally happens when people work together. Our history is dominated by conflict, but it shouldn't be when we look at what we've achieved.
Jeffers: You said it best. When we divide ourselves, problems happen. And uniting ourselves is when we tend to solve problems.
Smartt: It is part of our duty as scientists to tell people about what we do, communicate it, get kids interested and involved. But this project has been the best. We've reached so many people, and it's the art and science together that has been the game changer. So, let's absolutely do something together again.
Jeffers: Well, looks like we have to find another problem to solve!
Rediscover
Rediscover: Peter Robinson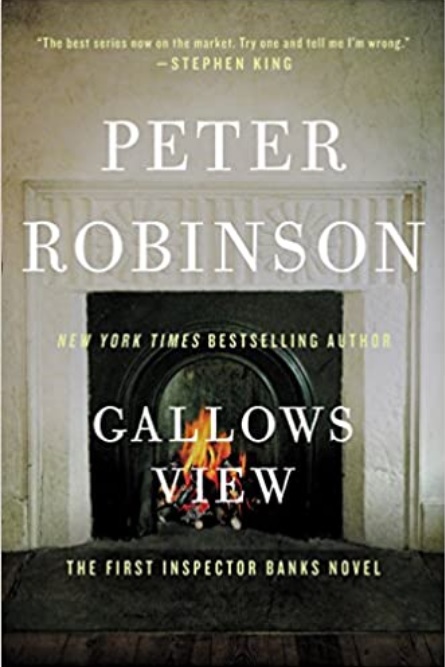 Peter Robinson, best known for his novels featuring Detective Chief Inspector Alan Banks, died October 4 at age 72. Born in Leeds, where much of his fiction was set, Robinson emigrated to Canada to continue his studies after completing an English degree at the University of Leeds, and lived in Canada for the rest of his life. His debut novel, Gallows View, which was published by Viking in 1987 and introduced DCI Banks, was shortlisted for the John Creasey Award in the U.K. and the Crime Writers of Canada best first novel award. A Dedicated Man followed in 1988 and was shortlisted for the CWC's Arthur Ellis Award. Robinson also wrote novels outside the DCI Banks series, plus short stories, poems and several articles on writing.

Robinson's editor, Hodder managing director Carolyn Mays, described him as a combination of all the best bits of DCI Banks, "thoughtful and passionate about justice" and with "fine taste and a totally down-to-earth view of the world.... Peter Robinson was an immensely talented writer over a very wide range, from poetry to short stories, noir thrillers to more literary works. He was in fact Dr. Robinson, with a Ph.D. in literature, and we saw glimpses of that, and sometimes his poetry, in his novels--as well of course as his very eclectic love of music, shared by Banks.

"His novels are superbly plotted (one reviewer said he had the precision of a Swiss watchmaker) and the settings are vivid and fully real, but it's the richness and depth of his characters that keep the readers--including me--coming back for more." The final Inspector Banks novel, Standing in the Shadows, is scheduled for publication next March. The first Banks novel, Gallows View, is available in the U.S. from William Morrow Paperbacks ($15.99).