Week of Friday, December 9, 2022
Among the 25 books reviewed this week: Fatty, Fatty, Boom Boom, Rabia Chaudry's "touchingly warm and intimate" memoir in which "fragrant, delectable homemade Pakistani dishes" feature; Requiem for the Massacre, in which sportswriter and longtime Tulsan RJ Young's "clear-eyed, first-person narration blazes from the page" as he examines the 1921 Tulsa Race Massacre; and Newbery Honor author Jasmine Warga's A Rover's Story, which "thoughtfully balances the technical aspects of this STEM story with social-emotional nuance." Plus so much more!
In The Writer's Life, Brandon Sanderson discusses his Hugo Award-winning novella The Emperor's Soul on its 10th anniversary and its continuing relevance--he believes that today "we make less of an effort than we ever have to understand each other...."
The Best Books This Week
Fiction
The Resemblance
by Lauren Nossett
The fact that tales of hazing and womanizing cycle through The Resemblance, a thriller centered on a University of Georgia fraternity, will probably surprise no readers. But the daringly dark turn that Lauren Nossett's sturdy fiction debut takes toward the book's midpoint will likely come as a shock.
From the first, The Resemblance seems destined to assume the shape of something it ultimately isn't: a straight-ahead procedural. Homicide detective Marlitt Kaplan is visiting her mother, a German professor, in her office at UGA when a car fatally hits a student at an intersection on campus. Witnesses say the black BMW didn't slow down before the crash and fled the scene right after impact. But two peculiar details distinguish this accident from a typical hit-and-run: witnesses report that the BMW's driver was smiling and that he looked an awful lot like the victim.
The victim is UGA junior Jay Kemp, a member of Kappa Phi Omicron. Once Marlitt learns that Jay was a frat brother, she starts ticking off possible motives for the murder: "Revenge for hazing fits neatly at the top of my list, followed by stealing someone's girlfriend, and your run-of-the-mill brotherhood rivalry." But as Marlitt proceeds with interviewing members of Jay's fraternity, her initial, obvious theories crumble. If they hadn't, she wouldn't have had to endure the calamity that engulfs her about halfway into the book.
The Resemblance is an alluringly somber and satisfying thriller. While the book doesn't present a counterpoint to Marlitt's disdain for fraternities, it's also true that nothing that happens in The Resemblance would make good marketing copy for Greek life. --Nell Beram, author and freelance writer
Flatiron, $28.99, hardcover, 320p., 9781250843241
Science Fiction & Fantasy
Legends & Lattes
by Travis Baldree
Professional audiobook narrator and game developer Travis Baldree initially self-published his "high fantasy and low stakes" first novel, Legends & Lattes, which became a social-media sensation. It stars an unlikely coffee shop owner as she vies for business, builds a supportive social circle and quests for the perfect hot drink.
Orc barbarian and career adventurer Viv is ready to hang up her broadsword and live out her dreams of opening a café serving the exotic gnomish beverage coffee. Her research leads her to the city of Thune and an abandoned livery building that will need considerable work to pass as a café. Viv faces the challenge, wanting "something she built up, rather than cut down," and launches the city's first coffee shop. Helping her out are carpenter Calamity the hob, café assistant Tandri the succubus and baking genius Thimble the rattkin. Little by little, the cafe begins to take off. The menu expands as Viv begins to form a customer base, but challenges arise when a local crime boss sends thugs to extort protection money, leaving Viv struggling to keep to her new nonviolent way of life. To make matters worse, Viv has a deep secret about the café's success, and someone from her old life has figured it out. She'll need to use all her wits and newfound connections to keep from losing everything she's built, including her growing relationship with Tandri.
Baldree's combination of humor, fantasy elements and gentle plot lends itself to a comforting story. Fans of Terry Pratchett's Discworld series, tabletop fantasy RPGs and unlikely heroes should find much to love in this charming outing. --Jaclyn Fulwood, blogger at Infinite Reads
Tor Books, $17.99, paperback, 304p., 9781250886088
Big Man and the Little Men
by Clifford Thompson
For Clifford Thompson (What It Is: Race, Family, and One Thinking Black Man's Blues), the graphic novel Big Man and the Little Men is a new frontier in terms of form. But it's also entirely of a piece with Thompson's previous books, which address thorny social issues with a counterintuitively gentle touch.
As Big Man and the Little Men begins, Metropolis magazine has invited April Wells--a Black, New York-based memoirist who has appeared on Oprah--to write about William Waters, the Democrats' white presumed nominee for president. April took the assignment fully aware that Waters, who has a wife, has been accused of sleeping with male staffers. (He denies it.) While April is on the campaign trail with Waters, she's contacted by one of his former female staffers, who says "there's something you need to know" about the candidate. April feels increasingly out of her depth as things get dicier. At one point she thinks, "Here's where it would help to have gone to journalism school. Why did they ask me to do this? And why did I say yes?"
Thompson's art has a straightforwardness that allows readers to practically see the gears turning in the characters' minds. Among the most potent images are wordless panels showing April in private moments: writing, pacing in her hotel room and so on. These illustrations reinforce the point that for all the political intrigue afoot, Big Man and the Little Men never ceases to be April's story--and it's the sort that lingers. --Nell Beram, author and freelance writer
Other Press , $25.99, hardcover, 96p., 9781635422009
The Pasta Queen: A Just Gorgeous Cookbook
by Nadia Caterina Munno and Katie Parla
Nadia Caterina Munno draws on centuries of tradition from her pasta-making Italian forebears, not to mention her social media fame, in The Pasta Queen: A Just Gorgeous Cookbook. With more than 100 recipes plus lush, full-page photographs of Munno and her culinary creations, this debut cookbook will delight both home cooks and Munno's TikTok, Instagram and YouTube fans.
"Pasta is my love language," writes Munno, who cites stories from the southern Italian village of her ancestors, a place known for its pasta factories. After successful careers in England and Italy, Munno and her husband moved to Florida, where she devoted herself to cooking and sharing the "just-gorgeous recipes" of her heritage. The Pasta Queen's easy-to-follow recipes fall into five inspiring groups, including "Recipes for Comfort" and "Recipes to Impress." The "passion cooking" she devotes to "every stir... and every garnish" is reflected in her recipe names: "Goddess of Love," made with tortellini, a pasta shape allegedly inspired in ancient times by Venus's belly button, includes butter, heavy cream and prosciutto, all of which contribute to a "godlike cloak" for the pasta, and "The Snappy Harlot" relies on a Calabrian chili paste, which Munno describes as a "slightly hot aphrodisiac." Gluten- and dairy-free recipes don't exclude flavor and sensuousness, as in the "Vegan Lady of the Night" with its "heat of summer" ingredients--tomatoes, eggplant and capers.
"All you need is love--and a little pasta magic--to show your nearest and dearest how much you care," Munno emphasizes in a cookbook that's liberally infused with her zest for food and life. --Cheryl McKeon, Book House of Stuyvesant Plaza, Albany, N.Y.
Gallery Books, $29.99, hardcover, 288p., 9781982195151
Fatty Fatty Boom Boom: A Memoir of Food, Fat, and Family
by Rabia Chaudry
Fragrant, delectable homemade Pakistani dishes are central to Rabia Chaudry's touchingly warm and intimate narrative in Fatty Fatty Boom Boom. A woman who grew up besieged by harmful comments about her weight and appearance, Chaudry is an uplifting storyteller, and her humor-laden anecdotes balance the underlying gravity of her story with grace and skill.
Born in Lahore, Pakistan, Chaudry moved with her parents to Northern Virginia when her veterinarian father was offered a job at the U.S. Department of Agriculture in the 1970s. Misguided efforts to make their scrawny toddler look like her American counterparts included feeding her two bottles of half and half daily and letting her gnaw on frozen butter sticks. As an overweight girl with a dark complexion, Chaudry was constantly reminded of her "future unmarriageability" by an immigrant community preoccupied with their daughters' marriage prospects. She got married early, while in college, to an unsuitable boy in an effort to disprove the naysayers.
An advocate for Adnan Syed, the young man convicted of murdering his high school ex-girlfriend in 1999, Chaudry was an executive producer of an HBO documentary based on her book, Adnan's Story. Being in the media spotlight made her self-conscious about her weight and frustrated that she couldn't take control of her own body. Eventually, her path toward improved health and fitness and inner contentment, plagued with many false starts, came with the hard-won wisdom of someone accustomed to being criticized for her appearance. It turns out that, for Chaudry, wresting control of her own narrative from those eager to pass judgment ultimately opened the door to self-acceptance. --Shahina Piyarali, reviewer
Algonquin, $29, hardcover, 352p., 9781643750385
Transformer: A Story of Glitter, Glam Rock, and Loving Lou Reed
by Simon Doonan
Glam rock, which first sashayed onstage in the early 1970s, rebuked rock music's customary machismo, and no album did the job better than former Velvet Underground front man Lou Reed's second solo effort, 1972's Transformer. On the occasion of the record's 50th anniversary, the perceptive and consummately witty Simon Doonan (Beautiful People; Drag: The Complete Story) presents Transformer: A Story of Glitter, Glam Rock, and Loving Lou Reed, in which he asks the musical question, "How did Lou become the guy who decided to fill the LGBTQ+ void and skew an entire album toward me and my cohort?"
To answer the question, Doonan double-tracks his own story with that of Reed's trailblazing album. Doonan was born in England in 1952; after he came of age, he didn't fully see himself reflected in rock music until he encountered Transformer, whose "Walk on the Wild Side" was a veritable roll call of real-life challengers to heteronormativity. The song was just one of the album's salutes to gender noncompliance. Doonan reports that Reed explained his intentions with the record a few years later: "I thought it was dreary for gay people to have to listen to straight people's love songs."
Doonan's book builds to a song-by-song anatomization of Transformer. He's a fount of swashbuckling hyperbole, and hardly a sentence wouldn't work as a pull quote. Of "Andy's Chest," an homage to Warhol, friend and mentor to Reed, Doonan writes, "The subtext in the mood of this song is clear: Being groovy will not save you." But Lou Reed's Transformer might. --Nell Beram, author and freelance writer
HarperOne, $24.99, hardcover, 160p., 9780063259515
Requiem for the Massacre: A Black History on the Conflict, Hope, and Fallout of the 1921 Tulsa Race Massacre
by RJ Young
In 1921, white Tulsans burned the prosperous Black business district of Greenwood to the ground, based on shaky allegations against a young Black man. In his powerful second nonfiction book, Requiem for the Massacre, sportswriter and longtime Tulsan RJ Young (Let It Bang) investigates the century-long fallout from the massacre and calls his hometown to account for its consistent devaluing of Black lives. Young, drawing on eyewitness accounts and other historical resources, opens with a detailed recounting of the massacre itself. He dives deeply into the origins of the phrase "Black Wall Street," still a common moniker for Greenwood. Young also traces his experiences as a teenager, college student and sportswriting professional in Tulsa, a town that often ignores or blatantly antagonizes its Black residents. The book's second half chronicles Young's journey to events commemorating the centennial of the massacre, which take place during racial unrest catalyzed by George Floyd's murder and the Covid-19 pandemic.
Young's clear-eyed, first-person narration blazes from the page: he explores the deeply complicated reality of being a Black man who owns property in a city, state and country that has often tried to prevent just that. He ties the Greenwood massacre and Tulsa's racism to the broader legacy of anti-Blackness in the U.S. and asks pointed questions about reparations, honest commemoration and true apologies. Unsettling, fierce and necessary, Requiem for the Massacre is a vital primer on a slice of American history that has been hidden for too long. --Katie Noah Gibson, blogger at Cakes, Tea and Dreams
Counterpoint, $27, hardcover, 336p., 9781640095021
I Want to Die but I Want to Eat Tteokbokki: A Memoir
by Baek Sehee, transl. by Anton Hur
Baek Sehee ingeniously combines elements of memoir and self-help in her first book, I Want to Die but I Want to Eat Tteokbokki, a bestseller in her native South Korea. She offers an intimate look into one patient's experience in therapy and her own analysis of and takeaways from those sessions.
Consumed by a desperate sense of emptiness she calls "a vague state of being not-fine and not-devastated at the same time," Sehee seeks the help of a psychiatrist, ultimately resulting in a diagnosis of dysthymia, or persistent depressive disorder. Sehee approaches this book with a sense of precision and detailed emotional accounting, not merely recalling her psychiatric sessions from memory, but transcribing her recordings of the sessions word for word across the pages of this book. She then adds her own analysis of each session, drawing in real-life examples of how some of what she learned in therapy showed up in life outside of the psychiatrist's office.
I Want to Die but I Want to Eat Tteokbokki remains faithful to real life all the way to the end, not offering a neatly packaged revelation in which Sehee finds meaning and purpose in her suffering. Instead, she concludes "not with answers but a wish": to love and be loved, to hurt less and live more, to find joy amidst the hardships. Everyone is just trying to be as okay as possible, after all--and seeing Sehee's processing of that in I Want to Die but I Want to Eat Tteokbokki is sure to make readers feel a little less alone in their own attempts. --Kerry McHugh, freelance writer
Bloomsbury, $24, hardcover, 208p., 9781635579383
How Far the Light Reaches: A Life in Ten Sea Creatures
by Sabrina Imbler
In the opening pages of the stunning and thoughtful essay collection How Far the Light Reaches: A Life in Ten Sea Creatures, science journalist Sabrina Imbler recalls the first time they wrote about an octopus and how it made them think of their mother: "I discovered unexpected, surprising resonances that cracked open what I knew about the ocean and myself." Expanding on that first essay (included in this collection as "My Mother and the Starving Octopus"), How Far the Light Reaches continues that tradition, weaving together the oceanic and the human in thought-provoking reflections on queerness, race, family, love and identity along the way.
Recalling their senior thesis on whales in "How to Draw a Sperm Whale," Imbler notes the many ways "we shoehorn distinctions between ourselves and other animals, often harming both of us." This balance of science and memoir blends seamlessly across each essay in Imbler's collection. Little-known bits of trivia about sea creatures (Did you know that a mother octopus does not eat while protecting her eggs, slowly dying as they grow? Or that cuttlefish can not only change color but texture as part of their self-protection mechanism?) sit aside startlingly clear reflections on what it is to be Imbler, to be one's own self, to be human ("I do not want to feel resolved about myself.... I want to imagine how I am continuing to live"). Tender and candid, How Far the Light Reaches is a poignant invitation into the depths of ocean life and a call to consider what nature can reveal about the human condition from a brilliant and poetic writer. --Kerry McHugh, freelance reviewer
Little, Brown, $27, hardcover, 272p., 9780316540537
A Line in the World: A Year on the North Sea Coast
by Dorthe Nors, transl. by Caroline Waight
For readers whose knowledge of Denmark is confined to Copenhagen and its environs, Danish writer Dorthe Nors's A Line in the World will come as a revelation. In 14 eloquent, observant essays that combine journalism, nature writing and memoir, Nors paints a vivid portrait of a remote and rugged territory whose striking scenery masks more than its share of dangers.
Though the essays describe a year of episodic travels, Nors (Mirror, Shoulder, Signal; Karate Chop) forgoes a strict chronology. Instead, from the Wadden Sea in the south to Skagen at its northern tip, she hopscotches along the 600 miles of what she calls "one of the world's most dangerous coastlines," at the western edge of the peninsula known as Jutland, where she grew up and lives today.
Nors's interests range widely, encompassing history, religion, sociology, culture and an assortment of scientific disciplines. In "The Timeless," for example, her description of the day she and her artist friend Signe Parkins, whose drawings enhance the book, spent viewing rural church frescoes, she touches on the status of women in traditional Danish society, and describes how her mother's youthful dreams of pursuing an artistic career were frustrated and only realized, in part, in adulthood.
Nors's prose, translated from the Danish by Caroline Waight, is both economical and expressive. When she's writing about nature she has a pleasing knack for engaging all the senses, and when she turns to some aspect of her family history, her candor is seasoned with a pinch of Scandinavian reserve. A Line in the World will appeal to a wide audience of discerning and curious readers. ---Harvey Freedenberg, freelance reviewer
Graywolf Press, $16, paperback, 168p., 9781644452097
Art Is Life: Icons and Iconoclasts, Visionaries and Vigilantes, and Flashes of Hope in the Night
by Jerry Saltz
Pulitzer Prize-winner Jerry Saltz (How to Be an Artist), senior art critic for New York magazine, likes to speak in superlatives. Jeff Koons's Puppy is "the greatest control-freak sculpture ever created." Jasper Johns's Flag is "the most iconic, transgressive object/amulet in late-twentieth-century American art." Here's one about Saltz, inspired by the caliber of his writing and observations in Art Is Life: he's the best art critic working today.
The book's 80-odd essays span 1999 to 2021. Surely two decades of rigorous engagement with art should guarantee an abundance of insight from any critic, but there's no one quite like Saltz. There are his whammo openers ("Two weeks ago, the Death Star that has hovered over the art world for the last two years finally fired its lasers"). There's his peppery-salty wit ("For nearly ten years, starting in the late nineties, art and money had sex in public. Lots of it. And really publicly"). There are his cross-genre comparisons placing fine art in a larger--some purists would say cruder--cultural context ("Hopper is the Leonard Cohen, Roy Orbison, and Bruce Springsteen of painting, an only-the-lonely artist of ordinary life").
Saltz's most rebellious act may be his determination to write accessibly in a field that tends toward easily satirizable impenetrability. His approach has always been fuss-free: as he writes of starting out as a critic, "I knew I wanted to write about art that I was seeing in the present and didn't want to have to read all those books that all those critics were always referencing." Who needs "all those books" now that there's Art Is Life? --Nell Beram, author and freelance writer
Riverhead, $30, hardcover, 368p., 9780593086490
The World Keeps Ending, and the World Goes On
by Franny Choi
Every poem in Franny Choi's The World Keeps Ending, and the World Goes On has a line--or a few--where readers realize that, yes, this poem is for them. Her third collection is filled with such moments, lines that sing out, grabbing readers by the throat--or by the hand--and holding them there. Sometimes, it comes at the beginning of the poem, as in "Catastrophe Is Next to Godliness," which opens: "Lord, I confess I want the clarity of catastrophe but not the catastrophe./ Like everyone else, I want a storm I can dance in./ I want an excuse to change my life."
Others arrive at the end of the poem, a gut-punch like the lines that close "Good Morning America," a poem of nine, three-line stanzas: "Come in, last year's wreck, rent./ Grief's a heavy planet, and green./ I know better than to call/ each gravity's daughter to my softest cheek./ I know, and I know./ So what?" Each word clacks and bruises against the next, and the enjambment across stanzas forces both a forward rhythm and a pause. It is musical and discordant; it is a thing of beauty and a thing of pain.
Choi's collection is about endings of all sorts, those that happened in the past and those still to come, those that are always already happening. The poems mingle historical despair with alt-historical hope, and always there is family. Dedicated to the author's parents and grandparents, this collection rings with the memories of ancestors, and Choi (Soft Science) calls on them like muses. --Sara Beth West, freelance reviewer and librarian
Ecco, $25.99, hardcover, 144p., 9780063240087
The Writer's Life
Brandon Sanderson: What Makes a Masterpiece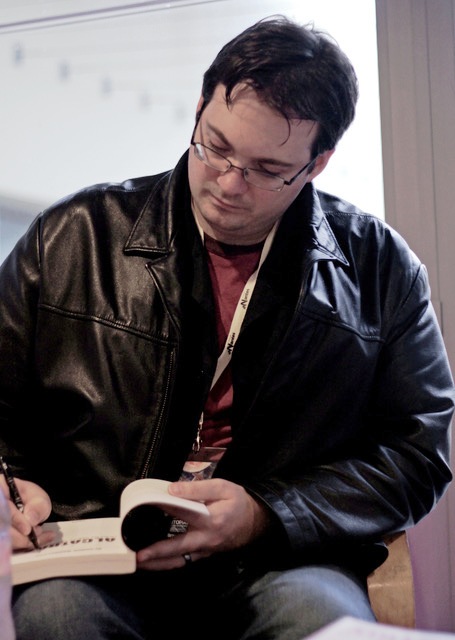 Bestselling fantasy and science fiction author Brandon Sanderson's many series include Mistborn, the Stormlight Archive, Infinity Blade, Legion and Skyward. His books have sold more than 21 million copies worldwide. In 2007, he was chosen to finish Robert Jordan's iconic The Wheel of Time series. He also co-hosts the Hugo Award-winning writing advice podcast Writing Excuses. Sanderson lives in Utah with his wife and children. Recently he spoke with us about the 10th-anniversary edition of his Hugo-winning novella The Emperor's Soul (Tachyon), in which a gifted magical Forger must find a way to escape her captors while finishing the most difficult Forgery of her life: re-creating the Emperor's mind and personality after an assassination attempt.
What does the rerelease of The Emperor's Soul mean to you?
It is one of my favorite stories that I've written. I broke in as a giant, epic fantasy writer. I don't know if I'll ever be writing consistently award-winning flash fiction, but I wanted to practice the novella. My time spent working on it culminated in this story, which won the Hugo Award, which is to date my only win for a major fiction award. It's a mark of pride to me that I was able to teach myself to write in a slightly different format.
It's also a personal story about the nature of art and what it means to be an artist. All artists have this push and pull with art. Art theory goes back for me to Plato. He asks, are all artists poor imitations of reality? I do love Plato, but that question has always stuck in my craw. I wrote a story about what art meant to me, and about what makes something a masterpiece, versus a cheap copy.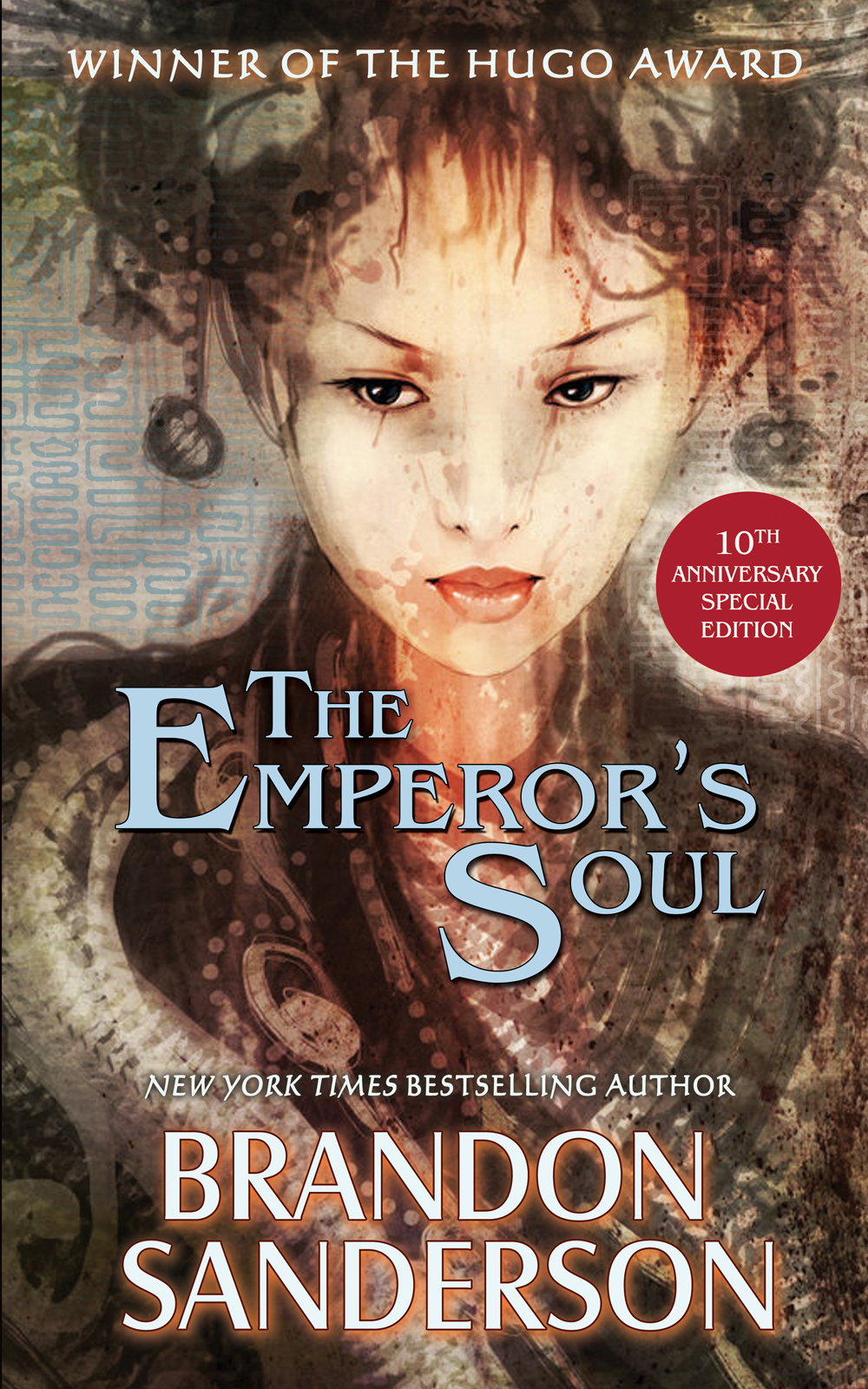 How does the real world inspire your fiction?
If I have a challenge in my life, it's that I do not get to write all the stories that I want to write. Some of my beautiful things that I've imagined have to be put on the shelf as something that was only for me, and I'll never get to them. But everything inspires me and, beyond that, fiction is the way I work out my relationship to the now. The way that I work out my feelings about everything, from the nature of art, to politics, to relationships. As a writer, seeing through the eyes of different people who experience the world differently than myself is how I explore what it means to be human.
The world has changed in many ways since you wrote the story, and in some ways it hasn't changed at all. How might the story look different now to readers coming to it with fresh eyes?
Criticism is its own realm, and an author is often too close to the work to know what it's going to mean to people. At its core, The Emperor's Soul is about a woman coming to understand another person while a third person comes to understand her. I feel like the world could use a bit more effort to understand, even when we don't agree. Over the last 10 years, one of the things that has become increasingly obvious to me is that we make less of an effort than we ever have to understand each other.
In the new introduction, Jacob Weisman of Tachyon Publications recounts your Hugo Award acceptance. What do you remember about that evening?
It is one of the most magical evenings of my life. I still am a little bit disbelieving. With this story, I reached back to more traditional literary inspirations, and the fact that it even got nominated was a surprise to me. Winning floored me because I was up against some very, very stiff competition. There are various times when you can say, "Man, I think I've arrived now," and that was one of those moments for me.
What should readers expect from the new edition?
We have a cool deleted scene, the first scene I wrote for Emperor's Soul. As a writer, you have to write your way into a story. Then you read it and think, Wow, this scene got me into the story, but it doesn't belong. This one has some key continuity items that are relevant to the story and series, but I let them be inferred rather than seen. I think fans of the story in particular will love reading the scene and the new introduction.
A good friend of yours advised you to cut the scene.
Yeah, Mary Robinette Kowal, a master of the short form. Her rallying cry for me was, "Brandon, fewer characters." That's how you do the shorter form. Keep it focused. It was excellent advice.
What does having a strong community of writer friends mean to you?
Writing is so solitary. You're sitting in a room for hours on end. A lot of people do that for their jobs, but they're also touching base with their team members. In writing, you're by yourself and figuring out how to fix problems, how to grow. At certain points, you hit a wall and need friends to say, "This is how I climbed that wall. This is how I went around that wall. I dug under that wall!" The stronger the writing community, the more strong writers come out of it. When writers support one another, all their writing gets better. I'm grateful to my writing communities. I like the science fiction/fantasy community in particular, how open and welcoming it is to new writers.
You're known for your productivity. What motivates you to keep creating?
I love telling stories. I love holding the finished product in my hands. I love making things. If I'm not, something's missing from my life. When I have a vacation, what I want to do is sit on the beach and work on a new story, something that no one's expecting. I want to explore how to tell a different kind of story.
WithThe Emperor's Soul, I wondered, Can I tell a story that takes place mostly in one room? Can I tell a story that delves into the nature of art without feeling heavy-handed? These are challenges I set myself. I'm chasing the experience of what it feels like to tell these stories.
If a Forger had to re-create your essence, what would be the most important facets to get correct?
A Forger would probably have a pretty easy time, because I am who I am. When you read the books, every one of those characters is a piece of me. The thing that would be most important to get right would probably be that desire to tell stories. The way I interact with art is at the core of who I am. My desire to understand others drives me. My exploration of the world would be another point to get right.
And they need to know that I love salty foods, and I do enjoy sweet foods, but never the twain shall meet. If you make a Forgery of me that eats kettle corn, you have failed. --Jaclyn Fulwood

Discover Great Publishers
Introducing Hippo Park
Hippo Park's debut list reflects the joyful, surprising, often befuddling and endlessly fascinating world children live in. Editorial director Jill Davis says, "We want to make the kind of books kids ask for again and again--with stories that tickle their funny bones, respect their intelligence and support their need for emotional connection. Our focus is on what children see and feel when they open up our books and look inside--words and ideas that are funny, silly and often true, and illustrations that convey emotion when words might not. We like to say that we take silly seriously, and we hope our books will bring children wonder and delight."
Jill talks about each of the books she'll be gifting this holiday season.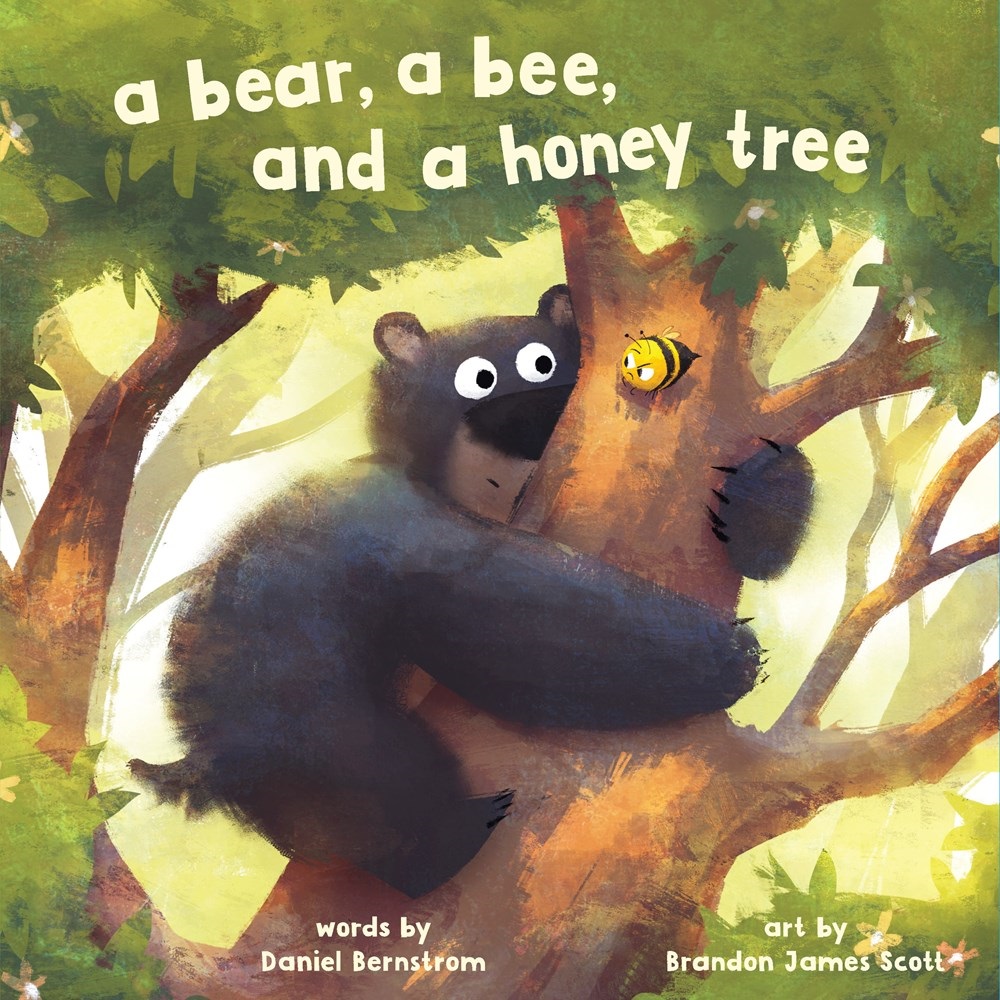 A Bear, a Bee, and a Honey Tree by Daniel Bernstrom, illus. by Brandon James Scott (Hippo Park, $18.99, hardcover, 40p., ages 3-7)
Brandon James Scott's young, funny and lush artwork paired with Daniel Bernstrom's spare, rhyming text is going to steal hearts! The text and illustration work as one, making A Bear, a Bee, and a Honey Tree feel like an animated short. It's definitely a crowd-pleaser for story time: a classic read aloud in a nice big trim size with delicious characters that really pop and anchor the appealing art.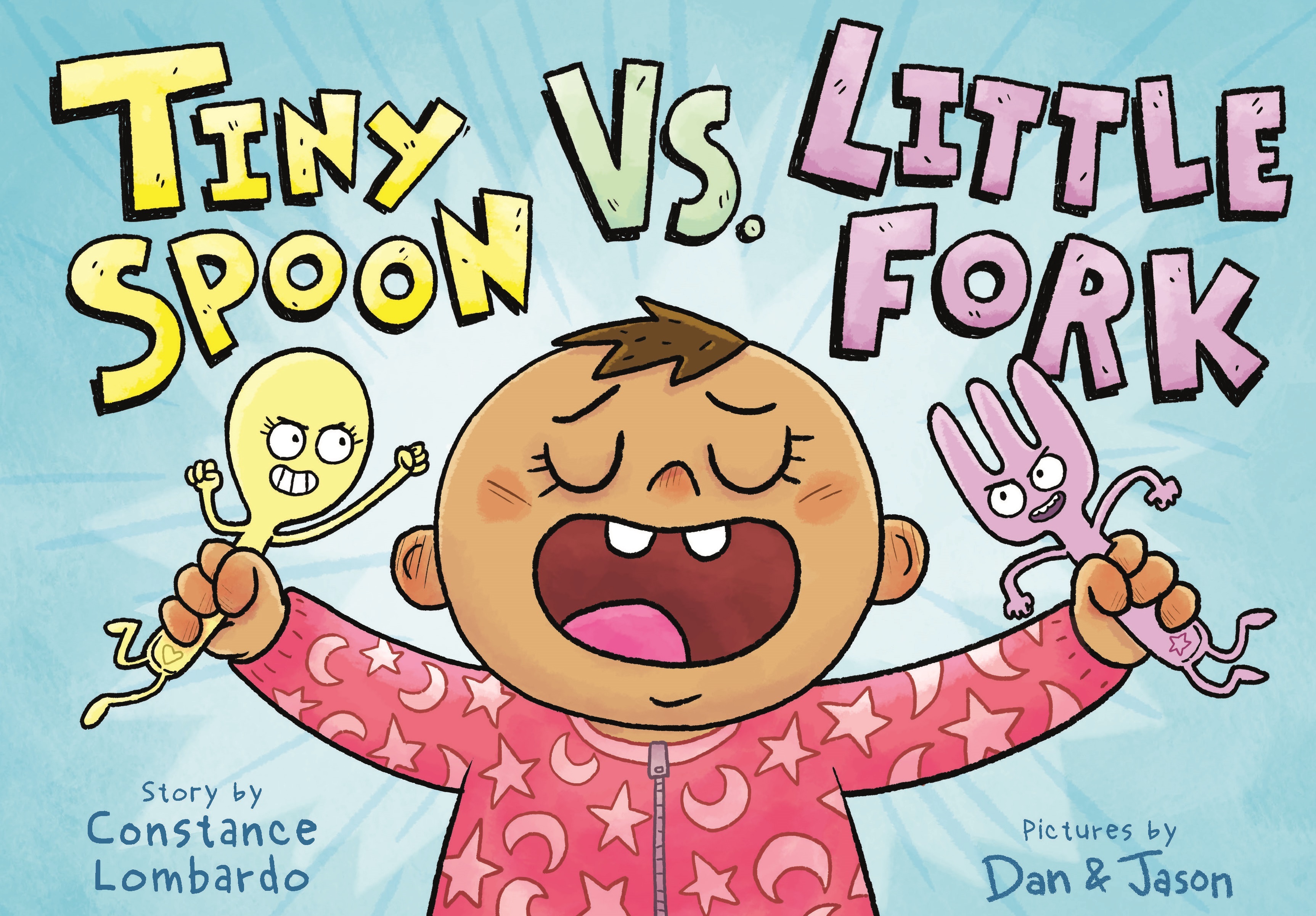 Tiny Spoon vs. Little Fork by Constance Lombardo, illus. by Dan Abdo and Jason Patterson (Hippo Park, $18.99, hardcover, 48p., ages 4-8)
I'm delighted to share the bubble gum colors and comic ebullience of Tiny Spoon vs. Little Fork. This is a book about how rivalry can lead organically to teamwork--hoorah! It's also my fifth book with the marvelous Constance Lombardo, which is very much worth celebrating.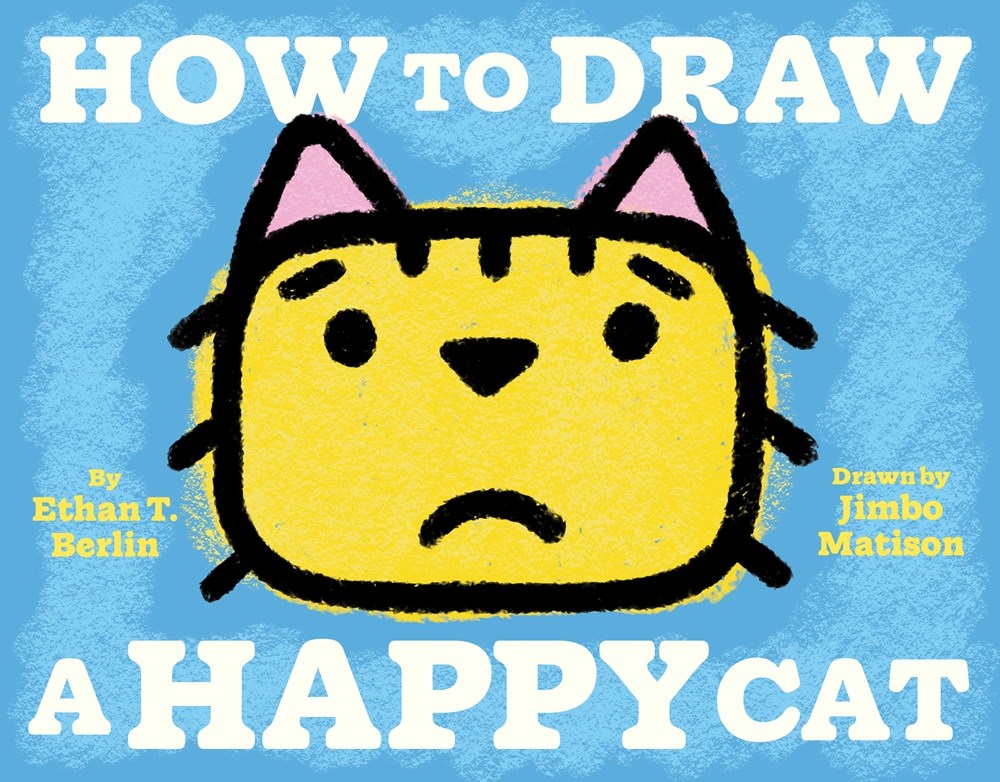 How to Draw a Happy Cat by Ethan T. Berlin, illus. by Jimbo Matison (Hippo Park, $18.99, hardcover, 40p., ages 4-8)
The book takes the form of a drawing lesson that goes off the rails when Cat--who's been drawn with a happy face--WON'T STAY HAPPY! And now you, the reader, have to fix it! A gentle and mischievous narrator pulls you along, and also pulls your chain! For all the action-packed laughs and screw-ball fun in this book, there's also a social emotional message that even the grown-ups will appreciate: How burdensome it can be to take on the task of making others happy!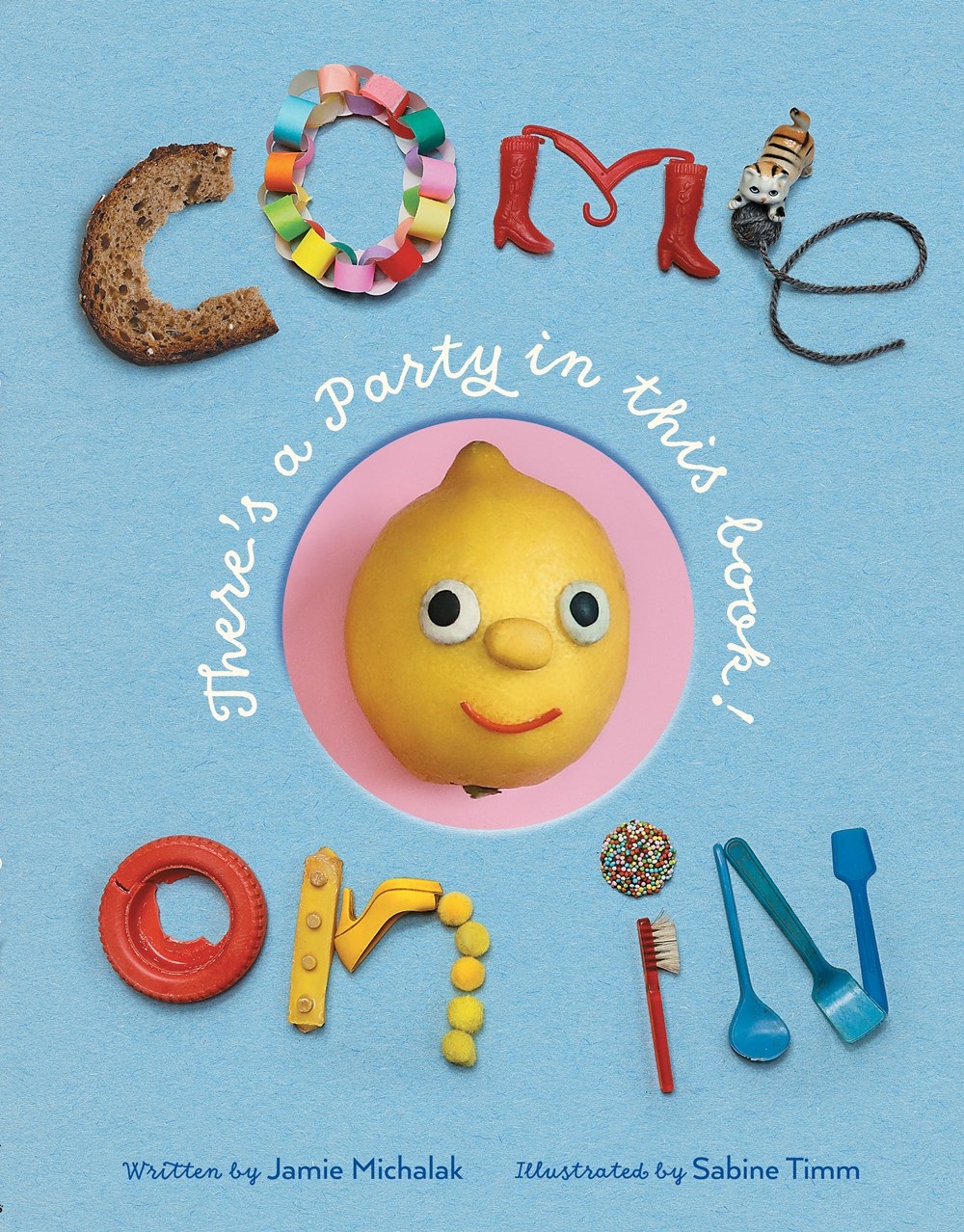 Come On In: There's a Party in this Book! by Jamie Michalak, illus. by Sabine Timm (Hippo Park, $18.99, hardcover, 40p., ages 4-8)
Just look at this cover with its peek-through window for dear, sweet Lemon. Come On In is the dessert of this launch list. The conceit: Lemon really wants to go to the big party, but each time she opens a door, there's a small group of... cats in boots! Or fruits in suits! But they're celebrating all by themselves! So, where's the party where everyone is together, mixing it all up and having a blast? After arriving at home, sad and alone, she has an idea of her own--to shake up the book and shout COME ON IN! And all the creatures from behind the doors "come on in" for one big unforgettable fiesta! Sabine Timm's photographs of fruits, cakes, bread creatures and all types of miniatures have earned her almost 170,000 Instagram followers and I knew I had to find a collaborator for her. I was so happy when Jamie Michalak created a story for Lemon that brings her and her friends to life.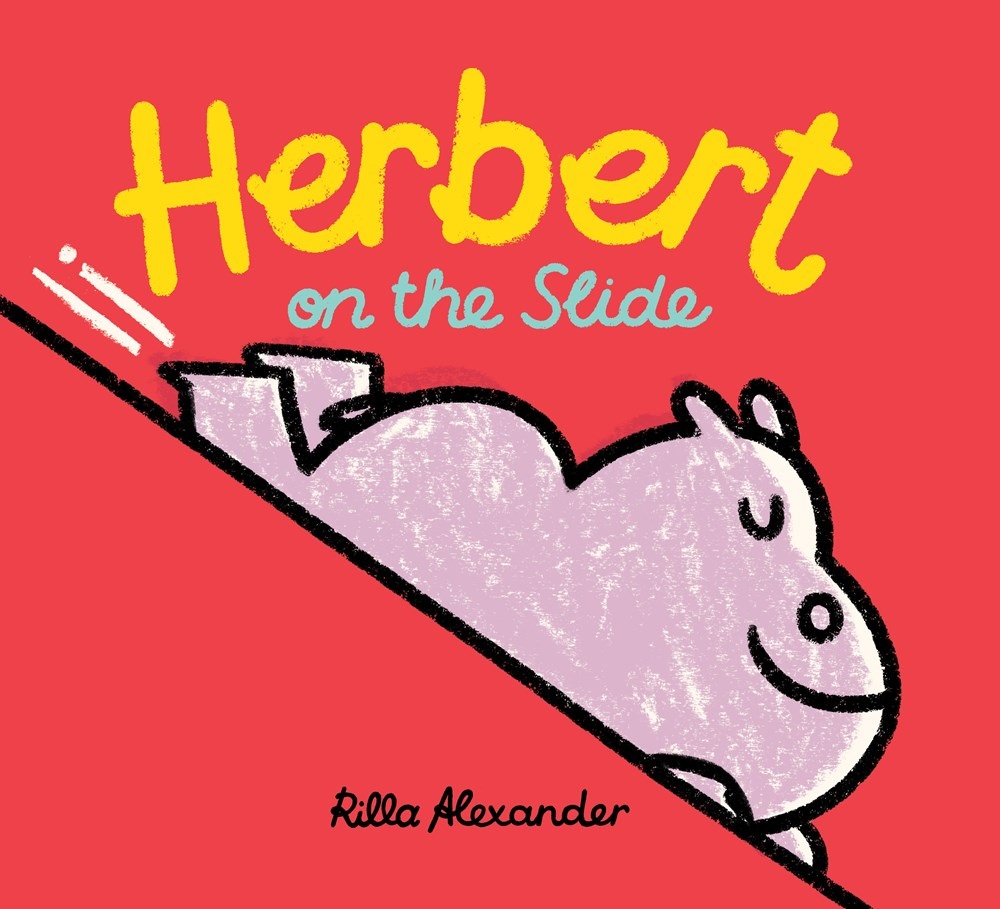 Herbert on the Slide by Rilla Alexander (Hippo Park, $9.99, hardcover, 24p., ages 2-5)
This is the start of an adorable series called the Hippo Park Pals. We were so smitten with Herbert, the handsome hippo created by Rilla Alexander for our logo, that we suggested a series to Rilla. We considered the ecosystem of the playground and our audience emerged as 2-to-5-year-olds who, now walking and talking, are desperate for independence. We knew these weren't board books for chewing on, they had to be precious, special and make little kids feel big. Each book has a dust jacket with flaps, and 32 pages of a satisfying story. It's the perfect stocking stuffer!
A Bear, a Bee, and a Honey Tree
Daniel Bernstrom & Brandon James Scott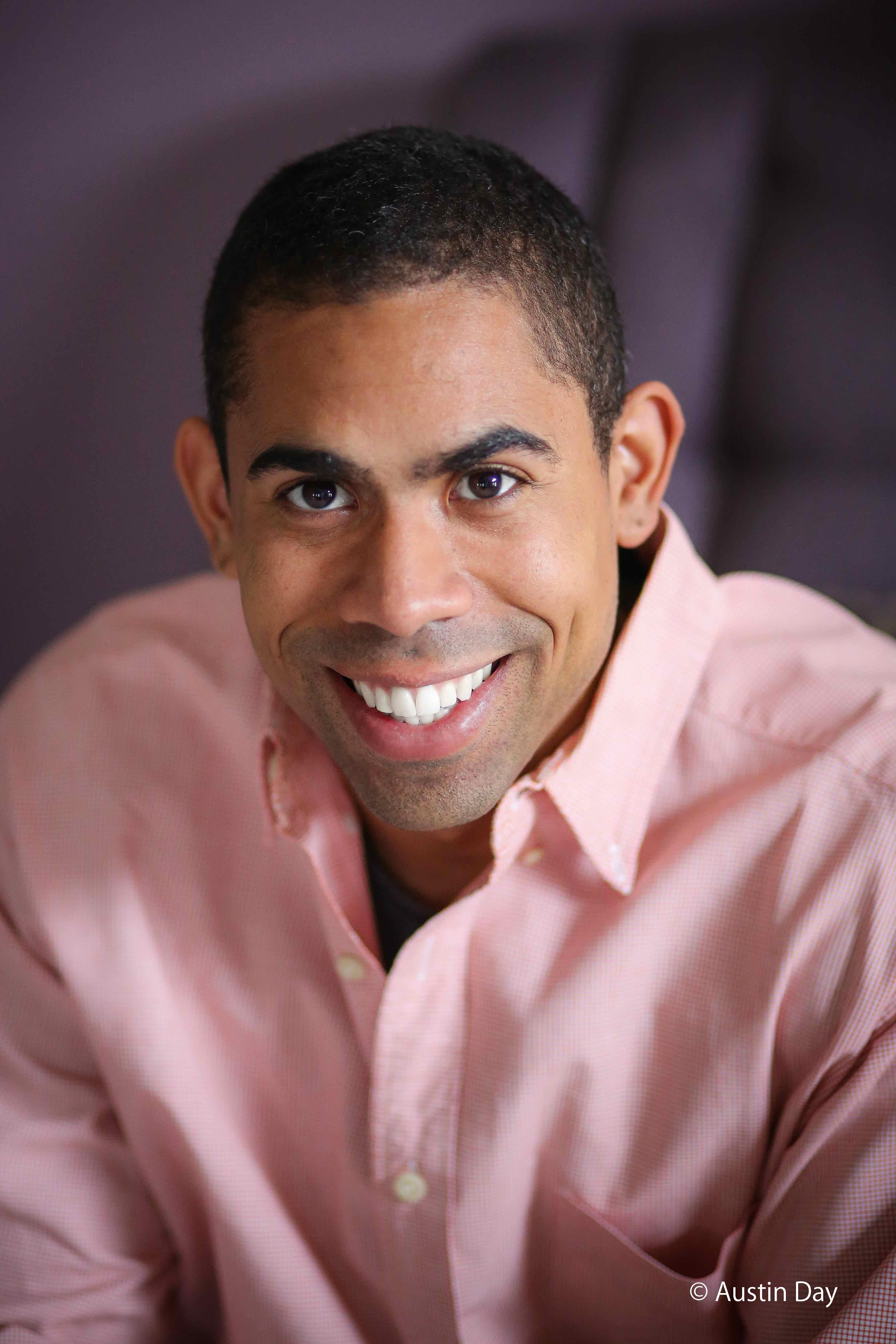 Daniel Bernstrom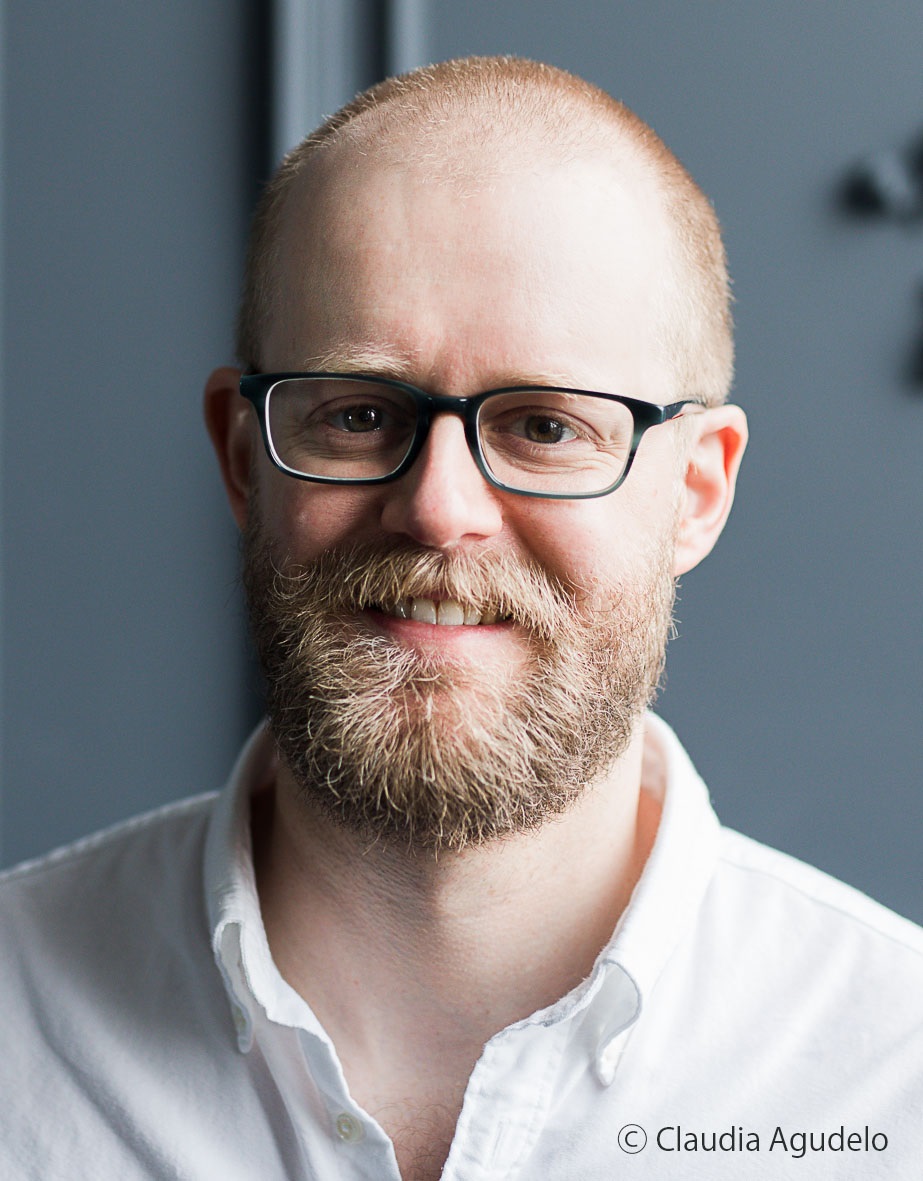 Brandon James Scott
Daniel Bernstrom is an accidental picture book writer. He repeated first grade because he could not read. Today, Bernstrom writes picture books that have been nominated for several state reading awards, and he teaches as a full-time English instructor at Minnesota West Community and Technical College.
By day,
Brandon James Scott
is a Creative Director working in animation; by night, he illustrates picture books. For more than a decade, Brandon has worked on a range of animated entertainment including his own creation, the award-winning series,
Justin Time
. A born and raised Canadian, he lives with his family in Toronto.
Here the two creators discuss their sly and snappy picture book A Bear, a Bee, and a Honey Tree.
Daniel Bernstrom: Brandon, you were on vacation. Welcome back!
Brandon James Scott: Thanks! I got back from taking my family to a cottage--which, as a Canadian, is a must-do thing each summer. Going in the lake, campfires... it's the best.
Bernstrom: I did that a few times. I remember roughing it out in the Alaskan wilderness for a week. Caught salmon from the stream, fought off mosquitoes, avoided bears, canoed down the river. Scarred me forever.
Scott: What are you talking about, that sounds amazing. Wait. Did you say bears?
Bernstrom: Yep, saw a couple. Why--do you like bears?
Scott: I think of all the animals that you might run into out there in the world, the bear is just so strong and demands respect. I also like how they look when they're grumpy.
Bernstrom: I love your grumpy bear drawings. What got you started in illustrating?
Scott: When I was young, I loved to draw. And I realized early that the more I did it, the better I got. I became the "art guy" in elementary class and I stuck with it.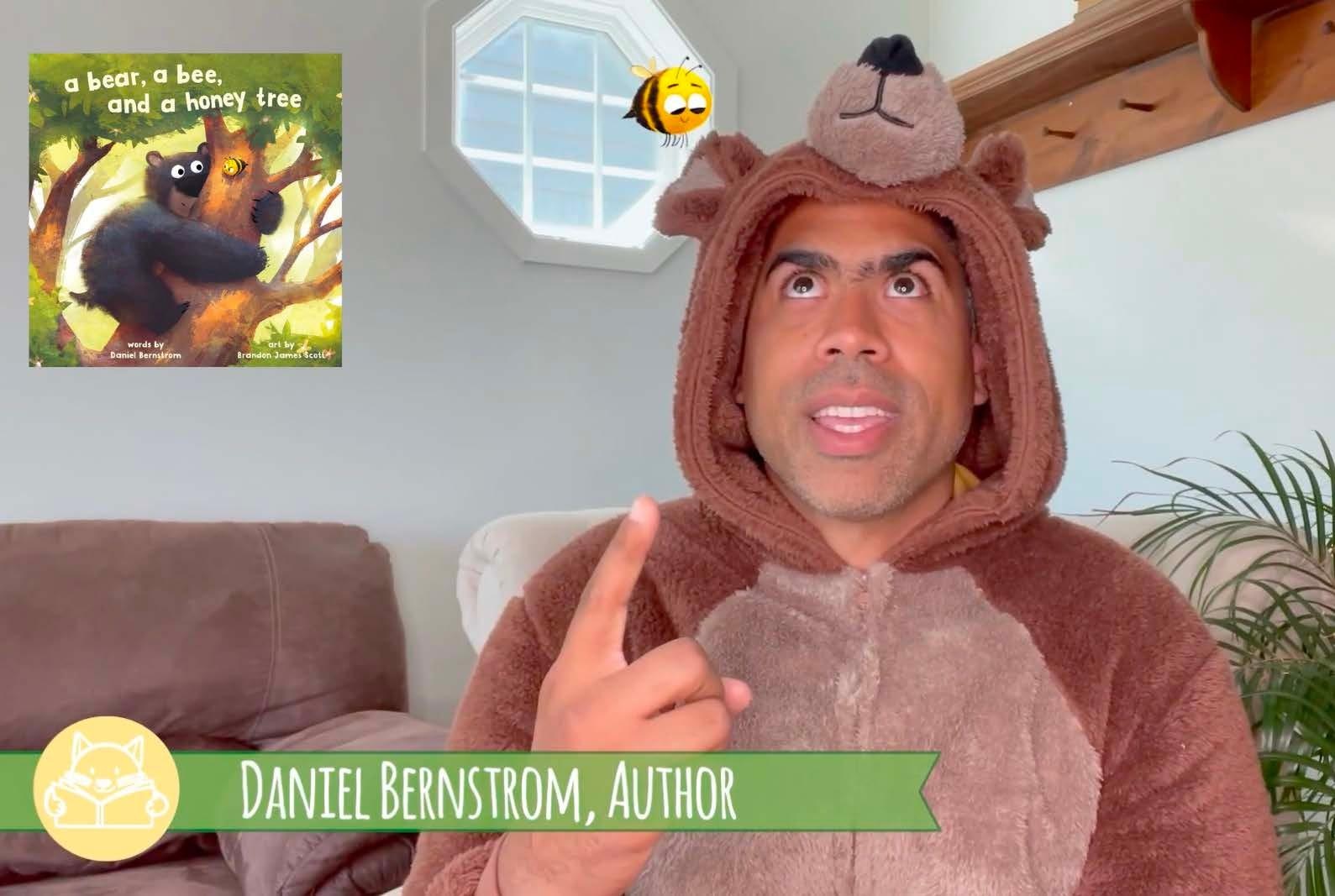 Bernstrom: I love how funny your art is. There are little jokes everywhere. Are you funny in real life?
Scott: I'll say I find it very hard to take most things seriously.
Bernstrom: I keep hearing that our book's ending is "controversial." Explain why?
Scott: Well, the ending feels just right to me. However, it isn't spelled out--you have to look closely at the last page to get the full story. (Dun-dun-dunnnn.)
Bernstrom: For my part, I wanted the promise of resolution: the bear going back for the honey. But I knew for the ending to work, the illustrator needed to see things his way. You did just that. I remember when our editor Jill Davis said, "There needs to be a bear on the last page." I said, "Jill, look closer." The surprise was exhilarating.
Scott: And that reminds me how supportive and collaborative you were. It's a joy as an illustrator to be able to bring your own extras through images. I wanted to thank you--and Jill and art director Amelia Mack--for that!
Bernstrom: I think artists see so much. That's why I felt it important to not get in the way. Speaking of Amelia, what's it like working with her?
Scott: Amelia was awesome--she was involved in a wonderful way to make the story stronger. Sometimes when you're at the picture stage you can get caught up with "does this look good" or "can this look different" but taking a step back even further and asking "does this support the story" is the most important thing, always.
Bernstrom: I remember you two focusing on the eyes of the bear and bee to tell so much of the story. Or was that your idea?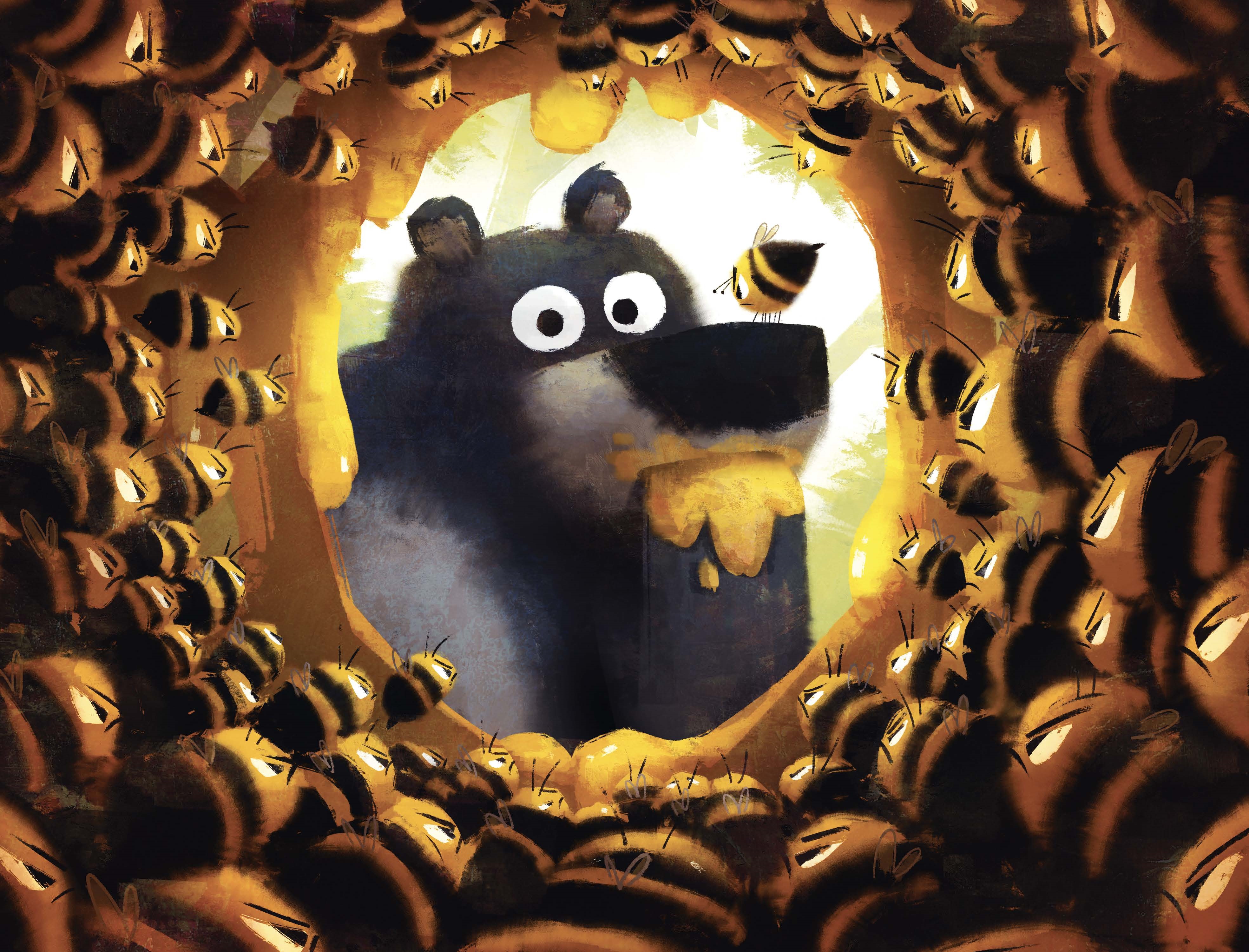 Scott: We talked about that a lot. Eyes are such a big part of characters. One thing I love to do is to make a character's eyes say something different than what the text might imply, just to add another little dimension. Bears, bees... we're all complicated. What was it like working with Jill?
Bernstrom: Working with Jill is like taking a masterclass in picture book writing. She'll never let me get by with a "sloppy" or "redundant" word. She wants every word to glow, and every word needs a VERY good reason to be there. She works with the author to make that happen. She also loves making books funnier.
Scott: She's so great. Do you think we'll see any other adventures for this bear?
Bernstrom: I hope so! I have five or six bear ideas. He's such a fun character, especially after you made him come alive. You game for illustrating more?
Scott: Have you seen my art? Half of my work has bears in it.
Bernstrom: If we do another, I'll have to visit you in Canada, and you can show me what's so fun about the outdoors.
Scott: Deal. We'll call it field research.
Publisher-supported content.
Great Reads
Rediscover: Five Tuesdays in Winter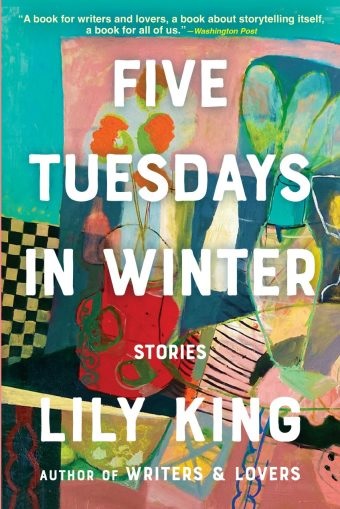 Last year, novelist Lily King's first short story collection, Five Tuesdays in Winter, was published by Grove Press. A Shelf Awareness review of these "10 stories of love and longing, coming-of-age and declining, friendship and families" called the book "a richly rewarding experience" with "crisply descriptive prose" and an "optimistic perspective." These tales track a wide variety of characters--a neglected teenager nurtured by college students, a grandfather with a comatose granddaughter, a bookseller smitten with his part-time employee, a pregnant writer contending with all the men who have ever silenced her voice--all steered toward love, even amid tragic circumstances. Five Tuesdays in Winter was named a Best Book of the Year by NPR and Kirkus and was a finalist for the Story Prize.

The paperback version of Five Tuesdays in Winter was released on November 1, 2022. On November 8, Grove Press published new editions of two of Lily King's previous novels: The English Teacher (2005) and Father of the Rain (2010), both with new covers. The English Teacher, about a mother's impulsive marriage to a widower, won the Chicago Tribune Best Book of the Year. Father of the Rain, which explores a volatile father-daughter relationship over several decades, won the 2010 New England Book Award for Fiction. King is also the author of Writers & Lovers (2020) and Euphoria (2014), which won the Kirkus Prize for Fiction and the New England Book Award for Fiction. --Tobias Mutter