Week of Friday, December 30, 2022
This week, we review Haruki Murakami's Novelist as a Vocation, 11 "lively" essays first published in Japan in 2015, as what he calls "records of undelivered speeches" about life as a novelist. With reflections and more than 75 recipes from the chef, "home cooks can savor the stories and the tastes that Holland so lovingly shares" in Tanya Holland's California Soul. And The Luminaries is a "chilling, gripping contemporary fantasy" by Susan Dennard, set in a heavily forested--and haunted--town. Plus so many more!
And for those looking for some inspiration and encouragement as we head into the New Year, we have a few books to get you started.
The Best Books This Week
Fiction
Claudia Lux takes readers to Hell and back in Sign Here, a twisty, frequently comedic thriller about one family, their secrets and the desperation that leads them to sign away their souls. Peyote Trip, former human and current deal-maker, needs just a few more people to sign away their souls in order to secure a promotion to the next--and less awful--level of Hell. He's got a secret, though: if he can get a Complete Set, a deal with each member of the Harrison family, he'll get the chance to start over on Earth.
The Harrisons are the picture of a privileged nuclear family, but they have secrets too, beginning with how no one talks about what happened 17 years ago, something that began with the death of a girl and ended with the suicide of the eldest Harrison son. When young Mickey Harrison's new friend tags along on the family's six-week summer vacation to New Hampshire, her presence exposes the cracks in this family's facade.
Lux presents a complex, layered story as well as secondary plots and points of view that all connect in an explosive climax. Sign Here, her first novel, is a masterwork of character and tension, made all the more compelling by an irreverent take on the fine art of buying souls for Hell. Sure, Pey and his coworkers deal in souls, but the real trick here is how Lux deftly balances dark humor with generational trauma and packages it all up into a supernatural thriller with a surprisingly big heart. --Suzanne Krohn, librarian and freelance reviewer
Berkley, $27, hardcover, 416p., 9780593545768
Better than Fiction
by Alexa Martin
Alexa Martin (Mom Jeans and Other Mistakes; Snapped; Blitzed) brings readers a charmingly bookish novel in Better than Fiction. Fans of Jasmine Guillory or Talia Hibbert are sure to love this contemporary romance with an endearingly awkward Black main character. Drew Young--named for her terrible father, Andrew--was mostly raised by her beloved grandmother, who ran Denver's Book Nook for years. After her grandmother's death, Drew inherits the store, but as a non-reader, Drew struggles--until two things happen. First, Andrew Young shows up, trying to steal the store from her, claiming Drew unduly influenced his mother. Then bestselling author Jasper Williams visits the store for a signing and is horrified when Drew admits she doesn't like reading.
In Denver to do research on his new book, Jasper makes Drew a deal: if she'll read the booklist he curates for her, he will do all the daring, outdoorsy things she loves and he dislikes. Drew agrees. She's itching to get back out in the wild and continue her nature photography, which she's put on hold since taking over the Book Nook. And, she decides, if she's going to keep her father away from the bookstore, she needs to secure all the bookish knowledge she can.
Gently paced and funny, with a vivid Colorado setting, Better than Fiction is a sweet look at finding love again after a huge loss. The bookstore setting--and the feisty elderly book club that meets there--is a delight, and readers will love how Jasper's and Drew's opposite interests draw them together. --Jessica Howard, freelance book reviewer
Berkley, $17, paperback, 336p., 9780593337226
Tanya Holland's California Soul: Recipes from a Culinary Journey West
by Tanya Holland, Maria C. Hunt, and Kelley Fanto Deetz
Tanya Holland's California Soul: Recipes from a Culinary Journey West reflects the many talents of Tanya Holland, Bay Area restaurateur; author (Brown Sugar Kitchen; New Soul Cooking); host of Tanya's Kitchen Table on the Oprah Winfrey Network; and host of the podcast Tanya's Table. This cookbook is a memoir, an homage to the Great Migration and a recipe collection that merges generations of Black culture with ingredients uniquely Californian.
Holland, like her Black ancestors from the southern United States, left her East Coast home in 2001 when California called, with its farm-to-table philosophy introduced by Alice Waters, founder of the Bay Area's Chez Panisse. In 2008, Holland opened Brown Sugar Kitchen in Oakland. Advocating for seasonal, plant-based food and sustainable animal proteins, she sources ingredients from the Black farmers and entrepreneurs she features. Ten photo essays ("Maker Profiles") of agricultural businesses highlight the specialty producers of dates, beer and more. More than 75 recipes for "California Soul food," arranged by season, delightfully reflect the marriage of Holland's heritage and the Golden State's bounty. Grilled Shrimp and Corn with Avocado White Barbecue Sauce derives from a "pale" sauce of the Deep South, different from the traditional red version. And what says "southern" and "California" better than a Fried Artichoke Po' Boy, a "vegetarian cousin" of the classic New Orleans sandwich? "No matter where we migrated from or ended up, our food comes with us and tells our story," Holland writes. "I am contributing and this is my story. I have a California Soul." Now home cooks can savor the stories and the tastes that Holland so lovingly shares. --Cheryl McKeon, Book House of Stuyvesant Plaza, Albany, N.Y.
Ten Speed Press, $35, hardcover, 256p., 9781984860729
Plain: A Memoir of Mennonite Girlhood
by Mary Alice Hostetter
In Plain, Mary Alice Hostetter (editor of The Measure of a Life) tells an authentic and evocative story about her early years entrenched in strict Mennonite religious traditions and her experiences when, at the age of 18, she decided to leave the community. Hostetter grew up the 10th of 12 children, toeing the line, being good, obedient and God-fearing. However, yearnings beyond what she considered the limitations of her patriarchal community raised questions that lured her away from the traditions and expectations of her birthright.
In 21 beautifully captured essays, Hostetter digs deep into her childhood working on a farm, tending house and churchgoing; rebellions such as sneaking off to movies; early paid jobs like a stint as a local tour guide to the Mennonite and Amish communities; her quest to go to college and become a teacher; changing her wardrobe and frequenting happy hours. Hostetter's journey to a very small town in West Virginia--a sabbatical taken from teaching to write a book--changes her life unexpectedly. Intrigued by welcoming townsfolk, she ends up learning how to make cheese. In many ways, her West Virginia experiences bring her back to her roots, while they also widen the scope of her world as she finally recognizes and embraces being a lesbian.
These moving essays straddle the line between Hostetter expressing a fervent desire to leave her upbringing and way of life, while also finding pride and nostalgia for where she came from. Readers are the blessed beneficiaries of her early formations and experiences, as without them, she would not have become such a sensitive, perceptive and wise writer. -- Kathleen Gerard, blogger at Reading Between the Lines
University of Wisconsin Press, $26.95, hardcover, 168p., 9780299340407
Dickens and Prince: A Particular Kind of Genius
by Nick Hornby
Nick Hornby (Funny Girl; Ten Years in the Tub; High Fidelity) may be better known for novels, but he's published nonfiction accounts of several of his passions, including soccer (Fever Pitch), music (Songbook) and reading (More Baths Less Talking). His exuberant biographical essay, Dickens and Prince, draws unexpected connections between two of his heroes in a paean to energy and imagination. Victorian novelist, recent pop star: What gives? Ultimately, Hornby admits he picked these figures because of personal predilection: they are chief among what he calls "My People... the artists who have shaped me, inspired me, made me think about my own work." However, he does make a convincing case for Charles Dickens and Prince Rogers Nelson being spiritual twins: both came from poverty, skyrocketed to fame in their 20s, were astoundingly prolific--and workaholic--artists, valued performance (readings and concerts) perhaps more highly than finished products, felt the industry was cheating them, had a weakness for women and died at a similar age (58 for Dickens; 57 for Prince).
Dickens wrote millions of words; at his death by accidental overdose, Prince left thousands of unreleased songs in a vault. Hornby argues that their single-mindedness and abundant creativity mark Dickens and Prince as "sui generis." For each, there was "no off switch" and no time for perfectionism. It was always on to the next project (or three, often overlapping).
Biographical research shares the page with shrewd cultural commentary as well as glimpses of Hornby's writing life. Whether a fan of both subjects, either or none, you'll surely admire these geniuses' vitality, too. --Rebecca Foster, freelance reviewer, proofreader and blogger at Bookish Beck
Riverhead, $18, hardcover, 192p., 9780593541821
Fearless Vulgarity: Jacqueline Susann's Queer Comedy and Camp Authorship
by Ken Feil
When Jacqueline Susann died at age 56 in 1974, The Guinness Book of World Records declared her first novel, Valley of the Dolls, the bestselling novel in the world. Her undisputed popularity with readers was matched by the hostility critics heaped upon her. Ken Feil (Dying for a Laugh) skillfully rehabilitates her critical reputation with this persuasive reevaluation of her work, which undermines the sanitized wholesomeness of Hollywood heterosexual romance with a "comedy of bad manners." As Feil notes in Fearless Vulgarity: "Overlooking humor in Jackie Susann's work negates the core of her queer, feminist agency and the complicated delights her bestsellers furnished."
The first two chapters examine Valley of the Dolls and The Love Machine, the latter being Susann's only novel with a happy ending. Feil then looks at how Susann tweaked and challenged taste and gender norms and was "the product of numerous closets." Only in her novels could she write about her bisexuality, non-monogamous marriage, being Jewish, having an autistic son, managing addictions and living with breast cancer. Feil also examines several biographical movies and plays about Susann, including Paul Rudnick's Isn't She Great and Michele Gallery's Scandalous Me. The final chapter looks at the legacy of Susann's sensibility, most notably in Sex and the City, Lee Daniels's TV series Star and the work of Carrie Fisher. Fisher's heroine in Postcards from the Edge is named Suzanne Vale, a playful combination of Susann and valley.
Feil expertly exposes how Susann planted her most subversive material and queer insights into the margins of her novels. This is literary criticism at its most eloquent, impressively researched and saucy. --Kevin Howell, independent reviewer and marketing consultant
Wayne State University Press, $34.99, paperback, 304p., 9780814346044
Novelist as a Vocation
by Haruki Murakami, transl. by Philip Gabriel and Ted Goossen
Jazz, cats, baseball, running and the Beatles: fans of Haruki Murakami (First Person Singular; Wind/Pinball; Colorless Tsukuru Tazaki and His Years of Pilgrimage) won't be shocked to discover that all of them make appearances in Novelist as a Vocation, a lively collection of 11 essays, translated from the Japanese by Philip Gabriel and Ted Goossen. Also appearing are opinions on the art of writing, all of them shared in Murakami's casual style. He calls the essays, first published in Japan in 2015, "records of undelivered speeches" about life as a novelist. That approach is evident in such lines as: "Next, I think I'd like to move on to talk about literary prizes." He discusses that and much more, with viewpoints likely to provoke debate, as when he states: "There is no need to study literature at the university level."
Amidst these challenges to prevailing wisdom, Murakami describes the path that led him to become a novelist, and offers plentiful insights into his craft, including his three requirements on what constitutes originality, the habits aspiring writers should follow, the factors he considers when determining the length and form of each work, and more. And he's cautiously hopeful: Only 5% of the populace reads literature, he guesses, but as long as "one in twenty is like us, I refuse to get overly worried about the future of the novel and the written word." Of his fellow novelists Murakami writes: "In a way, we are out of our minds." This genial collection offers one writer's perspective on how they got that way. --Michael Magras, freelance book reviewer
Knopf, $28, hardcover, 224p., 9780451494641
On Browsing
by Jason Guriel
Jason Guriel's On Browsing invites readers to consider the dying art (or is it already dead?) of perusing a bookshelf or record bin, of wandering and meandering toward a possibly ambiguous purpose, of interacting with physical media in a physical world. In keeping with the goal of the publisher's Field Notes series, of which this is a part, this book is slim but offers considerable insights as it moves across such varied spaces as libraries, malls and any store where one might obtain books, music or movies. Guriel (Forgotten Work) presents, in part, a memoir: many of the browsing experiences he chronicles focus on the specific haunts he frequented in his native Toronto. But the way browsing allows you to "pause, eye a spine, and tip some strange compact sliver of the world towards you" will register as a deeply familiar act, and Guriel's collection of eight essays may remind readers of their pleasure in this moment of discovery.
There are hints of the curmudgeon here, as Guriel rails against the "Age of Scrolling" and the ways "we've given up the journey for the destination." Guriel is not arguing against technology, however; instead, he invites readers to join him in considering the good that might be gained from embracing the physical act of browsing and all that might be lost without it. Despite some minor repetition, On Browsing is perfect for readers and collectors alike, for anyone who has ever thrilled at stumbling across a coveted item, without even looking for it. --Sara Beth West, freelance reviewer and librarian
Biblioasis, $13.95, paperback, 112p., 9781771965101
This Beauty: A Philosophy of Being Alive
by Nick Riggle
Why should we consider life valuable? To answer that question, Nick Riggle (On Being Awesome) offers an introduction to aesthetics in his accessible and motivating second book, This Beauty, which proposes that the meaning of life is to appreciate and share in beauty.
An associate professor of philosophy at the University of San Diego, former professional skater and a new father, Riggle has varied life experiences upon which to draw. His philosophical and pop-culture references range from Plato to Drake, from Schopenhauer to Saturday Night Live. One of the author's main strategies is "using clichés as clues," probing well-worn sayings for the wisdom they may yet contain. Take "you only live once," for example. There are two opposite responses to this statement, he suggests. The one adopted by "The Preservationist" is to view life as fragile and protect it at all costs. The other is to embrace recklessness. "Carpe diem," right? Except, he discovers, "seize" might not be the best translation for what we are to do with the day. Instead, we should "harvest" it by being fully present in each moment.
Whatever we value--fashion, food, literature, music--makes us individuals, Riggle contends. And what we love, we want to share with others and respond to. That could start through imitation, but will ultimately fuel fresh creativity. How inspirational to think of life being "animated by beauty." This convivial guide for the questioning is perfect for readers of Rob Bell and Alain de Botton. --Rebecca Foster, freelance reviewer, proofreader and blogger at Bookish Beck
Basic Books, $28, hardcover, 240p., 9781541675506
The Sleep Prescription: Seven Days to Unlocking Your Best Rest
by Aric A. Prather
Aric A. Prather's The Sleep Prescription: Seven Days to Unlocking Your Best Rest presents empirically validated, step-by-step guidance on how to get the deep, restorative and slow-wave sleep our bodies need "to clean the metabolic gunk out of the brain after another long day." Designed to address a spectrum of sleep issues--from occasional sleeplessness to insomnia and everything in between--Prather's debut sets a calm and practical, yet light-hearted, tone that is a perfect antidote to the anxiety surrounding poor sleep and its attendant health problems. Prather, a sleep scientist at the University of California, San Francisco, conducts research to better understand how and why sleep is so critical for health and implements cognitive behavioral therapy for insomnia patients. Prather annually treats hundreds of people desperate for a good night's rest and shares techniques and tips that have been successfully deployed by patients with even the most stubborn sleep disorders.
The Sleep Prescription--which notes that the first step toward improving sleep is the commitment to wake up at the same time every day, a choice that stabilizes the body's circadian rhythm--is a roadmap for how to behave during the day in ways that accommodate nighttime slumber. It includes suggestions for countering middle-of-the-night rumination and worry. Prather shares his own struggles to adopt strategies that promote quality rest and refers to sleep as our "well of resilience," encouraging readers to protect their sleep time and equipping them with the armor needed to handle the slings and arrows that life flings our way. --Shahina Piyarali, reviewer
Penguin Life, $15, paperback, 224p., 9780143136651
Paris and Her Cathedrals
by R. Howard Bloch
For most visitors, the towering Notre-Dame de Paris is the touchstone of the City of Light's cathedrals, a must-see on their checklists as tourists. Even as the medieval Catholic cathedral undergoes massive reconstruction following the devastating 2019 fire, Notre-Dame remains a thrilling testament to faith and ingenuity. But as R. Howard Bloch (A Needle in the Right Hand of God) shows in Paris and Her Cathedrals, it is only one of six cathedrals that are paeans to Gothic architecture. Saint-Denis, the first cathedral, became the burial place of French kings, and Reims was supposedly where Clovis, France's first king, was baptized. Chartres became the center of classical learning in the 11th and 12th centuries and contains the greatest collection of original stained glass of any Gothic cathedral. The Sainte-Chapelle originally was built to be King Louis IX's private chapel.
The "Age of Cathedrals" began in Paris after the world didn't end in the year 1000 CE, as theologians, princes, knights and even commoners had predicted. But nature, fires and wars haven't been kind to these religious monuments over the centuries, and--following the Revolution of 1789--cathedrals fell out of favor, viewed as an alliance between the church and royalty.
Bloch melds history, culture and the type of notes found in travelogues with meticulous research that puts the cathedrals into the context of the times in which they were built and illustrates why they continue to be relevant in contemporary society. Maps, photographs, a glossary of terms and tips on transportation enhance this armchair experience. --Oline H. Cogdill, freelance reviewer
Liveright, $32.50, hardcover, 368p., 9781631493928
Finale: Late Conversations with Stephen Sondheim
by D.T. Max
Finale is an entertaining expansion on the four interviews New Yorker writer D.T. Max (Every Love Story Is a Ghost Story: A Life of David Foster Wallace) conducted between 2016 and 2019 with Stephen Sondheim (1930-2021). At the time, the composer was working on a musical based on two Luis Buñuel movies, a project that was never completed.
Besides the sharp interviews, Max demonstrates the finesse used in wooing a reticent interview subject, writing, "I had never tried to be his friend, but I had tried to be his ideal conversational partner." He describes the friendly but prickly Sondheim as "humorous, sardonic, and appealing, beloved but not lovable, in the Shavian way." A large portion of these interviews mines Sondheim's creative process and how he worked with collaborators. But Max also coaxed some childhood tales out of Sondheim, with a few caustic remarks about his mother, who sent him to boarding school: "She didn't want me in the first place, so it was to her taste to get rid of me--and to my taste to get rid of her." There are some fun random opinions, such as that he enjoyed the Beatles and Radiohead but wasn't a fan of jazz music or social media. "At my age, what I don't want to do is meet anybody else," he told Max. As Sondheim neared 90 and his pace slowed, he also reflected on his mortality: "I don't mind dying. I just hate--I just don't want it to be uncomfortable. And I don't want it to be prolonged." These tantalizing interviews should delight theater fans. --Kevin Howell, independent reviewer and marketing consultant
Harper, $20.99, hardcover, 240p., 9780063279810
Mid-Century Modern Furniture
by Dominic Bradbury
Mid-Century Modern Furniture is a coffee-table book that would look great on Vladimir Kagan's Tri-Symmetric Coffee Table (circa 1955), to name just one of several hundred mid-century marvels depicted in Dominic Bradbury's stately compendium. Bradbury (The Iconic Interior) bundles photographs of the featured pieces into eight themed chapters--"Chairs," "Chaises Longues," "Stools," "Sofas," "Tables," "Consoles & Credenzas," "Desks & Storage" and "Beds & Bedside"--and honors each subject with a biographical paragraph that puts the design in context. In his chapter introductions, Bradbury explains how pop art and technological innovations informed these pieces, as did designers' postwar drive to move beyond typical concerns (aesthetics, ergonomics) and toward a consideration of portability, adaptability and--so that enjoying good design wasn't restricted to the wealthy--affordability.
Mid-Century Modern Furniture is furniture porn for devotees of modern design, but it would also be a dandy introduction for casual admirers of the style. After appreciating the requisite Eames chair, readers can acquaint themselves with pieces that, as Bradbury writes of one designer's work, "inhabited the borderland between furniture and sculpture." Among these dazzlers are Eero Aarnio's Ball Chair (1966) and Pastilli Chair (1967), the latter resembling a giant squashed pea. Collectively, the images have a trippy, retro-futuristic look recalling A Clockwork Orange, but if readers find themselves thinking of James Bond movies instead, there's a good reason: two pieces--Bodil Kjaer's Office Suite (1959) and Olivier Mourgue's Whist Chaise Longue (1964)--had cameos in You Only Live Twice. --Nell Beram, author and freelance writer
Thames & Hudson, $75, hardcover, 448p., 9780500022221
Reading into 2023
Books to Ground Me (and You) in 2023
After the hustle and bustle of a particularly chaotic weekday morning recently, I found myself sipping coffee in a sunshine spot on my kitchen floor; apparently I was craving a sense of grounding so much that my body literally made its way there to pause before starting my workday. I've been contemplating that sunshine sit and a desire for grounding energy as I plan out my first reads of 2023, inviting for myself--and others--a sense of slowing down, calming energy and finding moments to rest (and, yes, ground ourselves in the present moment).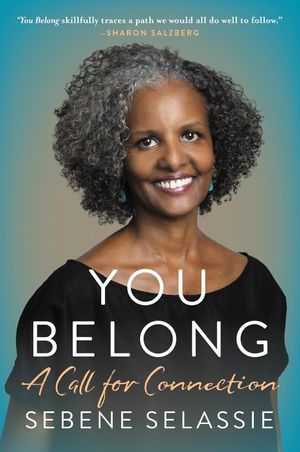 A re-read for me, as I remind myself in this season of busyness to attend to connection and care for myself and others: You Belong: A Call for Connection by Sebene Selassie (HarperOne, $16.99). "Although we are not one, we are not separate. And although we are not separate, we are not the same," writes Selassie, reminding us that care for ourselves is care for the greater good--and vice versa. That care may look slightly different for each of us, but at the heart of connecting with ourselves is connection with our community.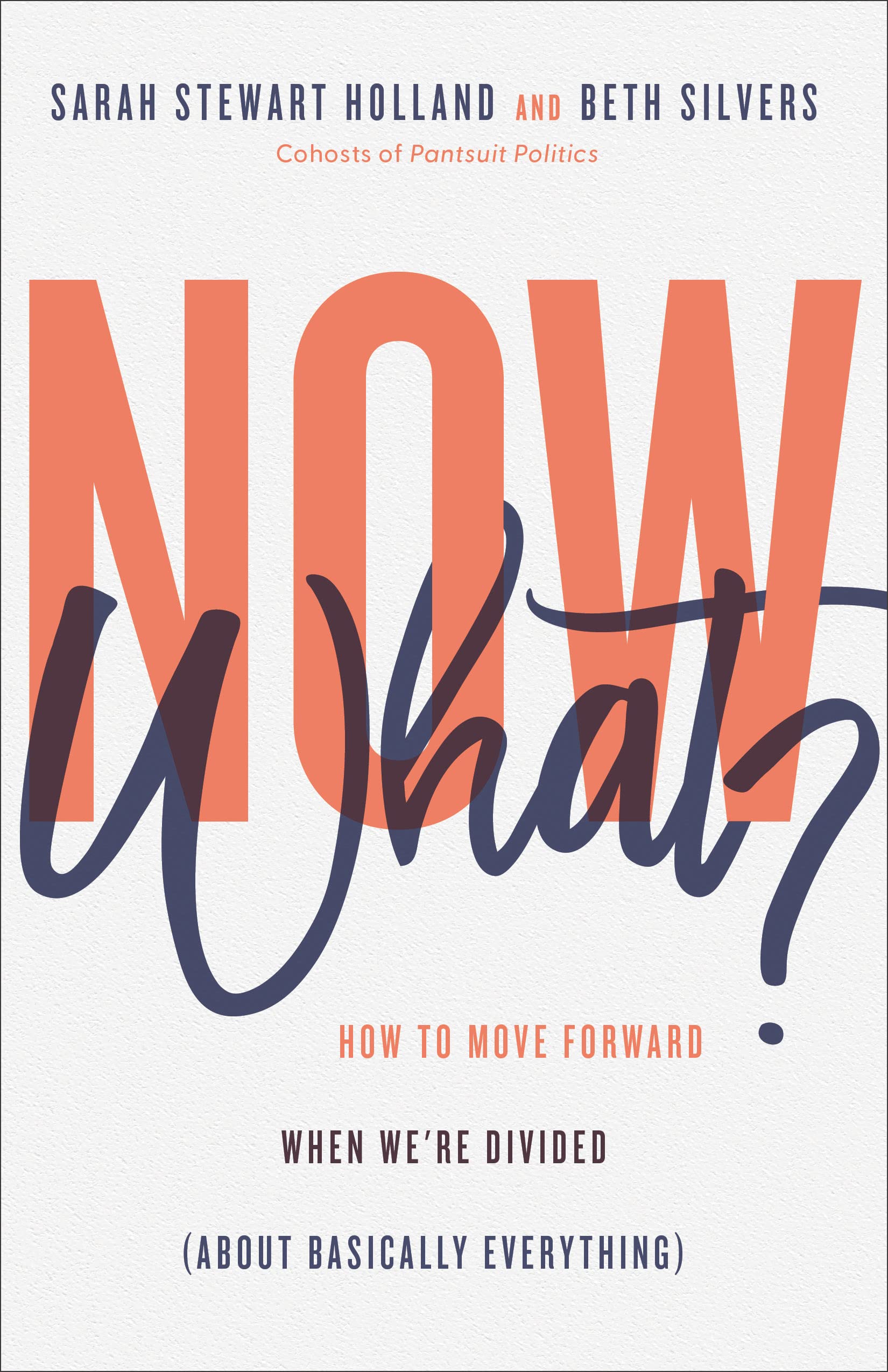 Continuing that hunt for community connection, I'm excited to pick up Now What? How to Move Forward When We're Divided (About Basically Everything) (Fleming H. Revelle, $21.99) by Beth Silvers and Sarah Stewart Holland, the second book by the co-hosts of the smart, nuanced political podcast Pantsuit Politics. It promises a path forward centered on hope and love instead of the fear and angst that plague so many hard conversations of late. Their first book, I Think You're Wrong, but I'm Listening (Thomas Nelson, $18.99), is also high on my list for remembering compassion in difficult moments.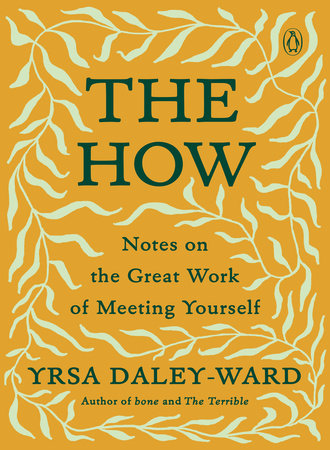 I spent the last few months reading one short chapter from The How: Notes on the Great Work of Meeting Yourself by Yrsa Daley-Ward (Penguin, $17) each morning as a way to start my day, and I plan to start right back from the beginning upon completing it in its entirety. Poet Yrsa Daley-Ward turns her attention to our most intimate selves in The How, with short essays, poems and pages that read almost like guided meditations--all of which encourage us to go deeper into ourselves and find peace from within.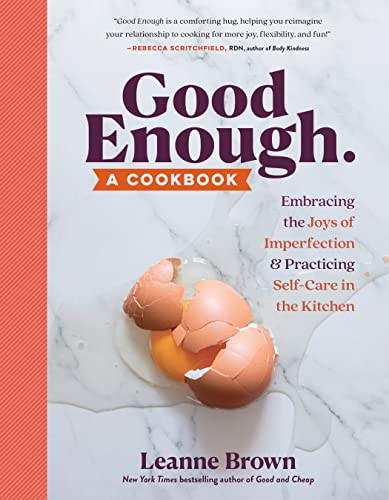 A cookbook and a self-help book all in one, Good Enough: Embracing the Joys of Imperfection and Practicing Self-Care in the Kitchen (Workman, $19.95) is, as author Leanne Brown describes it, a "gentle hug and whisper in your ear that you are stronger than you know, and you deserve love and care." As someone who grew up in a home that centered around the kitchen and a family that broke bread together on a daily basis, I am eager to return to cooking from a place of pleasure, joy and care (instead of hurried, harried obligation) and to embrace, as Brown suggests, the process instead of the outcome.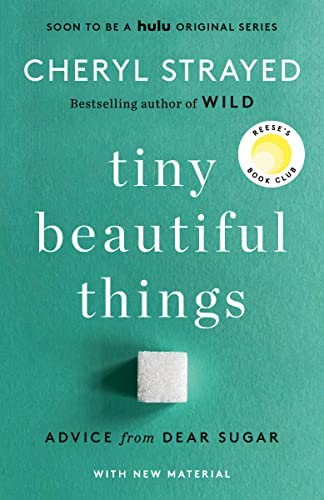 Apparently re-reads help me ground myself, because this is the third re-read I've got lined up for myself in the coming months: Tiny Beautiful Things: Advice from Dear Sugar by Cheryl Strayed (Vintage, $17). My original copy of Strayed's moving and heartfelt collection of advice columns is dog-eared, annotated and just about falling apart, so I look forward to preserving it on my shelf and adding this 10th-anniversary edition--complete with new content!--to my nightstand stack this season.
Whatever the new year may bring your way, may your books continue to ground you, bringing you peace, adventure, love, mystery and new perspectives along the way. --Kerry McHugh, freelance writer
Great Reads
Rediscover: The White House Plumbers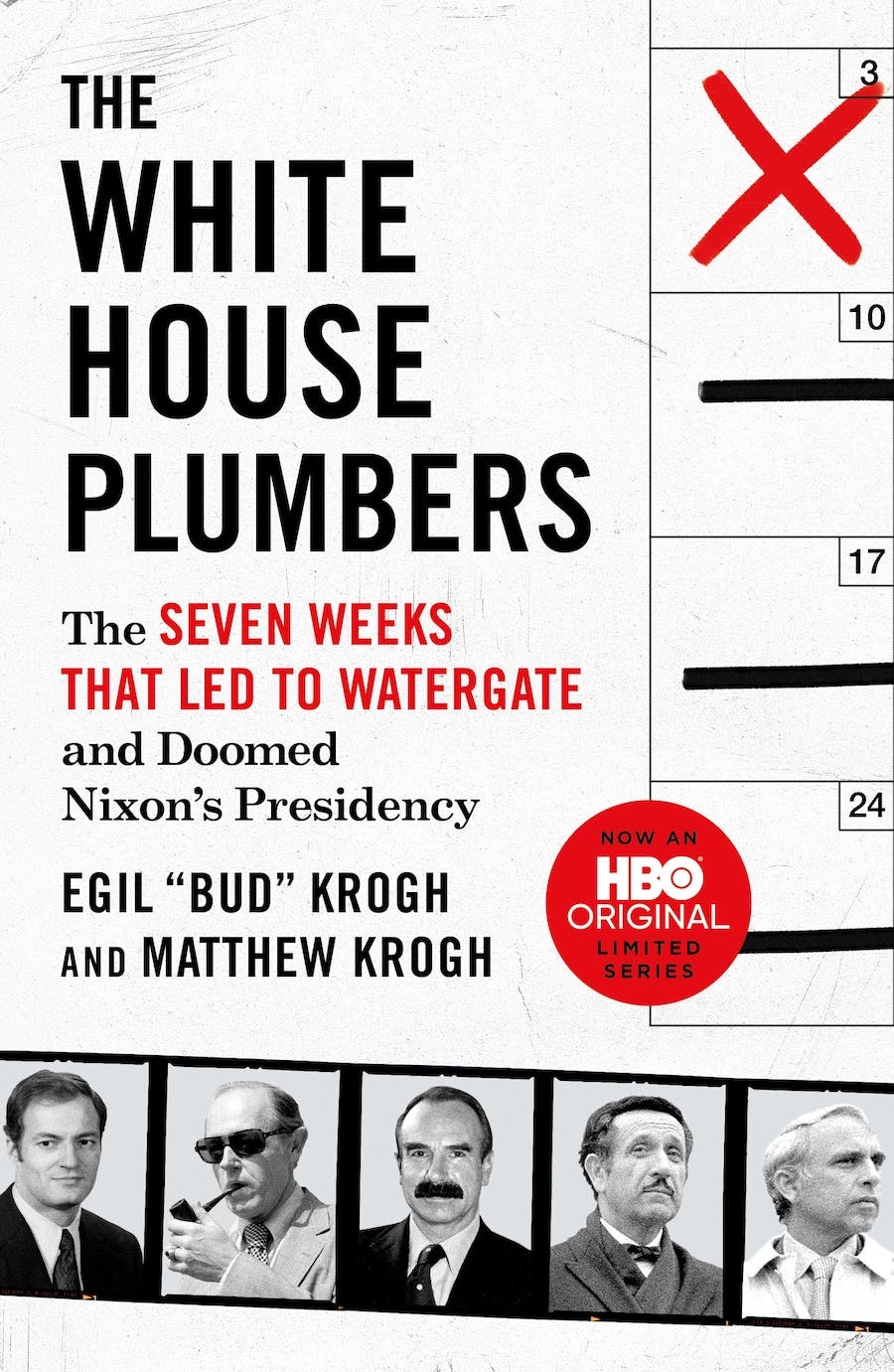 Egil "Bud" Krogh (1939-2020) was a promising young lawyer when he joined the White House in 1968. Within three years, he was in charge of the Special Investigation Unit, known internally as the Plumbers for its job sealing press leaks within the Nixon White House. Three years after that, Krogh was in prison for approving the burglary of Daniel Ellsberg's psychiatrist's office. When the Watergate scandal revealed Krogh's involvement in the SIU, he cooperated with prosecutors and ultimately served less than five months on a six-year sentence for civil rights violations. Krogh eventually resumed law practice and spent many years lecturing and teaching about legal ethics.

In 2007, Bud and his son Matthew published Integrity: Good People, Bad Choices, and Life Lessons from the White House, which sold about 2,500 copies and was never released in paperback. Through circuitous circumstances, the book ended up in the hands of TV producer David Bernad, and will be adapted as the miniseries White House Plumbers, airing March 2023 on HBO (see the trailer here). The show stars Woody Harrelson as E. Howard Hunt, Justin Theroux as G. Gordon Liddy, Domhnall Gleeson as John Dean, Lena Headey as Dorothy Hunt, Kiernan Shipka as Kevan Hunt and Rich Sommer as Bud Krogh. On December 27, St. Martin's Griffin released a paperback edition of Integrity titled The White House Plumbers: The Seven Weeks That Led to Watergate and Doomed Nixon's Presidency ($17.99). --Tobias Mutter