Week of Friday, May 5, 2023
We have plenty of not-to-miss fiction this week: Janika Oza's debut novel, A History of Burning, a "stunning multigenerational saga" that follows a family from India to Kenya to Uganda, to Canada and the U.K. Hula, Jasmin Iolani Hakes's debut, is an "emotionally resonant, lyrical depiction" of three generations of Hawaiian women and their homeland. And Vanessa Walters's American debut, The Nigerwife, is "a gripping work of suspense, a psychological puzzle, a mystery, and a critique of marriage and high society." Plus so many more!
In The Writer's Life, Abraham Verghese discusses why he wanted to locate his long-awaited second novel, A Covenant of Water in "a new geography," and how he was moved to do so by his mother's response to his niece's question: "[W]hat was it like when you were a little girl?"
The Best Books This Week
Fiction
The Girl by the Bridge
by Arnaldur Indridason, transl. by Philip Roughton
R&R isn't for everyone. Case in point: the mononymous Konrád, a restless but (technically) retired Reykjavík police detective at the center of Arnaldur Indridason's multivalent and absorbing The Girl by the Bridge, translated from the Icelandic by Philip Roughton. As in the previous books featuring Konrád (The Shadow District; The Darkness Knows), his restiveness is fueled by both his quest for justice and his messy past.
The novel opens in 1961, when a young man spots first a doll and then a 12-year-old girl's body floating in a pond. Did she drown trying to retrieve her doll? In the next chapter, a 12-year-old girl named Eygló has a vision of a girl while at a birthday party. Who is this girl? Konrád finally appears in the novel's third chapter, set in the present: friends of his late wife want his help finding their missing 20-year-old granddaughter, whom they know to be a drug mule. And that's just the novel's first dozen pages.
Indridason, roundly considered Icelandic crime fiction's top gun, nimbly ties all three strands together. (Leniency with coincidence as a plot device will serve readers well.) With The Girl by the Bridge, Indridason demonstrates his usual facility with character, fleshing out even peripheral players, which reinforces his books' deep humanity. Konrád may be skeptical when he learns of the adult Eygló's visions, but he also understands that to serve the public, sometimes "he had to disregard everything his experience as a policeman had taught him, where only the cold, hard facts of life counted." --Nell Beram, author and freelance writer
Minotaur, $29, hardcover, 352p., 9781250892607
Viviana Valentine Goes Up the River
by Emily J. Edwards
The screwball comedy meets the drawing-room mystery in Emily J. Edwards's Viviana Valentine Goes Up the River, the charming follow-up, set in 1950, to Viviana Valentine Gets Her Man. For girl Friday-turned-private detective Viviana's first case as Tommy Fortuna's full partner, the New York City gumshoes head upstate to mingle with the houseguests of Buster Beacon, a wealthy scientist: Buster has hired the detectives to investigate the strange noises--"woo-woo creaks and ghastly sounds"--coming from somewhere on his property. Upon hearing a noise in the night, Viviana and Tommy search a Clue board's worth of rooms, only to determine that they heard sozzled guest Chester Courtland falling out of bed--or was he slipped a mickey? While checking Courtland's pockets, Viviana and Tommy discover that the man is with the FBI. He doesn't live to see his job through.
As Viviana evaluates the "household full of silver-spoon charlatans," her tough-dame narration goes down as easy as a malted from the neighborhood diner. Viviana Valentine Goes Up the River, bedazzled with period details, offers occasional sobering moments by way of reminders that many of the novel's men (Tommy among them) carry traces of their war service. Edwards packs in the genre nods: horror, sci-fi, espionage, ghost story, and romance via Viviana and Tommy's flirtatious repartee. Another nod: Viviana's discovery of a secret passageway in Buster's house recalls something out of Nancy Drew, although the crime at the novel's center would have been well beyond the girl sleuth's scope. --Nell Beram, author and freelance writer
Crooked Lane, $26.99, hardcover, 288p., 9781639102686
The Last Word
by Katy Birchall
Katy Birchall (The Secret Bridesmaid) takes a departure from wedding-themed romances with The Last Word, a workplace romance perfect for fans of Sally Thorne or Emily Henry. Birchall's effervescent novel combines an engaging enemies-to-lovers story line with a vibrant London setting.
As editor of a magazine's celebrity coverage, Harper Jenkins has a knack for getting Hollywood stars to spill their secrets to her. It's a combination of her innate honesty, hilariously scatterbrained style, and impressive work ethic. None of Harper's relationships has ever lasted: she is always working. Unfortunately for Harper, however, her jerk of a boss hires another editor, and she's dismayed to learn that her new co-worker is none other than Ryan. Eleven years ago, Harper co-interned with Ryan--and he broke her heart. Furious, Harper decides to show Ryan that he can't affect her again, and she determinedly fights him at every step of their working relationship, much to the amusement of their co-workers.
The novel is aptly titled, given that both Ryan and Harper excel in getting in the last word in their many disagreements. As they cover celebrity stories at London parties, British film sets, and Italian hotels, Harper and Ryan bicker throughout. The Last Word is filled with clever repartee and is a treat to read. Harper's mental anguish over Ryan's hotness is laugh-out-loud funny, and the situations that Harper and Ryan keep finding themselves in will keep readers entertained. --Jessica Howard, freelance book reviewer
St. Martin's Griffin, $17, paperback, 384p., 9781250882752
Jana Goes Wild
by Farah Heron
Farah Heron (Accidentally Engaged; Kamila Knows Best) delivers a moving (but very entertaining) second-chance romance in Jana Goes Wild, ably depicting the struggles of a woman who has been burned once, yet still tries to give love a second chance. Five years earlier, Jana Suleiman, a straitlaced nonprofit development expert, unexpectedly fell hard for Anil Malek, a divorcé who also worked in global development--until she learned that Anil wasn't quite divorced yet. She fled, brokenhearted. Soon after their breakup, Jana discovered she was pregnant, putting an end to her free-spirited life. Ever since, she and Anil have been tense but fairly amicable co-parents to their daughter, Imani.
Because her Indian culture frowns on motherhood out of wedlock, Jana has endured some criticism and tries never to step a toe out of line. But when Jana and Imani travel to Tanzania for her best friend Kamila's wedding, Jana is shocked to discover that Anil is also part of the wedding party. Forced to participate together in elaborate wedding festivities, including safaris and spas, Jana finds herself starting to wonder if she can trust Anil again.
Heron brilliantly captures Jana's misgivings as she explores her wilder side in Tanzania. Full of luscious descriptions of wildlife and hotels--and a hilarious cast of Indian aunties and uncles in the wedding party--Jana Goes Wild is truly an escape. This is a delightfully adventurous romance, perfect for fans of Jasmine Guillory or Sara Desai. --Jessica Howard, freelance book reviewer
Forever, $16.99, paperback, 352p., 9781538725450
For the Culture: The Power Behind What We Buy, What We Do, and Who We Want to Be
by Marcus Collins
Whether you're trying to sell a product, elect a political candidate, or promote a cause, if you want to succeed, it's all about getting to the heart of your audience's worldview. That's the principal message of scholar and marketing veteran Marcus Collins's fascinating and fun For the Culture.
Collins is a marketing professor at the University of Michigan's Ross School of Business and head of strategy at Wieden+Kennedy, a prominent advertising agency that includes Nike on its list of blue-chip clients. He skillfully marries academic theory and a wealth of practical experience to explain why efforts at persuasion rooted in brand features or value propositions ultimately are destined to fail. Instead, he argues, for anyone interested in motivating others to action, "no vehicle is more powerful than culture when it comes to influencing human behavior."
To advance his claims, Collins summons an impressive selection of examples from the marketing world, many of them from his own career. "Audiences buy products. Congregations buy products as evidence of their beliefs," he writes. As proof, he points to the success of Nike, Patagonia, and Apple; they have found the secret to generating intense loyalty in highly competitive product categories by appealing, above all, to how their customers think about themselves and not simply touting what they believe are the superior features of their goods. Collins's own work (as Beyoncé's director of digital strategy, for example) lends further credibility to his ideas.
This eye-opening book arms readers with a wealth of knowledge about how we make important choices and how to mobilize others using innovative tactics and tools. --Harvey Freedenberg, freelance reviewer
PublicAffairs, $29, hardcover, 304p., 9781541700963
Life in Five Senses: How Exploring the Senses Got Me out of My Head and into the World
by Gretchen Rubin
Life in Five Senses: How Exploring the Senses Got Me out of My Head and into the World, part memoir and part mind-body exploration, is the story of how Gretchen Rubin (The Four Tendencies; Better than Before) undertook a yearlong journey to explore how she uses her five senses. After a doctor's appointment made her rethink how much she took her eyes for granted, she decided not to underestimate any of her sensory abilities anymore, and to engage in projects to help her explore seeing, hearing, smelling, tasting, and touching. "I hoped to discover larger truths," Rubin explains. "I hoped that a greater understanding of my own senses would give me a deeper appreciation of the human experience." And through a series of delightful experiments and experiences--a dinner party in the dark, a silent retreat, visiting the Metropolitan Museum of Art daily for a year--Rubin delves into how she uses her senses, and how they impact her awareness of the world around her.
Sure to make readers suddenly more aware of the sights, sounds, smells, tastes, and textures in their lives as well, Life in Five Senses is a truly fascinating book. Readers who wants to know themselves or the people around them a little better will appreciate the insights gleaned from Rubin's experiments and research. Life in Five Senses, perfect for those trying to live in the moment and enjoy the little things, is wonderfully inspirational. --Jessica Howard, freelance book reviewer
Crown, $28, hardcover, 272p., 9780593442746
The Wanderer: An Alaska Wolf's Final Journey
by Tom Walker
Tom Walker (Wild Shots; Alaska Wildlife; The Seventymile Kid), an accomplished photographer, author and longtime Alaskan, turns his naturalist expertise to a single individual animal emblematic of a larger story in The Wanderer: An Alaska Wolf's Final Journey.
"On the northern frontier of Canada and Alaska sprawls a wilderness largely devoid of human imprint." Walker outlines his subjects broadly: the land, its natural and human histories, flora and fauna and variations in land use over centuries. He transports his readers to early November of 2010, to the slopes above Copper Creek, where two gray wolves roam: an older female, already collared as Wolf 227, and her younger male companion. Biologists spot them from a helicopter and descend to tag him as Wolf 258, although Walker will call him the Wanderer (with some protest from scientists, who prefer the impersonal numbering system over names, even the archetypal). Over the following 11 months, GPS tracking shows the Wanderer traveling nearly 3,000 miles, earning his nickname in a lengthy quest for prey, territory, and a mate.
Walker narrates this journey in detail, with lyricism and a clear love for the land and life forms he describes, using his informed imagination to provide specifics where the GPS collar cannot. Stunning photographs and essential maps help readers follow the Wanderer's ramblings. Intermingled with his meticulous account of the wolf's wanderings, Walker handles related subjects: geology and natural history; Alaska politics; remarkable stories of animal and human life in the Arctic; and more. The Wanderer is a deeply enjoyable example of creative nonfiction and nature writing: literary, lovely, meditative in its pacing, informative and clear. --Julia Kastner, librarian and blogger at pagesofjulia
Mountaineers Books, $18.95, paperback, 176p., 9781680516135
The Writer's Life
Abraham Verghese: 'Geography Is Destiny'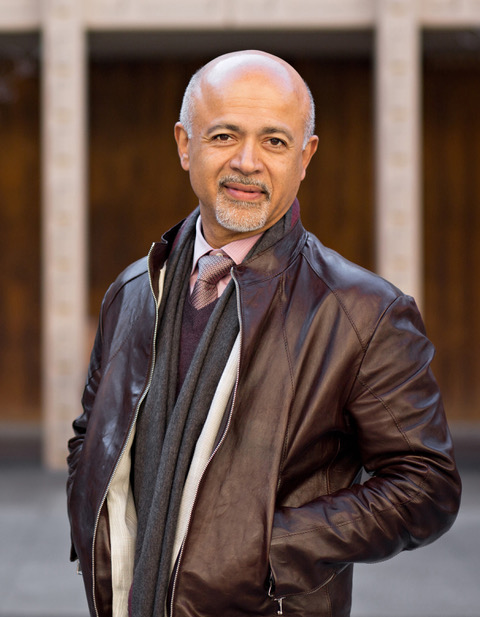 (photo: J. Henry)
Abraham Verghese, M.D., MACP, is the author of the bestselling novel Cutting for Stone and two memoirs, My Own Country and The Tennis Partner. He is the Linda R. Meier and Joan F. Lane Provostial Professor and vice-chair of the Department of Medicine at Stanford University. His second novel, The Covenant of Water (Grove), spans seven decades and traces the epic story of a family in southern India afflicted by a mysterious condition: at least one person in every generation dies by drowning.
Tell us about the inspiration for The Covenant of Water.
After I wrote Cutting for Stone, there was some interest in my writing a follow-up, but I just felt that story was done. I've always felt that geography is a character in the story, and I'm also fond of the saying that geography is destiny. My life and my parents' lives are a great example of that. My parents were born in south India, but they left for Ethiopia because of lack of opportunities to teach in their home region. They met and married there, and I was born. I also think of my coming to America eventually as changing my destiny. The places I've lived have shaped my life.
I wanted to locate this book in a new geography, and I was moved to do so by a document my mother wrote. When my niece was five years old, she asked, "Ammachi, what was it like when you were a little girl?" So my mother began writing this longhand description of her childhood, with illustrations--she was a very good artist. It ended up being a 100-page-plus document, with familiar stories that she told her sons. That gave me the impetus to set the story in Kerala. My mom lived until age 94, and she knew I was writing the book. She kept calling me up to remind me of things, sometimes forgetting that she'd already told me about them the day before!
What was it like to explore Kerala, and this idea of "home," in fiction?
The community we come from is a tiny one: a group of Christians that date their Christianity to St. Thomas's coming to India in 52 AD. Arundhati Roy's The God of Small Things is set there, but otherwise it is not much explored in fiction. Home was a very different concept then. Your home was not only the place you lived, but also the source of your sustenance, your food, your community, your whole life. So when you moved house (as a young bride, for example), you were being transported to an entirely new place where you would live the rest of your life.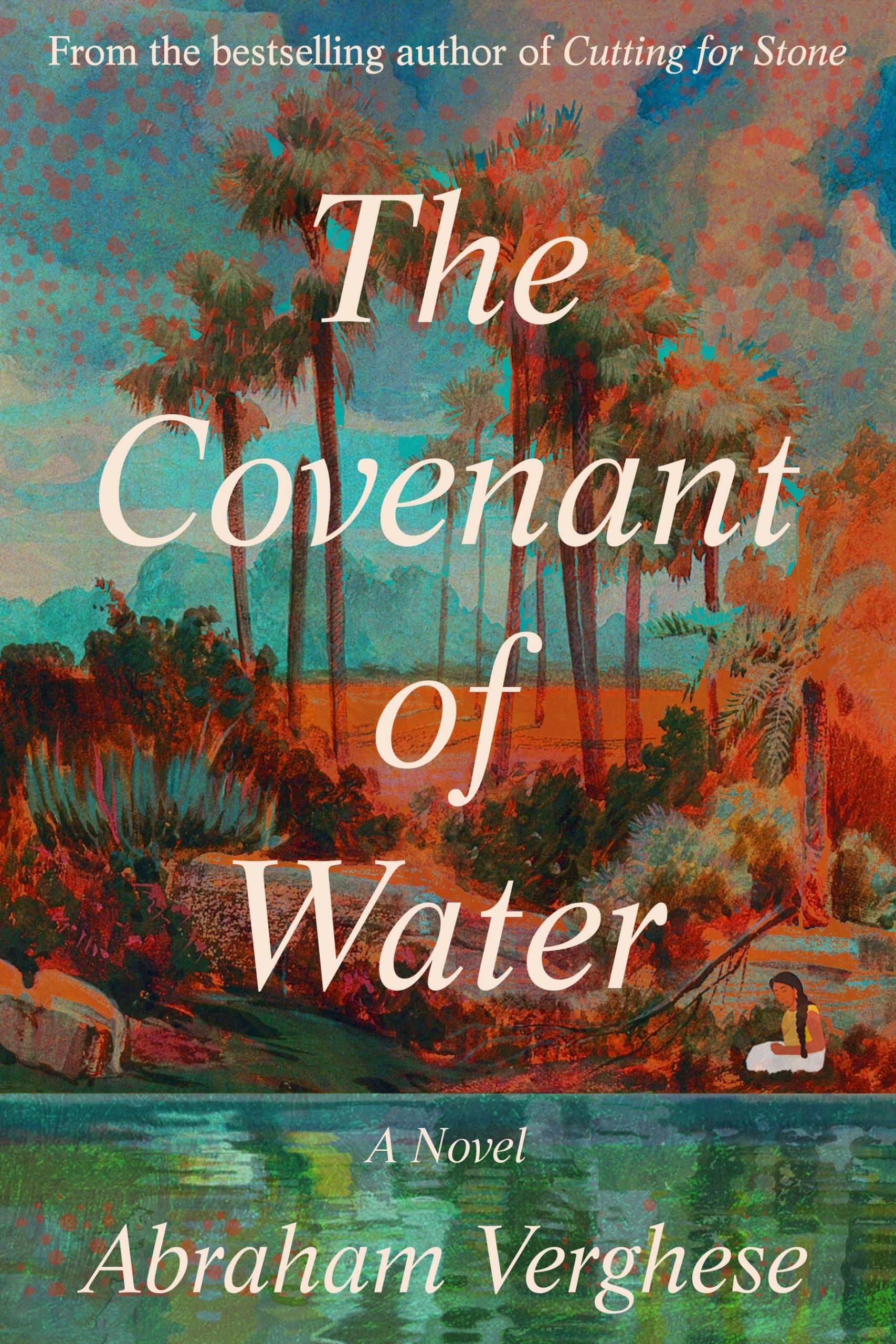 I feel, in a strange way, kind of homeless. I was born on one continent; I live on another. I have family in various places. I suppose that sense of being a perennial outsider is an advantage when I write: you become an astute observer of different cultures, the way people interact. And yet I'm always envious of people who have a home and multiple generations of family in one place.
Big Ammachi starts out as a child bride, but becomes the matriarch of Parambil. How did you develop her character?
I just fell in love with her as she began to grow and develop. And it was difficult to convey: even though these [arranged] marriages are happening when women are much too young, they are often taken into a family, not just thrown into the clutches of some man. Being married meant a very sad day when they left their childhood home and moved to another house, but they became part of the family there. My great-grandmother and my grandmother were married this way. I'm not recommending it as a way of life, but it wasn't what [modern-day] people would imagine. I took particular pleasure in demonstrating how this inauspicious-appearing marriage became a wonderful relationship, in the end.
How do you decide how much medical detail to include in your books?
I've always been drawn to books that are intensely procedural or technical about a field I don't know much about. I think that explains the popularity of police shows and hospital shows, and Tom Clancy writing about submarines. I think medicine is nothing more than life-plus-plus: life at its most acutely intense, and intensely observed, moments. It's not like submarine technology; it really does involve all of us in a visceral, bodily way. I'm trying to build on the curiosity we all have about the body and what it does. It takes a good editor to tell me whether I'm overdoing it or not doing it enough.
Part of the narrative revolves around a leprosarium. Can you talk about that?
Growing up in Africa and India, leprosy was a common thing to see in the streets. When I got to medical school, some of the most interesting research was being done in the leprosy institutes. A lot of our understanding of T-cell immunity, for example, came from leprosy research. The capacity of leprosy to invade the immune system led to a number of amazing advances in the medical field.
Diseases carry a metaphor, of course. Prior to HIV, leprosy was the disease with the most striking metaphor, carrying shame and repulsion. I felt during my years working as a doctor in East Tennessee and El Paso, Texas, that I was dealing with two diseases: HIV, and what society thought about it. That was crippling in its own way, and led to suicide in more than a few patients. Many of them couldn't deal with the notion of living with this disease and being shunned and shamed.
How do Indian politics--wars, colonization, the Naxalite movement--affect the characters' lives?
That was a delicate and interesting thing to convey. Communism is like a third rail in most of the West, and it's hard to think of Communists as a legitimate political party who get elected, and come in and out of power, like other parties. It was born out of a tremendous inequality between the landed castes and these downtrodden people. After finally ridding India of this colonial power, it must have felt intolerable to still be in shackles. But the Naxalites didn't really succeed in coalescing and becoming a movement, the way that Communists did in China. For the most part, these movements have not lived up to their promises, and people have to deal with the disillusionment, too.
What do you hope readers take away from the novel?
I think good fiction, when it works for us, is conveying a kind of truth. Our experience in the world is limited, but you read novels and you become aware of larger truths than you might understand in your own life. Camus said, "Fiction is the great lie that tells the truth." This is a story, but it's also conveying some truth about our lives.
Working in medicine, one has a strong sense that life is a fatal disease--it's a terminal condition. None of us survive it. One of the only ways to buy yourself time is to enter the world of a novel. You explore different places and meet the characters, and decades pass, and then you put it down and it's Tuesday! I always feel that I've bought myself some extra time in this life when I enter the world of a novel. I hope my readers feel that as well. --Katie Noah Gibson, blogger at Cakes, Tea and Dreams

Clytemnestra
by Costanza Casati
"Kings are brilliant / mighty / godlike // Queens are deadly / shameless / accursed." Such has been the literary fate of Clytemnestra--adulteress, wife and murderer of Agamemnon in the Ancient Greek canon. Costanza Casati's debut, Clytemnestra, is a dynamic retelling of the story of the much-maligned Spartan princess, sister of Helen, queen of Mycenae, mother of Iphigenia, Electra and Orestes (and others). Aeschylus, Homer and Euripides generally portray Clytemnestra in a negative light, but Casati's reframing--from her title character's point of view--emphasizes the difficult circumstances that challenged a strong-willed woman in a time and place that did not reward such a quality. Clytemnestra is a masterpiece of justified rage on the protagonist's part, and a subtly subversive revision of a story many readers know from a different perspective. She will be called ruthless, merciless, "cruel queen and unfaithful wife," but viewed from another angle, Clytemnestra fights honorably for her own well-being and for that of the people she loves.
The events of Clytemnestra's life are not much rearranged here. As a princess in the Spartan court, she is trained as a warrior and huntress, surrounded by violence and death even in her privilege to sit in the megaron with her father, King Tyndareus, where they hear the villagers' requests. This upbringing emphasizes martial training, physical skill, obedience and the ability to suffer. Her first marriage, to Tantalus, was for love and was a meeting of minds, but it ended in murder and betrayal, and with a forced second marriage to the Mycenaean king, Agamemnon, whose brother Menelaus in parallel marries Helen. Clytemnestra's later lover, the traitor Aegisthus, is a complicated, enigmatic character in his own right. This proud queen, treated as a pawn in political power struggles, wrestles to keep her dignity in the Mycenaean court under the brutalities of her husband, but never loses her sense of herself as a warrior and a survivor. The events of this novel close where Aeschylus's Agamemnon opens, thereby gifting a complex backstory to a woman often portrayed as villain.
Clytemnestra dips its toes as well into the stories of the queen's famous family members: her brothers Castor and Polydeuces, boxers and horsebreakers; her sister, Helen, whose legendary beauty led to the Trojan War; her mother, Leda, who was seduced by Zeus in the form of a swan (or was she raped?). Her children include Tantalus's unnamed infant son; Iphigenia, sacrificed at Aulis to summon wind for the Greek ships on their way to Troy; and Electra and Orestes, whose stories expand only after these pages close. This Clytemnestra is very close and loyal to her siblings; family ties for better and for worse shape her decisions all her life, even at great distances. For instance, meeting a new face, she thinks of her siblings: "Helen would have charmed him with her beauty and subtle cleverness, softening him until he opened like a peach. Castor would have mocked him, pricked him with words like needles, until he talked." Clytemnestra's cousin is Penelope, eventually famous as Odysseus's queen and faithful wife, in marked contrast to the Clytemnestra in traditional representations; here, again, the reader sees a new and complex side of a familiar character, as she is courted by the cunning Ithacan king.
The gods in this version are mere myth, not actors in real events; Clytemnestra, like her mother, is skeptical, even scornful of the gods and their followers. She understands that kings and not queens rule in her world, but she continues to demand the respect she deserves even when it's unlikely she will get it, and consistently calls out the rapes and attempted rapes that often go unmarked in the courts and villages of both Sparta and Mycenae. This retelling is a deepening of Clytemnestra's story and her character. Helen, her beloved sister, likewise grows more multifaceted in Casati's nuanced novel, but the beautiful one is not gifted with physical prowess or the confidence of the fierier Clytemnestra: "Clytemnestra dances for herself; Helen dances for others." Timandra, one of their younger sisters, is fierce like Clytemnestra, but with a different burden in their strict society. These female leads are glittering, glowering, admirable and sympathetic, and the result will reignite (or ignite) readers' interest in the stories of ancient Greece and emphasize their relevance in any time.
Clytemnestra is a stunning, standout contribution to the growing genre of modern treatments of the Greek myths. Casati brings both a solid grounding in the canon and imaginative venturing into the inner workings of a woman who has long been famous but little understood. Her writing is gorgeously descriptive and emotive: "She thinks of those white flowers blooming against the rocks of the Ceadas. For years she wondered how they survived down there, among the corpses and darkness. But maybe this is how broken people keep living.... Outside the light is golden. It shines on them as if they were gods." Casati's Clytemnestra is modern in her staunch demands for dignity and respect, but believably rooted in ancient times. This is a necessary novel for fans of mythology, strong women, the pushing of boundaries and epic dramas of family, power and love. --Julia Kastner
Sourcebooks Landmark, $26.99, hardcover, 448p., 9781728268231
'Now Is the Time to Retell Their Stories'
An Interview With Costanza Casati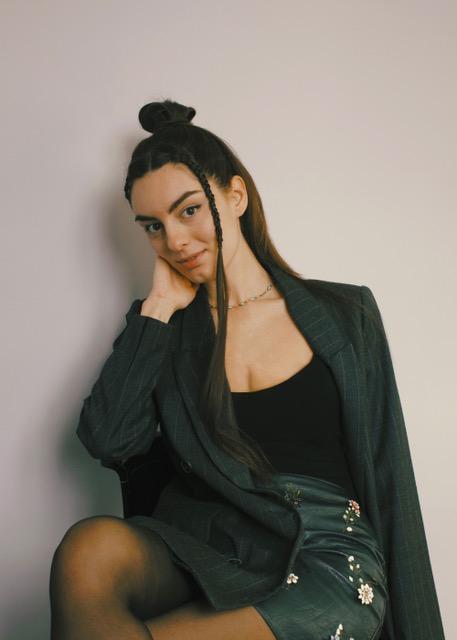 (photo: Arianna Genghini)
Costanza Casati was born in Texas and has lived in Italy and the U.K. Before moving to London, she attended a classical liceo in Italy, where she studied ancient Greek and ancient Greek literature for five years. She is a graduate of the Warwick Writing MA program and currently works as a freelance journalist and screenwriter. Her debut novel, Clytemnestra (Sourcebooks Landmark), is a striking retelling of the story of Greek myth's queen of Mycenae and murderer of Agamemnon.
Why Clytemnestra? What made her story the one you needed to tell?
So many reasons! She is powerful, clever, fierce, obstinate. In the ancient texts, she comes across as a truly unforgettable character: she is feared and respected for the power she holds and, most of all, she doesn't let the men around her belittle her. And then there are all the myths surrounding her, which I wanted to explore from her perspective. Clytemnestra is connected to some of the most fascinating characters from the myth: she is sister to Helen, cousin of Penelope, lover to Aegisthus, daughter of Leda.
Even her very first mention, which is in the Odyssey, is such an unforgettable one. When Odysseus meets Agamemnon in the Underworld, they speak of their wives, Penelope and Clytemnestra, and Agamemnon says, "Happy Odysseus, what a fine, faithful wife you won! The immortal gods will lift a glorious song in praise of self-possessed Penelope./ A far cry from the daughter of Tyndareus, Clytemnestra/ the song men sing of her will ring with loathing./ She brands with a foul name the breed of womankind."
Cast as a murderess and the archetypally "bad wife" for centuries, Clytemnestra is actually an incredibly modern character: a powerful woman who refuses to know her place. Once you know her story, her entire story, you can't help falling in love with her.
Did writing this novel involve research on top of your academic background?
There are two kinds of research I like to do. There is the more practical, specific kind, which I do in parallel with writing a scene--Which towels did they use? Was soap a thing? Which frescoes were common in Mycenae? What did a typical meal look like in Sparta?--and then there is the "cultural" research, which you must do before writing a novel, and which, in my opinion, is essential for writing historical/mythical fiction. It was very important for me to truly live inside my characters' heads, experience the world through their eyes. So, for instance, a more broad, "cultural" research question would involve things such as: How was guilt perceived in Mycenaean Greece? Did the Greeks fear death? How were women treated in Sparta? Did forgiveness exist for these people? Those are things that must be woven seamlessly into the narrative, but they also must be clear to a contemporary reader. That balance, between re-creating the way in which ancient people thought, and making it accessible to contemporary readers, is the most important thing for me.
It feels like modern retellings of the Greek myths are a genre of their own. Do you have any favorites?
There are so many! The first retellings I fell in love with are The Song of Achilles and The Children of Jocasta. Both take extremely famous characters from the myth--Achilles and Oedipus--and tell their story from the perspectives of lesser-known figures: the shy Patroclus in Miller's novel and Oedipus' wife and daughter in Haynes's book. What I love the most about Miller's and Haynes's writing is the way in which they re-create the mindset of Ancient Greece: concealing impeccable research behind smooth and lyrical prose.
Other favorites of mine include Ariadne, The Silence of the Girls and Circe.
Which characters are yours?
Some of the characters are my own creations: Clytemnestra's guard in Mycenae, Leon, and her faithful servant, Aileen. The elders obviously feature in Aeschylus's Agamemnon but as a chorus, while I gave them names and more specific motives. Then a character that is mine entirely is Cynisca. To write her, I drew on a woman who truly existed (though many years later, and with no connections to Clytemnestra's story): the Spartan woman famous for being the first to win at the Olympic games in 392 BC.
Then there are Timandra, Clytemnestra's sister, and Tantalus, Clytemnestra's first husband, who exist in the sources, but just as passing names. Timandra is mentioned in fragments by poets Stesichorus and Hesiod. They say that Timandra was unfaithful to her husband, just like her sisters, because of a sin their father Tyndareus had committed when forgetting to sacrifice to Aphrodite. I found these fragments incredibly fascinating and wanted to explore Timandra further.
Tantalus of Maeonia (or Lydia) was another character I was drawn to because he is so important to Clytemnestra's story. His name appears in Euripides's Iphigenia in Aulis.
What was the writing process like?
One of the things I loved the most about writing Clytemnestra was bringing to life a female character who is ambitious and loyal, powerful and beloved. I fell in love with this character 10 years ago and wanted others to fall in love with her too. Clytemnestra has been portrayed as an adulteress, a jealous, power-hungry ruler and murderess for centuries, so I really enjoyed playing with these stereotypes and peeling them away to show the woman under them.
One of the hardest parts (which was also incredibly fascinating) was writing the more well-known characters from the myth in a way that felt both fresh and true to the sources. Helen and Odysseus, for instance, are incredibly famous, but I felt like I needed to write them in a way that felt familiar but also unexpected. The same challenge obviously came with the plot. For the people who know the myth, they already know how Clytemnestra's story plays out, so how do you make it interesting and surprising? I tried to bring to light elements and details that were already hidden in the sources and play with them a little bit. Finally, one of the things I loved the most while writing was exploring Clytemnestra's family dynamics.
Is this a feminist retelling?
I would absolutely call this a feminist retelling. "Feminist" because I wanted to write the story of a woman who took part in the action, whose narrative is as epic as the ones of the men and heroes. Besides, Clytemnestra isn't the only powerful woman in my novel: it was essential to me that I wrote a story with a cast of female characters that were clever and complex, flawed and unforgettable.
The women of the Greek myths are incredibly heroic--think Alcestis, Antigone, Ariadne, Circe--and yet throughout the centuries they have been burdened with cultural and ethical codes that make them helpless victims, or, in the case of Clytemnestra and Helen, misogynist archetypes: murderesses and lustful whores. Now is the time to retell their stories. --Julia Kastner
Shelf vetted, publisher supported.
Rediscover
Rediscover: Cutting for Stone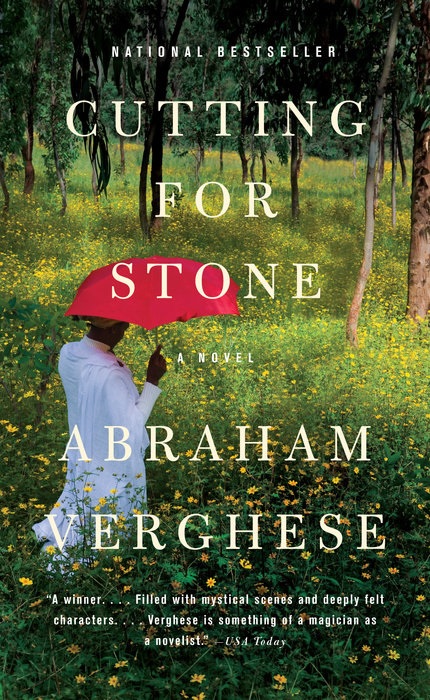 Author, physician, and professor Abraham Verghese's novel The Covenant of Water was released this week to rave reviews and is the latest Oprah Book Club selection. Verghese was born in Ethiopia to Indian parents, and his family moved to the United States after the overthrow of Haile Selassie. He worked briefly as an orderly before finishing medical school in India. Verghese's residency was in Johnson City, Tenn., where he encountered the initial wave of rural HIV infections in the mid-1980s. His experiences with so many dying patients, most of them abandoned by their friends and families, inspired his first book, My Own Country (1994), which is used in many medical schools to convey the importance of compassion and empathy.

Verghese attended the Iowa Writers Workshop before accepting a professorship in El Paso, Texas. The breakdown of his first marriage and the death of his tennis partner, a medical resident struggling with drug addiction, inspired Verghese's second book, The Tennis Partner (1999). He now practices and teaches at Stanford University School of Medicine.

Verghese's first novel, Cutting for Stone (2009), sold more than a million copies and spent two years on the New York Times bestseller list. It follows the orphaned twins of a nun who dies in childbirth and an English surgeon who abandons them in Addis Ababa. They are raised in Ethiopia by an Indian couple, where tumultuous political events and adolescent rivalries force the brothers onto diverging paths. The novel showcases Verghese's medical knowledge with vivid depictions of many diseases and surgeries. Cutting for Stone is available in paperback from Vintage.