Week of Friday, July 21, 2023
Welcome to our Comics & Graphic Novels issue! Among the titles reviewed this week: Arca by Van Jensen, illus. by Jesse Lonergan, is "part mystery, part coming of age sci-fi graphic novel adventure"; the graphic novella LSBN, in which Emma Jayne "deftly balances elements of science fiction with romance and erotica"; and Thien Pham's "moving, insightful graphic novel memoir" Family Style, which shares the Vietnamese refugee experience through food. Plus so many more!
In The Writer's Life, debut picture book creators Leah Hayes and Balint Zsako discuss illustration as "problem solving." And don't miss our round-up of more outstanding comics & graphic novels that we reviewed earlier this year.
The Best Books This Week
Fiction
How Can I Help You
by Laura Sims
In Laura Sims's chilling novel How Can I Help You, Margo Finch toils away as a circulation clerk at the Carlyle Public Library but, far from possessing any relevant experience, she's a refugee under a different name from a nursing career, who's left a series of hospital jobs with a string of unexplained patient deaths. As if that weren't worrisome enough, at least one more shocking event in Margo's past adds to her menace.
Her life in a world of books begins to unravel when Patricia Delmarco, a new reference librarian, arrives from Chicago. Patricia has her own set of troubles she's trying to escape, among them a failed novel she's abandoned after seven years, and a moribund relationship with her accountant boyfriend. Patricia is content to put her aspirations for a writing career behind her as she settles into her job, at least until a cantankerous library patron dies under mysterious circumstances with Margo nearby. After Margo carelessly discloses information about her prior life, Patricia's research skills kick in. Patricia unleashes a flow of words about her co-worker's vividly imagined past into the notebook that is her constant companion--all while she sits at her desk responding to an array of bizarre reference questions from library patrons.
From that point forward, in chapters that alternate between the voices of Margo and Patricia, Sims (Looker) fashions an intriguing cat-and-mouse game in which it's hard at times to distinguish between pursuer and pursued. How Can I Help You is smartly scary entertainment that will have readers guessing about its outcome until almost the final page. --Harvey Freedenberg, freelance reviewer
Putnam, $27, hardcover, 256p., 9780593543702
The Mistress of Bhatia House
by Sujata Massey
The Mistress of Bhatia House by Sujata Massey (The Bombay Prince) is another fascinating entry in the vibrant historical mystery series starring Perveen Mistry, the only female solicitor in Bombay under the British Raj. Perveen, permitted to practice law by her fairly lenient Parsi father, faces massive discrimination from Hindus, Muslims, and British society matrons alike. But Perveen turns her unusual position into an asset, frequently assessing the people around her from the sidelines of social gatherings. At a garden party at the luxurious Bhatia House, Perveen is shocked to witness Sunanda, an ayah (nanny) for the wealthy Bhatias, get badly burned while protecting a child. A few days later, at the jail to meet with another client, Perveen sees Sunanda again and is appalled that she's in chains, with her burn wound festering. Perveen discovers that the young ayah has been charged with a suspected abortion, and she dedicates herself to helping Sunanda. When the patriarch of the Bhatia family is poisoned soon thereafter, the stakes for Perveen's involvement are even higher.
Massey's writing vividly captures the complicated world of 1920s India and the many religious groups who uneasily coexisted. Perveen's strong character--unafraid to enter realms that Indian women generally do not--will resonate with modern readers, and she is sure to appeal to fans of Jacqueline Winspear's Maisie Dobbs. Thoughtful and perceptive, The Mistress of Bhatia House is a quiet mystery and just as much an exploration of Indian society and British misogyny as it is a clever whodunit. --Jessica Howard, freelance book reviewer
Soho Crime, $27.95, hardcover, 432p., 9781641293297
Silver Nitrate
by Silvia Moreno-Garcia
Movie magic has its dark side in Silver Nitrate, a twisted horror thriller by Silvia Moreno-Garcia (The Daughter of Doctor Moreau; Mexican Gothic). Montserrat Curiel is a struggling sound editor in 1990s Mexico City; she's talented but held back by a jerk of a boss and his boys'-club style of management. Her friend Tristán Abascal, an actor whose never-quite-first-rate career was stalled by scandal, discovers that his new neighbor is director Abel Urueta. Because Tristán and Montserrat share a love of cult horror movies, he invites her along to dinner with Urueta, who presents them with a proposition. Decades earlier, Urueta participated in an attempt by a Nazi occultist to cast a literal spell through filmmaking. The film was never completed, and Urueta believes the curse of the unfinished spell is what ended his career. He believes if Montserrat and Tristán can help him finish the missing scene, the curse will be lifted. But once they begin work on the film, Montserrat and Tristán find themselves entangled with supernatural enemies.
Moreno-Garcia skillfully balances cult-film lore, movie-making techniques from different periods, and occult scheming with well-constructed, intriguing characters. The backdrop of Urueta's career and the origin of the cursed film is intricately constructed and, once production is underway, the thrills never stop. The menaces of racism and misogyny looming over the action add a thoughtful streak that gives some depth to the narrative. Thriller fans and movie buffs will be on the edges of their seats. --Kristen Allen-Vogel, information services librarian at Dayton Metro Library
Del Rey, $28, hardcover, 336p., 9780593355367
Science Fiction & Fantasy
Camp Damascus
by Chuck Tingle
A young woman rediscovers her past and strikes out against her community's secrets in Camp Damascus, a gripping horror novel from Chuck Tingle (Straight; Just Kind of Ignoring This Sad Lonesome T-Rex Who Is Screaming "Debate Me" from His Folding Chair). Rose is part of Neverton, Montana's Kingdom of the Pine community, a strict Christian sect that eschews fantasy fiction, alcohol, and caffeine, in addition to running a "gay conversion" program at Camp Damascus outside of town. Rose always thought there was something funny about the camp's commercials: the locals in the crowd shots mostly claim they have never been there, and the few who say they have can't describe it. But as she approaches the end of high school, she begins to experience mysterious and sometimes violent apparitions whenever she comes close to acknowledging her attraction to women. She realizes that something was done to her at Camp Damascus that she must remember and, with the help of two other survivors, keep from happening to anyone else. Rose, like Tingle, is autistic, and her neurodivergence might just mean she's able to overcome the camp's brainwashing.
Tingle is best known as a writer of short surrealist erotica, but in this, his first traditionally published novel, he proves that he is equally skilled at social horror in the vein of The Stepford Wives or Get Out. Sharp allegory and an appealing narrator will make Tingle's fans and new readers eager for more in any genre he pursues. --Kristen Allen-Vogel, information services librarian at Dayton Metro Library
Tor Nightfire, $25.99, hardcover, 256p., 9781250874627
Immortal Longings
by Chloe Gong
Chloe Gong (Our Violent Ends; These Violent Delights) makes her adult fantasy debut with Immortal Longings, a propulsive, riveting, and meticulously crafted retelling of Shakespeare's Antony and Cleopatra. Gong's young adult series reimagined Romeo and Juliet in an alternate historical Shanghai, but Immortal Longings is set in an alternate present, in which technology and inequality are entwined. The world of Immortal Longings is tightly controlled and suffocatingly crowded, as the rulers of Talin control the lives of every citizen, and travel is all but forbidden. At the heart of Immortal Longings is a brutal televised competition in which 88 players fight to the death to entertain and distract the citizens of San-Er. All players are assigned a wristband that tracks their movements around the twin cities, a necessary device due to the supernatural element Gong has built into this world: jumping between bodies. Some people have the genetic ability to transfer their qi from one body to another, but jumping follows clear rules--or so everyone thought.
Pampi believes "the gods let us jump so that we could be free," but August knows: "'There are no gods in this world.... Only kings and tyrants." As the game intensifies and a fiery romance develops between Calla and Anton, Gong adds unexpected political maneuvering and a jaw-dropping twist. Immortal Longings showcases Gong's imagination and skill, and should put her book at the top of fantasy readers' to-be-read piles. --Suzanne Krohn, librarian and freelance reviewer
Gallery/Saga Press, $28.99, hardcover, 384p., 9781668000229
Strip Tees: A Memoir of Millennial Los Angeles
by Kate Flannery
From Kate Flannery, who now works for RuPaul's Drag Race, comes Strip Tees, a memoir of her 20s living in Los Angeles and working at American Apparel. Flannery's debut, set in the 2000s, is an engaging personal history of a corporation, and a reflection on the manipulation of feminist ideals for profit. Fresh from Bryn Mawr with a bachelor's degree in creative writing, Flannery works a stint as an office drone at Urban Outfitters in Philadelphia. She moves to Los Angeles, seeking a reset and better opportunities in fashion. A woman in a bar recruits her to join American Apparel, an upstart company selling hip clothes made in the U.S. Flannery is desperate for steady income, impressed by the company's feminist mantras and many female employees, and eager to catch a wave, so she joins. After an impromptu amateur modeling session--standard for young female employees, apparently--she is hired to work at a store in Echo Park.
At first, she's worried she has traded office drone life to be a retail go-fer. But when she hires and photographs a young woman that the founder and CEO finds attractive, Flannery's career is turbocharged. She begins touring the country, opening store after store as the brand expands. She revels in the responsibility, glamour, and seeming liberations--until the contradictions of her life and work become irreconcilable. Flannery's beliefs and social awareness are challenged, and she must redefine self-respect. Told in unembellished prose, the story propels itself, but Flannery's telling is balanced with thoughtful retrospection, contemporary context, and dark comedic irony. --Walker Minot, writer and editor
Holt, $27.99, hardcover, 240p., 9781250827289
bell hooks: The Last Interview: And Other Conversations
by bell hooks
The Black feminist bell hooks (1952-2021) was writing on intersectionality before it had a name; "I think that a lot of my analysis comes back to an insistence upon interlocking systems of domination" is how she distilled her longtime message in a 1989 dialogue reproduced in bell hooks: The Last Interview: And Other Conversations. This offering, from Melville's Last Interview series, amounts to a sampler of the ideas--sometimes prescient, often brilliant--for which hooks was rightly celebrated.
There's a gratifyingly wide range of subjects discussed in these six interviews, which span 1989 to 2017. One interview illuminates hooks's experience growing up in a working-class Kentucky household. Another interview spotlights hooks's engagement with pop culture as a way to reach people well outside the university settings in which she often found herself working. Another finds hooks proposing an unorthodox antidote to the patriarchal mindset of some men: "Personally, I think they need to be in therapeutic camps where they are taught how to love."
Hooks's interview with the Buddhist magazine Tricycle may offer the biggest surprise for readers who know her for her antisexism and antiracism work: "If I were really asked to define myself, I wouldn't start with race; I wouldn't start with blackness; I wouldn't start with gender; I wouldn't start with feminism. I would start with stripping down to what fundamentally informs my life, which is that I'm a seeker on the path." Readers of bell hooks may feel as though they are on the road with her. --Nell Beram, author and freelance writer
Melville House, $18.99, paperback, 160p., 9781685890797
The War Came to Us: Life and Death in Ukraine
by Christopher Miller
Journalist Christopher Miller delivers a riveting and heartbreaking account of Russia's destructive invasion of Ukraine in The War Came to Us, his first book. As a personal history, a live-action narration of the war begun in 2022, and a detailed accounting of the years that led up to it, the book is compelling, tragic, and a vital primary source. Miller joined the Peace Corps in 2010 after working as a journalist in his hometown of Portland, Ore. He was sent to the Donbas region of eastern Ukraine, a rough-edged borderland struggling to recover from the decline in manufacturing and natural-resource extraction that followed the collapse of the Soviet Union. Miller remained after his service ended, mastering the language and working for various news outlets. While the country seemed to be coming into its own, less than 25 years after formal independence, terrible strains emerged. Following the Euromaidan (the Maidan Uprising, which began in November 2013)--in which Ukrainian society overthrew a Russian-backed president who had sought to strengthen ties with Russia at the expense of the European Union--Russia covertly invaded eastern Ukraine and Crimea. Russia made the fateful decision, after years of localized conflict, to launch a large-scale invasion in February 2022.
Thus was Miller made into a war correspondent. Miller details with courage and humanity the appalling death and destruction that has touched the lives of people and communities he has known. With firsthand accounts from civilians of all ages, front-line soldiers, and the highest levels of the government, including President Zelensky, Miller's journalism is a valuable first draft of history. --Walker Minot, writer and editor
Bloomsbury Continuum, $28, hardcover, 400p., 9781399406857
The Creative Life
Leah Hayes and Balint Zsako: Illustration as Problem Solving
Leah Hayes is an illustrator and graphic novelist (Not Funny Ha-Ha). Her editorial illustrations appear in the New Yorker, New York Times, and other publications. I Touched the Sun (Enchanted Lion Books) is her first picture book. She lives in Massachusetts with her family.
Balint Zsako was born in Budapest, Hungary, to a textile artist mother and a sculptor father. His family immigrated to Canada when he was 10 years old. For the last 20 years, he has been exhibiting painting and collage, and his illustrations have appeared in the New Yorker, Harper's, and the New York Times Magazine. Bunny & Tree (Enchanted Lion Books) is Balint's literary debut. He lives in Los Angeles with his family.
Here, Hayes and Zsako discuss the differences between creating art, graphic novels, and books for children, and how great art can be created by accident and enhanced by imperfections.
Hayes: What were your artistic beginnings?
Zsako: Both of my parents are artists, and we left Eastern Europe before the Berlin Wall came down. I had a pleasant suburban childhood in Canada. I was a good student, so my parents, knowing how difficult a life in art can be, hoped I would do something else.
I went to school for photography but was also drawing the whole time. Straight out of college, I was selling my work through galleries. I also did a bit of editorial illustration and enjoyed it because it's a different way of thinking: here's a communications challenge, can you solve it for us? Whereas with fine art, it's more important to set up a good problem: I don't have to tell you what the answer is, you bring your own experience to the work.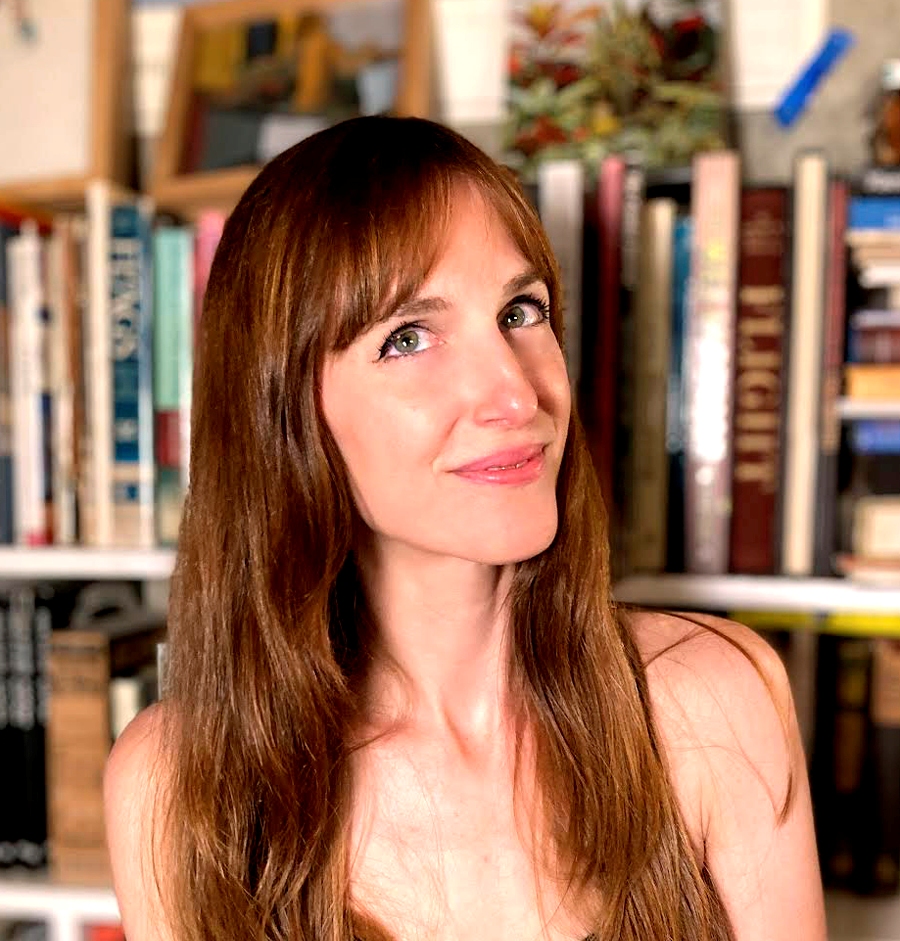 Leah Hayes
Hayes: My parents were both artists as well, and I went to Parsons for illustration. I loved what you were describing: the problem-solving aspect of illustration.
I started getting work while I was still in college. I wanted to start working so badly that I was going to the New York Times offices and knocking on their door with my portfolio. I was always into graphic novels--I wrote my first one and sent it to Fantagraphics. They published it right as I was leaving school.
Later, I started teaching at Parsons, even though I didn't graduate!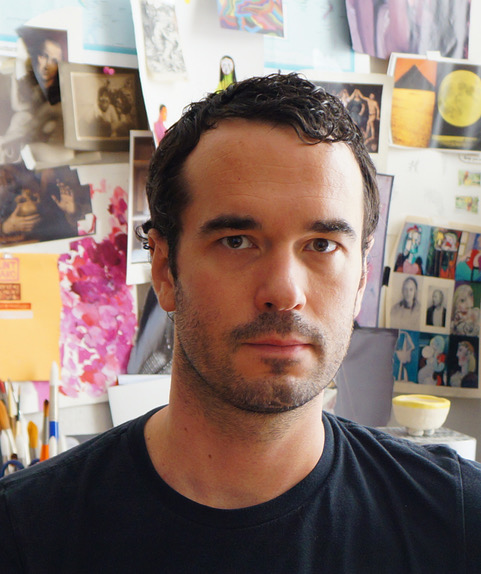 Balint Zsako
(photo: Natalie Matutschovsky)
Zsako: Can you share a bit about your book?
Hayes: I Touched the Sun is about a boy who finds his light. When he wants to fly up to the sun, everyone around him says he can't. But he closes his eyes and flies up anyway, eventually touching the sun, who shows him how to find his own inner warmth and bring it back home.
And how would you describe Bunny & Tree?
Zsako: Briefly, it's a wordless, 184-page picture book about a bunny and a shape-shifting tree going on an adventure and discovering friendship, transformation, and love.
Hayes: How did the idea for the book initially come about?
Zsako: I was reading stories to my three-year-old son, and three questions popped up. Can you tell a sophisticated story without written words? Can you convey emotions using only body language and color palette in place of facial expressions? And what would it look like to make an epic for young readers?
How about you?
Hayes: The idea for this book is inseparable from becoming a parent--it is for my son, about my son. He says, when he's reading it, "Oh, that's me!" without me even telling him.
The message was really that I want him to believe in himself, and in a world of "no's," to believe in his "yes." And if people tell him not to do something, to try it anyway.
Zsako: How did you arrive at the visual style of your book?
Hayes: It ultimately came about by accident. I work in black and white with pencil, but I love color. I also have different styles: a kind of cartoony style that I've done my whole life, and the ability to draw realistically, too. I always used to separate those: I'd draw realistically for certain jobs and do graphic novels in a cartoony way. But in I Touched the Sun, the boy in the book is simply drawn, whereas the other figures are more rendered.
Zsako: That's such a sweet mirroring of how life goes.
Hayes: I was always influenced by Charlie Brown, where the adults aren't drawn, they're just sounds. I thought that if there were adults in this book, they should look less relatable to the child.
I never thought I would be creating children's books, although I've been obsessed with children's books my whole life. And I don't know about you, but making this book was more challenging than anything I've ever done artistically. It was so intense, in terms of getting it right and caring about the message, and the artwork too.
Zsako: It's all those things, and it's also about how to be clean, clear, and economical. And it's so different from fine arts because of the collaborative revision process.
Hayes: How did your book change from start to finish?
Zsako: Before I brought the book to Enchanted Lion, it was half the length, and the ending was completely different. Many people looked at Bunny & Tree, and the general consensus was: "It looks really beautiful, but we don't know what to do with it." At the time, I thought it was done. But then of course, I worked with the team at ELB. I pushed back on a few things, but I appreciated that they identified big and small flaws. They mostly didn't tell me how to fix a narrative or stylistic problem; they just pointed it out and asked what I would do to address it.
Originally there were no double-page spreads, it was all single images on the right side. But this led to a monotonous rhythm and didn't serve the adventurous nature of the story. There were also happy discoveries in collaborative editing, like using the page turn to emphasize Tree's transformation. You stumble onto something that works, and then you go back and tease that out in other parts of the book.
Would you like to make another children's book after the experience of making this one?
Hayes: Yes! Books for children can have darkness, conflict, and sadness along with all the wonderful things you're trying to impart. All my favorite children's books are technically for kids but make adults sob when they're reading them. I always thought if I was to do a children's book, I'd like to make one that feels a bit ageless. I was 40 when I wrote this, and had a whole career of trying to be an artist in the world, so I wanted to show everything I've learned in the form of this project.
Zsako: Similarly, I was about the same age when I was making the artwork for this book, and I tried to distill everything I knew about visual storytelling into it.
But interestingly enough, I found that I was compelled to leave in the traces of corrections in the final artwork. These could have been easily removed, but I find meaning in flaws: the book is alive, it has previous incarnations, and there is a generosity in not being airtight.
More for Comics Fans
More for Comics Fans
Graphic novels demonstrate their versatility, covering everything from biography to fantasy, in books for both adults and children. Here Shelf Awareness highlights a few comics and graphic novel favorites we reviewed earlier this year.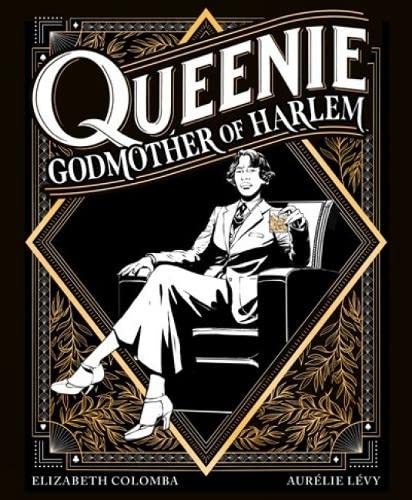 Too often missing from the New York roster of notable figures is Stephanie St. Clair, a Harlem legend who ran the numbers racket in the 1930s. Aurélie Lévy and Elizabeth Colomba reclaim her history in Queenie: Godmother of Harlem (Megascope/Abrams ComicArts, $24.99), "an outstanding graphic collaboration." In 1933 when Prohibition finally ended, St. Clair emerged from prison and returned to her posh apartment and Harlem society. In addition to restoring her illegal money-making empire, she also looked out for her fellow Black citizens--making loans and ensuring justice when due. When St. Clair herself was young a quarter century earlier in Martinique, she learned far too early about vicious abuses by the wealthy. Her mother's death and her determination for a different life eventually led her to Harlem, where a trusted few people kept her safe as she expanded her influence. Colomba, who shares St. Clair's Martinique heritage, is a lauded artist known especially for her visual reclamations of Black women in historic settings. She applies that energy--and "stunning art"--to sweeping, black-and-white panels.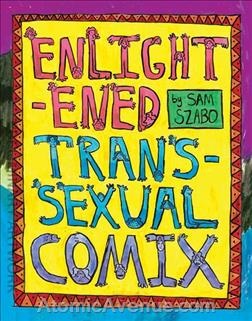 Cartoonist Sam Szabo opens her "sidesplitting collection of comic strips" with a disarming introduction to the Enlightened Transsexual, a cosmic entity so advanced as to have "experienced life as at least three genders... tantamount to omnipotence." She is brimming with wisdom and willing to entertain the burning questions of mere mortals: "What an opportunity this is for you." It's this mixture of earnestness and egotism that provides the backbone for what is a "truly hilarious body of work" in Enlightened Transsexual Comix (Silver Sprocket, $24.99). Vibrant and psychedelic drawings that have just the right amount of frenzied verve to "nail the irreverent, and sometimes unhinged, sense of humor behind them."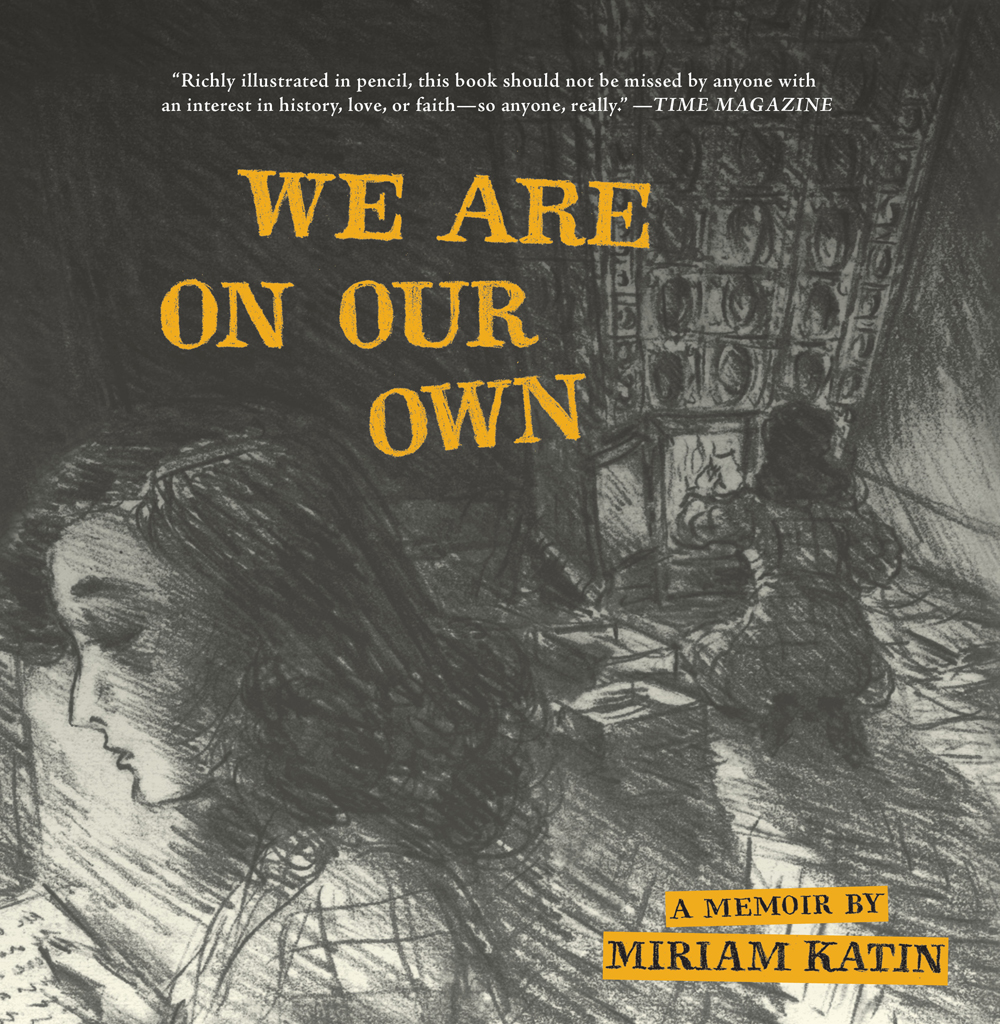 We Are on Our Own (Drawn & Quarterly, $22.95 paper), the "powerful" graphic memoir by Miriam Katin, transports readers to 1944 Budapest, which is still "a city of lights, culture, and elegance." Here, Katin is young Lisa, living with her mother, Esther, in a beautiful apartment and enjoys cafés and going to see Snow White with Aunt Éva. She doesn't quite remember her father, a Hungarian soldier battling the Germans. When Jewish residents are forced out of their homes, Esther and Lisa manage to disappear, staging their deaths after buying new identity papers. Their hellish experiences are affectingly mitigated by Lisa's simplifying point of view; intertwined throughout is an interrogation of faith amid such horror. Katin renders the terrifying past in vigorous strokes of black pencil--except for the threatening reds of the Nazi and Russian flags. In sharp contrast, she adds full color to panels depicting Lisa's postwar life decades later, as if underscoring the miraculous escape from darkness.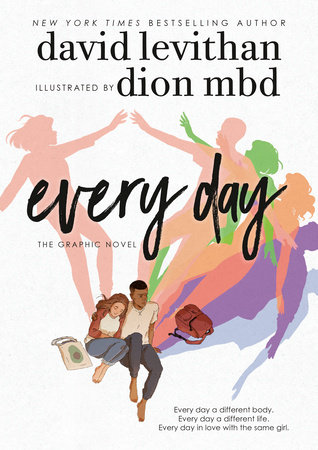 Dion MBD's perceptive illustrations beautifully enhance A's extraordinary, already popular YA story by David Levithan in Every Day: The Graphic Novel (Knopf Books for Young Readers, $17.99 paper), and provide readers additional aid in understanding them as their soul wakes up in a different body every day. No matter the body, A's strong, emotional facial expressions remain consistent; MBD uses techniques in light, color, sharpness to represent emotional states, offering readers different entrances into Levithan's weighty, esoteric concept. "[A]n innovative book full of insightful observations about humans and connection."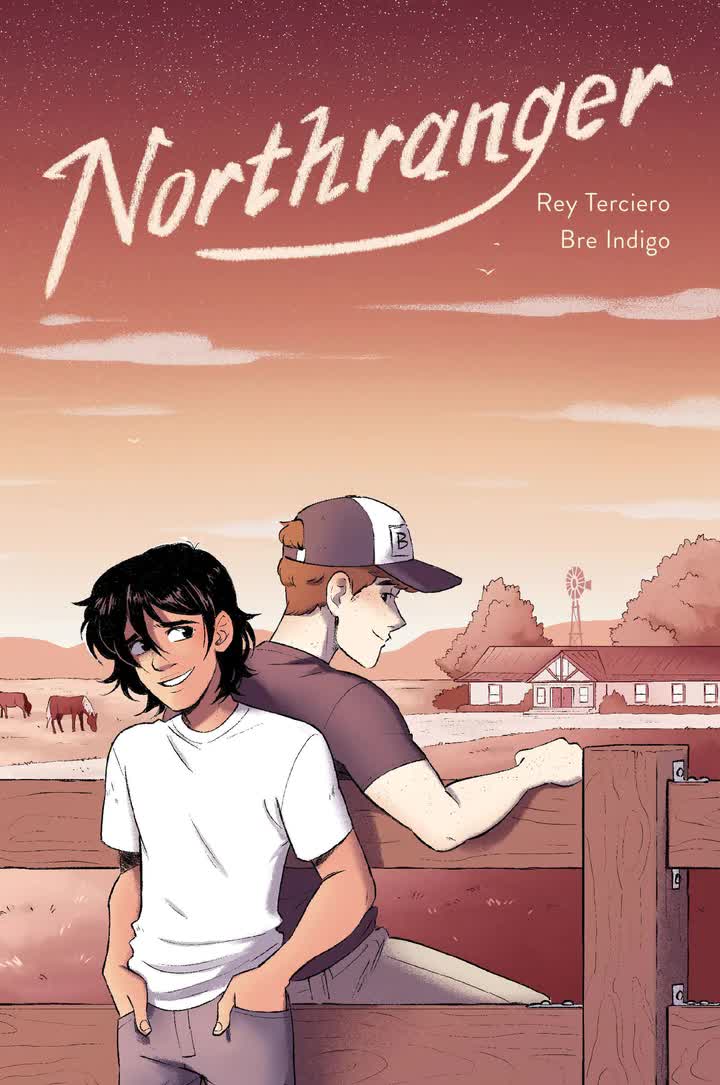 Rey Terciero and illustrator Bre Indigo reimagine Jane Austen's Northanger Abbey in graphic novel form as Northranger (HarperAlley, $18.99 paper), portraying a closeted gay Latinx teen falling for a white boy whose secrets might explain why his lake house seems haunted. Texan Cade Muñoz, 16, is working on a ranch all summer to help his family financially. He flirts with Henry, the ranch owner's son, who shares Cade's love of horror movies. When they all go to the Northranger, a maybe-haunted lake house built in 1887, Cade learns that Henry's family hides a secret; the book demonstrates the heavy burden of isolation and fear, and how it can warp reality. "Readers be warned: only pick up this book if there is time to finish it in one sitting." --Jennifer M. Brown, senior editor, Shelf Awareness