Week of Friday, July 14, 2023
We review an array of excellent fiction this week, including Paul Tremblay's second short story collection, The Beast You Are, with its "15 genre-bending gems"; the thriller An Evil Heart, in which Linda Castillo's "skillful storytelling" continues to follow chief of police Kate Burkholder in an Amish Ohio town; Hope, Andrew Ridker's "loving and hilarious satire of liberal pieties"; and Everyone Wants to Know, Kelly Loy Gilbert's "transfixing, provocative" novel about the fallout of a reality-TV star family. Plus so many more!
Don't miss the inner workings of the collaboration between Julia Vee and Ken Bebelle, co-authors of Ebony Gate, in The Writer's Life.
The Best Books This Week
Fiction
An Evil Heart
by Linda Castillo
Linda Castillo (Among the Wicked; Breaking Silence) opens a window on an Amish community in Ohio, centering on Painters Mill's chief of police Kate Burkholder, making her 15th appearance in the perfectly plotted An Evil Heart, and shows how their simple ways don't shield them from deceit, crime, or violence. Kate's case involves the murder of 21-year-old Aden Karn, killed by a crossbow on a deserted road. At first, Aden seems an unlikely murder victim--raised in a respected Amish family, engaged to a lovely young woman, and seemingly well-liked by his friends, co-workers, and boss, who praised his work ethic. But another side emerges. Aden was on rumspringa, a rite of passage during which younger Amish have free rein before their baptism, going "from living a godly life to hanging with the devil." Aden became a nasty drunk and a sexual predator, associating with thugs. Another death has Kate and her team further investigating Aden, who eventually appears more reprehensible than his killer.
Castillo's skillful storytelling further delves into the fascinating Kate, who was raised Amish but left the community 18 years before, though she still has respect for its members. Her singular perspective serves her and her community, despite "an incongruity inherent in being a cop and formerly Amish. Those two worlds are incompatible and clash in a fundamental and profound way." Kate is also planning her wedding, surprised at the emotions it stirs. An Evil Heart proves this is a series that continues to soar. --Oline H. Cogdill, freelance reviewer
Minotaur, $28, hardcover, 320p., 9781250781086
The Murder Wheel
by Tom Mead
A fairground and a magic show are the scenes of three different crimes in Tom Mead's triply clever salute to the golden-age whodunit, The Murder Wheel. It's 1938, and magic-obsessed London lawyer Edmund Ibbs is defending Carla Dean, following her husband Dominic's murder at a fairground. The Deans were the only people in their Ferris wheel carriage and, upon its return to earth, Dominic was found to have been shot at close range. A pistol was in Carla's hand, but she insists that, although she picked it up from the carriage floor, she didn't shoot it. After Ibbs visits Carla in prison, he spends the evening at Professor Paolini's show, where the magician's crate illusion trick goes seismically wrong: Paolini reveals to the audience not, as is customary, a helper hiding inside the crate but the dead body of another man. And that's not the night's only corpse.
Sure enough, retired conjuror Joseph Spector, who was first introduced in Death and the Conjuror, is on the scene and puts his mind to solving the crime. Rather like a conjuror himself, Mead rolls out a bag of tricks, including word puzzles and crime-scene diagrams. In an old-timey touch, he interrupts the narrative toward novel's end to goad readers into cracking the case, noting that "all the evidence is there, and in plain sight too." Which isn't to say that readers will likely get far with solving The Murder Wheel. Fortunately, although magicians never reveal their secrets, mystery writers do. --Nell Beram, author and freelance writer
Mysterious Press, $26.95, hardcover, 288p., 9781613164099
The Centre
by Ayesha Manazir Siddiqi
Set in contemporary London, with eventful detours to the Indian subcontinental cities of Karachi and Delhi, The Centre by Ayesha Manazir Siddiqi features a 30-something narrator flailing in her career as a translator. Anisa, a Pakistani expat, dreams of doing "real translation" work, yet she is stuck in a job creating subtitles for Bollywood movies. Unfortunately, she's fluent only in English and her native tongue, Urdu. Anisa's boyfriend, Adam, a globe-trotting translator with a thriving career, tells her about an elite, secretive language school called the Centre, where, for a hefty fee, students are guaranteed "native-speaker" fluency in just 10 days. It's odd that the school requires a medical exam, but Anisa doesn't question it, especially when she successfully masters German during her first stay there.
It is here that Siddiqi's novel veers into the horror realm without abandoning the truly fascinating drama at the heart of the story, the intense friendship that flourishes between Anisa and Shiba, the Centre's enigmatic manager. As her career takes off, Anisa's suspicions about the language school's opaque methods--she doesn't understand exactly how she became fluent in German--lead her down a dangerous path of discovery that is as terrifying as it is unanticipated.
The Centre is Siddiqi's first novel, a dialogue-rich drama with comic undertones and a creepy thriller nestled within. Siddiqi, a writer of poetry and short stories, adds fun diversions for readers, including a colorful wedding scene, while inviting readers to discover where the shocking details Anisa learns about the Centre will ultimately lead her and Shiba. --Shahina Piyarali, reviewer
Gillian Flynn Books, $28, hardcover, 288p., 9781638930549
Science Fiction & Fantasy
Ebony Gate: The Phoenix Hoard
by Julia Vee and Ken Bebelle
Attorney Julia Vee and prosthetics expert Ken Bebelle launch their urban fantasy series, The Phoenix Hoard, with a stellar first entry, Ebony Gate. The oldest child of one of the most powerful magical families in the world, Emiko Soong turned her back on her role as the family enforcer to live a less bloody life in San Francisco. Here, the city's Chinatown harbors a secret enclave of magic-wielding descendants from dragons. With a full-human partner, Emiko has built a solid reputation as an expert authenticator of East Asian weapons, specifically swords. Her purposefully quiet life is abruptly disrupted when a family promise, made by her powerful mother, is activated. Only Emiko or her beloved younger brother can answer the nonnegotiable demand, and Emiko refuses to endanger her brother. She must immediately locate the stolen Ebony Gate and its priceless jade anchor and seal the weakened portal to Hell. If she manages this seemingly insurmountable task, she saves the population of San Francisco. If she fails, the shinigami, a Japanese death god, will demand her soul as an anchor to seal the portal. Emiko gathers allies, straps on her swords and knives, and sets out to save the city and everyone she loves.
Emiko Soong is a smart, kick-ass heroine with a noble heart and a lifetime of assassin training and violence. Set against the vivid background of San Francisco's singular neighborhoods, the novel's plot is clever and wildly adventurous, boasts an authentic sensibility, and is populated with well-drawn characters. Fans of Ilona Andrews's Kate Daniels novels are certain to love this new series. --Lois Dyer, writer and reviewer
Tor, $28.99, hardcover, 448p., 9781250837431
Must Love Flowers
by Debbie Macomber
Starting over is the central theme of Must Love Flowers, a tender, graceful novel from Debbie Macomber. Joan Sample of Seattle, Wash., is a 54-year-old mother of two adult sons who has been widowed for four years. Since her husband's death, she's become paralyzed by grief. Even her flower garden, once her pride and joy, has become grossly overgrown. When her HOA sends a condemning notice about the state of her property, she is finally propelled out of her emotional malaise. She joins a grief support group and sets out in search of hiring a landscaper who "must love flowers." She enlists Phil Harrison, a quiet, private local. When she later crosses paths with Phil at the support group, she learns that he, too, is burdened by grief and a loss of his own. As Joan's broken heart begins to heal, she decides, on a lark, to take in a border: Maggie Herbert, a hardworking college student who longs to escape her abusive, alcoholic father. Thus begins a journey of second chances for each of these lost, wounded, and struggling souls. As they forge ahead in rebuilding their lives, friendship and romance find each of them along the way.
Examining the gentle nuances of multigenerational neighborhood life is what Macomber (The Best Is Yet to Come; It's Better This Way; A Walk Along the Beach) does best. In Must Love Flowers, Macomber's heartfelt storytelling is on full display, showing how hope can rebloom when cultivated with kindness, caring, and love. --Kathleen Gerard, blogger at Reading Between the Lines
Ballantine, $28, hardcover, 336p., 9780593600559
A Lady's Guide to Scandal
by Sophie Irwin
A newly liberated countess gets her first taste of freedom in A Lady's Guide to Scandal, the decadent romantic comedy from Sophie Irwin (A Lady's Guide to Fortune-Hunting). Set in Bath, England, during the elegant Regency period, with adventurous forays into London for art exhibitions and parties, Irwin's second novel is a captivating, often hilarious, exploration of a rarified world of lords, ladies, wealthy widows, and social climbers. The requisite handsome cad is also present in the form of a beguiling British-Indian writer, Lord Melville.
Irwin's storytelling, with no shortage of ingenuous plot twists and cunning observations, is powered by her deep fascination with the social mores of Regency England and is centered on the transformation of the heroine, Lady Eliza Somerset, from a timid, primly dressed widow into a confident, smartly outfitted socialite unafraid to ruffle feathers. Eliza is an aspiring artist, but her passion for painting lay dormant during her dull marriage to the much older Earl of Somerset. Unexpectedly finding herself widowed and suddenly very rich, Eliza, under the influence of her mischievous cousin Margaret, decamps to a pretty house in Bath for the remainder of her tediously long mourning period. Eliza, excited to resume her art, agrees to paint the portrait of an infamous Bath acquaintance--a decision that turns out to be, in more ways than one, fortuitous as well as deliciously scandalous.
Radiating with witty dialogue and lavish period details, A Lady's Guide to Scandal is just the literary tonic for readers partial to high-society drama and for fans of Bridgerton. --Shahina Piyarali, reviewer
Penguin Books, $17, paperback, 384p., 9780593492000
Hello Stranger
by Katherine Center
Katherine Center (The Bodyguard;Things You Save in a Fire) presents another irresistibly fun tale of love and personal growth in Hello Stranger. The novel, perfect for fans of Helen Hoang or Beth O'Leary, is a fresh look at how people often let pride or misconceptions get in the way of their own happiness.
After years of eking out a living as an Etsy artist, Sadie Montgomery has finally reached a huge career milestone--placing as a finalist in the North American Portrait Society competition--before she has a seizure, ends up in the hospital, and learns she has rapid-onset face blindness. How can Sadie paint a portrait without being able to see faces anymore? Determined not to let anyone but her best friend, Sue, know about her new (and hopefully temporary) affliction, Sadie does her best to paint portraits, which horrify Sue's sensibilities. Meanwhile, Sadie keeps avoiding Joe, her nemesis in her apartment building, while finding excuses to take her elderly dog, Peanut, to see Dr. Oliver Addison. Dr. Addison seems to be extremely handsome (if only she could see his face!). But then, Joe does several kind things for Sadie while sexy Dr. Addison blows off a scheduled date. Sadie is torn between the two men, and finds herself pondering how much she truly saw people back when she still could.
Hello Stranger, quirky and thoughtful, is an introspective look at love and how often perception is skewed. With some hilarious moments resulting from Sadie's misidentifications, and some genuinely sweet ones as well, Hello Stranger is sure to grab readers right off the bat. --Jessica Howard, freelance book reviewer
St. Martin's Press, $29, hardcover, 336p., 9781250283788
Parachute Women: Marianne Faithfull, Marsha Hunt, Bianca Jagger, Anita Pallenberg, and the Women Behind the Rolling Stones
by Elizabeth Winder
"Only a fool would call Anita Pallenberg a muse," writes Elizabeth Winder in Parachute Women: Marianne Faithfull, Marsha Hunt, Bianca Jagger, Anita Pallenberg, and the Women Behind the Rolling Stones. Winder's feminist corrective to the Rolling Stones legend is both wholly convincing and written with a panache that befits her subjects. Winder (Marilyn in Manhattan) takes as her premise that the Rolling Stones wouldn't have become a bad-boy monster rock act without the women then in their lives--"the real rebels, progressives, and contrarians." Faithfull, a singer and actress with a baroness mother, introduced Mick Jagger to high culture, which informed his music. The German Italian model and actress Pallenberg showed Brian Jones and Keith Richards how to dress, and she had Jagger's ear when she felt that a song's production was lacking. Although the influence of Nicaraguan-born Bianca Jagger (née Pérez-Mora Macías) is harder to quantify, she was the first Jagger woman to call herself a feminist; while involved with him, she recognized that men "don't want you to be independent because then you will escape them."
Winder synthesizes familiar Stones anecdotes in a way that's revelatory, and she's especially clear-eyed about the double standards--regarding male vs. female drug use and male vs. female promiscuity--that hampered her subjects' careers. All four women articulated some variation on the sentiment of Black singer/actress and onetime Jagger girlfriend Marsha Hunt: "I had opinions, beliefs, intellectual strength. But... people thought I was some dunderhead. I was dismissed as a rock chick." Readers of Parachute Women won't make this mistake. --Nell Beram, author and freelance writer
Hachette, $29, hardcover, 288p., 9781580059589
No Ordinary Assignment
by Jane Ferguson
Jane Ferguson's gripping memoir, No Ordinary Assignment, traces with compassion, insight, and honesty her career as a foreign correspondent. Growing up in rural Ireland during the Troubles, Ferguson was familiar with sectarian violence, but she dove into hostility in a different context after studying Arabic in Yemen and focusing her reporting on the Arabian Peninsula and East Africa. Her narrative explores the challenges of reporting from high-risk conflict (and combat) zones, often as the only woman or the only Western correspondent, alongside her inner journey of learning to believe in herself and her work.
Ferguson details her love affair with the Middle East, which began at Arabic language school in Sana'a, Yemen, in 2008 and continued with jobs in Dubai and Beirut. Her reporter's eye comes through in her prose, as she captures vignettes from the field and from her time between assignments. Her deep love for the region, and for her job, contrast sharply with the violence she has witnessed, including embedding with rebel fighters in Homs, Syria, and reporting live from protests near Cairo's Rabaa Square during the Arab Spring. She candidly shares the risks of reporting from the field, including Western networks' reluctance to send reporters into combat zones and her subsequent lack of job (or any) security. Maintaining a romantic relationship also proved difficult; Ferguson weaves in her personal journey but always comes back to her work and her love for it.
Astute, compassionate, and detailed, No Ordinary Assignment is a thoughtful eyewitness account from a reporter whose perspective is gracious and wise. --Katie Noah Gibson, blogger at Cakes, Tea and Dreams
Mariner , $29.99, hardcover, 336p., 9780063272248
In their raw debut collection, Binded, poet H Warren, based in Fairbanks, Alaska, boldly charts a gender transition and expresses outrage about recent politics. The title has literal and figurative meanings. It's one element of transitioning to a nonbinary identity--"I inherited/ my first binder/ handed down/ by one/ of the only two/ trans men/ I know/ in this rural/ Alaskan town"--but also refers to feeling constrained by others' perceptions: "Binded when my friends say but you have a lot of feminine energy" and "I thought I was a boy/ and cried to my mother/ when I found blood between my legs." The metaphors for embodied trauma are of clothing and mending, both of which are often gendered. "I sewed myself together/ from a wound soaked in fabric," Warren writes.
The collection transcends the personal in satirizing media preoccupations and government failings. "Anti-Bathroom Bill: A Poem with P," which employs p-heavy alliteration, skewers a conservative obsession with bathroom facilities and ends with "piss off." "Get Back to Work America" gives voice to the widespread indignation about the events of Donald Trump's presidency, mocking the promise to "make [the country] great again" while ignoring "what Covid swallowed" and "the men with guns/ safe at the capitol." Allusions to other writers connect to a literary lineage. "A Love Song" opens with an allusion to T.S. Eliot, and there are poems "[r]e-working" Robert Frost and "In Conversation with" Toni Morrison.
These 50 heartfelt poems form a tender exploration of gender identity and an exposé of heartless politics. --Rebecca Foster, freelance reviewer, proofreader and blogger at Bookish Beck
Red Hen/Boreal Books, $17.95, paperback, 80p., 9781597099318
The Writer's Life
Julia Vee and Ken Bebelle: Swords and Magic in the City by the Bay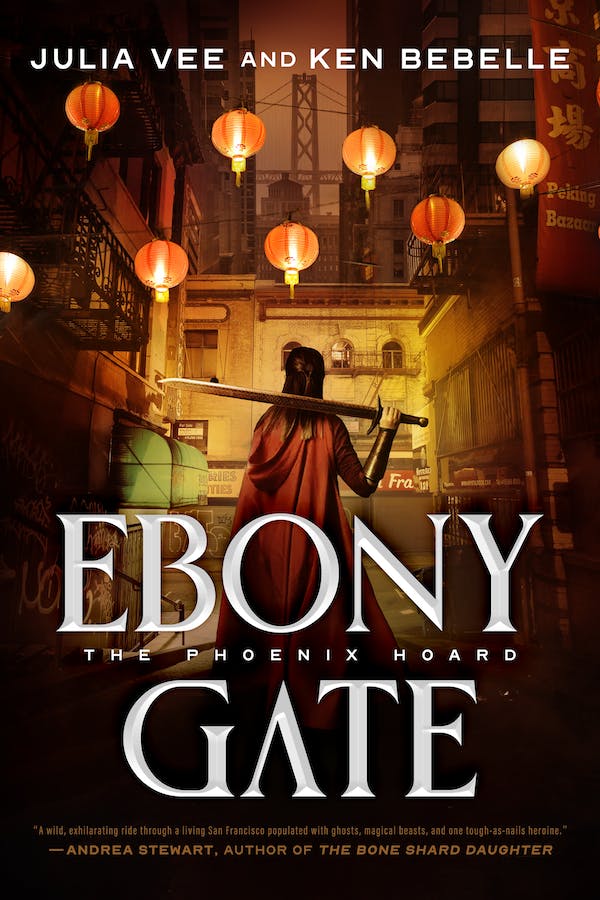 Asian American writing duo Julia Vee and Ken Bebelle have previously collaborated on the Seattle Slayers series. In Ebony Gate (Tor Books, $28.99, reviewed in this issue), they brilliantly employ their extensive knowledge of Chinese and Japanese mythology and lore to create a vivid world of magic in San Francisco's Chinatown. When Emiko Soong, ex-enforcer of a powerful magical family, is called on to save the citizens of San Francisco from a terrifying threat, she doesn't hesitate. She straps on her swords and knives and does what she does best--wreak havoc on evil. Vee and her family reside in California; Bebelle lives with his family in Seattle, Wash.
Can you tell us a bit about your writing process as a team?
Ken Bebelle: Until meeting Neal Shusterman and Eric Elfman, and Jarrod Shusterman and Sofía Lapuente very recently, I had not met anyone who co-writes the way we do. Julia likes to joke that between the two of us, we have one brain. One writer's brain, that is. We collaborate with Google Docs, and once we get down to writing the words, it's an organic process. Sometimes one of us will get an idea for a scene further along in the book and jump ahead, and then the other will catch up from behind and connect the dots.
Julia Vee: We have literally written the same sentence in the same writing session before. It's a little freaky. But mostly our process is joint ideation, lots of discussion before one word of text is typed up. I think of myself as someone who focuses on the bones of each scene and the story spine. Both of us are exploratory in our drafting approach. We plot first and often end up writing an altogether different novel.
As for research, we have a friend who is an actual sword dealer, and he has been invaluable answering all our sword questions!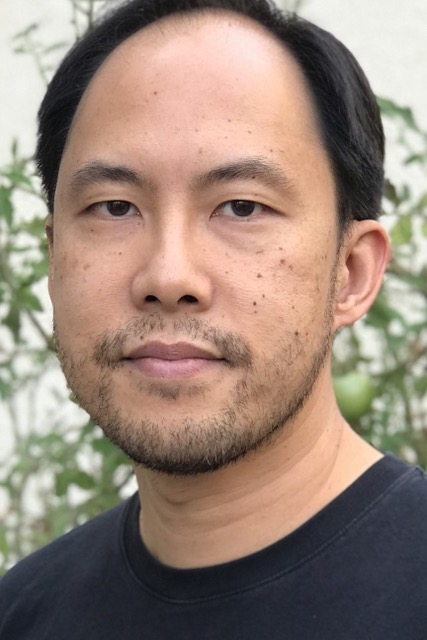 Ken Bebelle
(photo: Anne Dang)
KB: We love swords! About to order a custom Ebony Gate one from our sword dealer.
We try to plan and plot, really we do. But then we get in there and write, and stuff happens. Our characters make interesting choices. Or we dream up new scenarios that we simply can't let go. Then we go back to the plan (now in tatters), pick up the pieces and rearrange things, and chart a new path. If we didn't allow ourselves to go off script, we wouldn't enjoy the process as much as we do.
What made you choose San Francisco, especially Chinatown, for this setting? Could the story have been set elsewhere with the same impact?
JV: For me there was never a question: we were having a magical Chinatown. San Francisco was the first city I fell in love with, and I've run all across it in many races (it's only 7x7 miles!). My earliest memories of San Francisco were walking with my parents to buy groceries in Chinatown. I saw Chinatown through a child's lens of wonder, and it felt natural that there would be a magical world tucked away there.
KB: I grew up (mostly) in the suburbs south of San Francisco, and when my friends and I started driving, "the City" was where we went to have fun. Despite being in such close proximity, it really did feel like going to a wholly different place. As Julia said, it's geographically small, but feels huge and expansive once you step over the border. That's the feeling we wanted to evoke in the book.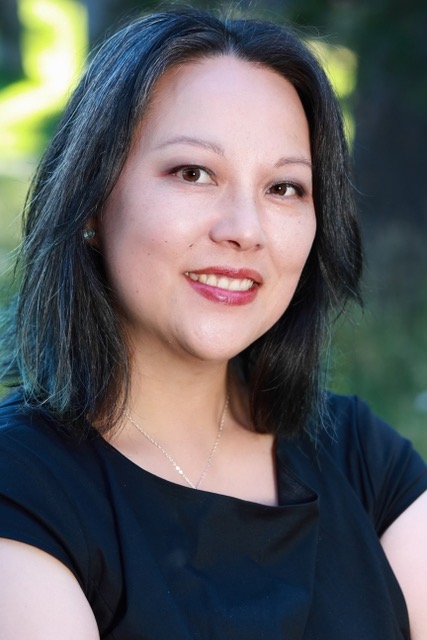 Julia Vee
(Nicole Gee Photography)
Writing urban fantasy fiction doesn't seem like an obvious progression from your background as an attorney, Julia, or your career working with prosthetics, Ken. Do you feel your work experiences contributed to your becoming authors of urban fantasy?
JV: Studying and practicing law gave me an appreciation of rules. In contemporary fantasy there is always that interesting aspect of parlay with beings like the Fae, who may not lie, and become expert at skirting the truth.
KB: For me, it was kind of the other way around. Star Wars and The Empire Strikes Back were seminal movies in my childhood. Luke getting his robotic arm at the end of Empire? That literally set me on the path to becoming a prosthetist. I fell into reading urban fantasy later in life when I read a Dresden short in an anthology, then ended up devouring the entire series pretty quickly.
Your bio, Ken, references writing with Julia as a team beginning in eighth grade. How did you two connect as a writing duo?
KB: If I remember correctly, Julia and I first bonded over fantasy novels that we both happened to be reading. I was that kid who never left the house without a book. I'm pretty sure Julia was the same. I don't remember how we learned about it, but the story that we wrote got sent in (by paper mail!) to a fiction contest. We didn't win first place, but we did win $50, so yes, I think it was a successful first collaboration.
JV: Knowing us, we spent our prize money on comic books.
KB: Money well spent! In high school we continued, but did not finish, other projects. I seem to recall a virus-driven post-apocalyptic story, as well as another swords and sorcery with a lot of royal drama. But high school and college prep got in the way, and we never finished those. Then we both went on to college and careers until late 2016, when Julia did NaNoWriMo and contacted me about co-writing again. Amazingly, we fell right back into it without missing a beat.
JV: Ken and I also went to Chinese school for Mandarin. So we had Saturday mornings to hang out, in addition to normal school time. Again, we were likely geeking out over comic books (I was obsessed with Sandman) rather than studying our Chinese textbooks.
The world-building in Ebony Gate is exceptional and absolutely fascinating. Can you say a bit about how you created the specifics of Emiko's world?
JV: We wanted to springboard from East Asian myth and lore, so the underworld of Yomi, and having a shinigami [a Japanese death god] give Emiko her call to adventure was a way to slide the supernatural into the real-world setting of San Francisco. We wrote in a lot of liminal spaces, so doors and gates hold significance for our characters as they move between worlds.
The sword went through a few iterations. The soul idea came from when we were taking a break from the story and writing Emiko's origin story in a novella called Bronze Blade. We realized how much history this sword held, and why she couldn't let it go even as she ached to put the past behind her and begin anew.
KB: For a couple of writers who spend so many words making up magic and the fantastic, we also dwell a lot on whether or not things make sense. It's funny, because we dropped a Japanese death god onto Emiko without batting an eye, but then agonized over the social rules and conventions that governed their interaction. It's the little details that help blend all these disparate elements together.
Specifically about the shinigami, the name translates to "kami of death," kami being Japanese for "spirits or natural powers" from the Shinto religion. The shinigami is a spirit that facilitates the transition to the underworld. But Julia and I imagined that position as a job, and a very bureaucratic one at that. So that was our reframing of a powerful being that holds a blood debt from Emiko's mother.
Emiko's low-key, "normal" magical life in San Francisco morphs into her becoming the reluctant savior of the city. Were you influenced by classics in the genre when contemplating the plotting of her hero's journey?
JV: Without getting into spoilers, very early on, Ken asked me "where is Emiko going?" And I had a clear understanding of her arc from Soldier to [REDACTED] by the end of the series. Ken and I definitely grew up reading SFF classics like Dune and Neverwhere and, more recently, works from Jim Butcher, Patricia Briggs, and Ilona Andrews.
I think of Emiko as having the heroine's journey. What I mean by that is, when a character is on the classic hero's journey, they are often stronger alone. But in some stories, like Guardians of the Galaxy, the protagonist learns that they can rely on their found family, and that is what we wanted for Emiko.
KB: I don't know about classics, but it's definitely one of my "Id elements," as Julia would say. I love the character that just wants to have a quiet life, until the universe forces them to roll up their sleeves and get to work.
Do you plan a series of adventures for Emiko? If so, when might readers see the next episode?
KB: Tor acquired a trilogy from us, so yes! Blood Jade is scheduled for July 2024.
JV: In Blood Jade, Emiko must leave San Francisco and return to the world she left behind. In unraveling the mystery surrounding the General rising, she uncovers family secrets that her mother buried.
Is there anything you would like readers to know about your work and your collaboration that we haven't asked you?
JV: Ken and I love talking about craft and nerding out about worldbuilding. We spend about a year ideating a new world and in trying to figure out how to share this bonus content with our readers, we finally launched PhoenixHoard.com to share the things that didn't make it into the novels themselves. Most of our notes lived on Google Docs and Notions, so we are slowly getting it up on that new site. We commissioned some character art, and hope it will provide readers with a little extra for that immersive experience! --Lois Dyer, writer and reviewer
Rediscover
Rediscover: Milan Kundera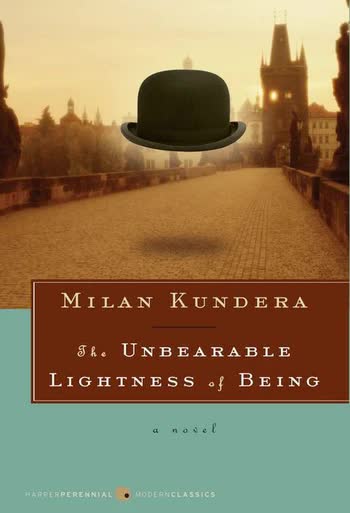 Milan Kundera, "a Communist Party outcast who became a global literary star with mordant, sexually charged novels that captured the suffocating absurdity of life in the workers' paradise of his native Czechoslovakia," died July 11 at age 94, the New York Times reported. Kundera's "run of popular books began with The Joke, which was published to acclaim in 1967, around the time of the Prague Spring, then banned with a vengeance after Soviet-led troops crushed that experiment in 'Socialism with a human face' a few months later." His most enduringly popular novel, The Unbearable Lightness of Being (1984), was an instant success, reprinted over the years in at least two dozen languages. It was also adapted into a 1988 film starring Daniel Day Lewis.

The Times noted that Kundera "could be especially pitiless in his use of female characters; so much so that the British feminist Joan Smith, in her 1989 book Misogynies, observed that 'hostility is the common factor in all Kundera's writing about women.' Other critics reckoned that exposing men's horrible behavior was at least part of his intent. Still, even the stronger women in Kundera's books tended to be objectified, and the less fortunate were sometimes victimized in disturbing detail."

Kundera's fear that Czech culture could be erased by Stalinism was at the heart of The Book of Laughter and Forgetting, which became available in English in 1979. He "had a deep affinity for Central European thinkers and artists--Nietzsche, Kafka, the Viennese novelists Robert Musil and Hermann Broch, the Czech composer Jaroslav Janacek. Like Broch, he said, he strove to discover 'that which the novel alone can discover, including what he called 'the truth of uncertainty,' " the Times wrote.

After playwright Vaclav Havel helped lead the successful Velvet Revolution in 1989, and then served as president, first of Czechoslovakia and then of the Czech Republic, Kundera's books became legal in his homeland for the first time in 20 years, but "many Czechs saw him as someone who had abandoned his compatriots and taken the easy way out," the Times noted, adding that there was scant demand for them or sympathy for him there. By one estimate only 10,000 copies of The Unbearable Lightness of Being were sold.

When Communism ended in 1989, Kundera had been living in France for 14 years with his wife, Vera Hrabankova, first as a university teacher in Rennes and then in Paris. Czechoslovakia revoked his citizenship in 1979, and he became a French citizen two years later.

The last book he wrote in Czech before switching to French was Immortality (1990). His next works were Slowness (1995), Identity (1998), and Ignorance (2000). Kundera was often nominated, but never selected, for the Nobel Prize in Literature. He completed his final novel, The Festival of Insignificance, in 2015, when he was in his mid-80s and living in Paris. In the book, he wrote: "We've known for a long time that it was no longer possible to overturn this world, nor reshape it, nor head off its dangerous headlong rush. There's been only one possible resistance: to not take it seriously."