Week of Friday, July 28, 2023
We have a page-turning array of mysteries and thrillers this week, including Mrs. Plansky's Revenge, Spencer Quinn's "briskly plotted nail-biter," whose unexpected twists and turns are nicely balanced by the heroine's memories of her husband; I Know What You Did, Cayce Osborne's "gripping and empathetic thriller," in which a woman retraces her past after a bestselling book accuses her of a 30-year-old murder; plus Suspectby Scott Turow and Daisy Darker by Alice Feeney, now in paperback and beach- or hammock-ready.
In The Writer's Life, author and artist Jon Klassen discusses what his picture book The Skull(reviewed in this issue) owes to P.D. Eastman, as well as his Top 10 visual artists.
The Best Books This Week
Fiction
Science Fiction & Fantasy
The Sun and the Void
by Gabriela Romero Lacruz
Venezuelan American author Gabriela Romero Lacruz conjures an enthralling new world of gods and monsters in her first novel, The Sun and the Void, a sweeping epic fantasy inspired by South America. Reina is half human, half nozariel--a formerly enslaved bipedal species with prehensile tails--and an orphan. She answers a summons from her grandmother, a powerful sorceress, in the hopes of finding family and a home. Her grandmother serves a wealthy, powerful family of valcos, a vanishing people with antlers and a gift for geomancia, the magic of earth metals. Reina begins learning magic under her grandmother, who longs for a successor "for the legacy [she's] building." Reina admires the kind valco lady of the house and her beautiful young daughter, and will do anything for their approval. When tragedy strikes, Reina's grandmother convinces Don Enrique, head of the valco family, that he can undo the damage by raising a dark god. Elsewhere, half human, half valco Eva Kesaré chafes at the restrictions placed on her by her family, who discourage her from practicing geomancia. Her attempts to break their chokehold on her life will force her path to intersect with Reina's. Both of them engage in a struggle between rival gods that will shake the foundations of the world.
This spellbinding fantasy focuses on political intrigue and family rivalries as well as both friendly and romantic relationships between the women characters. Lacruz develops Reina's world with intricate alliances and histories, fearsome monsters, and opposing religions. This ambitious, thrilling series opener pulses with vitality and imagination. --Jaclyn Fulwood, blogger at Infinite Reads
Orbit, $18.99, paperback, 576p., 9780316336543
The Weaver and the Witch Queen
by Genevieve Gornichec
In the historical fantasy The Weaver and the Witch Queen, Genevieve Gornichec (The Witch's Heart) brilliantly strikes a balance between past realities and present sensibilities. Gornichec, without apologizing for or altering the sometimes-harsh realities of Old Norse culture, creates a richly layered world with strong characters and a complex society in this feminist and queer historical fantasy.
Gunnhild escapes her cruel mother at age 12, leaving her blood-sworn sisters, Oddny and Signy, not knowing if Gunnhild is dead or alive. She spends the next 12 years training to become a witch and a seeress, returning to her home only when she witnesses a witch-aided attack on her friends' home. After Signy is taken captive to be sold as a thrall (slave), Gunnhild and Oddny each set out on a quest to rescue her. Along the way, both women fall in love, come close to death several times, and learn more about themselves and their world than they ever expected.
The novel draws on Gornichec's academic background in Norse history, legend, and mythology, but its strength is in the individual characters and the intimate picture it paints of social and political realities that affect the personal. The dialogue is natural to a contemporary ear, making the characters familiar despite the unfamiliarity of their world. Even in epic battle scenes--of which there are quite a few--the focus remains on characters' emotions and relationships. Filled with sea voyages, political intrigue, surprise betrayals, and tender love, this historical fantasy will thrill readers and capture their hearts. --Dainy Bernstein, postdoc in children's literature, University of Illinois Urbana-Champaign
Ace, $27, hardcover, 432p., 9780593438244
Thief Liar Lady
by D.L. Soria
In her first novel for adults, D.L. Soria (Fire with Fire) enchants readers with Thief Liar Lady, a clever fairytale retelling that asks, What if Cinderella was a grifter and spy? The bones of the story are familiar: Lady Aislinn Vincent is raised by her social-climbing stepmother after her father, a minor noble, dies. Ash is made beautiful with the help of magic, and enraptures the prince of Solis at a ball, earning herself a place in the palace as his fiancée.
Soria's princess is no hapless girl, however. Ash's stepmother raised her to be an excellent pretender, so good she can use her wiles and a bit of the magic powder called lustre to ensnare a nobleman. Then she'll secure marriages for her stepsisters, who don't have noble blood, and the status and wealth her stepmother craves. Ash has other ideas. Guided by her Elorian maternal grandmother, Ash is determined to use this opportunity to sway negotiations between Solis and the Elorians they conquered more than 20 years earlier. Now Ash must use every skill and tool she possesses to manage the demands of her stepmother, the expectations of her fiancé's family, and the needs of the Elorian people. When she begins to fall for Lord Verance, the Elorian "hostage prince," Ash finally begins to consider what she wants.
Thief Liar Lady is witty, subversive, and packed with schemes and danger, driven by a compelling heroine trapped between duty and desire. Those who like a side of subterfuge with their romance will enjoy falling for this con artist. --Suzanne Krohn, librarian
Del Rey, $28, hardcover, 416p., 9780593358054
Too Late to Stop Now: More Rock 'n' Roll War Stories
by Allan Jones
Allan Jones, a veteran of British music magazines Melody Maker and Uncut, follows Can't Stand Up for Falling Down with Too Late to Stop Now: More Rock 'n' Roll War Stories. Collectively, its 40-odd exuberant pieces tell the tale, rock act by rock act, of the changing of the musical guard in the latter half of the 20th century. But Jones doesn't just write about the old guard being shoved aside by the new order: he was on hand for the shoving. Too Late to Stop Now finds Jones reminiscing about getting drunk with Rockpile, Joe Cocker, and Elvis Costello; snorting cocaine with some Fabulous Thunderbirds; and doing both with Bryan Ferry. He accompanied Rockpile and the Police to gigs. He elicited amusingly petulant grievances from practically everyone, including Bob Geldof, who set Jones straight on the Boomtown Rats' failure to make it in America: "It was what I said in New York about Bruce Springsteen that really killed us."
There's unexpected music in Jones's sentences. (Genesis reminded him "less of a rock band than the bell-bottomed equivalent of the school chess team on an outing to an owl sanctuary.") Also unexpected: the disclosure that concludes Too Late to Stop Now. It's 2021, and Jones is invited to tag along on one last gig but realizes that, although "[f]orty-five years ago... I would have jumped on the bus without a second thought," he would prefer to go home to his memories. How lucky for rock diehards that he shares those memories here. --Nell Beram, author and freelance writer
Bloomsbury Caravel, $24, paperback, 384p., 9781448218257
The Writer's Life
Reading with... Jon Klassen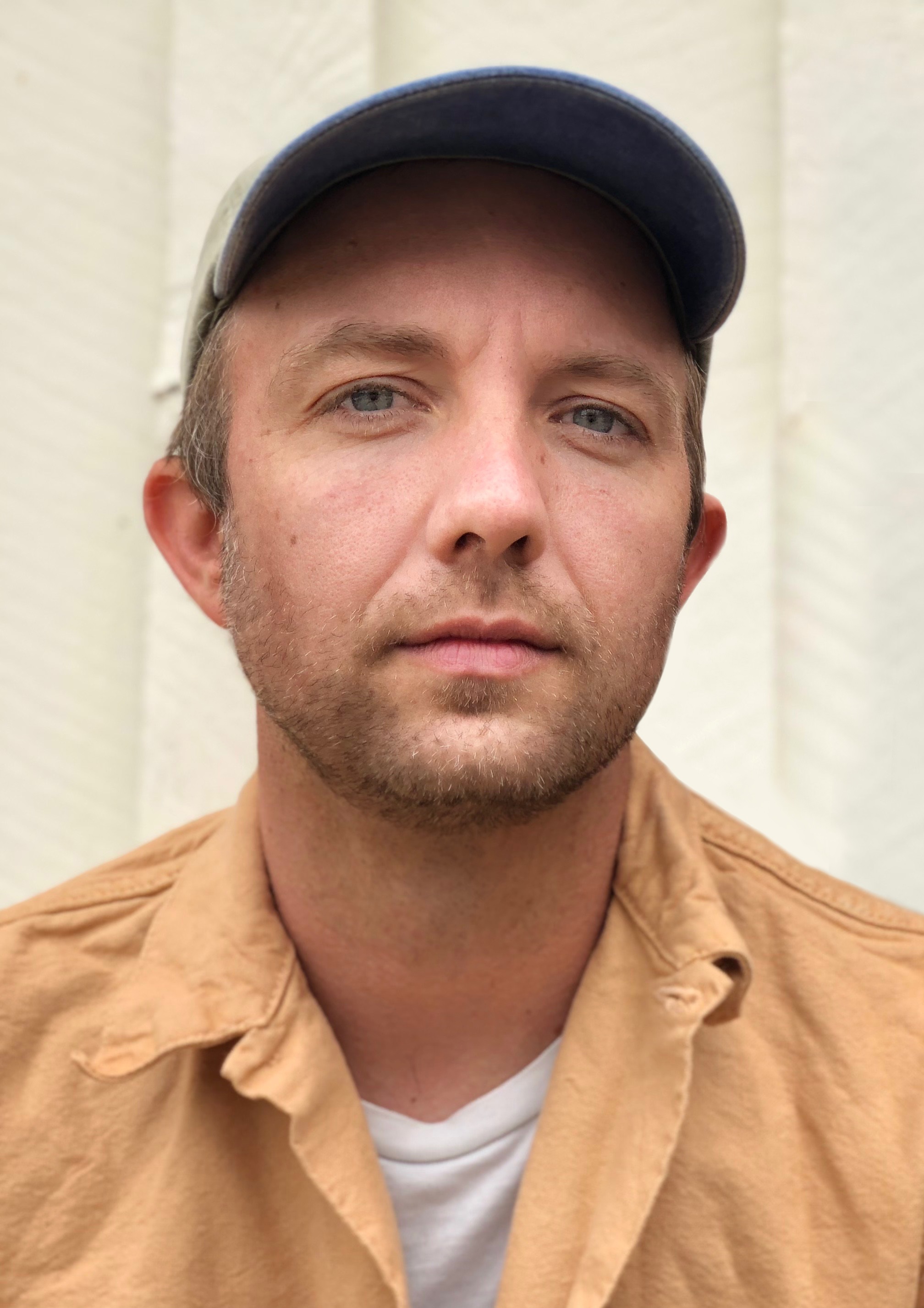 photo: Carson Ellis
Jon Klassen grew up in Niagara Falls, Canada, and now lives in Los Angeles, Calif. He is the author and illustrator of books that include I Want My Hat Back and This Is Not My Hat, for which he won the Caldecott Medal. Two of his picture books have been named Caldecott Honor books: Sam and Dave Dig a Hole and Extra Yarn (winner of the Boston Globe-Horn Book Award), both by Mac Barnett. The Skull (reviewed in this issue), written and illustrated by Klassen, was recently published by Candlewick Press.
Handsell readers your book in 25 words or less:
A girl named Otilla runs away from home in the night and finds an old house in the woods with a skull living in it.
On your nightstand now:
Life's Work by David Milch--Milch wrote and created NYPD Blue (which I haven't really watched) and Deadwood (which I've rewatched many, many times). His memoir was written while he was in the middle stages of Alzheimer's, and it's really something to hear someone that good tell you about his crazy life while it's slipping away from him.
Favorite book when you were a child:
Sam and the Firefly by P.D. Eastman--the story is fine, but the art and the mood of it is what really sticks with me. The illustrations in The Skull actually owe a lot to this book. The graphite over a dull teal with a few highlights is lifted directly from it.
Your top five authors:
I'd like to suggest a change of category, if you're interested. I'd like to submit my top 10 visual artists in place of my top five writers. I'm an illustrator also, after all, and this applies just as much, if not more, to my work. And a lot of my bookshelf is books about these people, anyway.
Okay: top 10 visual artists (in no particular order):
Horace Pippin, Charles Burchfield, Saimaiyu Akesuk, Edward Hopper, Parr, David Milne, Enzo Mari, Kenojuak Ashevak, Agnes Martin, Pierre Bonnard.
Book you've faked reading:
The Feynman Lectures on Physics by Richard Feynman, Robert B. Leighton, and Matthew Sands. My brain plays this super fun trick on me where it's extremely interested in physics, and then opens some hidden trap door to immediately forget everything I try to learn about it.
Book you're an evangelist for:
Train Dreams by Denis Johnson. Carson Ellis gave me this book a few years ago. I'd never read Denis Johnson before, but after reading this book, I tried to read everything he'd written--Train Dreams is still my favorite, though. It's about a man in railroad-building times who begins the book by doing something terrible, and then kind of wonders about his capacity for terrible things for the rest of his life.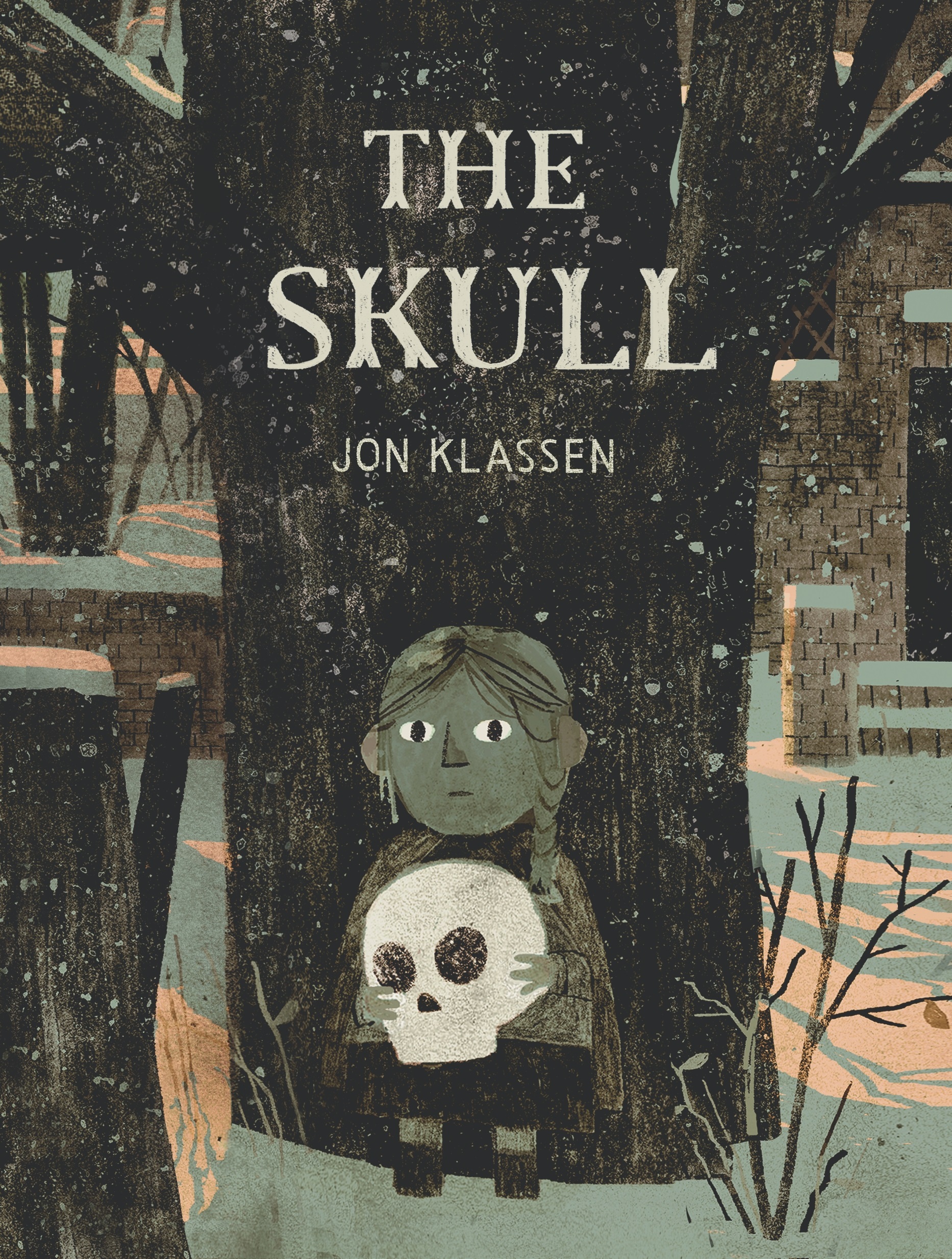 Book you've bought for the cover:
Mules and Men by Zora Neale Hurston. This was a lucky break. I have certainly bought books for their covers besides this one, and never actually started to read them, but I started to read this one and it grabbed me and didn't let go. It was a very big discovery.
Book you hid from your parents:
Yes, Virginia, There Is a Santa Claus: Cartoons from Playboy (1971). I found this in my dad's childhood bedroom, where all the books in his parents' house were kept. His old picture books were there, too, which is where I found a lot of my lifelong favorites, but then one day I also found this one. I had a few short days with it before I was found out.
Book that changed your life:
Waiting for Godot by Samuel Beckett. In 11th grade, we had a literature teacher who would go away every summer to some remote place, get horribly sick there, and then be absent most of the school year, recovering from that illness. But he set up a reading list and Waiting for Godot was on it. I had liked reading plays just fine before, but the first lines of this one... just the stage-setting into the first words they say to each other... just the very first page... I remember staring at it, and then looking around the class like an alien had just showed up in the room with the key to everything.
Favorite line from a book:
Then I crawled into the log/ with the moon just beginning/ to forgive me. --From The Wishing Bone Cycle: Narrative Poems from the Swampy Cree Indians, gathered and translated by Howard A. Norman
This is the end of a short, translated Cree poem about wishing to grow old, and the wish coming true, and then immediately dying of old age. The other poems in the book are often funny, and this idea is funny, too, but the last line always chokes me up anyway. I found this poem/book through Michael Dumontier's blog (Stoppingoffplace), which was a formative discovery of its own.
Five books you'll never part with:
The Miner's Pale Children by W.S. Merwin: I only got into Merwin right after he died and I read about his life. At first, I only read his poems, but then I read a short story called "Tergvinder's Stone" that really knocked me out, and it was from this book, which has many many other stories that also knocked me out. Whenever I'm reading it, I'm vaguely sure it's my favorite book.
The Native Trees of Canada by Leanne Shapton: This was the first book of Leanne's I saw, and I found it when I was going through an especially big bout of homesickness for Canada, and it helped. Her ideas of what books can be about are as impressive as her execution of them. A huge inspiration.
We Have Always Lived in the Castle by Shirley Jackson: It's honestly a toss-up on which Shirley Jackson to put in here. But something about her writing a child instead of an adult puts this one over the top. Maybe the writer I wish the most that I could write like.
The Crossing by Cormac McCarthy: I don't remember a lot of the particulars. I remember moments, and I remember crying and being exhausted and very grateful. That's how you feel with a lot of his books, but the feeling was the biggest with this one.
Fortunately by Remy Charlip: The coolest guy to ever do it. I don't know if I have a favorite of his, but this one has everything he did so well. Whenever I stress out about making picture books and see one of his, it's like he's tussling my hair and saying, "Relax, this can be very very fun."
Book you most want to read again for the first time:
The Remains of the Day by Kazuo Ishiguro. This book is like a beautiful old car that, when you first get into it, you look around and admire it--how perfectly constructed it is--and then the driver says "now watch what it can do" and you fly off into outer space or something. It was so amazing reading a calmly told story of a calm life in a calm house and, at the same time, feeling like the G-forces of it were pushing my cheeks back against my face. You probably only get to feel that the first time.
Rediscover
Rediscover: American Prometheus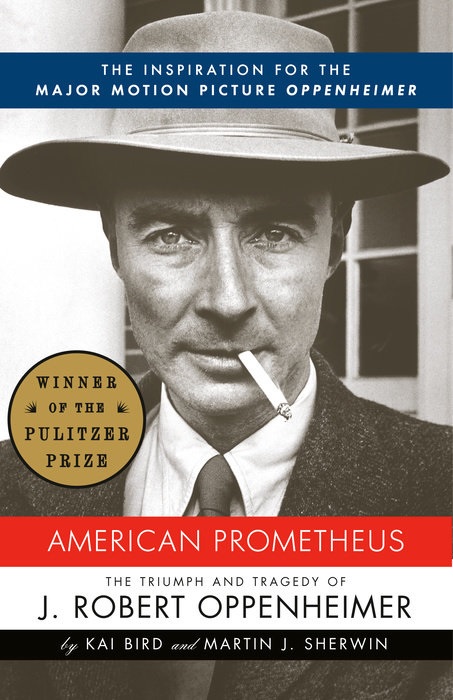 Christopher Nolan's Oppenheimer, starring Cillian Murphy as the titular theoretical physicist, opened last week to rave reviews and explosive box office success. Nolan's biopic is based on American Prometheus: The Triumph and Tragedy of J. Robert Oppenheimer by Kai Bird and Martin J. Sherwin, published by Knopf in 2005. The book took decades to complete. Sherwin began in 1979, several years after authoring A World Destroyed: Hiroshima and Its Legacies. He interviewed more than 100 people involved with Oppenheimer (who died in 1967) and compiled tens of thousands of pages of research, which sat unused until 1999. Bird, previously the author of several political biographies, helped turn Sherwin's research into what the Boston Globe called "an Everest among the mountains of books on the bomb project and Oppenheimer."

American Prometheus won the 2005 National Book Critics Circle Award and the 2006 Pulitzer Prize for Biography or Autobiography. Sherwin's final book before his death in 2021 was Gambling with Armageddon: Nuclear Roulette from Hiroshima to the Cuban Missile Crisis. Bird's most recent work is The Outlier: The Unfinished Presidency of Jimmy Carter, published in 2021. American Prometheus is available in paperback from Vintage ($25). --Tobias Mutter