Week of Friday, June 30, 2023
We review a strong crop of fiction this week: an aging novelist reevaluates her mediocre career in Tom Rachman's "wry, incisive" The Imposters; Eleanor Roosevelt and Mary McLeod Bethune take center stage in The First Ladies, the second "mesmerizing and revealing historical novel" by Marie Benedict and Victoria Christopher Murray; K Patrick's "mesmerizing" debut novel, Mrs. S, explores the sultry relationship between a boarding-school employee and the headmaster's wife; and a teen's eyes open to issues of social inequity and period poverty in Code Red, a "stirring and thought-provoking" middle-grade novel by Joy McCullough. Plus so many more!
Don't miss The Writer's Life, in which Sam Szabo offers a tutorial of sorts on comics creation.
The Best Books This Week
Fiction
The Seven Year Slip
by Ashley Poston
Ashley Poston (The Dead Romantics) presents another irresistible romance with paranormal elements in The Seven Year Slip, the perfect summer escape for romance readers and time-travel aficionados alike. Clementine, a publicist for a New York City publisher, struggles with the recent loss of her beloved Aunt Analea; she's simply going through the motions with her co-workers and friends. Analea left Clementine her apartment, which she always described as magical, but Clementine doesn't believe it... until the day the apartment introduces her to Iwan. Terrified by the intrusion of a stranger, even a handsome stranger with a Southern drawl, Clementine is even more surprised to discover he is subletting the apartment from Analea--seven summers ago. To Clementine's disbelief, outside the apartment her life and work continue as normal. But occasionally she goes through the door, and she's seven years in the past. Iwan's gregarious charm helps soothe Clementine, and their delightfully romantic bubble makes her incredibly happy--until the day she meets seven-years-older Iwan outside and finds him completely changed.
This nuanced, introspective novel is both humorous and a little sad, but it is mostly a testament to the abilities of humans to change. Poston ably portrays grief and love (plus a pair of violent pigeons) with quirky charm. The tiny bit of time travel makes the story perfectly magical, and fans of Beth O'Leary or Carley Fortune are sure to enjoy Clementine and Iwan's burgeoning relationship. --Jessica Howard, freelance book reviewer
Berkley, $17, paperback, 352p., 9780593336502
Sofreh: A Contemporary Approach to Classic Persian Cuisine
by Nasim Alikhani and Theresa Gambacorta
Sofreh: A Contemporary Approach to Classic Persian Cuisine by Nasim Alikhani, with Theresa Gambacorta, is a heartfelt, warm embrace of a book, filled with stories of home, the pleasure of feeding others, and the saffron-studded sensuality of delicious Iranian home cooking. Alikhani launched into the New York culinary scene in 2018, on the cusp of her 60th birthday. Since then, her career has soared, including her recent stint at the White House preparing dishes for a special Iranian new year celebration. In her debut cookbook, named after her Brooklyn restaurant, she uses the words "Persian cuisine" and "Iranian food" interchangeably, with geographical and historical explanations for how those terms overlap.
Sofreh introduces food categories in order of their importance at the family table. Bread is the "primary pillar," followed by dairy and rice. Alikhani notes that herbs are used in Iranian cooking more than in any other cuisine; a platter of fresh herbs is typically served at the start of every meal. Though recipes for meat, poultry, and seafood dishes abound, followed by pickles and a splendid chapter on sweets, vegetarians and vegans will find plenty of recipe options to explore. Alikhani also devotes a chapter to "a'ash," a stew made from beans and other legumes, cracked wheat, and freshly chopped herbs. Garnished with mint oil and crispy onions, it is the ultimate vegan comfort food.
Readers will want to linger over Quentin Bacon's many gorgeous photos, including one for a colorful "jeweled rice." With quotes from Alikhani's mother sprinkled throughout, Sofreh is a deeply personal and passionate homage to Persian hospitality. --Shahina Piyarali, reviewer
Knopf, $40, hardcover, 400p., 9780593320747
A Thread of Violence: A Story of Truth, Invention, and Murder
by Mark O'Connell
Irish journalist Mark O'Connell's A Thread of Violence is an engrossing and intimate glimpse into the psyche of an actual yet improbable murderer.
Over the course of a few weeks in the summer of 1982, 37-year-old Malcolm Macarthur, debonair heir to a large country estate in County Meath, savagely bludgeoned to death Dublin nurse Bridie Gargan, in the act of stealing her car; killed Donal Dunne with a shotgun he ostensibly intended to purchase from the young farmer; and botched an armed robbery from a onetime acquaintance. Macarthur's one-man crime wave was part of his desperate plan to right his sinking financial ship, after he had squandered his share of the proceeds from the sale of his family's rural homestead.
O'Connell (Notes from an Apocalypse) had been fascinated with Macarthur's bizarre story ever since he learned, as a child, that the killer had been apprehended in an apartment in the same suburban Dublin complex where his grandparents lived. After a handful of chance encounters on the streets of Dublin--where Macarthur lived openly, following his release from prison in 2012--O'Connell decided he wanted to write about a man he admits "compelled me like a haunting." For roughly a year, he engaged someone he came to think of as a "character from a novel manifested in the physical world" in wide-ranging conversations.
O'Connell is a patient, thorough interlocutor, especially in conversations where his predominant feeling was frustration with Macarthur's rationalizations and evasions. The insights O'Connell offers into his own emotions are also revealing, producing a case study about the chilling ease with which one man can be driven to murder. --Harvey Freedenberg, freelance reviewer
Doubleday, $29, hardcover, 304p., 9780385547628
Skylab: The Nature of Buildings
by Skylab and Jeff Kovel
Skylab: The Nature of Buildings is the first architectural monograph from Portland, Ore., design firm Skylab. This cleverly conceived book highlights some of the most impressive work out of the Skylab studio since its founding by Jeff Kovel in 1999. Visually, it presents as a double album, with its distinct square shape and circular cutout in "sides" (A, B, C, D) and "tracks" and, like any greatest-hits compilation, it focuses on the creative philosophy of the firm, and its evolution over time.
In her introduction, architecture and design critic Mimi Zeiger lauds the innovation and experimentation of the studio principals: "Skylab is just as much an object lesson in how success depends on possible failure. Ambition necessitates risk." That risk-taking is evident in this volume, and readers will appreciate the creativity and intentional design throughout. As in any speculative endeavor, not every choice will be equally loved, but from the lime-green font to the foldout posters, this book does not shy from bold decisions. Its creators know what the volume is and lean heavily on its strengths. Fans of architecture and design will revel in the images (more than 400 full-color, large-format photos), and the multiple interviews and descriptions behind such projects as the Serena Williams Building on Nike's campus or the Columbia Building in Portland. Hefty and full of quirk, Skylab: The Nature of Buildings would make a great gift for any creative, perfect for coffee-table perusal or the kind of deep dive into the liner notes familiar to the superfan. --Sara Beth West, freelance reviewer and librarian
Thames & Hudson, $75, hardcover, 304p., 9780500025406
The Writer's Life
Reading with… Sam Szabo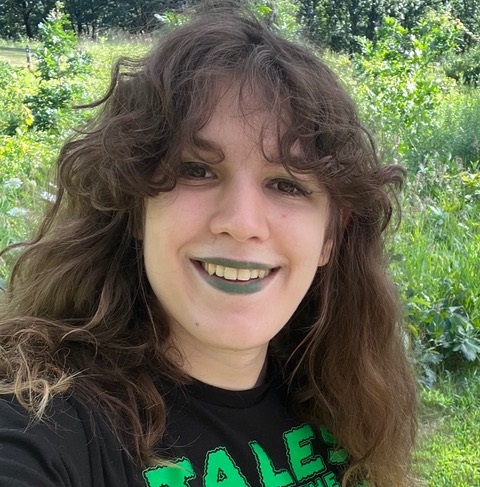 Sam Szabo is a cartoonist from the North Shore of Massachusetts, currently living in Chicago. She enjoys risograph printing, pro wrestling, and Phish concerts. Szabo's debut graphic novel, Enlightened Transsexual Comix (Silver Sprocket, May 17, 2023), follows the zany adventures of a magnificent cosmic being.
Handsell readers your book in 25 words or less:
I am channeling my hippie ancestors. The underground comix hippies and the gay liberation hippies. I'm telling the hippies about the Internet. They hate it.
On your nightstand now:
I just finished Alison Rumfitt's Tell Me I'm Worthless. It was kind of a thorny read, but I enjoyed it a lot. Next up is The City in the Middle of the Night by Charlie Jane Anders. I'm also working on Maybe the People Would Be the Times by Lucy Sante, a delicious book. And the latest poetry collection by Rhina Espaillat.
Favorite book when you were a child:
I was obsessed with Terry Pratchett's Discworld series when I was in middle school. Read like 30 of them in a row from fifth to sixth grade. Had all the computer games. I would actually make my own merch: the local photo developer did custom T-shirts, and I would bring in my favorite illustrations. My parents took me to a fan convention as my bar mitzvah present, and I got to meet Terry. He was very sweet and generous in person. We chopped it up about The Hitchhiker's Guide to the Galaxy minutiae. Cool guy!
Your top five authors:
Lynda Barry, Gene Wolfe, David Foster Wallace, Philip K. Dick, Gordon Lish.
Book you've faked reading:
Three or four Thomas Pynchon novels. He's a great writer; the fault is entirely mine. I stopped taking my ADHD meds last year. I've also been telling people I read the first four volumes of Karl Ove Knausgård's My Struggle, when in reality I tapped out halfway through volume three. I wasn't lying to anyone intentionally. I just couldn't remember what was going on with that book. What WAS going on with that book? It's all blurring together now. I know he was a child at one point. And there was a divorce? Maybe two divorces?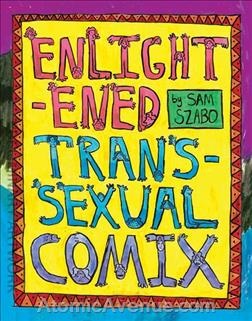 Book you're an evangelist for:
There's been such an incredible wave of trans lit these past few years. Future Feeling by Joss Lake is one that I think is particularly underrated. Such a funny, breezy, self-assured debut. It's surreal but has a very grounded emotional core. It doesn't sand down the edges of the trans experience, but it keeps a light touch throughout. I lend that one out a lot. I've also been preaching the good word about this new wave of up-and-coming trans cartoonists. Recent discoveries include Frances Cordelia Beaver, Hal Schrieve, Victoria Douglas, Ezra David Mattes--too many to enumerate here, really!
Book you've bought for the cover:
I got into underground comics when I was way too young, mostly because they were filed next to the Calvin and Hobbes anthologies in used bookstores. I'd always pick up the nastiest, freakiest stuff, because those tended to have the most eye-catching covers.
Last week, I bought a first edish of Gene Wolfe's The Fifth Head of Cerberus, even though I already owned it, just because I dug the cover art so much. I don't know who they had painting all those old Gene Wolfe covers, but they're so dope. I got the cover of The Shadow of the Torturer tattooed on my thigh.
Book you hid from your parents:
My parents would let me read whatever I wanted. Except that first paperback collection of headlines from the Onion. I learned how to swear from that book. Then I started cussing in front of my parents, so they confiscated it. I stole it back a couple weeks later. I think the same thing happened with one of Steve Purcell's Sam & Max comics. Both books were huge (bad) influences on me.
Book that changed your life:
I remember reading a collection of John Porcellino's King-Cat comics on the Megabus as a kid and just breaking down, loudly sobbing in public. It really opened my eyes to the full potential of memoir, of comics, of zines--the way he just beamed these memories directly into my skull with such clarity and tenderness. It overpowered me. I knew instantly that I wanted to do what JP was doing. The path unfurled in front of me. He made it look so easy! And yet, somehow, impossible!
Favorite line from a book:
"Darling, I now have a butter dish/ that is shaped like a cow"--Leonard Cohen, Book of Longing.
That's the entire poem. What a terrific poem it is. It echoes in my mind.
Five books you'll never part with:
Hold Me Gorilla Monsoon by Colette Arrand; Book of Longing by Leonard Cohen; Tales Designed to Thrizzle by Michael Kupperman; Nevada by Imogen Binnie; Gaylord Phoenix by Edie Fake.
Book you most want to read again for the first time:
Howard Cruse's whole bibliography, really. Stuck Rubber Baby changed my understanding of what a comic could be and what kind of stories a comic could tell. Sounds trite when I phrase it like that, but it's true. Stuck Rubber Baby walks a very delicate line between the personal and the political, between fiction and memoir. It came into my life when I was coming to terms with my own queer identity, and it made a very eloquent case for coming out and living authentically. That book blew my mind at a time when my mind needed to be blown. Cruse's Wendel comics also had a big impact on me. I wish there were more of them. I've reread Wendel so many times that I've had to take a tolerance break. I guess that's why I want to read it again for the first time. Man, I miss Howard.

Little Monsters
by Adrienne Brodeur
The epicenter of Adrienne Brodeur's Little Monsters--a compelling, earnest portrait of a family more fractured than its members realize--is one aging white man, jostling for purchase in the percolating tensions of pre-election 2016. He refuses to be left behind in the assumed wave of liberalism, for reasons both personal and professional. He still has genius in him. He is not, perhaps, a character that's easy to love. But he is easy to recognize. Adam Gardner, this patriarch speeding toward septuagenarian status, is a brilliant scientist, a charming conversationalist (if not always a politically correct one), a widower since his children were small, and a single father, confident that he was also a good one. His children, Ken and Abby, love him dearly, but they're less convinced.
Real estate mogul-turned-conservative politician Ken has done his best to slough off the loneliness and embarrassment of his childhood, choosing to relegate the fallout of Adam's manic-depressive episodes to a dark corner of his mind. Artist Abby confronts these same confusing emotions more directly, as symbols and glyphs in her latest spate of buzzy paintings. As Adam's 70th birthday party approaches, both children hatch secret plans to win over their difficult-to-impress father, while Adam himself quietly swears off his bipolar medication in pursuit of one final Nobel Prize-worthy breakthrough. At the fringes of this patchwork quilt of relationships is Steph, a cop who becomes interested in the Gardner family when she realizes they're capable of illuminating a long-buried secret of her own.
Through shifting points of view in each chapter, Brodeur explores the voices of the Gardners and their circle: envious and disciplined Ken; perceptive but distant Abby; sharp and demanding Steph; and grandiose but erratic Adam. It is Adam, above all, who speaks to the themes of the tension in Little Monsters: he's a man who thinks himself king, and fails to understand why that mentality might sow anything but worship in those around him. "How was it possible that all these people--'extras,' as it were, on the set of his life--believed they had experiences and emotions as rich and complex as his own?"
Thankfully, Brodeur--back with her first book since her 2019 memoir, Wild Game, and her first novel since her debut, Man Camp--absolutely does believe that every "extra" has a place on the stage, and she does not short-change readers on the complexities of these characters' emotions. Even Ken, in all his Angry White Man glory, is rendered through a compassionate lens; his complaints and excuses rankle, but bent through a ray of therapy, they almost start to make sense. To be sure, the cast of Gardners in Little Monsters don't all share equal legitimacy in their frustrations. But as the conflicts balloon ahead of Adam's big party, readers will know they have all sides of the story.
Another character lurks in the background of Brodeur's novel, and that is the Cape Cod setting itself. Each protagonist shares a profound connection to the shoreline, whether intimate or adversarial, and Brodeur pauses often to describe wisteria blooms and whale blows, the habits of snapper turtles and seals, with an Edenic reverence. These descriptions can feel tangential until readers recognize how naturally each Gardner aligns with nature itself. That Garden of Eden comparison is no throwaway: Ken and Abby mirror the ancient siblings Cain and Abel in more ways than one. (At one point, Ken's therapist even recommends he pick up John Steinbeck's East of Eden for insight.)
Throughout Little Monsters, art and nature mirror each other, symbiotic and inextricable. Abby paints her family as a new life grows inside her. Ken builds a tiny home replica as the coast of his real home gives way to erosion. Adam studies the musical language between whales as he struggles to recognize the cries of his own children. Steph nurses her baby as she demands answers from her own parents. The parallels, and their respective ironies, are beautiful and heart-breaking.
In one scene, Ken's wife, Jenny, peers at a fresh painting of Abby's, one she intends to give Adam for his birthday. "Each time she blinked," Brodeur writes, "lines would recede and advance, creating images that would mutate like shapes in clouds: a tiny being blossoming in a torso; an iris-like aperture overlaying the whole; two children tangled in a curious knot." All of the characters in Little Monsters are mutating in this manner, grappling to understand the twisting political landscape and how it will define their lives in the months and years to come. But they are also each tangled with one another, and the true pleasure of Brodeur's novel is in watching some--though not all--of them get unstuck. The greatest relief comes in witnessing the women and the men eventually assessing one another from a distance, so that both groups, at last, can heal. --Lauren Puckett-Pope
Avid Reader Press, $28, hardcover, 320p., 9781982198107
Family Ties
An Interview With Adrienne Brodeur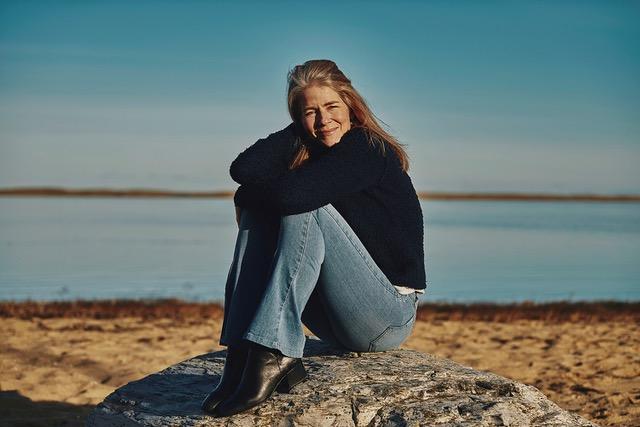 (photo: Tony Luong)
Adrienne Brodeur was editor and founder of the fiction magazine Zoetrope: All-Story, and serves as executive director of Aspen Words, a literary arts nonprofit within the Aspen Institute. She is the author of the memoir Wild Game and the novel Man Camp. Her second novel, Little Monsters, a compelling, earnest portrait of a fractured family on Cape Cod, is due from Avid Reader Press on June 27, 2023.
This is your first book since your beloved memoir, Wild Game, and your first novel in almost two decades. Why did now feel like the right time for another work of fiction?
While I'm a planner in many aspects of my life, that doesn't hold true when it comes to writing. My move from memoir to fiction was less a deliberate choice than a reaction to the idea that my subconscious delivered, which presented itself as fiction. It's hard to explain the creative process--let alone understand its mysteries--but I tend to find my ideas by paying close attention to where my mind goes. I've learned that if I act like a divining rod and notice my internal vibrations, I'll often find a subterranean spring.
How did this book come together? Did these characters seem to come to you fully developed, or was it a long trial and error?
Writing a book is a bit like holding something delicate and stealthy in your hands--if you hold too tight, you risk crushing it; too loose, and it might get away. Little Monsters started with a persistent curiosity about the often-fraught nature of sibling relationships, which led me to reflect upon the biblical story of Cain and Abel. That was the foundation. From there, the process is all about patience and discipline. I wake up around 5 a.m., get a big mug of coffee, go straight to my desk, and write. While it is a cliché, writing a novel is like building the plane as you fly it. I must write to get to know my characters and figure out the narrative. Aside from Adam, the patriarch, who arrived fully developed on page one, it was only through writing that the characters revealed themselves. By the end of the first draft, I knew who they were enough to go back and revise, which of course, is the process: write, edit, repeat.
We're a few years out from the time period in which this book takes place. Did you start writing it during 2016, or did you need the distance of a few years to be able to address it properly?
I didn't start writing Little Monsters until the spring of 2020, but I always knew I would set the book in the months leading up to the 2016 election, as I found the uneasy mood of the country fascinating. It was a time when you could practically feel the ground shifting beneath your feet, although most people I know, me included, did not correctly anticipate how. I also love the subversive idea that the readers know more about what will happen next than the characters.
Tell us about the men in this story. They often think or outright say some truly awful things, and yet it's difficult not to feel a sort of affection for them. Why was that important to you, and did you ever worry you wouldn't find the right balance: not too endearing, not too monstrous?
Obviously, there are some truly evil people in the world, but for the most part I think humans are like any other animal--at their most aggressive when they're wounded. Who hasn't said something horrible to someone they love? As a writer, I want to portray the complex gray areas in character. I'm far less interested in heroes and villains than what's courageous and corrupt in all of us.
There's one line about midway through the book that I love, delivered by Ken's therapist: "Hiding your feelings doesn't signify a mastery of them." There's a lot of hiding in this book, a theme that is also central to your memoir. Do you find that 2016 was a season that forced many people, like your characters, to stop "hiding"? Or do you feel it pushed some of us to hide even more?
There are many reasons people hide their feelings--shame and fear come to mind--and equally as many that determine why some people can stop hiding, while others go deeper underground. I'm no political historian or sociologist, but I feel sure that 2016 was a global inflection point, marking the collapsing of established social orders, and creating a perfect storm of sorts, enabling some people to reckon with their history and privilege, and forcing others into deeper denial.
Which of the characters in Little Monsters did you find easiest to write? Which were the most difficult?
That's easy: Adam. Adam popped into my head pretty much fully formed, demanding that he be a point-of-view character. He was sarcastic and funny, and always said things that surprised me. I pretty much just held my hands over the keyboard and let him rip. It's something I've never experienced as a writer before (and my fingers are crossed that it will happen again). The rest of the characters took their sweet time in revealing themselves on the page, which is more typically the way it works for me.
You've become known for your skill in writing about family dynamics, both in nonfiction and fiction. Has writing these stories helped you better understand what "family" is, or is the perpetual mystery part of what keeps drawing you back to the theme?
I'm drawn to family dynamics because childhood experiences so clearly inform who people become as adults. That said, there are so many complex factors that affect families--from individual personalities to external forces like birth, death, marriage, divorce, and time--that I'm not sure it would ever be possible to unpack them. So, yes, writing helps me understand the dynamics of the particular family I'm writing about, but it's the perpetual mystery part that keeps drawing me back to the theme.
You have spent a lot of time on Cape Cod, and your intimate familiarity with the area is obvious. What about Cape Cod do you love so deeply, and what makes it such a perfect setting for this book?
As soon as I approach the Sagamore Bridge and smell the brackish air, my heart rate slows, and my body relaxes. Cape Cod is where I feel most at home. From its kettle ponds to its sand dunes and cranberry bogs, from its shorebirds to its migrating marine life, there is simply no place that captures my imagination quite like it. Cape Cod is essentially a large and fragile sand bar--a landscape that changes by the season but also by the hour from weather and tide, and one that is destined someday to be swallowed back into the ocean.
What was it about the biblical tale of Cain and Abel that spoke to you, and how did it inspire some of the rhythms of this book?
I looked to the archetypal story of Cain and Abel, hoping for answers about sibling rivalry and was left wanting. It is truly a bare-bones story. That said, the tale informed the structure of the book in as much as Cain and Abel made offerings to God, and God favored Abel's gift. In Little Monsters, the narrative structure builds toward the patriarch's 70th birthday where his children present him with gifts of great personal importance and the father clearly favors one gift over the other.
Do you have another book on the horizon?
I haven't yet written a word, but there is an idea that my mind keeps presenting, which includes a misguided romantic connection between octogenarians, a daughter's desire to understand her mother, and two generations of female friendship. --Lauren Puckett-Pope
Shelf vetted, publisher supported.
Rediscover
Rediscover: Henry Petroski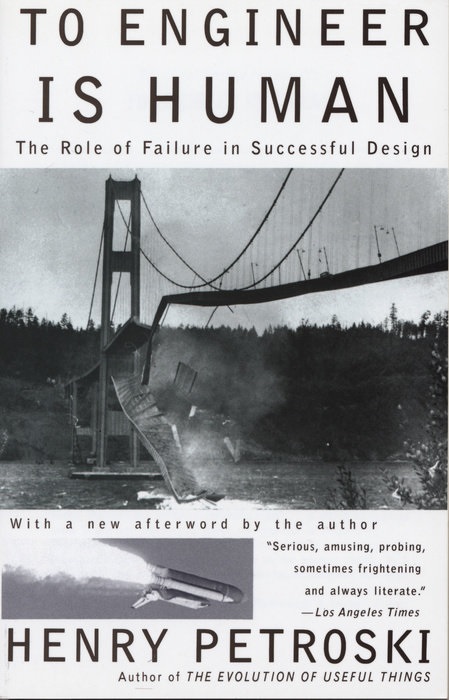 Henry Petroski, "who demystified engineering with literary examinations of the designs and failures of large structures like buildings and bridges, as well as everyday items like the pencil and the toothpick," died June 14 at age 81, the New York Times reported. A longtime professor of civil and environmental engineering at Duke University, Petroski "adapted the architectural axiom 'form follows function' into one of his own--'form follows failure'--and addressed the subject extensively in books, lectures, scholarly journals, and magazines."

In his first book, To Engineer Is Human: The Role of Failure in Successful Design (1985), Petroski examined what happens when design goes terribly wrong, citing the collapse in 1981 of two skywalks in the Kansas City Hyatt Regency Hotel, which killed 114 people; and the collapse in 1940 of the Tacoma Narrows Bridge in Washington a few months after it opened.

Shortly after the Hyatt Regency calamity, one of his neighbors asked him how such a thing could happen. "He wondered," Petroski wrote, "did engineers not even know how to build so simple a structure as an elevated skywalk?" The book was an attempt to define what an engineer is.

Pencils also became an object for Petroski's failure analysis. He used engineering equations in a 1987 paper in the Journal of Applied Mechanics to describe why pencil points break, then expanded the piece two years later into the book The Pencil: A History of Design and Circumstance.

Nearly two decades after The Pencil was published, Petroski "turned to an even humbler quotidian object with The Toothpick: Technology and Culture (2007), which explained its evolution from a form used by early hominids to the creation of the modern toothpick industry in the 19th century," the Times noted.

Petroski taught engineering at the University of Texas at Austin for six years before joining the Argonne National Laboratory in Lemont, Ill., in 1974. He left in 1980 for Duke, where his teaching schedule gave him the freedom to write about engineering. He retired in 2020.

Petroski's other books include The Evolution of Useful Things: How Everyday Artifacts--From Forks and Pins to Paper Clips and Zippers--Came to Be as They Are (1992); The Book on the Bookshelf (1999); Small Things Considered: Why There Is No Perfect Design (2003); To Forgive Design: Understanding Failure (2012); and The House With Sixteen Handmade Doors: A Tale of Architectural Choice and Craftsmanship (2014).

"He worked at the intersection of engineering and history," said Earl Dowell, a former dean of Duke's Pratt School of Engineering. "His readership included a wide range of engineers who enjoyed his books because they presented the bigger picture of engineering, not so much down in the details, and non-engineers."