Week of Friday, June 16, 2023
This week we review a cookbook to kick off the summer, 50 Pies, 50 States: An Immigrant's Love Letter to the United States Through Pie by Stacey Mei Yan Fong, "a welcome addition to any baker's library." Plus, And Then He Sang a Lullaby, the debut novel by Ani Kayode Somtochukwu and the inaugural title from the Roxane Gay Books imprint (read more about the imprint here); and When Clouds Touch Us, Thanhhà Lại's stand-alone sequel to Inside Out & Back Again, and featuring "the same kind of gorgeous prose and memorable moments" of its predecessor. And so many more!
In The Writer's Life, Rebeka Weatherspoon and Danielle Parker discuss the happy similarities in their YA stories: self-discovery, kind romantic partners, and happily ever afters. And we remember the late Cormac McCarthy.
The Best Books This Week
Fiction
The Woman Inside
by M.T. Edvardsson
Within the mystery genre, crimes are typically committed for nefarious purposes. Swedish novelist M.T. Edvardsson's The Woman Inside challenges this assumption while also considering the value of moral justice.
This cagey, multilayered thriller opens with a report from an officer on the scene when the bodies of a married couple are found inside their home in the Swedish college town of Lund. The novel proceeds with the alternating first-person perspectives of three people who are somehow wrapped up in the mess.
Karla Larsson has moved to Lund to escape her hardscrabble past and study law. To make ends meet, she takes a part-time job cleaning the opulent home of Dr. Steven Rytter and his wife, Regina. Karla is taking an online criminal law course, and student housing isn't giving her the quiet she needs. When she spots an ad for a lodger on Facebook, she pounces. The ad is placed by single dad Bill Olsson, a widower about a year into his grief and sorely in need of income: he's unemployed, late with his rent, and desperate to stay in Lund.
Meanwhile, 29-year-old Jennica Jungstedt gets by as an adviser for an online site offering psychic advice. Jennica thinks she has found her dream guy--a 47-year-old doctor she met through Tinder. She wants to parade him around but knows her friends would be skeptical. His name? Steven Rytter.
There are no angels among the three narrators. Stitch by stitch, Edvardsson (A Nearly Normal Family) knits their stories together in an impressive feat of structural engineering, while recognizing that social circumstances can tempt otherwise decent people to slither to the dark side. --Nell Beram, author and freelance writer
Celadon, $28.99, hardcover, 384p., 9781250204622
The Last Drop of Hemlock
by Katharine Schellman
Katharine Schellman's vivid look at the atmosphere and culture of the Prohibition Era continues in The Last Drop of Hemlock, her second engrossing Jazz Age mystery set in a popular Manhattan speakeasy during the mid-1920s. For its regular customers, the Nightingale isn't just a place to dance the night away, where bootleg booze flows; it's a kind of home in which all are welcomed and treated equally, regardless of race, sexuality, or social status. The Nightingale certainly is Vivian Kelly's home: she's there nightly, waiting tables, dancing, and soaking up the thrill of the bar. For a few hours, she's free, away from her day job making deliveries for the high-end dress shop where Florence, her straitlaced sister, works.
Vivian's best friend, Bea Henry, is grieving the death of her much-loved Uncle Pearlie. Although the local doctor rules his death a suicide, Bea thinks someone murdered him; Pearlie was too involved with the family to end his life. Vivian believes her friend, after the coroner rules that Pearlie died from arsenic poisoning. Bea then discovers Pearlie's stash of cash is missing. During her investigation, Vivian learns that both Pearlie and his neighbors received threatening letters.
Schellman (Last Call at the Nightingale) allows her characters to flourish in The Last Drop of Hemlock, which--despite featuring an amateur sleuth--veers toward a harder-edge story. Showing growth since the first book, Vivian is more confident in her investigative skills and her place in the Nightingale's society, especially in her relationship with the androgynous owner Honor Huxley. Accurate historical details about the era elevate this superb mystery. --Oline H. Cogdill, freelance reviewer
Minotaur, $28, hardcover, 336p., 9781250831842
Science Fiction & Fantasy
Uranians
by Theodore McCombs
Anyone who yearns for a world of universal acceptance, where one can live as one wishes, may nod in agreement at the four stories and one novella in Uranians, Theodore McCombs's assured debut work of speculative fiction. In "Toward a Theory of Alternative Lifestyles," a gay lawyer breaks up with a boyfriend who "chafed at monogamy," and references quantum mechanics as he pines for an existence where "you got everything you ever wanted, and were loved as much as you loved." "Lacuna Heights" features a lawyer who represents a company that makes a device that is implanted into people and can make them forget certain facts. And in the macabre "Six Hangings in the Land of Unkillable Women," women sentenced to death in 1909 evade execution--ropes break, bullets don't appear--until a police superintendent's wife suggests women become the executioners.
After "Talk to Your Children About Two-Tongued Jeremy," a story about an app that offers encouragement yet also sexts, cyberbullies, and worse, the collection concludes with the novella "Uranians," an imaginative tale of an expedition in which queer participants, including "power lesbians" and a trans priest, journey into space to build "a queer moon in the heavens." If a couple of stories are clever rather than compelling, the others are marvelous, especially the title work. "Our survival requires we embrace our nature as outsiders," the priest says. As this debut makes clear, that fact is more universal than some may be willing to admit. --Michael Magras, freelance book reviewer
Astra House, $25, hardcover, 224p., 9781662601941
50 Pies, 50 States: An Immigrant's Love Letter to the United States Through Pie
by Stacey Mei Yan Fong
Stacey Mei Yan Fong was born in Singapore, grew up in Indonesia and Hong Kong, attended college in Savannah, Ga., and now lives in Brooklyn, N.Y. Fong's varied life experiences have allowed her to appreciate the many different regions of her adopted country, and she showcases all 50 states with delectable offerings in 50 Pies, 50 States: An Immigrant's Love Letter to the United States Through Pie. Fong explains that baking pies brings her comfort and connection, and she uses them to evoke tastes from some of her most beloved places.
Beginning with her childhood favorites, she features gorgeous pies--such as Pandan Cream Pie with Toasted Coconut, Mango, and Coconut Whipped Cream--that include the flavors of Asia. Then Fong proceeds through the states alphabetically, describing her time in the state or interesting facts and stories for those she hasn't visited yet. Each state's section also includes a recipe for a sweet or savory pie, a luscious picture, and a lovely dedication, linking each pie to someone from the state. Georgia gets a Sweet Tea Peach Pie with Pecan Crumble; North Dakota, a Tater Tot-Hotdish Pie; and New York (of course), gets an Apple Pie with Coffee Cake Crumble.
Perfect for pie lovers, American geography aficionados, and immigrants alike, 50 Pies, 50 States is truly a love letter to America's food diversity. Full of beautiful photographs, delicious recipes, and charming anecdotes, 50 Pies, 50 States makes a welcome addition to any baker's library. --Jessica Howard, freelance book reviewer
Voracious, $35, hardcover, 384p., 9780316394512
First Family: George Washington's Heirs and the Making of America
by Cassandra A. Good
George and Martha Washington never had biological children, but they raised several children together who would become fierce protectors and promoters of Washington's legacy, as historian Cassandra A. Good (Founding Friendships) reveals in her enlightening and entertaining First Family. The children of Martha Washington's son by her first marriage take center stage: Eliza, Patty, Nelly, and Wash Custis were "four proud but profoundly flawed people" clinging to the celebrity of their illustrious step-grandfather, George Washington. Raised in the glare of the public eye, the Custis grandchildren would be the ones remembered as "George Washington's family," while blood-related nieces and nephews sank into obscurity.
Good charts the development of the Custises in tandem with the events that shaped them: the deaths of George and Martha, the War of 1812, the Mexican-American War, slavery, and the rise of abolitionism. The ruptures and political divisions of the young republic were clearly discerned within the Custis family itself, as Good reveals through rich primary source material. Anti-Federalist Eliza clashed often with her siblings, particularly the ardent Federalist and Anglophile Patty, while all publicly positioned themselves as "the standard-bearers of George Washington's legacy." Good effectively explores the Custis clan's troubled views and actions regarding slavery, and argues that their decision to "hold most of their enslaved people in bondage was not inevitable; it was a choice." First Family is an illuminating study of one eminent family's rise and demise in a nation struggling to live up to the ideals of its most celebrated founder. --Peggy Kurkowski, book reviewer and copywriter in Denver
Hanover Square Press, $32.99, hardcover, 432p., 9781335449511
Beyond This Harbor: Adventurous Tales of the Heart
by Rose Styron
In Beyond This Harbor: Adventurous Tales of the Heart, poet and activist Rose Styron (Fierce Day) writes that her U.S. diplomat friend Bill Luers "often said my middle name should have been 'Ubiquitous.' " "Ubiquitous" would be an understatement. Styron's ebullient memoir is chockablock with stories of her globe-trotting exploits throughout a long life well lived. The book starts like a shot, with Styron's account of undertaking risky human rights work in Chile for Amnesty International in the mid-1970s, and then it settles into a straightforward chronology. Born Rose Burgunder in 1928, Styron grew up in Baltimore in a well-to-do, nonobservant Jewish household. After earning a master's degree in creative writing at Johns Hopkins University, she headed to Rome to write. There she became involved with novelist William Styron (1925-2006), to whom she was married for 53 years.
Rose admits that in her absence, her travel-averse husband suffered, as did her writing: "I became obsessed with helping to change antihuman policies abroad. I stopped writing poetry. For twenty years." Beyond This Harbor nimbly hops from hair-raising chronicles of political intrigue to photo-rich sections dedicated to the Styrons' adventures with their formidable East Coast friends, among them "Teddy" (Kennedy), "Lil" (Hellman), "Jimmy" (Baldwin), "Lenny" (Bernstein), and, of course, Bill and Hillary. Rose devotes only two chapters to William Styron's mythic mental health battles, which is fitting: while Rose Styron is the upholder of her husband's legacy (she edited Selected Letters of William Styron), she has always been, as Beyond This Harbor certifies, her own person. --Nell Beram, author and freelance writer
Knopf, $32, hardcover, 352p., 9780525659020
Soldiers Don't Go Mad: A Story of Brotherhood, Poetry, and Mental Illness During the First World War
by Charles Glass
The First World War shattered not only men's bodies but also their minds in new and terrible ways. In Soldiers Don't Go Mad, journalist Charles Glass (They Fought Alone; Americans in Paris) uncovers the haunting stories of British junior officers, most prominently the poets Wilfred Owen and Siegfried Sassoon, who suffered from shell shock and found partial catharsis through treatment at the Craiglockhart War Hospital in Scotland. After the disastrous Battle of the Somme--in which 20,000 British soldiers were killed in one day--the British War Office established new hospitals to address the epidemic of shell shock. Leading psychiatrists of the day Drs. William Halse Rivers and Arthur Brock treated Sassoon and Owen, respectively, at Craiglockhart, allowing them and other "unblooded wounded" to express their experiences openly and with one other. Many did so through diaries, letters, illustrations, and poems, which Glass quotes from liberally throughout, to great emotional impact. It was the gift of psychotherapy, Glass says, that unlocked some of Owen's and Sassoon's most devastating verses about the war and what they witnessed. Indeed, Rivers and Brock "acted as midwives to their works by interpreting their nightmares, clarifying their thoughts, and encouraging them in their creations."
Glass captures the distinctive environment of Craiglockhart and its dynamic treatment for shattered psyches, though he is careful to point out that many "cured" officers would suffer trauma for the rest of their lives. Heartrending and inspirational, Soldiers Don't Go Mad is a moving elegy on the power of art to express the inexpressible. --Peggy Kurkowski, book reviewer and copywriter in Denver
Penguin Press, $29, hardcover, 352p., 9781984877956
Say Anarcha: A Young Woman, a Devious Surgeon, and the Harrowing Birth of Modern Women's Health
by J.C. Hallman
The endurance and the determination of the women who were subjected to the experiments of J. Marion Sims, the so-called "Father of Gynecology," take the spotlight alongside revelations of his cruelty and frequent failures in the riveting Say Anarcha by J.C. Hallman. Anarcha was born into enslavement in the mid-1820s on the Westcott plantation in Montgomery, Ala. Her path first crossed with that of Sims when she was a girl and he was tending an Alabama overseer; Anarcha nursed Sims and others through a malaria outbreak. Not long after entering puberty, Anarcha was raped, became pregnant, and suffered a difficult labor, which required surgical intervention. She suffered a double fistula that led to her being treated as "cursed" by others enslaved on the plantation and rendered her unable to work. Sims's experimental surgeries were done without anesthesia and required the patient to hold a position to allow access. Hallman (The Hospital for Bad Poets; The Chess Artist) movingly conveys the endurance and compassion with which Anarcha and the other "cursed women" cared for each other and eventually assisted with each other's surgeries.
Although Sims heralded Anarcha's case as a success for his technique, when she endured another one of his surgeries years later in New York at the Woman's Hospital, there was no sign her fistulae had ever been closed. Hallman makes a convincing case, through investigative diligence augmented by Federal Writers' Project interviews with formerly enslaved people, that Sims's legacy was built on false claims, but offers Anarcha's perseverance as a true pillar of the emergence of modern gynecology. --Kristen Allen-Vogel, information services librarian at Dayton Metro Library
Holt, $29.99, hardcover, 448p., 9781250868466
The Loved Ones: Essays to Bury the Dead
by Madison Davis
In her stark yet tender essay collection, The Loved Ones, poet Madison Davis (Disaster) grapples with the deaths of family members from murder, illness, accident, and war. The collection's four long autobiographical essays chronicle the several major blows that Davis's Washington State clan suffered within a decade. Opener "Kill Me Good" intercuts the murder of her 20-year-old cousin, Tanner, at her aunt's house in February 2008 with other grisly episodes from her family history, including an ancestor's suicide and her grandfather's witnessing of the last public hanging (of a Black man) in Kentucky in 1936. "My blood fiction," Davis--who now lives in Oakland, Calif.--calls this legacy of violence.
Blending excerpts from his journals and incidents from a hospital stay, "Mercy" tells the story of her late father's multiple sclerosis battle. "Inheritance" toggles between her 23-year-old brother Solomon's death in a 2012 car accident and her great-uncle's death in World War II. Davis makes a Freedom of Information request and travels to Europe to learn more about the latter, always cognizant of her and her grandmother's parallel losses of an only brother.
"Carrion," which closes this subtle and elegiac work, considers the aftermath of all four deaths: mental illness, openness to ghosts, and a search for healers--or a double-life sentence for Tanner's killer. "People keep getting scooped out of our family one way or another. I don't know why it matters except to say that it should add up to something. Shouldn't it?" Davis's earnest search for meaning will resonate widely, especially with the bereaved. --Rebecca Foster, freelance reviewer, proofreader and blogger at Bookish Beck
Dzanc Books, $16.95, paperback, 9781950539772
Across A Waking Land: A 1,000-Mile Walk Through a British Spring
by Roger Morgan-Grenville
A glorious wildflower resurgence, Hereford cows roaming a Cotswold farm, and the largest man-made forest in England are some of the biodiversity restoration projects highlighted in Across A Waking Land: A 1,000-Mile Walk Through a British Spring. It is the entertaining account of acclaimed nature writer Roger Morgan-Grenville's epic eight-week trek from the south of England to the northwestern tip of Scotland in 2022. Based on the premise that species loss is our most urgent existential dilemma, more so even than climate change, Morgan-Grenville (Liquid Gold) set out on foot to understand for himself the extent of the crisis and visit inspiring projects around the country where farmers, scientists, and volunteers are working to reverse the trend of rapid species extinction through renaturing projects. Among the surprising details he learns while crossing grasslands, urban settlements, river systems, and ancient woodland is that botanists are going extinct at an even faster rate than birds, because fewer and fewer young people are studying botany and zoology.
Morgan-Grenville is a lyrical storyteller, his writing infused with humor; at one point he observes wryly that "[a]bandoned poo bags are the way-markers of my walk, inelegant signatures left behind by modern dog owners." His exuberance at the birdsong that defines his walk and the sublime beauty of spring's bounty makes for joyful reading and a treat for armchair naturalists everywhere. Across a Waking Land offers a nuanced, firsthand understanding of how modern agriculture has caused species loss and gives readers an opportunity to marvel at "the rubber-ball resilience of nature if and when we stop messing her around." --Shahina Piyarali, reviewer
Icon, $27, hardcover, 256p., 9781785789762
The Book of Pet Love and Loss: Words of Comfort and Wisdom from Remarkable People
by Sara Bader
When Snowflake, the beloved cat of writer Sara Bader (The Designer Says), died in 2012, she sought "literary nourishment" from kindred spirits who had mourned their pets. Finding no such collection, she compiled The Book of Pet Love and Loss: Words of Comfort and Wisdom from Remarkable People, a gift-worthy book of quotes, photos, and short essays from cultural figures throughout history. The pieces tip towards "love" more than "loss." Though Bader's five chapters lead to "The Final Gift," the spirit of the collection emphasizes the joys of the human-animal bond. As musician Fiona Apple wrote of her rescued pit bull, Janet, "she's the one who taught me what love is." Author Pam Houston counted on her horse Roany "to keep the whole barnyard calm," including her. The animal lovers here, more than a hundred, range from Romantic poet Lord Byron to contemporary performer Marc Maron. In one entry, Nikola Tesla praises a beloved pigeon, and in another Amy Sedaris describes her apartment "completely designed around my rabbit," with "carrot orange, leaf grass, [and] marsh brown" paint colors. Photos, often whimsical, include a portrait of novelist Edith Wharton with a Pekingese on each shoulder and a picture of Barack Obama romping on the White House lawn with Bo, the family's Portuguese water dog.
Anyone grieving a pet's death or acknowledging its aging will find comfort in these contributions, particularly the words playwright Eugene O'Neill wrote in the voice of his departed dalmatian: "I ask my Master and Mistress to remember me always, but not to grieve for me too long." --Cheryl McKeon, Book House of Stuyvesant Plaza, Albany, N.Y.
Simon & Schuster, $22, hardcover, 240p., 9781982134310
1964: Eyes of the Storm
by Paul McCartney
In 1964: Eyes of the Storm, Paul McCartney--long the subject of photographers--gets on the other side of the camera, capturing the Beatles as only an insider could--and with a warmth, gentle humor, and guilelessness that perhaps only Beatle Paul could. The 270-plus photos collected here were rediscovered in 2020 and span December 1963 through February 1964, during which McCartney shot the Beatles, their amiable entourage, and others in six cities: Liverpool, London, Paris, and--marking the band's first transatlantic junket--New York, Washington, D.C., and Miami. Ringo Starr is attended in a makeup chair before a gig. John Lennon gazes into the eyes of a clay likeness of his head. McCartney, too, is represented here, either snapped by Beatles insiders or appearing in self-portraits that show one of the world's most photographed people in a fresh light: as he saw himself.
1964 finds the band in the throes of Beatlemania; as McCartney puts it in one of his chirpy section intros, the photos "show me trying to encapsulate the madness that ensued in late 1963 through early 1964" when the Beatles erupted on The Ed Sullivan Show. McCartney switches to color film in the book's jubilant final section to capture the conquering Beatles enjoying a rare morsel of downtime in Miami. In an image for the ages, George Harrison wears shades at poolside next to a yellow-bikini-clad woman, the giveaway that he's more of a boy than a playboy, the dusting of pimples on his cheek. --Nell Beram, author and freelance writer
Liveright, $75, hardcover, 336p., 9781324093060
The Writer's Life
Rebekah Weatherspoon and Danielle Parker: Black Girls Falling in Love
After years of meddling in her friends' love lives, Rebekah Weatherspoon turned to writing romance to get her fix. Many award-winning novels later, she still believes in love, the fluffier the better. Weatherspoon was raised in southern New Hampshire and now lives in southern California with her dog Lizzie. Her first romance for young adults, Her Good Side, is available now from Razorbill.
Born and raised in California, Danielle Parker has a BA in English from the University of California, Berkeley, and an MA in education from UCLA. She has over 10 years of experience as a high school English teacher, during which her greatest pleasure was helping reluctant readers find a novel they absolutely loved. Parker now lives in the Pacific Northwest with her family. You Bet Your Heart (Joy Revolution) is her debut novel.
Weatherspoon and Parker spoke before their shared publication date of May 30, and were excited to discuss the happy similarities in their stories: self-discovery, kind romantic partners, and happily ever afters.
Danielle Parker: Rebekah, I loved Her Good Side so much that I was squealing with every page. I feel like you really got it all so right, from the dialogue to the teenage pressure to the love antics. I'm curious about your process and what you feel your responsibility is to teens when you write YA romance. Fill me in!
Rebekah Weatherspoon: Danielle! Finally, we meet (through the power of the Internet). Honestly, that's tricky. I think my responsibility as a human is just to spread good vibes. I know how corny that sounds, but I think it's true. I wanted to make sure Her Good Side was fun and romantic, but I also wanted to model healthy friends and healthy romantic relationships. I wanted to show examples of young people who were afraid and brave all at the same time, and that taking risks is worth it, even if the risk is just telling your parents about your dreams. I drew on some experiences I've had throughout my life and then beefed up the romance with the power of imagination.
Parker: A word. And I don't think that's corny at all! It's absolutely lovely in my opinion. I think I tapped into my experiences as a teacher and as an awkward, overachieving high schooler. When writing from those places with those experiences in mind, I tried to remain hopeful and optimistic but as true to real life as possible, which means being a little messy. Because being a teen is hard and life is messy! Especially being a teen and falling in love for the first time--it's scary but also beautiful and transformative. So, I did my best to try and balance everything and make sure that the happily ever afters for my characters were reflective of their growth. Maybe it's not what the characters think they wanted, but their endings are what they needed to grow and evolve into their best selves. I always try my best to balance a happy romance with real world growth and growth pains.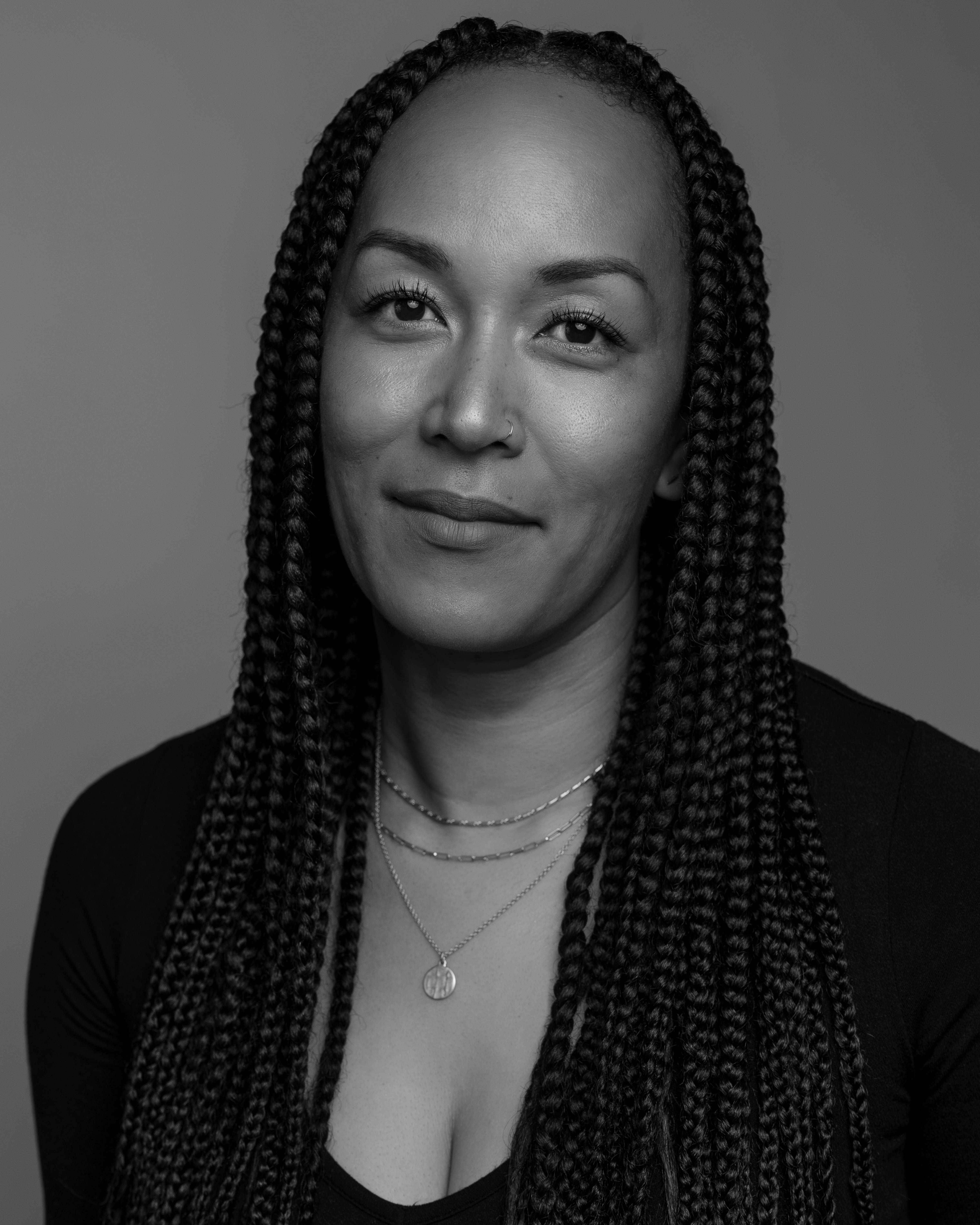 Danielle Parker
(photo: Life N Light)
Weatherspoon: That totally came through on the page. It was so interesting to me when reading You Bet Your Heart that we both came to the conclusion that these Black girls needed to feel seen. What made the love story click was "oh this person sees me."
Parker: Yes, I loved that similarity in our books! Another similarity that I enjoyed seeing was that both of our characters got their happily ever afters, but they had a rich discovery of self along the way. Both have these great partners that help them learn about themselves and help them grow. I think that's what I love about romance stories--we can help one another be more fully human.
Weatherspoon: Agreed. I had fun showing Bethany and Jacob falling for each other. They are both so different, but they learned through somewhat awkward communication that they worked really well together. And even though Ezra and Sasha have an established relationship, they both have a lot of incorrect thoughts about each. We both had a bit of a "don't judge a book by its cover" moment if you will, and what more could you want from a romance?
Parker: Yes, that part! So, you're a prolific adult author. How has it been writing young adult?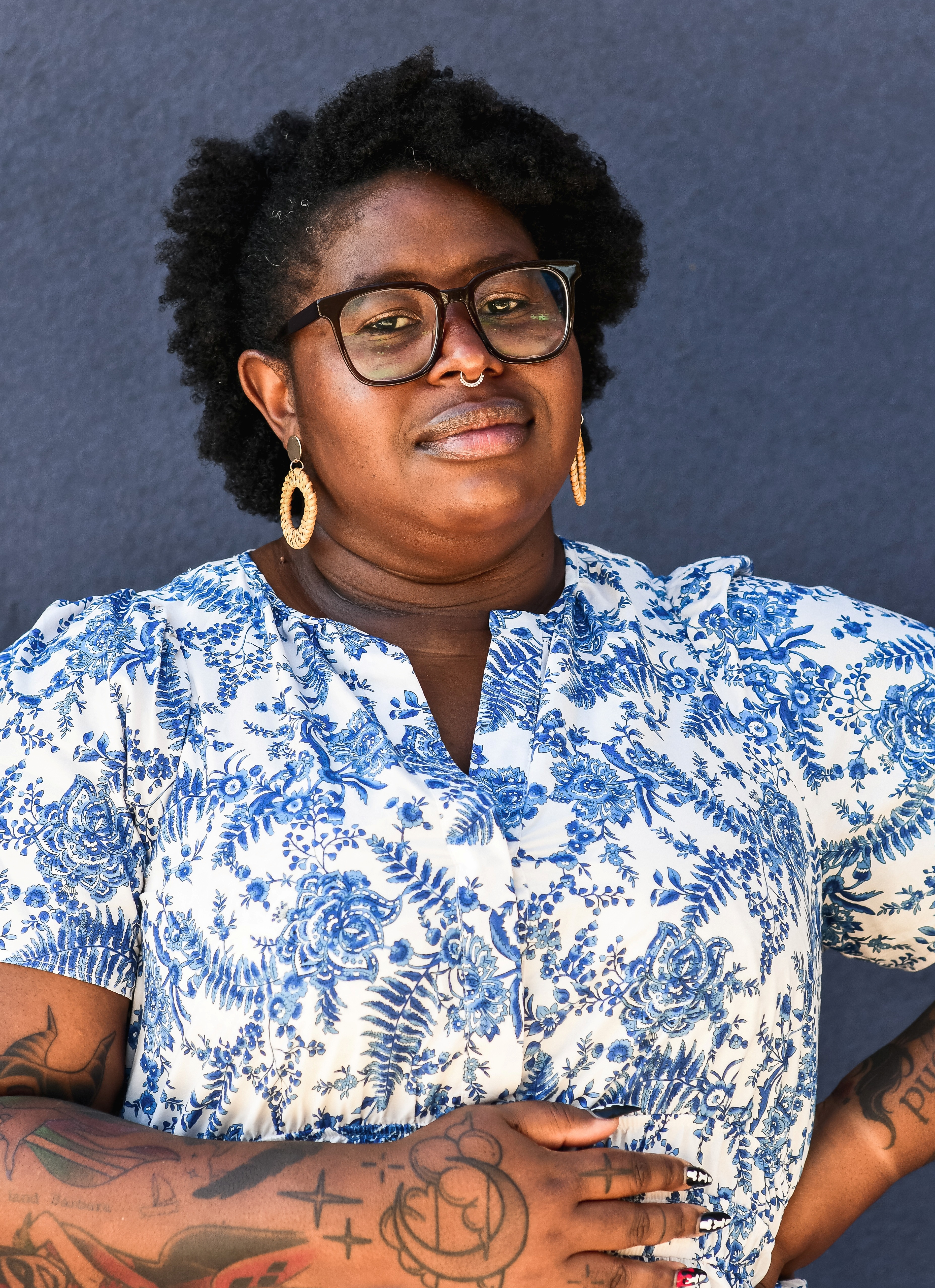 Rebekah Weatherspoon
(photo: Bria Celest)
Weatherspoon: It's been great. I've learned a lot about myself in the process. It's been interesting writing for young people--I think I'm more nervous. I used to be a teacher and everyone in my family is in high school and middle school education as well, so I care about kids a lot. I want the book to be good for them. I want kids to pick this up and enjoy it. I'm an adult, so with my adult stuff I'm like "this is fine. I got this under control." I just tried to remember what it was like to be 16 and write the lightest fluffiest happiest story for my 16-year-old self. I tried to write what I would have wanted, and I hope I got there.
Parker: I think you did.
Weatherspoon: I wanted to ask you: this is your debut, correct?
Parker: Yes. And I'm very happy to share a release day with you!
Weatherspoon: How are you feeling?
Parker: It's an insane, wild roller coaster, thanks for asking. Sometimes I'm like "this so great, I made it! It's finally happening, after years of writing and edits, the book will be out in the world!" And other times I think, "Oh no, I put too much of my personal self in this story and now it will be out in the world." I'm terrified to be seen in this way, to share so much of this story--which is pretty personal--with the world. But at the same time, I'm excited. I hope the book resonates with someone and does what good stories can do: make another person feel seen, feel heard, feel something.
Parker: And as we approach release day, how are you feeling?
Weatherspoon: So very sleepy, but happy and grateful. I think about what it was like a million years ago when we were teens and how few books there were featuring Black girls falling in love. Now look at us! Two books coming out on the same day.
Parker: Yes! My younger self and current self are ecstatic! Happy release! And know that I am so excited for what comes next for you.
Rediscover
Rediscover: Cormac McCarthy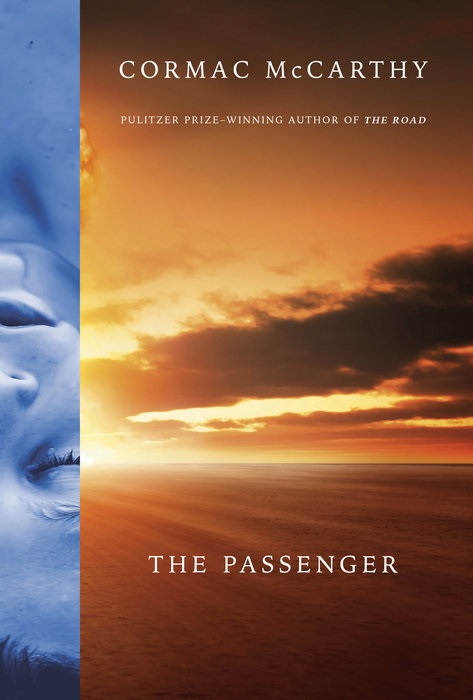 Cormac McCarthy, "the formidable and reclusive writer of Appalachia and the American Southwest, whose raggedly ornate early novels about misfits and grotesques gave way to the lush taciturnity of All the Pretty Horses and the apocalyptic minimalism of The Road," died June 13 at age 89, the New York Times reported. A mainstream readership found McCarthy with his 1992 National Book Award-winning novel All the Pretty Horses, the first volume of his Border Trilogy--with The Crossing (1994) and Cities of the Plain (1998), all set in the Southwest. His post-apocalyptic novel The Road won a Pulitzer Prize in 2007. Both were adapted into films, as was No Country for Old Men, which won the Academy Award for best picture in 2008. In recent years, McCarthy's name came up annually as a potential winner of the Nobel Prize in Literature.

His first four novels--The Orchard Keeper (1965), Outer Dark (1968), Child of God (1973), and Suttree (1979)--"are bleak fables, set in the Appalachian South, related in tangled prose that owes an acknowledged debt to William Faulkner. Indeed, the editor of Mr. McCarthy's first five books, Albert Erskine of Random House, had been Faulkner's last editor," the Times noted. After Erskine's retirement, McCarthy moved from Random House to Knopf and acquired a new editor, Gary Fisketjon, who also worked with Raymond Carver, Richard Ford, and Tobias Wolff, among others.

Critic Harold Bloom named McCarthy one of the four major American novelists of his time, alongside Philip Roth, Don DeLillo, and Thomas Pynchon, and called Blood Meridian (1985) "the greatest single book since Faulkner's As I Lay Dying."

McCarthy's characters "were outsiders, like him. He lived quietly and determinately outside the literary mainstream," the Times wrote. "While not quite as reclusive as Thomas Pynchon, Mr. McCarthy gave no readings and no blurbs for the jackets of other writers' books. He never committed journalism or taught writing. He granted only a handful of interviews."

By the early 2000s, McCarthy was spending much of his time at the Santa Fe Institute, "where he served as a kind of artist-in-residence, chatting with researchers and helping edit their work for publication," the Washington Post wrote. His scientific interests influenced his last two books, The Passenger and Stella Maris, intertwined novels published within weeks of each other in 2022. Both works drew praise from critics for the way McCarthy traded "his usual mythic characters for more ordinary-seeming people, including what for him was a rare female protagonist."

"Cormac McCarthy changed the course of literature," said Nihar Malaviya, CEO of Penguin Random House. "For 60 years, he demonstrated an unwavering dedication to his craft, and to exploring the infinite possibilities and power of the written word. Millions of readers around the world embraced his characters, his mythic themes, and the intimate emotional truths he laid bare on every page, in brilliant novels that will remain both timely and timeless, for generations to come."