Week of Friday, June 9, 2023
We review some terrific fiction this week: the heroine of Lisa See's Lady Tan's Circle of Women is "as captivating and credible as any character in contemporary fiction," though the book's set in 15th-century China; long-separated sisters discover the truth of their magical heritage in Ink Blood Sister Scribe, Emma Törzs's "skillfully plotted, character-driven debut"; and Northranger by Rey Terciero, illus. by Bre Indigo, reimagines Jane Austen's Northanger Abbey as a "playful queer teen love story" in graphic form. Plus so many more!
In The Writer's Life, Luis Alberto Urrea describes his mother's experiences as a Red Cross "Clubmobile" worker in World War II Europe as the inspiration for his novel Good Night, Irene.
The Best Books This Week
Fiction
Beware the Woman
by Megan Abbott
Megan Abbott (Give Me Your Hand; You Will Know Me) stands in her own league with her outstanding novels focusing on gender politics and the concerns of young women from unconventional backgrounds. Abbott continues this focus in her superb, suspense-laden Beware the Woman, a novel that delves into manipulation.
Channeling a bit of Rebecca and Gaslight, Beware the Woman focuses on second-grade teacher Jacy, whose bad relationships with men seem to be inherited from her mother's perpetual involvement with dismissive, married men. Then Jacy marries quiet, nice guy Jed Ash only four months after meeting him and without knowing him very well. Now, nearly two years later, the couple, happily expecting their first child, travel to visit Jed's father. Jed rarely mentions him, a retired physician in his isolated home on Michigan's Upper Peninsula. At first, "Doctor Ash" lovingly welcomes the couple, telling Jacy, "we are so lucky to have you." But his housekeeper, Mrs. Brandt, seems to despise her. When complications with her pregnancy arise, Jacy feels trapped as neither Jed, his father, nor a local doctor will allow her to leave. Instead they recommend bed rest, talk about her health and plans for the baby, and ignore her opinions.
Abbott's affinity for finely tuned pacing enhances the tension as Beware the Woman delves into in-depth character studies, misogynistic behavior, and love. Jacy, with her "hurricane of hormones," wonders if her feelings about being trapped are real or if the men are keeping her a prisoner, caring only about the baby--not her. Abbott continues to be a provocative writer. --Oline H. Cogdill, freelance reviewer
Putnam, $28, hardcover, 304p., 9780593084939
Science Fiction & Fantasy
Translation State
by Ann Leckie
Ann Leckie's Translation State, a stand-alone entry in the Imperial Radch universe, weaves fascinating alien societies and interstellar governmental intrigue in a thrilling and thought-provoking adventure. Enae Athtur (pronouns sie/hir) spent many years caring for hir now-deceased Grandmaman, who left hir--primarily as a means to provide for hir--a government post. Enae is ostensibly searching for a translator for the Presger, an advanced and mysterious alien race that went missing more than 200 years ago; nobody expects hir to do more than travel and file expenses. When Enae decides to see what happens if sie actually investigates, hir path crosses with Reet Hluid, an orphan whose genetics hint at mysterious origins.
Meanwhile, Qven, on the cusp of adulthood and intended for an important position in their clade, suffers an attack and disgrace. The repercussions only cement Qven's terror at what awaits them in maturity. When all three come together, the result is a legal battle, hinging on what it means to be a person, that threatens a treaty with an alien species so mysterious that conspiracies question their very existence.
Once again, Leckie (Provenance) constructs an intricate science fiction backdrop, otherworldly yet comprehensible, and uses it to ground questions of family, selfhood, and fate. Although Translation State is self-contained, those who have read the trilogy beginning with Ancillary Justice will appreciate seeing some familiar elements of its culture and learning more about the Presger. Fans of philosophical science fiction will be enthralled. --Kristen Allen-Vogel, information services librarian at Dayton Metro Library
Orbit, $29, hardcover, 432p., 9780316289719
Unfortunately Yours
by Tessa Bailey
Unfortunately Yours, the second entry in beloved romance novelist Tessa Bailey's rom-com duet set in Napa Valley, is a steamy, laugh-out-loud, enemies-to-lovers delight. Natalie Vos has spent the last few months getting drunk and watching her brother single-handedly save their family's vineyard while landing the girl of his dreams. Now, ready to move on from the shattering disappointment of losing her job and fiancé in New York, Natalie is ready to prove herself by starting her own business--if only she could get her hands on her trust fund. But her estranged father's terms dictate that she can't access the money until marriage. (Un)fortunately, Natalie knows that August Cates, an ex-Navy SEAL trying to honor the memory of his late best friend, needs her Napa Valley clout to get his new vineyard some respect. Too bad Natalie and August can't seem to stop fighting--and wanting each other--every time they try to talk about this potential (strictly business) arrangement.
Unfortunately Yours is a perfect mix of characters Bailey (Hook, Line, and Sinker; It Happened One Summer; Fix Her Up) likes to write--hardworking, blue-collar hunks and fiercely determined, funny heroines--and swoony tropes that she hasn't wielded as often, like enemies-to-lovers and fake-it-till-you-make-it relationships. Natalie and August's chemistry is clear at the start, from their quirky, hilarious banter. And though their (very heated) romance is certainly the novel's focus, the rest of the story's cast of characters from dreamy Napa Valley (including an endearingly cantankerous cat, and the stars of Bailey's prequel, Secretly Yours) adds to the novel's warmhearted sensibility and charm. --Alice Martin, freelance writer and editor
Avon, $18.99, paperback, 384p., 9780063239036
Ciao for Now
by Kate Bromley
Ciao for Now, the delightful third rom-com from Kate Bromley (Here for the Drama), whisks readers away for a sun-drenched summer in Rome, complete with mouthwatering pasta, iconic sights, and a healthy dose of romantic (and existential) angst. Violet Luciano is proud to have won one of three coveted internship spots at Italian fashion house Gia Luca, and she's determined to win the end-of-summer competition for a designer job back home in Manhattan. But her own insecurities and her hostess/professor's grumpy son, Matt, both threaten to jeopardize her plans.
Bromley's narrative zips along, giving readers a front-row seat to Violet's witty, mile-a-minute inner monologue. Violet is a likable people pleaser who's still recovering from a career left turn and a breakup with her not-quite-ex, Greg. She quickly makes connections in Rome, including with the owner of a local fabric boutique. But as she agonizes over her designs for the competition, her relationship with Matt--which got off to a rocky start when she accidentally destroyed his laptop--ventures into steamier territory. Juggling her design work, her friendships with fellow interns Holly and Marco, and her budding romance proves a challenge for Violet. It will eventually force her to consider what she wants most--and what might be holding her back.
Breezy, fun, and packed with luscious descriptions of couture designs and Roman landmarks, Bromley's narrative is both a charming love story and a thoughtful exploration of a woman trying to let go of the past and discern what she truly wants for her future. --Katie Noah Gibson, blogger at Cakes, Tea and Dreams
Graydon House, $18.99, paperback, 320p., 9781525804755
Tenderheart: A Cookbook About Vegetables and Unbreakable Family Bonds
by Hetty Lui McKinnon
Hetty Lui McKinnon (To Asia, with Love; Neighborhood) is known for bright, plant-based dishes, and Tenderheart: A Cookbook About Vegetables and Unbreakable Family Bonds offers an abundance of brilliant recipes as well as brief but thoughtful essays on family, grieving, rituals, and, of course, the 22 vegetables featured in this collection. McKinnon brings a global perspective rooted in Chinese culture and the flavors of her family into every page of this beautifully photographed (by the author herself) and well-written cookbook and memoir, the narrative of which centers on the unexpected death of her father when she was 15. In the author's note, McKinnon explains: "Some may see this as a book about loss, but I see it as a story about life, an exploration of love, human resilience and unbreakable family bonds."
The book is divided into sections organized around a single vegetable, each with a brief essay. When introducing Asian greens, McKinnon compares choy sum to kale, writing that it "brings a tapestry of more considered, bitter-earth flavors, along with a robust sturdiness." The recipes are easy to follow, often relying on familiar pantry goods to create unexpected twists on basic ideas. Helpful header notes provide welcome suggestions, and potential substitutions are listed at the close of many recipes. The book also offers a robust index, organized by ingredients. For fans of McKinnon's work or those just discovering her, Tenderheart is sure to delight with mouthwatering dishes and beautiful reflections on the many legacies that can be found around a dining table. --Sara Beth West, freelance reviewer and librarian
Knopf, $40, hardcover, 528p., 9780593534861
My Man in Antibes: Getting to Know Graham Greene
by Michael Mewshaw
A 20-year friendship with Graham Greene is the subject of My Man in Antibes, a memoir by Michael Mewshaw (Sympathy for the Devil; Between Terror and Tourism). Long before Mewshaw, a peripatetic writer who spent many years living in Italy with his family, met the 68-year-old Greene in 1972, he'd become fascinated by the elder author. "Greene's deceptively simple style and straightforward storytelling are as hard-worked and finely wrought as hammered silver," writes Mewshaw. These are qualities he loves so much that he and wife Linda honeymooned in Haiti, the setting of Greene's The Comedians. When Mewshaw learned that Greene lived close to the French villa where he and Linda were living, he wrote to him. Greene responded by inviting them over for drinks, and a long friendship began.
This memoir chronicles Mewshaw's sometimes cordial, sometimes rocky relationship with Greene, which lasted until Greene's death in 1991. The cordial bits included frequent dinners together and Greene's encouragement of Mewshaw's writing. Relations briefly cooled after Greene took umbrage over a 1977 profile Mewshaw wrote that appeared in the Nation and the London Magazine. Mewshaw reprints the piece in its entirety, along with the letters he and Greene exchanged, with the latter expressing "horror" at perceived inaccuracies, and Mewshaw trying to make amends. What emerges is an up-close portrait of Greene, with many juicy details. Among them: Greene was so technically inept he couldn't change a light bulb. This is a rare, firsthand look at the one of the 20th century's greatest authors. --Michael Magras, freelance book reviewer
David R. Godine, $28.95, hardcover, 272p., 9781567927191
Fortune's Bazaar: The Making of Hong Kong
by Vaudine England
Fortune's Bazaar, a lively history of Hong Kong by journalist Vaudine England (The Quest of Noel Croucher), explores the diverse people who built the city into a multicultural world metropolis. Situated "bang central" in eastern Asia, Hong Kong's geography is as unique as its history: comprised of one main island (among 260 others) and the Kowloon Peninsula, it became a British Crown Colony in 1841 on the strength of its deep-sea harbor and nearness to the opium trade. The currents brought myriad people, ideas, and technologies to Hong Kong, where the "spoor" was dropped that helped make it "a place in between all others, but special in itself." Key to this transformation were the "in-between people" who facilitated trade as interpreters, bookkeepers, secretaries, and suppliers--the main agents of multicultural discourse and commerce.
Describing the rich "hybridity" of Hong Kong post-1841, England's study reads much like the "glorious mosaic" of the people who met, mixed, and made families beyond the marketplace: each chapter delivers vibrant vignettes of the opium traders, missionaries, intellectuals, and entrepreneurs who formed the fabric of Hong Kong well into the 20th century. The "energy and lubrication" Hong Kong brought to world trade is because of these "chameleons" who overstepped the limits of "class, colonial, or racial fencing" to build their own communities and, England argues, become "Hong Kongers." In a guarded coda, England reflects on Hong Kong's uncertain future under communist China's "ethno-nationalist" regime and what it may portend for this multicultural way station. Fortune's Bazaar is a meticulously researched yet deeply human portrait of those who bucked taboo to create a distinct community and a thriving Asian port city. --Peggy Kurkowski, book reviewer and copywriter in Denver
Scribner, $35, hardcover, 368p., 9781982184513
Why Fathers Cry at Night: A Memoir in Love Poems, Letters, Recipes, and Remembrances
by Kwame Alexander
Why Fathers Cry at Night: A Memoir in Love Poems, Letters, Recipes, and Remembrances is a singular form, the music of a life movingly sampled and remixed by poet Kwame Alexander (The Door of No Return; Booked; The Crossover). Alexander dedicates this poignant memoir to his daughters, often addressing them directly and with a wry tenderness as he explores his various loves and losses. To them, these pieces might serve as instruction, as seen in "Prelude to Love," which concludes with the promise of "...a lifetime/ of lessons, tender stories of/ longing and loss/ that will never leave you/ long after I have."
He also speaks of and to other significant women in his life: his grandmother, mother, and his "literary mother," poet Nikki Giovanni. In many ways, the memoir is a series of lessons in love, captured in the countless small gestures and big displays that demonstrate it. One of those gestures is the act of preparing a meal for someone, and for Alexander that is a central act of his becoming. The recipes here are not abundant, but they showcase parts of his past, such as "7UP Pound Cake," and even of his future: "Pastalias," replicating something his mother used to make, is a recipe he admits is a work in progress; he writes, "I've only made this... once, and the truth is, it wasn't great." But, he adds, "It's a start. You've got something to build on."
And perhaps that's what this series of reflections is doing: offering himself and his readers insight into where he's been and insisting on the possibility of continued growth, even as Alexander faces the uncertainties before him. --Sara Beth West, freelance reviewer and librarian
Little, Brown, $28, hardcover, 240p., 9780316417228
The Writer's Life
Luis Alberto Urrea: 'We Are Here to Bear Witness'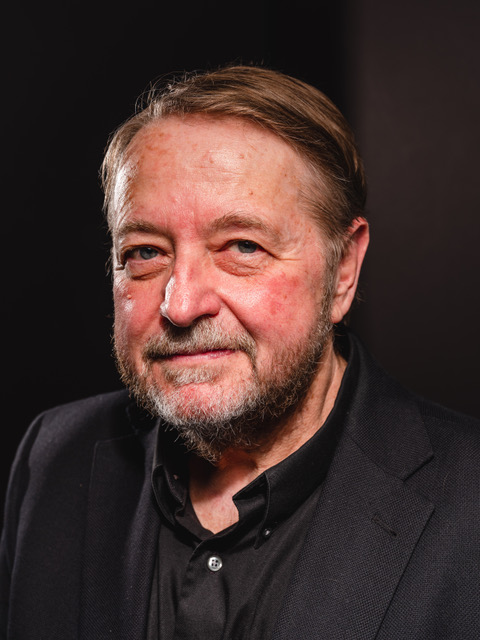 (photo: JP Calubaquib)
Poet, novelist, and nonfiction author Luis Alberto Urrea was born in Mexico to a Mexican father and an American mother. He has won multiple literary awards, most recently for his 2018 novel The House of Broken Angels. The Devil's Highway, a nonfiction narrative of Mexican immigrants lost in the Arizona desert, was a 2005 Pulitzer Prize finalist. His ninth work of fiction, Good Night, Irene (Little, Brown; reviewed in this issue), inspired by his mother's service as a Red Cross "Clubmobile" worker in World War II Europe, follows the women who provided donuts and hope to the troops, forging friendships as they cheered the soldiers while enduring the horrors of war. Urrea and his family live in Naperville, Ill., where he is a distinguished professor of creative writing at the University of Illinois-Chicago.
You are well known for your writing on Mexican American themes, especially The Devil's Highway, and your novel The House of Broken Angels. Good Night, Irene, is set in WWII Europe. What inspired you to pursue this topic?
My mother. This is the heroic epic that her service in the Red Cross called out for. In my work, I almost always honor my family and my culture--my mother happened to be the only American in a sea of Mexicans.
How was writing a novel based on your mother's experiences different from shaping characters in earlier novels?
The characters in this novel are shaped characters--it's a work of fiction. That being said, like The Hummingbird's Daughter, it is grounded in real history, real places, and a true timeline. The characters in the novel are imagined; however, they are shaped, colored, and nuanced by my mother and her war buddy Jill. If you keep an eye open as you read, Phyl and Jill make cameos in a couple of places. My subliminal way of saying "this story is about Irene and Dorothy."
In my earlier novels, I was generally in a pretty specific place/time, peopled with specific characters. The fun thing in this World War II milieu was I had a lot more freedom because anybody could be from just about anywhere. For example, I pretty freely populated my created universe with the veteran grandparents and parents of friends and readers who shared their stories with me.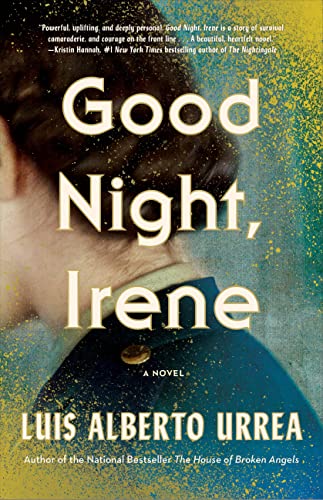 Good Night, Irene is rich in dialogue, much of it including 1940s references and slang. How did you research the language of the era?
Drove my editors crazy! Fortunately, they are obsessive compulsives, and they helped weed out slang that might have been from the '50s. There are many available websites of slang from different decades in the U.S., and I have a wonderful dictionary of military terminology and slang called FUBAR. But of course, I heard some of it from my elders as a boy. The best was the time my wife and I spent with the only surviving Clubmobiler, Jill Pitts Knappenberger. We both basked in that palaver in Jill's apartment.
In your novel, Dorothy describes a group of soldiers of diverse backgrounds, saying, "Ain't we a bunch. Ain't we America." Was your characters' diversity significant?
Absolutely. I felt it incumbent upon me to represent the best dream of democracy in the face of fascism. It was both a celebration and a warning. When you begin to look into WWII, you find every ethnicity, every political view, every accent, every color. Sometimes struggling with the prejudices of the day, sometimes segregated, yet learning that, under fire, we were all Americans. It was a profoundly human message. Thus, the Latino and other soldiers of color, Indigenous, immigrant, midwestern farmboy, beautiful rabble that populates the novel. On a personal note, I was heartened by how many Mexican-American soldiers fought for our country.
I did the bulk of the writing of this novel during the turmoil of the last few years and this was my small way of offering a corrective to the divisions and polarizations of this era.
Reviewers have praised your works for evoking contradictory emotions. Viet Thanh Nguyen cited The House of Broken Angels as showing "love and pain, joy and resentment, hatred and reconciliation." Your new novel prompts tears of both sorrow and joy. Do you consciously craft these opposites?
Isn't that the human condition? If it were all giggles or all torment, it isn't honest. Even the profoundly dark and hopeless novel Under the Volcano by Malcolm Lowry is hilarious. The light and the shadow bring each other into better focus and poignance. On a craft level, I would say there are precipitous falls into horror and despair in my book. And as a composer, I strive to ease the readers out of the abyss so that the story can continue, much like those women did. They did not become goths. They used their spunky personas to pick up and move forward.
This novel, as well as The Hummingbird's Daughter, have exceptionally bold women protagonists. As a teacher, what would you advise your students who might question their skill at presenting a perspective they can't experience?
I tell my students we are here to bear witness. If you bear false witness, it is a sin.
You'd better make sure your eye is well-calibrated and focused; you'd better make sure that your prejudice and power of assumption is dialed in and not spouting propaganda, rhetoric, or opinions. Not only do you need to know what and who you are talking about, you need to know that you are not furthering toxic, inaccurate canards.
These people, these genders, these ethnicities are not tropes. We have all suffered this sort of toxic thinking long enough. You'd better check yourself. If you have a trusted representative of whatever group/gender/ethnicity you are exploring that you can give your work to for an opinion, do it. If you don't, or if you are nervous for them to see it, you are in the wrong game.
People have been treated with enough disrespect and condescension to last us for all time. This may make me sound like a hippie, but I am dead serious about this: I tell my writers "Fill your pen with love or don't bother picking it up." And I suggest they take a long hard look at what the word "love" means to them. I would begin the definition with "respect."
You are accomplished in many genres. How does your approach to composing in different forms vary?
My new book of poetry, Piedra, just published this month, and it was something I was working on even as I was working on this novel. At the same time, I was working on a nonfiction piece for a major magazine about the lives of Mexican migrants working in the heartland without documents. I don't want to say that I live in my notebooks, but... I live in my notebooks. One of my models early on was Leonard Cohen, who wrote songs, poems, and novels. I knew right away that was the kind of writer I wanted to be. It all fascinates me. As precious as this may sound, to me, writing is prayer.
Of course, there is a difference between a whopping historical novel and a haiku. But it is about one's engagement with this life. My joke I share with my workshops when this question comes up is: if you are moved by dewdrops on the face of a sunflower, it's probably a poem. If your mother was an unsung hero of WWII, it had better be a big fat book. --Cheryl McKeon, Book House of Stuyvesant Plaza, Albany, N.Y.
Rediscover
Rediscover: Ama Ata Aidoo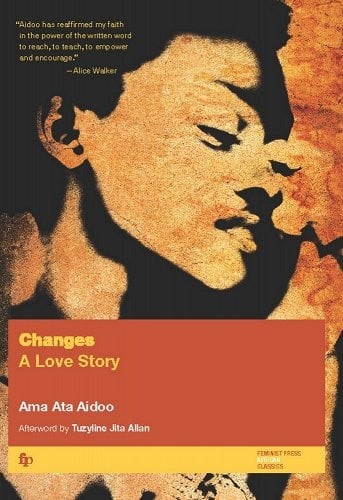 Ama Ata Aidoo, a Ghanaian playwright, author and activist "who was hailed as one of Africa's leading literary lights as well as one of its most influential feminists," died May 31 at age 81, the New York Times reported. In a career that included writing plays, novels, and short stories, stints on multiple university faculties and, briefly, a position as a cabinet minister in Ghana, Aidoo "established herself as a major voice of post-colonial Africa."

Her breakthrough play, The Dilemma of a Ghost (1965), "explored the cultural dislocations experienced by a Ghanaian student who returns home after studying abroad and by those of his Black American wife, who must confront the legacies of colonialism and slavery. It was one of several of Ms. Aidoo's works that became staples in West African schools," the Times wrote.

Aidoo's novel Changes: A Love Story won the 1992 Commonwealth Writers' Prize for best book (Africa). Her landmark debut novel, Our Sister Killjoy, or Reflections from a Black-Eyed Squint (1977), "recounted the experiences of Sissie, a young Ghanaian woman who travels to Europe on a scholarship to better herself, as such a move was traditionally described, with a Western education. In Germany and England, she comes face to face with the dominance of white values, including Western notions of success, among fellow African expatriates," the Times noted.

A Fulbright scholar who spent years as an expatriate, Aidoo experienced feelings of cultural dislocation as well. "I have always felt uncomfortable living abroad: racism, the cold, the weather, the food, the people," she said in a 2003 interview published by the University of Alicante in Spain. "I also felt some kind of patriotic sense of guilt. Something like, Oh, my dear! Look at all the problems we have at home. What am I doing here?"

She accepted an appointment as Ghana's minister of education in 1982, with the goal of making education free for all, but resigned after 18 months when she realized the extent of the many barriers she would have to overcome to achieve that goal. After moving to Zimbabwe in 1983, she developed curriculums for the country's Ministry of Education. She founded the Mbaasem Foundation in 2000 to support African women writers.

Aidoo "was a major Pan-Africanist voice, arguing for unity among African countries and for their continued liberation. She spoke with fury about the centuries of exploitation of the continent's natural resources and people," the Times wrote. Changes: A Love Story is available from Feminist Press.